02.22.23
All the Best Art — and Design — We Saw at the 2023 Frieze Week in Los Angeles
Los Angeles is certainly not the most social town — compared to New York, where design and art events happen nightly and, as a professional, you could pretty much get by never paying for a glass of wine, LA's calendar can't really compete. Which is why things feel so much more exciting when Frieze comes to town each February, and suddenly your calendar fills up and you're running into interesting people left and right, multiple times a day. For those of us who crave creative stimulation, it's a boon, the time of year when galleries, stores, and makers sync up to showcase new works and new ideas.
During this year's Frieze week, as usual, we didn't just see great art and design inside the tents and hangars at the Santa Monica airport, but all over town, starting with the first solo LA gallery exhibition by Gaetano Pesce, at Casa Perfect, which spanned both iconic older pieces as well as new ones, like multicolor lamps made from resin "rocks" cast from stones the designer collected himself. Maarten Baas also had his first solo exhibition in LA, a retrospective at Carpenters Workshop, and Friedman Benda also staged a retrospective, featuring 35 years of work by the Campana brothers, honoring the memory of Fernando, who passed away last year. (Our favorite piece there was a forged-iron chair from 1989, part of an early series by the brothers called the Desconfortáveis, or Uncomfortable, collection.)
We also had the pleasure of attending three great happenings last week: First, a lunch by the roving pop-up culinary project We are Ona, which took over Willo Perron's studio in Silverlake and served multi-course meals by French chef Thomas Coupeau on pottery by Peter Shire (you can hire them for private events, too!). Second, the third edition of Lobster Club — a buzzy new platform for artists residencies and pop-up group shows founded by painter Maja Dlugolecki — where work by 9 artists was offered for sale inside a home in Echo Park. (Many of the works are sold now, but you can inquire by emailing info@lobster-club.com.) And last but not least, a party inside the Frieze fair hosted by partner Maestro Dobel, who wowed us with a cocktail bar setup — created in collaboration with the furniture gallery Clásicos Mexicanos — consisting entirely of iconic Mexican chairs from the 50s to the 90s, including a series (and the bar itself) made in 1971 by Ricardo Legoretta for the Camino Real hotel in Mexico City.
See (almost) everything we saw below, including our favorite art from the Frieze fair proper. (Pictured at top: Canada gallery's booth at Frieze)
Campana brothers at Friedman Benda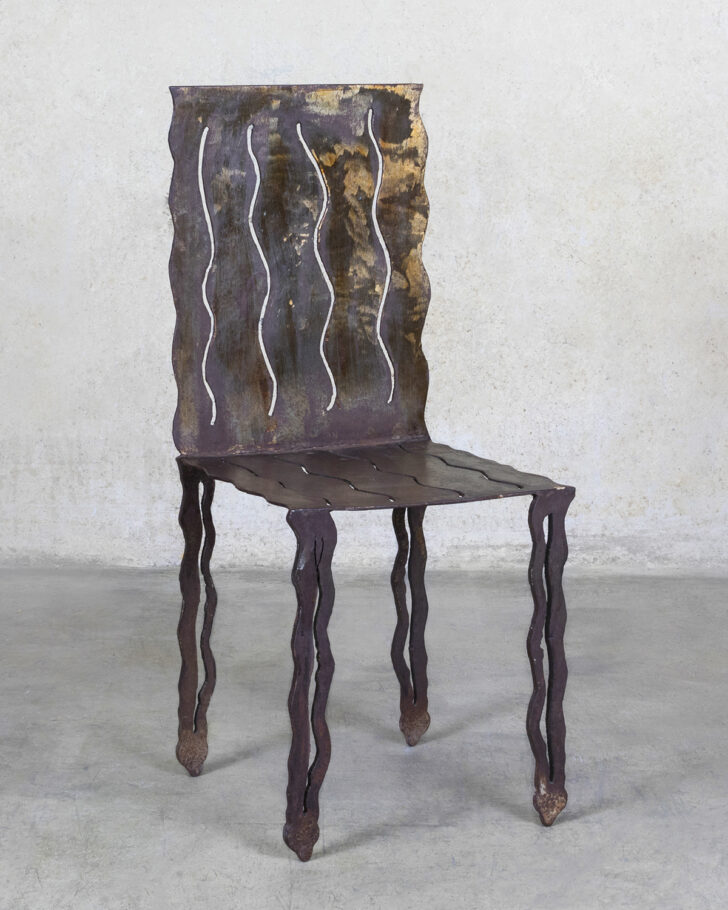 Yanomani chair, 1989
Maarten Baas at Carpenters Workshop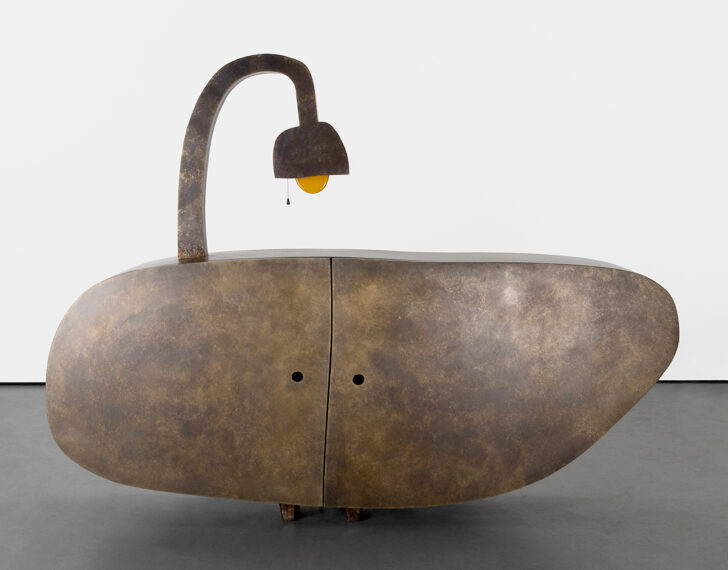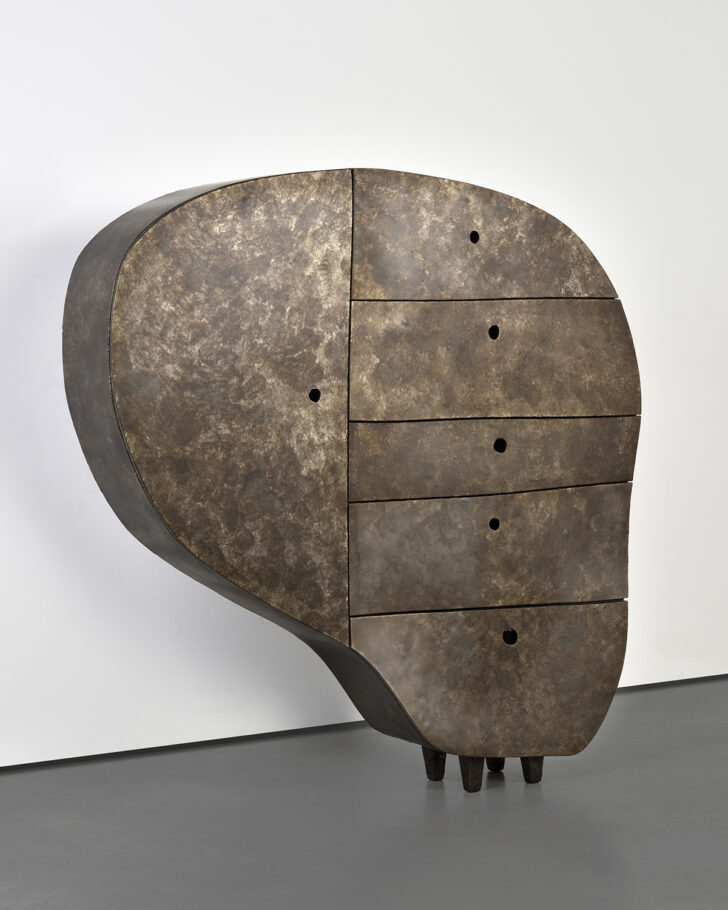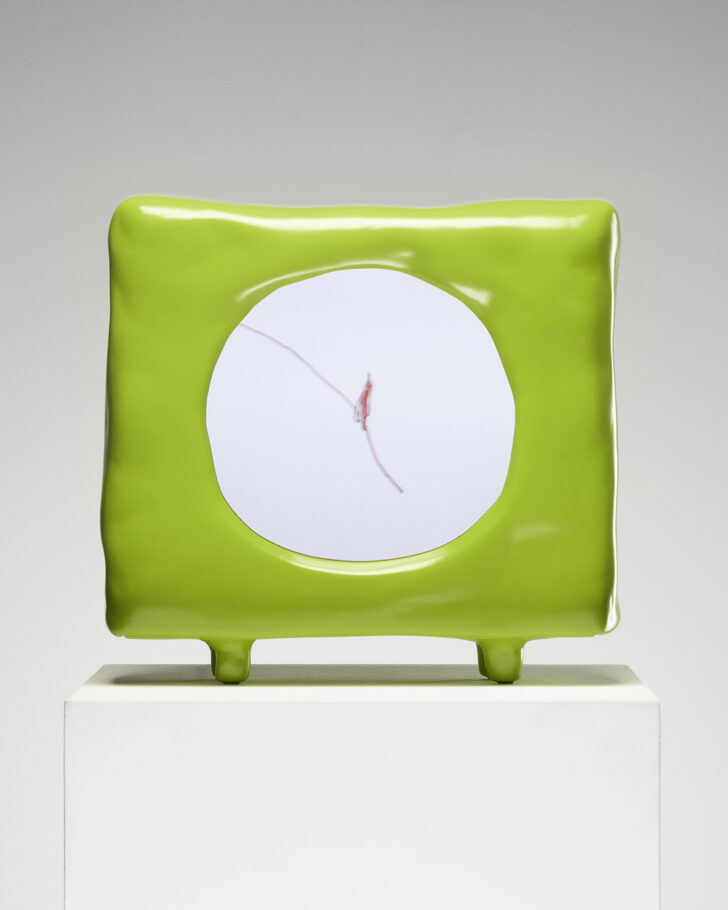 Gaetano Pesce at The Future Perfect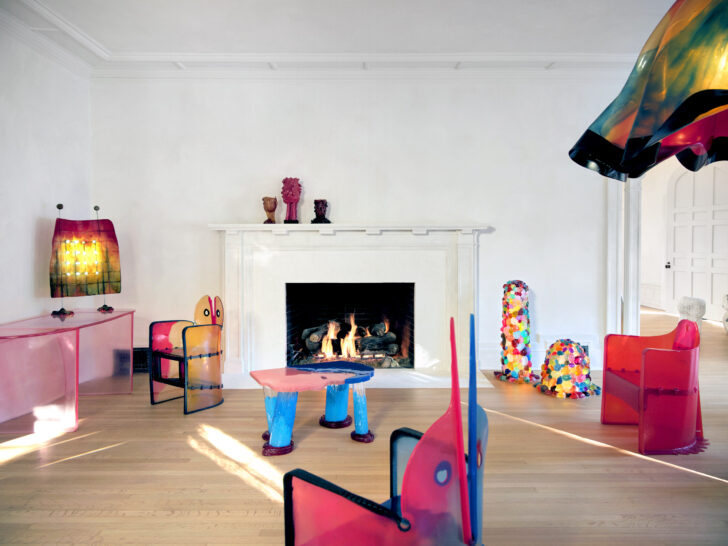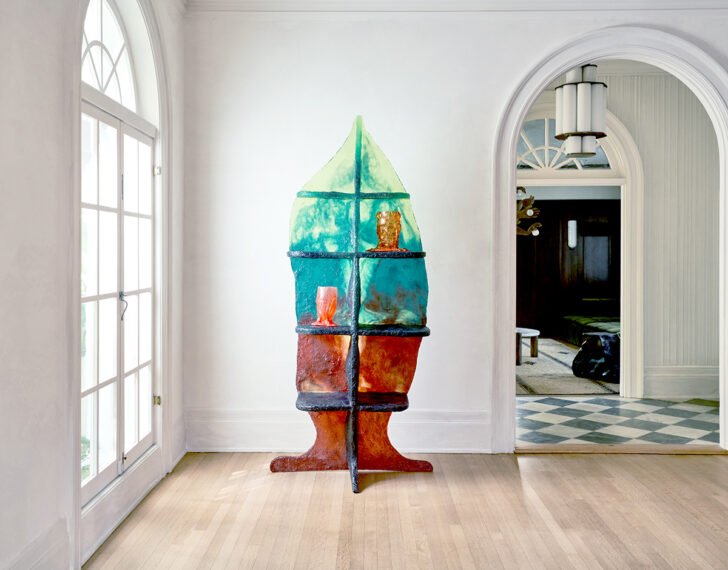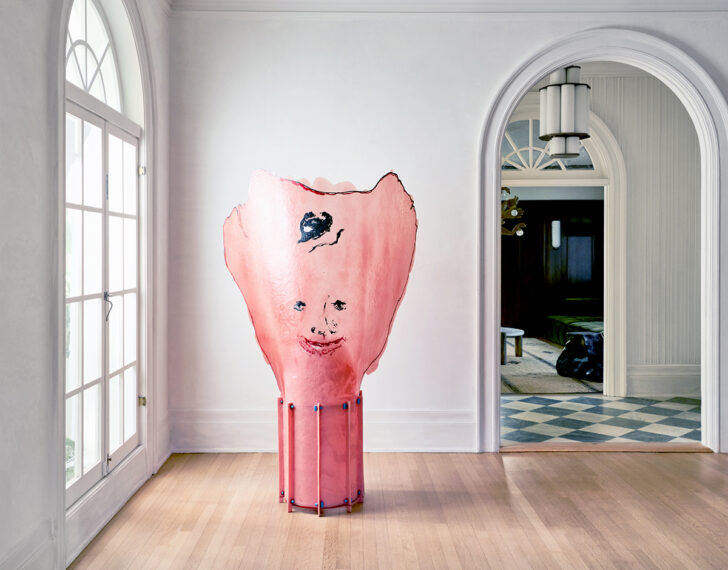 We Are Ona pop-up at Perron-Roettinger Studio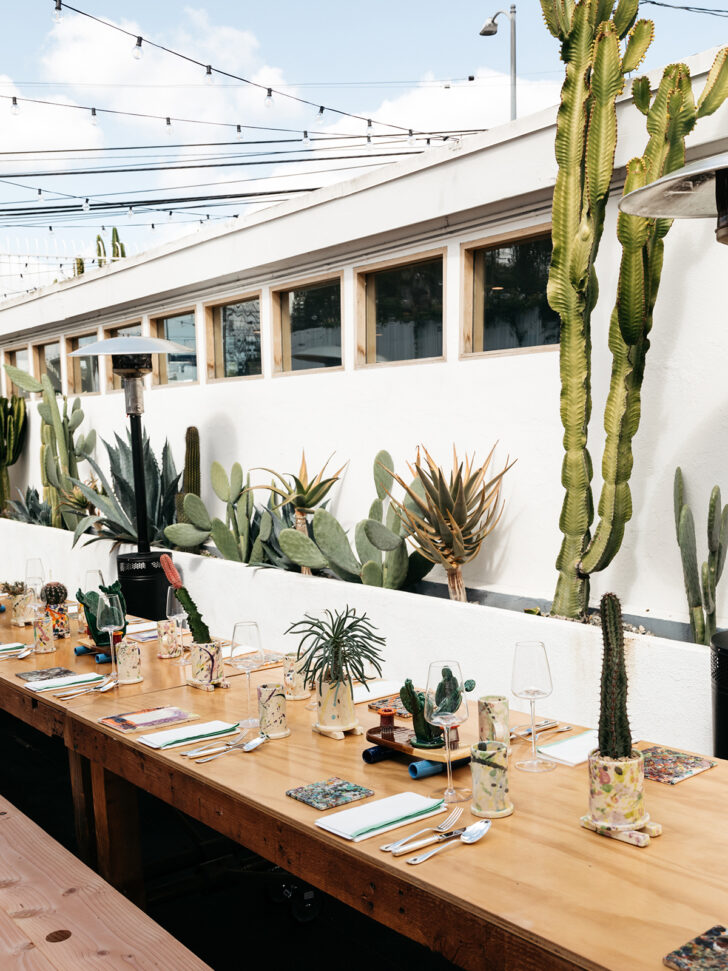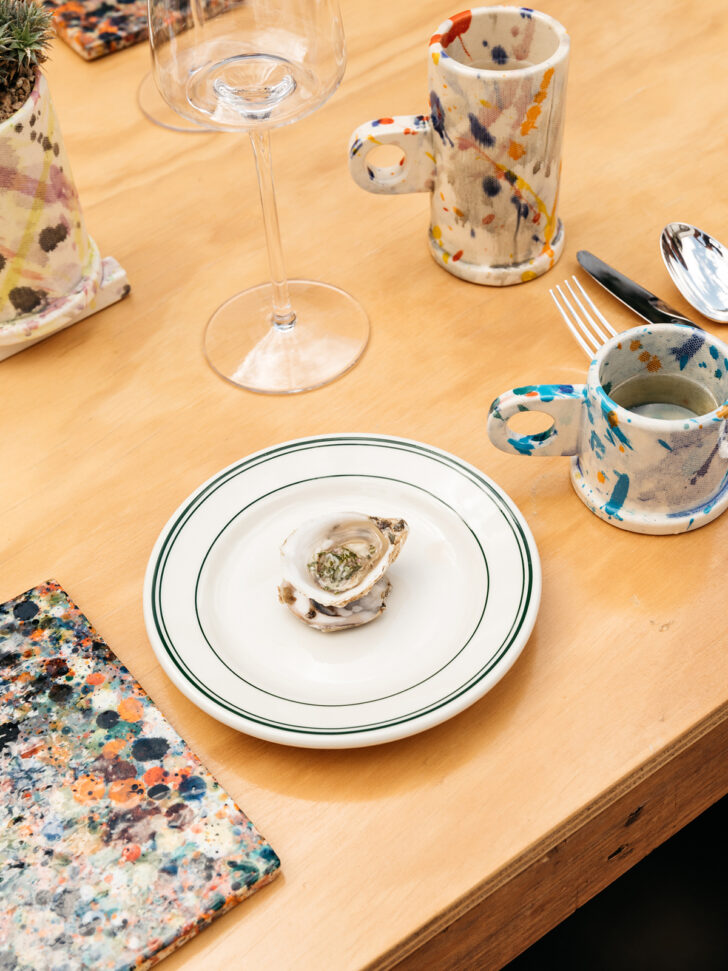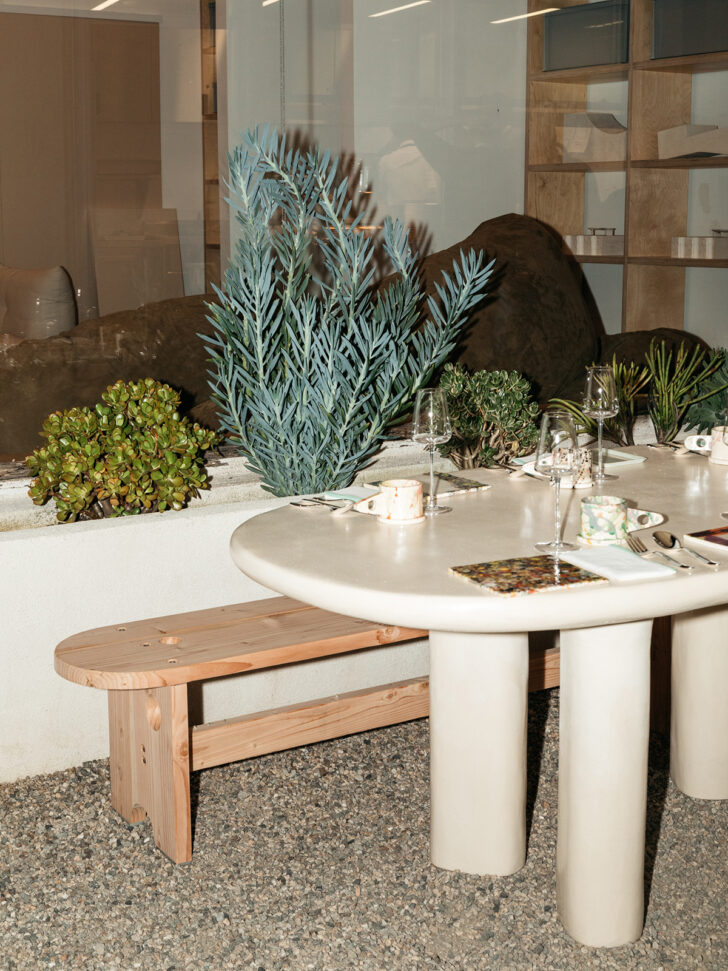 Lobster Club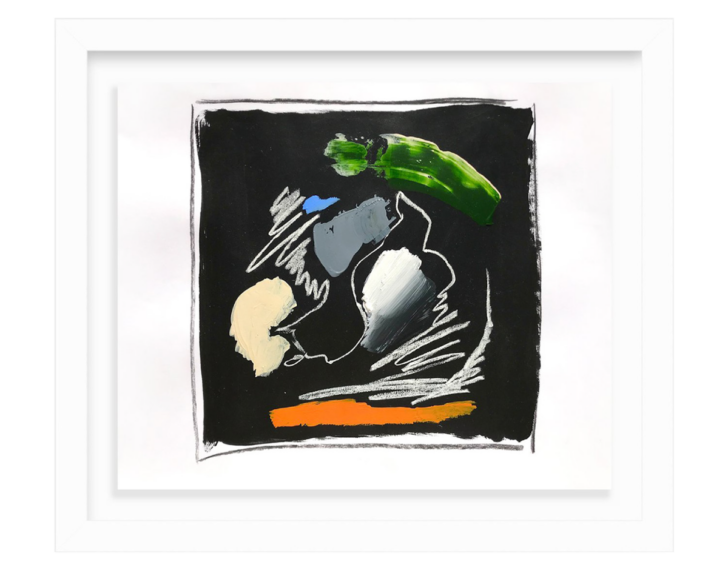 Isabella Innis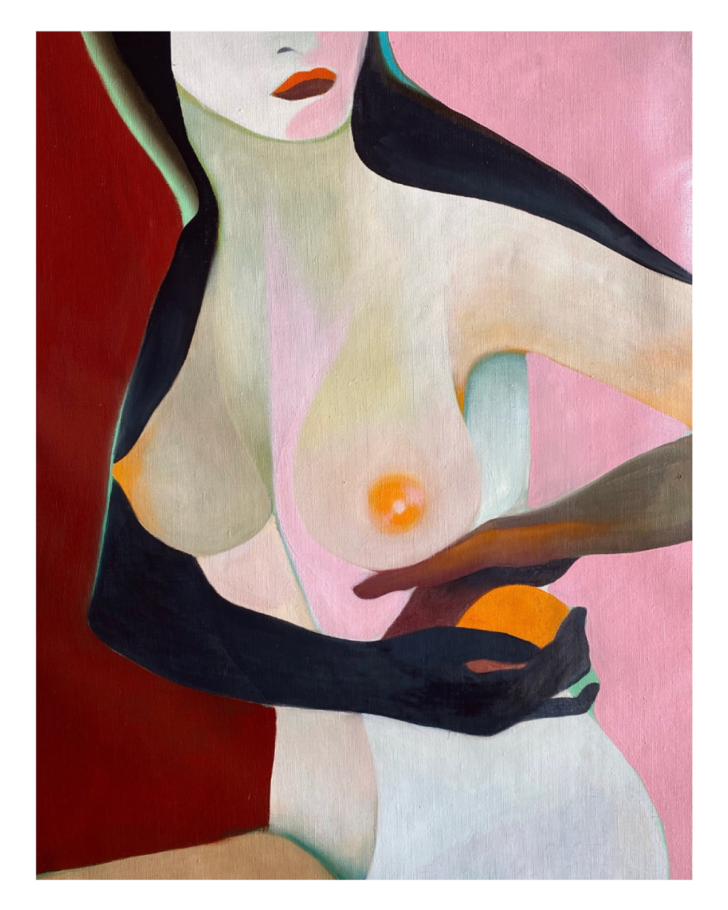 Jessalyn Brooks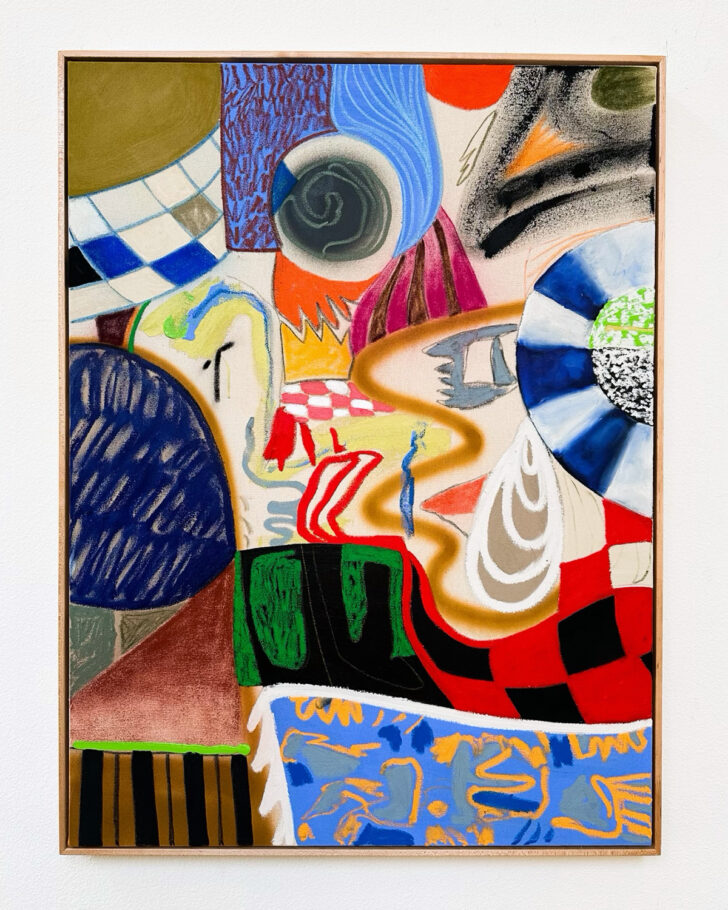 Thai Mainhard
Frieze LA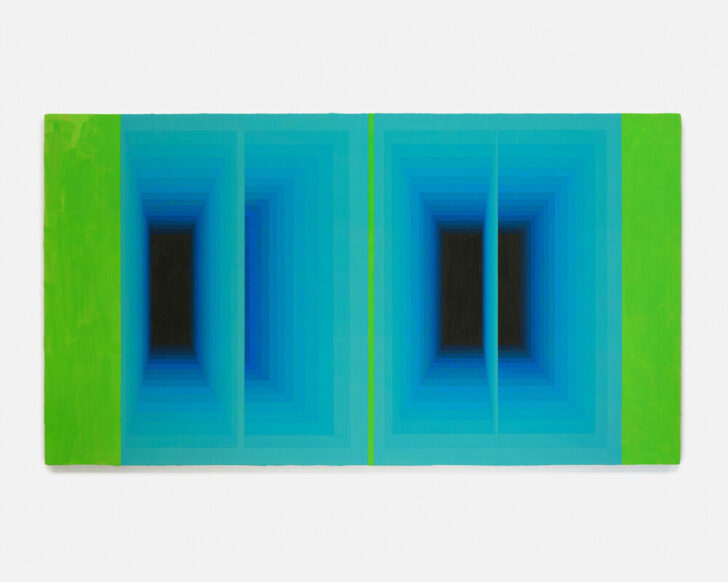 Julian Hoeber, Small Disparity Stereopsis Blue/Green, 2023, courtesy Blum and Poe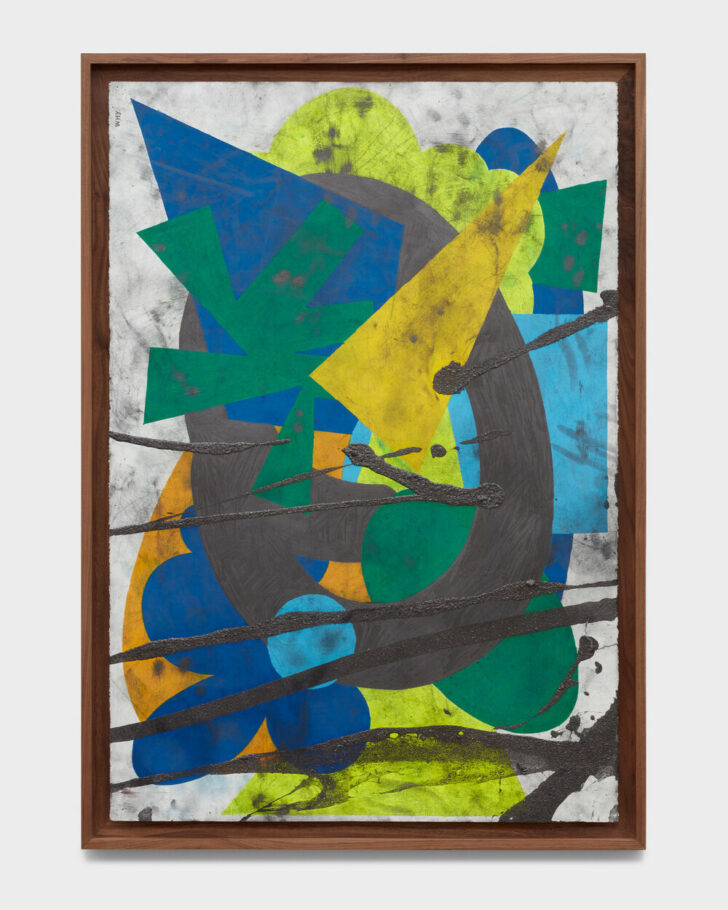 Tony Lewis, Why, 2022, courtesy Blum and Poe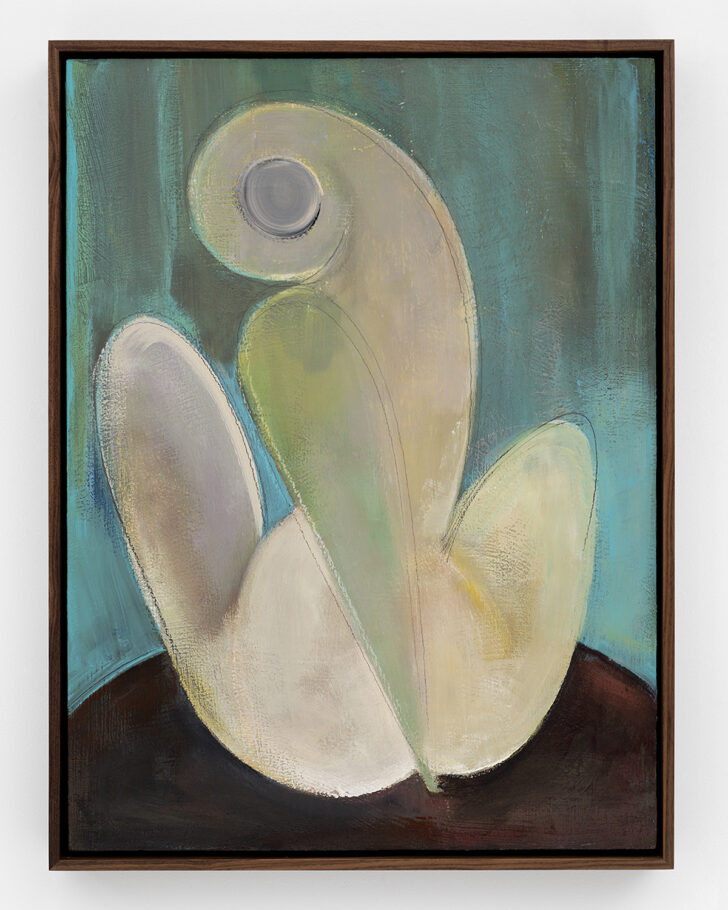 Lily Ludlow, Daphne, 2023, acrylic and graphite on wood panel, courtesy Canada gallery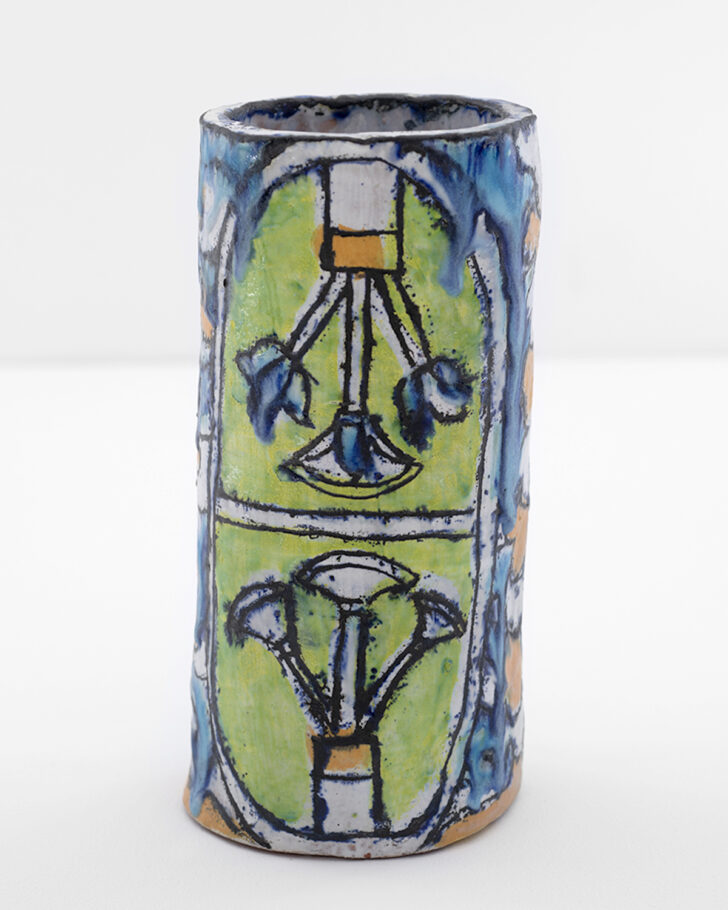 Elisabeth Kley, Lime and Turquoise Cylinder with Facing Flowers, 2020. glazed earthenware, courtesy Canada gallery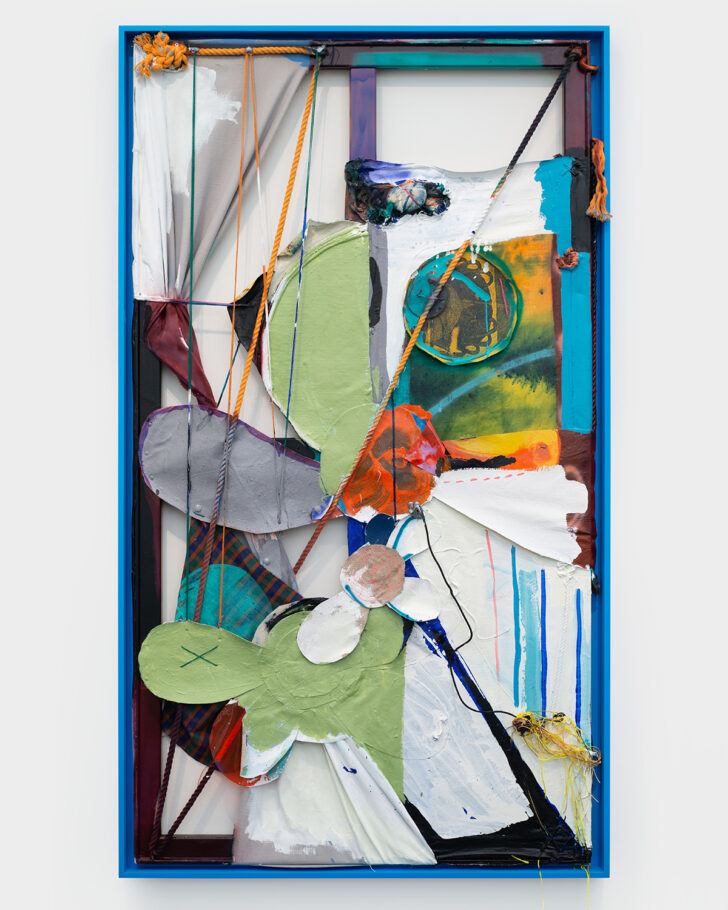 Rachel Eulena Williams, Buzz, 2021, acrylic and silkscreen on canvas, wood, linen, rope, wire, and string in artist's frame, courtesy Canada gallery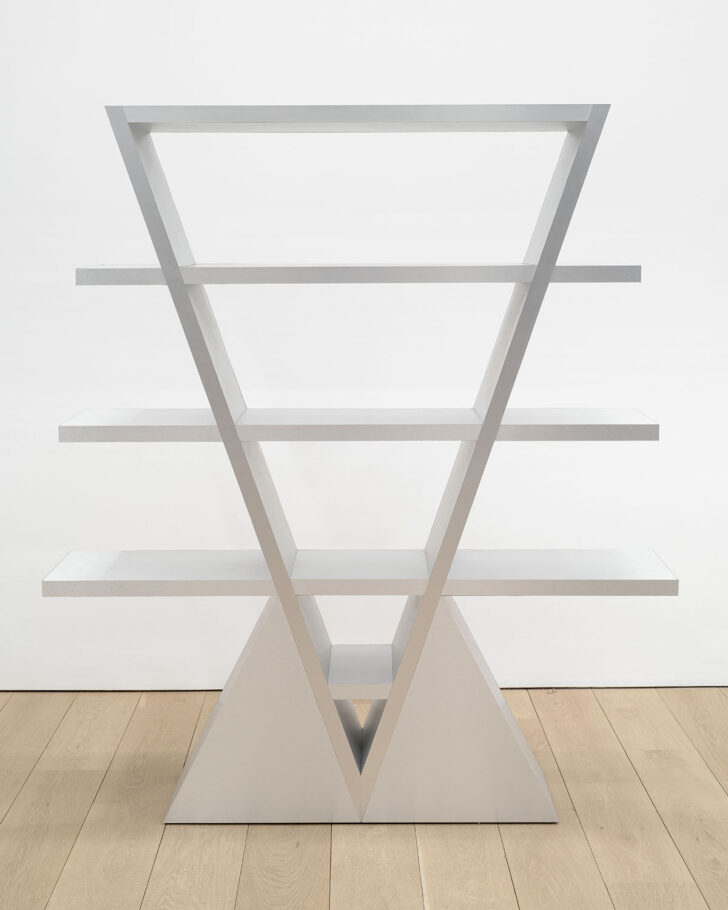 Ryan Preciado, Ira Shelf, 2021, plywood, MDF, aluminum veneer, courtesy Canada gallery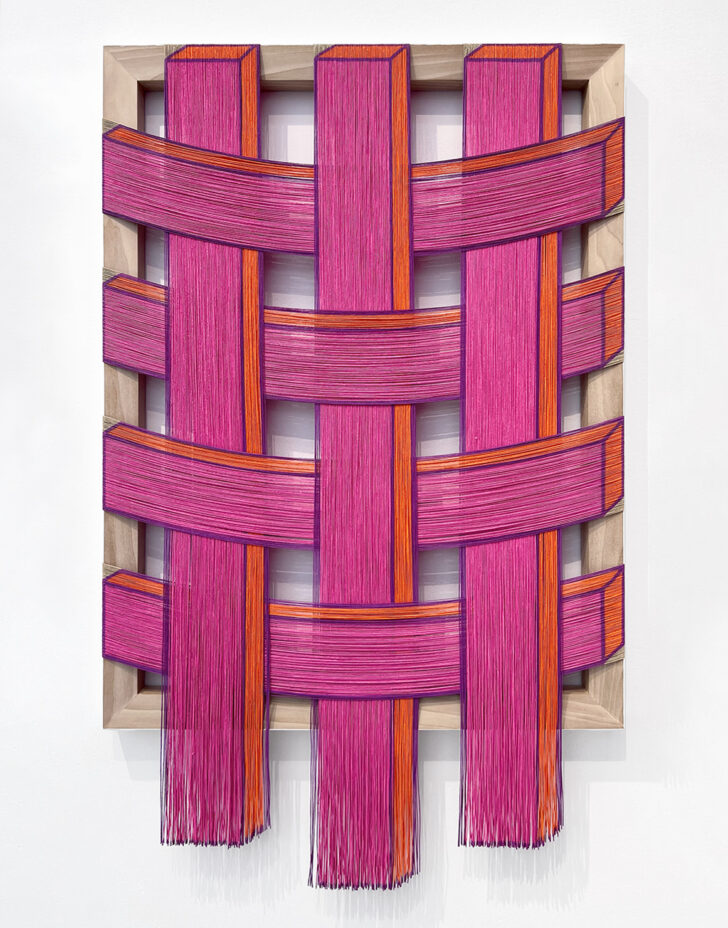 Dianna Molzan, Untitled, 2022, at Kaufmann Repetto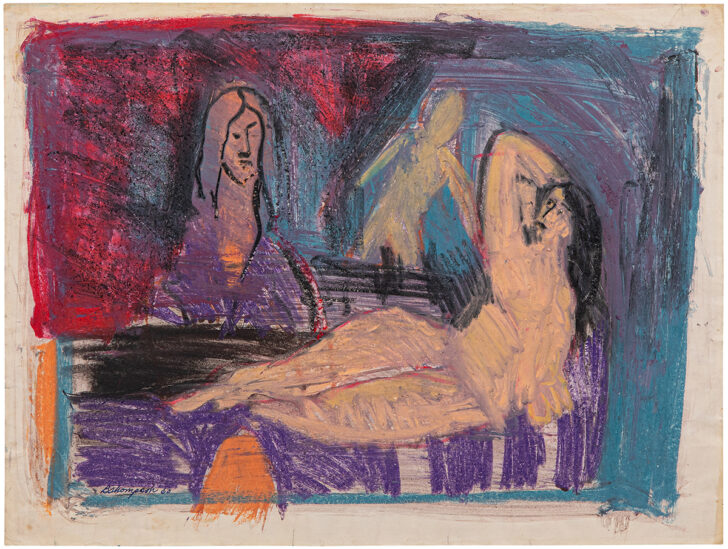 Bob Thompson (1937-1966), Untitled, 1960, oil pastel on paper, courtesy of Michael Rosenfeld Gallery LLC, New York, NY


Bob Thompson (1937-1966), Marijuana, 1959, oil pastel on laid paper, courtesy of Michael Rosenfeld Gallery LLC, New York, NY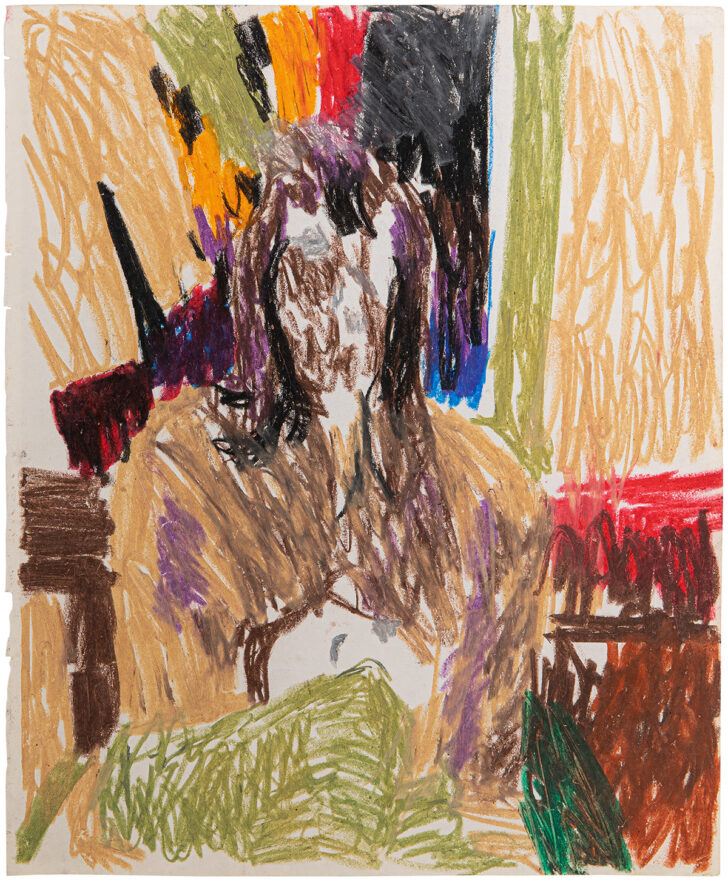 Bob Thompson (1937-1966), Untitled, c.1965, wax crayon on paper, courtesy of Michael Rosenfeld Gallery LLC, New York, NY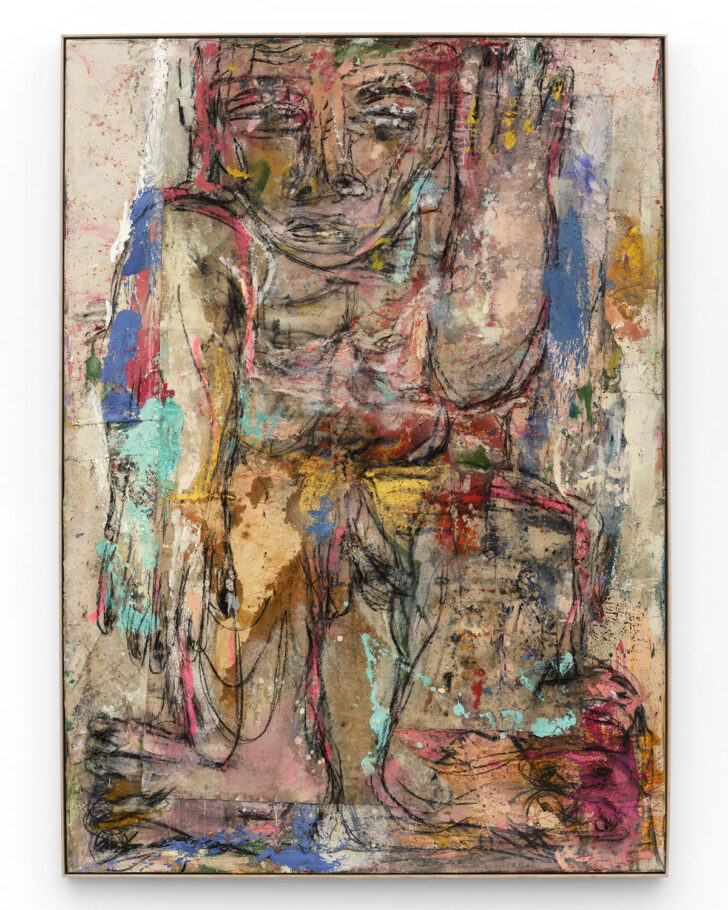 Daniel Crews-Chubb, Immortal XIV, courtesy of the artist and Roberts Projects, Los Angeles, California; Photo by Paul Salveson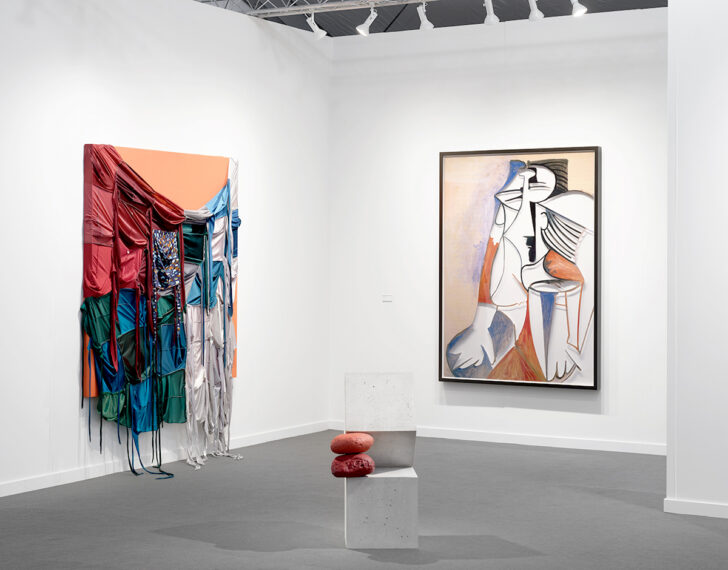 Sean Kelly gallery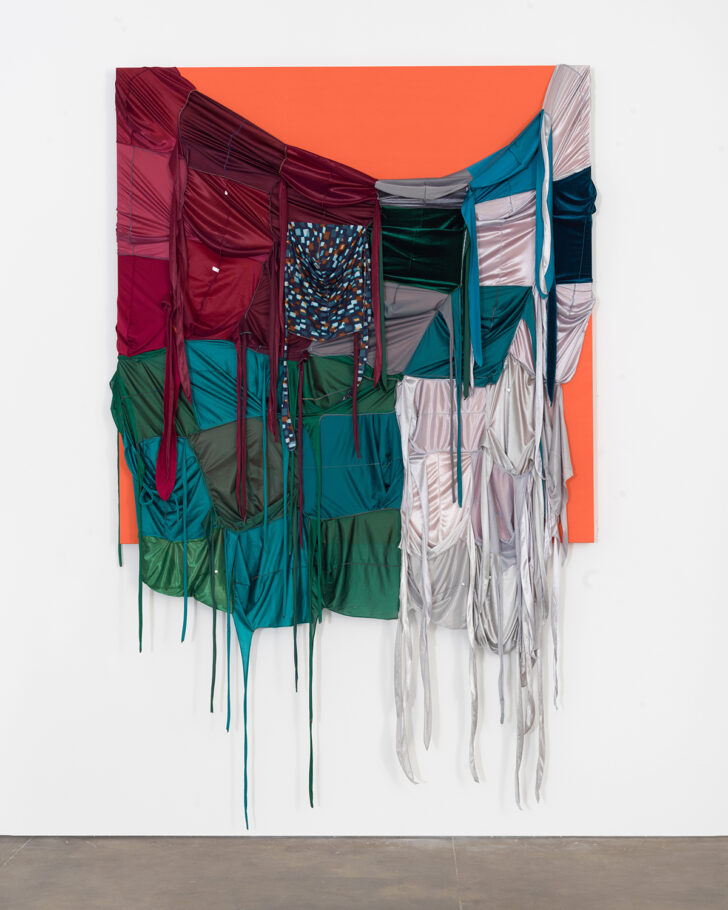 Anthony Akinbola, Shotgun, 2023, durags, acrylic on wood panel, courtesy Sean Kelly gallery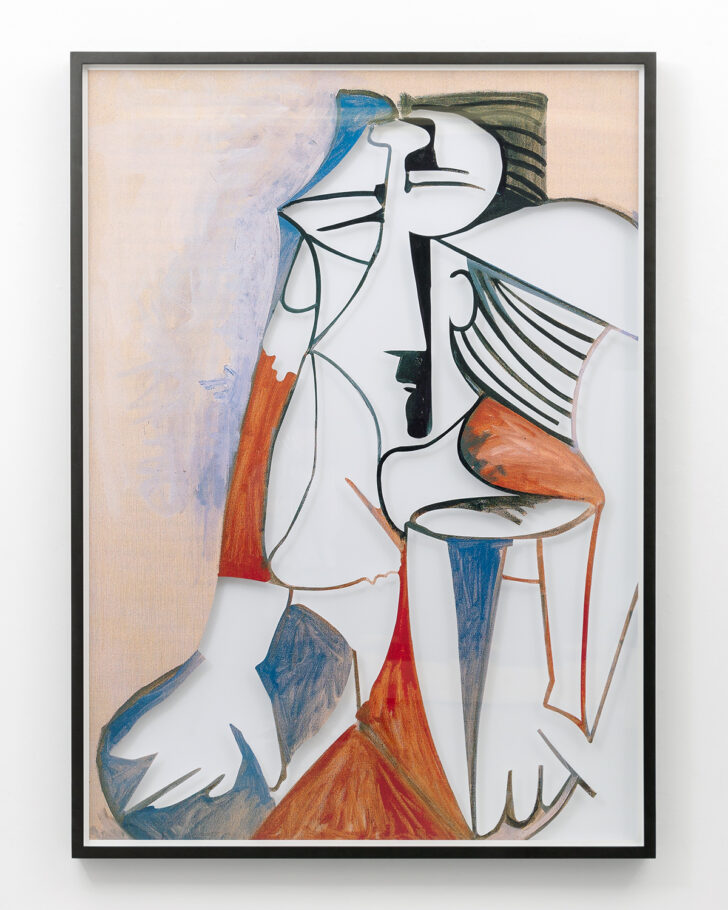 Jose Dávila, Untitled (Seated Woman), 2023, archival pigment print, courtesy Sean Kelly gallery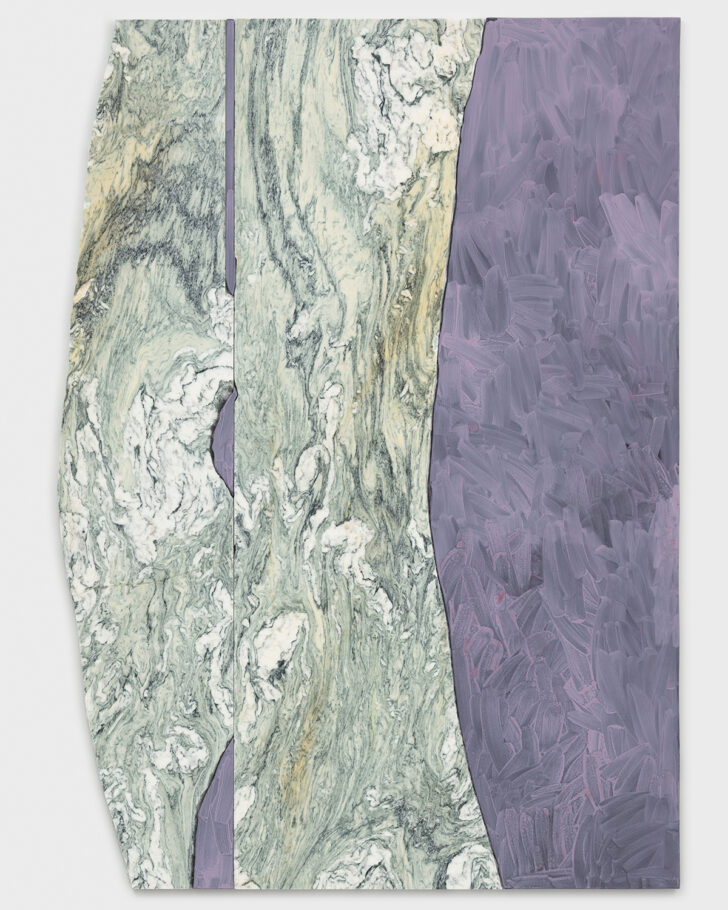 Sam Moyer, Make the Call, 2023, marble, acrylic on plaster-coated burlap mounted to MDF, courtesy Sean Kelly gallery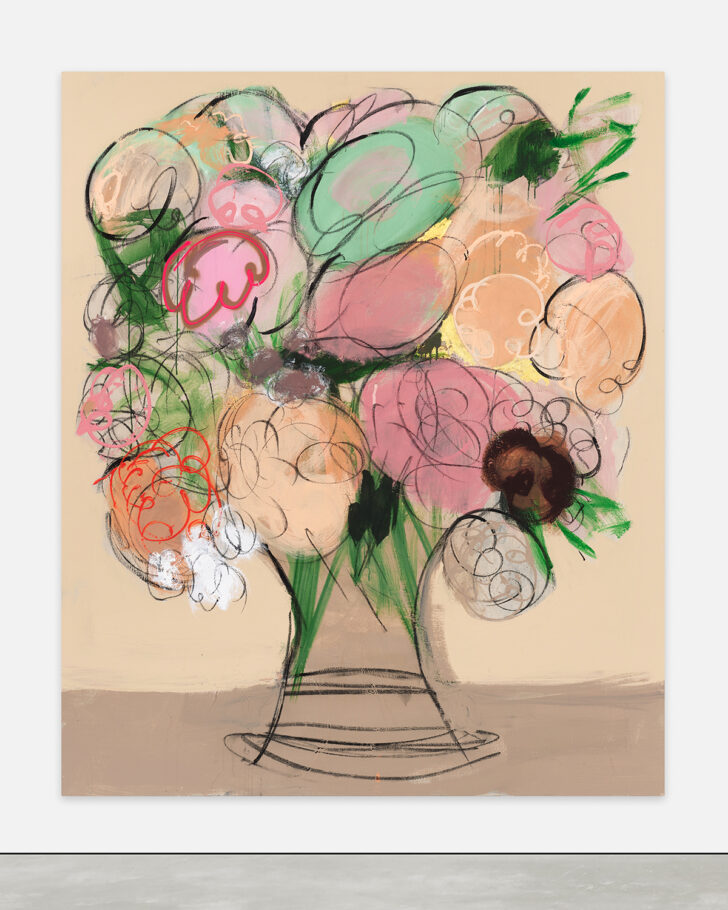 Ferrari Sheppard, Rosette A. (large flower painting), 2022, acrylic, charcoal and 24K gold on canvas, courtesy Massimo de Carlo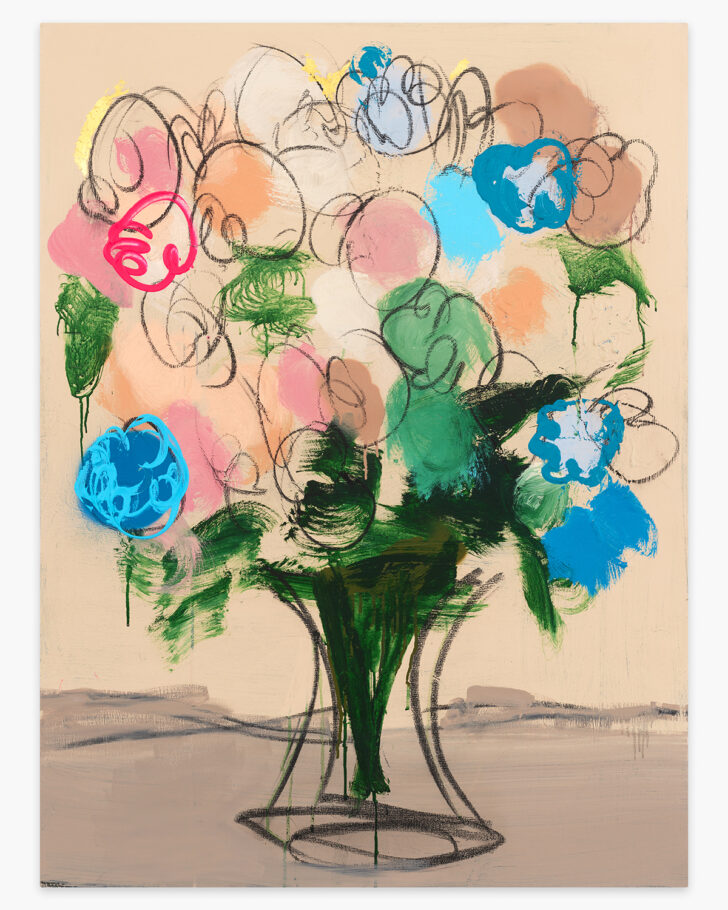 Ferrari Sheppard, Rosette B. (small flower painting), 2022, acrylic, charcoal and 24K gold on canvas, courtesy Massimo de Carlo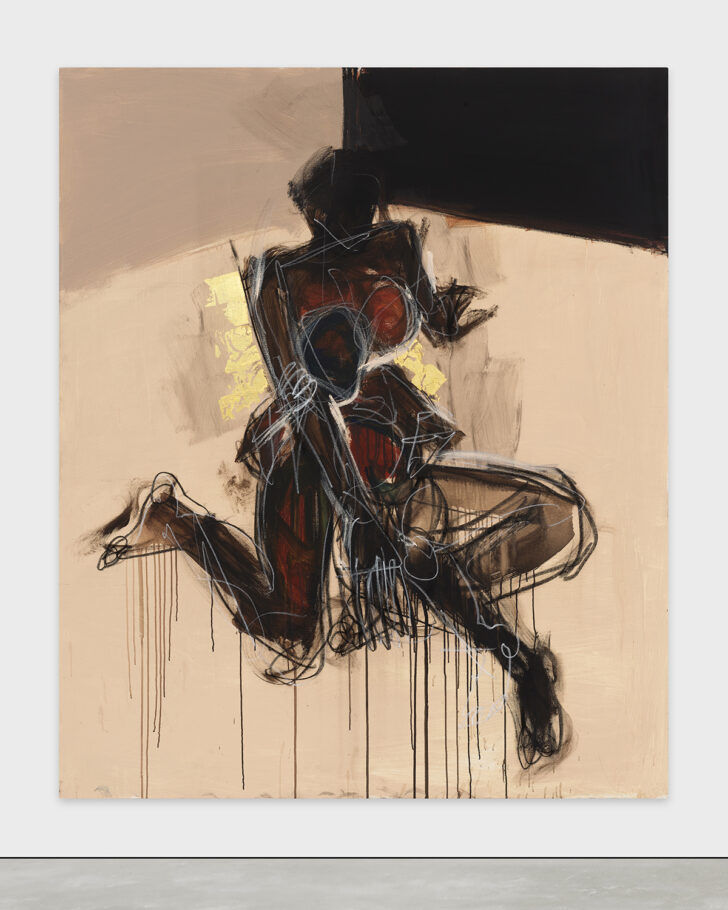 Ferrari Sheppard, Portal Study 1, 2021, acrylic, charcoal and 24K gold on canvas, courtesy Massimo de Carlo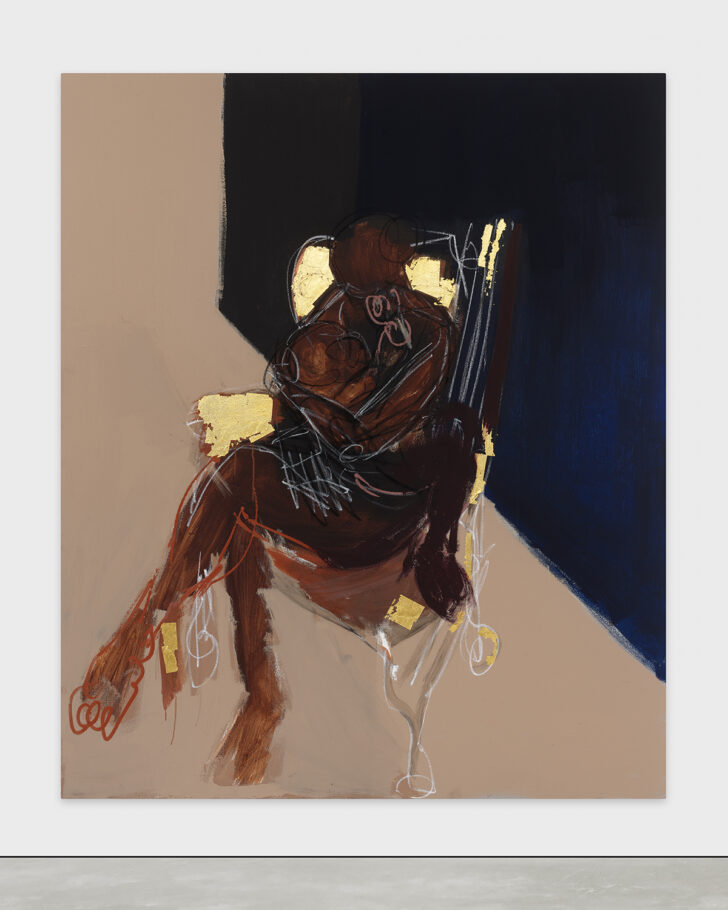 Ferrari Sheppard, Portal Study 3, 2023, acrylic, charcoal and 24K gold on canvas, courtesy Massimo de Carlo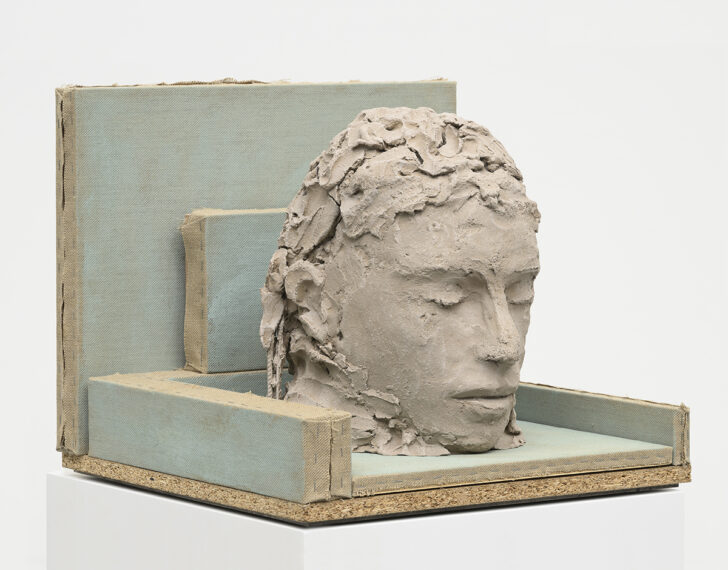 Mark Manders, Fragmented Painting, 2022, painted bronze, painted canvas, wood, courtesy Tanya Bonakdar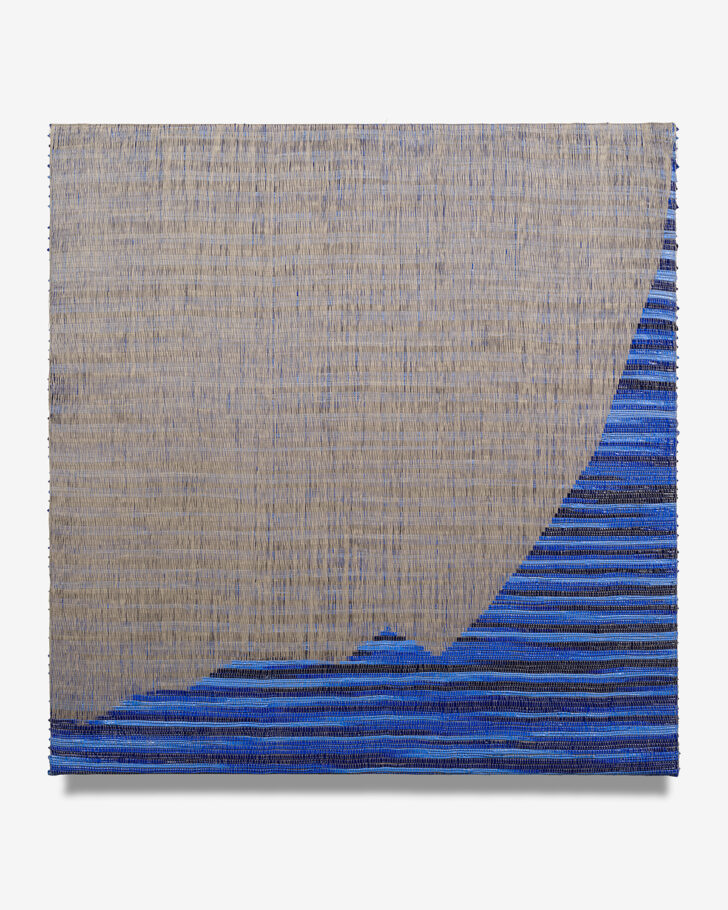 Analia Saban, Area Chart (Blue Values), 2023, woven acrylic paint and linen thread on panel, courtesy Tanya Bonakdar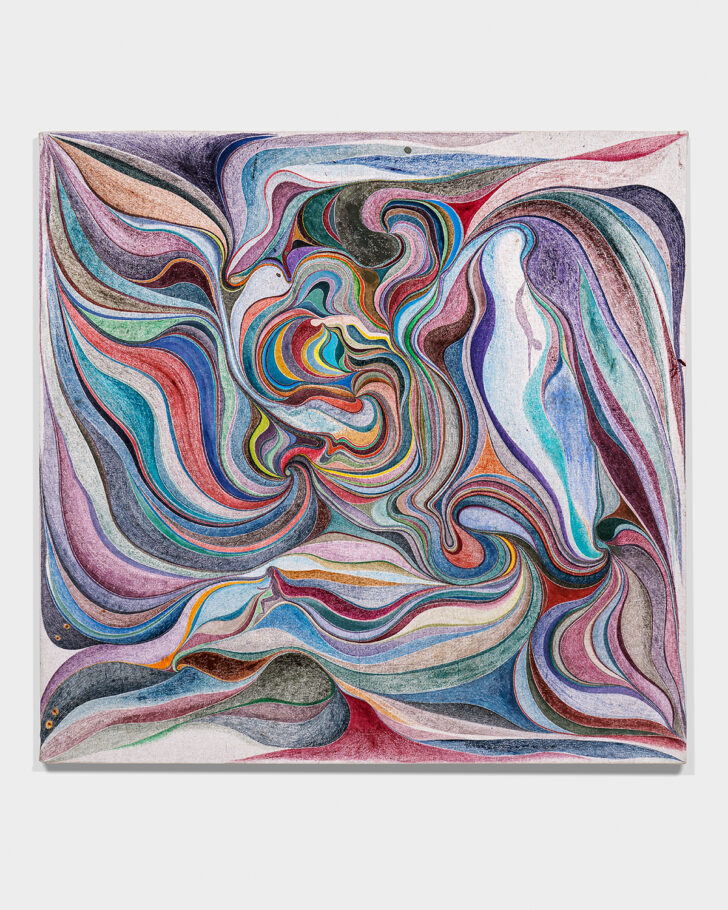 Chris Johanson, Untitled (Ron, Ray, Dave, Alex), 2023, acrylic and house paint on canvas, courtesy The Modern Institute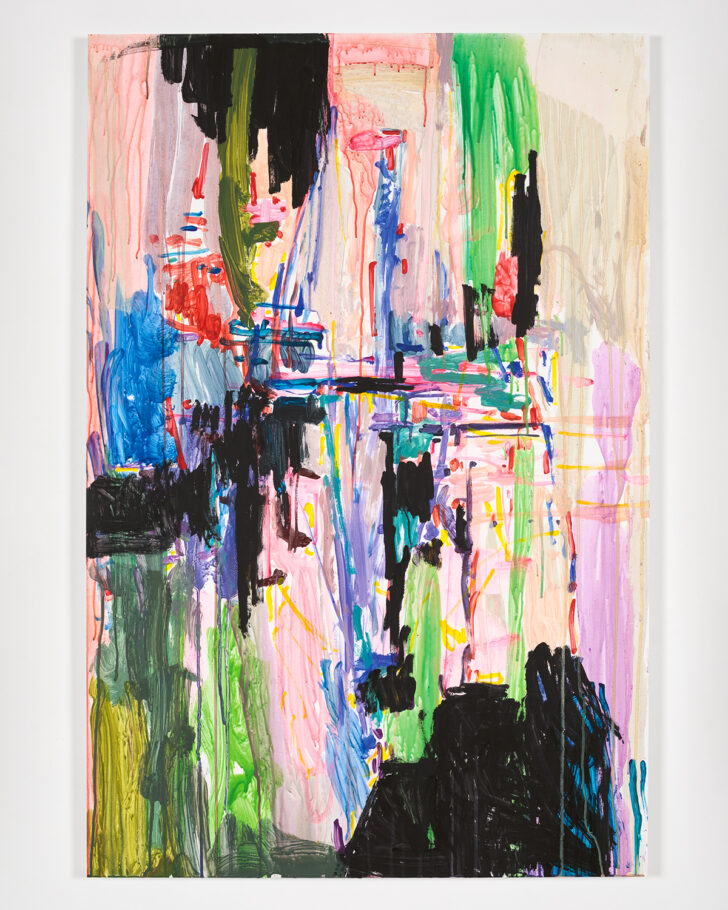 Hayley Tompkins, Spell III, 2022, acrylic on panel, courtesy The Modern Institute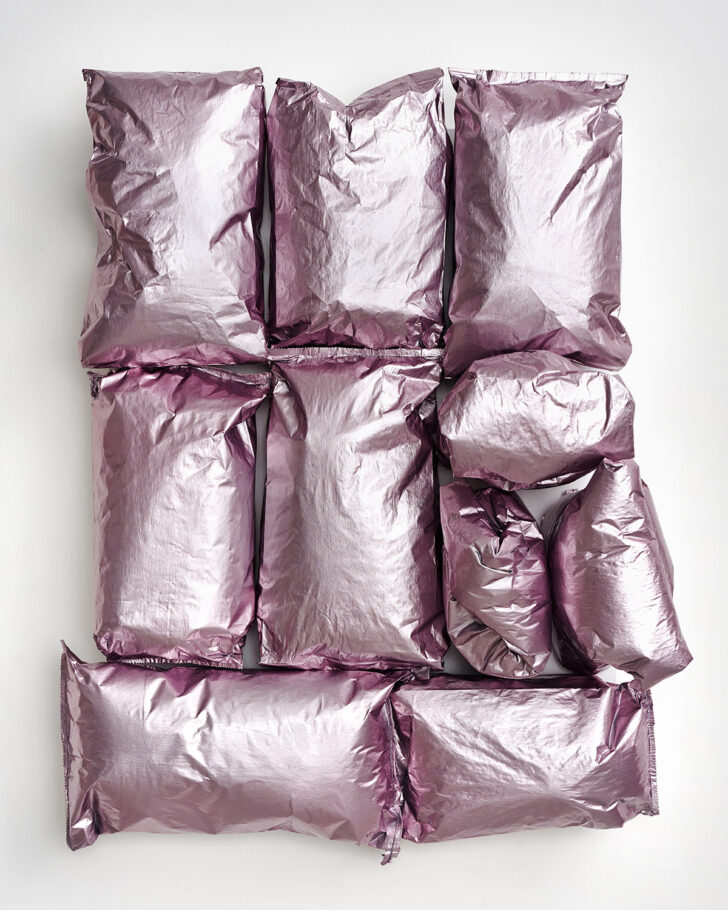 Jim Lambie, Early One Morning, 2022, potato bags, automotive paint on canvas, courtesy The Modern Institute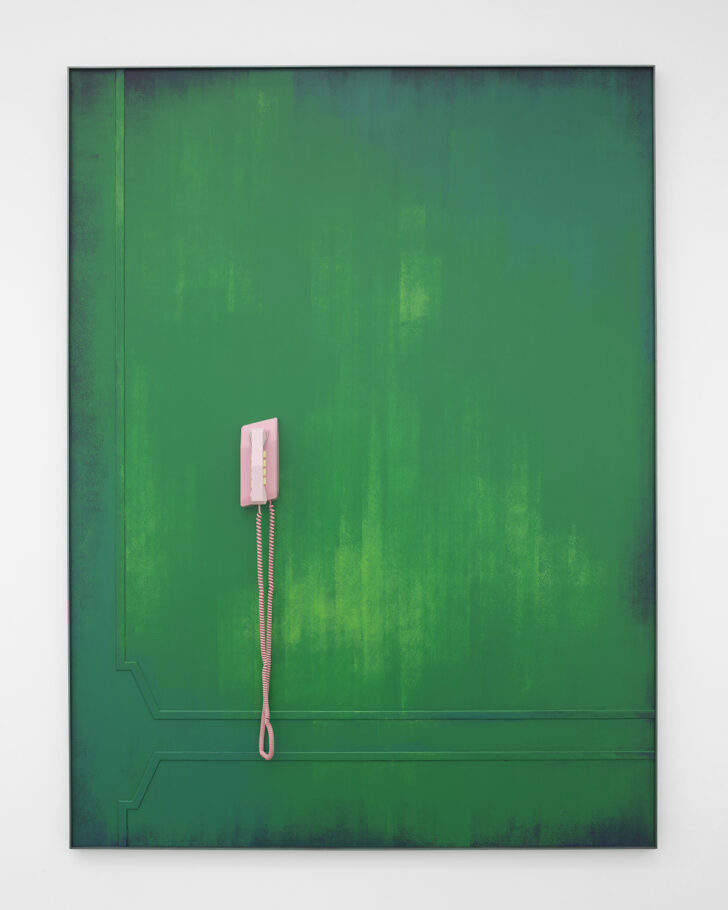 Martin Boyce, Future Tense, 2021, steel, acrylic on aluminium, painted silicone moulded vacuum cast resin, coiled telephone cable, courtesy The Modern Institute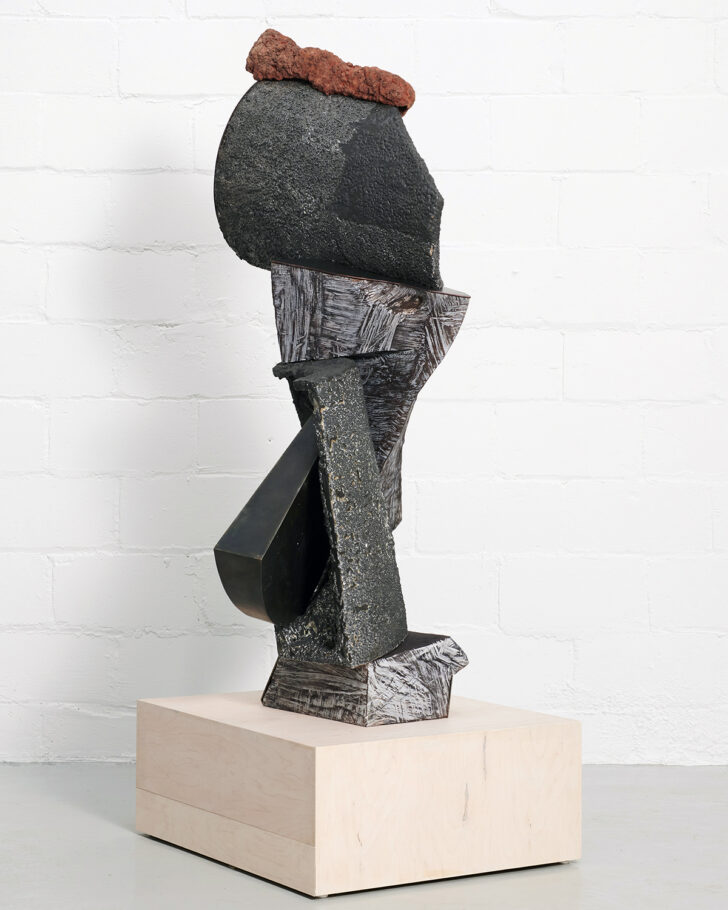 Arlene Shechet "Moonlit," 2022, glazed ceramic, dyed hardwood, steel, and plywood, courtesy Vielmetter Los Angeles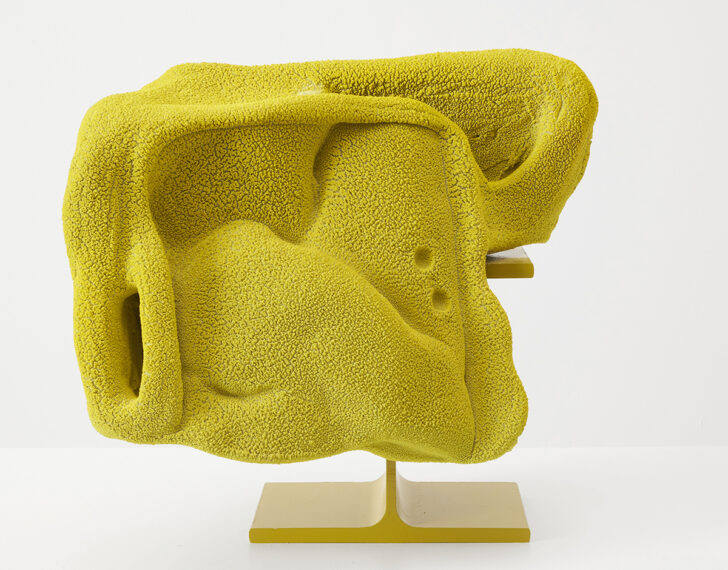 Arlene Shechet, Together Again: Fall, 2022, glazed ceramic, powder coated steel, courtesy Vielmetter Los Angeles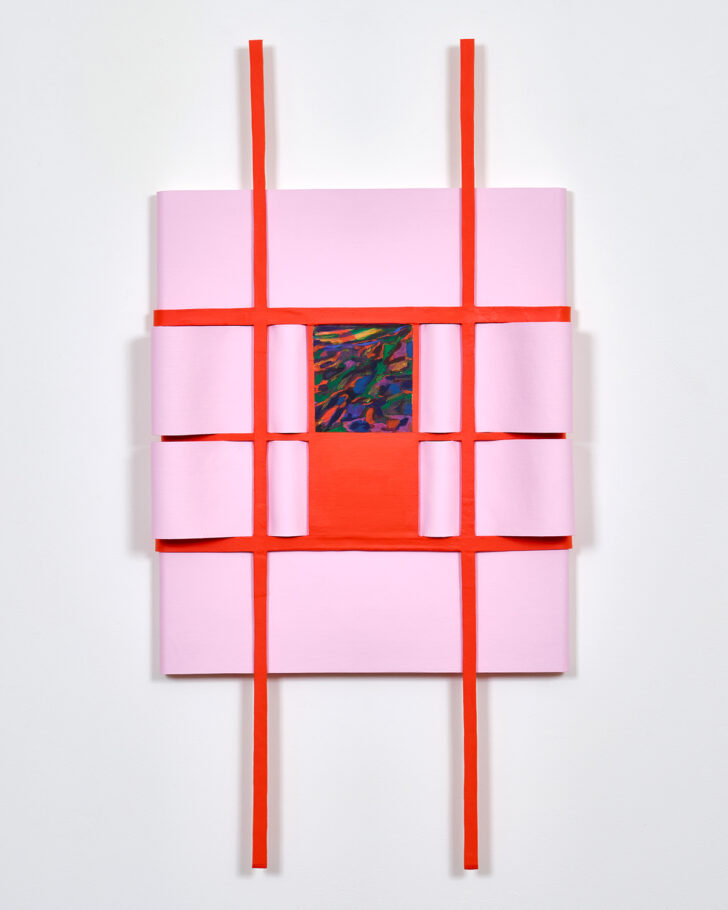 Annabeth Marks, Lightning Rod, 2022, acrylic on canvas, courtesy Parker Gallery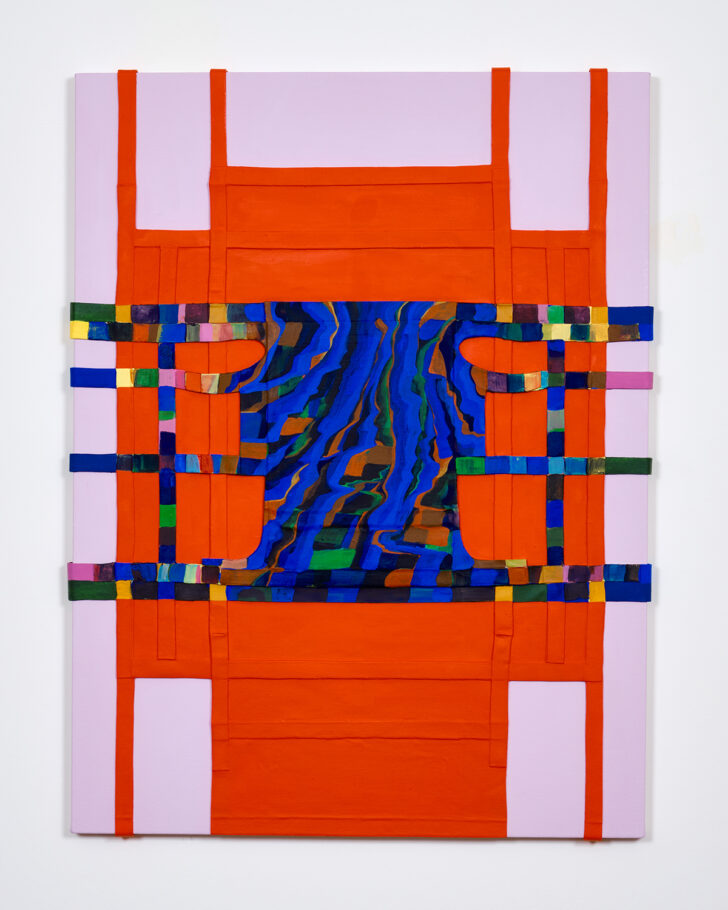 Annabeth Marks, Corset, 2022, acrylic on canvas, courtesy Parker Gallery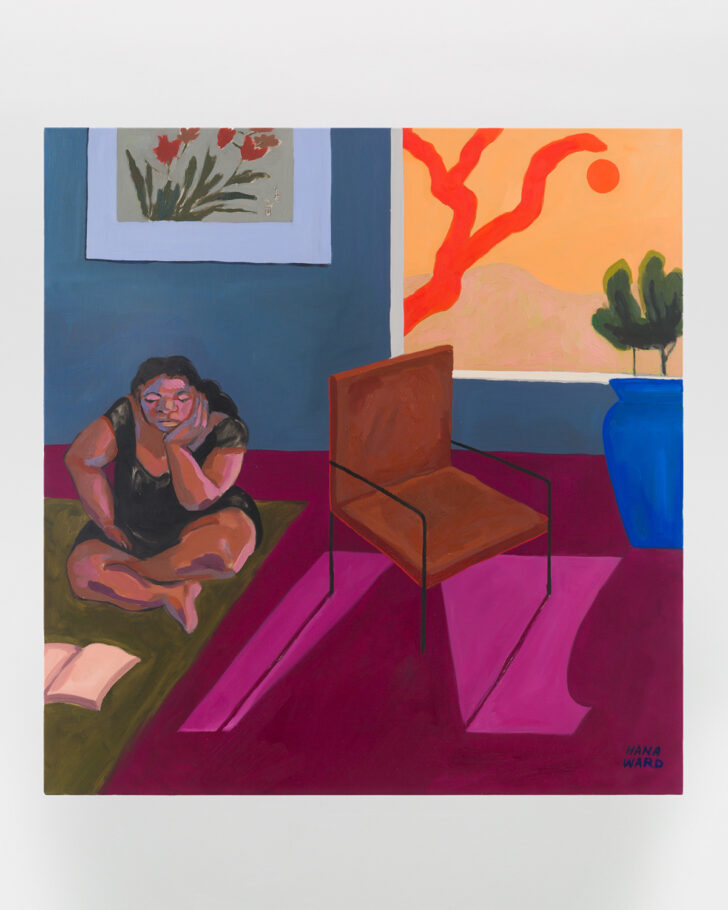 Hana Ward, Like a long forgotten dream, 2022, oil on linen, courtesy OCHI gallery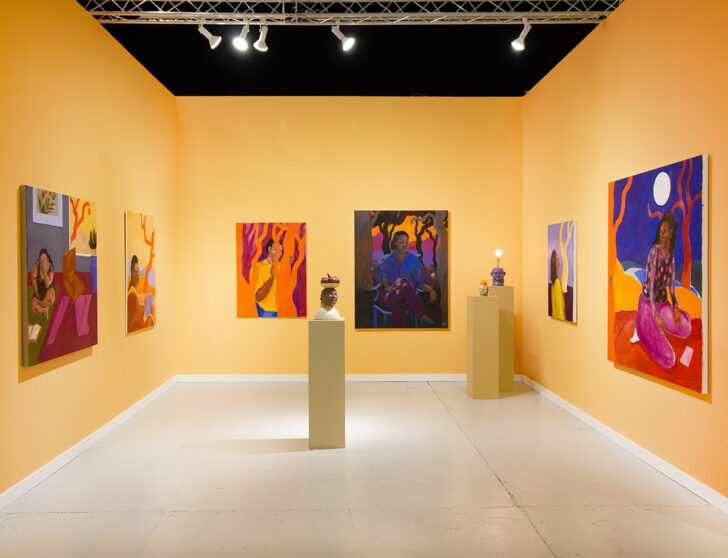 Hana Ward at OCHI gallery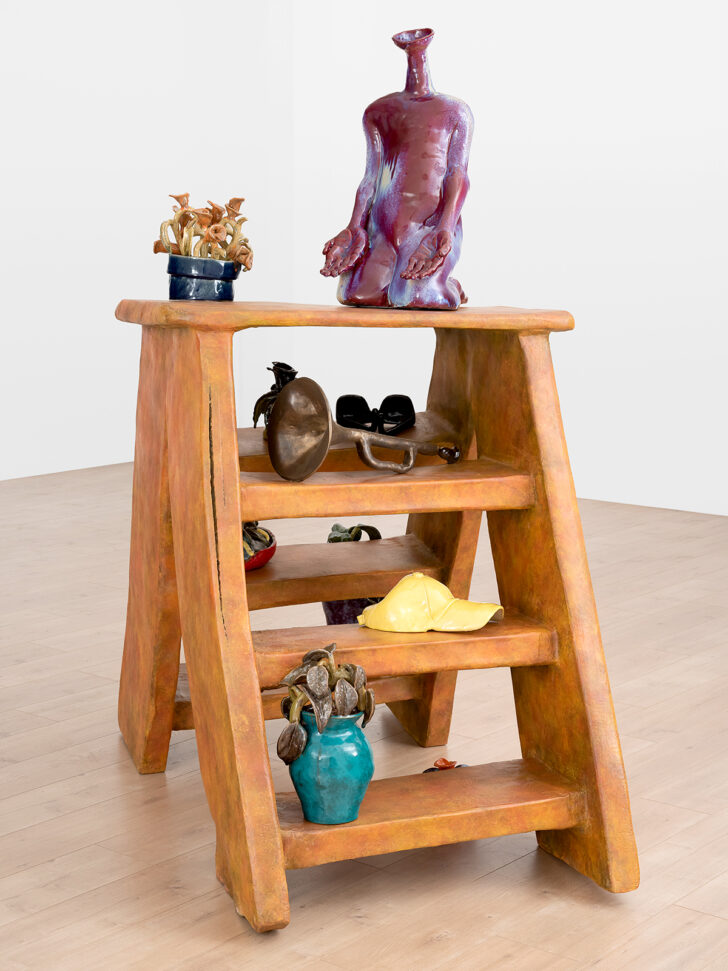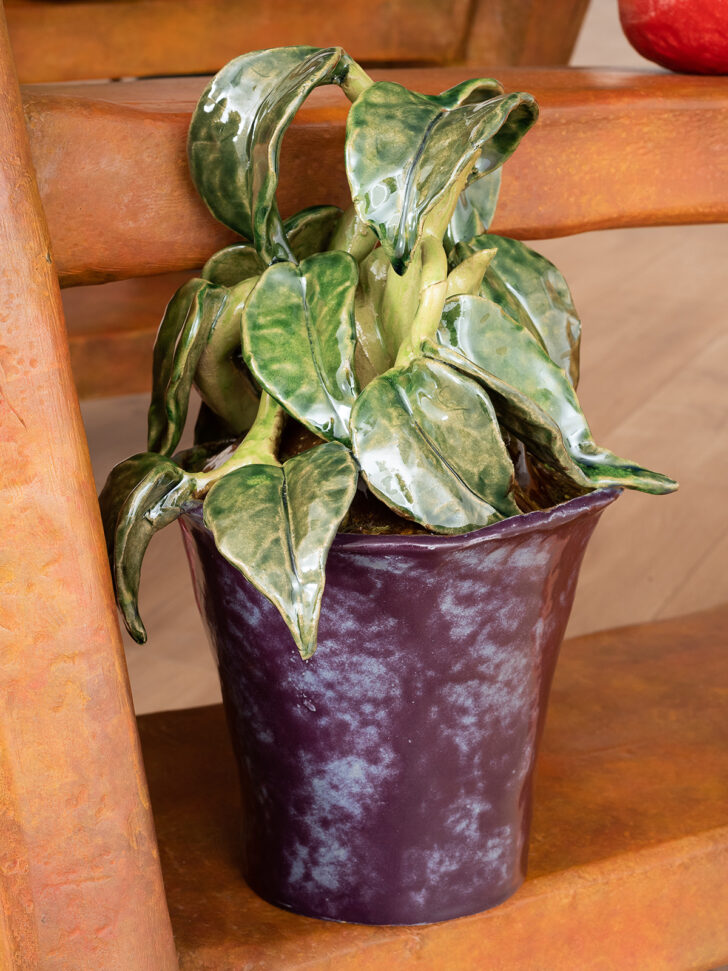 Woody De Othello, seeing the sun, 2023, courtesy of the artist and Jessica Silverman, San Francisco
Maestro Dobel at Frieze LA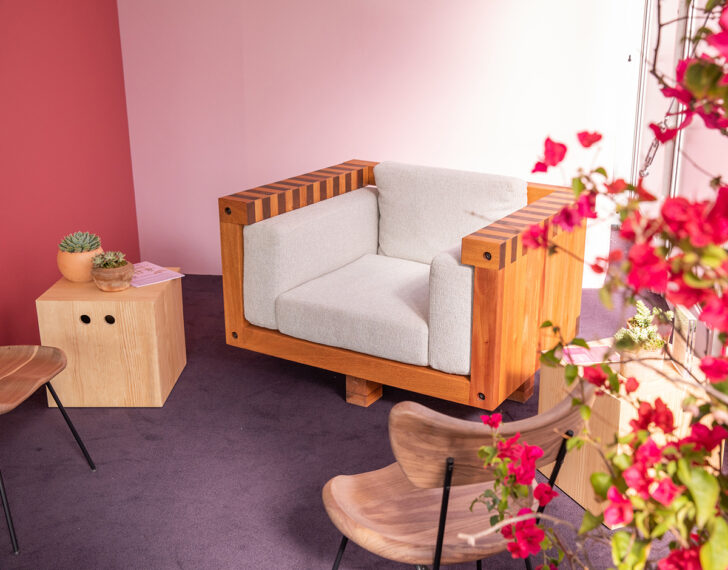 Batten chair by Ernesto Gomez Gallardo, 1980; Attolini cube by Antonio Attolini Lack; and El Eco 0001 chair by Matthias Goeritz (foreground), 1953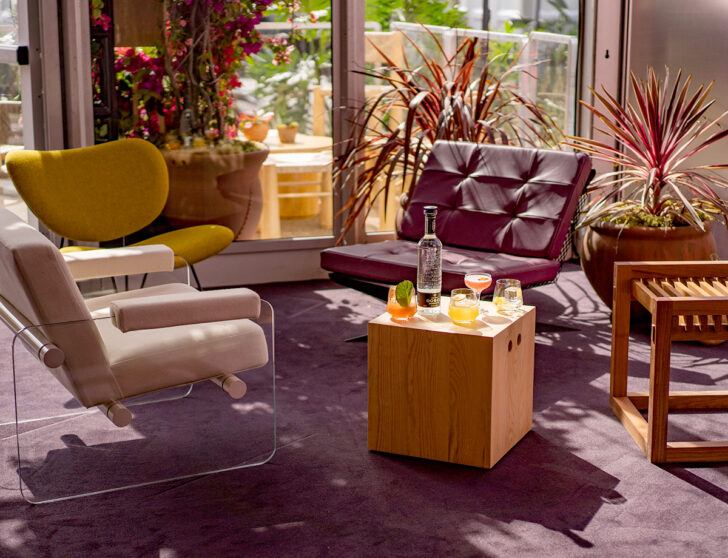 From left: Tepoztlán chair by Roberto Eibenschutz, 1970; El Eco 0003 chair by Mathias Goeritz, 1953; Gala chair by Augustín Hernández, 1997; Attolini cube by Antonio Attolini Lack; and Mezquitic chair by Roberto Eibenschutz, 1963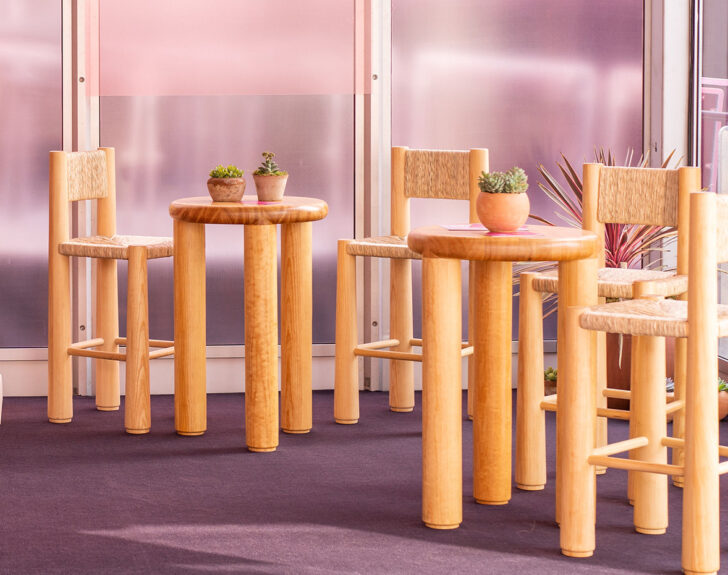 Vallarta line by Ricardo Legoretta, 1971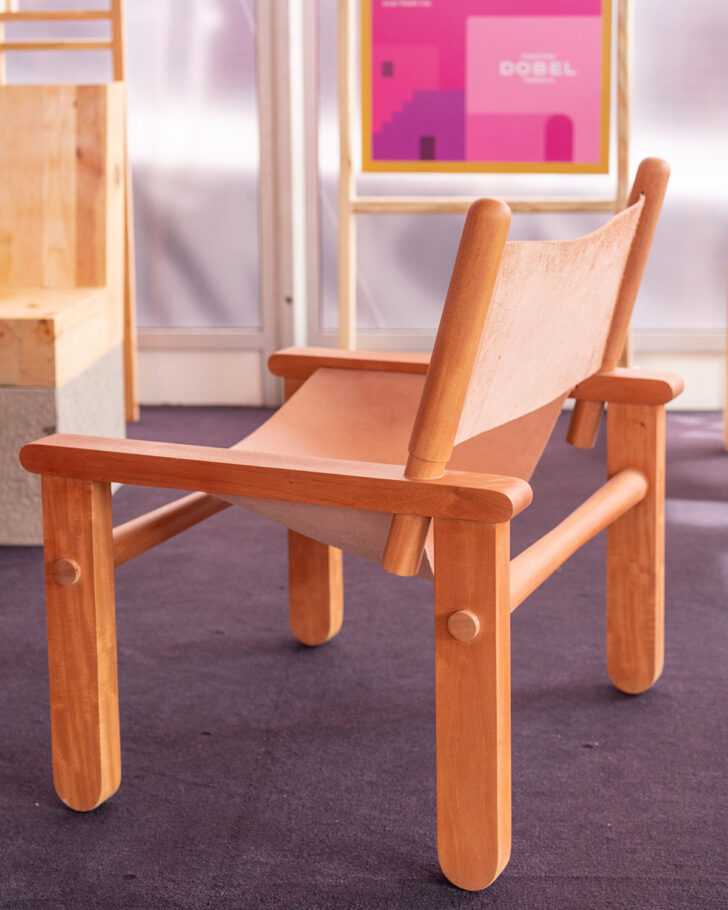 Mahogany chair by Po Shun Leong, 1976