07.18.23
This Surrealism-Tinged Exhibition Includes Flamboyant Salad Sculptures and Snail-Bedecked Stools
On view through October 1, French curator Anne-Laure Lestage has imagined a Surrealism-tinged exhibition called House of Dreamers at Villa Empain, a storied Art Deco jewel of a building in Brussels. The group show offers visitors the chance to wander through the rooms of a home furnished with imaginative objects that fall somewhere between art and design, making a case for mixing the dreamlike with the decorative. Here, a tablescape boasts a flamboyant salad sculpture centerpiece; there, a wooden stool is covered in spiral snail shells. In another room, ferns grow from a planter shaped like a medieval castle. 
Swiss architect Michel Polak was commissioned by Louis Empain to build Villa Empain in 1930. Later donated to the Belgian state to house a Royal Museum of Contemporary Decorative Arts, the building closed when it was requisitioned by the German army during WWII. Over the years the villa fell into disrepair and was partially destroyed, only restored to its former glory once it was acquired by the Boghossian Foundation in the 2000s. Its doors opened to the public in 2010. 
For House of Dreamers, Lestage imagined the exhibition as an extension of her research on notions of domesticity, decor, and interiors and has created an enchanting environment where the imaginary meets real life. Throughout the rooms, contemporaries like Daniel Dewar & Grégory Gicquel, Laure Prouvost, and Shana Moulton are in dialogue with modern artists such as Man Ray or Anni Albers with no hierarchy between them. "What they have in common is a poetic relationship to the world, a kind of sense of humor, and a special way of working with crafts," Lestage says. There were some incredible moments when installing the show, like the hanging of Ulla von Brandenburg's theatrical double volume curtain. "It was as if the paint of the fabric and the colors of the Villa Empain marble already knew each other," Lestage says. 
Highlights of the exhibition include a pistachio-colored room showcasing Kasia Fudakowski's wrought-metal Climate Changing Room (2017), whose movable vine and fig leaves can be arranged to conceal the bits of those changing behind it; Sébastian Gouju's dinner party hangover, complete with handmade ceramic shellfish and vegetables and drooping flower bouquets in blown glass; and Jacent's Poisson Bleu floor lamp. Walking through the exhibition offers the ultimate house tour, where everything in it sings about the possibilities of what a home could be if you only added a bit of extraordinary to the ordinary, and fun to functional. 
Top: Kasia Fudakowski & Raphael Larre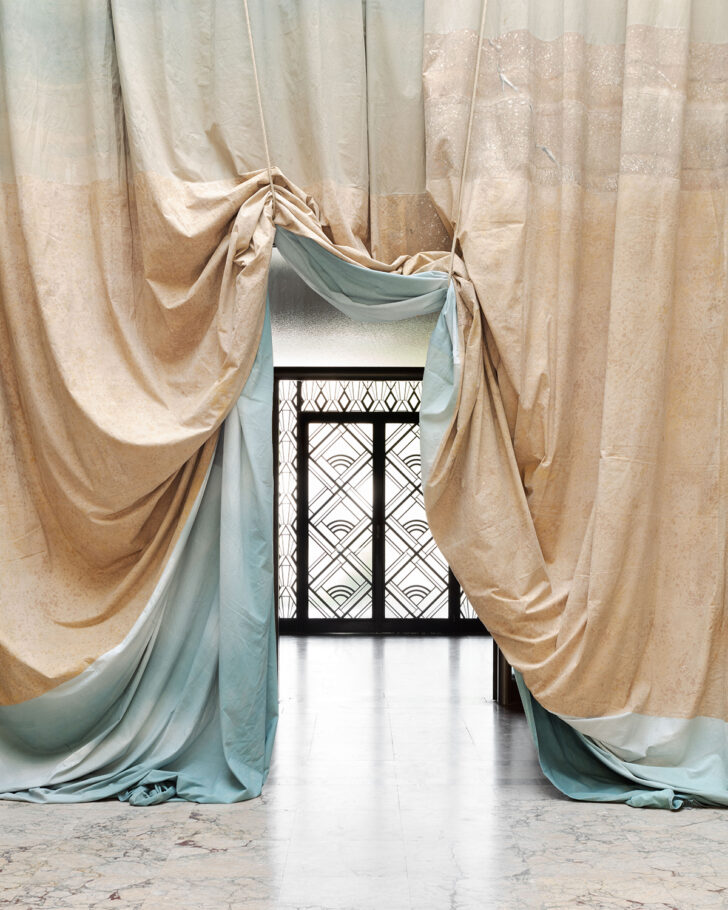 Ulla von Brandenburg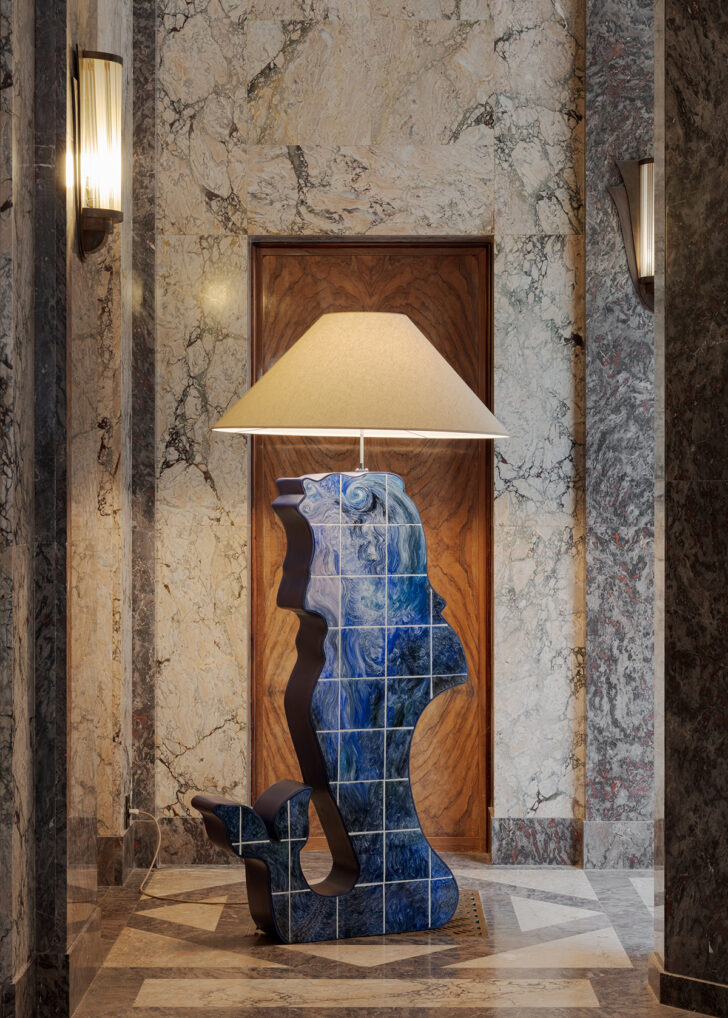 Jacent
Mural by Anastasia Bay, tablescape by Sébastien Gouju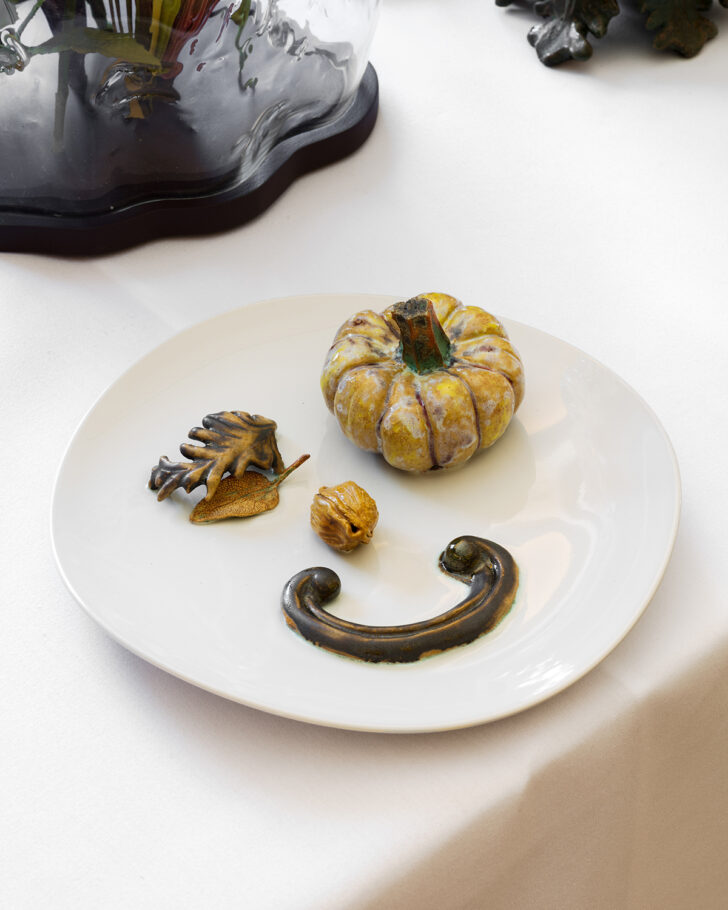 Sébastien Gouju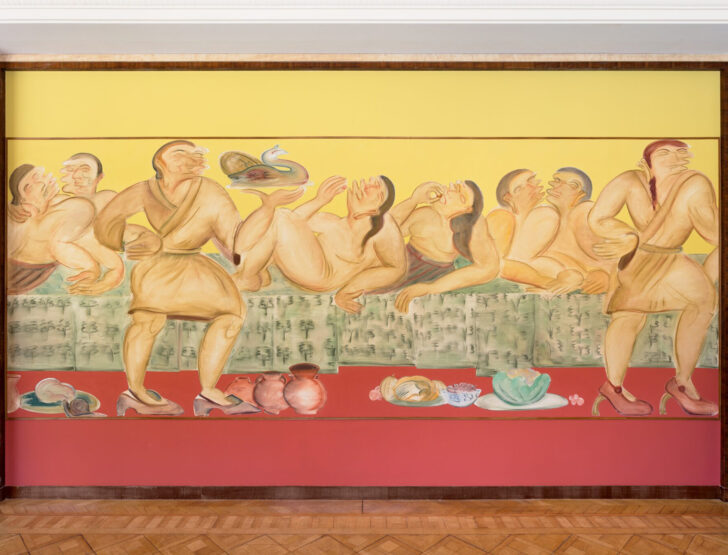 Anastasia Bay
Anastasia Bay & Pierre Marie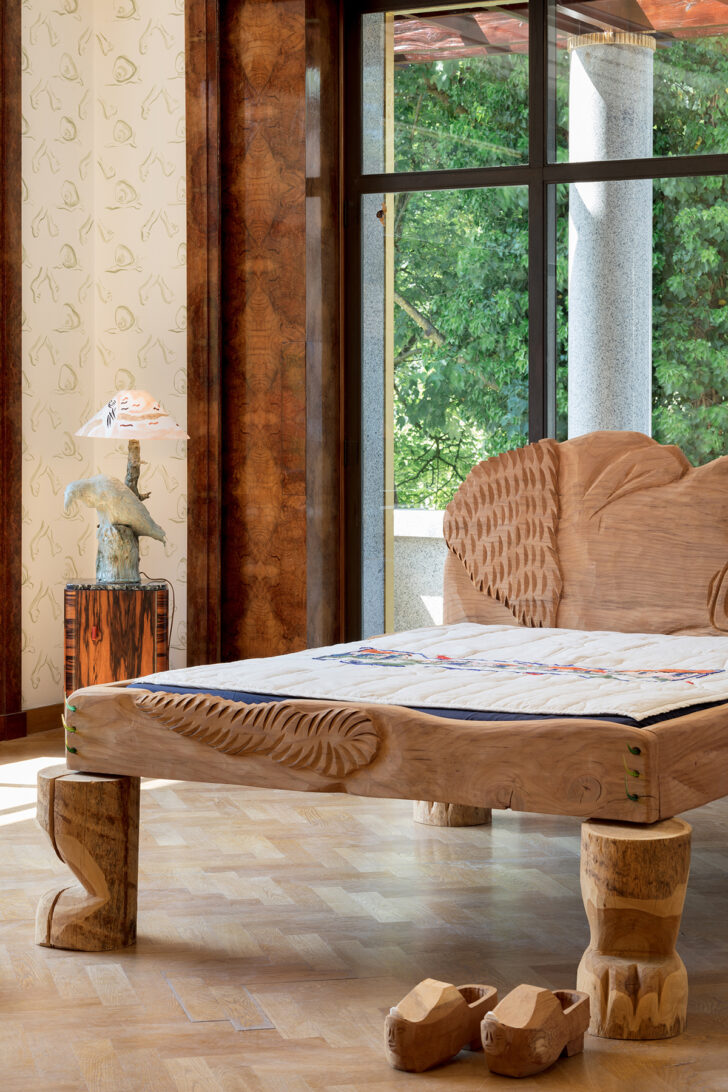 Aurélie Ferruel and Florentine Guédon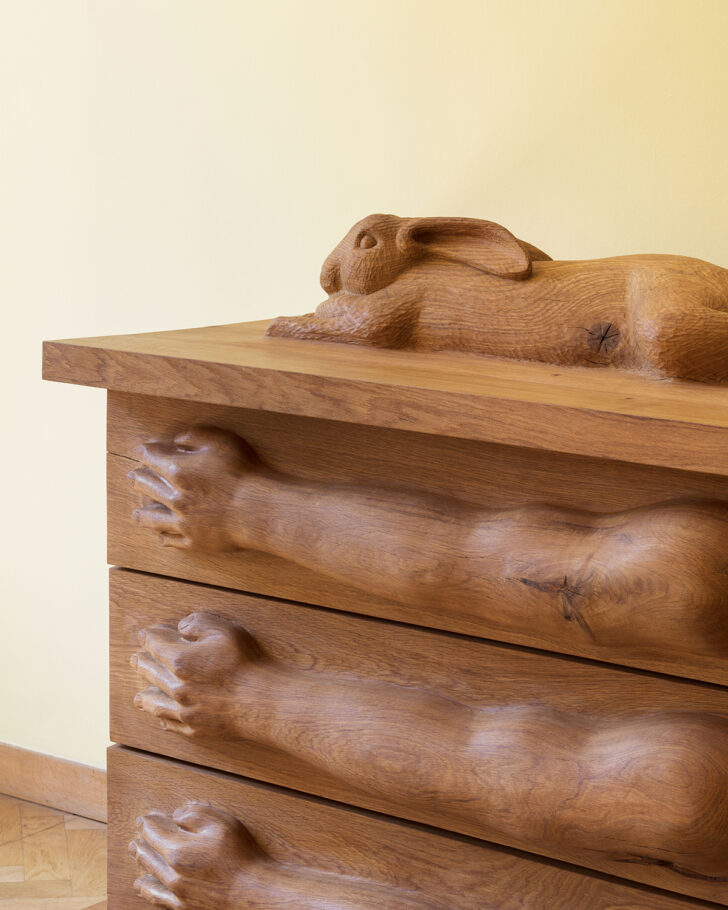 Daniel Dewar and Grégory Gicquel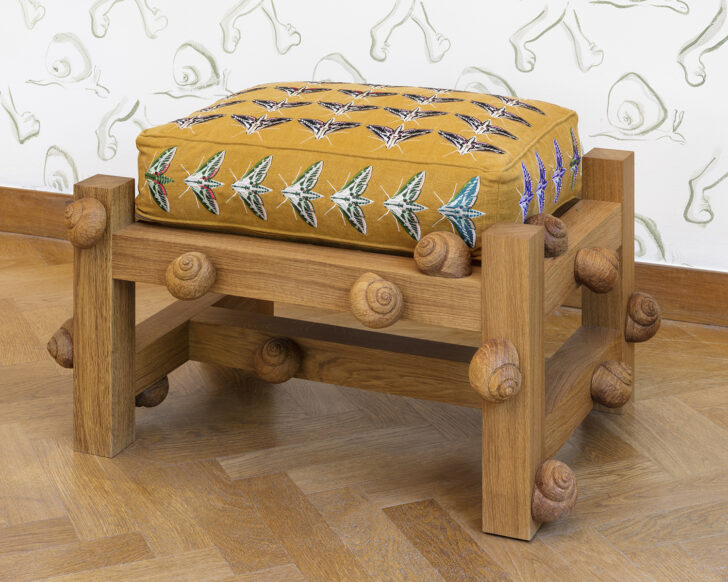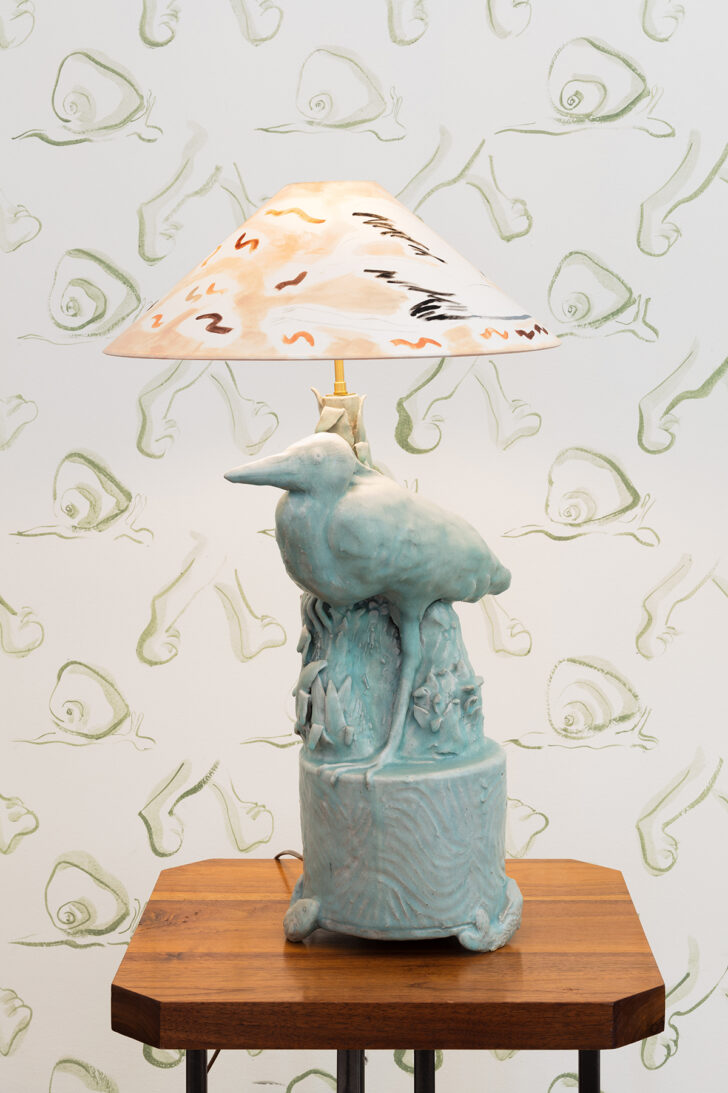 Magali Wagner & Amélie Charroin; wallpaper by Raphael Larre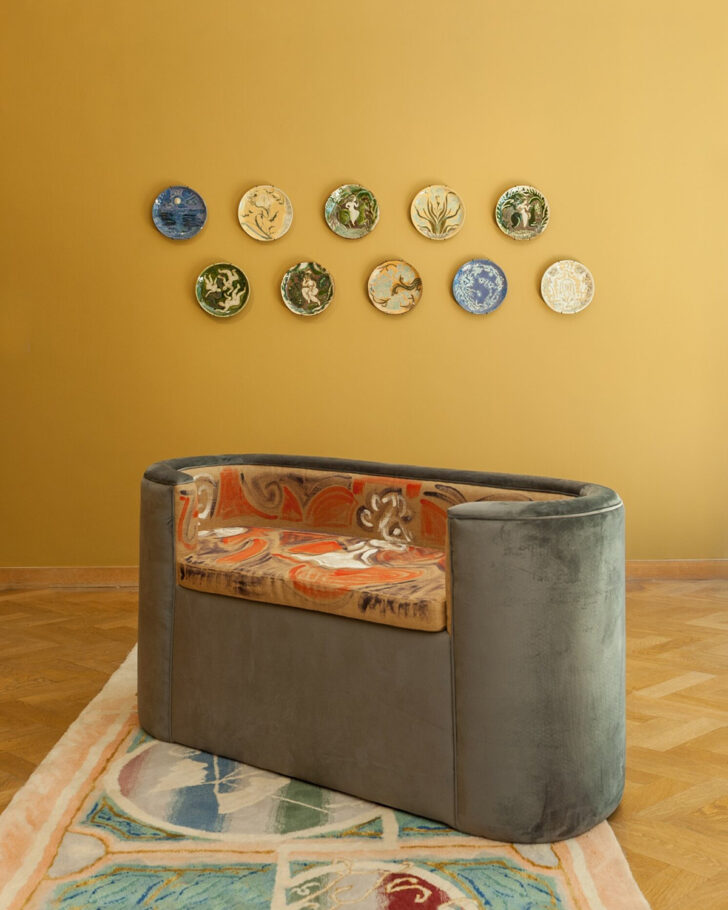 Marion Benoit & Than Hussein Clark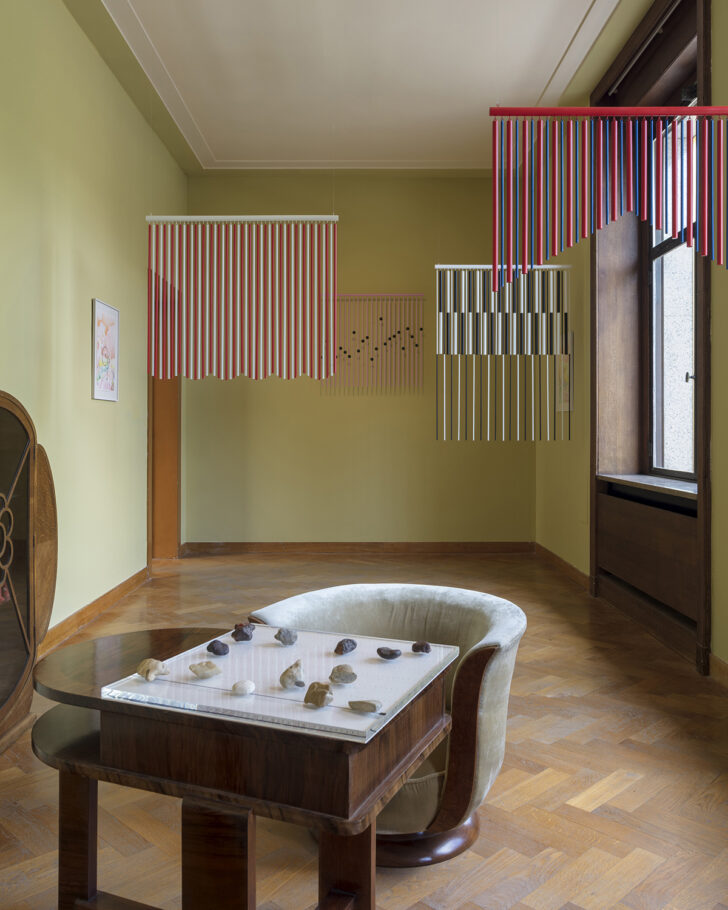 Clementine Fort and Jean Michel Sanejouand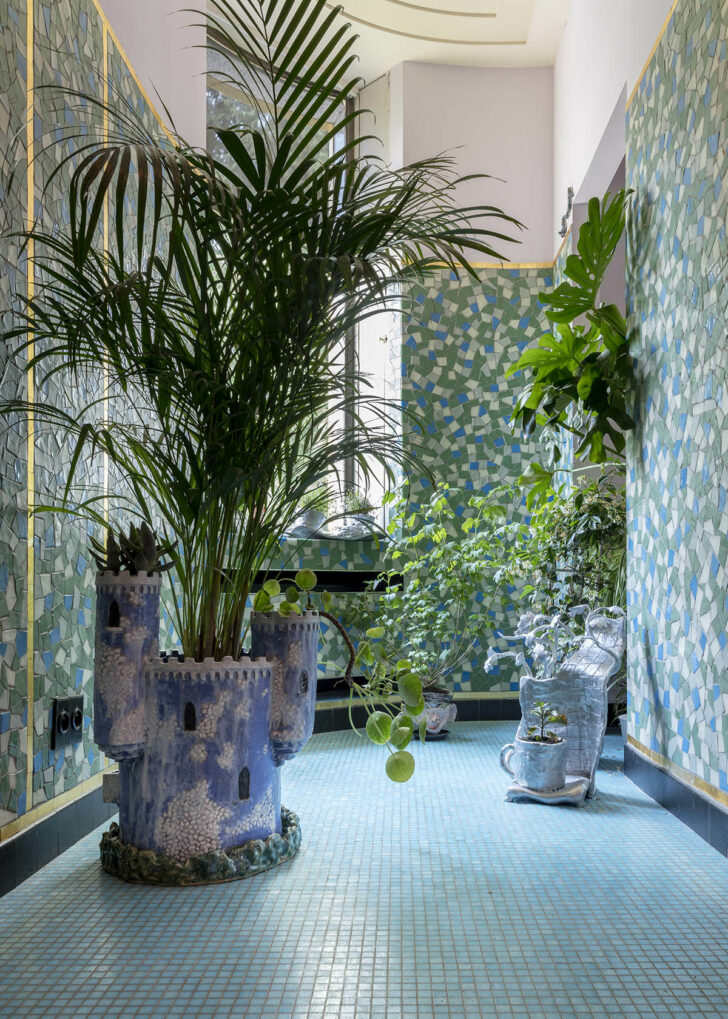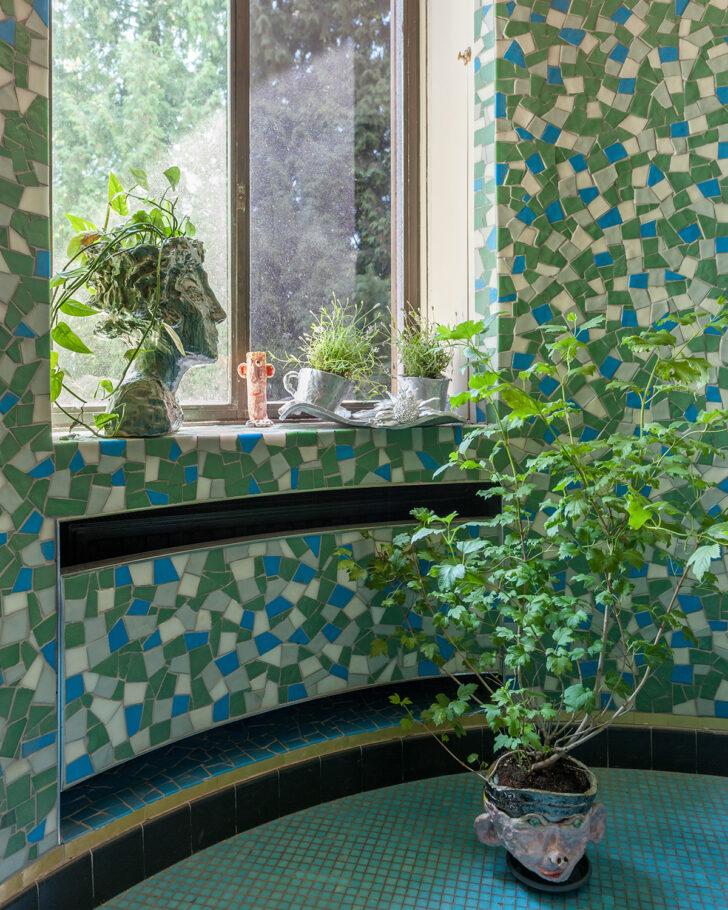 Olga Flor, Gregory Cuquel, Claire Lezier