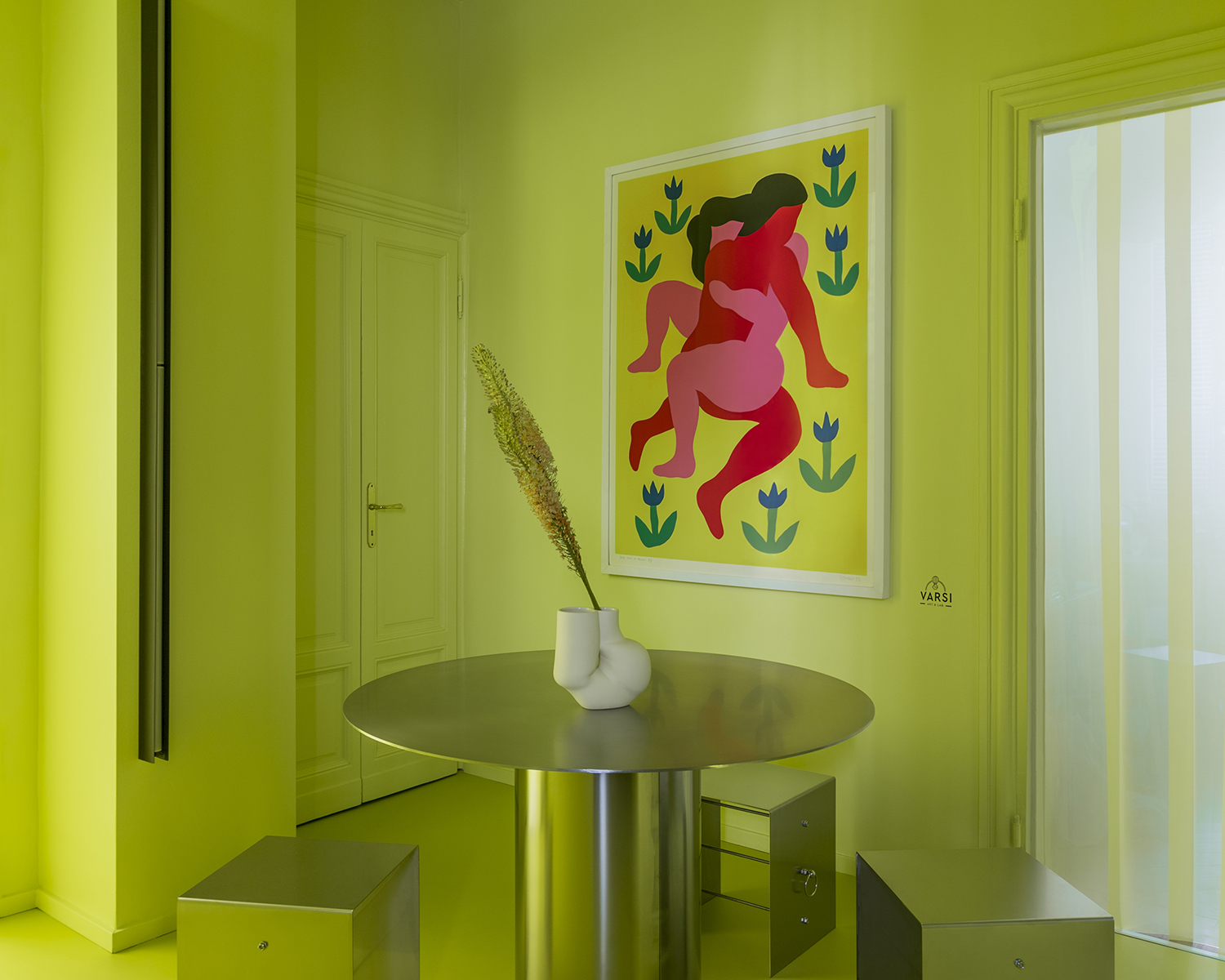 A weekly Saturday recap to share with you our favorite links, discoveries, exhibitions, and more from the past seven days. This week: a zesty creative hub in Milan, a set of "noisy" rugs, and a sofa modeled after boxing gloves.
Interiors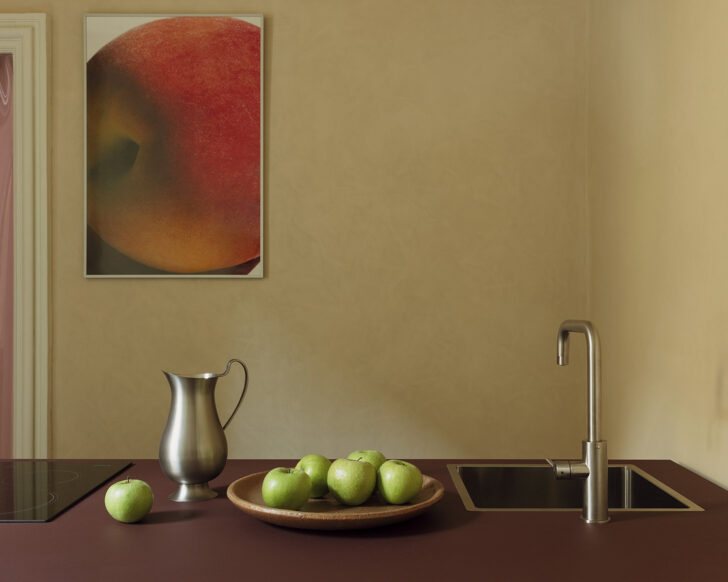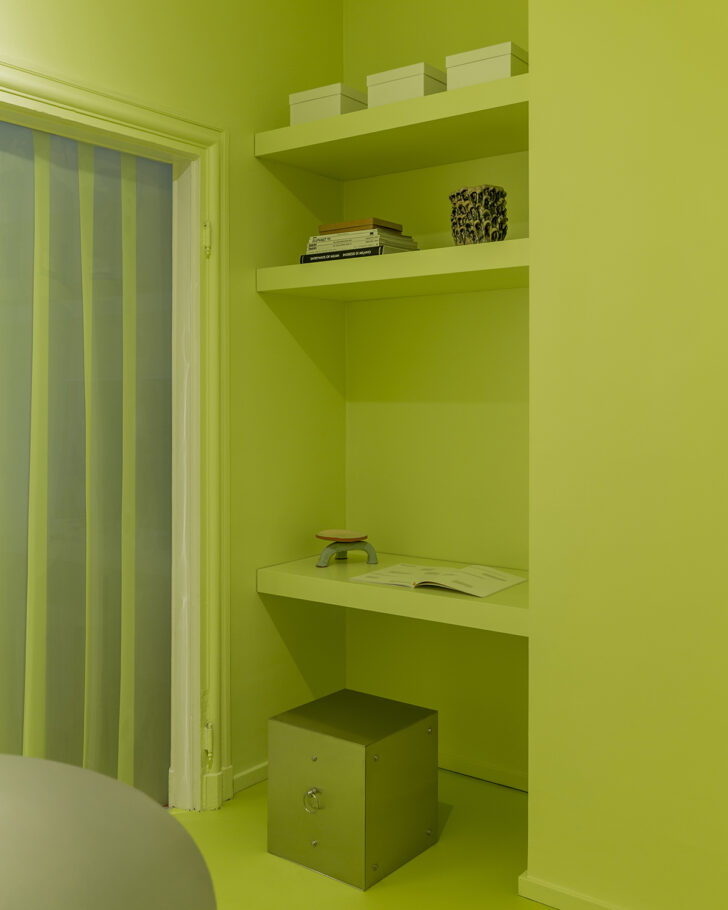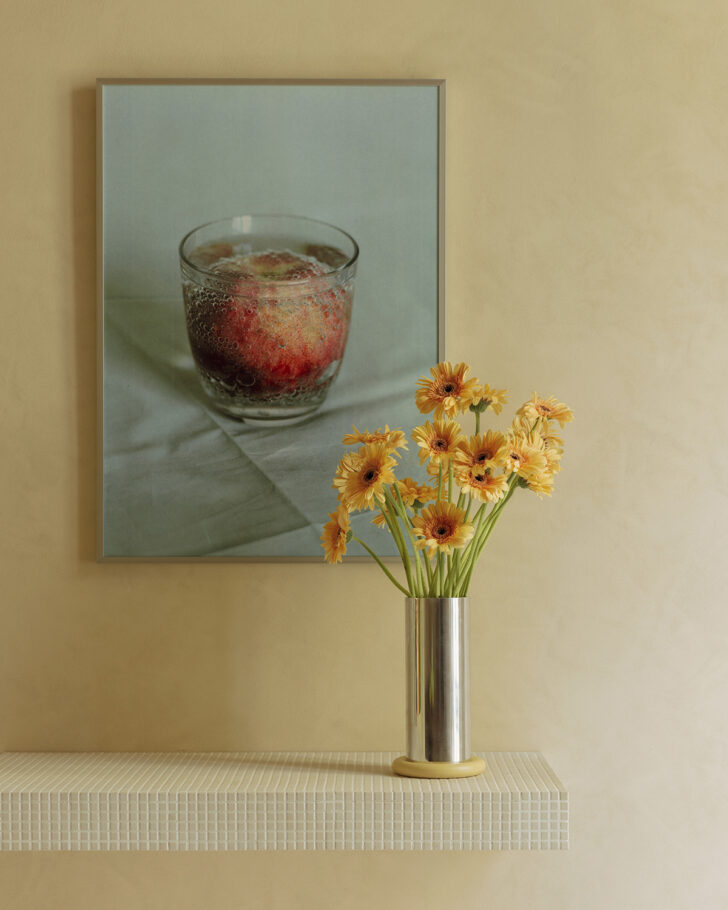 Call me biased, since my bedroom was this color as a young teen in the early 2000s, but you have to admit that lime green looks pretty damn great inside the new Milanese home of Spazio Pesca. The work of set designer, stylist, and interior architect Greta Cevenini, this multifunctional creative hub includes an exhibition space, office, meeting room, kitchen and photography studio for founder Benedetta Gambino to explore her many talents, and invite in others to do the same. The intentionally disorienting zesty hue that envelops the entrance and exhibition space is paired with metal furniture by architect Sofia Albrigo, while other more neutral spaces are enlivened with elements like a curtain printed with large-format photos, and an oxblood-red kitchen counter. Eccentric? Yes. Amazing? Also yes.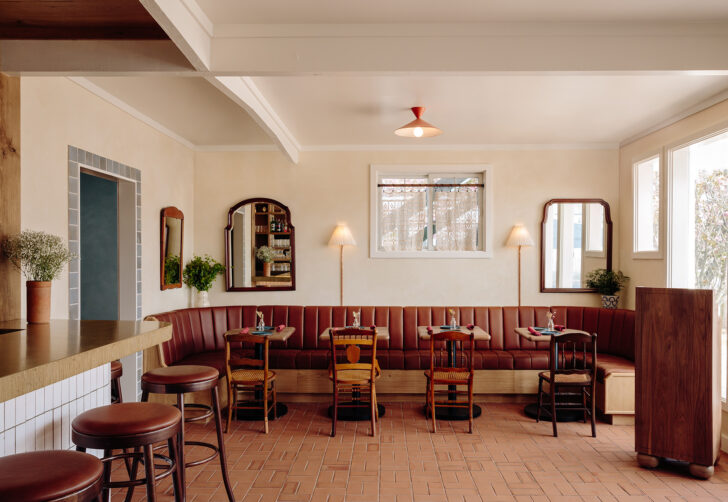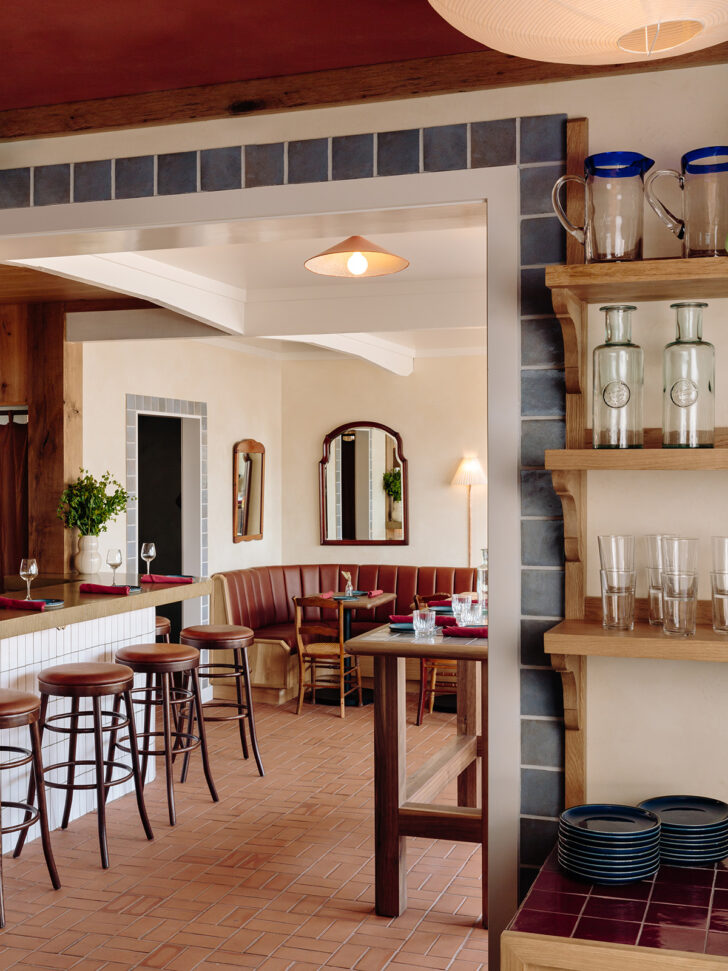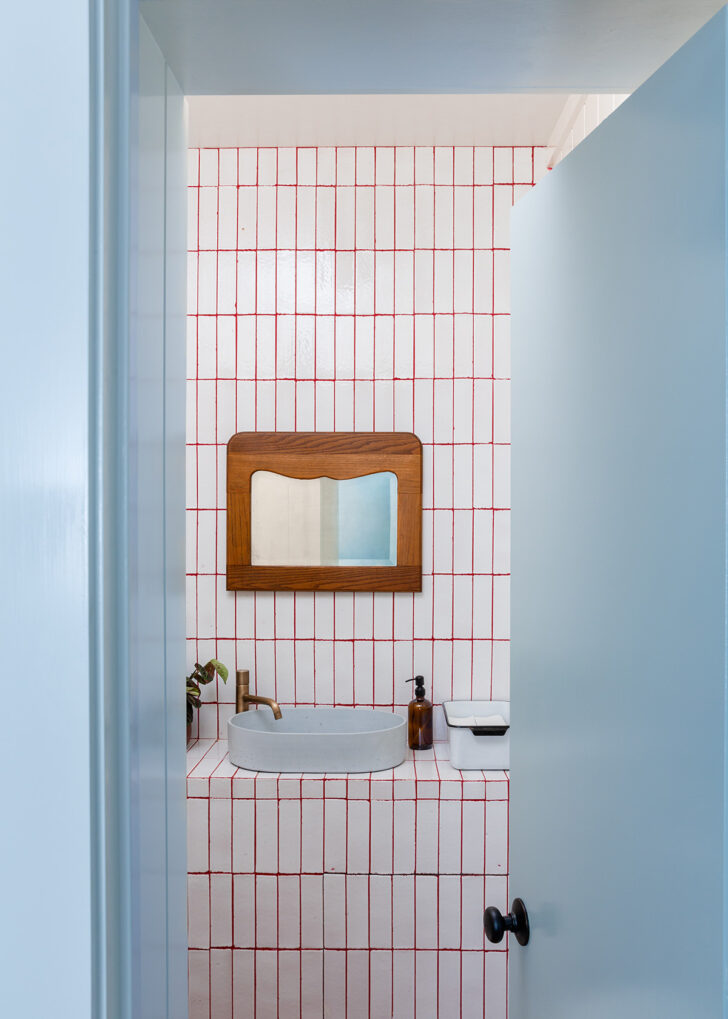 Last year, a Montauk motel received a charming makeover by Home Studios, and now, the studio has returned to revamp a nearby bar and restaurant operated by the same team. A local favorite for over 40 years, The Bird, as it's been renamed, now offers guests and visitors of Daunt's Albatross a place to eat and drink across the street, which is just as Instagrammable as the hotel rooms. Brick floors, oxblood-toned leather banquettes and stools, and fairly epic powder-blue bathrooms all come together to create a coastal-casual setting for chef Marcos Martinez Perez's food and Sophia Depasquale's cocktails.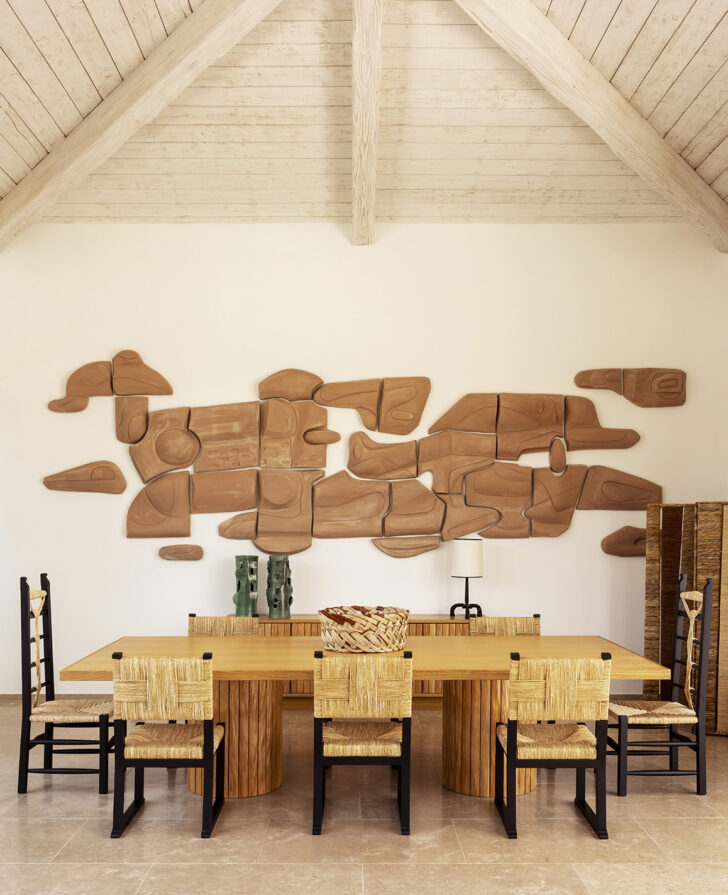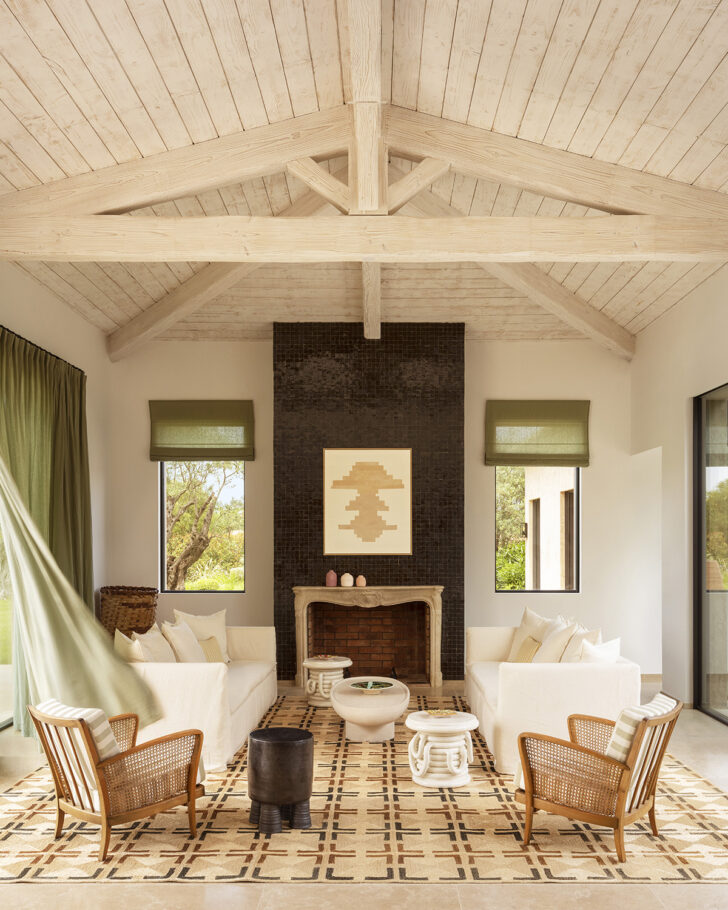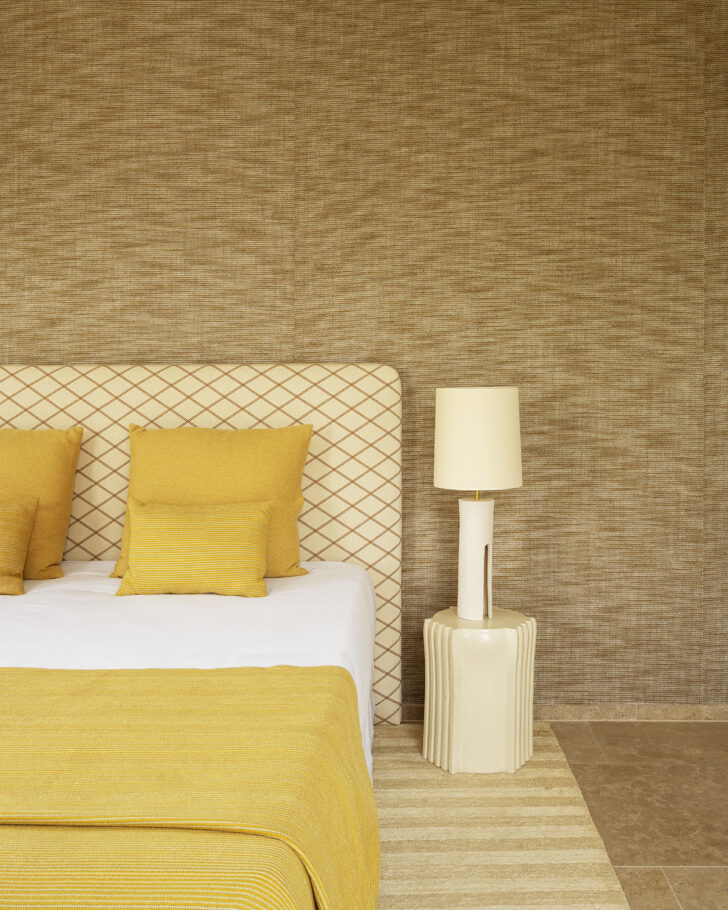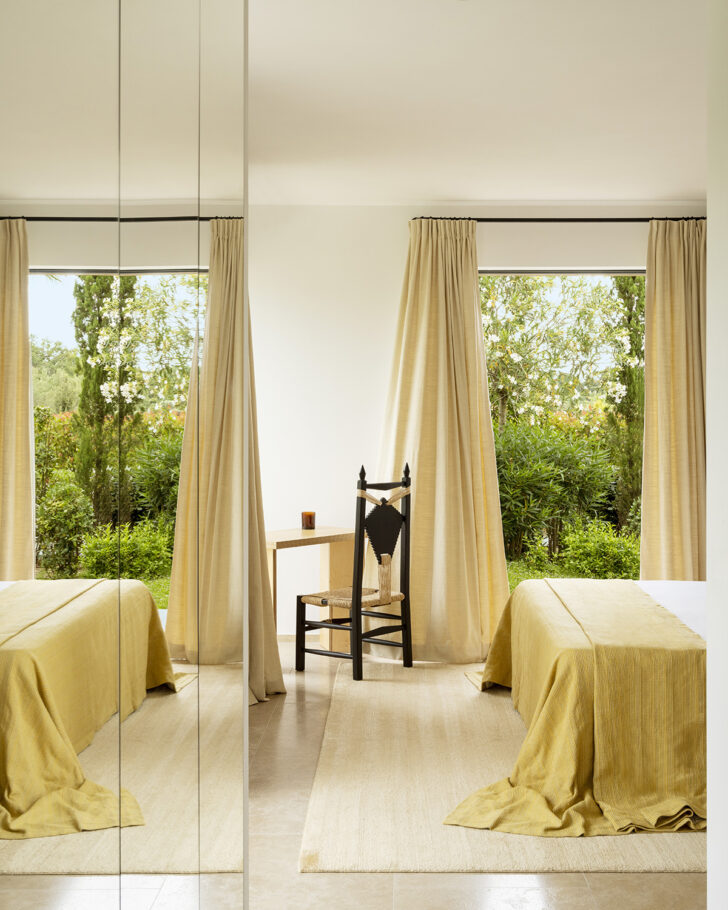 Jessica Berguig of Galerie Jag recently lent her artistic direction talents to Villa S, a residence in the south of France. Set around a leafy green patio, the house includes contemporary pieces like a wall sculpture by Olivia Cognet, a coffee table by Francesco Balzano, and a console by Studio Goons set alongside vintage pieces like Paolo Buffa armchairs. Love the beachy yellow tones.
Discoveries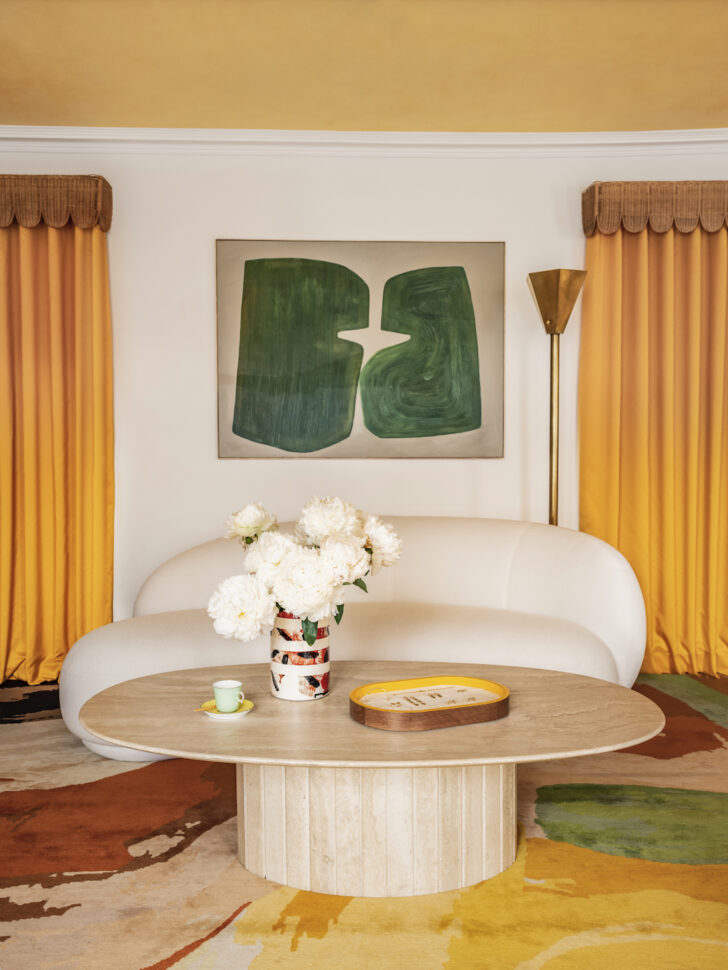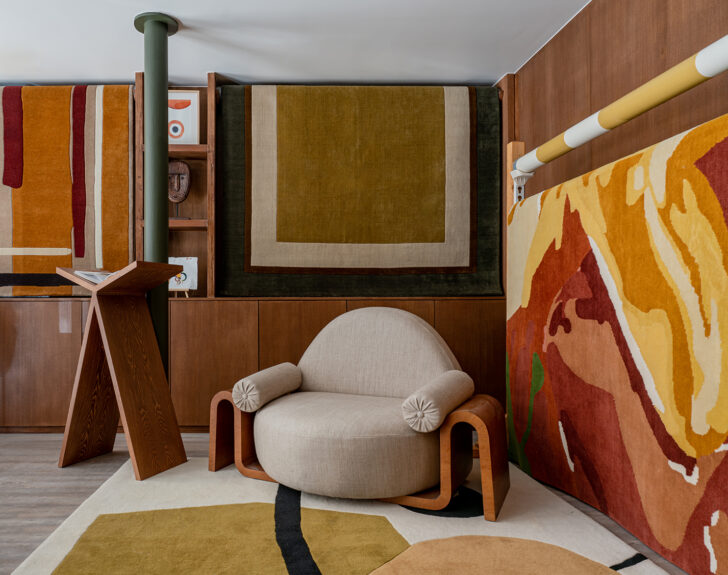 The Paris-based artist and designer Sibylle de Tavernost's abstract carpets, all hand-knotted from New Zealand wool, are incredibly variable in style: Some could be aerial photographs of landscapes, others are more geometric Art Deco or Constructivist, while many more in her collection range from cartoonish portraits to surreal assortments of shapes. One of her most recent collaborations, with Maison Viltier, resulted in an exclusive piece that reminds of enlarged watercolor brushstrokes in yellow, red, green, and earth tones.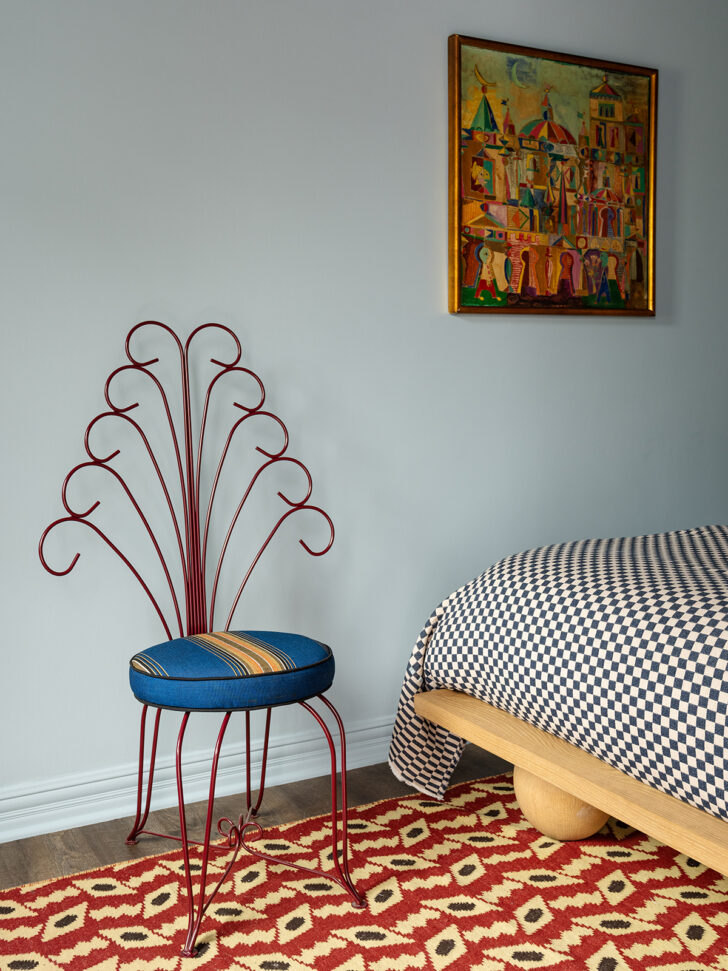 LA-based vintage textile library Kneeland Co. has collaborated with Temple Studio on a collection of patterned wool rugs that each evoke  travel and adventure. The Futurismo motif, for example, is designed to be intentionally "noisy, in a cool way" and based on the spirit of experimental Italian noise music. In contrast, the Egyptian-influenced Akhet pattern nods to the changing sky at sunset. Both of these come in two colorways, while additional designs in the collection include the dark, floral Claude 1921; the zigzaggy New Wave; and a pastel plaid called Venora. PHOTOS BY ORI HARPAZ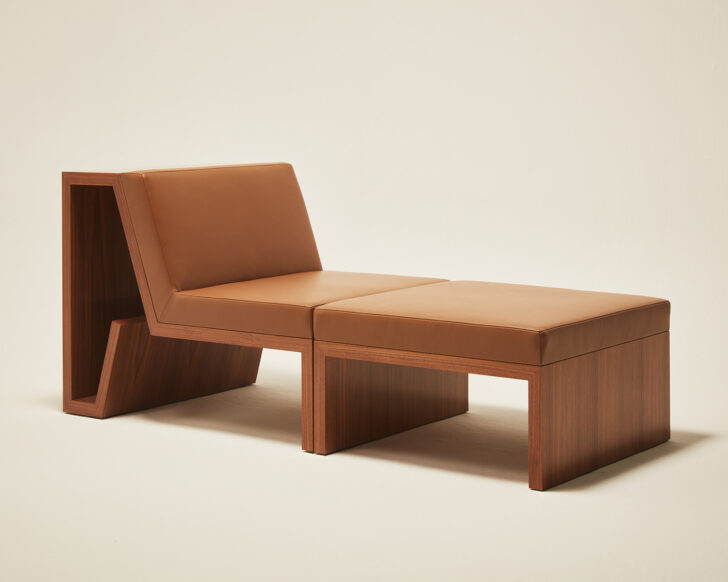 The Continuous Series from Atelier FM is every bit a modernist's dream. This super sophisticated range of furniture combines materials like wood veneer, travertine, and leather in a variety of strict geometric forms and "tone-on-tone" neutral colors. All made by skilled craftspeople, the chairs, tables, desks and daybeds would look totally at home in Don Draper's office.
Exhibitions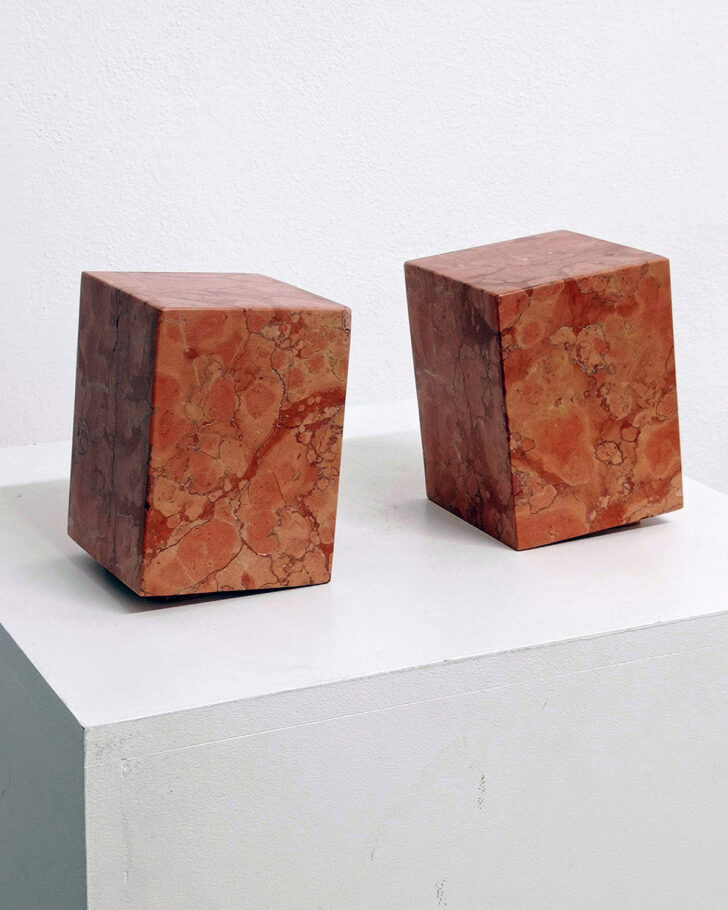 Using scraps and offcuts from a marble-processing factory, in which his studio is located, English sculptor Will West has fabricated a series of bookends and doorstops that are on show in a solo exhibition titled Stoppable. Now open at Oxilia Gallery in Milan, the exhibit was curated by 1+1 Gallery and includes several pairs of colorful stone blocks that look about to tip over, and a single object with dimples on either side for fingers to lift it. The theme of the exhibition relates to both the function of these pieces, asn the moment at the beginning of this decade when everything was brought to a halt. Until July 29, by appointment only.