11.18.23
Week of November 13, 2023
A weekly Saturday recap to share with you our favorite links, discoveries, exhibitions, and more from the past seven days. This week: an array of chic, ready-to-install mantels, an exhibition inspired by a classic work of American literature, and a sock utopia opens in Brooklyn.
Holiday Pop-Ups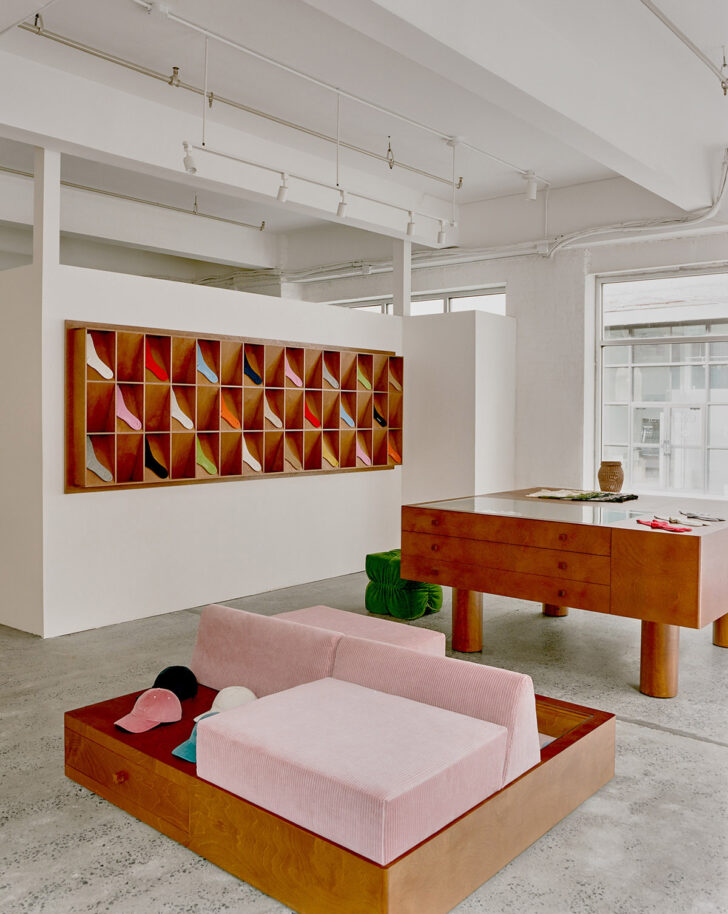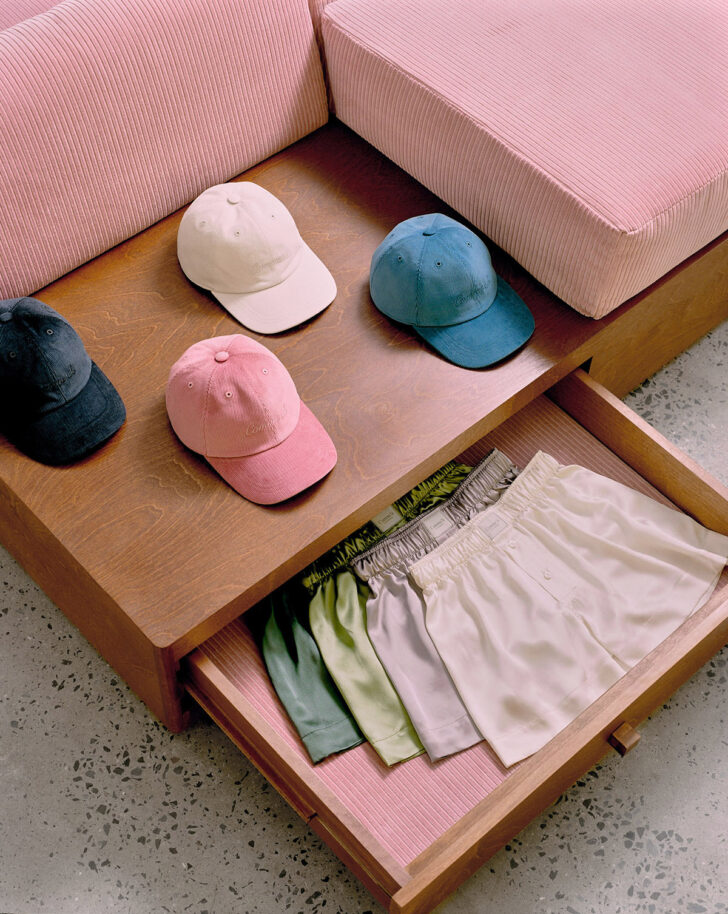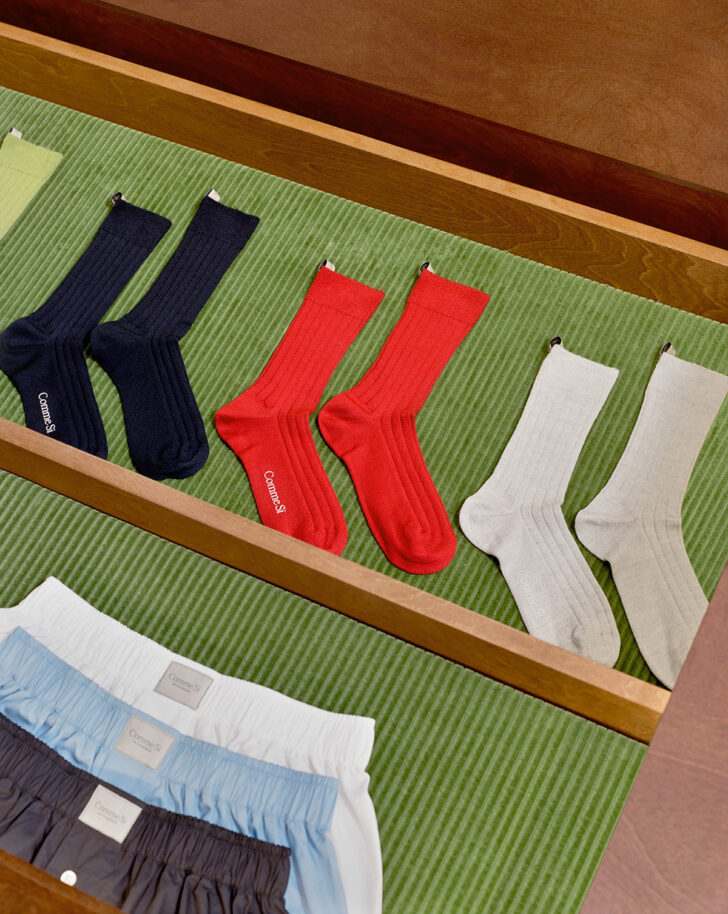 Sock devotees, your new place of worship has just opened in Brooklyn with Comme Si's outpost. It's a holiday season pop-up (at DUMBO's Hudson Wilder) for the Italian accessories label, but still. Designed by creative director Jenni Lee and Devan Elias of Elias Studio, the space features ceramic pots in the window by Yoonjee Kwak, velvet cube stools by John Sohn, and custom Kvadrat upholstered displays for the luxurious socks, of course, as well as loungewear. Visit through January.
Exhibitions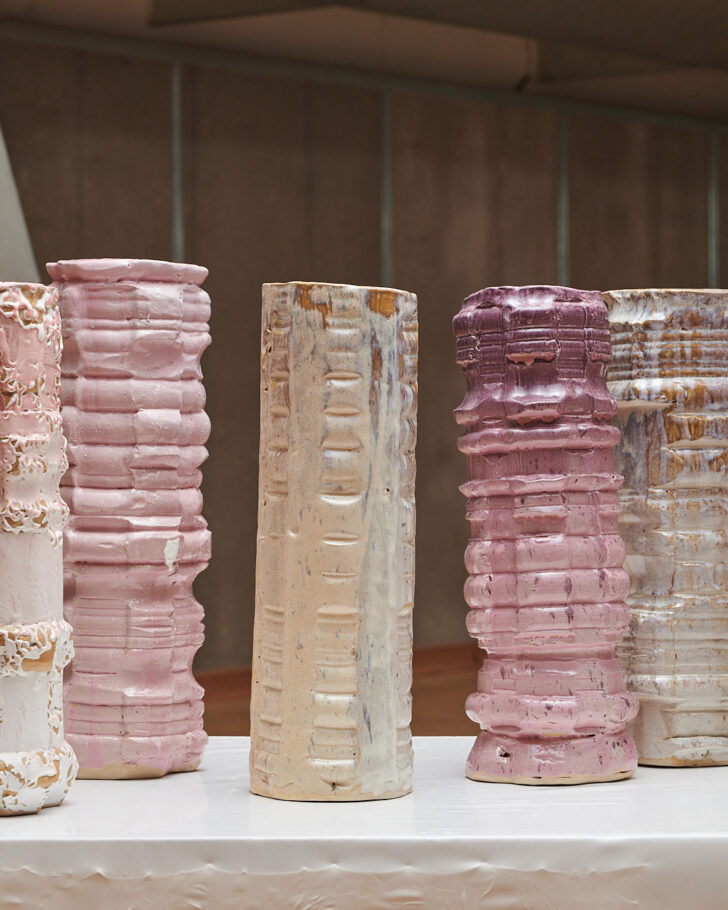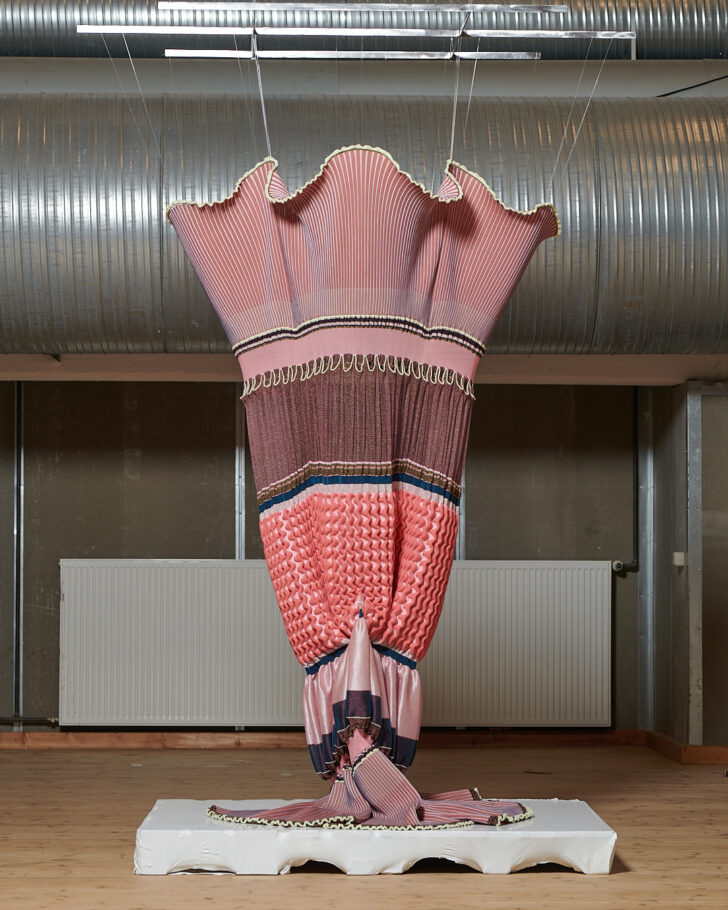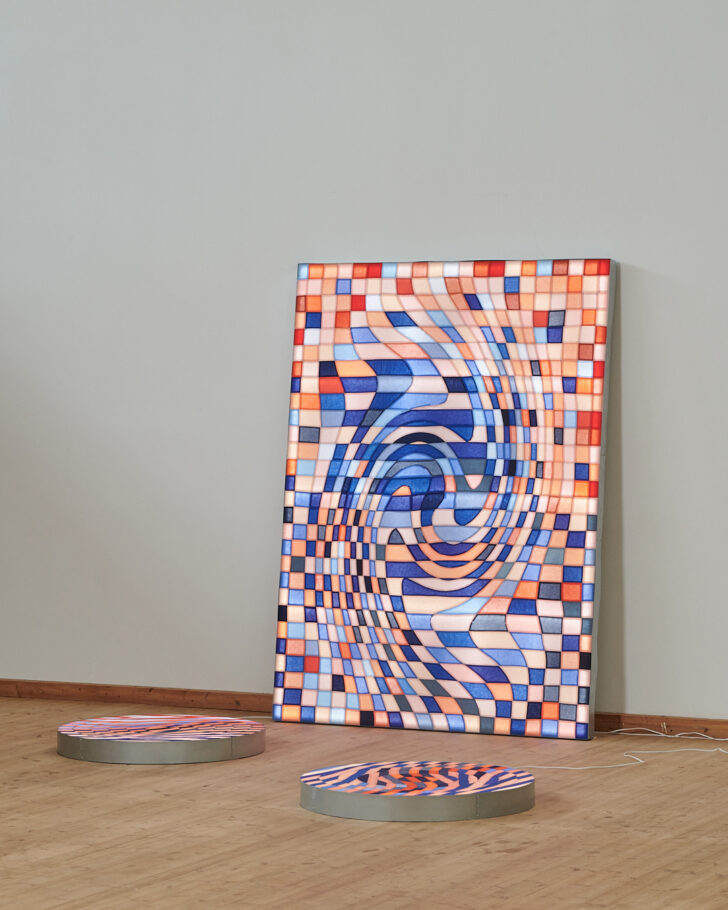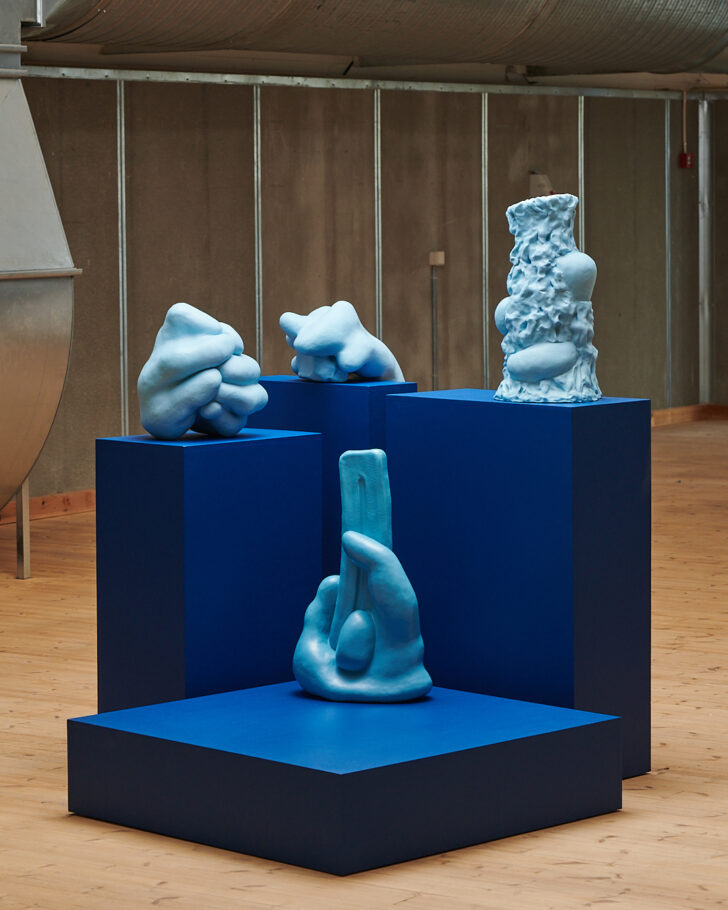 The theme of this year's 2023 Biennale for Craft and Design was conversion — and the many ways you can interpret that — particularly the transfiguration of materials to the digital world and back again. The Copenhagen show was conceived of as a hybrid digital-material experience, with a physical exhibition, a virtual exhibition, and a web-based catalog, with digital culture and life (so, basically, just life) incorporated into each of the 36 projects from Danish designers on display. Copenhagen's Tableau shaped the show's visual identity. From top, works by: Anders Henckel Nielsen, Drum Six Simone Albrechtsen, Siff Pristed, and Amalie Voge Jensen.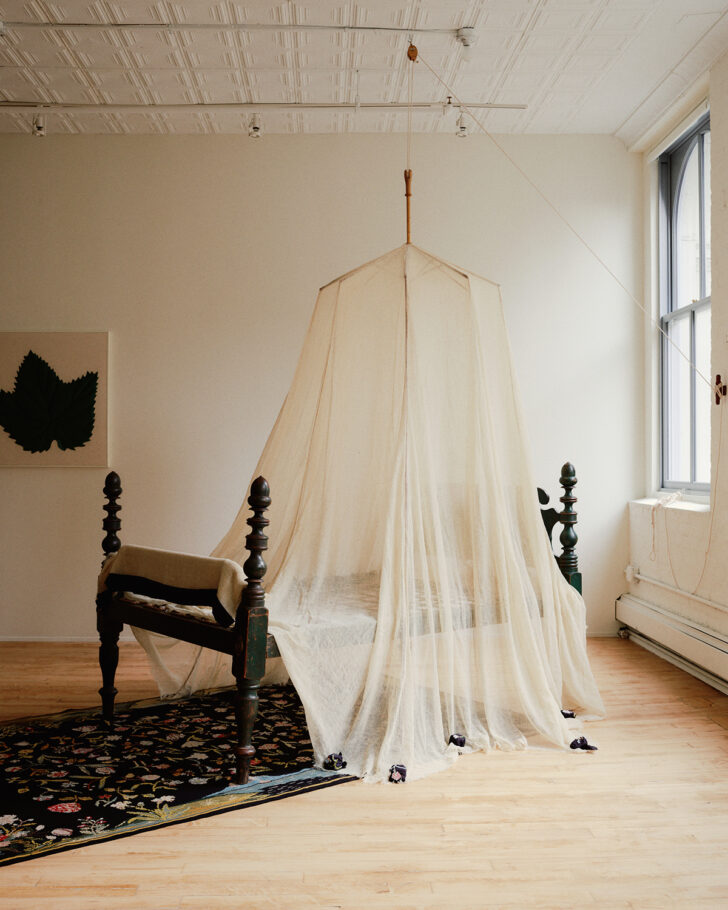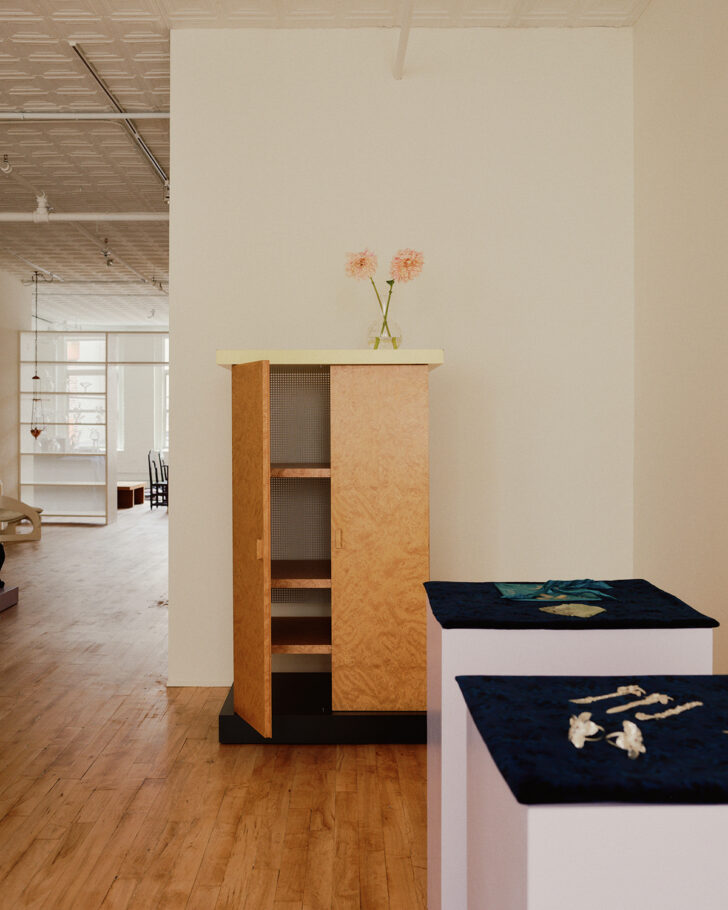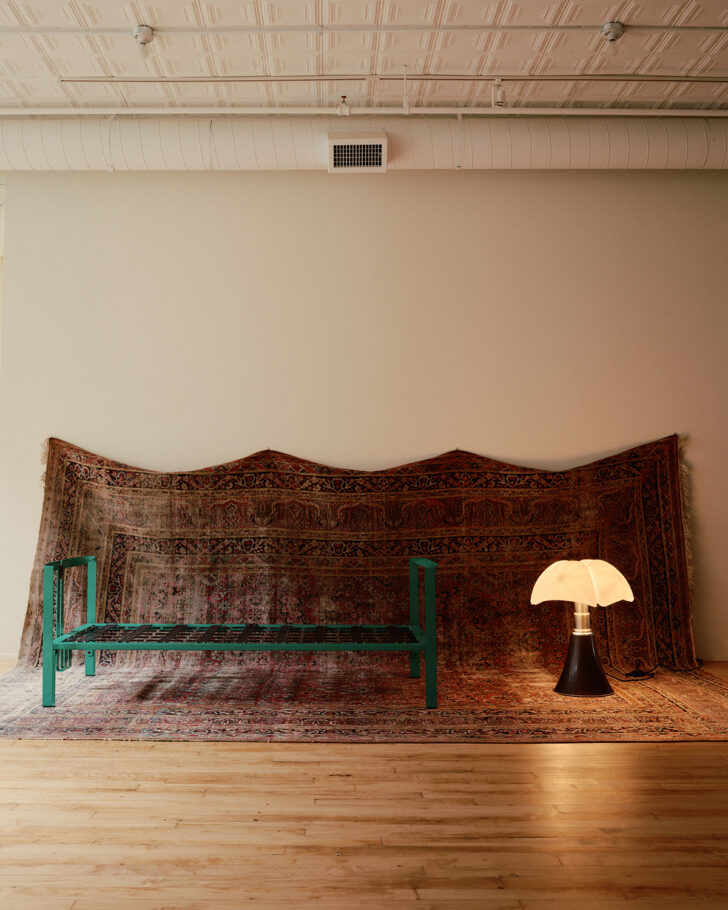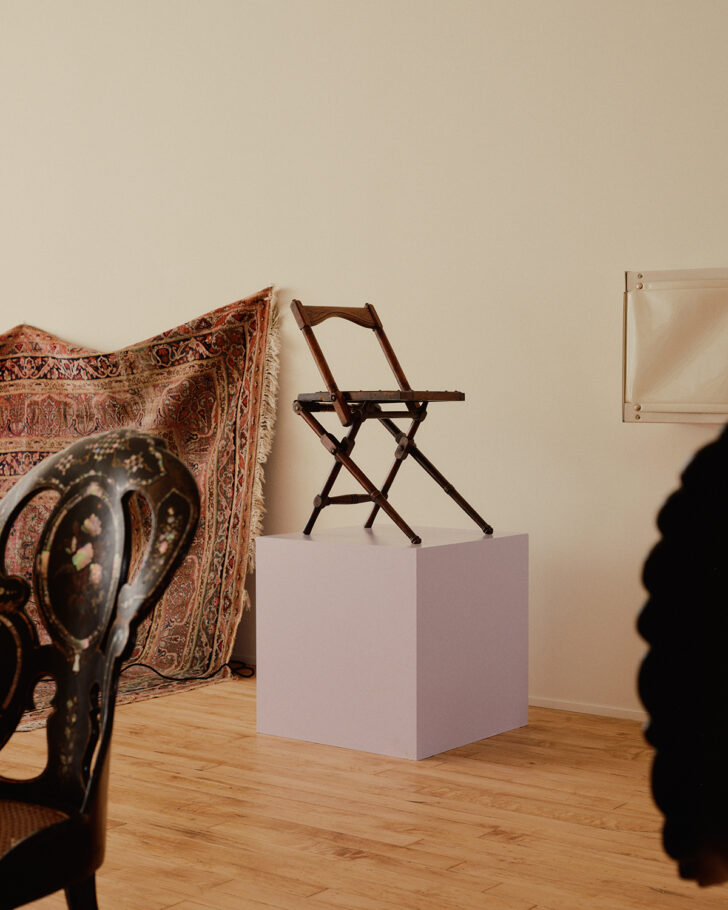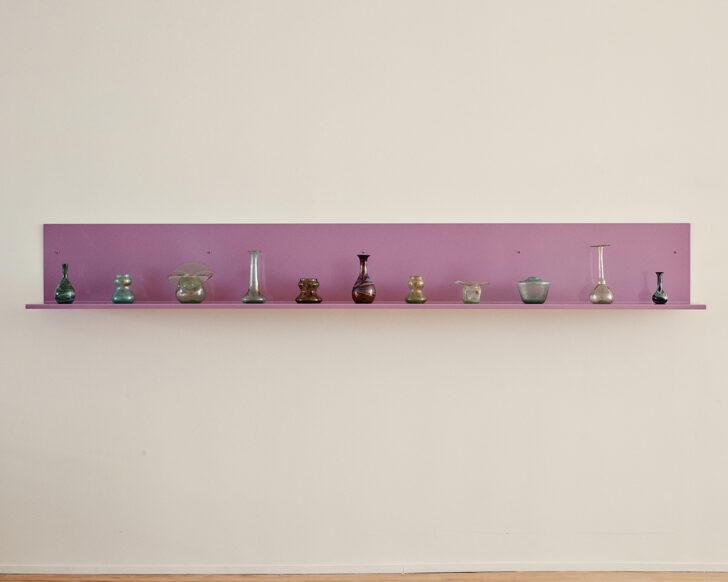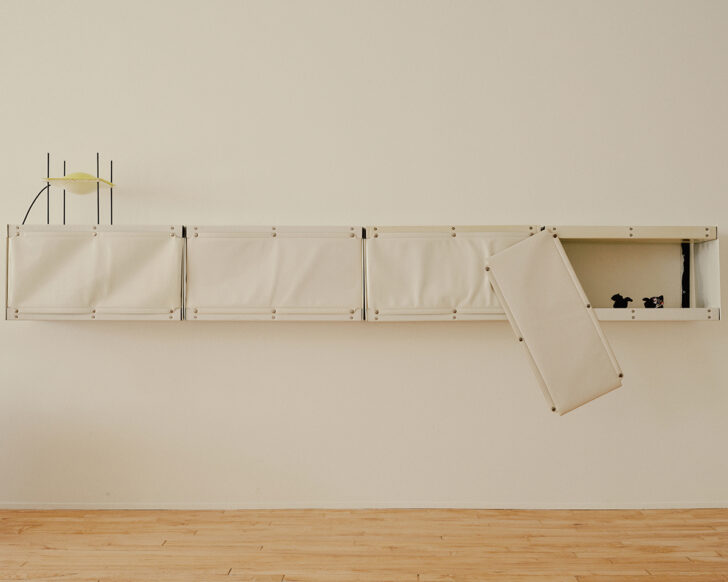 Motion and rest, tension and give — it's all in Angle of Repose, the Jacqueline Sullivan Gallery's second collection of contemporary and historic furniture and objects. Sullivan's first collection, Substance in a Cushion, drew inspiration from Gertrude Stein's Tender Buttons. Angle of Repose takes its title from another literary work: Wallace Stegner's 1971 novel of the same name, which explores themes of family, domesticity, and the frontier of the American West. Sullivan's show also references the angle at which a material on a slope begins to slide or slump. It has much to do with notions of friction and surrender — and what lies between these states. Textile sculptures by Elliot Camarra, a canopy bed installation by Isa Toledo, sterling silver and garnet cutlery from Conie Vallese, and glass works by Valentina Cameranesi-Sgroi sit alongside vintage pieces by Otto Zapf, Ettore Sottsass, Gae Aulenti, Jack Brogan, and Joe Colombo. And Sullivan takes it even further back with Christopher Dresser's nineteenth century glass vessels, Victorian chairs, and a Laver Kirman rug. On view through January 27, 2024.
Discoveries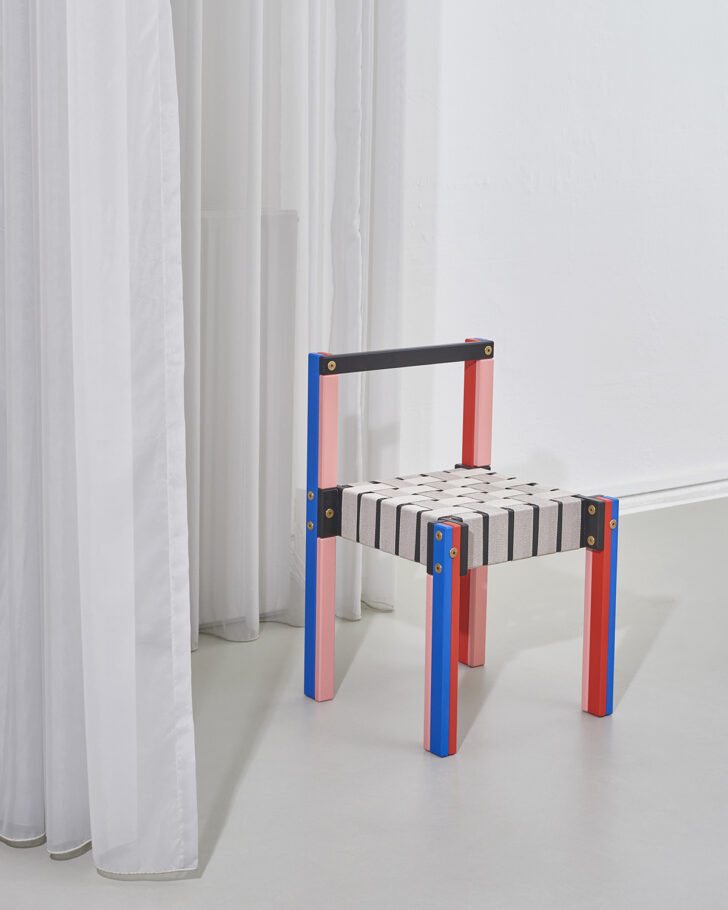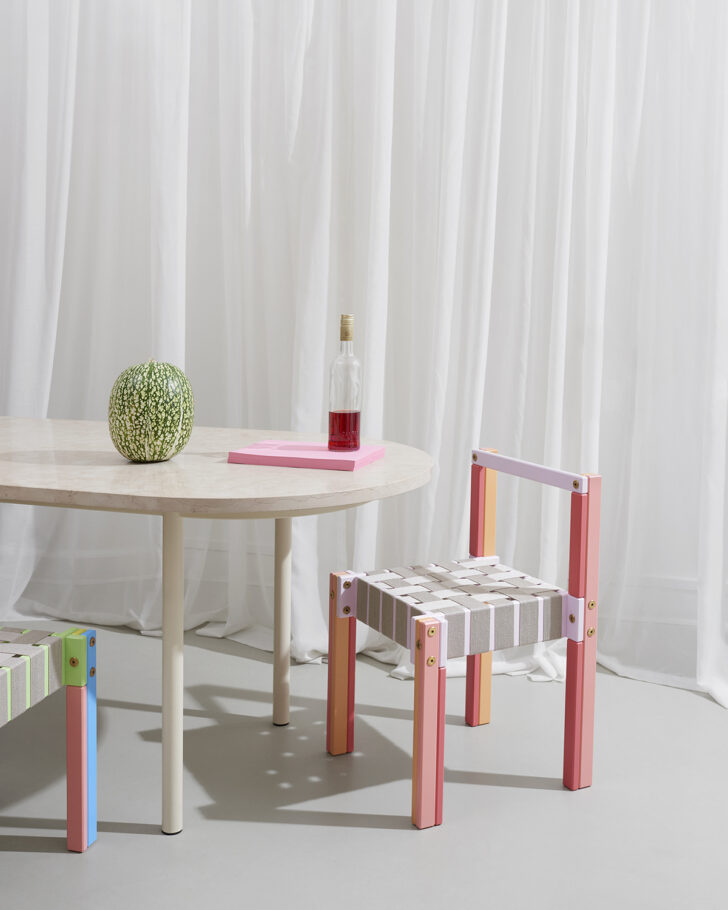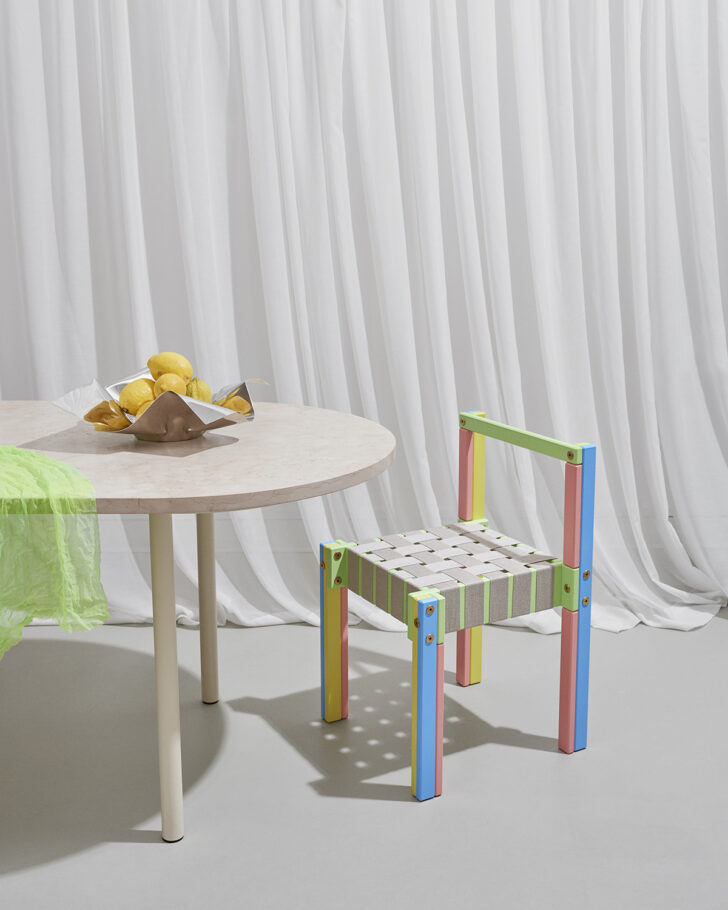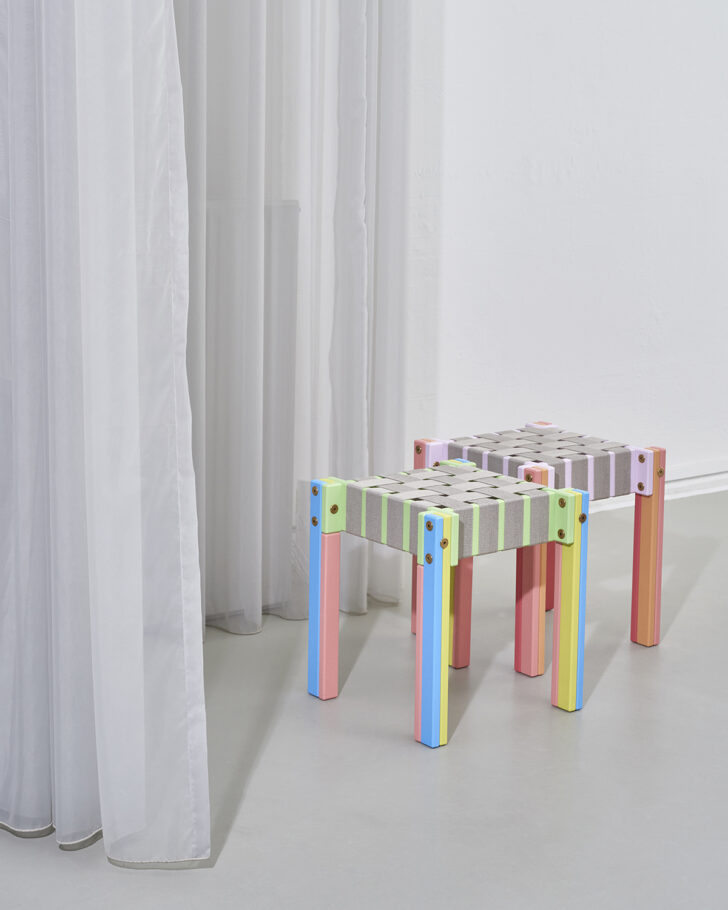 The chairs and stools in the New Composition collection from Copenhagen-based Better Weather design studio celebrate and highlight the way they're made, turning joinery into its own work of graphic color. Made of reworked and recycled discarded materials — MDF and woven linen straps ' these seats comes in three bright versions: Andy, whose blues and reds nod to the work of artist Albert Mertz, who designed the storied Andy's bar in Copenhagen; Perfume, a blend of coral and pink, and Palads, inspired by the Danish artist Poul Gernes, who designed a historic building in the city that's now home to the movie theater Palads.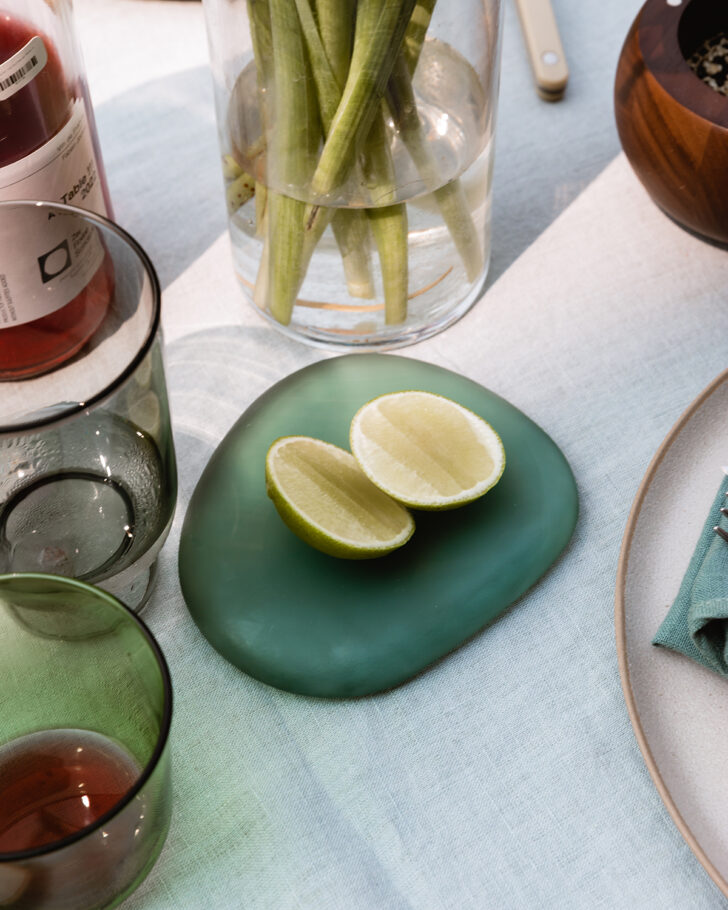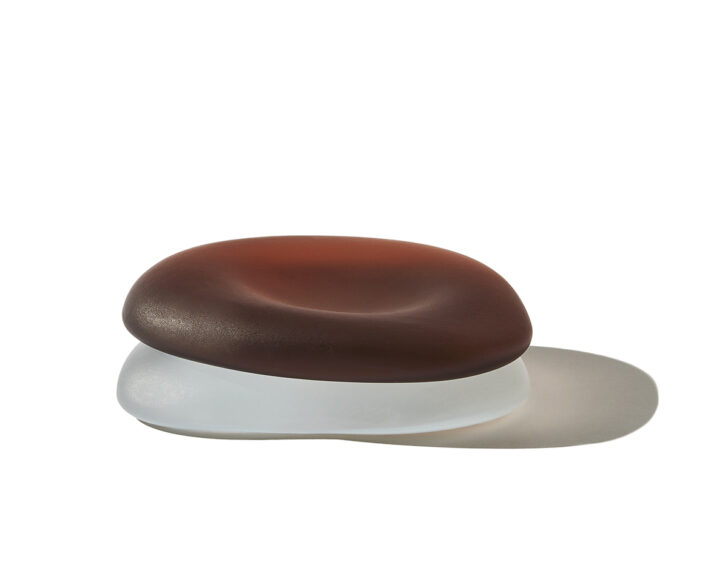 Material Kitchen's new Resting Stone is a fire-polished glass pillow meant to display on your countertop, where you can lay cooking utensils; at the table for holding garnishes; or even on your nightstand for jewelry. Inspired by smooth sea glass, the stones come in sets of two, in clear Glazed, Cocoa and Glazed, or the blue-green Seaglass and Glazed.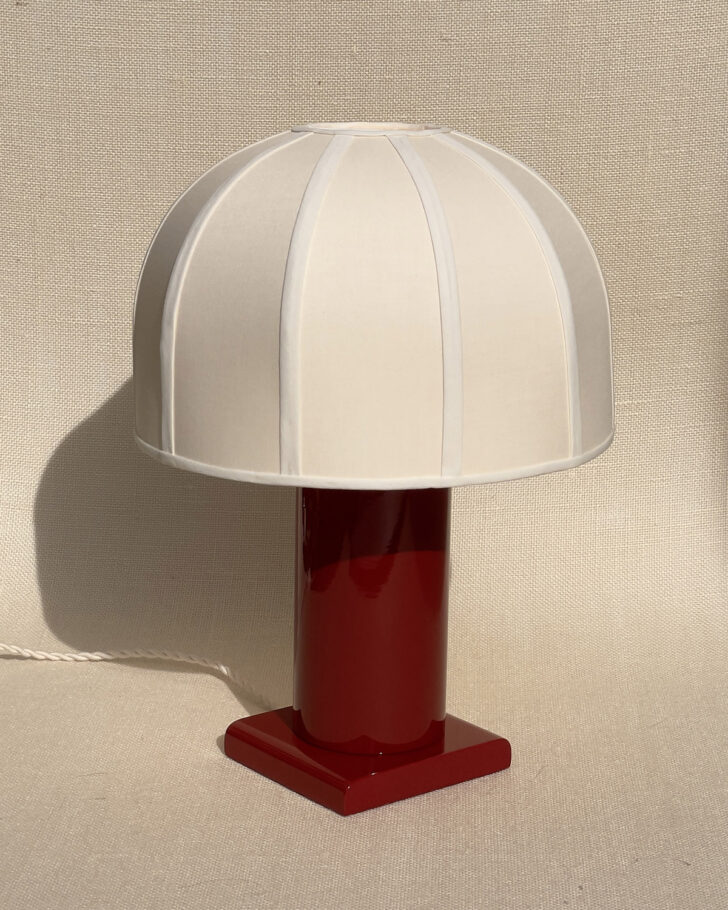 For his Dôme pendant light, French designer Francois Bazin inverted the hemispheric form to suspend it from the ceiling. Now it's flipped once again for Bazin's table lamp version, in which an arched cotton shade sits atop a lacquered Bordeaux-red base. A beautiful play of proportion and shape.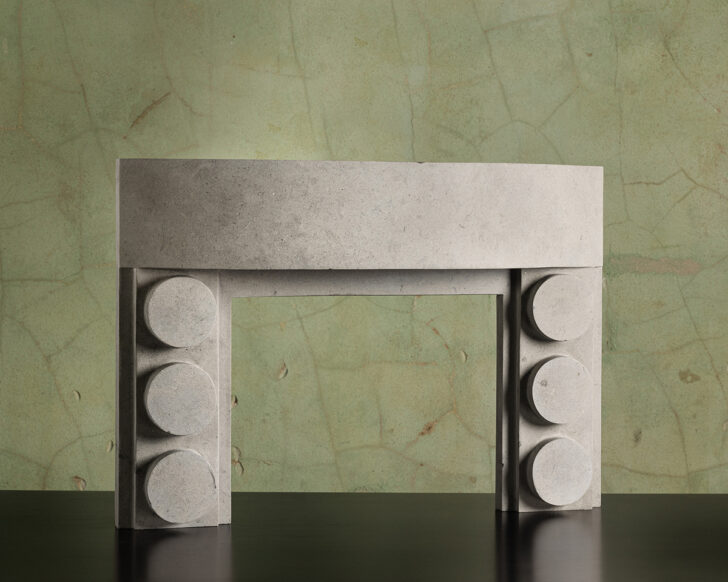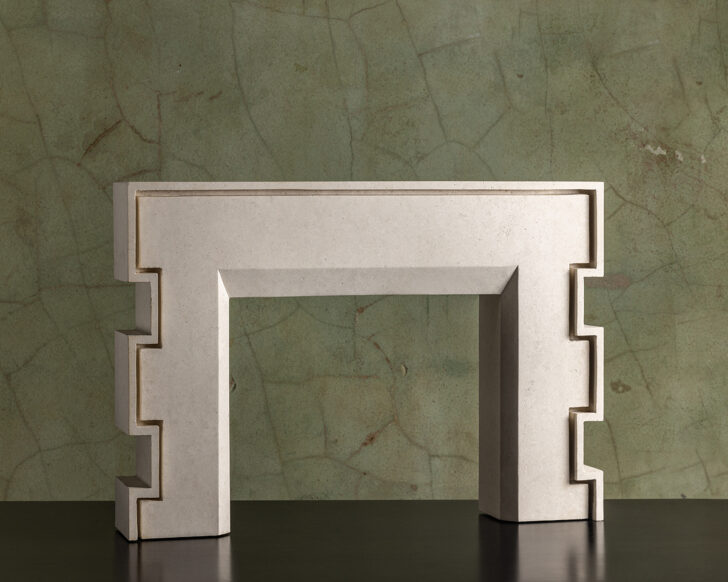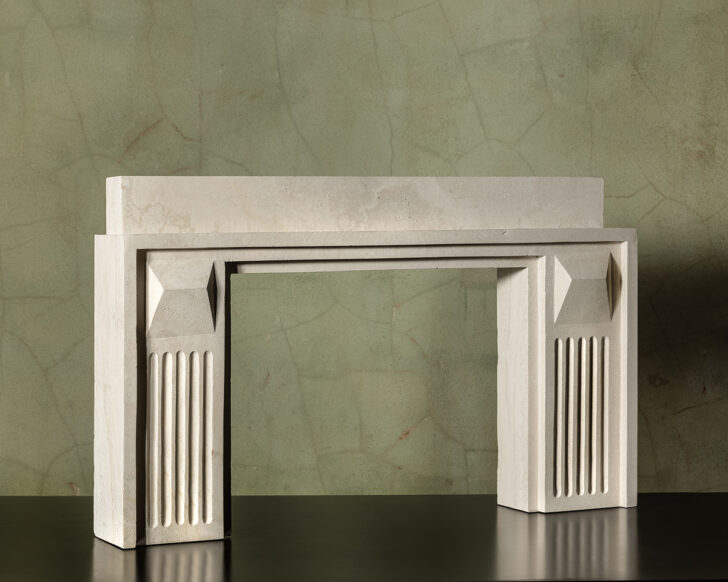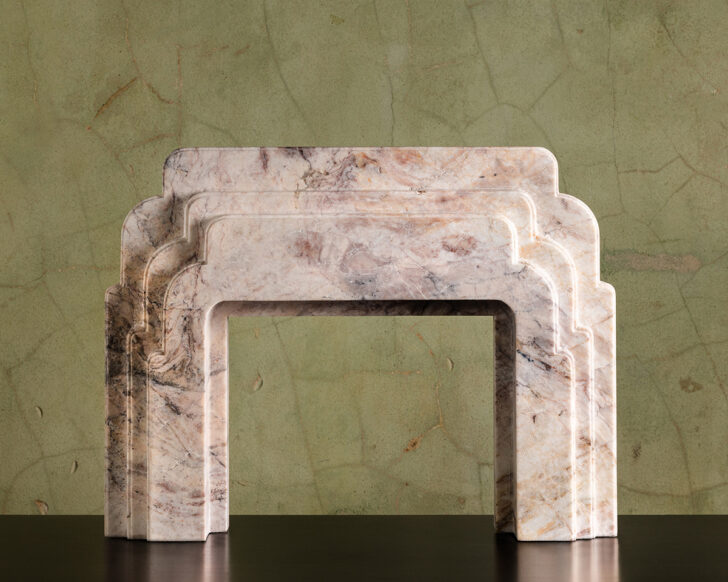 Mantels offer moments where the monumental can be scaled to a more domestic, intimate size. The collection of marble mantels from the Maestri Gallery in Dallas, inspired by various places and architecture, does just that. A mix of Art Deco flourishes, classical arches and fluting, curving layers, and angularity characterize these fireplace frames.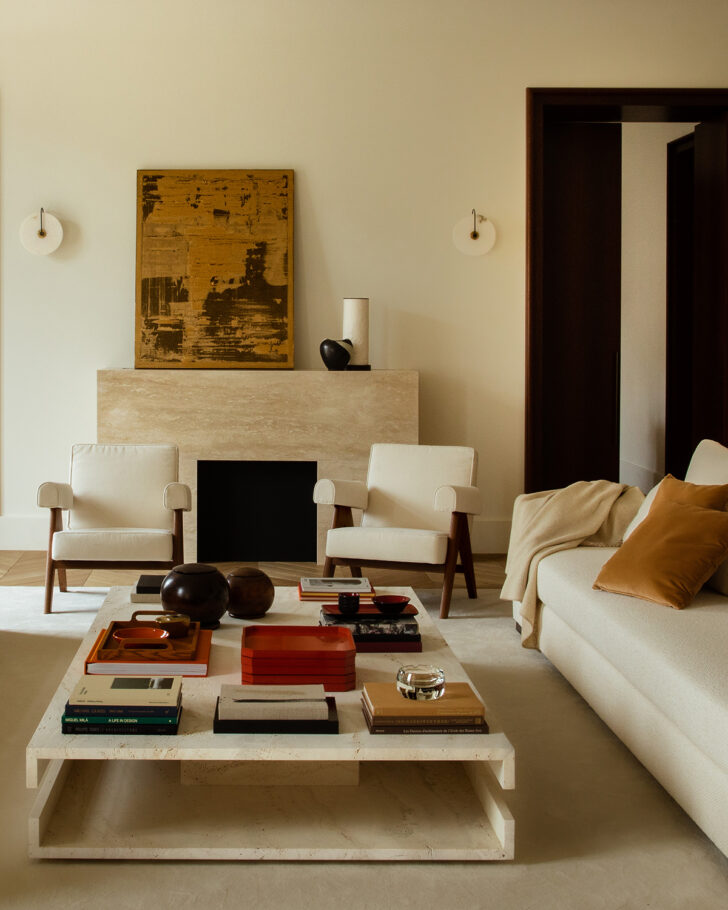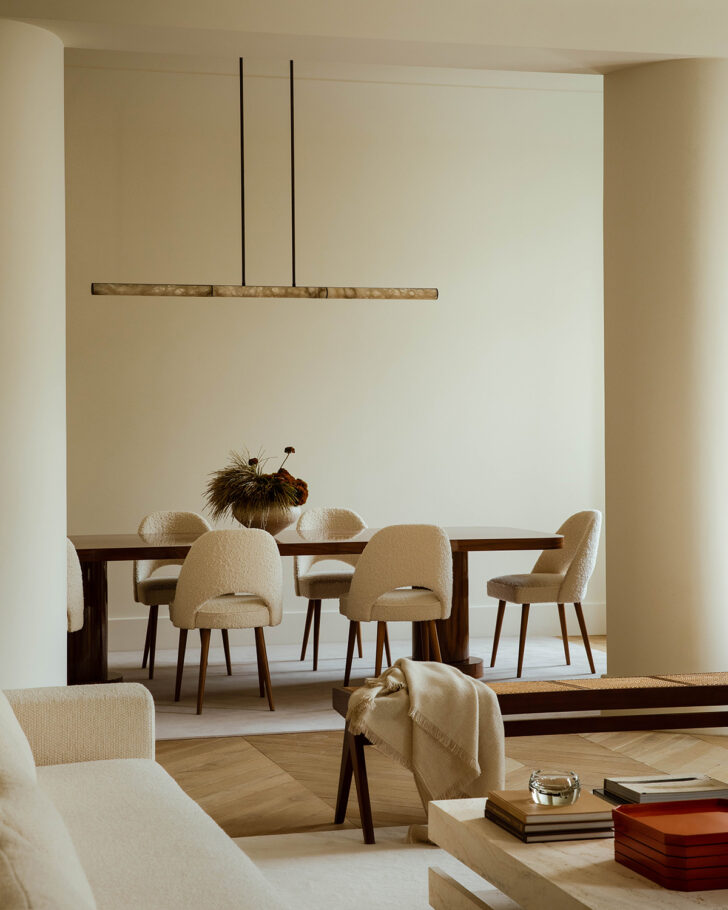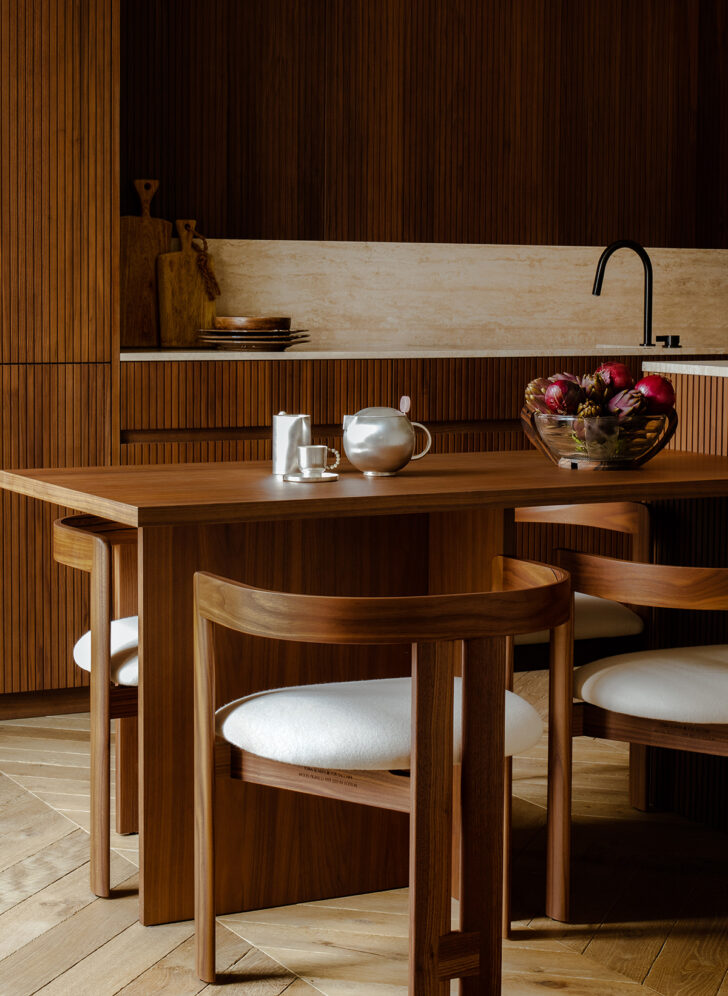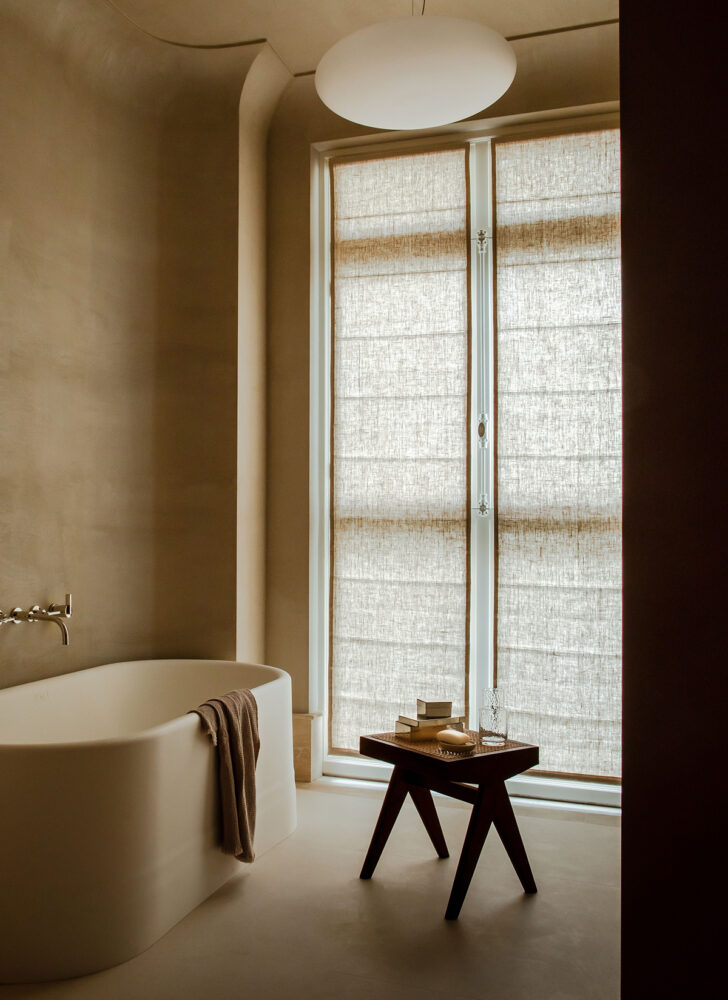 Serenity Now could very well be the catchphrase for Marika Dru, founder of Atelier MKD in Paris. Her interiors are defined by clean lines and minimal adornment but exude a warmth and ease nonetheless. Dru is particularly adept at making large Haussmannian apartments modern, with Art Deco accents, and a recent project on avenue Henri Martin, extending from Place du Trocadéro, is no exception. Attention is paid to subtle visual echoes – engraved grooves in the wood of the entrance door, kitchen furniture, and bathroom marble – that give the space coherence and depth. Materials are repeated, too, like the alabaster of the globe light by Atelier Alain Ellouz in the front hall and in the living room wall lights by Garnier & Linker. Dru mixes vintage pieces with contemporary works, as long as they reinforce the creamy-brown color palette.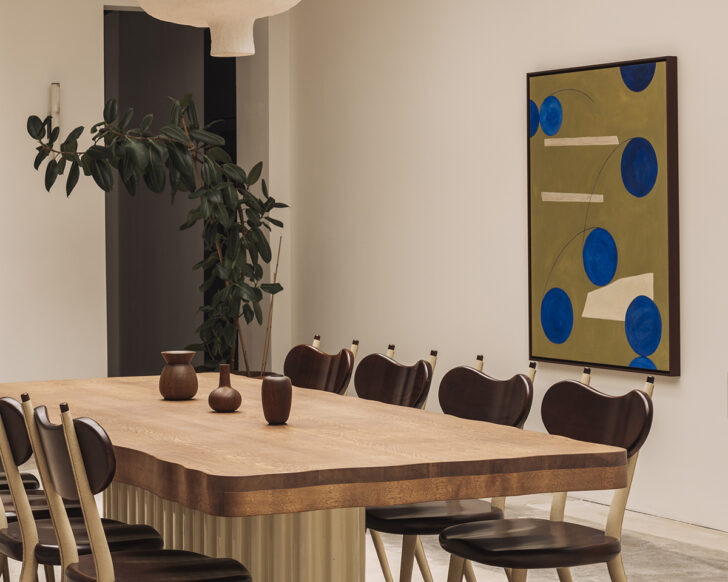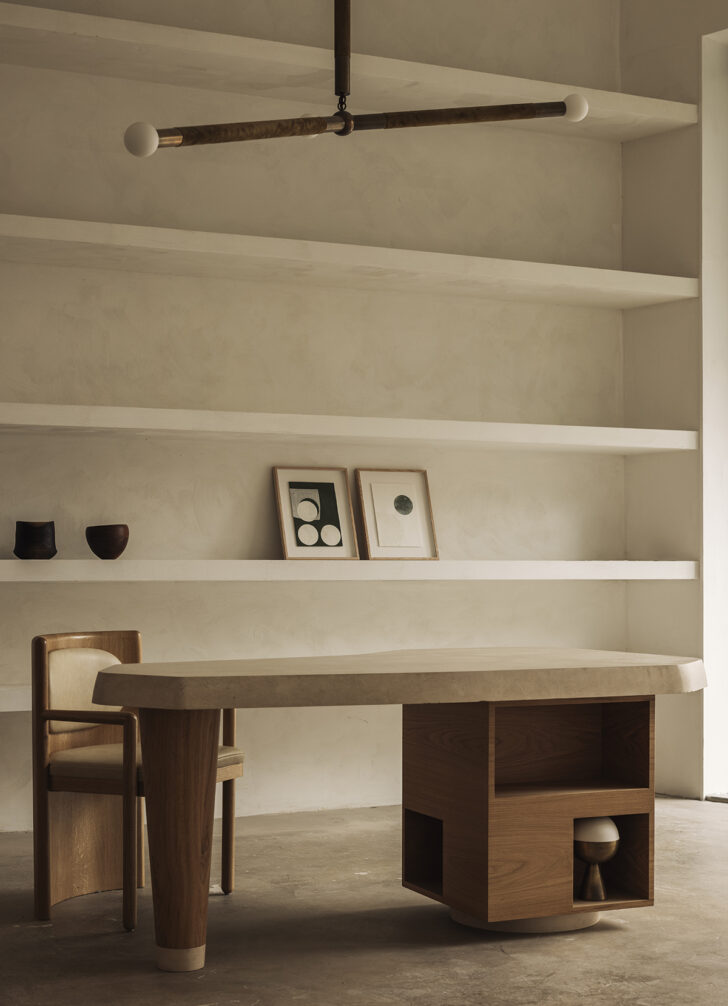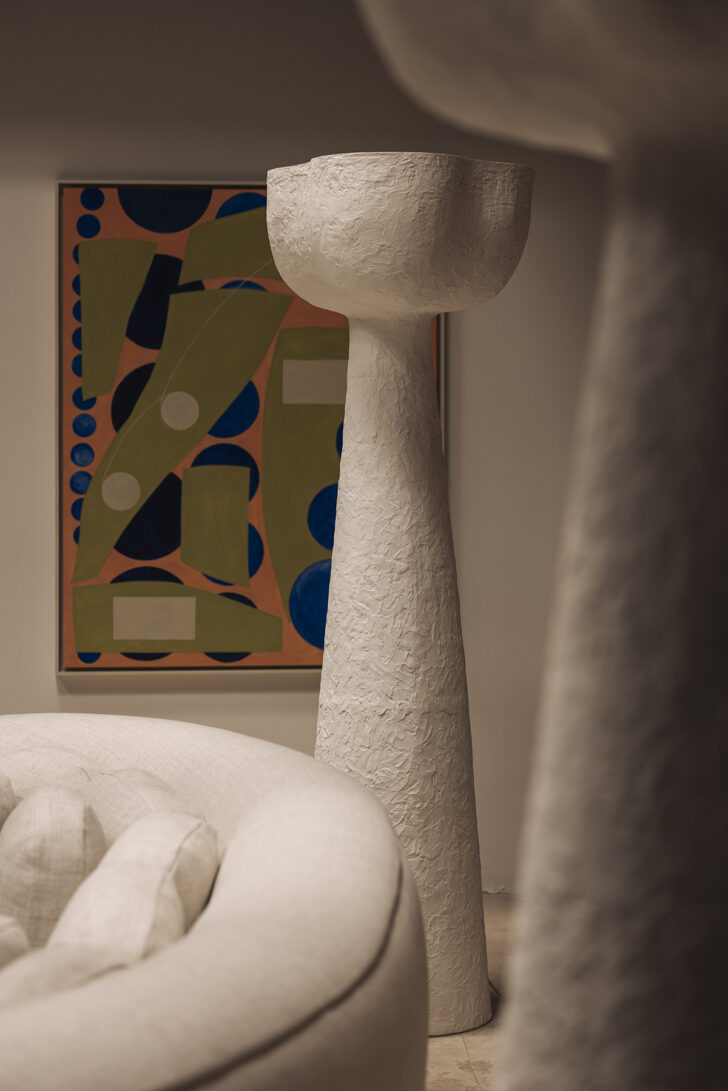 Through November 25th, Parisian design studio Pierre Augustin Rose is taking over the ground floor of St Vincents gallery in Antwerp. Displayed with the work of Korean artist Semi Kim, a selection of the studio's furniture and lighting exemplifies how founders Pierre Bénard, Augustin Deleuze, and Nina Rose translate Gustavian, French Empire, and Bauhaus influences into a style that feels both current and classic. Over twenty pieces are on view, including seating like the curving Sofa 280, the Minitore armchair (a smaller version of the studio's Picasso-inspired Minotaure chair), the sled-shaped Polus 002, and leather stitched Daphné chairs. Also: the Forum Table, with its expansive oak top set on a lacquered, column-like base, sculptural Eole lights made of rough plaster, the travertine-topped Atlas desk, and the round, tiered Pietra coffee table.