08.13.10
To Live in a Schindler House, by Pin-Up Editor Felix Burrichter
In March, Pin-Up magazine editor Felix Burrichter packed his bags and left New York for an extended stay in Los Angeles, where he met up with the Vienna artist Sarah Ortmeyer. Chosen for one of four annual residencies with Vienna's Museum for Applied Arts (MAK) — whose L.A. branch is based in architect Rudolph Schindler's 1922 Kings Road House — the pair have spent the intervening months shacked up in a two-bedroom apartment at the museum's Mackey building, working on a joint project they'll present on September 10. Called "XXX BURRICHTER ORTMEYER," its main element is a publication focused on the mercurial relationship between Schindler and his wife; Burrichter has also taken advantage of the proximity to give the fall issue of Pin-Up an L.A. theme. Architecture buff that he is, we got to wondering how else he'd been inspired by his surroundings, so we invited him to share with us the experience of living in the recently renovated Mackey building, whose five apartments Schindler built in his trademark style in 1939.
"We have the second largest apartment besides the penthouse, which is reserved for visitors. What's interesting is that Schindler took typical apartment typologies and made them his own using super modest means. He never used flashy or fancy materials. The building is owned by the Republic of Austria and they just renovated it, so before moving in we got a list of things we weren't allowed to do: no nails in the walls, no smoking indoors, every piece of furniture has to be at least two inches away from the wall, and we have to use MAK sheets and towels — so it's like living in a little museum. At first we were like, this is crazy, but it's really the perfect apartment, even though it's so basic. We've been here for four and a half months now, and the longer we stay, the more we realize how well thought-out it is.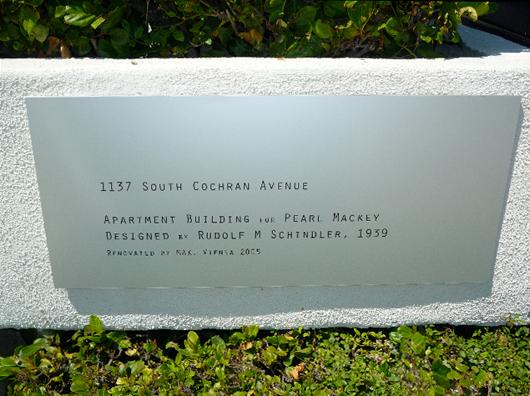 "There's light in every room, thanks to a series of small skylights, which are ingeniously done. Most of the furniture is built-in, and every apartment has a nook in the kitchen with a built-in table where we have dinner almost every night. I don't think I've cooked so much in my entire life; my kitchen in New York is bigger, but I cook less there because it's not as practical as Schindler's. One of his trademarks is that there's never any hardware on the built-in furniture — no doorknobs of course, but none for drawers either. You grab underneath them to pull them out. He did that in his first house, in 1922, and in his last, in 1952. It's cheap wood, not expensive millwork, but it just looks super clean. Same for the bathroom, where all the closets are built in. Our bedrooms are connected by a closet which you can open from both sides, so you can have air circulation if you want to; it's almost like a micro ventilation system. The space is about 1,000 sqft. total and the main room is completely open, so there's no real hierarchy as to where the couch or the TV would go. You can arrange it in any way you see fit. We have two desks, which is where Sarah and I work.
"Our residency project is actually a publication, which is loosely based on the life of Schindler and his wife. We went to the archives in Santa Barbara and did long interviews with the president of Schindler House, delving into their relationship. It wasn't very harmonious. They lived in that house together until they each died, but divorced only 10 years after moving in. They communicated through letters, and in the late '40s, maybe out of spite, she started painting her half of the house pink. But at the same time she always continued promoting his professional legacy, and she'd write articles about him even though she could barely stand to address him in person. They couldn't be together, but they also couldn't be apart.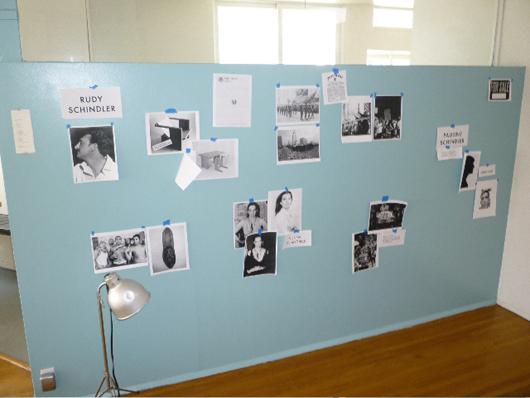 A sneak peek of the publication XXX BURRICHTER ORTMEYER, on the wall of the pair's Mackey apartment
"The publication we're making is not strictly about the Schindlers, though — they're the starting point. We tell the story about how they met in Chicago, and how one of their first dates was at the founding of the American Communist party, but then we spin off from her political involvement into the story of another Austrian who came to L.A. in the '30s: Rudi Gernreich. He was a fashion designer and the inventor of the monokini, but he was also politically active and the founder of the first gay advocacy group in the U.S. Schindler came from a family of tailors and dressmakers, and he had a special way of dressing, so that's another parallel. For our show, Sarah is creating an homage to the sartorial angle of our project, recreating an installation that she did last year called "KANT ELEGANT." Kant had an interesting theory that everything you wear should be in harmony with nature, so she's making sculptures of indigenous plants from Southern California out of designer clothing. While I'm here I'm also working on a special L.A. issue of Pin-Up, which is coming out in the fall.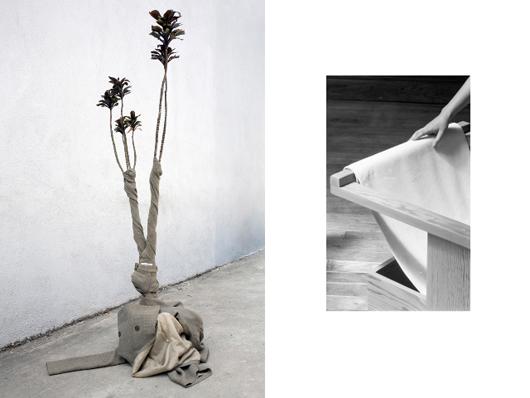 From XXX BURRICHTER ORTMEYER: [left] One of Ortmeyer's "KANT ELEGANT" sculptures, shot by Daniel Trese, and [right] a photograph of Schindler furniture shot by Zoë Ghertner
"We're also shooting five Schindler houses for the XXX project that are emblematic of each decade of his work, starting with the family house in '22. We've met a lot of other Schindler house owners in L.A. while scouting for this shoot, and it's like a cult. If you own a Schindler house, you're part of this thing where everyone is looking for archive images of their houses and exchanging renovation secrets. The Schindler owners in L.A. all know each other, and they've all been to the archives in Santa Barbara and tried to restore their house to exactly the original plan. But it's nice because the houses are so modest — they're not these pompous buildings. It's not like Lautners where there's a flamboyance associated with them. And you don't have to be a millionaire to live in one.
"If I had to say anything negative about Schindler's architecture, it would be that insulation wasn't exactly the first thing on his agenda. I heard that the family house from '22 is ice-cold in the winter and super hot in the summer. It's almost impossible to heat. The building we're in is a little better, but the downside for me is that you hear pretty much everything your neighbor says. I'm sure someone in this building is overhearing every word of this conversation. But his homes were always designed with ease of life in mind — hence all the built-in furniture — and everything is very much in the proximity it should be. So it's not like you have to walk to the other end of the apartment to get something you'd rather have close. I've seen houses where even the shoe tree was a built-in. I think Schindler was obsessed with those kind of details, moreso than architecture as a status object. A lot of his buildings have been torn down over the years because no one really cared about him until the mid-'80s — it was always Neutra who was the famous one. But I'm really going to miss this place when we move out."