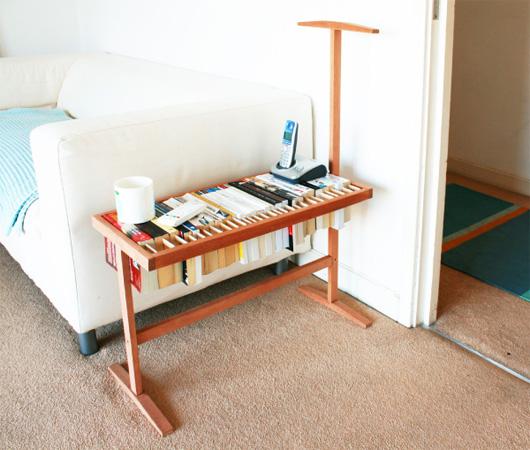 It's not very often that a designer's work is accepted into the permanent collection at MoMA when he's just a year out of design school. But that's what happened to the Israeli-born, London-based Royal College of Art grad Shay Alkalay, who debuted his Stack chest of drawers with Established & Sons at the Milan Furniture Fair in 2008 and saw it honored by the museum that same year. And no wonder: With Stack, Alkalay — who with his longtime partner Yael Mer forms the London studio Raw-Edges — stumbled upon a brilliant bit of reduction. The unit is made from a series of colored drawers, stacked atop one another, that can be opened from either side. There's no frame and no back panel; in other words, it completely re-contextualizes what a storage unit can be.
That same thinking went into the Book Case the pair constructed for their London flat, which is a bookshelf in the loosest sense of the word, seeing as there aren't actually any shelves: Rather than being lined up with their spines facing outward, the books are hung along flat plywood spindles that fit between a wooden frame. The spines can be used as a table surface, and the spindles can be individually removed and used as bookmarks. The piece wasn't inspired by Stack, though, but by a recent trip to Ikea to buy a wardrobe, during which the two became keenly aware of the waste involved in producing most large pieces of furniture. "At Ikea, you have to buy the doors, the shelves, the sides, the back panel," says Alkalay. "But really all you're going to use are the shelves." For clothes, the two conceded, you wouldn't really want your mess on view. But people love to show off their books.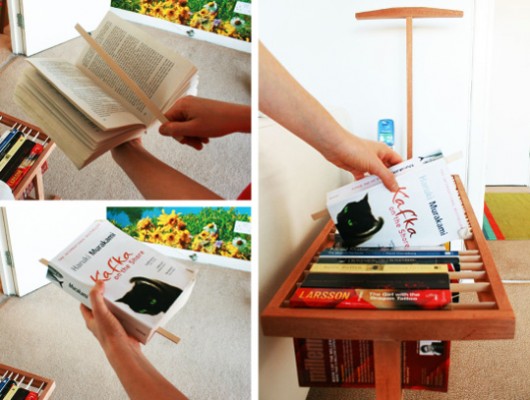 The couple don't often craft objects on a whim for personal use — they're too busy with their ever-growing studio and with commissions and exhibition prep. (When Sight Unseen spoke to them, they were busy fabricating pieces for a solo exhibition at Paris's FAT Galerie later this month, where they'll expand on the coiled felt-and-silicone pieces they debuted at this year's Milan fair.) But they do often make things with no contract in hand. "Most of our production pieces we designed not for companies, but for exhibitions," says Alkalay, pointing to the multi-colored oak parquet floor they made for their Designer of the Future exhibition at 2009's Design/Miami Basel as an example. But one thing led to another: Established & Sons's then-CEO Alashdair Willis saw it, instantly fell in love, and asked the two to cover the company's gallery floor in it, which then led to a commission by his wife, Stella McCartney, to recreate it for the floor of her Milan boutique.
As for Book Case, the project is a bit less ambitious in scope than Stack — it sits next to the couple's bed rather than in MoMA's Architecture & Design galleries — but it's just as handy. "Yael puts her coffee there each morning," says Alkalay. "People may find it disrespectful to the books, but we're not really damaging them. Oh wait, this one has a stain. Hey, it's a good one! Murakami's Kafka on the Shore. You should read it."