02.23.11
John Currin's Studio in Art+Auction
John Currin's New York studio, as we'd imagined it, could have gone either way: Classical and lush, befitting a painter who got famous in the '90s portraying himself as a new Old Master while his contemporaries were overdosing on conceptualism, or strange and wild, bursting with the eclectic ephemera Currin references in his portraits, from vintage porn mags to movie clips to historical tomes. When we spotted an article posted on ARTINFO — which originally ran in Art+Auction magazine — promising a look into this very realm, we were surprised to see something that didn't particularly fit either mold. Perhaps it's the fact that, as the article mentions, he'd just moved in and redone the floors, or perhaps he tidied things up for the cameras. But aside from some odd-looking mannequins and a table piled with paint tubes, Currin's working space didn't look much like a working space at all. Luckily, writer Daniel Kunitz was able to paint a lovely, erm, picture of what it's like to be Currin — from his everyday anxieties to his video game habits to the music he listens to when he's feeling creative. Read the first half of the article below, then follow the jump to the ARTINFO site to learn more about Currin's artistic process.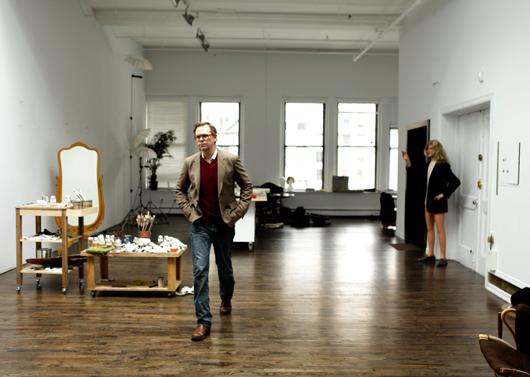 By Daniel Kunitz
All photographs by Keziban Barry
It's Saturday afternoon, and John Currin, arguably the most acclaimed American painter of his generation, is mopping his studio floor. He wears thick rectangular glasses, jeans, and an old blue T-shirt rather than one of the tailored three-piece suits he's often photographed in when out with his wife, the artist Rachel Feinstein. If, cleaning up and dressed down, Currin presents a far more casual persona than the visitor might expect, the setting, at least, is appropriately grand.
Airy, elegant, and enviably proportioned, the studio is located in Manhattan's Flatiron district, a short walk from the town house Currin and Feinstein are renovating. A large peaked skylight with sophisticated mechanical shades — "outrageously expensive," the artist admits — illuminates the primary work area. Near a desk with an iMac on it lurks a female mannequin sporting a dark blazer; on a window ledge behind a long work cabinet crowded with brushes and paints, two blond wigs with different hairstyles hang on stands; near an ornate settee with gilt edges, two thick easels, both empty, await the artist. In fact, the whole place is empty of art because Gagosian's Madison Avenue outpost has recently opened an exhibition of Currin's semipornographic nudes and other figurative oils, his second outing with the gallery.
Born in Boulder, Colorado, in 1962, Currin grew up in Connecticut, studied at Carnegie Mellon University, and received an MFA from Yale in 1986. He showed in New York with the Andrea Rosen Gallery from 1990 until moving to Gagosian in 2003, right before his midcareer retrospective at the Whitney Museum of American Art. He has also exhibited with Regen Projects, in Los Angeles, and Sadie Coles, in London. Ordinarily Currin would go back to work immediately after hanging a show, but the studio is relatively new — he moved in last winter — and he has just had the floors redone. Sitting in an alcove that holds a tall drafting table, a packed floor-to-ceiling bookcase, and two chairs flanking a small round table, Currin is affable but anxious to get back to painting — two weeks have passed since he has picked up a brush. "It's just a long time," he explains. "I start feeling nervous and unwell, like I'm playing 'Call of Duty' too much."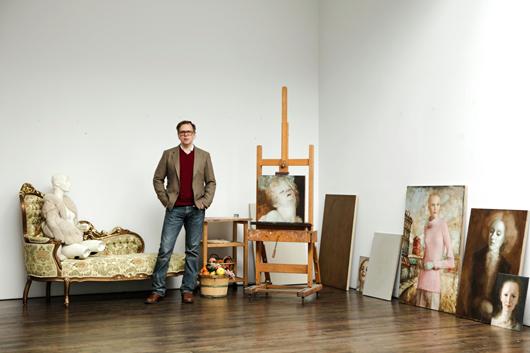 Perhaps because he's something of a throwback, I've always imagined Currin painting in a tie, like Fairfield Porter, so it's tough to picture him hunkered over an Xbox playing video games. A somewhat mystifying combination of refinement and vulgarity has characterized Currin's work from the infamous early 1990s paintings of women with sweater-busting breasts through the latest images of middle-aged men in short shorts and women fondling each other. Annoying his critics while intriguing his fans, the mix is born of dueling impulses that are apparent in the way Currin works. He tends, for instance, to paint with music playing. Lately it's been by bands like Poison and Motley Crüe, "hair metal from the '80s," because, he explains, "it creates this totally moronic atmosphere I like. Then painting is like the holy virgin in the room."
Currin's virgins, graces, and vixens also spring from a mélange of the high-flown and the outré. He often uses live models — hence the wigs in the studio — but only to fill out compositions derived from the lowliest of sources: old porn, pinups, stock-photo catalogues, whose clichés Currin relishes. "There will be a muscular man holding a baby," he says, "or women working out, or old people using a computer. The girl with gigantic breasts with the Stars and Stripes. A lot of time, there'll be a scenario that just appeals to me." He is also fond of picking out scenes from movies. "I don't even watch them. I just fast-forward and then, if there's something interesting, I'll grab it from the screen." Most people assume Currin simply realizes his banal inspirations with a technique that, depending on who's looking, is either flawlessly Old Masterish or a flawed imitation thereof. The reality is far more interesting…
Click here to read the second half of this article at ARTINFO, the online home of Art+Auction. "John Currin" originally appeared in the magazine's February 2011 issue.