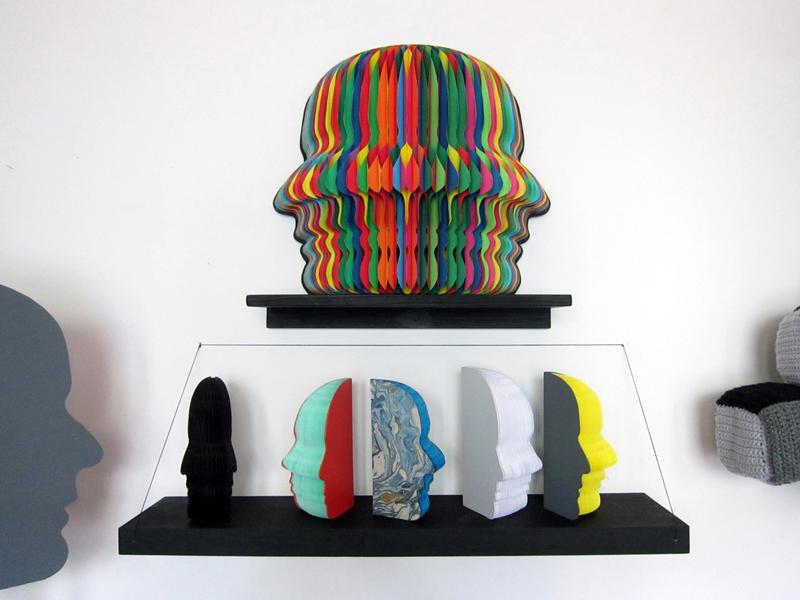 It's not every day that one of our subjects answers the phone by giddily announcing she's just opened the mail to find the Legend soundtrack she ordered and proclaiming that 1985 Tom Cruise fantasy flick to be her favorite movie. But then San Francisco artist Sarah Applebaum has always tended to march to the beat of her own drum: Paying no mind when her work meanders back and forth between craft and art, she mostly uses dime-store materials like yarn, papier mâché, and felt. Unlike most crafters, she often turns those materials into three-dimensional symbols plucked from her subconscious. And yet unlike most artists, she's self-taught with a degree in politics, sells her objects at Jonathan Adler and in her own online shop, moonlights as a personal chef, and isn't at all goal-oriented when it comes to gallery shows. When Applebaum makes things, alone in her home studio in the Lower Haight, it's above all for making's sake.
Applebaum says she's always been drawn to the world of craft because it felt "more immediate and real" to her. She launched her career with a so-called "crazy crochet phase" that began with her using sewn together thrift-store afghans to create wildly patterned environments — complete with models encased from head to toe in the blankets — and progressed to smaller knitted objects like anchors, cubist quilts, and oversized chain links. While she was certainly interested in symbolism, and in the transition between two dimensions and three, she was mostly following a series of obsessive urges to figure out how to bring her ideas to life, teaching herself to how to knit, weld, and weave rope along the way. "I'm an intuitive artist," she says. "I make what I want to make, and then I reflect back on it, saying, 'Okay, why was I so drawn to this thing?' as a method of self-introspection." She often does experiments for no particular reason, like when she recently turned a room of her studio into a kind of geometric cave made from felt dodecahedrons, only to be so sick of the task once she'd finished that she tore down the installation without so much as documenting it first.
That tendency is, of course, what made her such a great candidate for a Sight Unseen studio visit — entering her physical realm is really the only way to understand her metaphorical one. There are the symbols she creates, and there's what's behind those symbols. Check out the slideshow at right to see what we deciphered when we paid Applebaum a visit this past fall.