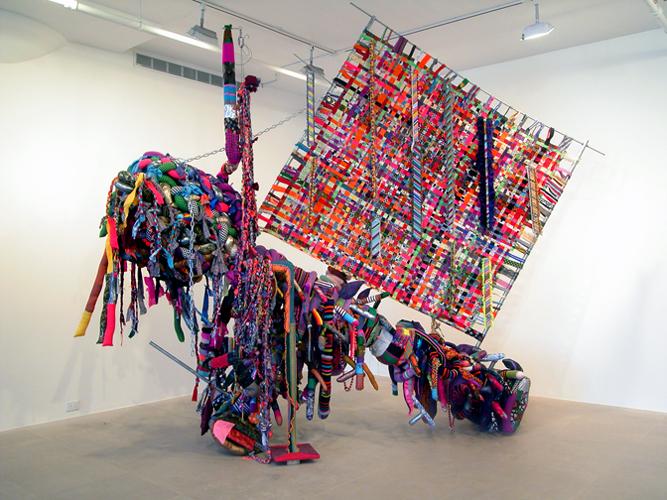 It's a wonder that Jim Drain isn't a hoarder of epic, A&E-worthy proportions. Sure, nearly every corner of the 3,000-square-foot Miami studio he shares with fellow artist and girlfriend Naomi Fisher is crammed full of stuff — chains, knitted fabric scraps, yarns, paint cans, talismen, toilet tops, costumes, books, prints, past works, and parts of past works that have been dismembered, all jockeying for attention. But considering Drain has worked with 10 times that many mediums in his nearly 15 years of making art, fashion, and furniture — often incorporating junk found in thrift stores and back alleys — hey, it could be a lot worse. "My dad will find something and go, I got this weird thing I think you'll like, and my friends do it too, and I'm like, I'm not a trash collector!" he insists. For him, the studio is organized chaos, perhaps in need of a spring cleaning, but stocked only just enough to facilitate his process of playful experimentation.
Drain's multitasking approach to art started in the late '90s, when he was a student at RISD. While living in Providence's famed Fort Thunder building — a former factory settled by a group of cartoonists, printmakers, artists, and musicians who held shows and exhibitions there — he formed the art/music/performance collective Forcefield with several of his housemates, collaborating on videos, comics, totems, psychedelic costumes, kinetic sculptures covered in weird textiles and fake fur, and the experimental electronic music they took on tour with fellow RISD noisemakers Lightning Bolt. "I really enjoyed being in that ambiguous place, where we didn't know what to call what we were doing," he says. After graduation, he went looking for a unique discipline he could add to his repertoire and immediately gravitated towards knitting, a practice his grandmother had mastered and one that fed into his curiosity for discarded materials. "Providence was one of these major industrial textile cities, but it was a dead industry at that point," he recalls. "There were warehouses just full of wool, and you'd find neon yarn and all kinds of crazy things." Forcefield disbanded after an epic contribution to the 2002 Whitney Biennial, but Drain continued the work he'd started as a member, signing with Greene Naftali and showing his own paintings, drawings, videos, and fuzzy sculptures all over the world.
When I visited the studio earlier this month — a raw space tucked above a Jonathan Adler store in Miami's Design District, which Craig Robins handed Fisher and her friend Hernan Bas the keys to five years ago, just before Drain moved down from Providence — all was relatively quiet. It was one day after the close of Art Basel, during which Drain had launched a solo show at the nearby Locust Projects gallery, a new sculpure at Rosa de la Cruz, and an installation wrapped around a fence at the forthcoming NE 40th shopping complex, where an OHWOW pop-up was temporarily parked. He walked me through the Locust Projects show — his mind still busy digesting the work he'd spent the last nine months preparing for it — then showed me around the studio itself, which he was about to shut down in order to embark on a 10-day sweater-making frenzy at Philadelphia's Fabric Workshop. Here's a look at what I saw.