07.10.12
Jerpoint Irish Glass for Makers & Brothers
Anyone who was in New York for our annual Noho Design District event this spring should be familiar with the Irish online homegoods brand Makers & Brothers; they would have been the ones making a beautiful mess on the floor of the Standard East Village hotel, as their woodworker James Wicklow carved stools made from Catskills-grade green ash by hand over the course of four days. But most of what namesake brothers Jonathan and Mark Legge do to showcase their particular brand of native handcrafted goods takes place a bit closer to home — which in their case is a shed located on the same property as their parents' home and architectural practice in Dublin. Since founding their online retail venture less than a year ago, the two have made a point of visiting and documenting the workspaces of the people who create products for them — the basketweaver who grows her own willow on the banks of the River Boyne, the Irish RCA grad who knits stool covers from a warehouse in East London, and, most recently, a family of glassblowers in Kilkenny whose Jerpoint brand drinking vessels the brothers grew up with. When we wrote Jonathan to ask if we could reprint some of their text and photos on Sight Unseen, he confessed he hopes to collaborate soon with Jerpoint — so perhaps a follow-up story will be in the offing for fall. Until then, if you're in Dublin, you can pop by the brothers' shed this weekend for a summer opening. If not, live the Makers & Brothers life vicariously through our excerpt below and click through for even more inspiring studio visits.
Text by Makers & Brothers
We grew up with Jerpoint glass on our table and have been curious to visit the Leadbetter family, who have been producing it, for a long time. In the last month we had to cancel twice and this time we were lost and about an hour late, not cool. However once we found our way through the villages and lanes of Kilkenny, past Jerpoint Abbey and took the correct left-hand turn, things got decidedly better.
Kathleen, mother, was there to greet us, tea and scones were brought in on a tray and introductions began. It was an introduction to the whole family; Jerpoint really is a family business in the truest sense. Kathleen is married to Keith, Keith is the craftsman, they met locally on the roadside, she was looking for a lift and he had a car.
Rory, the eldest son, does most of the blowing these days and Sally, their daughter, is about to help them plan out the next moves. The hot glass studio was built by Keith in 1979.
Prior to this Keith had been working with his friend and fellow glassblower Simon Pearce and had just set up the hot glass department in the National College of Art and Design. Bravery and some well-timed support set him out on his own and brought about the founding of Jerpoint Glass. After a few hours exploring the hotshop and store we all sat down for coffee and a chat.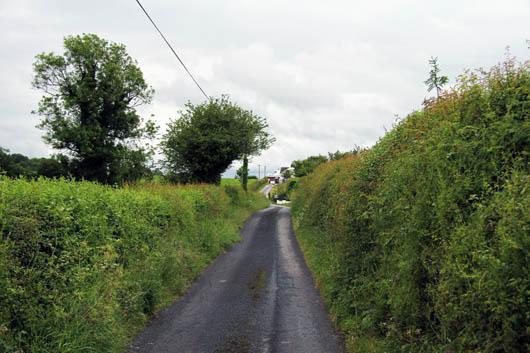 Keith, when did you start working with glass?
I grew up in Stoke-on-Trent and started aged 16 working in the production of laboratory glass. One evening my sister brought back two brothers (Stephen and Simon Pearce, two brothers who both went on to establish a very successful Irish craft business) for tea. One of the brothers, Simon was heading for Sweden to study hot glass work in Orrefors. We got on well; he suggested I join him, so I did.
How was it in Sweden and at Orrefors? They are a very impressive company. It is an impressive country really.
In the 1960s, Scandinavia, and Sweden in particular, were world leaders in design — furniture and household goods seemed to take on a fresh new look. So it was a great time to be in the Glass School in Orrefors and to work during holidays in Boda Glass and others because as well as making cut crystal, they all did a wide range of other designs. It's hard to give a definitive answer as to what I learned in Sweden but I know it was more than just glass making – for example the first lecture I attended was all about re-designing a garbage lorry. Good design and quality.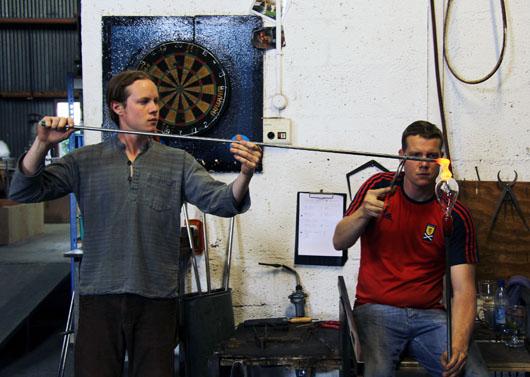 Why Ireland after Sweden?
I had always wanted to come here, for years, the music. There was a plan to move over with a great friend John Finney but Sweden altered that plan.
What was it like starting a craft business in 70's Ireland?
All I can really remember about starting the glass studio is working 40 hours a week glass making and every other waking minute doing all the other jobs that turned up. As I'm not a businessman I didn't have any preplanned expectations, so I just mullocked away and hoped that someone would buy our products — thankfully they did.
Kilkenny Design Workshop was in its infancy. Set up by the government to improve craft design throughout the country making this an exciting period for crafts people and they were very supportive of Jerpoint.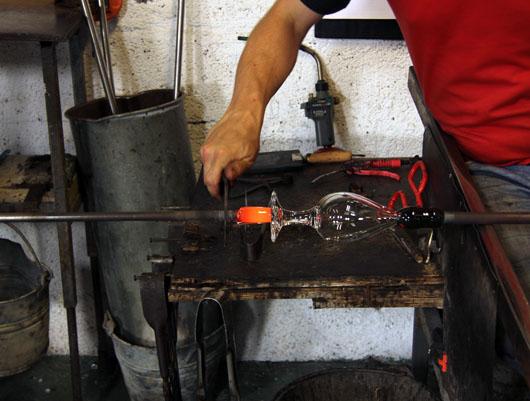 Once you got everything built here and the blowing began, did things progress fairly rapidly?
By degrees. Our first customer was a friend of our neighbors who lives in Thomastown. She came up through the mud, along our lane overgrown with trees and thick hedges. This lovely old lady came up through all of that mess and bought a jug. I felt guilty that I actually charged her for it…. that was our first sale.
A few weeks later a guy came up from a shop in west Cork and he confidentially bought all the wine glasses we had. After he left Kathleen came in and she was actually trembling, he had spent three hundred pounds. Three hundred pounds, that was an enormous amount of money all those years ago. It was very exciting.
Back then we had no phone and I would have to go down to the local phonebox with all my papers and files, balance them against the glass and order materials.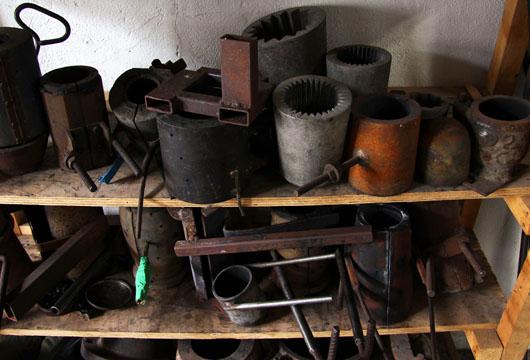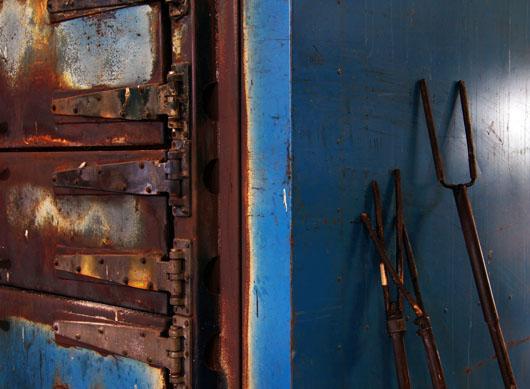 Sounds like the most natural of beginnings. Rory, you do a lot of the blowing these days, do you have a favorite piece to make?
I don't normally make the rummer wineglass but I was producing them this morning and enjoyed it. My favorite piece to make is the medium round jug.
What type of glass do you guys work with?
We used to mix our own here, but it is such a messy labour intensive job that we started to review the idea. Not so long ago we sent our recipe to Orrefors to see if we could buy our mix directly from them. As it turned out our mix was very similar to a glass they had available so we work with that now. The type of glass we use would be described as half lead crystal 12% lead oxide. Full lead crystal being 24% to 32%, which is better suited to cutting, as we don't cut glass we wanted a glass with other qualities.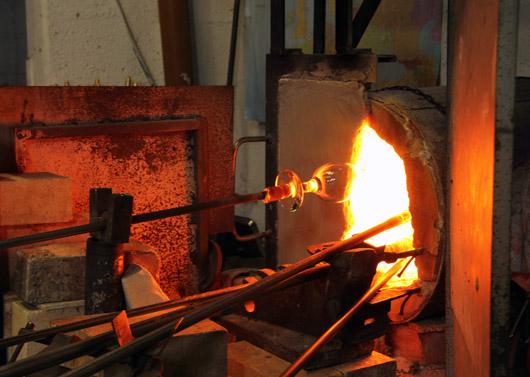 Keith you were saying earlier that it is a very physical process. Watching you all today it looked like some sort of productive dance. There is constant movement and changes in pace, it is a joy to observe.
It is, yes, very physical.
An odd dance but definitely a dance.
A friend of mine, Pete, was here and he had just done a lot of research into effort and work. As soon as he saw the carry-on here he immediately said it was a very physical craft.
What's next for Jerpoint Kathleen?
We are just happy to survive.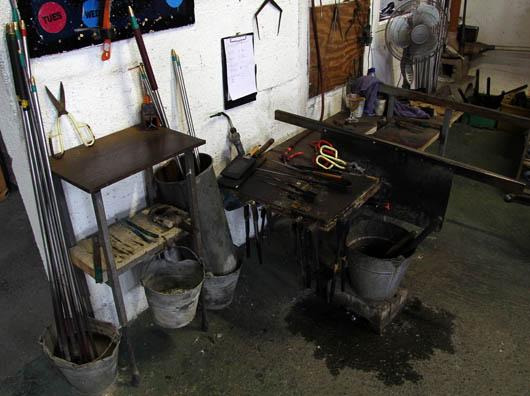 Click here for more of Makers & Brothers' interview — and even more photos — from their afternoon with the family behind Jerpoint, and here to view the site's other interviews with makers.