07.06.12
Prince Ruth for Urban Outfitters
When we first got wind of the new Scandances by Prince Ruth textiles collection for Urban Outfitters, we had two questions: Who is Prince Ruth? And what the heck is a scandance? The latter question, we found, was easy to answer: It's that jittery, seismograph-through-the-lens-of-an-acid-trip effect you get when you manipulate an image while it's in the process of being scanned. As for the former, we assumed — this being Urban, who has an additional collaboration out this week with Sight Unseen favorite Caitlin Mociun, and who's previously worked with friends like Rich Brilliant Willing — that Prince Ruth was some under-the-radar designer we somehow weren't cool enough to have noticed. And in a way, that's exactly what it is: Prince Ruth is the name of a Brooklyn-based surface design studio run by Zoe Latta, a 24-year-old textile artist and RISD grad whose work is more famous than her pseudonym would suggest. "The Urban Outfitters project is unusual in that I typically work with companies who erase Prince Ruth from the deal," Latta admits. In other words, though she isn't a household name, there's a good chance you already have one of her creations in your closet: As Prince Ruth, Latta designs prints and knits for Marc by Marc Jacobs, Opening Ceremony, Madewell, Proenza Schouler, JF & Son, and more.
When Latta works for one of those companies, she sells them patterned swatches and samples that are often no larger than a piece of paper. But with Urban, she got to see her work writ large, scaled up to cover thick throw pillows, billowy reversible duvets, filmy curtains, pillow shams, bedskirts and tapestries. As with all of her work, Latta created the patterns from the sanctuary of her Brooklyn studio, a narrow work space crammed with knitting machines and located above a Williamsburg thrift store, in the same building as fellow cool-girl designers Lauren Manoogian and Erin Considine. We took the L train out last week to find out a bit more about the enigmatic talent and her exciting collection, which hits stores and the web today.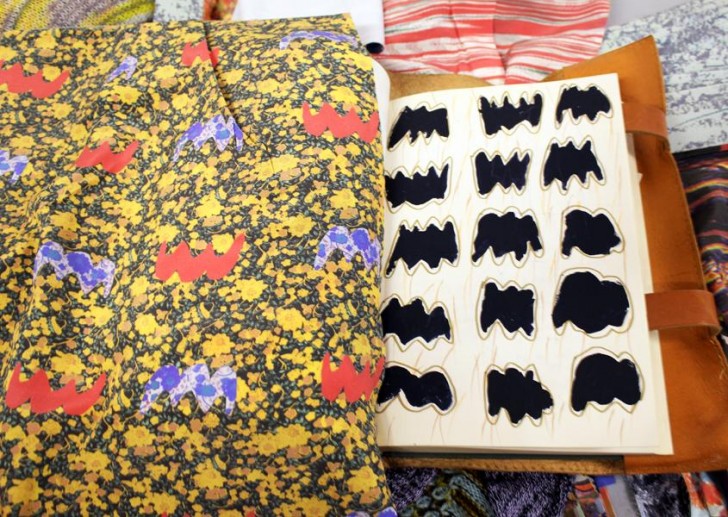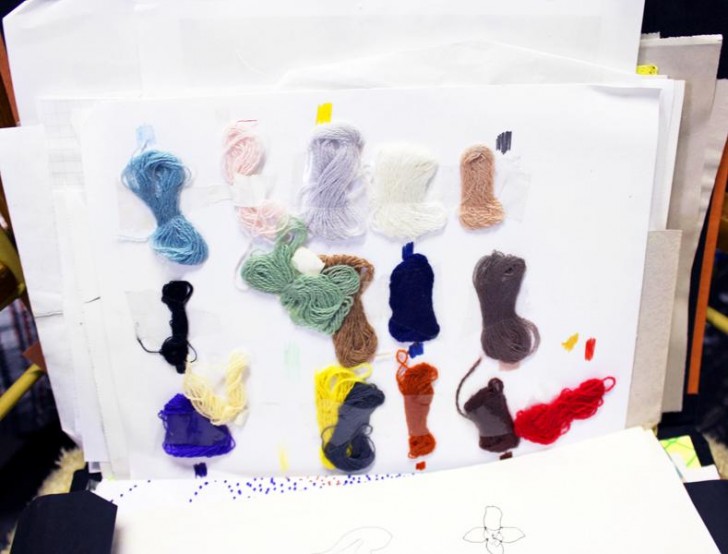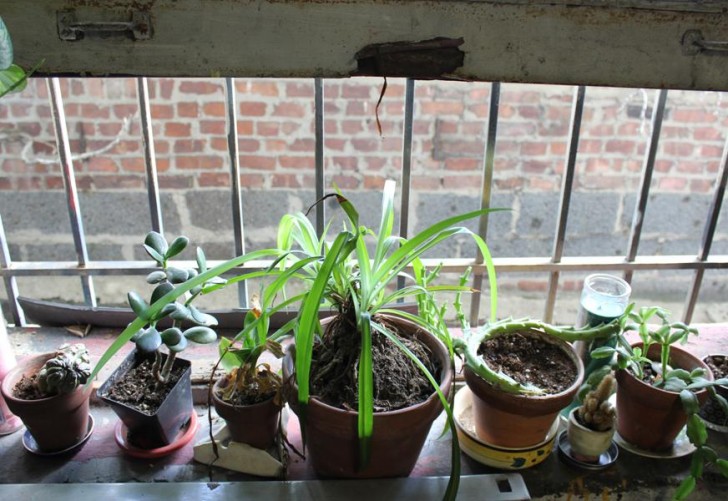 You have kind of a crazy impressive client list for someone who only got into the business two years ago. How did you get your start?
After graduation from RISD, I was working as a curatorial assistant in the Ratti Textiles Center at the Met, immersed in these old European sample books from the 18th or 19th century. In school, I had made samples but I was under the impression that you had to take that sample and that turn it into something else. I soon realized there was a huge market for just making swatches, especially with the way design functions in New York right now. Companies don't have time to develop their own fabrics, so they usually buy vintage swatches or original artwork from people like me.
So I decided to do a trade show. I got a bunch of my friends together — lots of artists and painters and printmakers — and I formatted their work and my own onto fabric. The first collection was really successful, and I've been just hocking my wares since then.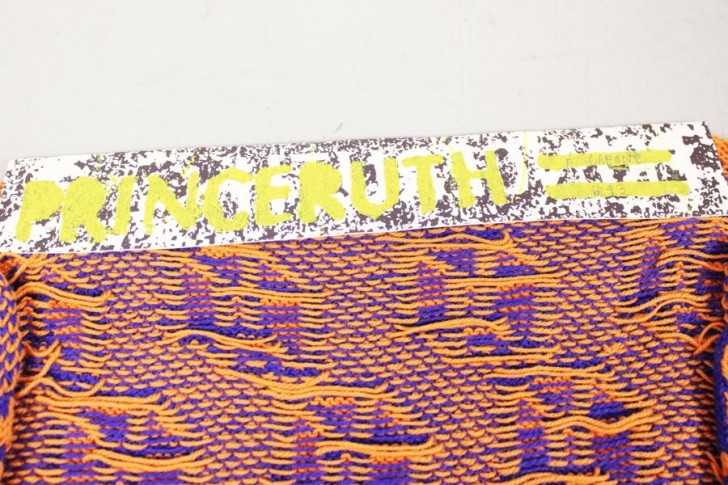 Prince Ruth swatch by Francesca Capone
How would you describe that first collection?
At the beginning, I was trying a little too hard to do unconventional prints. I was like, "No womenswear. I want to do weird bedding and scrubs." But then I'd go to these appointments and people would say things like "This is just too avant-gardey." So I'm figuring it out. But that first collection actually had a lot of scandances in it, which is what the collaboration with Urban is.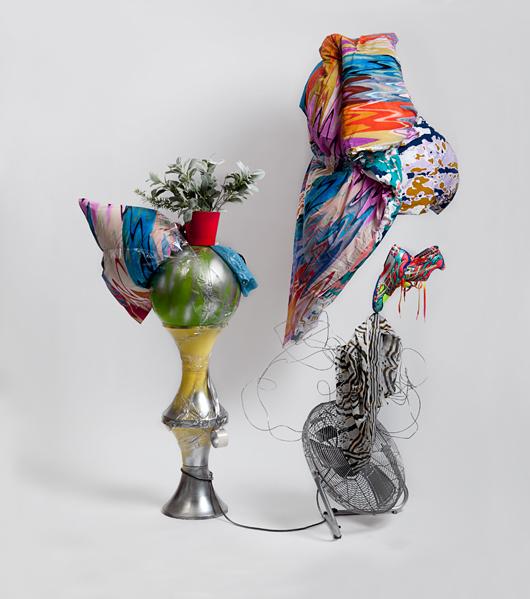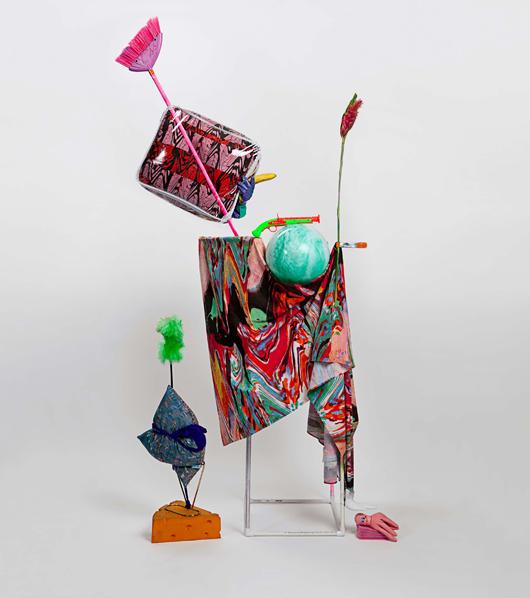 Urban Outfitters lookbook images (c) Alex Da Corte
And Urban let you do weird bedding! I love the double-sided duvets. What kinds of reference images did you use for the UO collection?
This one (pictured, below) was based on a watercolor I made. Another print was based on an image I took of a firework when I was a child, which was then color reduced. Others were scandances based on my own paintings and woven or knitted swatches. Others were scandances of scandances. I made about 50 different scandances and then with the designers at UO we assembled the collection.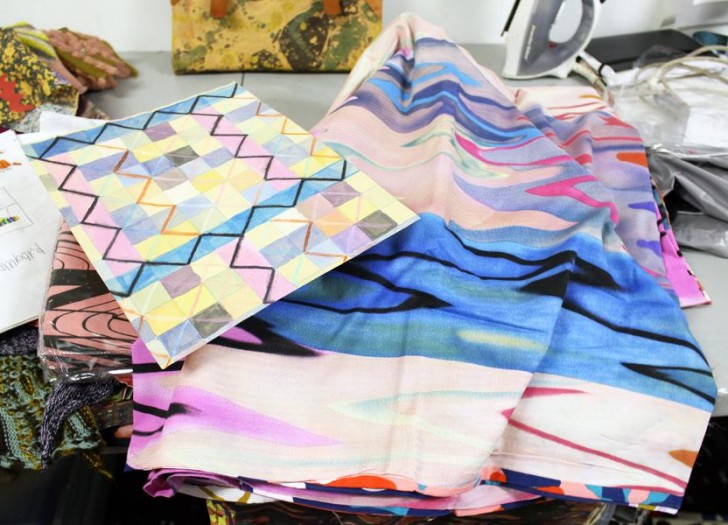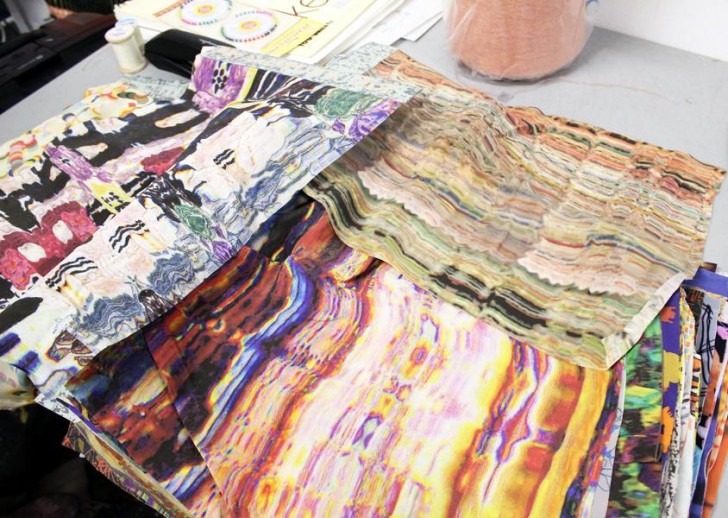 How do you typically manipulate images?
The juxtaposition of two different things excites me, so for instance I'll put a really simple floral together with an abstract shape or maybe make it inverse in its color. But my favorite Photoshop tool by far is called the "tie-dye stamp tool." It selects pixels at random from another image, and uses them like a rainbow pen.
What's the first scandance you ever made?
Well, first I want to say that scandances are in no way an invention of my own. I actually came across them sort of by accident. The first one I ever made was on a flatbed book scanner at the RISD library. It was kind of juvenile, the way kids put their asses on Xerox machines. I laid my head on the scanner bed and tried to take some self-portraits, but I couldn't stay still long enough for the image to work correctly.
What sorts of other reference images do you use?
Photos, drawings, paintings, other fabrics. I have this huge binder full of my own work but also lots of found materials. For example, these are drawings I bought off a child on the street outside my studio (below). He sold this book to me for $2. "My book of third-grade memories from A-Z, written by Milan Chambard." I was going to make prints out of them but then I felt horrible because he's a genius.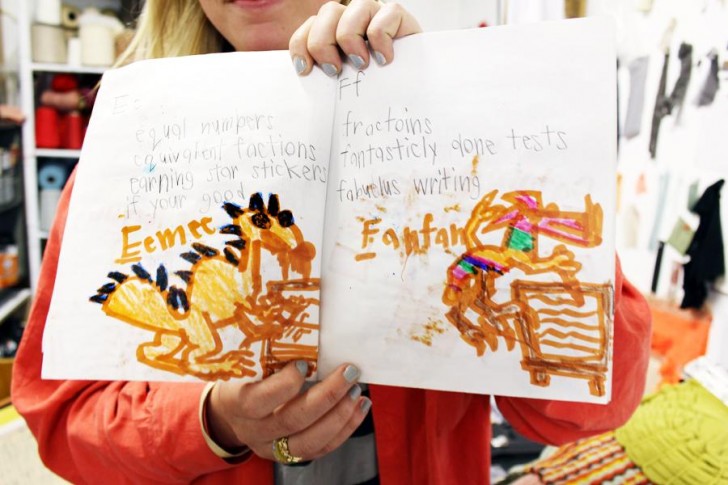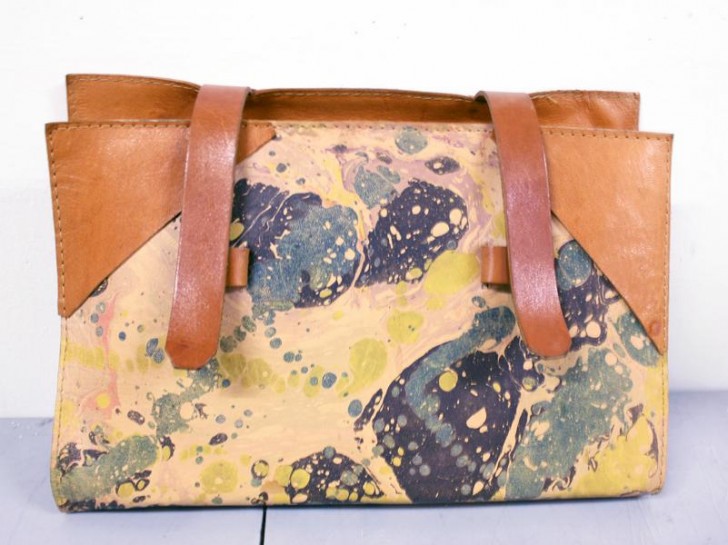 Where do you think your "avant-gardey" aesthetic comes from?
I've always loved prints and textiles in general and I grew up in Santa Cruz, California, and there's a ton of refuse there that reflects a really specific community of hippies and various different textile traders. I was constantly thrift shopping, and I feel like I got a certain kind of education there: Because everything was a dollar a pound I could discern what was interesting to me, versus it being about money or some kind of consumer culture.
But it's hard to say beyond dollar stores what specifically inspires me. I was that kid in school where they'd be like, "Make a mood board! What is this about?" And I was like, "It's not about me! It's not about anything other than what I'm intuitively feeling!" I'm trying to figure out a less defensive way of saying that. Part of my practice, though, is about letting it go, and letting it be part of someone else's inspiration.
You do so much of your work on paper or on the computer. Is that at all weird considering that you're such an accomplished textile artist?
The thing that's weird about computer work is that so much of it goes undocumented. It becomes a layer in your history, but that's it. But I do a ton of hands-on work. I have a fashion line with my business partner Mike Eckhaus called Eckhaus Latta, which is six months old, and I do a lot of knitting and knit swatches as well. I am a knitting-machine fiend. I just got one last week from an antiques dealer who had no idea what she had.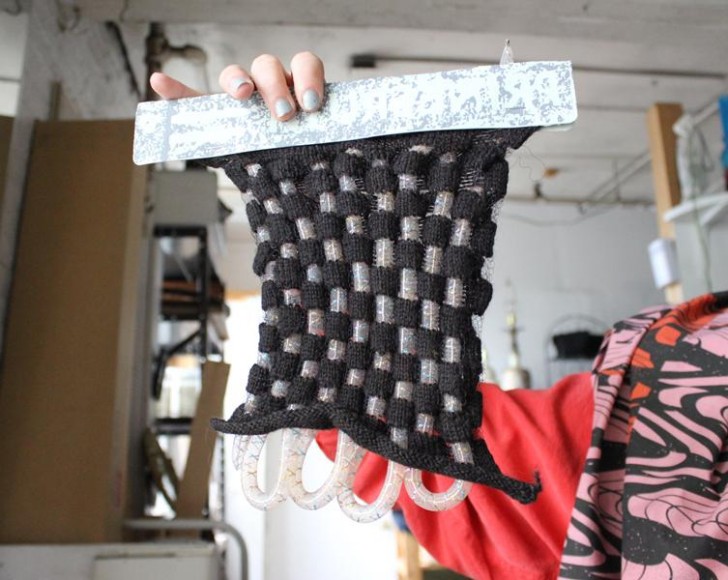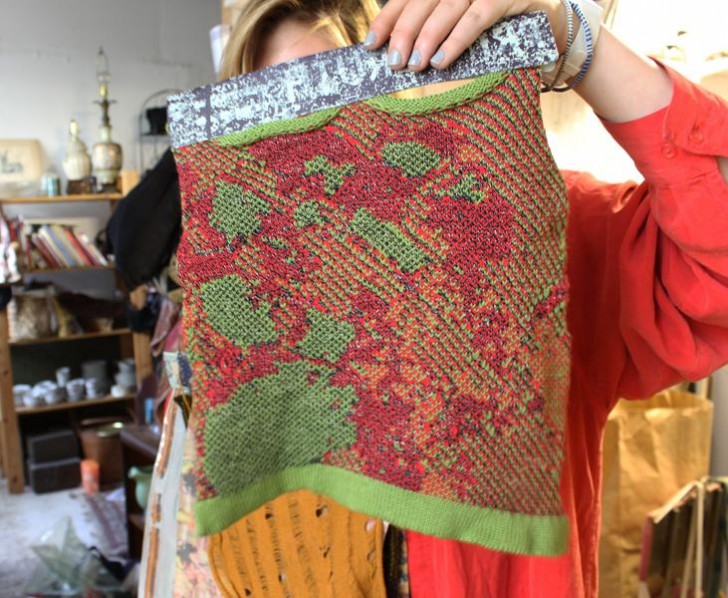 That knit is amazing (above). It looks like Jim Drain.
(Laughs) That's funny because the guy who made this is the guy who made the Jim Drain sweaters! His name is Joe Segel; he lives in Providence and he's a knitting genius.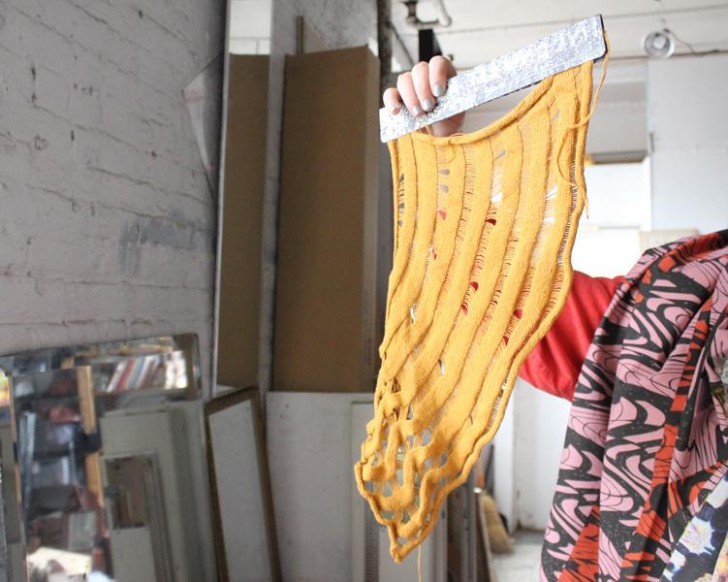 Who are the other artists you represent?
I don't represent artists in the sense of a gallery; I sell things to companies who then erase the name and call it theirs. That format is a great thing for younger designers. For example, this swatch (above) is one of Lauren Manoogian's knit designs. It's something she was experimenting with and decided not to go through with, but now as an idea it can function and she doesn't have to go through with it. But then she gets 50 percent if a company buys it. It's great.
You know, your leggings are amazing.
I know! I bought them at a farmer's market in London. They were a pound! I should have bought the whole rack.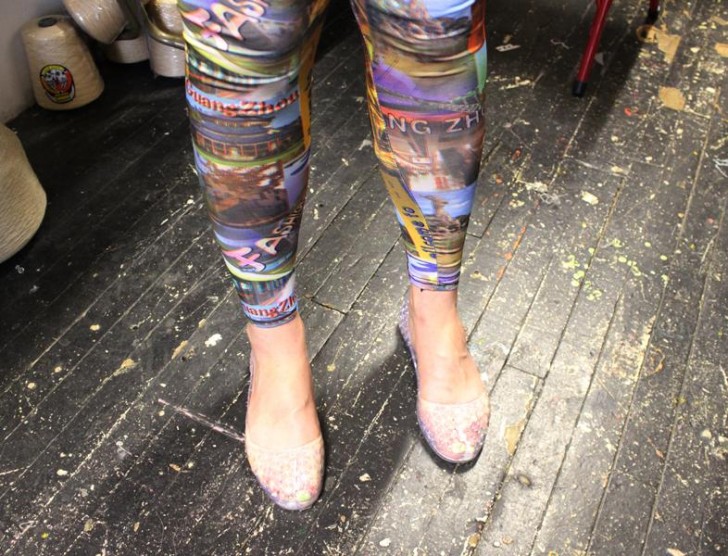 This post was sponsored by Urban Outfitters, where the Scandances by Prince Ruth collection is available exclusively in stores. As always, our partners are tightly curated to ensure their relevance to our readers.