09.19.12
At the London Design Festival, Part II
Just as everyone else is arriving in London, our time here is winding down — we have one last day today to take in the sights and sounds before flying home tomorrow, and we'll be spending most of it at one of the more newsworthy events of the week, Designjunction. There's going to be quite a few new releases happening at the Central London hub, but if you want to know the truth, we're most excited about seeing the building, a 250,000-sqft. industrial complex that should make a sublime backdrop for our humble photography efforts. Meanwhile, we've documented the last two days' worth of events and shows here, from a trip to the Mint gallery where we spied the marbled stools above to a plop onto the motley mix of benches arrayed around the V&A courtyard, all made by various design superstars. There's no way we'll make it to everything by tomorrow, but we've got a lot more to share, so keep coming back to visit us please! Oh, and a quick shout out to our hotel, the new Citizen M Bankside, for the lovely room from which we currently write. And for tempting us with the Tate Modern, which is only a block away but which we've nonetheless been too busy to visit. Ridiculous.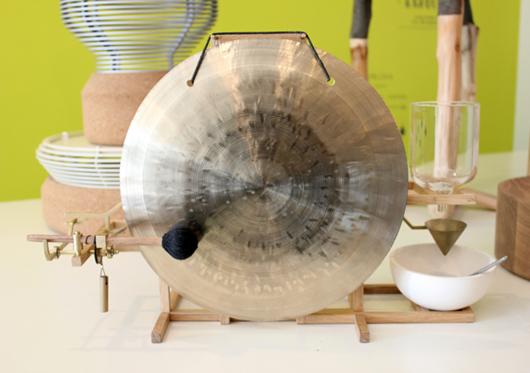 One of our first stops this week was the Mint shop, where I'm pretty sure we failed to photograph any of the new pieces included in the current show (besides, I believe, the Daphne Laurens Cover collection in the back left corner of this shot), but found quite a few things we liked regardless. At the top of this post are a series of turned maple stools by Lola Lely that feature our obsession for 2012: marbling. Then there was the gong you see here, which is actually a sand timer designed by Maarten Baas for Laikingland. He describes it thus: "Apart from things like train schedules or the duration of sporting games, the exact time is often irrelevant. A coffee break, a meditation, a nap, a business meeting, they could take a few minutes longer or shorter than an exact amount of time. This is why I wanted to create a timer that bangs a gong, more or less after the amount of time you indicated."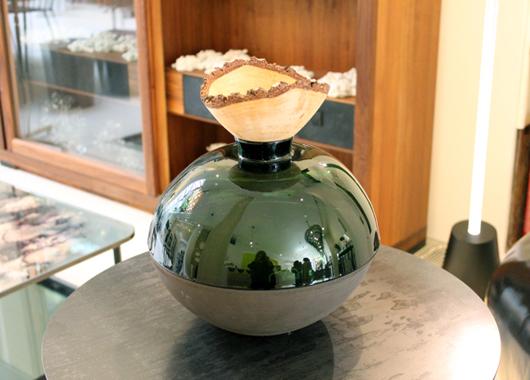 Pia Wustenberg is definitely one of our top draft picks from RCA's more recent wave of grads, along with Hilda Hellstrom and Silo Studio, who we mentioned on Monday. This is one of her much-ballyhooed Stacking Vases, which we were happy to have the chance to see in person.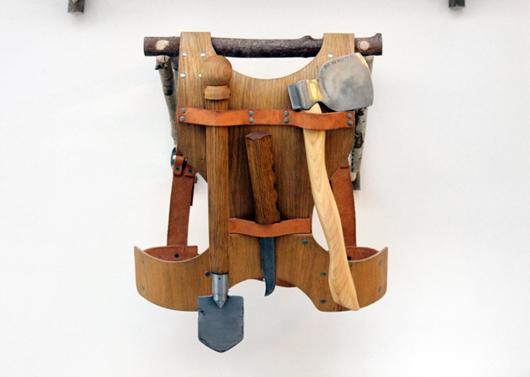 Patrick Hiley Thornedesigned this tool holster (and the tools it holsts), which seems like a lovely design object until you stop and consider the implications of it all. Not sure where we'd be going with a knife, axe, and shovel. To bury bodies in the woods? To go rogue and become the next Unabomber? Patrick says: "The Tools series concludes with a wearable tool kit, to sustain the user within isolation in the British countryside. It is the designer's intention to enable the user to access areas of limited human interference fully equipped for making shelter or making with natural materials." Maybe it just looks nicer hanging on the wall.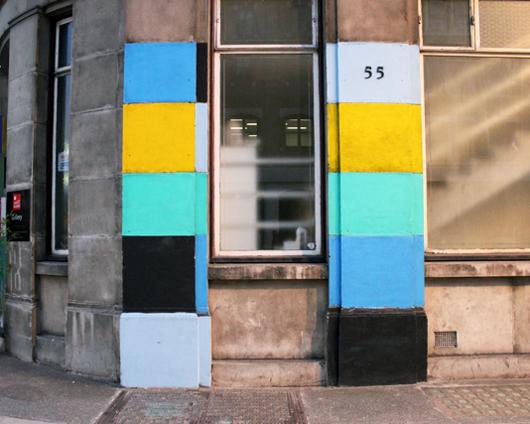 A lovely street scene not far from our hotel. We especially like how the colors alternate on one side but not on the other.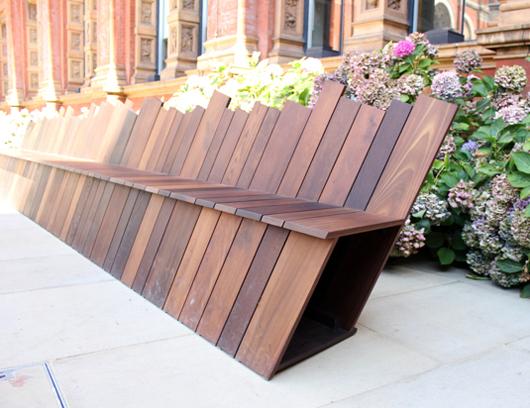 Over at the V&A, with the London sun shining in a terribly uncharacteristic manner, we explored the Bench Years installation in the courtyard, for which Established & Sons commissioned mega design stars to each build a one-off seat in a different material. Martino Gamper worked with the American Hardwood Export Council to source the varigated planks of his canted bench above, which was one of the more comfortable-looking options on hand.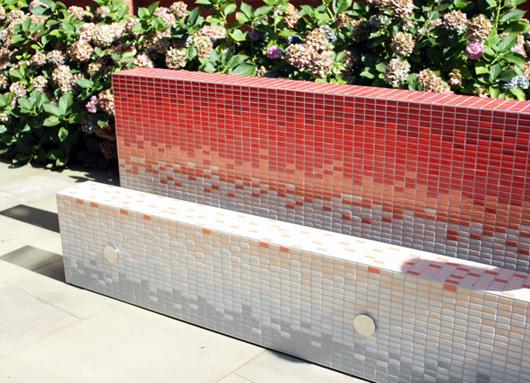 Konstantin Grcic's bench, not so much. He worked with Bisazza to make what looks like some kind of shower drain transplanted from a YMCA locker room. It's weird, but I guess we like weird.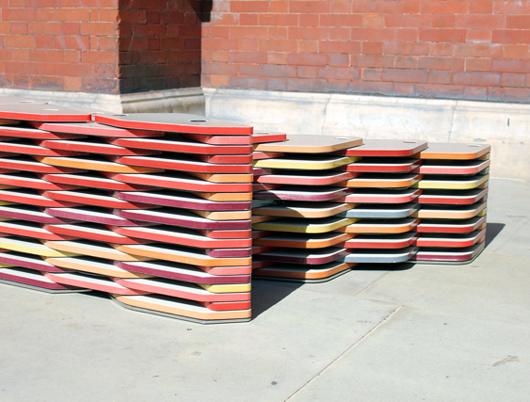 Amanda Levete's bench is made entirely from ceramic plates with colored edges; it looked a lot cooler from the side  (pictured) than from the top. The installation also included pieces by E&S mainstays Barber Osgerby, Jasper Morrison, and Alex Taylor. A red glass bench by Luca Nichetto was apparently shattered during transport to the museum, and had to be left out of the show. Sad!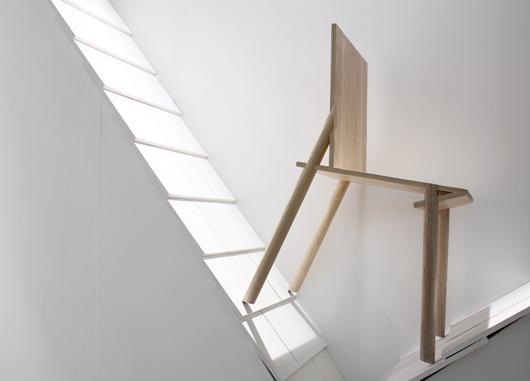 Inside the V&A, in the British galleries, was an amazing show called Out of the Woods — a partnership between the RCA, Benchmark furniture, and the American Hardwood Export Council we mentioned above, who, by the way, made us feel a little depressed. They're an amazing London-based organization who have helped conceive and produce several shows at the LDF in past years (Amanda Levete's Timber Wave, Wrong/Woods's Bench Press installation), and we wish it made sense for them to get behind some similarly cool large-scale projects at ICFF. Will the American Hardwood Domestic Council please stand up? We need you.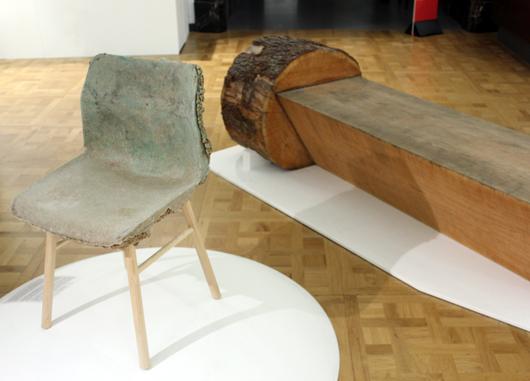 Anyway, the Out of the Woods project invited 15 RCA students, under the wing of Sebastian Wrong and Harry Richardson, to spend a week literally camping out in the backyard of Benchmark's factory in the English countryside while producing 12 functional chairs, from scratch, that also happen to be really interesting. Santi Guerrero Font made a svelte version with a lovely linear profile (see previous image), while Anton Alvarez chopped a solid  triangle out of a log and the duo of James Shaw and Marjan van Aube mixed wood waste shavings with bio-resin to form the organic creation pictured here. There's a more thorough post about the show by yours truly on Cool Hunting today, plus another one by the folks at Core 77 that features some good making-of videos right here.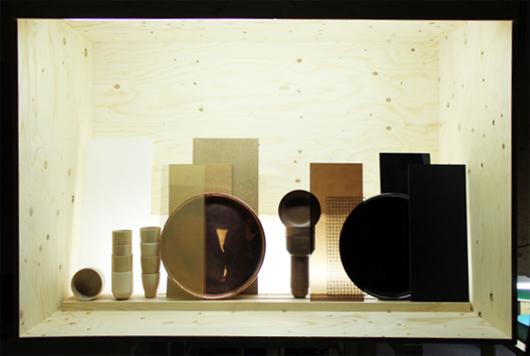 We attended the 4 Cromwell press preview on Monday night, which in retrospect was probably a bad idea — always safer to photograph exhibitions during the day than let yourself be at the mercy of artificial lighting. We had a hard time capturing the gorgeousness of all the installations on display in the building, including the Wonder Cabinets of Europe show curated by Maria Jeglinska and Livia Lauber, which asked designers including Philippe Malouin and Judith Seng to each fill a wooden diorama with evidence of their design process. The one pictured above is by Pauline Deltour.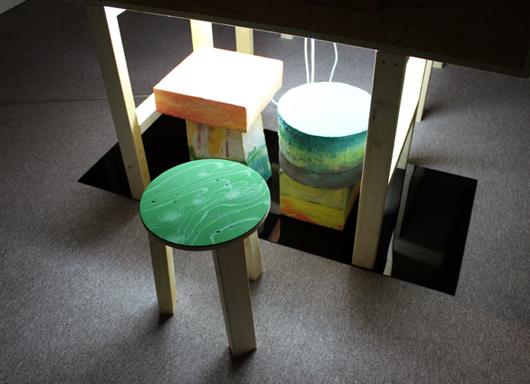 SU faves Kueng Kaputo (the Swiss designer/artists who made an appearance in Paper View) went the semi-cheeky route of putting a few pieces of wood inside their box and installing their Sand Chairs underneath it. The little green stool in front of them was actually just a part of the exhibition design, but it looked nice with the stools. Which, of course, we did a terrible job of photographing.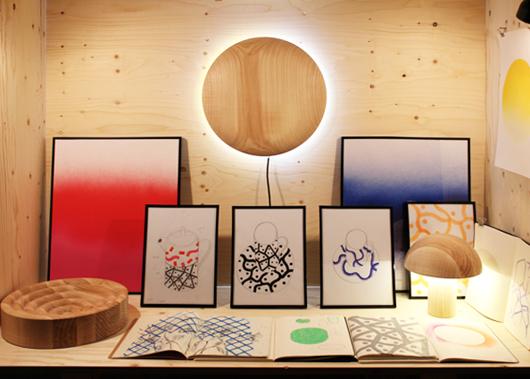 Show co-organizer Maria Jeglinska showed off three new objects she made with a wood turner alongside some colorful Memphis-meets-Keith-Haring drawings.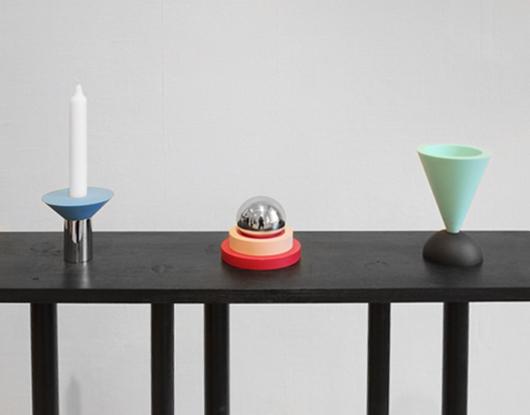 Downstairs in the front room was Vera Chapter Two, which followed last year's Chapter One in a similar vein: Asking designers to vibe off of some photos of a mystery woman curators Kirsty Minns and Érika Muller found at a thrift store in Brighton, constructing her fictional biography through objects. While the relationship of the photos to pieces like Daniel Emma's, shown here, can be dubiously opaque at times, the Vera project has undoubtedly yielded some pretty fantastic designs so far.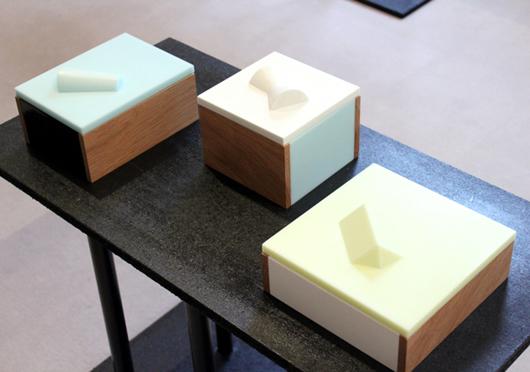 The designers do write stories to go along with their objects, however; you can read Liliana Ovale's explanation of these pastel boxes at the Vera site, here. The rest of the designers have their stories published on that site as well.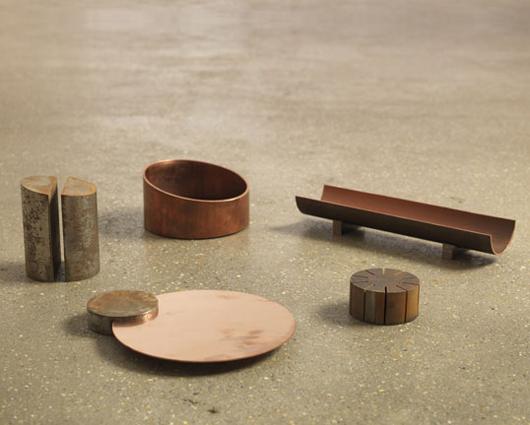 We were SO frustrated in our attempts to get a nice shot of Tomas Alonso's submission, which we loved, that we ended up just swiping a press shot of it and sneaking in here. Oops.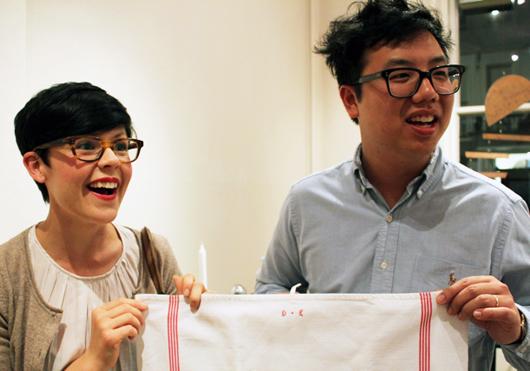 We featured Daniel To and Emma Aiston of Australia's Daniel Emma on Sight Unseen ages ago, but we only met them in person for the first time at the Vera show. While we were chatting, a friend of theirs rushed up to give them a crazy present: a vintage dish towel found in a thrift store that happened to have "D . E" embroidered at the top. Which, as you may know, is exactly how they happen to style their brand name. Spooky.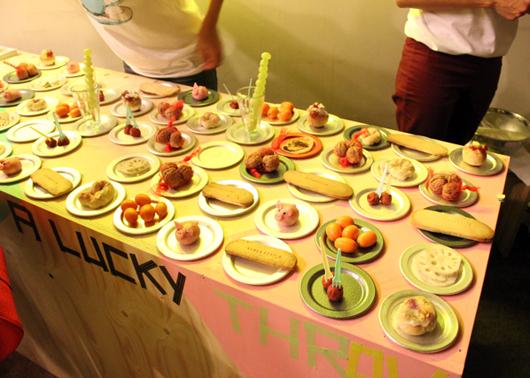 Also at the 4 Cromwell opening was this delicious-looking display from Arabeschi di Latte, which was actually some kind of game. Visitors paid 3 pounds for a a snack off the table, and then did something with dice that we failed to grasp, and had the chance to win a funny object from the design group's archive. It was all in celebration of the food-design group's 10th anniversary.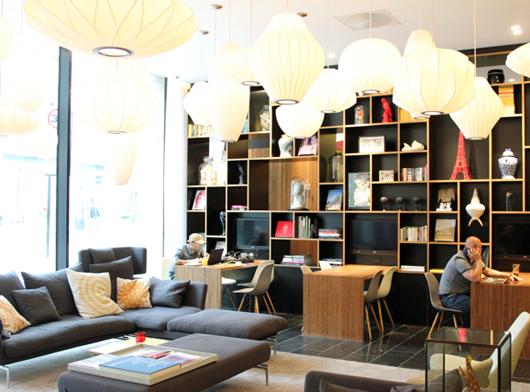 Taking a rare break at our hotel, the Citizen M Bankside, before rushing back out into the craziness again. Watch this space for more coverage!