06.03.13
At New York Design Week 2013, Part V: The Rest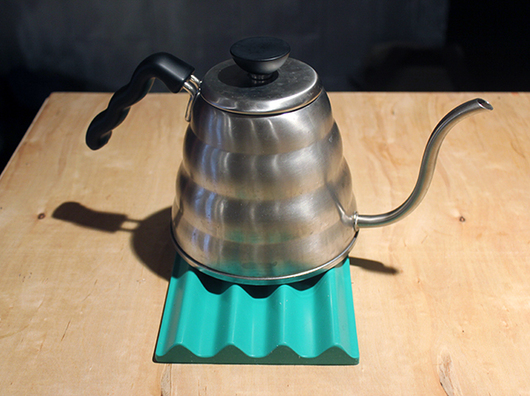 New York Design Week may already feel like a distant memory, but we couldn't move on to covering the upcoming Design Miami Basel fair — or start publishing all the amazing studio visits and house tours we've been saving up for the past few weeks — without doing one last post about all the offsite shows we saw (and didn't see) during this year's ICFF. From magnified eyeballs to garbage arches to our favorite watering can of all time, check out the official Sight Unseen roundup below.
Top: Vintage teapot sitting atop a silicone trivet by Michael Savona, which was on view at Chicagoland during Wanted Design
Wanted Design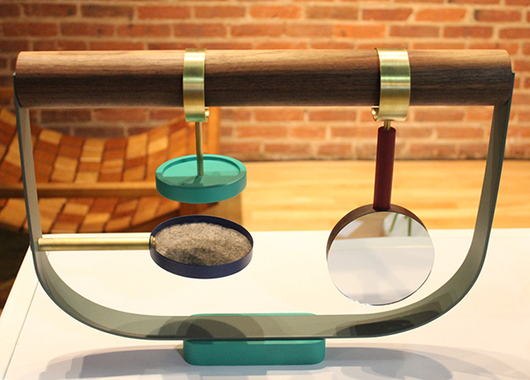 Lots of young designers were debuting work at Wanted Design this year, Montreal-based Zoë Mowat among them. We tried for at least ten minutes to get a shot that did her amazing new jewelry stand justice, but honestly you should just follow this link to see her studio shots. So nice.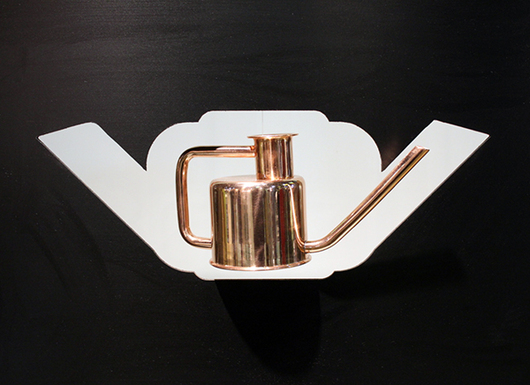 We're dying to own one of Paul Loebach's new copper watering cans for Kontextur, but — sigh — we can't seem to get our hands on one just yet because they keep selling out the minute a new shipment arrives. #firstworldproblems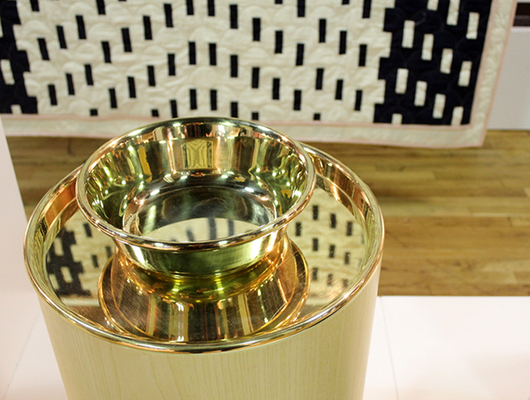 Equally shiny was this set of brass trays by Pauline Deltour for Discipline, on view at Design Within Reach's installation showcasing seven designers the company thinks represent the future of design. (That's an amazing black-and-white quilt by Meg Callahan hanging in the background.)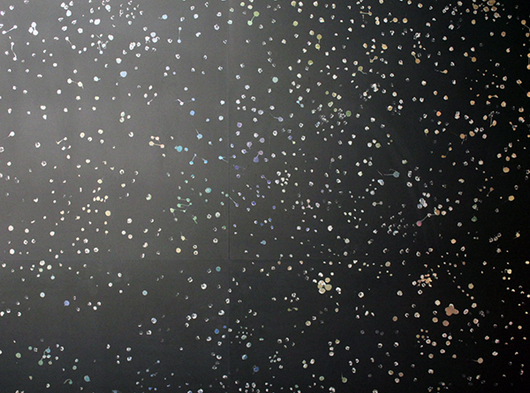 The emerging California brand Neal Feay Company, which manufactures multi-colored anodized aluminum, has been doing some amazing projects with designers and artists — like this huge, iridescent Starry Night wall panel by Peter Alexander.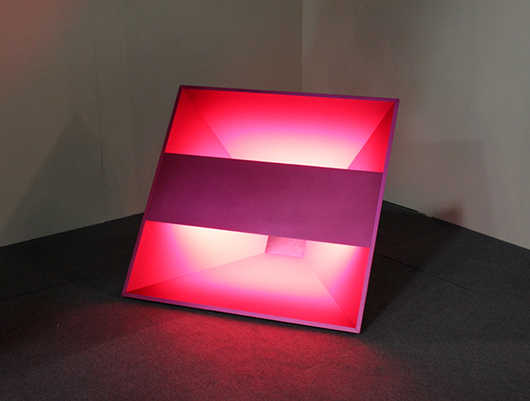 Johanna Grawunder also made a special piece for the Neal Feay's Wanted booth, a light inspired by photographic reflective barn doors; it marks the first in a series of limited-edition production pieces Grawunder has planned with the company.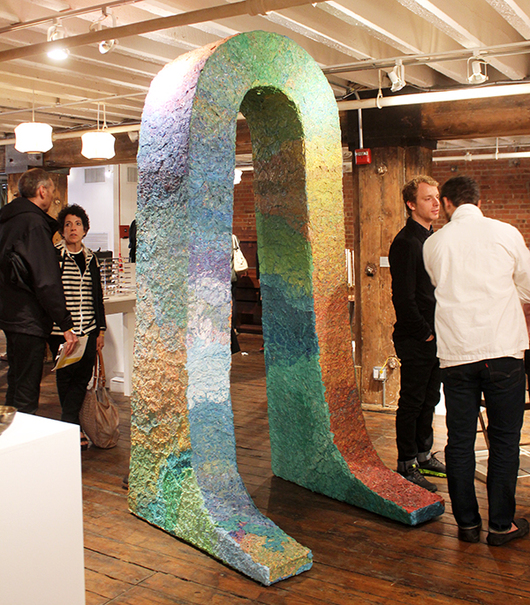 Over at Wanted's Chicagoland exhibition, we were kind of obsessed with Rainbro, an amazing technicolor arch by Thing Thing made by shredding and manually reconstituting used plastic bottles in a whole spectrum of colors.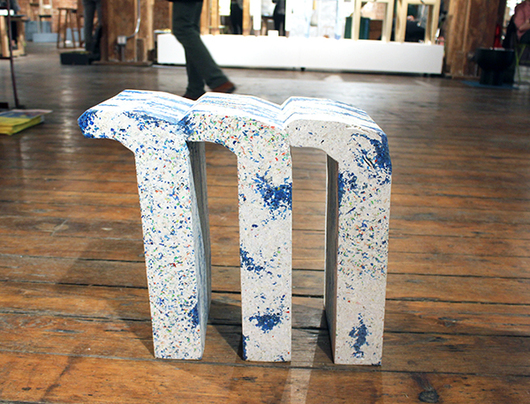 Thing Thing also collaborated with Michael Savona to make a pair of benches using the rough recycling technique, this one in the shape of an "m" and the other in the shape of a "tt."
Designer Craighton Berman livened up the Chicagoland show by pouring guests some of his "manual coffee," part of a slow-food product line he hopes to start with his wife, who works as a chef.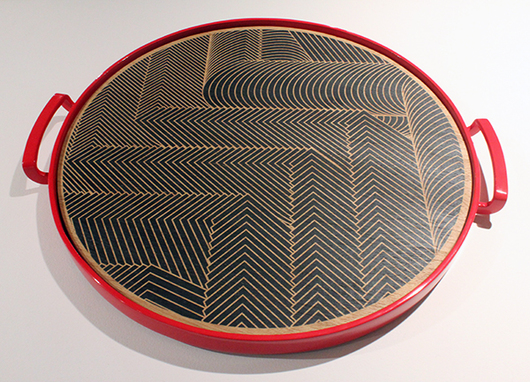 One of our favorite items at Bernhardt Design's Carrot Concept show featuring work by El Salvadorian designers was this tray by Claudia and Harry Washington, with a pattern by graphic designer whose name we unfortunately didn't catch.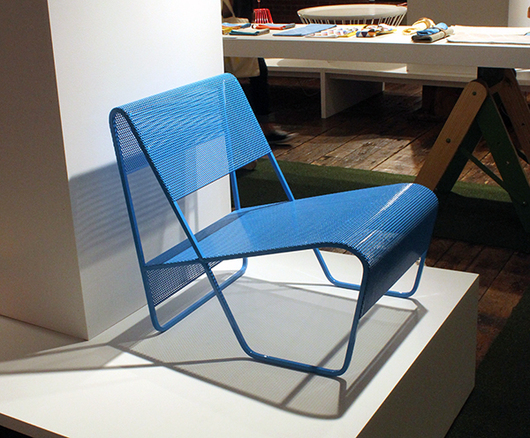 Another standout at Carrot Concept was this bright-blue chair by Marka Moderna.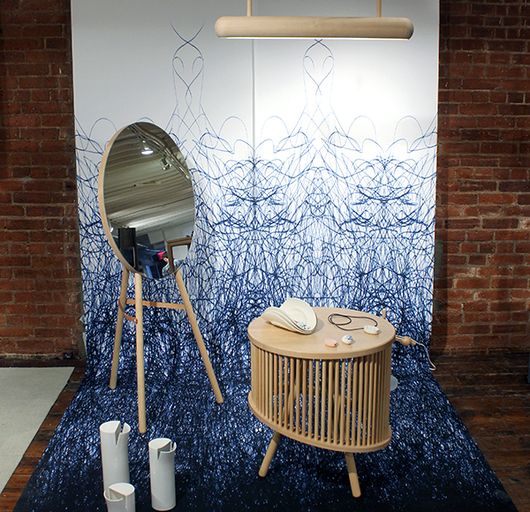 Alissia Melka-Teichroew had a solo booth set up in Wanted's Launch Pad area that featured some of the greatest hits from her byAMT brand, like her Ballpoint Pen wallpaper.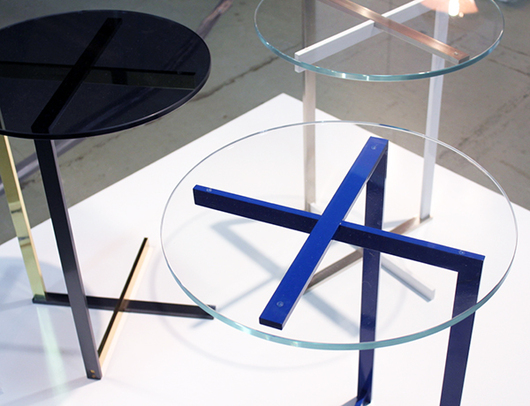 Brad Ascalon's new Peasant Tables are the beginning of a super-economical series he's doing for Juniper based around using off-the-shelf components instead of custom-manufactured parts; the concept reminds us a teeny bit of our McMasterpieces show in Noho two years ago!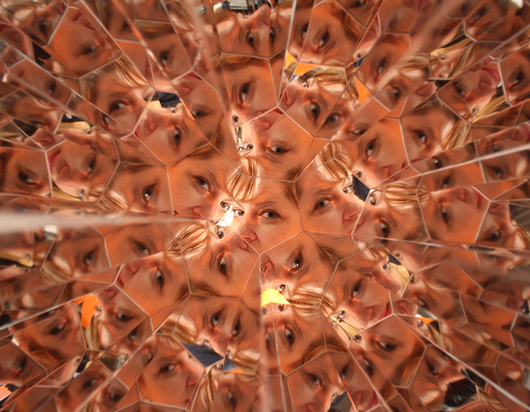 For those of you who don't know, the editors of Sight Unseen teach a Studio Visits class as part of Allan Chochinov's Products of Design MFA course at SVA; our amazing first-year students put together a great design intervention called ALSO! at Wanted, which they describe as "a series of interactions that explores how we experience design." One part of the project was a kaleidoscopic tube that was open at both ends, letting you take amazing pictures like the one of Jill above.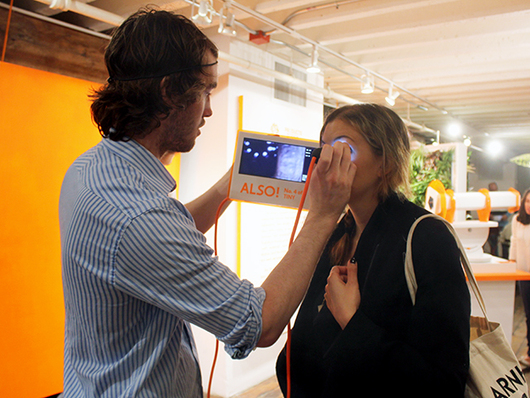 Monica also got her eyeball magnified with this portable microscope. Creepy.
Reclaim NYC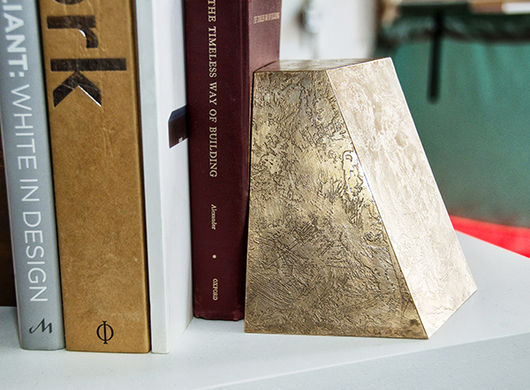 Back down in Soho, the second edition of Reclaim NYC asked designers and artists to buddy up to create works whose sale will benefit the ongoing Hurricane Sandy relief efforts. Some of the items — including the bookends pictured above by Egg Collective and Hangar Design Studios — are still up for grabs over at the Lin-Morris webshop.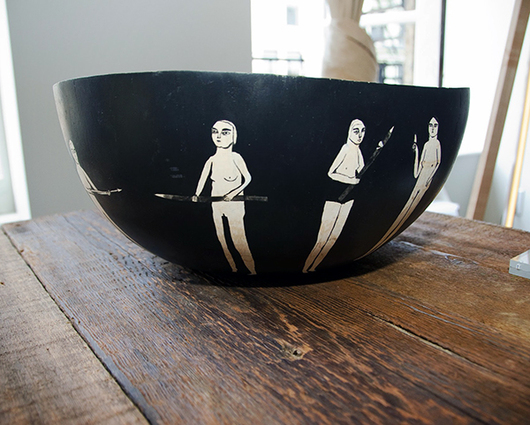 Our personal fave was this bowl by Brendan Mullins and Kreh Mellick, which sadly for us appears to be sold out.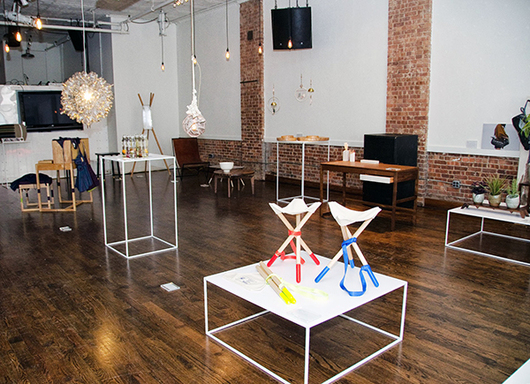 An overview of the Reclaim NYC show, with stools by Baggu and UM Project in the foreground.
Matter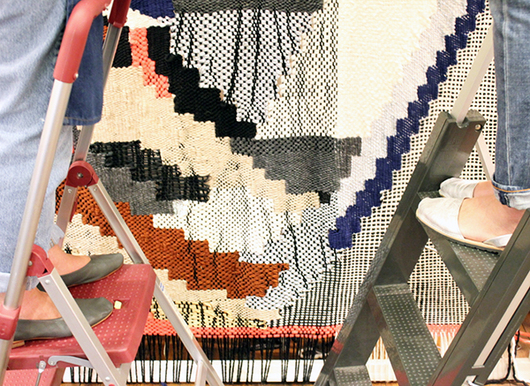 Matter had a booth at ICFF for the first time this year, showcasing items from its in-house MatterMade collection. But that didn't mean the store on Broome Street got no love — our girls Kelly Rakowski and Alex Segreti were posted there all weekend creating the mother of all New Friends weavings.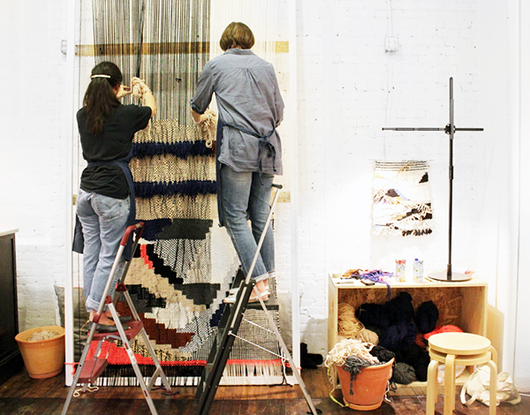 It took them four days to finish the 8-foot-tall beast, but we think the results were well worth it!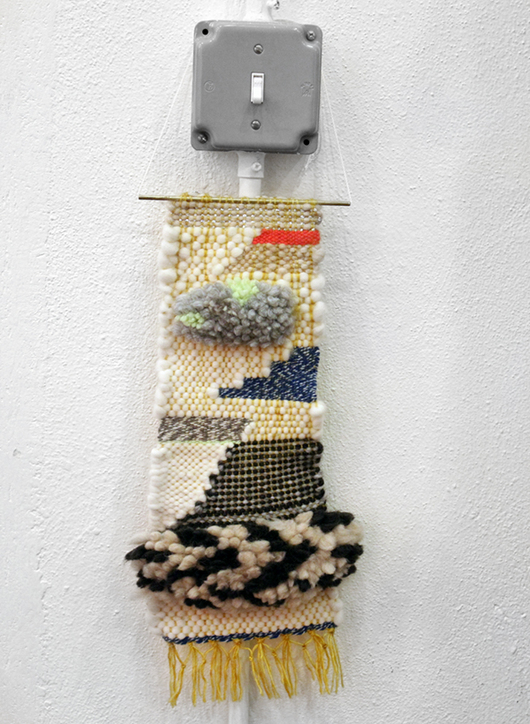 Hanging form a light switch elsewhere in the store was a weaving more typical of the scale the duo works at.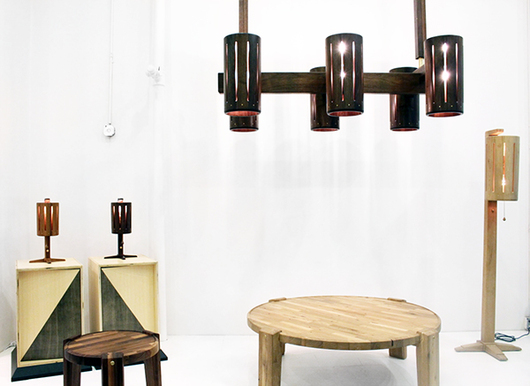 Also in-store were pieces from Matter's splashiest 2013 debut, a full furniture and lighting collection designed by Roman & Williams which we overheard someone cleverly refer to (in the fondest of ways) as "Medieval modernism."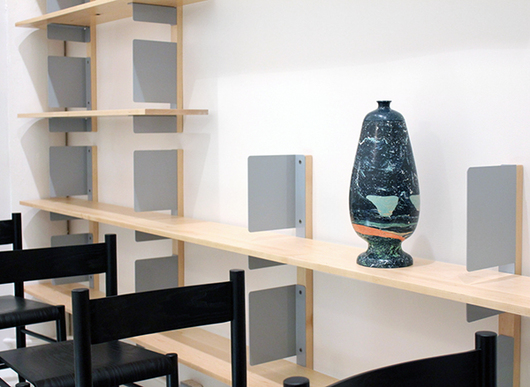 In Matter's smaller side room, shelves by Henry Julier lined the walls and one of Hilda Hellström's Sedimentation vessels was perched on top. (We recently began selling Hilda's coasters from the same series — check them out in the Sight Unseen shop!)
IntroNY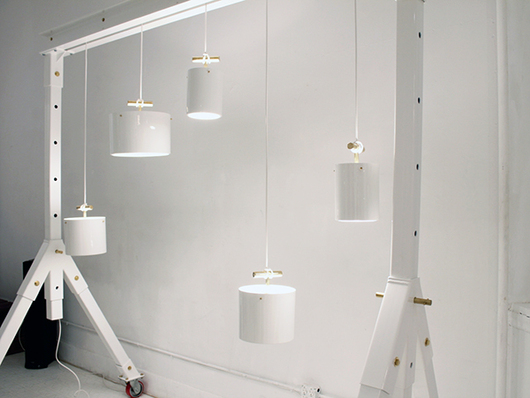 DesignJunction made its stateside debut this year in a showcase called Intro NY, organized by Paul Valentine of Smallpond and featuring brands like Modus, Very Good & Proper, Massproductions, and Resident. Canadian design group Castor also had a little showcase featuring new lighting projects like these pendants hanging from looped cords.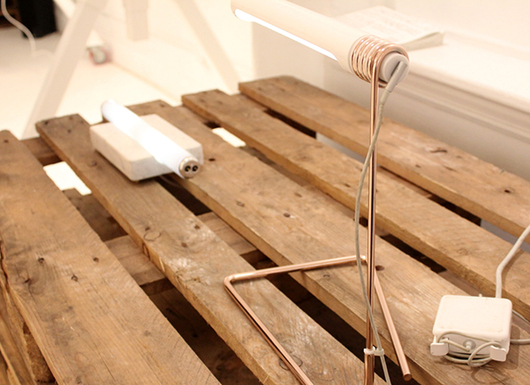 They also introduced two super-novel pieces: a table light that runs off your Apple laptop power cord, and a fluorescent tube whose power source is hidden in the marble base. When you drop it into the base it magically lights up; when you lift it up it turns off. (We made a Vine video of the lamp in action, for your viewing pleasure.)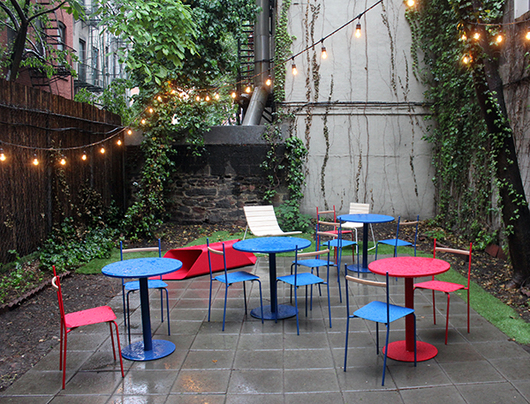 Council Design had set up a lovely little backyard cafe outside the exhibition, but unfortunately it was too rainy to partake the day we visited.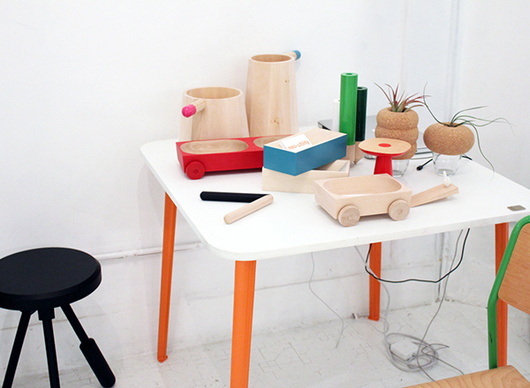 We did, however, partake in the Neo-Utility pop-up shop, where we bought a few Tom Dixon candles — our favorite.
Off the Grid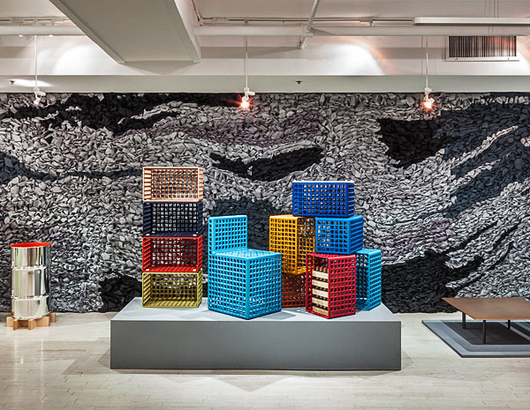 Gallery R'Pure's show this year — Off the Grid — was stunning, featuring work by François Chambard and Frederick McSwain. Set against the backdrop of Elodie Blanchard's "Urban Camouflage" textile wall, the installation featured multi-colored storage milk-crate-like shelving units and chairs, a wooden storage trunk, and a teepee/tent so chic we basically want to move into it like right now.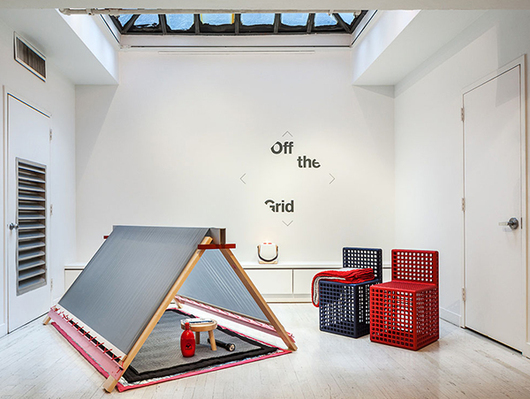 Actually, the minute New York Design Week ended, Sight Unseen's editors went totally off the grid themselves, the insanity of the Noho Design District having taken its toll. Now that we're back from our sojourns, and are finished cataloging the weekend's activities, we're ready to launch back into our regular content with all the amazing summer stories we've been stockpiling lately, starting tomorrow!