07.10.13
Pauline Deltour, Product and Furniture Designer
Okay, let's get this out of the way as quickly as possible: Yes, Pauline Deltour spent a few years as a designer in Konstantin Grcic's studio. And yes, Grcic may have made a few strategic phone calls on her behalf, jumpstarting her career once she struck out on her own in 2009. But considering that was four years ago, and the 30-year-old Paris-based talent has since turned out more than a few painfully elegant designs for the likes of Discipline and Kvadrat, we thought it was worth stating for the record that she's become quite the rising star in her own right — not to mention one of design's most promising new female voices. We checked in with Deltour, who describes her practice as aspiring to create "self-evident" objects, to find out what she's been up to lately. (Above: Deltour's Roulé trays for Discipline, photo by Carl and Evelina Kleiner)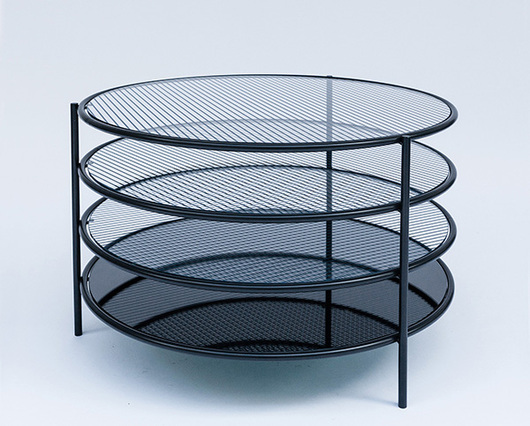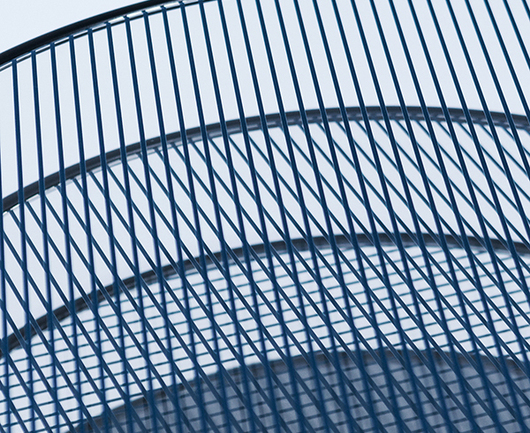 1. Describe your most recent project and how it was made.
During the furniture fair in Milan this year, I was part of an exhibition called Nouvelle Vague II. I was invited by Cédric Morisset with four others designers to show new pieces. I'm not used to designing without a brief or client; having no constraints and carte blanche is kind paralyzing to me, and the project took long to start. I had to give myself my own constraints and limits by giving the project a base and a story. I decided to work with glass — a material I'd never worked with before — and play with strong graphics and optical effects, which I've always been interested in.
The resulting series of furniture is called Aliasing, and it has the same jagged effect that you get on a screen when you're filming a series of curved straight parallel lines. The collection plays with visual effects, movement, and overlapping layers. The table (pictured at the top of this post) is made of three glass plates printed with the same pattern — some simple, slightly colored lines — a tinted mirror plate at the bottom, and a metal frame. The overlapping lines create a moiré effect that vibrates when the viewer is moving around the object. The mirror at the base reflects the lines, multiplying the effect. (Aliasing table photos by Samuel Lehuédé)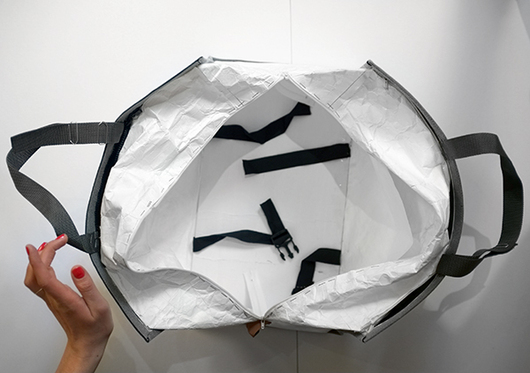 2. Describe your next project and how you're currently making it.
I've been working with Discipline for a few years now, and recently Renato Preti asked me to work on a collection of travelling bags, which is a very interesting project. We did a lot of research about what already exists and got very inspired by the fashion world and the fabric industry. We felt we needed to dig very far to feel legitimate working on the subject of bags, since there are so many beautiful ones that have already been made.
For this project we had to question our usual way of working: We couldn't work with computers and 3-D files, so we ended up drawing a lot and trying different techniques, like collaging, scanning, and Photoshopping. We also made a lot of small-scale and 1-to-1 paper models, and we installed a sewing machine for the ones made in fabric. I would describe our Discipline Bag as an attempt to develop the ideal bag: natural materials, as practical and functional as possible, original, long-lasting, and reasonably priced. At the moment we're working on the second prototype with Discipline and Fabbrica Pelletterie Milano (our producer). The concept and basic shape are there, and we're now focusing on the details to give the bag its character and strength, like finding the right fabric and color combinations and creating the metal fittings.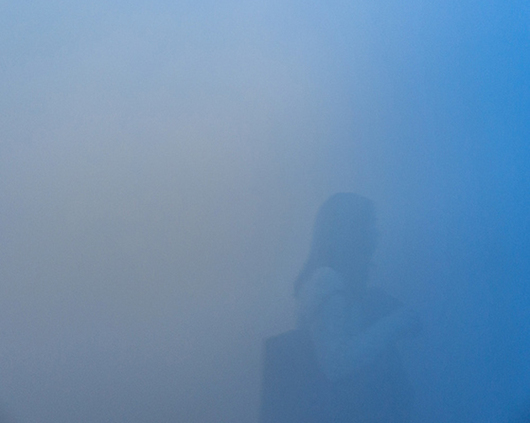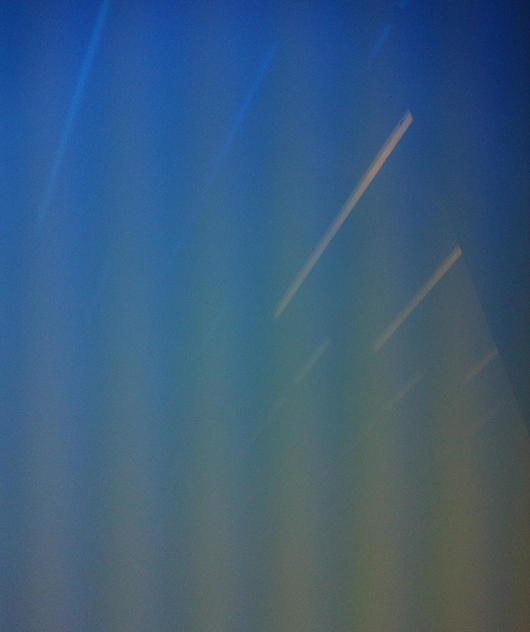 3. Tell us one thing that's been inspiring you lately and why.
I've recently visited the amazing Dynamo exhibition at Le Grand Palais in Paris. It's a movement I feel very close to, so I was very excited about seeing installations of Carlos Cruz Diez or James Turrell in person. The big surprise for me was the discovery of Ann Veronica Janssens's work: There was a big, closed room filled with dense and intense colored smoke, like if you were surrounded by soft and light cotton. You couldn't see further than 40cm in front of you. The smoky air gave the light an incredible softness, and time seemed suspended in a strange way. An incredible experience. (Installation photos by Pauline Deltour)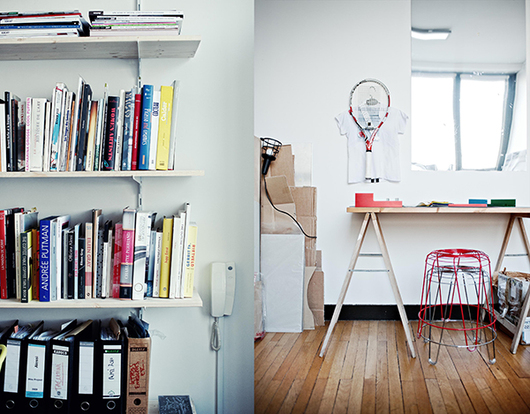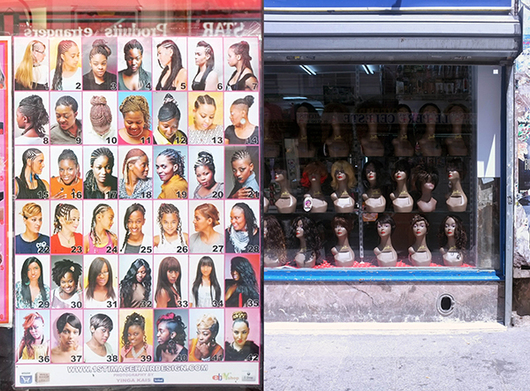 4. Show us your studio and tell us what you like about it.
My studio is very central in Paris, on the second floor, with a view onto a little courtyard. There are two things I like about it. First, I share it with Anne Laure Gautier — my partner with whom I work on interiors projects — and also Sabrina Jarry and Stéphanie Pacart, who are respectively a calligrapher and a window-display designer. It's nice to see different people everyday, and to share a space but also opinions, experiences, advice, ideas, tools, and meals! I couldn't ever see myself working alone. Being surrounded by very talented people is for me very precious and makes my work much richer.
Our working space is located next to Gare de l'Est, which makes every move and journey faster. It's also a very cosmopolitan and multi-cultural and therefore very alive area! Outside the studio you can meet all kinds of people with all kinds of styles, looks, nationalities, and hair-cuts — I love going out to get  food and observing people. And the nicest advantage is that this multi-cultural side also applies to food: You can eat Indian one day, and Kurdish the next — all in the same street! (Top studio photo by Franck Juery)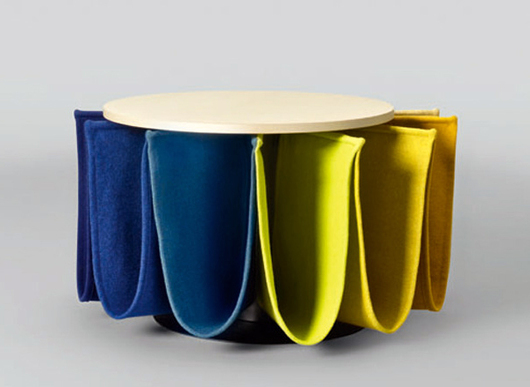 Carousel table for Kvadrat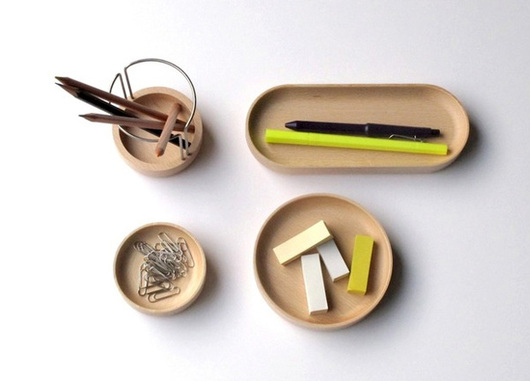 Stationery set for Muji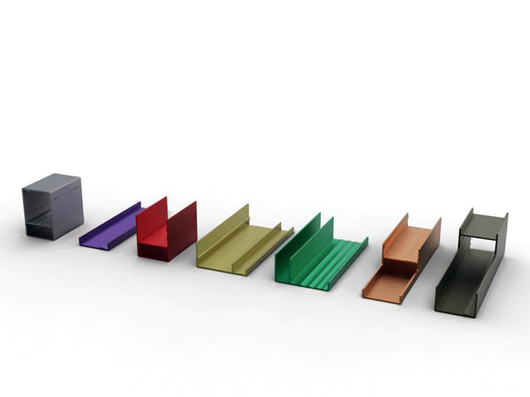 Extruded aluminum office accessories