10.03.13
Keehnan Konyha's Safe House USA
How do you know when someone's a child of the '80s? Posting photos of Lisa Frank's headquarters on their blog is a pretty obvious clue. Brooklyn interior designer Keehnan Konyha has been tracking his eccentric tastes on his freestyling eponymous site for the past three years, and dipping into his formative decades liberally, so it didn't surprise us a bit when he totally went there for his Sight Unseen Self Portrait. His newest project is a bedding textile company called Safe House USA that's inspired by streetwear and the visual influences he tracks on the web, and he couldn't imagine a better way to showcase his first collection than to pin it up to a white metal grid in a way that should be familiar to anyone who grew up in the era of cheesy department store displays and layaways at TJMaxx. Published here are the exclusive photos Konyha shot of the series — which is printed with internet-approved motifs like faux marble, punctuation marks, and the black and white mottle unique to composition notebooks — along with the backstory behind both the collection and his vision for this project.
'Black and white always looks modern, whatever that word means.' – Karl Lagerfeld
"When Steve Rubell and Ian Schrager first approached Andrée Putman in the mid-80s with the prospect of designing the Morgans Hotel, their first venture into boutique hospitality, the story goes that they opened with a money-saving plea: 'There's a rumor floating around that you know how to do bathrooms without marble!'" they said. Their meagre budget was, in her words, 'completely unrealistic,' and as such, she was given little choice but to use the least expensive tile available. 'There will not be one inch of marble in this house,' she said, 'which must be vivacious and austere, rigorous but elegant, and even to allow itself a measure of frivolity.'
"Though her choice was based on limitation, her now-iconic black-and-white checkerboard motif was carried throughout the entirety of the hotel — mirrored in the floors, draped over its beds. The effect is a perfect example of Brian Eno's concept of repetition as a form of change. I started Safe House USA as a response, and as an attempt to fill a void in the market for bedding and accessories that didn't feel, to me, like settling; prints that weren't overly whimsical, that were less overtly gendered, that could appeal to a younger and more design-conscious customer."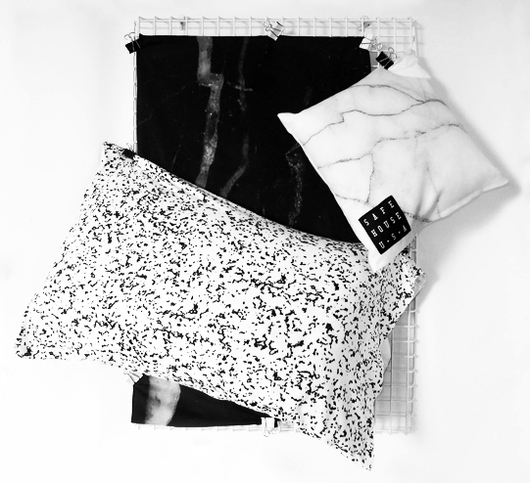 "My background is as an interior designer and decorator, so textiles, prints and texture are of huge importance to me. The way in which we use graphic styles and standards to define an era is something I find particularly fascinating. The impetus for SAFE HOUSE was to create the ability for a home to adapt to aesthetic trends and change at a speed much closer to that of fashion, so collections that are accessible, that can both find inspiration in and have an influence on current taste, and that are nearer to what I see and respond to daily via the internet and the streets of the city.
"In putting together our initial collection, monochrome felt like an appropriate beginning, both for reasons, like Putman's, of cost, and for maximum visual effect though a minimal use of color. Our goal was to create something visually modular — pieces that could be utilized and lived with in as many spaces and in as many ways as possible, amplifying preexisting elements and adding definition and clarity where it might be lacking. This time including the marble.
"These images are an attempt to contextualize our inaugural collection though the use of visual merchandising aesthetics often used in late-80s home fashion boutiques — shops like Level 6 and The Company Store — including the 'high-tech' materials that defined that era: slat and grid walls, hooded nylon casters, enameled and powder-coated tubular steel. I myself am a child of the '80s, with as much of a weakness for nostalgia as anyone else. These are references and materials that I grew up with: My mom was a visual merchandiser for much of my childhood (there were mannequins in our bathroom well into my teens), so in a way these things feel like home to me."
You can buy the bedding you see here at Safe House USA.