12.18.13
Lola Lely, furniture designer
Lola Lely was born in Hanoi, Vietnam, but, having moved to London when she was only five, the rising design star can claim native east Londoner status — a rare feat in the area's bustling international design scene. Her interest in making dates back nearly as far; her mother, a seamstress, was always "knitting or crocheting, making clothes or coasters." Her Foundation tutor, ceramicist Bo Davies, guided Lely down the path to product design, to satisfy her interest in various disciplines and materials.
But now that she's there, she says, "none of my projects seem to have an end point. I like restlessness, when I don't know where something is going. It's a little bit serendipitous." Her curious approach is evident in her work, which presents itself as studies or open-ended experimentations. Her beautiful patina bronze candlesticks (which starred in Wallpaper's Handmade exhibition at this year's Milan furniture fair) are the result of mixed recipes, playing with standardized process, and leaving a little to chance: no two are the same. The same could be said of her Potluck stools (above), which were first devised for an MA show at London's Royal College of Art. Each lathe-turned wooden seat has the same basic shape, but then Lely begins to experiment: Some are hand-painted in graduating tonal hues, while others are given a marbled wash.
Since Milan, Lely has been flat-out busy, and we guarantee you'll be seeing more from her in 2014. She's just been shortlisted for a commission for London's Architecture Foundation; she has a number of self-initiated projects on the boil; and she's one of the driving forces behind Works, an elastic platform of 25 or so recent RCA graduates, who have an exhibition opening at London's historical furniture emporium Heal's next February. Lely credits the RCA for giving her this drive. "There's no spoon-feeding there. It's pretty hard, but when you graduate you're prepared for the long hours and the hard work."
So… you'll forgive her for wanting to zone out now and then: "I have so much on, I've been watching bad telly on the weekends – it cleans my mind for some reason. I love Master Chef," she confesses. We recently caught up with Lely, who explained a little more about her current work and inspirations.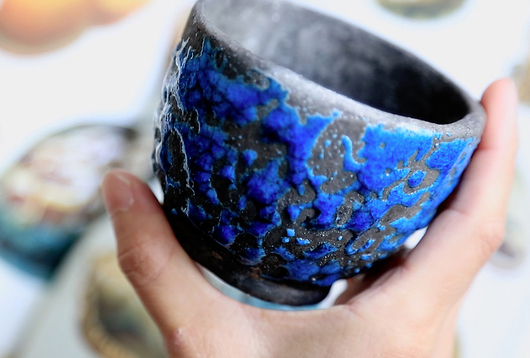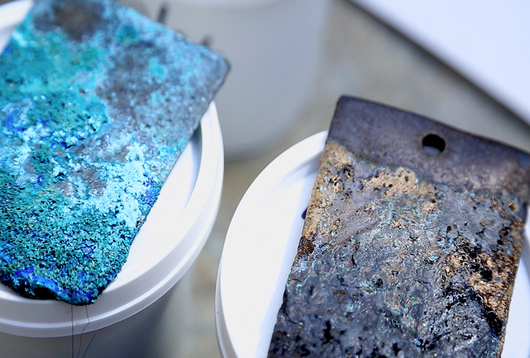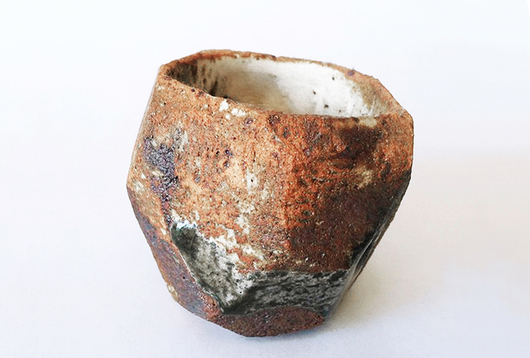 1. Describe your most recent project and how it was made.
I am always doing three things at the same time, but I think my most recent work is probably my experimentation with Raku. Raku is an ancient Japanese method of firing ceramics. You fire, then take the piece out quickly and plunge it into something organic and combustible — say water, or sawdust. This does wild things, and creates a sort of mismatch, resulting in really unusual textures and surfaces. You can't predict the hue or coloration. The same is true of my cast-bronze work; it's a different process but the base materials are both mineral. In Raku I have made little cups, but a lot broke as the shock makes them crack. Once I understand the process further I will make products – maybe lights and candlesticks, like the bronze work.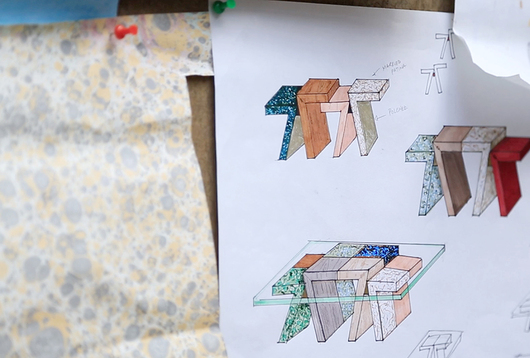 2. Describe your next project and how you are currently making it.
My next project is a commission from the Architecture Foundation; I am proposing artwork for two buildings in London's central St. James neighborhood. Six designers have been shortlisted and I am the underdog! (The others are Formafantasma, Simon Hasan, Philippe Malouin, RCKa and Faye Toogood.) The commission is focused on narrative. Most of the time you don't show people the seed of the idea, they don't have time to hear it, but for me it is always important.
The area's history and heritage will inform the shapes of the pieces, and what they will be. I will start with a bit of field research; go and have a nosey around. My intention is to find something or someone interesting, have a chat and see what will come from it. I never photograph at this stage, as I fear I will lose the momentum. I rely on my oral or visual memory. I sometimes sketch but I mostly I just remember things.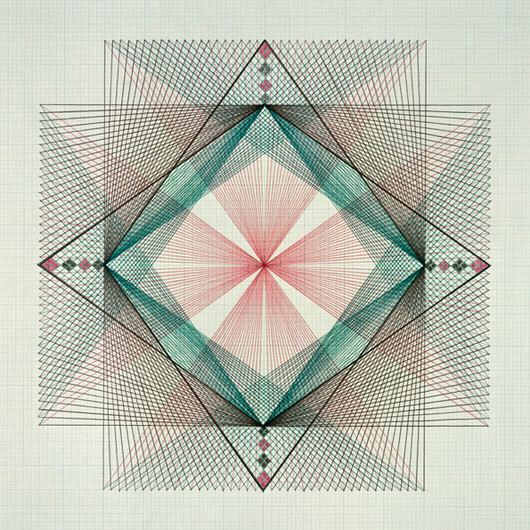 3. Tell us one thing that has been inspiring you lately and why.
Emma Kuntz. She was a German artist born in the 19th century. She had a great eye for color and composition. She saw her artwork as having a healing element to it. They kind of look like maps. I have been thinking about her work for a while. It is making me think that I would like to do some sort of three dimensional weaving.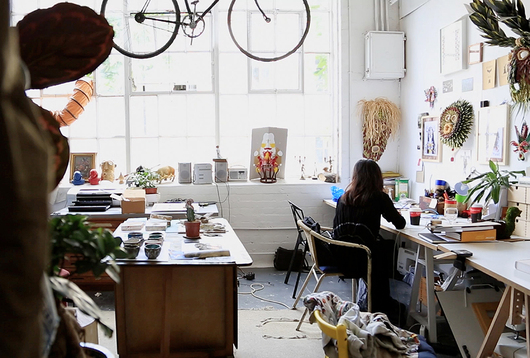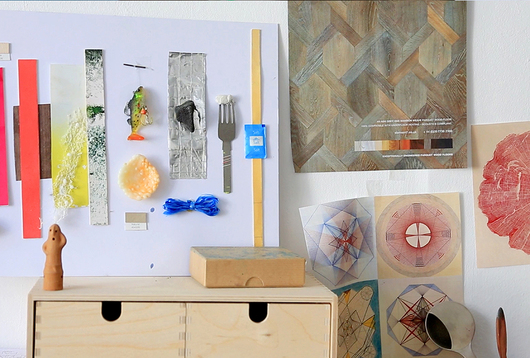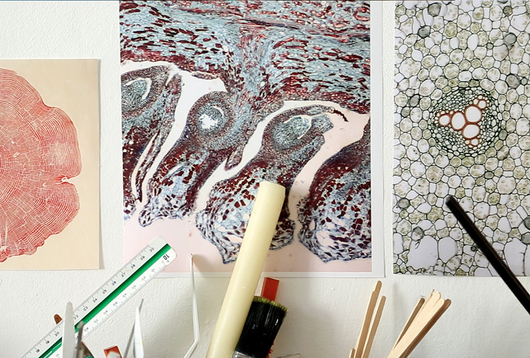 4. Show us your studio and tell us what you like about it.
My studio is in Hackney Wick, in East London, and it's a painter's studio, so the windows are really big. I love color, so light is really important. But I am moving to a bigger studio soon though, as I need a workshop, and unfortunately it is not as pretty as this one. The new space is industrial and is cold. I have been to have a look but I am refusing to move in until the heating is sorted!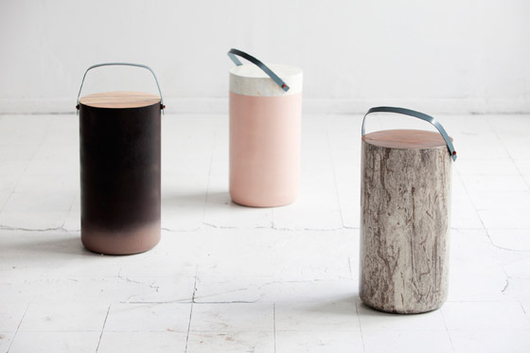 Lely's Potluck stools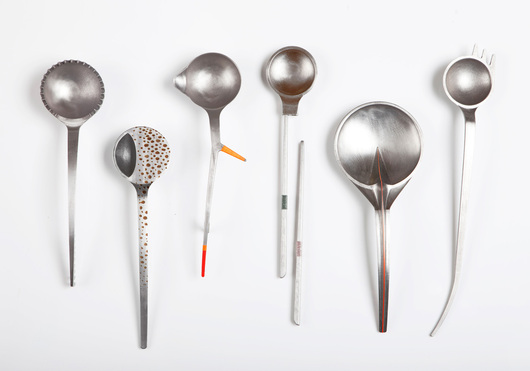 Convivial Spoons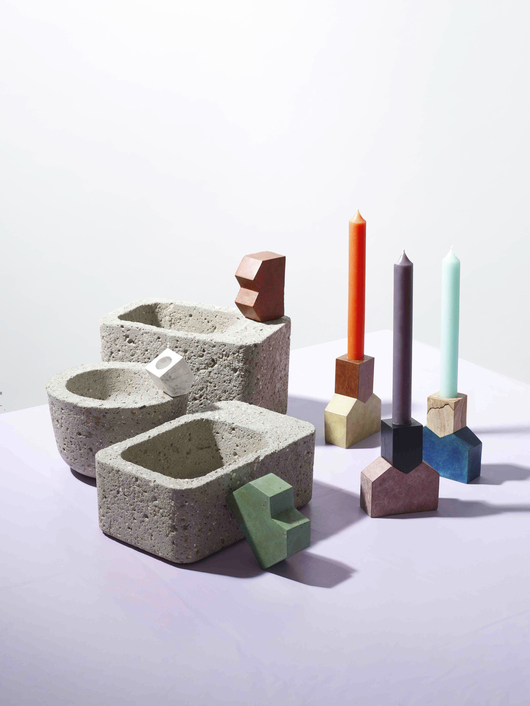 Lely's Patina candlesticks, made for this year's Wallpaper handmade exhibition in Milan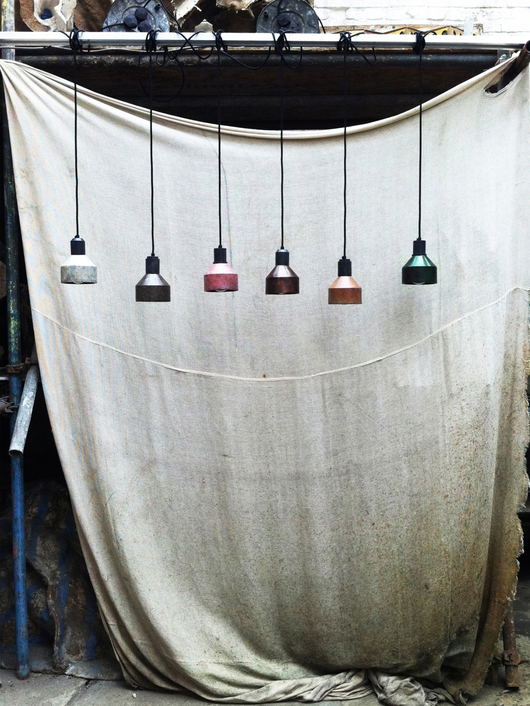 Finished Patina lamps