01.03.14
Josephine Meckseper in Interview Magazine
Living in New York City, you'd think it would be easy to see world-class art nearly every weekend. But life tends to get in the way, whether it's needing a haircut or having to wait in a six-hour line just to see a 45-second exhibition. But one show we're going to do our darndest to see before it closes January 18 is the first New York solo exhibition by German-born, New York–based artist Josephine Meckseper at the Andrea Rosen Gallery. While we don't often love art that appropriates advertising imagery, Meckseper's deft combinations of that imagery with things like hand made sculpture casts and paintings speaks to us somehow. This particular show deals with Meckseper's own complicated history, having moved in the late '80s as a young adult from a sheltered, artistic European community to Valencia, California, where mall was king. We spotted this recent Q&A with the artist in Interview Magazine (which has kind of been killing it on the art front, lately, what with the epic Roberta Smith/Jerry Saltz conversation) and wanted to share a tiny excerpt below. Read on and then click through at the end for the interview in its entirety.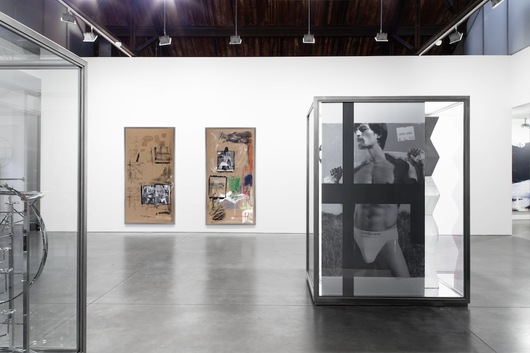 Interview by Allyson Shiffman
Josephine Meckseper is adept at critiquing her environment. She questioned the prosperity of the art world by placing an "Out of Business" sign in the window of a gallery in Chelsea (a similarly cheeky "Help Wanted" sign attracted up to 20 applicants a day who had failed to get in on the joke). In 2012 she erected two 25-foot oil rigs in the heart of Times Square to remind unsuspecting tourists about the perils of capitalism and industrialization. Her work critically examines mass media, our consumption-obsessed society, and even our political systems. But for her most recent solo exhibition at Andrea Rosen in Chelsea, Meckseper turned her attention towards something left previously unexamined: her own lineage.
Though Meckseper left Germany for New York on her own accord, she failed to leave behind the burden of guilt felt by many young Germans, even three generations after World War II. The reverberating impact of Meckseper's German heritage is exemplified by her black-and-white images of Niedersachsenstein, a sculpture in Meckseper's hometown of Worpswede that commemorates the soldiers who perished in World War I. This historic image is juxtaposed against glossy ad images and Meckseper's vitrines—recognizable reconstructions of modern store displays. The uniquely personal nature of the exhibit became clear when we sat down with Meckseper to discuss leaving the sheltered artistic community of Worpswede, living in New York, and the Christmas displays at Macy's.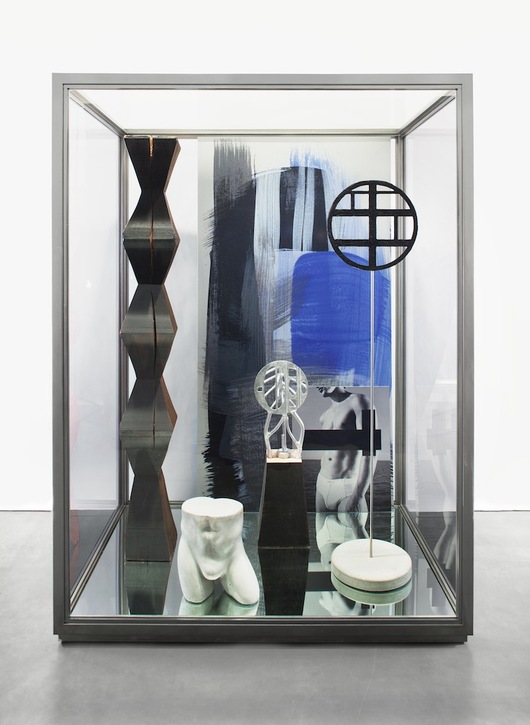 ALLYSON SHIFFMAN: There's a sense of irony in that the advertising imagery in this exhibit closely resemble the ad pages one would find in an issue of Interview. Do you have any misgivings about that?
JOSEPHINE MECKSEPER: That's funny—no one has ever asked me that. Obviously my work speaks to the usage of advertising. The abstractions in my paintings were actually based on how you divide an advertising page—the quarter-page, half-page ads. Since it's so much a part of what I've been doing, it's good to embrace the media rather than try to ignore it.
SHIFFMAN: Worpswede seems to be this sheltered artistic utopia. At what point did you start to become aware of the world beyond this community?
MECKSEPER: I moved to Tuscany right after high school, which was actually not very different in the sense that it was extremely sheltered and very much formed by cultural history. There was little mainstream contemporary consumer culture there, at all. Then I was briefly in Berlin studying at Berlin University of the Arts, but Berlin was so underground at that time. The wall was still up, so it was much more about being in this island inside of East Germany. I was completely in favor of the division of Germany—it's kind of a leftist stance. We all felt it was not justified that it would ever be unified.
So it was really only when I moved to Los Angeles to go to CalArts—that was the big shift for me—to be outside of L.A., in Valencia, where it's all about the mall.  That was the beginning of deciphering the language and the vocabulary of the mall and the culture that comes with that.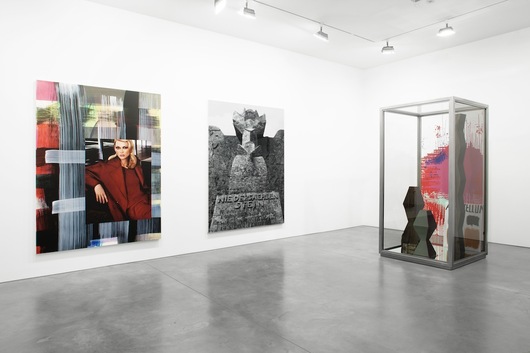 SHIFFMAN: That's an extreme introduction to consumer culture—especially at a time when the mall was still very relevant. It's evident in your film that explores the Mall of America that mall culture is waning. Does this amplify the quality of relic in your work?
MECKSEPER: It does. The whole idea of the window displays is already becoming something very historicizing. It's more about looking at something that's disappearing in our culture. There was a time that the Christmas decorations on Fifth Avenue were a big event—people would come from the suburbs. Now I can imagine a young kid saying, "There's no way I'm going to go to that." [laughs]
SHIFFMAN: [laughs] To anyone who isn't from New York, the notion of unveiling the Macy's window displays being an event is so peculiar. Is your studio still in Chinatown?
MECKSEPER: It is. It's near Orchard Street on the Lower East Side, where there are still some of the older Jewish shops. There's this one lingerie store that has extra-large women's underwear. So there's literally these huge underwear displays… nobody now would display something that is that unattractive. It's pretty surreal.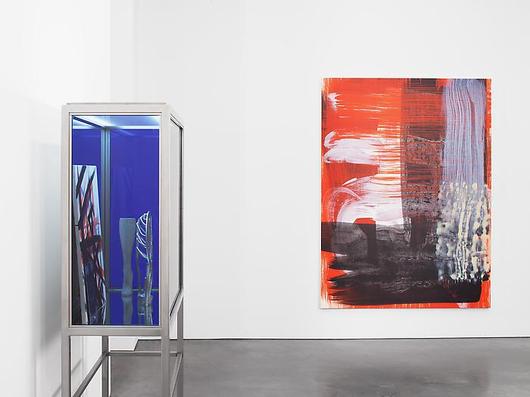 SHIFFMAN: This show encompasses so much more than the consumerism issues—particularly with the images of the Niedersachsenstein monument in Worpswede. What did that monument mean to you growing up?
MECKSEPER: I always liked to make up stories and narratives. I would bring other kids there and tell them all kinds of stories about what I thought it was.
SHIFFMAN: Can you recall any of these stories?
MECKSEPER: A lot of the fantasies revolved around us having been told that after the war a family had to live in the basement of the monument because there was no place else for them to stay. They had come from the East, fleeing from the Russians. During Fascism the monument was declared degenerate art and it was supposed to be torn down. In the 7os when we were going there, we didn't really see it as artwork as much as a place for us to hide. We also tried to break in to see how they might have lived in there. It's tucked inside of a forest and when I grew up people didn't really want to go there. People would rather try to forget about it-nobody wanted to be reminded of the war at that point. Now it's slightly different.
Allyson Shiffman's interview with Josephine Meckseper continues at Interview Magazine's website, where you can also view more images of Meckseper's work. The show is on view at New York's Andrea Rosen Gallery until January 18.