04.15.14
At the 2014 Milan Furniture Fair, Part III
The fairgrounds at the Milan Furniture Fair are a great place to see attainable designs by established companies and talents, but typically it's not the place to go when you're scouting for new names (though this year's Satellite show, as demonstrated in yesterday's post, happened to be a surprise goldmine). For that, you have to brave the long walks, aching feet, and lack of taxis that come along with trying to get to all the shows around town, from Rossana Orlandi gallery to the far-flung Lambrate district. We say this every year, but we barely saw half of what was on offer; that said, we saw a lot of nice things, like an iridescent trend (including the Studio WM cabinet above), a great group show featuring 15 up-and-coming talents, and an incredible top-secret exhibition curated by Martino Gamper that we weren't supposed to be allowed into, much less allowed to photograph. As soon as we get our hands on the press photos for that one, rest assured we'll share them with you, but in the meantime here's a sampling of what we did manage to document. (Dozens more, as usual, are now posted on our Facebook page.)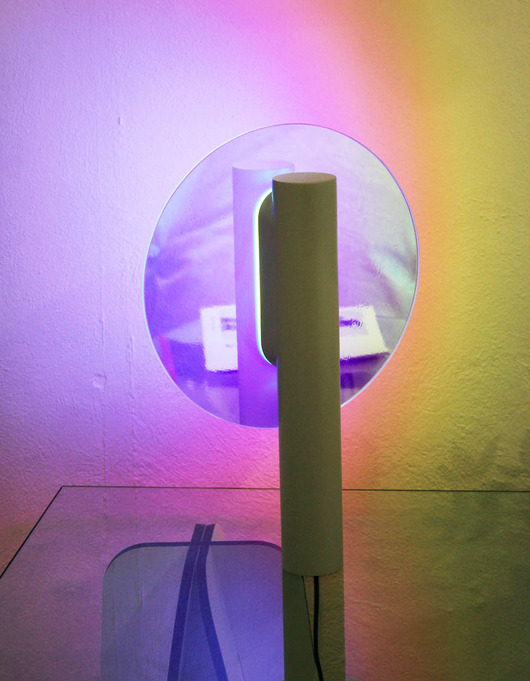 We couldn't get enough opal-y iridescent colors this year, and luckily our new favorite emerging designer — Ferreol Babin — obliged, launching this beautiful light with Moustache at Rossana Orlandi.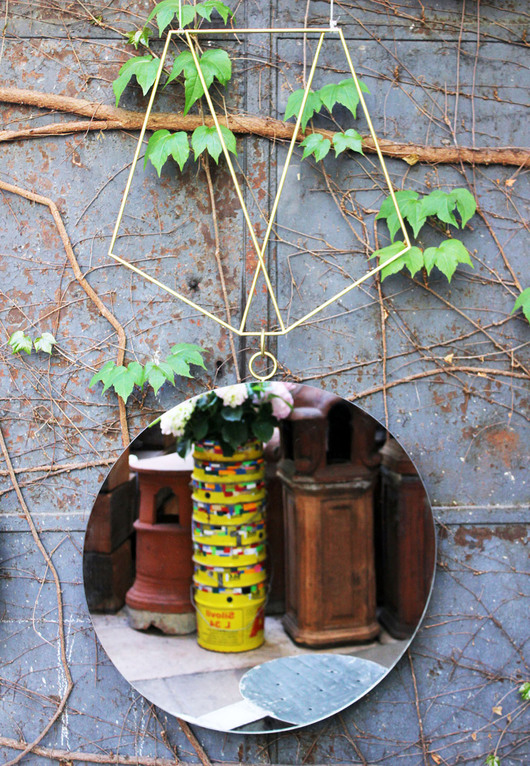 The Georgian duo behind Rooms got a lot of attention for their new tables on view at the Museo Bagatti Valsecchi, but we loved these Medallion mirrors, also at Rosanna Orlandi, that were inspired by a set of medals of honor the designers found at a flea market in Tbilisi.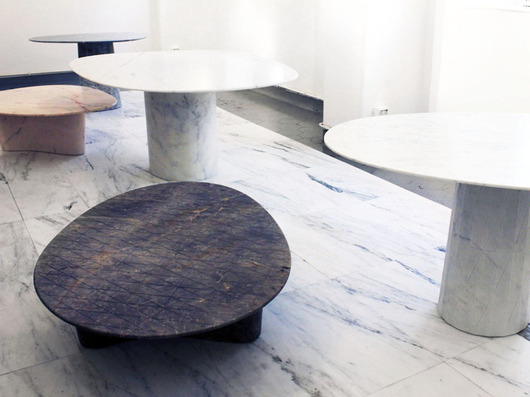 Dutch pair Scholten and Baijings launched this new series of carved-marble tables for Luce di Carrara at the gallery, which was an interesting (and gorgeous) departure from their normal pastels game.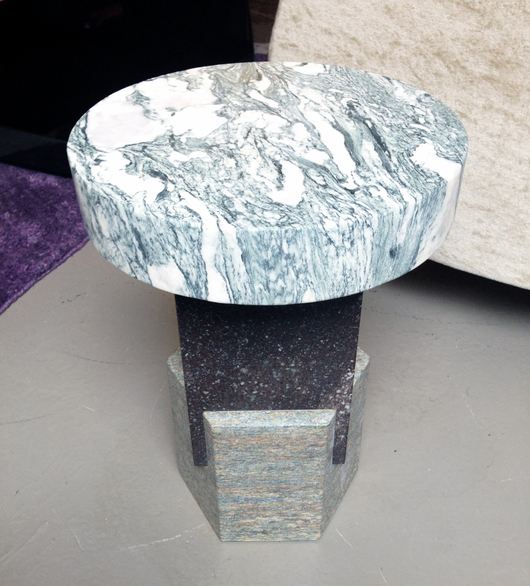 Marble was once again the biggest trend in design for, what, the third year in a row now? Which frankly works just fine for us, because we can't get enough of pieces like this side table by Oeuffice that debuted at Dimore Studio's new gallery in Brera. It's one of three in a new series inspired by classic architectural columns.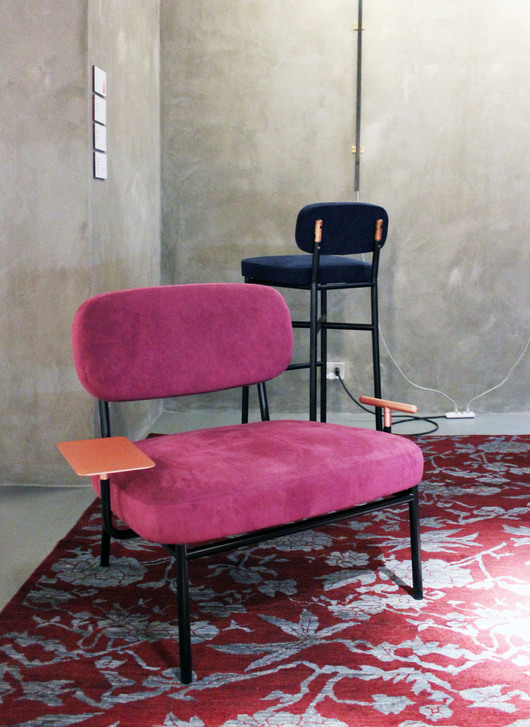 Over at Nilufar gallery, the young studio David/Nicolas showed a breakout series of upholstered chairs that similarly had the feel of something very modern but with more classic undertones.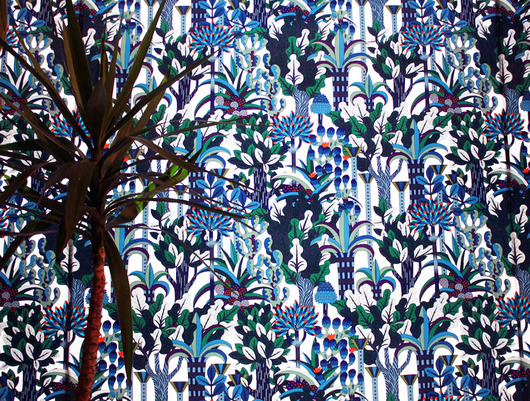 We were also introduced to the work of French designer Pierre Marie for the first time, via the incredible textile print he recently developed for Hérmès, which the brand had stretched across the entire back wall of its main exhibition room.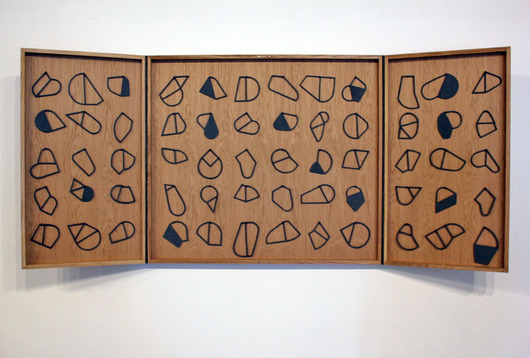 For this year's Dutch Invertuals show, Eindhoven's Daphna Laurens created "a series of 60 'imagination tools'" while limiting themselves "to solely make use of the color black, intending to fully focus on form." These ambiguous metal shapes were one such result.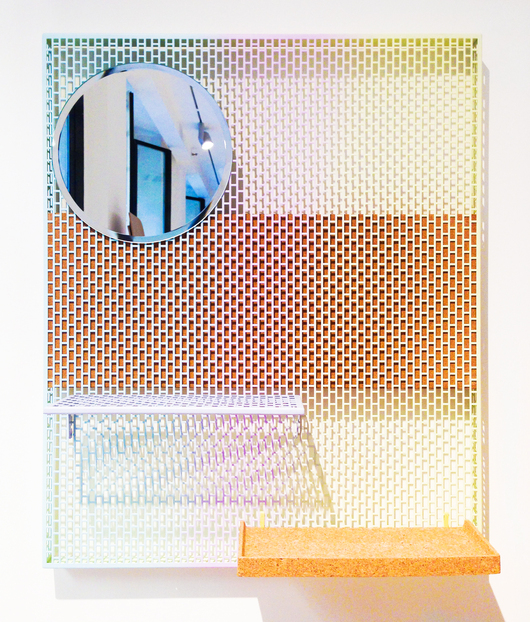 People couldn't stop talking Hay and Wrong for Hay in Milan last week, partly because their collections were so beautiful (see the new Pinorama wall organizer by Inga Sempe above), partly because they threw a killer party on Wednesday night, and partly because they hosted a pop-up shop in their exhibition space where you could buy all those amazing stationery items and other objects that aren't easily procurable in all markets, including the US.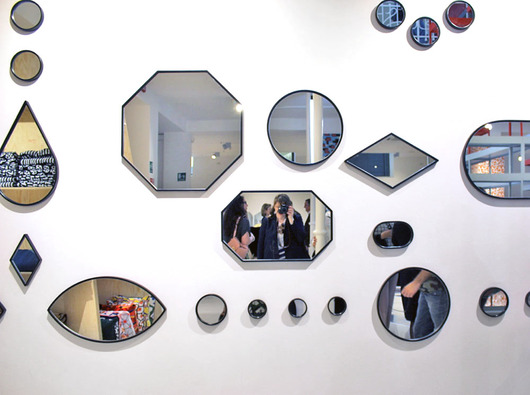 We also loved these new geometric mirrors designed by Doshi Levien for Hay.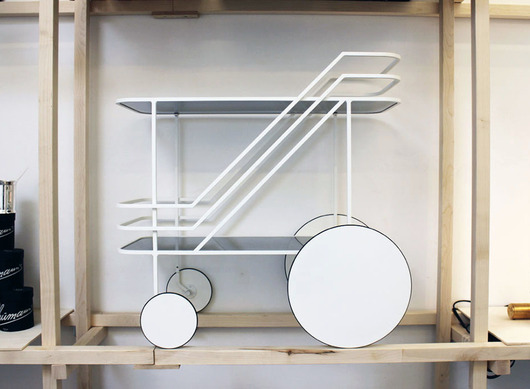 We spent an afternoon in the Lambrate district, as is our tradition, and discovered plenty of good pieces like this graphic bar cart (trend!) by Christophe de la Fontaine.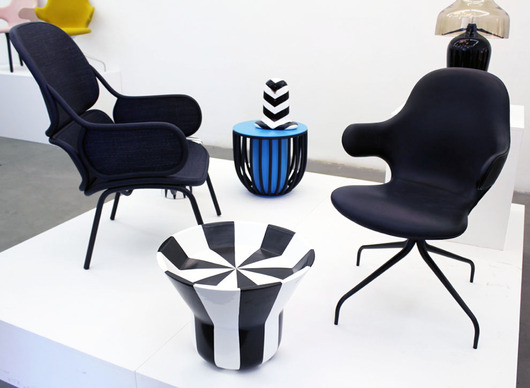 Jaime Hayon was lucky enough to get an entire gallery space in Lambrate devoted to some of his newest works, like his curvy new chair for Expormim at left.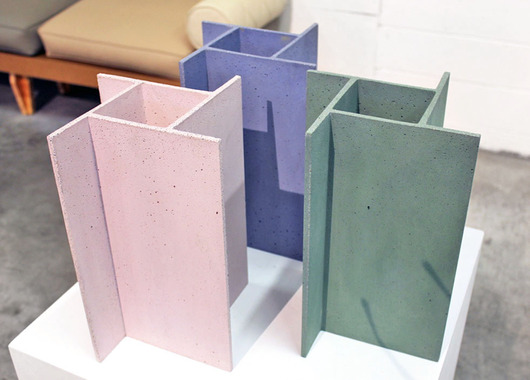 Most of the folks we concentrated on, though, were more emerging, like Milan-based Marco Guazzini, who designed these concrete Plane vases inspired by skyscrapers.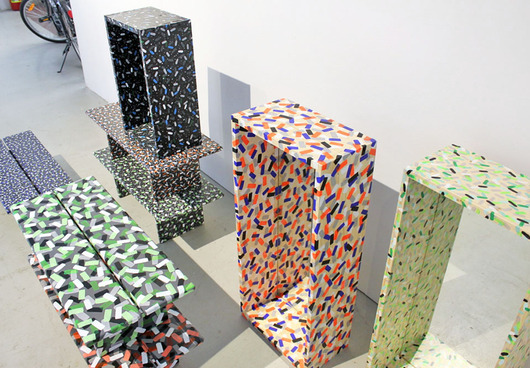 Ferreol Babin was at it again in Lambrate, where he exhibited these hand-painted beech tables and mirrors as part of the fantastic Another Perspective 2 show curated by COTTO. It was probably one of the best things we saw last week.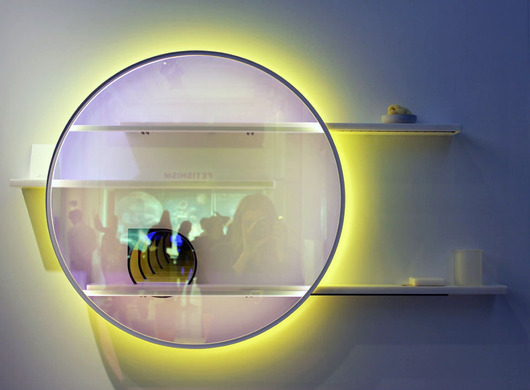 Also part of that show was this insane sliding vanity mirror by Studio WM that went from the "closed" position pictured above to the "open" position pictured at the very top of this post (with designer Jason Rens looking very pensive in its reflection). We especially love the little baby mirror nestled into the bottom shelf. So good.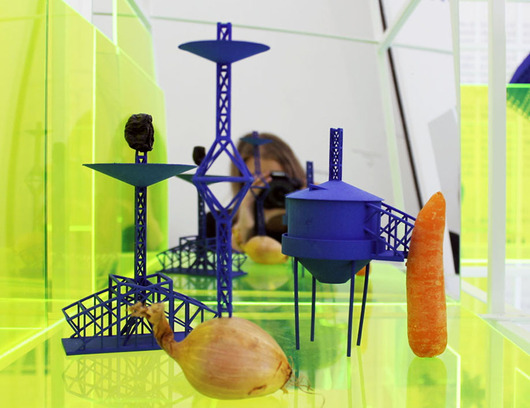 In Lambrate, the Turin-based IN Residence project presented a group exhibition Desiderabilia, for which designers created objects of desire in indigo-blue 3D prints. Unfortunately, not every entry had an explanation so we're not quite sure what desire Formafantasma's Still Life was meant to evoke!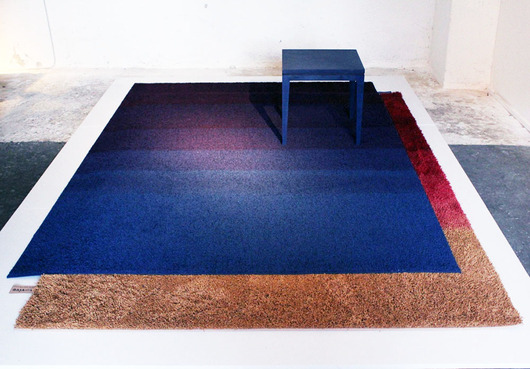 In their Revive project for Desso, Renee Mennen and Stefanie van Keijsteren of rENs took weird, outdated carpets like the tan-colored shag number above and used red dye to make them look cool again.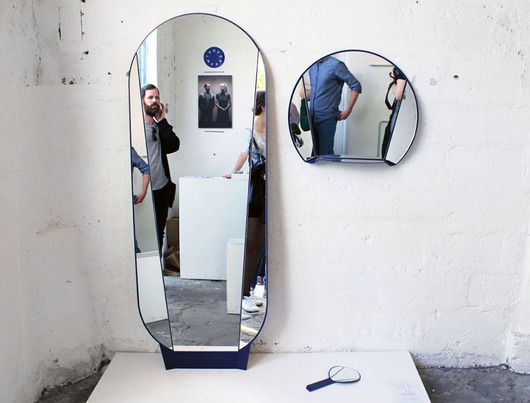 Mirrors are another huge, ongoing trend in design this year — pictured above is Ontwerpduo's simple folded Split series.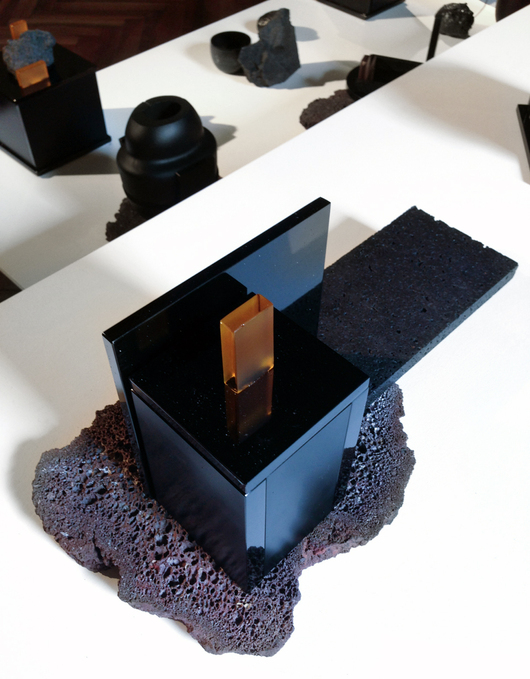 Formafantasma's De Natura Fossilum collection for Libby Sellers has been all over the internet in the past few weeks, but it was still a stunning surprise just seeing it in person. Everything in the show was made from volcanic lava from Sicily, including a series of boxes made by pressing it into lava-glass panels.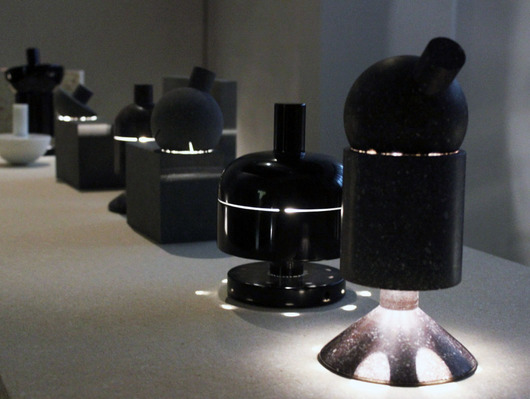 Marco Velardi, editor of Apartamento, tipped us off to these sculptural stone lamps by Paris-based photographer Stefano Galuzzi, who had made tons of things for his house but never really exhibited his designs before this year's Salone. We don't want to say too much more about the project because we hope to devote a full story to it soon!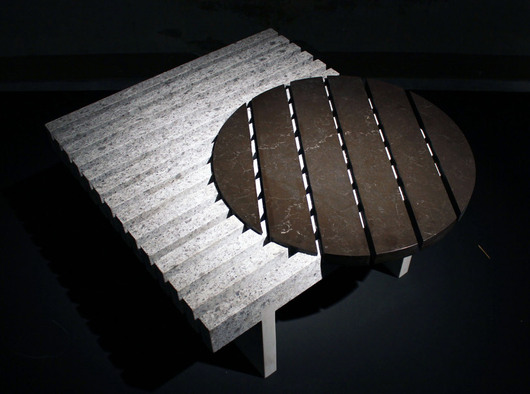 This year's Wallpaper Handmade show featured some of our favorite designers — Jason Rens, Iacoli & McAllister, Daniel Emma, Paul Loebach — but was just so darn hard to photograph! One of the few shots we got off was of Sebastian Herkner's striking geometric bench/table series made from multiple interlocking types of stone.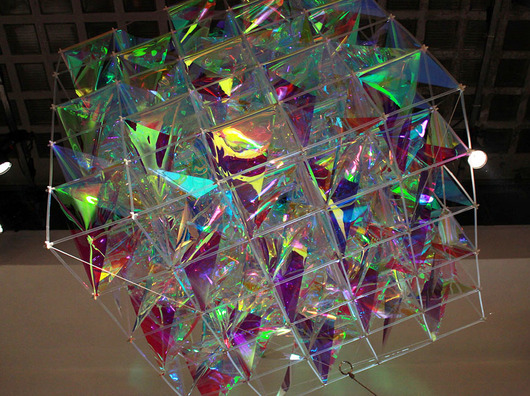 More iridescence: SOIL's shimmery space-frame lamp was suspended high above the Wallpaper show, reminding us of a cross between gift wrap and Fraggle Rock. In a good way, of course.