04.14.14
At the 2014 Milan Furniture Fair, Part II
Though we're back from Milan and already knee-deep in planning for our own design fair next month (eek!), we'll be bringing you highlights from the Italian capital all this week. Today we're focusing on our favorites from the fairgrounds, like Front's beautiful chairs for Moroso (above). The fair this year was visually quite strong, with last year's obsessive booth styling taken to even greater heights. (We actually begged the Arper folks to put some of their styling pieces into production!). The fair is also where the trends we'd been thinking about began to seriously take shape. What was in this year? Though everyone still loves that pastel mint and pink palette, we saw tons of putty — yes, putty — and other assorted non-hues (most of which didn't make it into this round-up, since we're suckers for color). For more of our take, read on, then click through to our Facebook album and come back tomorrow for more from the offsite shows.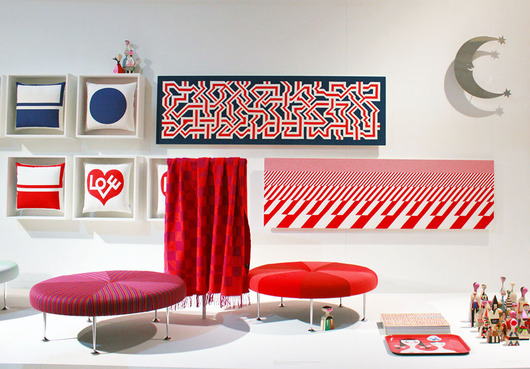 We loved Vitra's booth — they showed major new work by Barber Osgerby, Hella Jongerius, and Jasper Morrison —but the most eye-catching part was this cute area devoted to Alexander Girard, whose graphic works have been turned into pillows, ottomans, tables, and wall panels.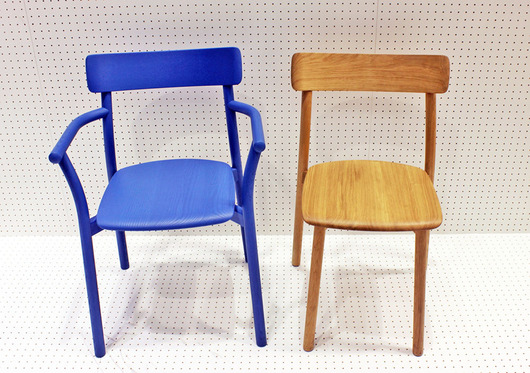 The Italian company Mattiazzi introduced its first chair by an American designer: Chiaro, by Leon Ransmeier, is stackable and comes with or without arms. We were way into the De Stijl-esque color palette. (The chair is also available in red and yellow.)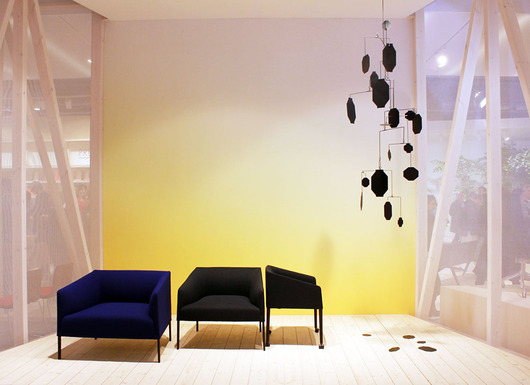 Arper provided one of our favorite booths for the second year in a row: Tons of plants, pretty graphic furniture, and the best styling pieces around, like this geometric mobile created especially for the exhibition.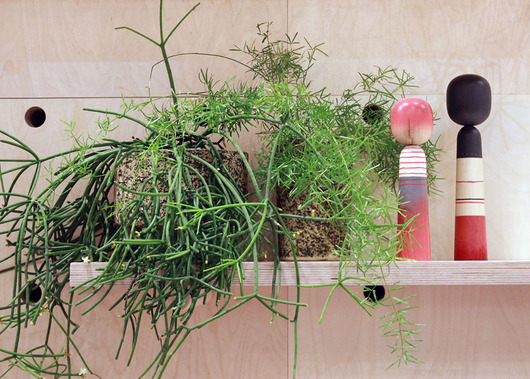 We begged Arper to put these cute sculptures (salt-and-pepper shakers?) by Lievore Altherr Moline into production next year.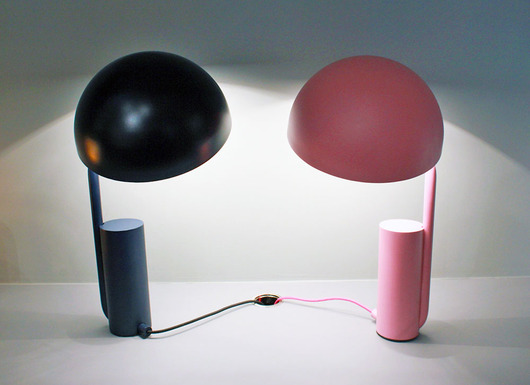 Navy is seriously the most underused color in furniture design, so thank you to Normann Copenhagen to bringing it back (and making that bubblegum pink look even better!)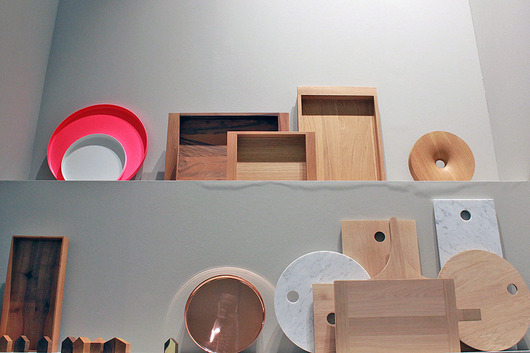 More excellent styling at e15, where we also ogled the copper floor light for a solid 10 minutes.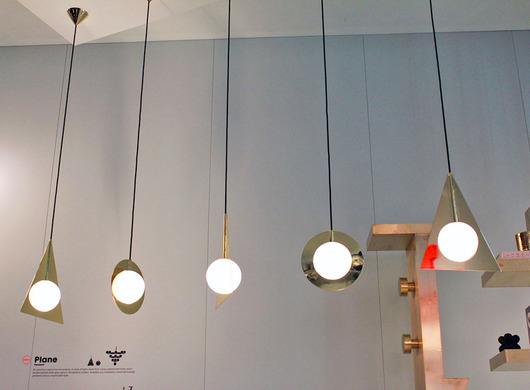 The excellent Tom Dixon booth featured these almost two-dimensional geometric brass Plane lights.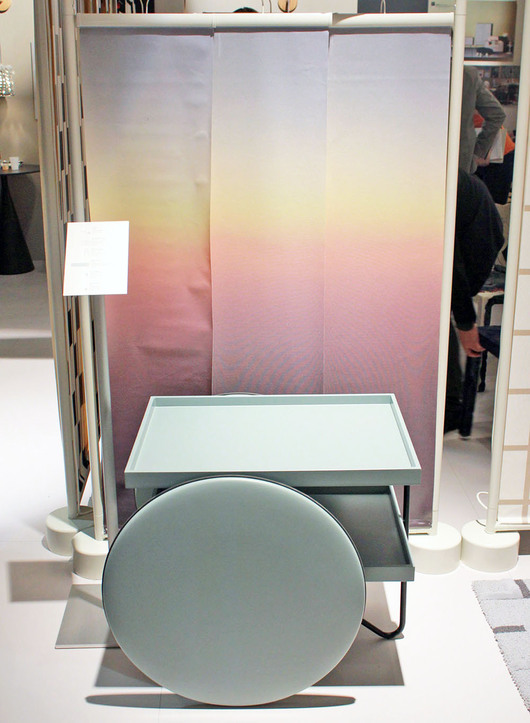 One of our favorite booths came from Casamania. The pastel backdrops were created by Luca Nichetto, while the Chariot table by GamFratesi was available in excellent new colors like mint and emergency orange.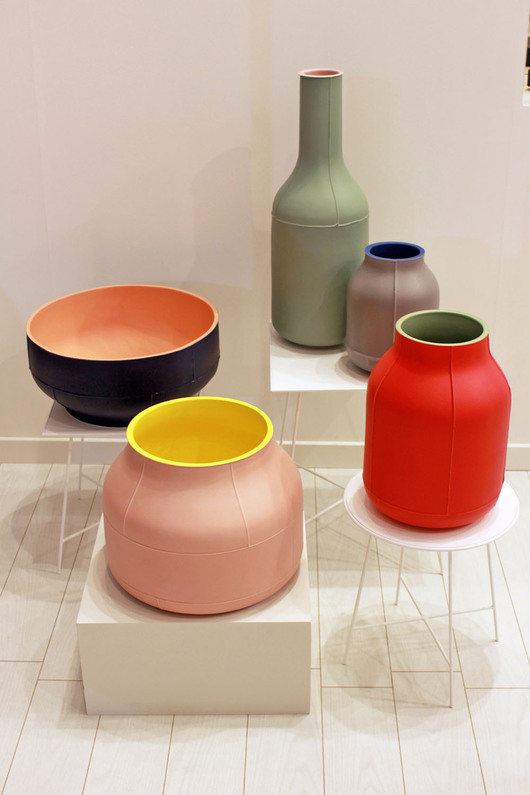 Seams vessels by Benjamin Hubert for Bitossi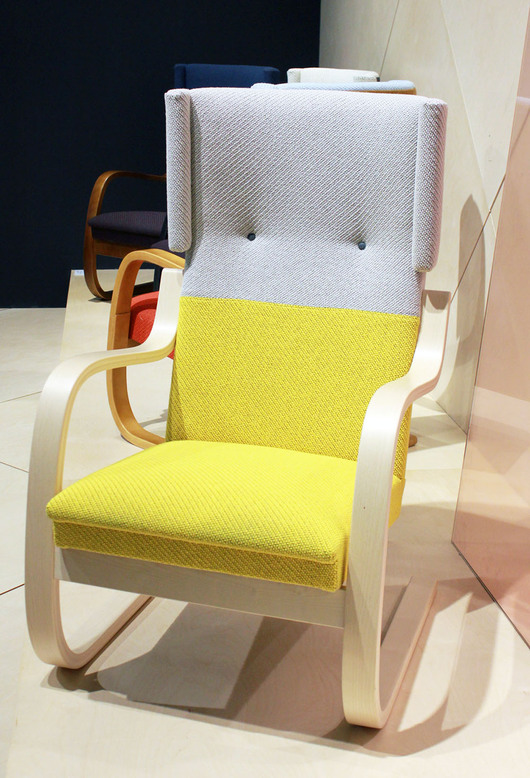 We loved Hella Jongerius's reinvention of Alvar Aalto's 401 chair for Artek.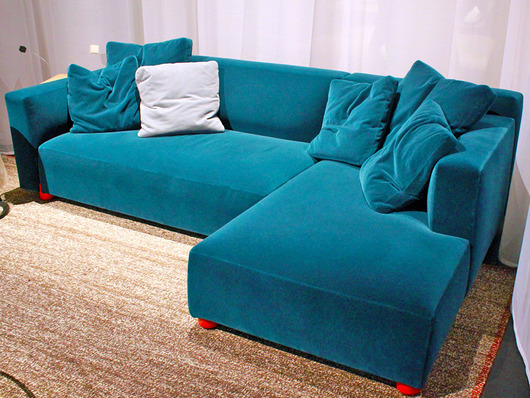 Crazy-bold color combo on this Barber Osgerby sofa for Knoll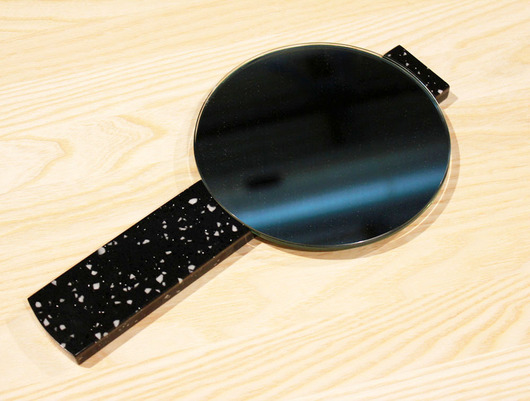 Over at Salone Satellite, the emerging designers showcase, we loved these accessories from Perimeter Collection, a new accessories and furniture brand by ECAL grads Sarha Duquesne and Levi Dethie.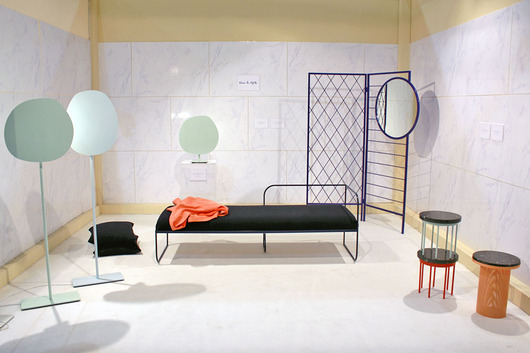 One of our favorite booths was this colorful collection by Norwegian designers Vera & Kyte.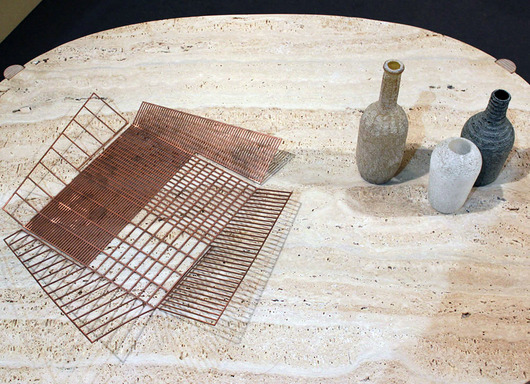 The Italian-based designer Tsukasa Goto had an amazing selection of fruit trays.
For even more images from the fair, click through to our Facebook album!