04.28.14
Ferruccio Laviani on his Good Vibrations Series
Partly as a consequence of being based in Italy, one of the biggest furniture-making centers in the world, Ferruccio Laviani does a lot of different work for a lot of different manufacturers, from sleek plastic lamps to futuristic lounge chairs. So when he was invited to collaborate with a manufacturer of baroque furniture founded in 1928 by a craftsman making Louis XV replicas — he accepted the challenge, creating a provocative series called "F* THE CLASSICS!" that puts a contemporary twist on the company's traditional style.
The latest piece in the collection, Good Vibrations — a computer controlled robotic router-carved wooden cabinet that looks like a warped VHS video — is so striking, it went viral on over a dozen design blogs shortly after renderings of it were released in advance of the 2013 Salone del Mobile in Milan (even though it was so difficult to produce that the real cabinet, pictured above, wasn't even exhibited until the 2014 fair that took place a few weeks ago). For the Lincoln Now project that Sight Unseen recently participated in, Laviani took some time to tell us how (and why) he created it.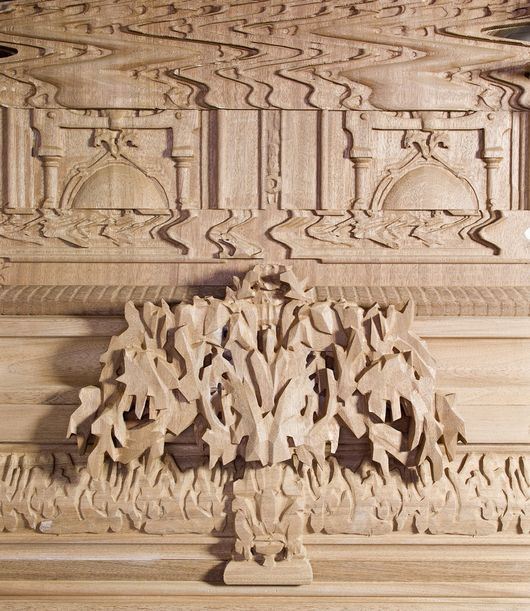 How did you come up with the concept for the Good Vibrations cabinet?
In the course of my research for Good Vibrations, I ended up cutting out images from old analog videos, when you fast-forward a tape and get a frozen image that's all twisted. This kind of image distortion is a trend – I even saw a T-shirt recently with the same visual effect. I then tried to build a 3-D model of the cabinet in my office to see if this kind of twist would work in reality. It's crazy, the idea came to me one month before unveiling. The big piece we had planned was too big to be ready in time, so we switched it with a smaller version and we're still working on producing the big one.
Before you applied the digital "static" to the cabinet, how did you choose what basic form to work with?
I started with a Neo-Renaissance cabinet. At the beginning, my idea was to mix up different styles, so you'd have a stratification of classical motifs, then Memphis, then something new. But it was a little too confusing. In the end, I decided to choose one basic form — not something glamorous, but something banal, like a wannabe replica. It's something you used to see in Italy at the beginning of the 19th century, where it looked like you had something very traditional in your house but in reality it was new. When this kind of old-style furniture is handmade now, there's actually a lot of real craftsmanship that goes into it. There are very good manufacturers that build the replicas. So I wanted to join these two ideas that seem to fight against one another: The quality of the craftsmanship and the low-quality image distortion. When you join these two things that are so opposite, it's interesting and funny.
Why are you so interested in reinventing classical wood furniture?
Because it can tend to look a little bit stinky, like something from your grandmother, and I like the challenge of turning it into something contemporary. And yet, I wanted to make something different from the typical punk attitude of, say, lining old furniture with fluorescent colors; it's not just about the shape orappearance, but about how you can use wood now. I'm constantly researching what's possible, and I try to apply to wood the same methods as when I'm doing research on plastic. Another good example of my new approach to wood is my Twaya table, for which I modeled a tablecloth blowing in the wind in 3-D.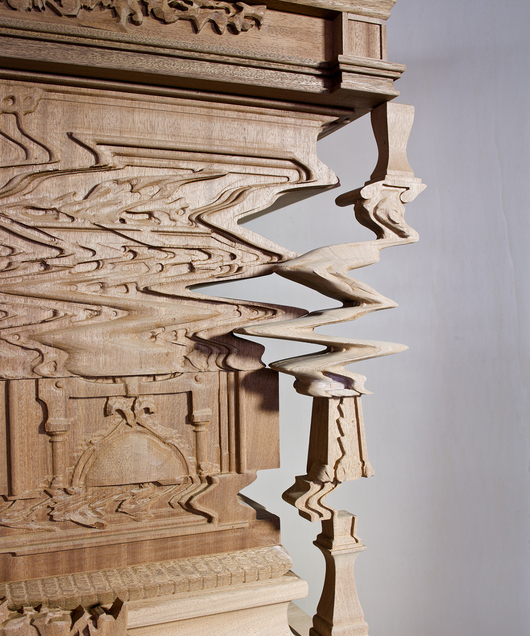 Is the cabinet difficult to produce?
Yes. At the beginning, we had to decide whether to have it carved by a sculptor or make it with a CNC machine. We decided on the second option because we'd already built the 3-D models with a computer. But it was still very complicated to translate the 3-D files to a totally different software platform, and this kind of visual effect requires a huge volume of wood that you have to carve, slice by slice, before putting it together and cleaning it. Plus, the machine works very slowly to avoid burning the wood. I think it takes more or less the same time to machine as to carve it by hand, actually.
This post was originally created for and published on Lincoln Now — a comprehensive storytelling platform designed to celebrate individuality — as part of a sponsored series Sight Unseen participated in for Lincoln Motor Company. Lincoln Now looks at some of the most intriguing artisans, makers and craftspeople that Lincoln has had the pleasure of working with in the fields of art, design, fashion, cuisine, engineering, and more.