07.22.14
Joanna Williams of Kneeland Co
Last summer, we ran one of our favorite stories to date: a glimpse inside an 1980s-era Scandinavian design book that Seattle designers Ladies & Gentlemen Studio had unearthed while cleaning house. We'd intended to keep going with the column — ostensibly a place where people could show off the strange, beautiful, and mostly out-of-print volumes that populated their libraries — but somehow it fizzled out. We'd been talking this summer about resurrecting it, when at the same time we found out that Joanna Williams, the LA-based owner of the Kneeland textile studio and online marketplace was opening a third branch of her multi-faceted business: a research library, where clients could comb through the curated images Williams has amassed over the years or search through books or magazines focused on graphics, textiles, decorating, and more. We'd found our first subject.

When we emailed for ideas, Williams mentioned plucking out a favorite Deborah Turbeville book, or maybe one featuring examples of classic Spanish dress. But we were enchanted with her copy of Miralda! Une vie d'artiste (and its mention of a colored-bagel necklace). "I found this book at my favorite store in Portland, Monograph Bookwerks & Objects. One of the owners, Blair, recommended it to me because I'm always looking for weird and unusual old books that are either related to textiles, color, or objects. This one, Miralda! Une vie d' artiste, fits into each of those subjects and it is probably the strangest book I have in my library that is also incredibly inspiring and soulful. It was written in 1982 by Pierre Restany, who was one of the founders of New Realism, and it focuses on the artwork of Spanish artist Miralda. It is mostly focused on food sculptures that were made using dyes, and there are lots of really cool and bizarre photos of bread that remind me of Rainbow Bright. The book is written in Spanish but the captions for each photo are in English or French and with little sketches and doodles. There are recipes and a lot of interesting text layered over images — it makes me want to design a book on the same level!  It's by far one of my top 5 favorite art books I own."
Read more about Williams's selection below and stay tuned for additional installments featuring the libraries of some of our favorite creative people, in the coming months.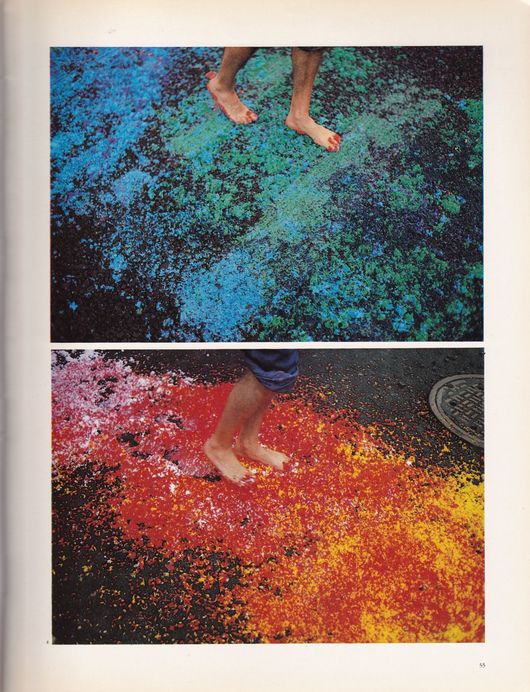 "Roaming the streets of Manhattan barefoot and then walking in dyed rice?  WEIRD!  There's a recipe included in the book for how to dye rice, and this is the outcome.  That is probably the most electric shade of blue I have ever seen!"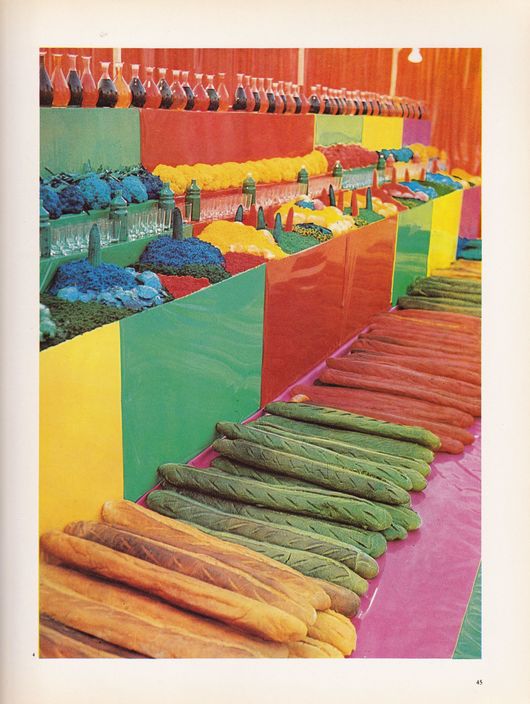 "This is a photo of a rainbow buffet made up of vegetables, salads, wine and bread. It's like a healthy acid trip."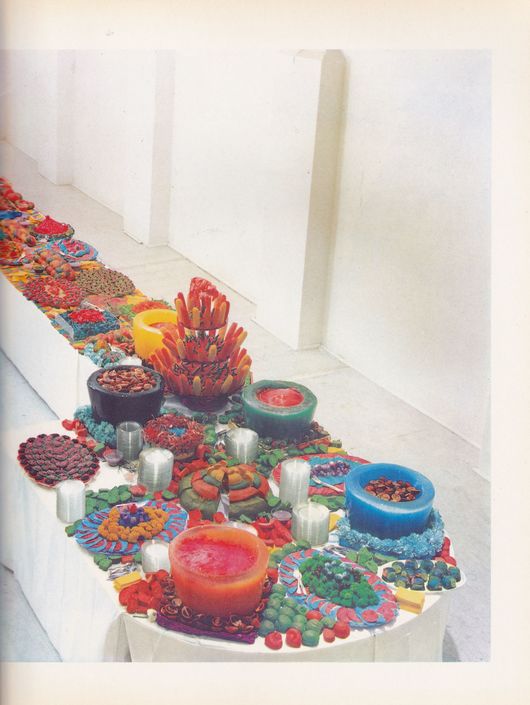 "I can't imagine encountering a buffet of this nature. Would I eat anything or would I just marvel at the kaleidoscope of colors?! This was part of an exhibition in Sydney in 1973. The whole thing kind of reminds me of those old-school Jell-o molds with fruit floating inside. I love how every piece is so carefully arranged, and to me this represents the idea of community."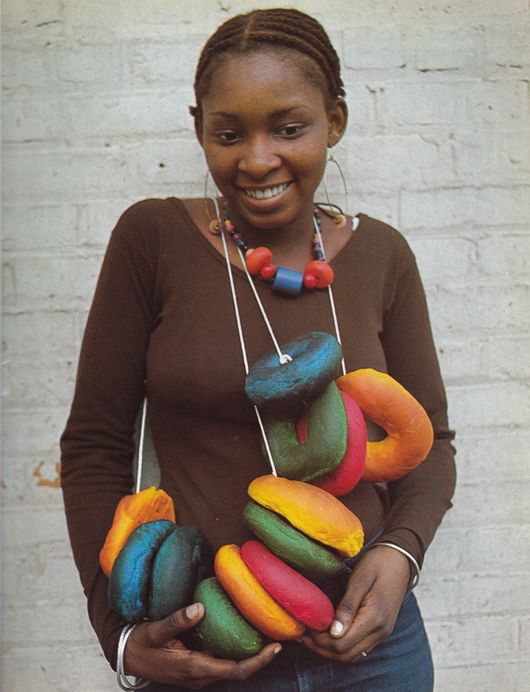 "This is by far my favorite photo in the book.  This woman is so happy to be wearing a necklace made of dyed bagels, as I would be too. This looks like it could be a really awesome fashion ad."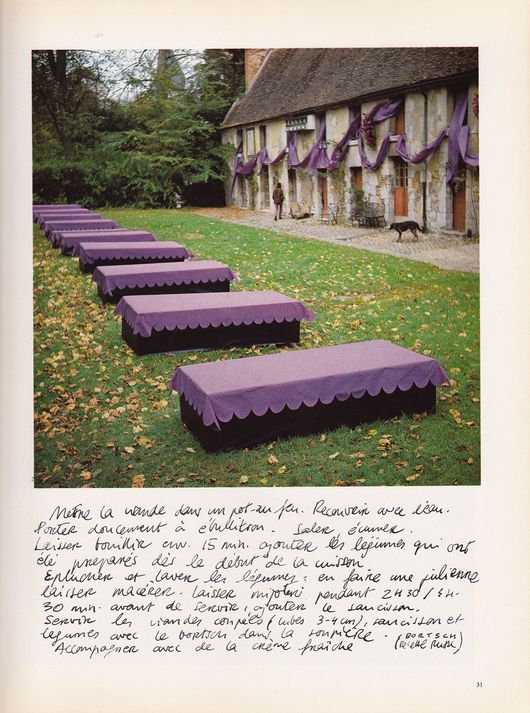 "This is a really beautiful photo of the set up of a memorial about to take place. It was taken in France, and I love the lavender tablecloths and decorations on the outside of the house. Looking at it reminds me of a magical fall day in France, where a crowd is coming together to celebrate someone. It's not pictured here, but there is also a recipe for Bortsch because, you know, a memorial in France has to have wonderful food!"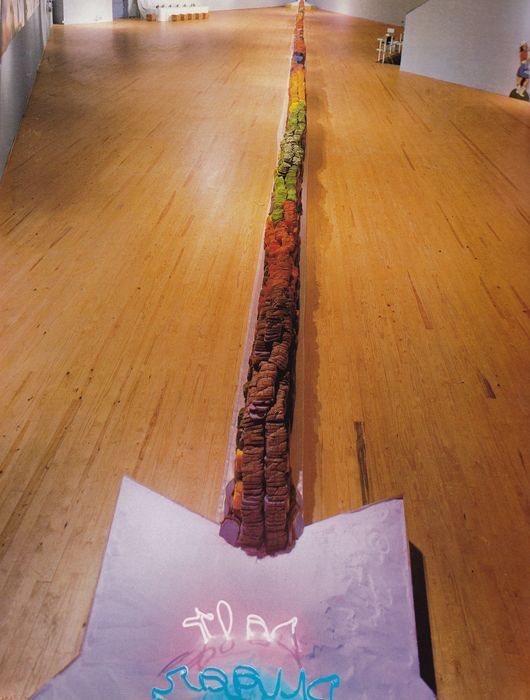 "This is Breadline, an exhibition that took place at the Contemporary Arts Museum in Houston in 1977. It featured 4,000 loaves arranged to measure 70 meters, with two ends of sugar coated stars and neon lights. All of the bread was dyed yellow, blue, green, brown, and red. It kind of reminds me of something the Campana Brothers would make today, but as a piece of furniture. I think this exhibit was brilliant."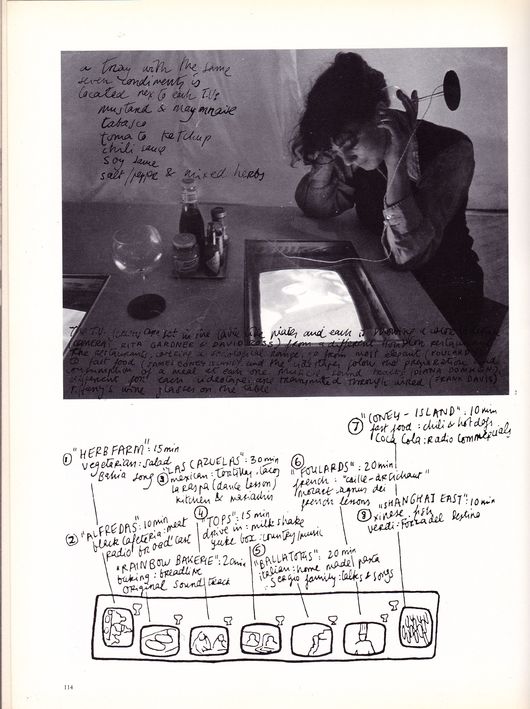 "A TV dinner, literally. This was also part of the Breadline exhibition at the CAM in Houston. It consisted of seven color televisions showing the preparation of a dish and a tasting at various chosen restaurants. A song was transmitted at each station through a Tiffany glass used as a headphone. Mind-blowingly chic, in my opinion."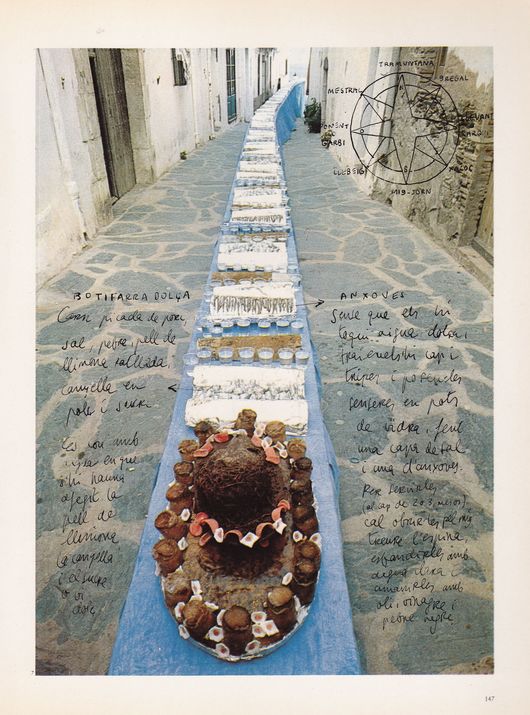 "What you see pictured here is the head of John the Baptist made from chocolates and cake! It represents the union between sea and church, and this particular event took place in the Spanish town of Cadaqués. I love how old the photo looks and how long the table is, extending to the sea."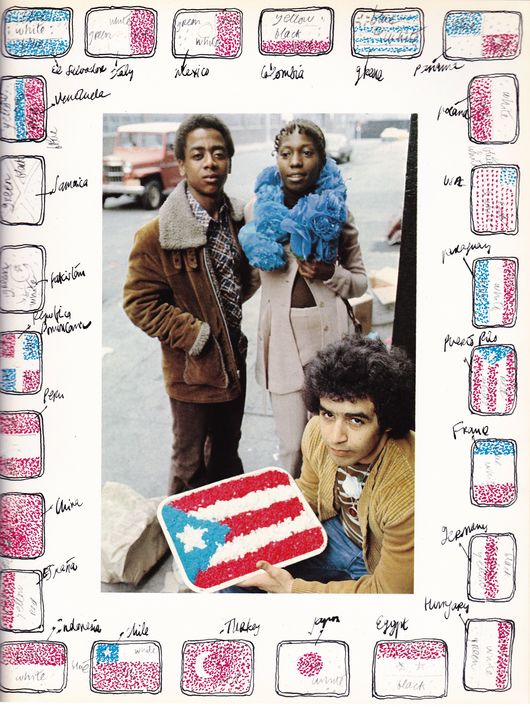 "Taken at the 9th Avenue International Food Festival in NYC in 1974, this photo represents Puerto Rico in the best way possible. I'm not sure what ingredients were used to make the flag, but this is one of the most stylish pics of food I've ever seen. I also like the surrounding sketches of flags from different countries, all in red white and blue."