09.09.14
Future Tropes at Volume Gallery
"Timeless" is probably the most overused — and abused — word in design in recent years, typically employed by designers in the context of sustainability in order to imply that a piece has such a classic look or function that its expected longevity can somehow justify its existence in a sea of wastefulness and overproduction. Future Tropes, a new group show that opened this past weekend at Chicago's Volume Gallery, approaches the concept of timelessness from a very different angle, however: "The work should be slightly ahead of the world, slightly un-contemporary, setting the stage for future codes yet operating in a place that precedes our ability to apply language to those codes." (—Jan Verwoert, as adjusted by RO/LU.) In other words, objects that are equally linked to our prehistoric past and our distant, utopian future. Volume curators Sam Vinz and Claire Warner proposed that brief to Leon Ransmeier, ROLU, Jonathan Muecke, Tanya Aguiñiga, Jonathan Olivares, and Anders Ruhwald, who exchanged ideas on the topic before each creating a custom piece responding to it. Scroll down to see the results.
Leon Ransmeier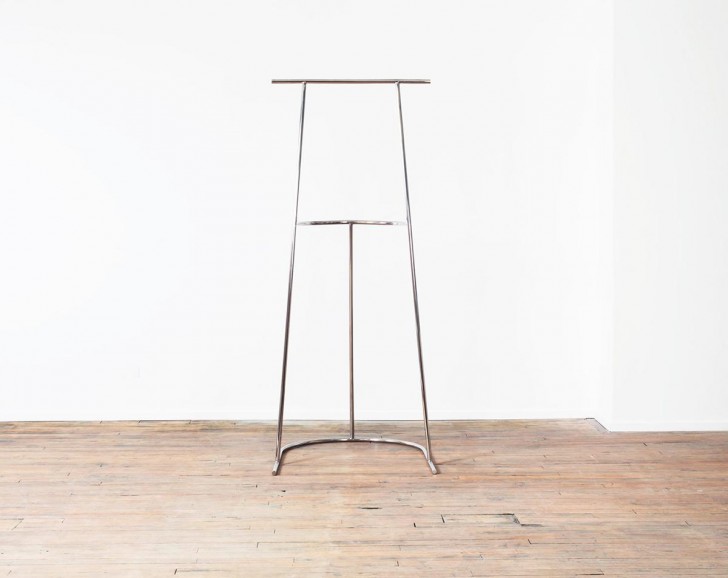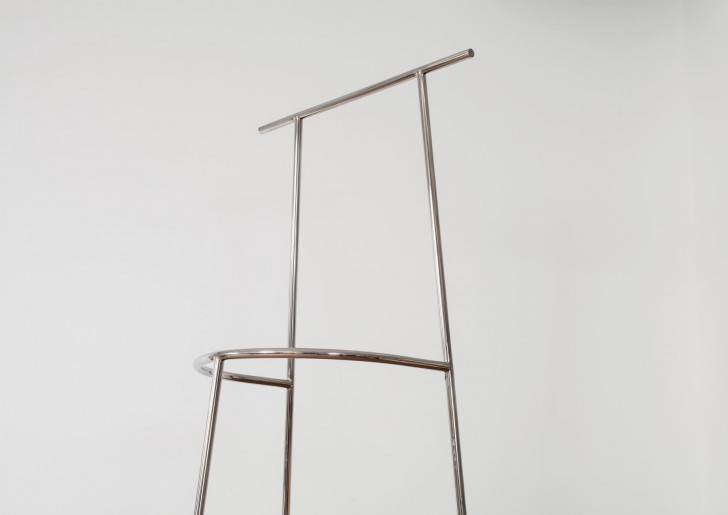 Action Object
A fundamental understanding of one's surroundings can be found in the physical relationship of the body to the environment. If the environment is human-built, then the opportunity for this understanding can be designed. Form and material communicate meaning, inherently placing human-built objects within a historical context and a framework of value systems. Still, the direct physical relationship of our bodies to space and objects transcends history. Many of our human needs persist, despite social and technological progress. The usefulness of furniture is apparent in its proportion because the scale relates specifically to our body and it is open to being used.
What I find most compelling in this project is the opportunity to find apparent usefulness in ambiguity, and vice versa. I am seeking to create objects that communicate physically and directly while remaining typologically indistinct as furniture. The materials and finishes used should playfully question the personal associations and reactions to the objects. I am going to make an object for rest, and an object for action.
Most furniture is designed to facilitate comfort. In this way, surfaces for sitting, sleeping, eating, working, and storage all accomodate our needs. The human body is often uncomfortable —one cannot stand, sit, lay in one place, or move constantly for too long without fatigue. We are in a constant state of flux in order to calm basic discomforts in life, moving from one position to another, reacting to previous actions with further actions. We generally perform these behaviors without thinking about them. They are autonomous and physical.
Beginning in the twentieth century, upper and middle class office workers began to pursue exercise during leisure time as a means of stress release and self maintenance. The rigorous and sometimes painful repetitive movements in exercise were once associated with hard work and subsistence. With the advent of fitness culture, such activities became a choice, rather than a necessity. Corporations became aware of the financial incentives for keeping workers healthy and happy, and today it is not uncommon to find fitness areas integrated into the architecture of large companies. As fitness has evolved into a remedy for sedentary work, it has simultaneously become a privilege for the employed and educated. Luxury gyms now cater to elite customers with demanding taste.
I am interested in exploring the affordances of fitness objects with an ambiguous form intended for physical activity. The Action Object is a three dimensional, seven foot tall frame welded from stainless steel round tubing. The shape of the frame offers several locations for lifting one's body in traditional fitness oriented movements. Pull ups, dips, and leg lifts are all possible with the Action Object, however the design of the frame affords climbing, hanging or swinging as well.
RO/LU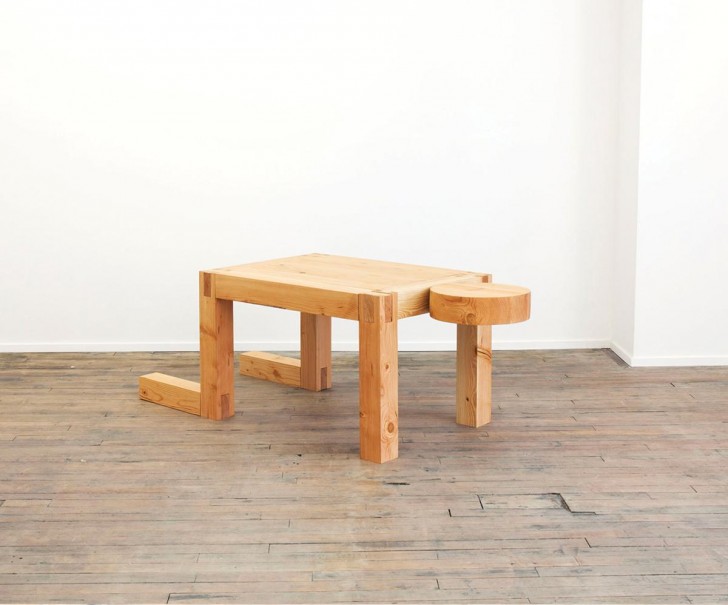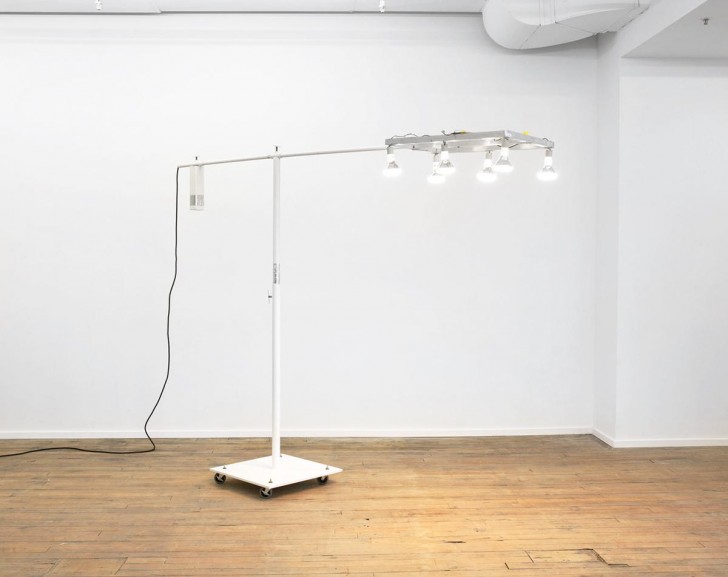 Truth Lies In Experience No Matter How Incomplete It May Be (man/desk/table) and The Sex of Art Is Narrative
We are interested in the​ ​notion that the designed object is a​s much a​ beginning ​as​ an end. Something that lives its own life. Goes further on its own than we could take it. That causes ideas and new conditions. That tells a different story later​ than we do now​. We want to ask more of design. The opposite of a reductive iterative process that produces an end result.​ That these objects, a light and a desk, would position us in a spot to begin participating with the order outside ourselves. We could use these objects to teach us to act​ more​ like surfers. To collaborate with our life and work. ​
"… should be slightly ahead of the world, slightly un-contemporary, setting the stage for future codes and operating in a place that precedes our ability to apply language to those codes… The relevance does not lie in reproducing existing values or rejecting them, but in performing them differently, speaking in a new key, using a different mode of address. A careful balance between ethics and style, humor and play, knowledge and non-knowledge… Truth in a new key." —Jan Verwoert, adjusted by RO/LU
What if light is ​the​ language, not ​the​ function. Something that causes​ ​illuminations​ ​but ​also darkens things​.​ ​Like Alina Szapocznikow wrote, the mouth chews and out comes an object.
Jonathan Muecke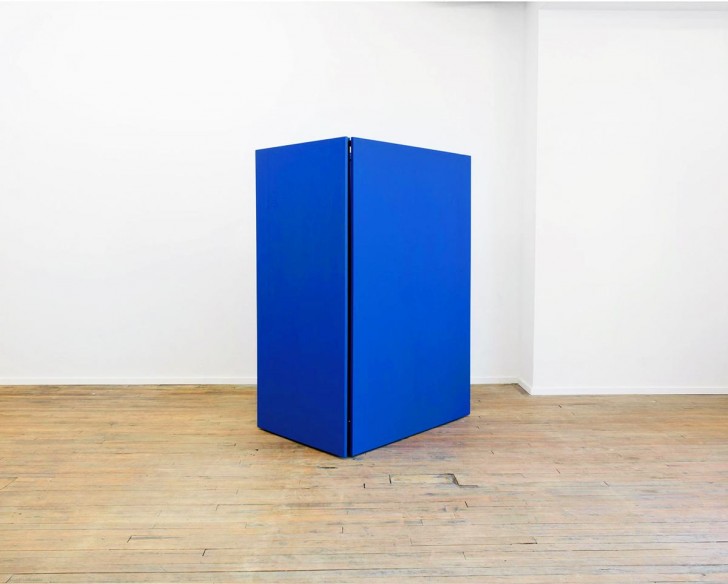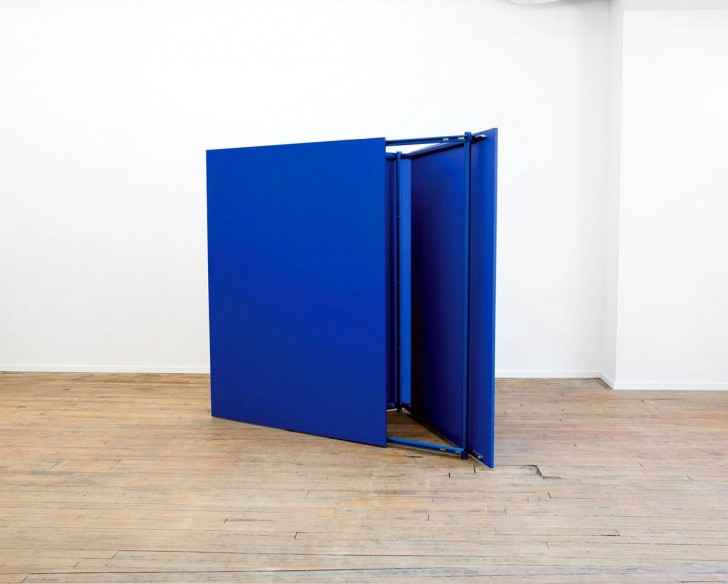 BLUE CABINET – BC (triptych)
A cabinet without a top or bottom. The three sides adjust, expanding and contracting the internal volume and exterior presence. The relational variability is stabilized by the color blue.
Tanya Aguiñiga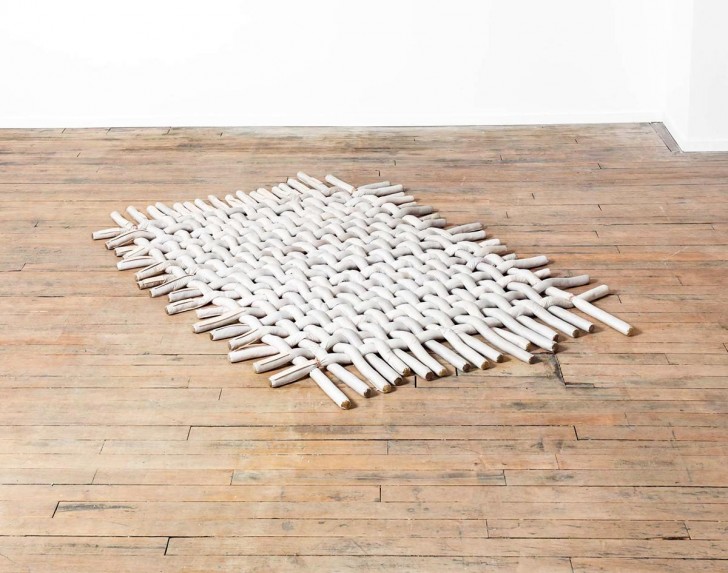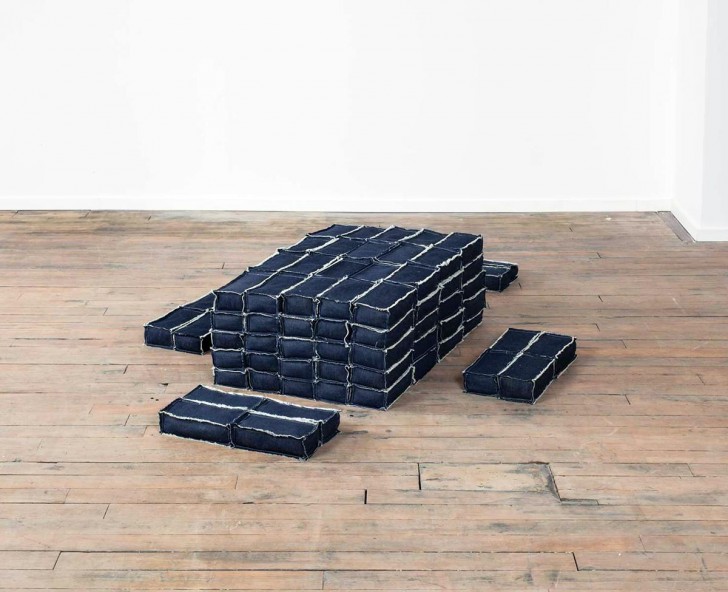 Support and Tierra
Tierra (top) (nylon, soil, leather, thread, vinyl): Made of woven soil from places that are important to me. Based on soil being our true ground, and my belief that objects with history are more lasting in our households. Also explores our attachment to soil/land as regards to proprietorship and war. In making an incredibly personal floor covering, I went on a journey to reconnect with places that haunt my dreams. The places my soul believes is home, and places that have shaped who I am now — despite wanting to distance myself from painful memories. Some of my collection sites include my grandmother's house, under the bridge my mentor and father figure committed suicide at, the beach I had my first kiss and drug experimentation at, and the US/Mexico border fence. Each site was photographed and has an identification tag in writing and in coordinates to encourage people to map out their geographical location.
Support (bottom) (denim, thread, salt, rice): Based on using my body to mold myself to my daughter's needs as an infant. I became her house, food, bed, and blanket. These bricks made of humble denim are modular to accommodate most of a user's spacial and functional needs. They can be used as sustenance in case of an emergency and can hold heat when warmed in the sun. The arrangement of form is intended to be done with others to promote collaboration and community.
Jonathan Olivares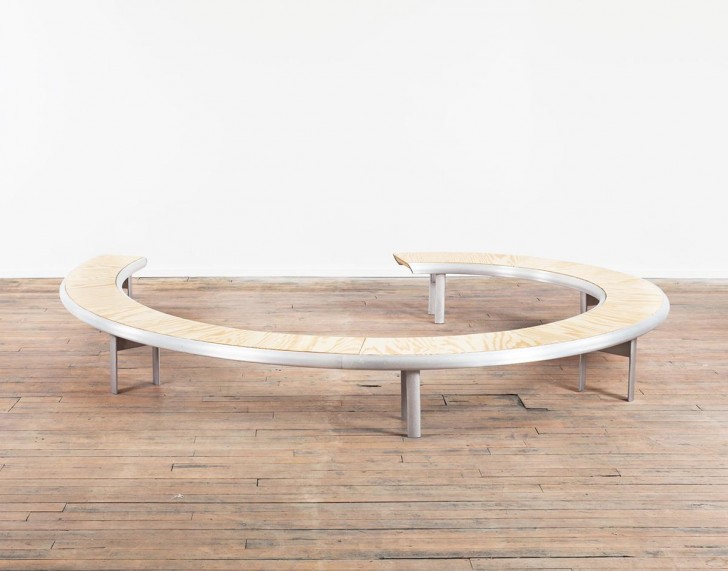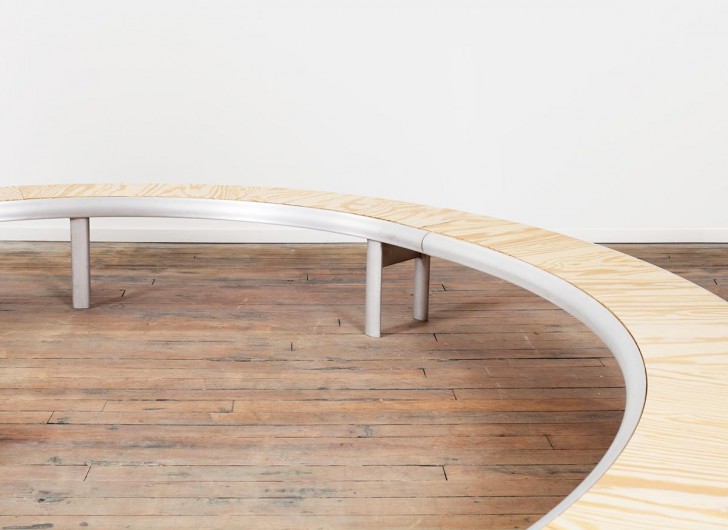 REB (Rolled Extrusion Bench)
The REB is made from a rolled aluminum extrusion, which can be formed into any contour, allowing the bench to be made in relation to specific architectural contexts. The rolled extrusions host a seating surface, and the entire assembly is supported by cast aluminum legs placed at intervals along the bench. The bench engages spatial and social contexts, providing differentiated seating areas for individuals and groups.
The project takes its departure from an aluminum extrusion technique that was developed by Zahner — the Kansas City-based metal fabrication company — as a skeletal support for curvaceous metal cladding. This technique has been used to manufacture significant works of architecture such as Frank Gehry's Pritzker Pavilion at Millenium park and MIT Stata Center, and Morphosis' Emmerson College in Los Angeles. While the extrusion is typically hidden behind walls, Olivares REB exposes the extrusion, and introduces the technique to the scale of furniture. Simultaneously in development with Zahner is a cloud-based software that will allow architects and designers to customize the REB into any shape for specific installations.
Anders Ruhwald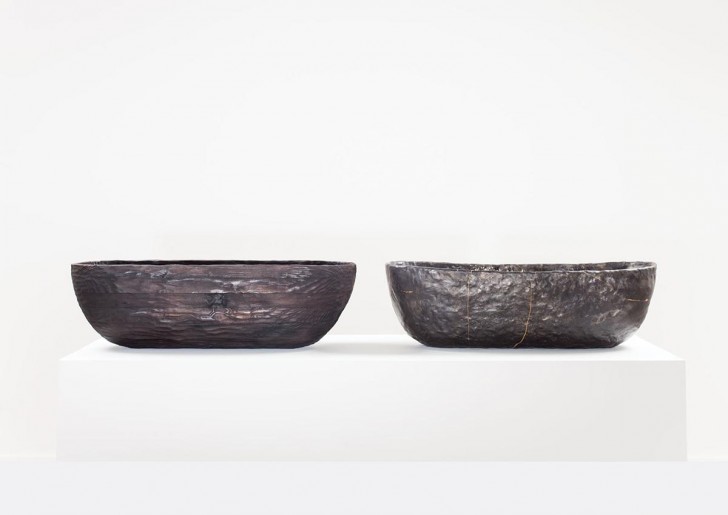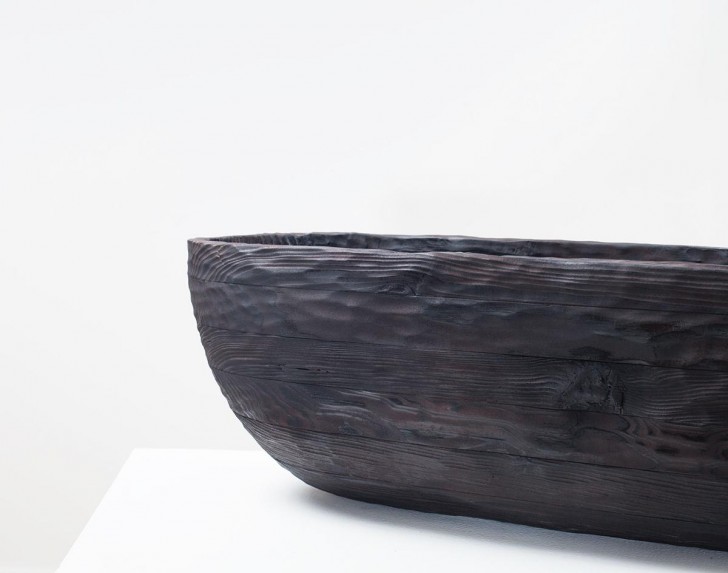 Laminated Pinewood Bowl, Charred. Smolder-fired Earthenware Bowl, Cracked and Mended.
The pinewood bowl is made of floorboards from an abandoned building. These boards have been laminated together, then carved out and eventually charred in the surface.
The ceramic bowl is made from terracotta clay that has been smolder-fired with leftover woodchips from the carving of the bowl causing the terra cotta to turn black. During the firing process the bowl cracked. These cracks were mended with gold leaf.