10.16.14
Peter Nencini's Instagrams
There are lots of people on Instagram who stop us in our tracks as we slavishly scroll through our feed, but Peter Nencini has been one of those arresting image-makers since before the app even existed. An illustrator by training, Nencini did away with the confines of pen and paper after graduating from London's Royal College of Art in the 1990s and today creates everything from typefaces to ad-hoc sculptures. A keen photographer, he has always recorded the stages of his process, first with a point-and-shoot and now with his iPhone, and has long been the proprietor of one of our favorite inspiration blogs. So when I suggested he walk me through 8 Things for Sight Unseen, the stipulation was that it had to be images from his Instagram, and we'd be digging into his thoughts on the app. He asked me to choose the shots, and then he explained them: That is how it went down.
Nencini has been blogging about his work for some time and believes that documenting his process via digital platforms has gone some way towards further explaining his work. "By recording the process carefully, it's allowed me to be commissioned more intelligently and progressively. And as you develop your community within Instagram and you photograph your work at various junctures," he says, it provides a sounding board for new ideas, half-thoughts, and reassures people as they move forward with their projects. "I think everybody on a daily basis has many crises within their process, where their confidence drops, or they're not sure whether to go for form A or form B." The image matters, he says, but so also does the reaction. Comments, emojis, hashtags — Nencini sees these annotations as ways to shift the narrative.
He is exploring all of this in a pilot project he is part of with the prestigious creative writing course at University of East Anglia (the German author W.G. Sebald was a lecturer here). The idea is that a writer, artist, illustrator or photographer will work together to develop a piece of narrative fiction and then use a platform like Instagram to conceive and publish in real time.
Here are Nencini's 8 Things, the Instagram edition.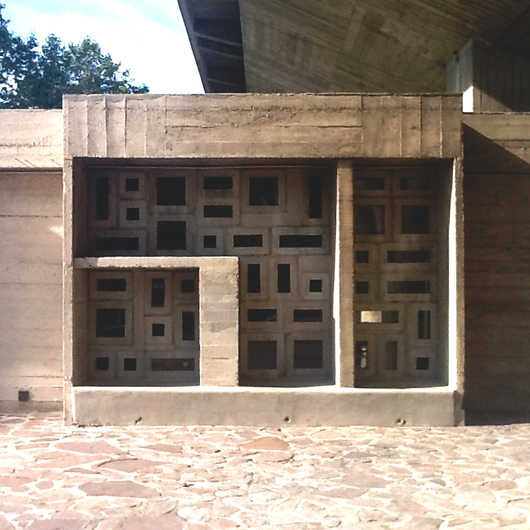 1. Béton Brut entrance. Cité Radieuse, Marseille
A long-anticipated trip Nencini made with his family last summer. This was the first building of Le Corbusier's Unité d'Habitation series. "It exceeded my expectations, particularly as a shuttered surface lit by the late afternoon sun. I was surprised by the nooks and quirks of such a modernist slab, this entrance as an example. Like a building within the building."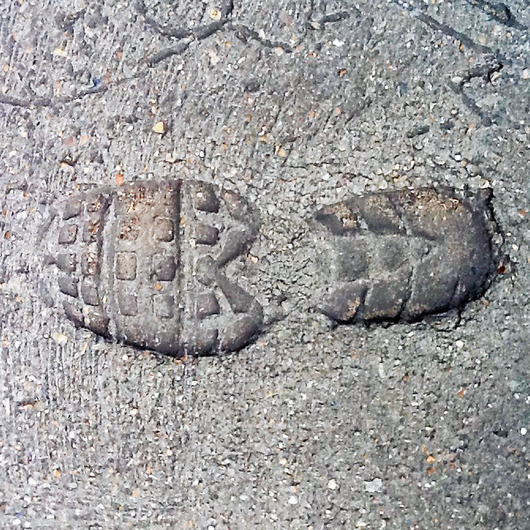 2. Gongoozling. Regent's Canal, London
"Gongoozler," Nencini explains, is early 20th-century dialect for a canal-side idler. The picture was taken during a research walk alongside the Regent's Canal for a project commissioned by The Canal & River Trust with The Contemporary Art Society. "The imprint of this running shoe is a kind of ornament but there's something there that has to do with expression of performance and fitness and lifestyle. And because it's printed into the tarmac on the edge of the canal, it's evidence of the repurposed use of the canal. It's for leisure as opposed to industry, so by photographing it, I'm kind of excavating it."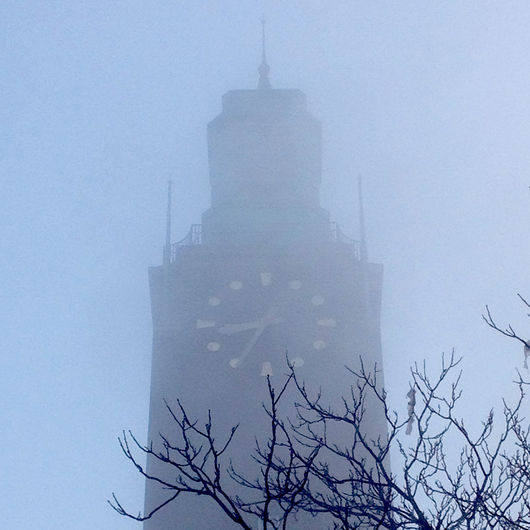 3. Norwich City Hall clock
"Built from 1936 to 1938 and designed by C. H. James and S. Rowland Pierce, the City Hall was spared by Hitler through the heavy bombing of the Baedecker Raids in April 1942. He admired the building's Neoclassicist demeanor, seeing it as the ideal background for his victory speech to come. A colleague told me this on his seeing this foggy morning photograph. Instagram has afforded the exchange of such stories, which then affect a working focus on something captured incidentally."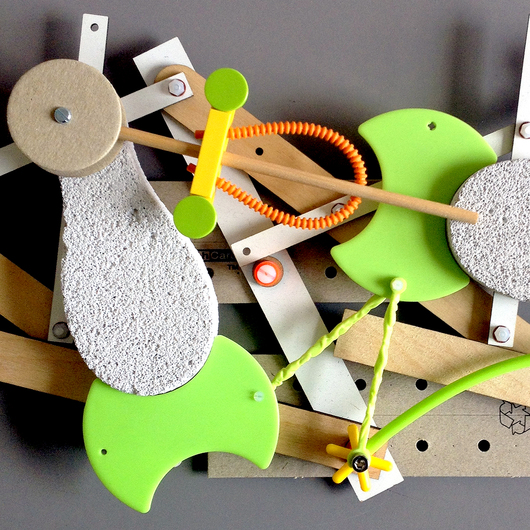 4. The Stick That Moved on its Own, for Limner
"I've been looking at the book Adhocism. I am more interested in working with found rather than fabricated forms, and then just the happy awkwardness of trying to treat them as a sort of mismatched family of elements. So there's a kind of wrestling match with these components, but obviously they carry a whole other layer of association with them."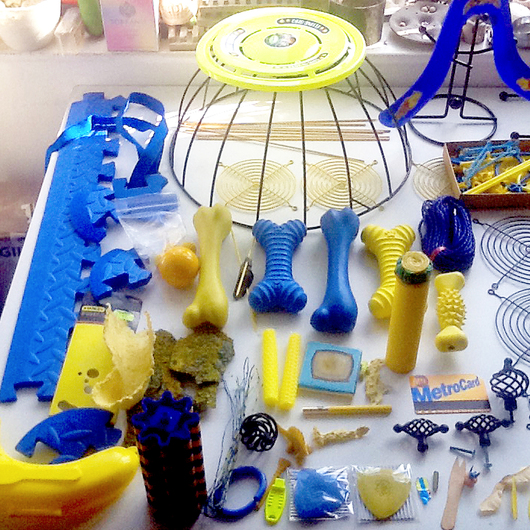 5. Studio. 'School for Design Fiction' process (1)
This pictures a section of Nencini's workspace, showing the accumulation of props that sit within a specific yellow-blue register. They were to be used in performance, called 'A School for Design Fiction', with graphic designer James Langdon, which took place at Galerie für Zeitgenössische Kunst Leipzig last winter. "It is interesting when you collaborate with an institution or another person how you can excite them each time you meet them. I would always prepare the space with the things I'd been working on in order to get a kind of buoyancy around the project. So I think around that, in between that, Instagram was a sort of shorthand way of doing that."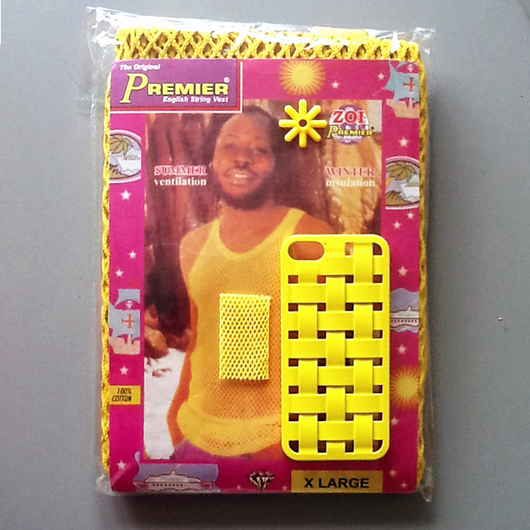 6. Studio. 'School for Design Fiction' process (2)
"You photograph something in order to capture it before you forget. Then by putting it on Instagram you're viewing it at arm's length. So the picture on here of the packaged string vest with the foam cover, that's definitely one of those things that in previous times I've always done, but I would just physically compile a set of ingredients in order to stimulate the next day's piece of work."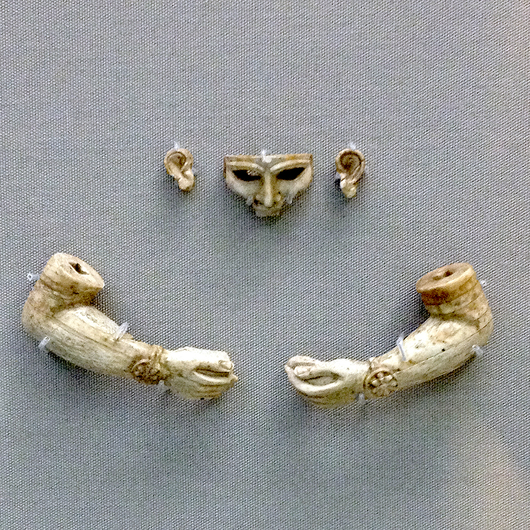 7. Composite Figure of a Protective Spirit, 600 to 900 B.C. British Museum
Before leaving London, Nencini would see the city's museums as pit stops throughout the day. In the British Museum, he would make a beeline for the Assyrian and Mesopotamian galleries. "These ivory carvings are parts of a composite, possibly fitted into a wooden matrix. For me, a feed into current work using discordant, mobile typographic ornaments which then occupy a slotted support, which carries its own inflections. So I am as interested here in the furniture of display. The fusty linen substrate and plasticized wire hooks."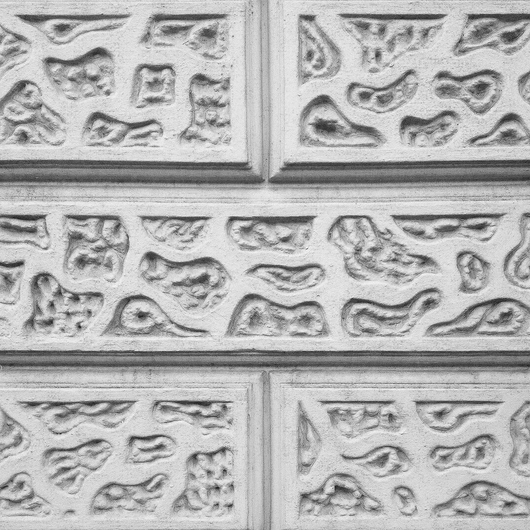 8. Vermiculated Rustication. St Giles Street, Norwich
"We've recently moved to Norwich, Norfolk from London. I've always made sure to live close enough to work in order to walk. So a proportion of the Instagram posts evidence of the architectural sideshow. This wall I have walked past quite a few times. It's made out of one material, so the variety within one material is what interests me. So it is just important to photograph it in a way where I can see it very, very clearly, and it's quite straightforward I suppose."