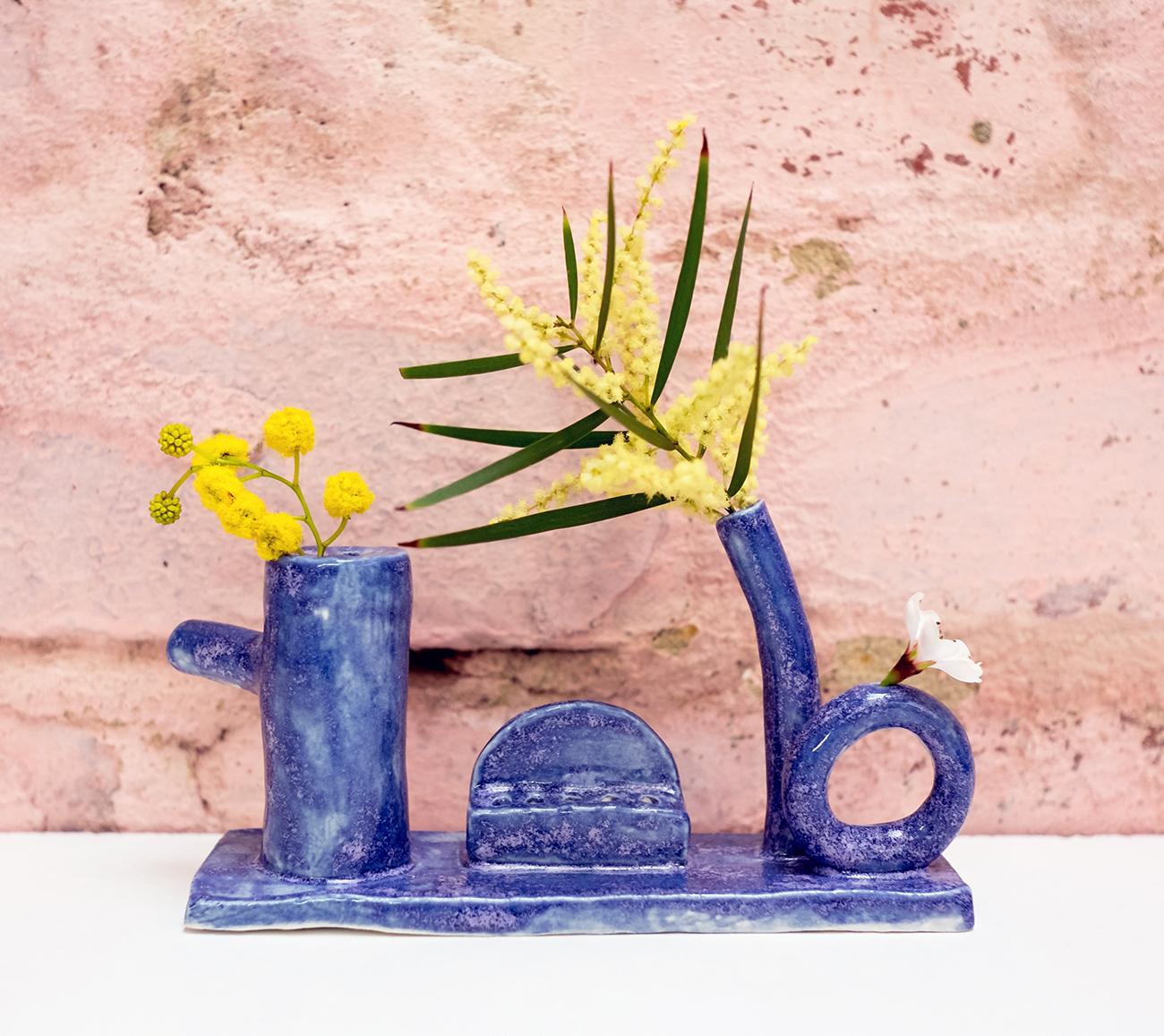 Australian ceramicist Tessy King may only just be finishing her degree in ceramics at RMIT in Brunswick, but that doesn't mean she's a novice. Originally from a small town in Northern New South Wales, King studied nursing and naturopathy at a small university after high school and credits her interest in the medium back to those days as a budding scientist. "I often refer back to some of that knowledge when contemplating my work," she says. "Ceramics involves so much chemistry."
Next came a brief stint cutting stones at a Lapidary club. "I learned so much about the properties of metal, stones, and enamel in those two years but felt slightly disconnected to the materials and their application," King explains. Feeling a bit detached, she began throwing and hasn't looked back. "I basically just love making stuff, and I think before I started working with clay, it was hard for me to express myself in this way," she says. Inspired by everything from her natural surroundings, to June Schwarcz enamelled vessels, to 1960s and '70s indoor plant magazines, King makes work that she describes as "soft. I don't use pattern much, as I get a bit overwhelmed by it. I like blocks of color or glazes that have natural variations in their color or texture." We liked it too, so we recently gave her the opportunity to talk about her work and all that inspires it a little bit more.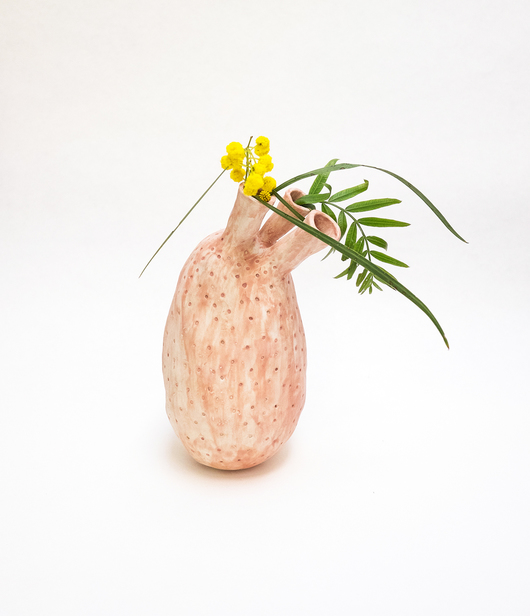 Describe your most recent project and how it was made.
Most recently, I've been working on a series of ceramic vessels and objects to hold flowers. I collect flowers on my walks in the morning with my dog, Roo. It's springtime here, so the flowers have been super big and abundant and really beautiful lately. At other times of year I just pick tiny weeds from along the side of the road. I really want to incorporate these flowers into the objects. So I've been working with lots of slab forms and lumpy pinch pots and sticking them all together with some holes here and there so that the flowers can poke through. The objects have room for flowers of different sizes, as they are intended to be used all year for foraged bits and pieces. I've glazed them with cobalt, purple, pink and white with some mother-of-pearl lustre on the glossiest ones. I'm also testing out some "highlighter" yellow at the moment, which I'll incorporate later.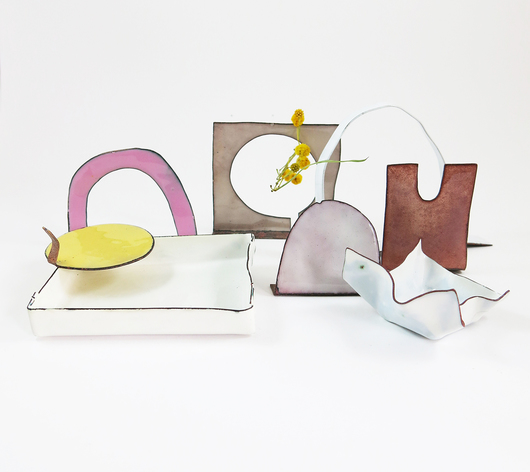 Describe your next project and how you're currently making it.
Next is a series of small enamelled copper forms that are a continuation of the work I've been doing with flowers and clay. I have worked with enamel before and I like its relationship to the materials I use in ceramics. I'm working with glazed porcelain and enamelled copper trays as a base to contain water. Upright enamelled copper shapes that I have cut out of sheet metal can be placed inside for flowers to drape across. I started using an industrial liquid enamel for this series but have been experimenting with sifting vitreous enamel onto the copper sheet. I think the result is a nicer, lustrous surface once fired. I will "sugar-fire" some of the pieces as well, which means they will have a matte, textural quality that reminds me of pumice stone.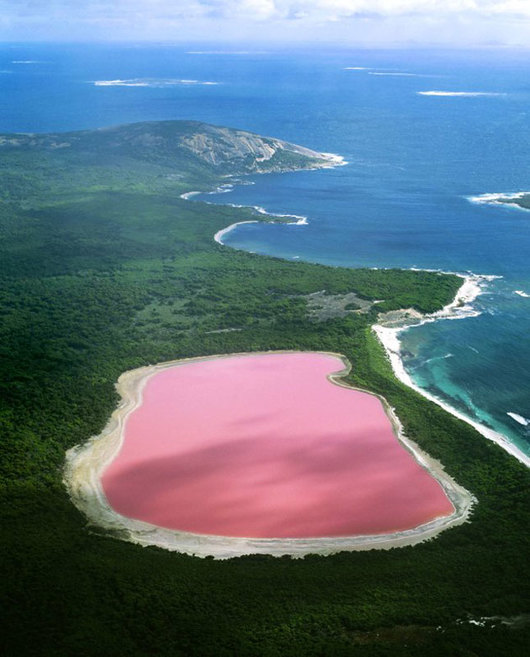 Tell us one thing that's been inspiring you lately and why.
One thing I've been interested in for a while ­­— and which informed a lot of my work earlier this year — is pink lakes. I visited one, under the Westgate Bridge, just South of Melbourne city. It was completely surreal, like visiting another planet. The intensity of the color was really surprising to me and it increased as you got closer to the water. The traffic on the bridge above the Park creates a constant hum that contributes to the strange ambiance. The water turns pink naturally, apparently, because of the right salt levels, heat, and some kinds of algae. I just liked the color and the way I became hypnotized by it. It was like a giant pink milkshake, actually.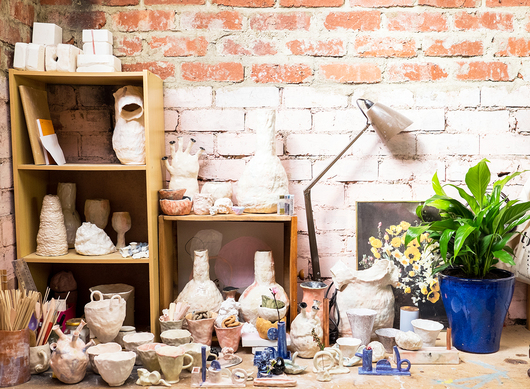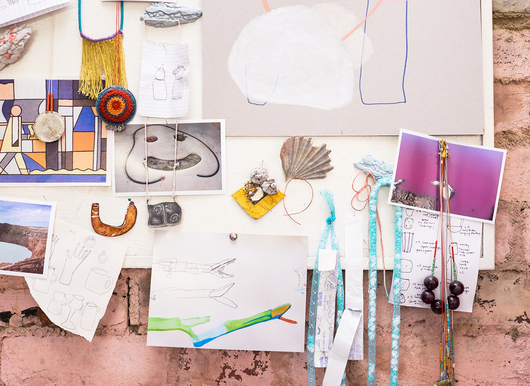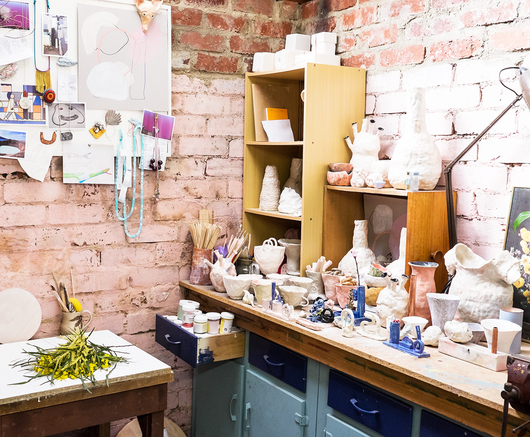 Show us your studio and tell us what you like about it.
My studio is outside the back door of my house, in a shed. I share the space with my housemate who is a jeweller, Anita Crowther. I like the space because I like working from home and working close to another artist. It has nice light in the daytime, pink walls (oddly) and we have a record player in there. We are located in Brunswick, just to the North of Melbourne's Central Business District. I have easy access to supplies from here as Northcote Pottery is just across Lygon Street and I use their firing service regularly. It's also nice being able to go in and out of the studio as I please, as it's just outside. In the future I hope for a bigger space, with larger workbenches, but I feel pretty lucky to have this for now.