11.22.14
Week of November 17, 2014
A weekly Saturday recap to share with you our favorite links, discoveries, exhibitions, and more from the past seven days. This week: A new series of prints by Nathalie du Pasquier, two art galleries dabbling in design, and the prettiest darn tool boxes and switchblades we've seen.
Exhibitions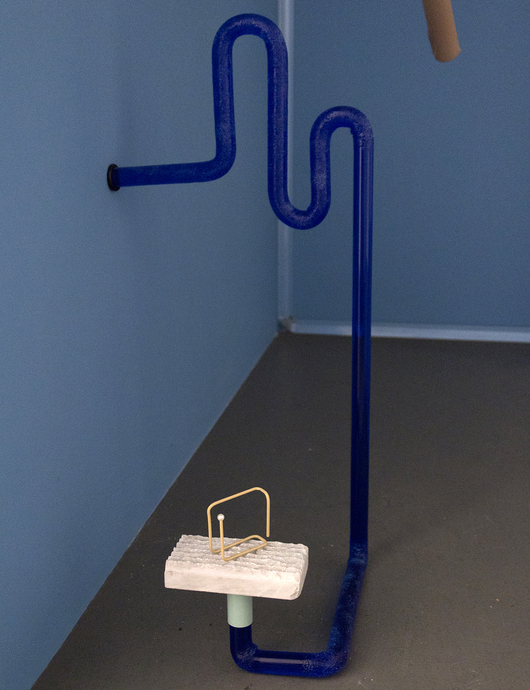 Faux/Real — the Brooklyn studio that happens to be my go-to source for statement jewelry — made a surprising leap this month with their first art gallery show, at White Columns in New York, on view through December 20. Though perhaps it's not that surprising when you consider that they've been making larger objects like this one for awhile now, and anyway, we've always thought of their wearables as art. Props to White Columns curator Erin Somerville for making it happen.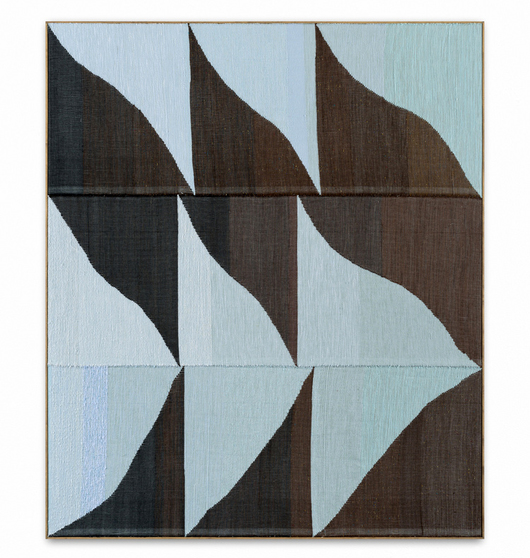 When we last wrote about Brent Wadden's hand-woven "paintings," he was showing a collection of them at Peres Projects in Berlin that was almost exclusively monochromatic. He's since begun working increasingly in color, and his new show at Peres, Pit Pony, which opens this weekend, dips into some pretty yellows and blues like the one above.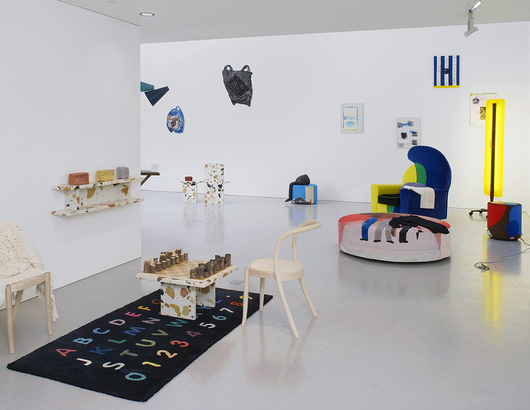 Another great gallery that's increasingly been mixing design and art is Kate MacGarry in London, whose roster includes Francis Uprichard and Goshka Macuga but whose shows have also incorporated work by the likes of Max Lamb. Last weekend it opened a show called House Party, which MacGarry co-curated with Brent Dzekciorius of DZEK — it's a mish-mosh of furniture, ceramics, painting, sculpture, jewelry and clothing by 24 artists and designers, from Lamb to Faye Toogood to Martino Gamper to Philippe Malouin. Designboom has a nice selection of images from the show.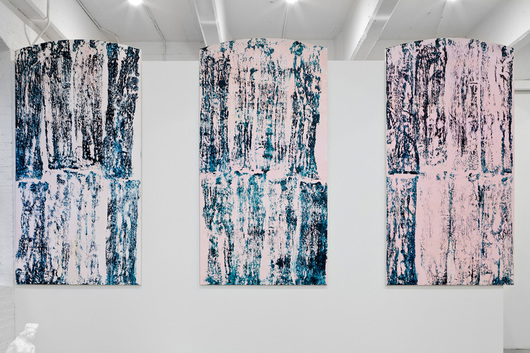 If you follow our Instagram, you might have spotted us attending the recent New York art fair Independent Projects, which hosted galleries like Gavin Brown's Enterprise, Gladstone, Zwirner, etc. We shot a few photos of our favorite works, but weren't able to take a nice shot of this one, of a piece by Emanuel Röhss at Project Native Informant's booth. Luckily it magically appeared in our inboxes this week.
Discoveries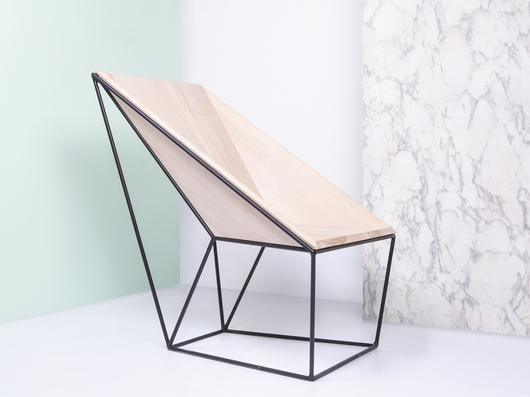 Apparently we got to this one a little late — Alberto Vitelio's geometric wood and metal Linon chair, made in Chile and stocked at Nest/Gather, is already sold out, though we decided we might as well feature it anyway. Check out Vitelio's website to see more of his work.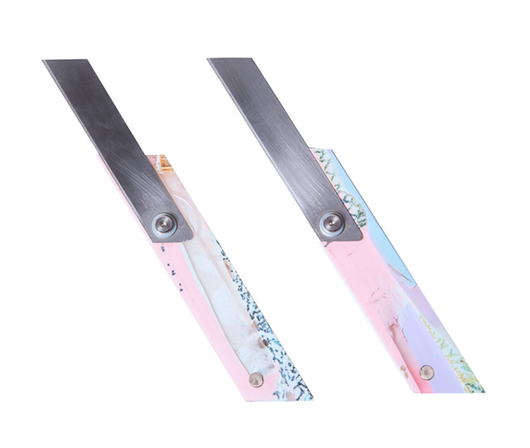 With their latest edition for Brooklyn's Handjob Gallery, Chen Chen and Kai Williams have married the pastel prettiness of their signature composite resin with the edginess of a switchblade, the duo having been obsessed with making knives and shanks for some time now. Need a gift for a loved one with a penchant for light weaponry? Act fast — these are only available as an edition of 5.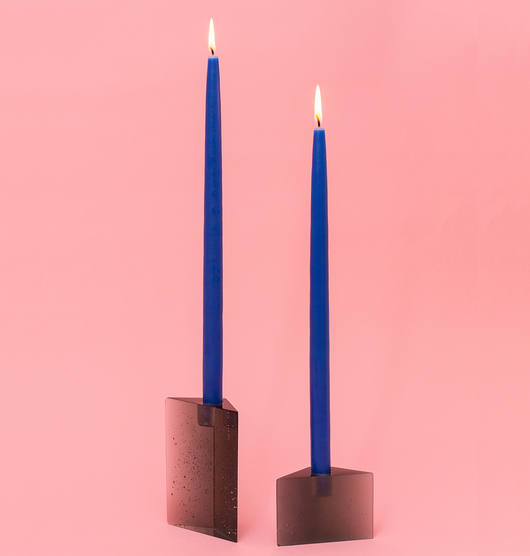 At our Sight Unseen OFFSITE show in May, we hosted new furniture by Syrette Lew of Moving Mountains, who in turn opted to complement her own work with accessories by some of her friends. One of them was glassmaker Andrew O. Hughes, who debuted a set of incredible cast candlesticks suffused with the most delicate of air bubbles. This week we learned that Hughes had finally had the set photographed, by the talented Lauren Coleman, though as of yet they're still not for sale.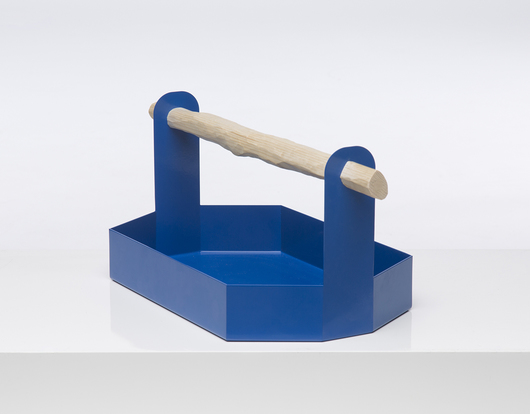 Dean Brown this week sent us a note introducing his new Makeshift Tray, a tool caddy that's exclusive to L'Arcobaleno and marries industrial folded sheet aluminum with a hand-carved wooden handle. Reminds us a little bit of this classic, though Brown's is obviously a lot more design-y and versatile — if a lot pricier, too.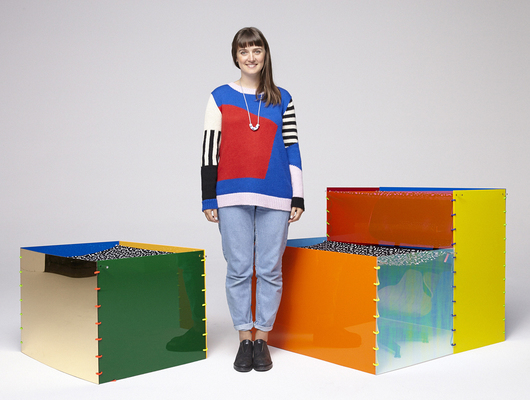 This may look like a lounge chair plucked from some long-lost Memphis archive, but it's actually a gift box — hidden inside it is an Eames Lounge and Ottoman. Earlier this month, Design Within Reach invited four young studios to dream up the perfect gift wrap for the iconic seat, and fashion designer Ellen Dusen opted to surround it with colorful acrylic panels sewn together with rope. See the other three projects here.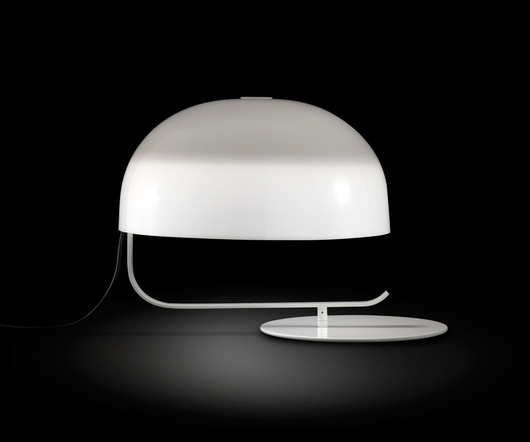 We've been hearing about Marco Zanuso a lot in the past year or two, mostly at design fairs, where his original lighting designs have been popping up with increasing frequency. This week, Design Milk tipped us off to the fact that one of those designs is now back in production, with Oluce: the charmingly off-kilter 275 lamp, designed between 1963 and 1965.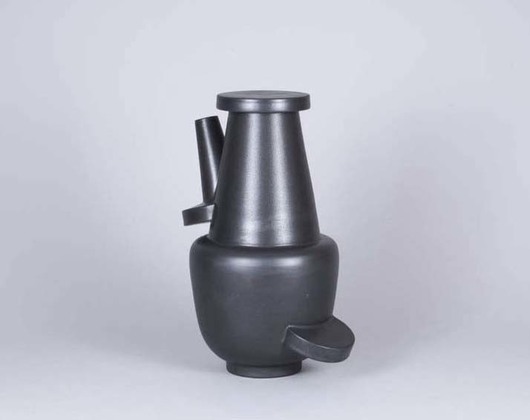 E-tailer Avenue Road recently acquired a cache of vases by the German ceramicist Lutz Könecke, whose great-grandfather was the Bauhaus potter Otto Lindig. We'd never heard of Könecke before this week, but we're really digging his all-black vessels, which are meant to be investigations in combining multiple shapes together into one form in unique ways.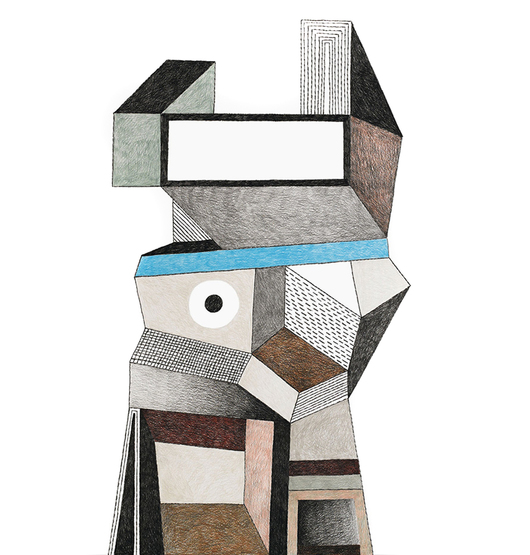 With all the fuss over Wrong For Hay these past two years, we'd almost forgotten about Sebastian Wrong's other eponymous project, the Wrong Shop, his outlet for small-batch furniture editions. In 2012 he launched a limited-edition collection of prints by the Bouroullecs and Pierre Charpin, which have nearly sold out; this week he added Nathalie du Pasquier to the roster, who's contributed 12 drawings to the series, including the one pictured above. The prints range from 325 Pounds for the smaller size to 650 for the large.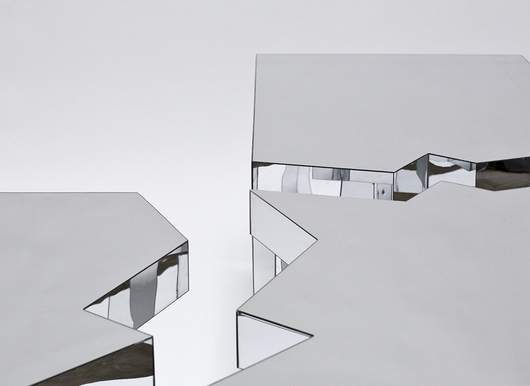 Perhaps the hippest collaboration ever: This week the cult bag brand Mansur Gavriel teamed up with furniture designers RO/LU to produce a series of silver metallic bags and silver mirrored tables (pictured) that are inspired by their mutual love for Dan Graham and Helio Oiticia and for sale exclusively at Opening Ceremony. We've always wished for a day when design would be considered as cool as fashion or art in America — looks like that day just inched a little bit closer.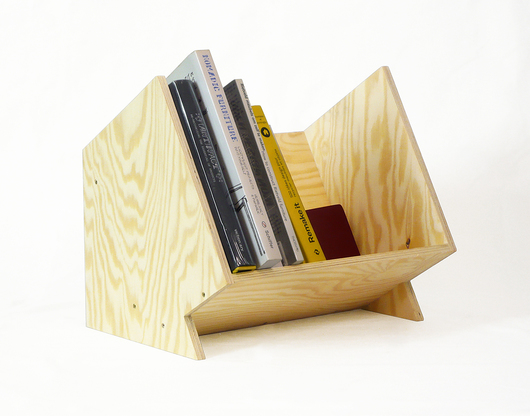 This week we got an email from an online shop called La Maison Bruxelloise, whose deal we can't really figure out for sure, since its site is only in French. But we did spot this adorable plywood book stand, a typology we've been particularly obsessed with lately, and it's only 55 Euros.
Links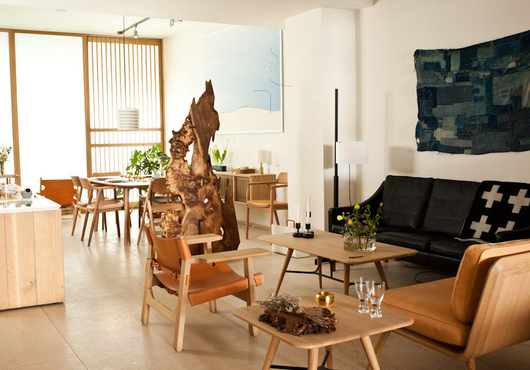 It's funny how you can be such a devoted fan of certain shops these days without ever having set foot inside them — Totokaelo and Table of Contents being prime examples. We did a double-take this week when we spotted this story on Design Milk, a visit to the Canadian retailer (and e-tailer) Mjolk, whose space we didn't realize was so beautiful. Serious Scandi/Japanese vibes.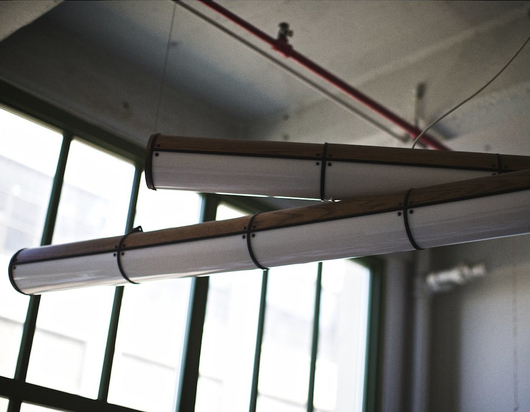 You can expect more stories from our longtime contributor Paul Barbera to appear on Sight Unseen very soon, but for now, we suggest you head over to his site — Where They Create — to scope out the headquarters of Roll & Hill in Sunset Park, Brooklyn. The lighting brand's offices, production facilities, and warehouse are all housed in the sprawling space, which Barbera has documented in his signature style.