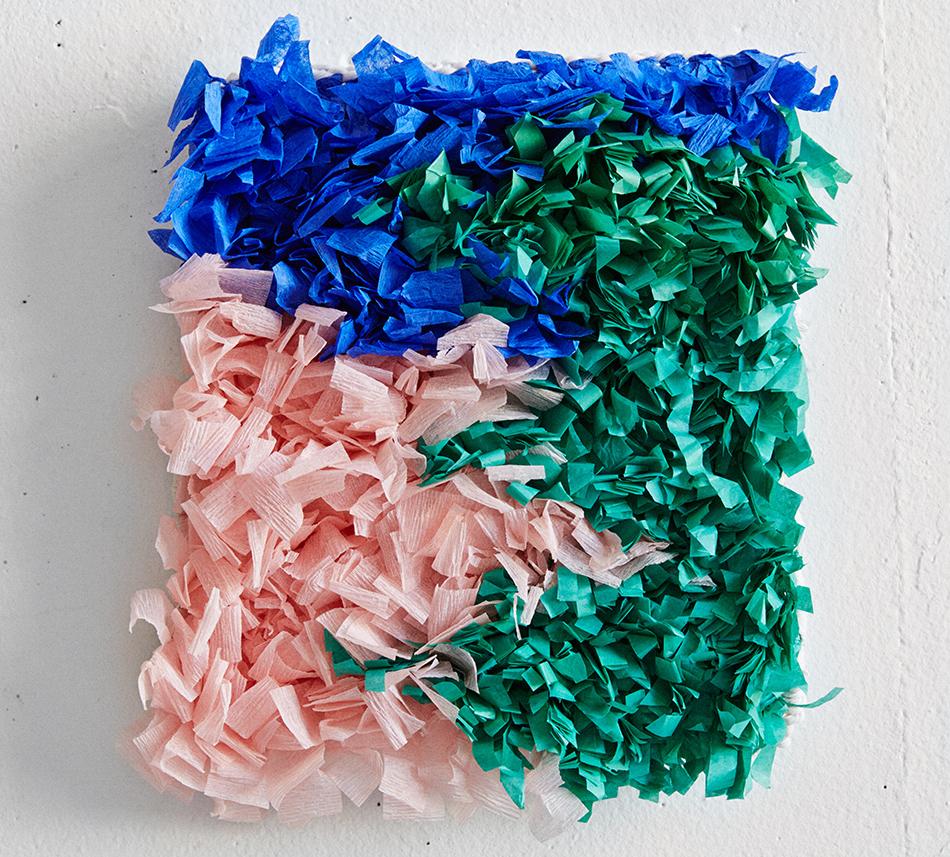 A weekly Saturday recap to share with you our favorite links, discoveries, exhibitions, and more from the past seven days. This week, old meets new with the resurgence of Op-Art and a 1950s desk lamp, a(nother) Franz West show, and of course, the usual smattering of new work by young talents, including the latest collection from Brooklyn weaving duo New Friends (above).
Discoveries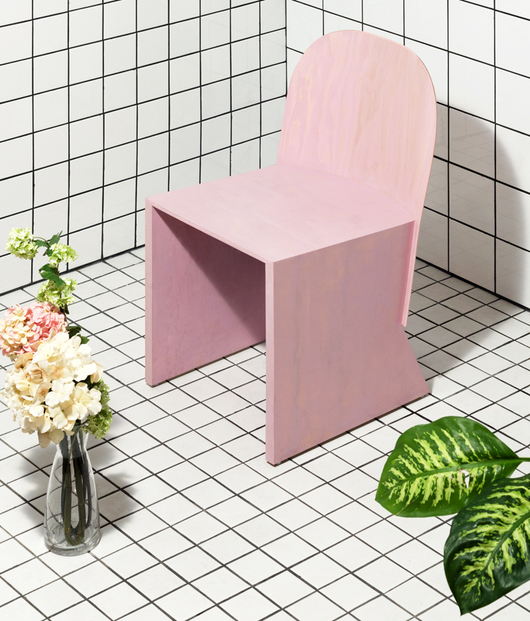 The up-and-coming Canadian duo Knauf and Brown — who launched their first collection at Sight Unseen OFFSITE this past May — just posted photos of their new Flower chair, a Scandi-meets-Judd confection they designed exclusively for a Vancouver restaurant called Blacktail Forest. It also comes in a pale natural plywood finish.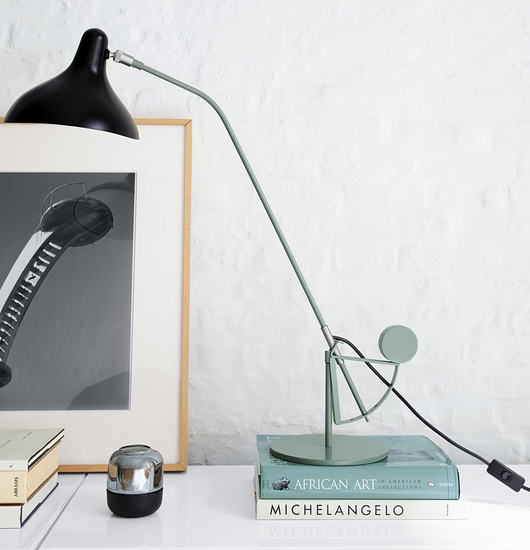 Another new launch this week with an equally Scandinavian colorway: the Mantis desk lamp, originally designed by German Bernard Schottlander in 1951 as an homage to Alexander Calder and now back in rotation thanks to DWR.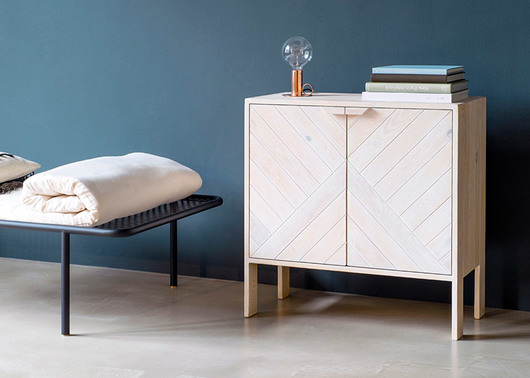 We spotted this herringbone cabinet by Berlin-based designer Daniel Becker on Dezeen. It's for a German company named Kimidori that manufactures furniture from used shipping pallets, and it's part of Becker's 45 Series, which also includes an equally handsome set of stools and a credenza. Click through to see the full collection.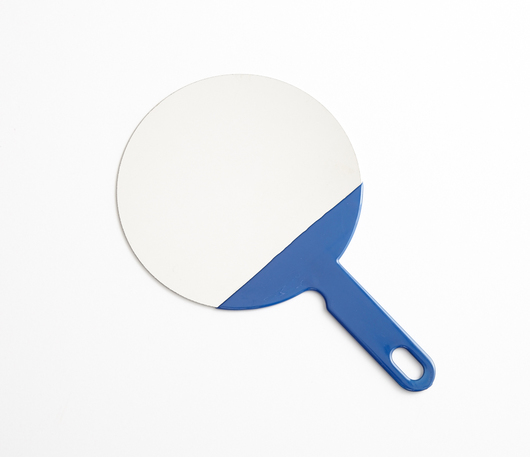 Visibility is another promising young studio that launched at Sight Unseen OFFSITE, and we've been waiting ever since for their tool-dipped Utility hand mirrors to be made available for sale so we could feature them in one our freelance outlets. That day has come thanks to the New York label Good Thing, in whose webshop they can now be purchased — in a full range of cheery primary colors — for a mere $50. Photo: Alyssa Kirsten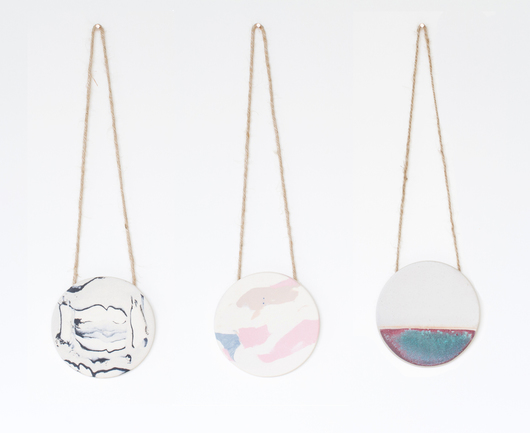 We always love it when new talents reach out to us and say hello! This week we got a note from Ali Gibbons, a North Carolina–based painter, ceramicist, and quilter who just launched a project called Line Line Co. We were particularly taken with these porcelain wall hangings, which are for sale on the site in more than a dozen colorways for $60 each.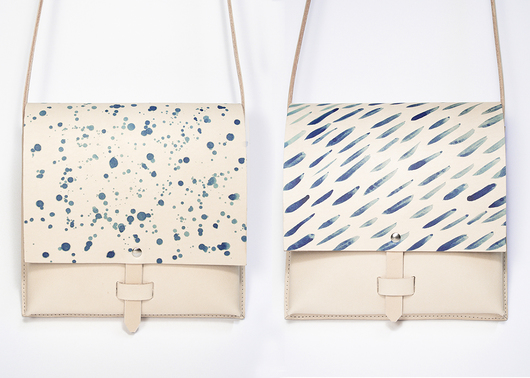 MYR came to our attention via another submission email, from designer, architect, and craftsperson Johanna Landin, who launched the bag line in Stockholm this week. "When I saw how raindrops made a beautiful random pattern on a dry pavement, I got the idea to try to make rain-stained bags," Landin says. All of MYR's bags (and bracelets) are handmade in organic leather from Sweden's Tärnsjö tannery.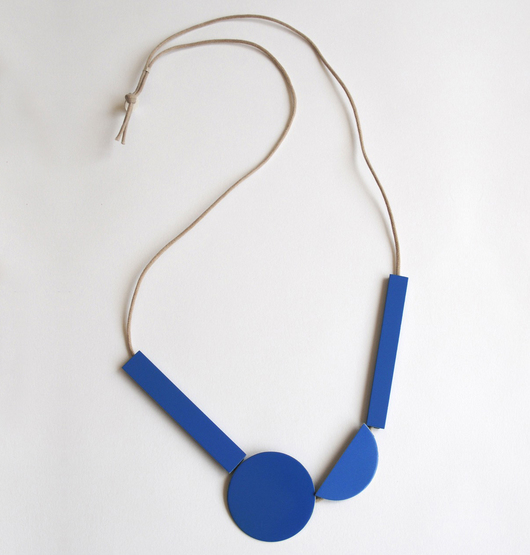 Melbourne artist Meredith Turnbull makes incredible totemic sculptures and abstract paintings that "focus on the related histories of modernism and abstraction across visual art and design," but those ideas also flow into a jewelry line that's a natural extension of her practice. We're particularly into this powder-coated brass necklace that echoes the shapes she uses in her sculptures.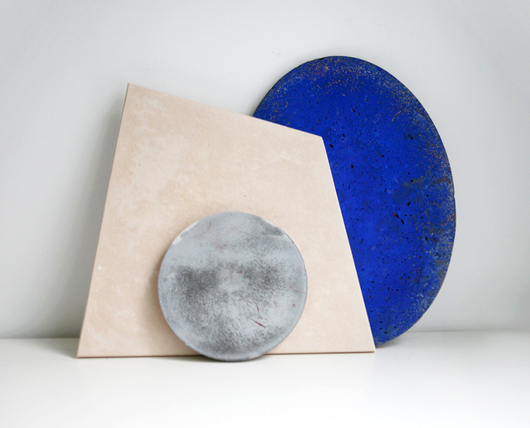 Central Saint Martins grad Alessia Giardino's Concrete Tableware series — presented at Dutch Design Week last month — is basically a riff on concrete wall tiles, which she's blown up to sizes and shapes suitable for use as platters and trivets and layered with pigments while the concrete surface is still slightly wet. There are many more variations in the project, which you can take a look at here.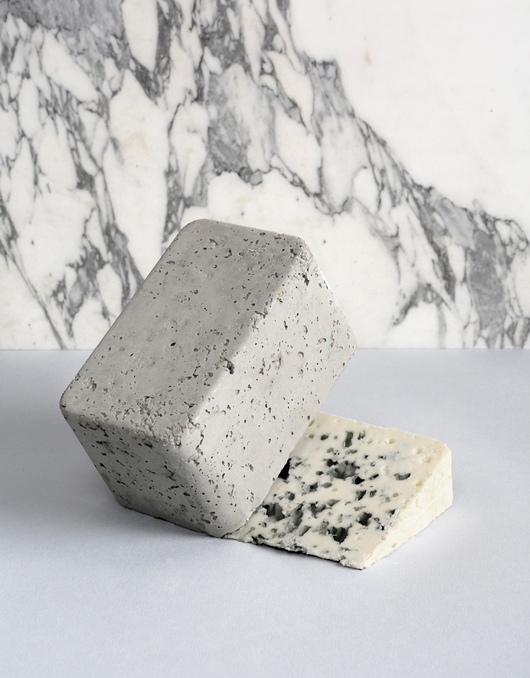 Parisian art directors Paris Se Quema sent us lovely photos this week from an editorial shoot they styled for the new French culture magazine Mint. Shot by Chloé Gassian, the story also includes photos of eggs, cabbage, and fish juxtaposed with hunks of concrete and terrazzo tiles. See the rest on Paris Se Quema's site.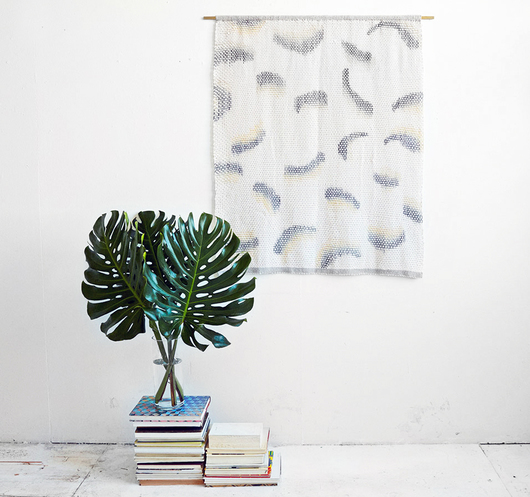 It's nice to have friends like New Friends; a week before they're set to announce to the rest of the world that their new site and latest collection are now online, they tipped us off first. It seems the Brooklyn weaving duo have been experimenting with dyed cotton — as well as the crepe paper and cotton combo pictured at the very top of this post — and have been taking inspiration lately from Navajo wedge weavings and the deconstruction of traditional Ikat techniques. In the new collection, "synthetic, saturated colors create familiar motifs and/or unruly, watery shapes," they explain. "The soft cotton is loosely woven into net-like and delicate forms, evoking the feeling of recently unearthed, ancient textiles."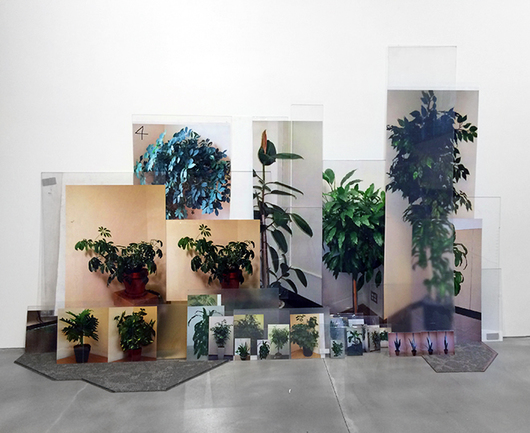 After the financial crisis of 2008 hit, artist Penelope Umbrico spent the next five years surfing Craigslist for the inevitable liquidations of office furniture that followed, collecting photos used to advertise this sudden wave of homeless desks, file cabinets, and potted plants. Now she's organized those gems into a book called Out Of Order for RVB, launching next week with an exhibition at the publisher's Paris gallery. Get the book here.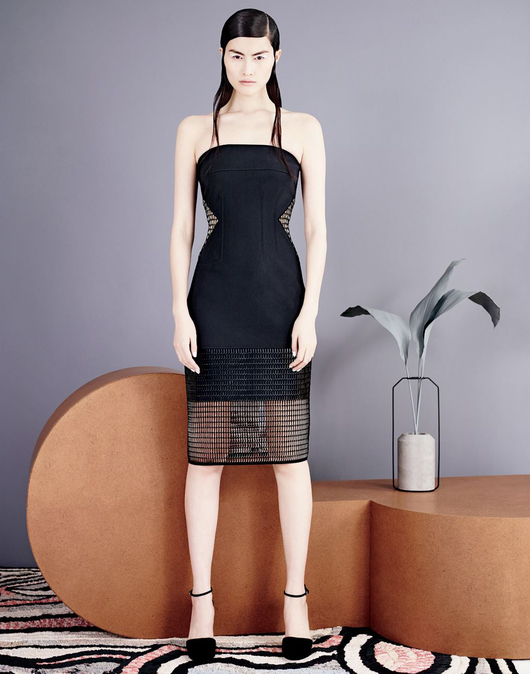 Whomever Bergdorf Goodman hired to style its latest campaign must have a serious eye for design — as spotted on the Facebook feed of RO/LU's Matt Olson, they used not only a RO/LU sculpture/table in the shoot, but a Kelly Behun rug and a concrete vase by Thai designer Decha Archjananun. Consider us impressed.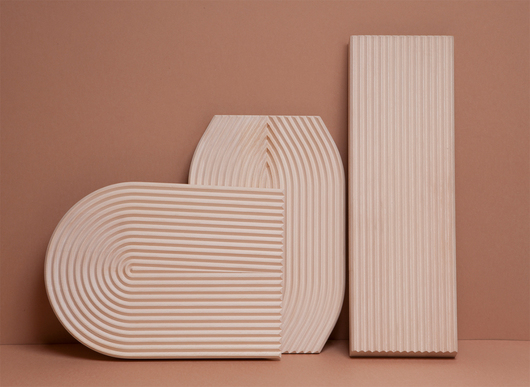 With his latest design for Hay, Stockholm-based Shane Schneck of Office for Design turned a practical detail — the grooves used on bread boards to collect crumbs — into a decorative one. Best of all, he's launching the project next week with a party helmed by the so-called "Butter Viking," a foodie savant who makes butter from a castle in Sweden.
Exhibitions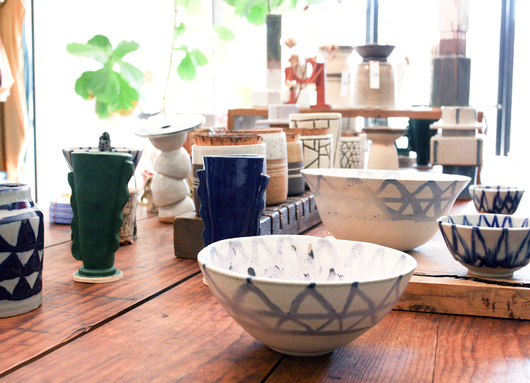 We're in LA for the next week or so and had the pleasure of visiting Clay Pool, a small show of seven LA ceramics artists at the shop Platform Experiment, where we of course couldn't help but add to our burgeoning collection of Morgan Peck pieces. The show was curated by Bari Ziperstein and also includes work by Heather Levine, Victoria Morris, Emilie Halpern, April Napier, and Julia Haft-Candell. It runs through December 8 at the Platform Experiment in Northeast LA, and pictures definitely do not do it justice — we highly suggest you stop by if you're in town.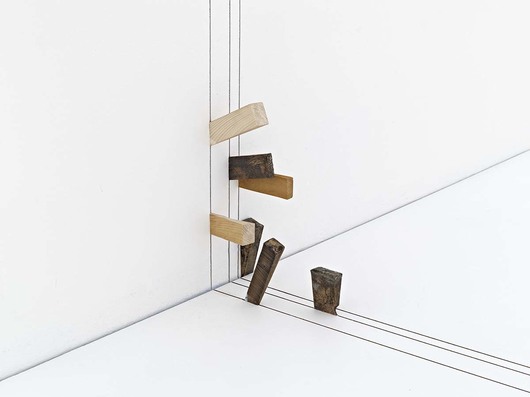 Tatiana Trouvé has long been one of our favorite artists. We noticed she had a solo show coming up at the Kunsthalle Nürnburg and loved this image we found in the press bank, of her 2014 piece Prepared Space, though we're not actually convinced it's in the Nürnburg show. Regardless, there's a great video documenting the exhibition and Trouvé's thoughts about it here.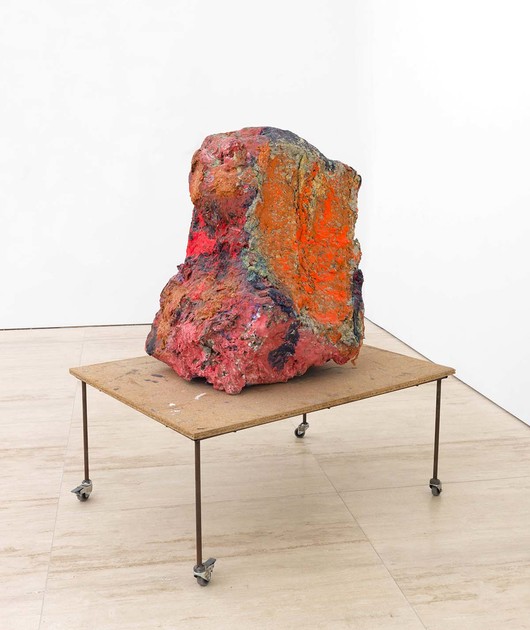 Ahh Franz West — too much is just never enough for us. On Thursday David Zwirner launched a show of the late artist's sculptures from 1989 to 2000, a period in his work that, according to the press release, saw "the addition of exuberant color to his papier-mâché forms, the incorporation of furniture both as art object and as social incubator, and the inclusion of work by other artists in his own installations." The fare includes everything from his cast-iron divans to colorful paper sculptures like this one, titled Element of the Environment – Alpenglühn.
Trends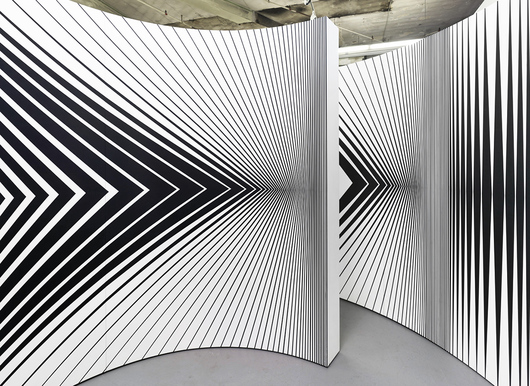 We aren't art experts by any means, but between Frieze and the last couple of Art Basels, we definitely thought we detected an uptick in the number of original op-art works on view (only to be told by a more knowledgeable friend that the op-art trend was, like, so already over). Anyway, this week we got a press release about a major Bridget Riley retrospective opening at the Art Institute of Chicago next week, and figured we'd call out this whole op-art resurgence, whether it's technically "over" or not.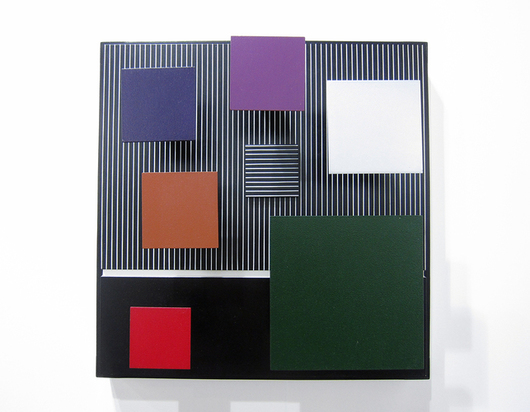 Emmanuel Perrotin, after all, is giving serious bandwidth to Jesus Rafael Soto this winter, with the show "Chronochrome" running concurrently in its Paris and New York galleries; the Art Institute of Chicago also has a Soto show up through next March. (We shot the above image at Perrotin's booth at Basel in June.)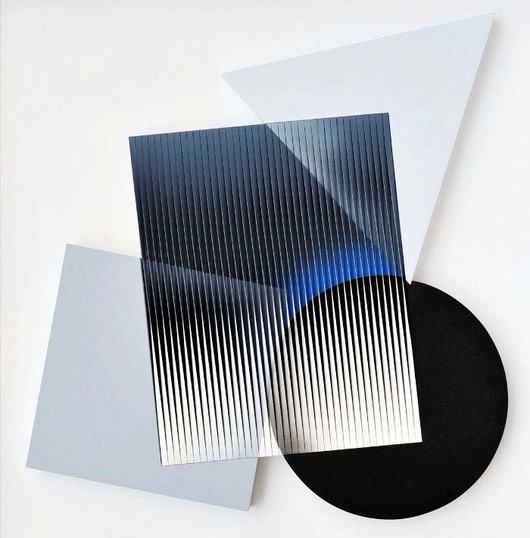 One of our personal favorite op-art-related realizations, made at Basel in June, was that we love the work of Alberto Biasi, whose work has a particularly appealing geometric intelligence that makes it slightly less kitschy than the average '60s fare. Google image search his work to see what we mean.