03.11.15
French Illustration Duo Atelier Bingo
Someday, when someone writes the definitive book looking back on how the internet changed life in the 21st century, they'll include stories like Atelier Bingo's: After living in Paris for two years post-graduation, Adéle Favreau and Maxime Prou decided on a whim one day to leave their burgeoning graphic design careers behind for a life in the countryside, and guess what? It didn't make a lick of difference. The pair now run a bustling illustration studio from a converted factory in Saint-Laurent-sur-Sèvre owned by Favreau's uncle, and thanks to the magic of email, it hasn't stopped them from selling prints online and working with clients like Vogue, The Plant, and Wrap Magazine, plus companies they did graphic design for back in Paris, now three hours away.
Of course, it wasn't just their idyllic workshop slash home — pictured in this post — that convinced us to feature Atelier Bingo on Sight Unseen. We were also intrigued by their Matisse-influenced aesthetic and their hands-on process of brainstorming ideas using colorful paper cutouts, which are then either digitized or used as sketches for screenprints they build up spontaneously, layer by layer and color by color. We asked Favreau and Prou to tell us more about their studio life and their creative inspirations, which include talking long walks outside with their dog Donut, in the interview below.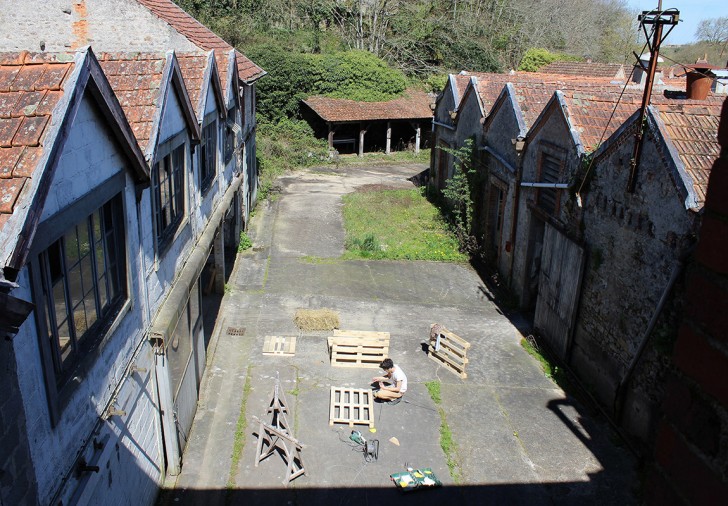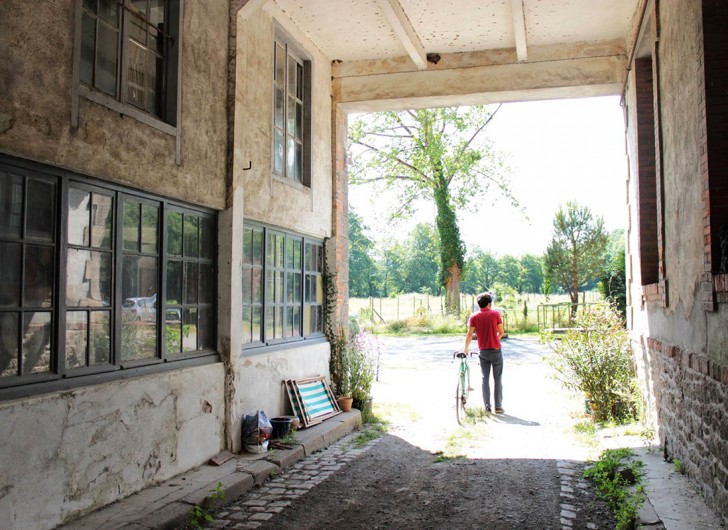 What led you to your uncle's factory and what made you fall in love with it? What was on your mind when you decided to leave Paris behind and move to the countryside?
Adèle: It was during Christmas holiday 2012, when my uncle had just started the project of rehabilitating his factory. I was with Maxime visiting the place and it was full of light and so much space, and it was so peaceful — like a dream. I was looking at Maxime and I said to him, "Please, I want to leave Paris, my job, your job, and live here." Maxime said that was okay. After that we waited a year and half to have a place in this incredible factory.
The factory compound has other creatives working in it — do they all have a market for their work in Nantes or do they commute back to Paris to do business? Do you?
Maxime: We have very great neighbors: a sculptor, a leather worker, a shoe designer, a painter… That creates a special atmosphere in the factory, because we always talk to each other, find solutions for one another, and tell our ideas to one another. It's very nice! Some of the others have a very local market and others do design for China. So it depends. But all of them have family near the village. Paris is three hours by train, so we don't go very often, but the internet is magic for this! You can really be wherever you want.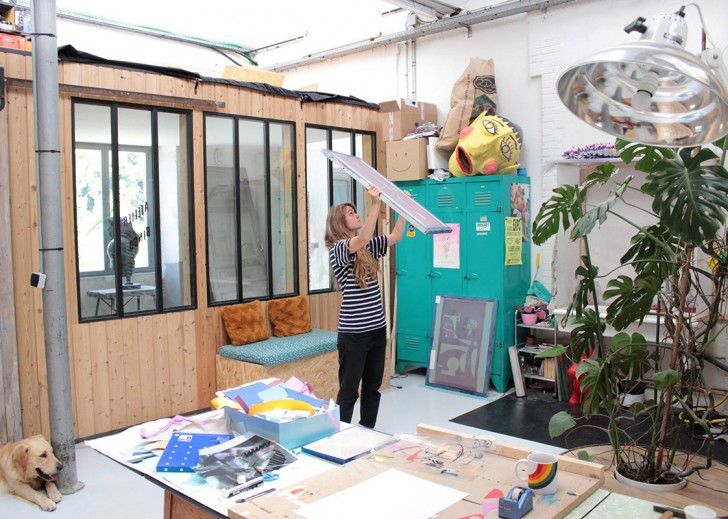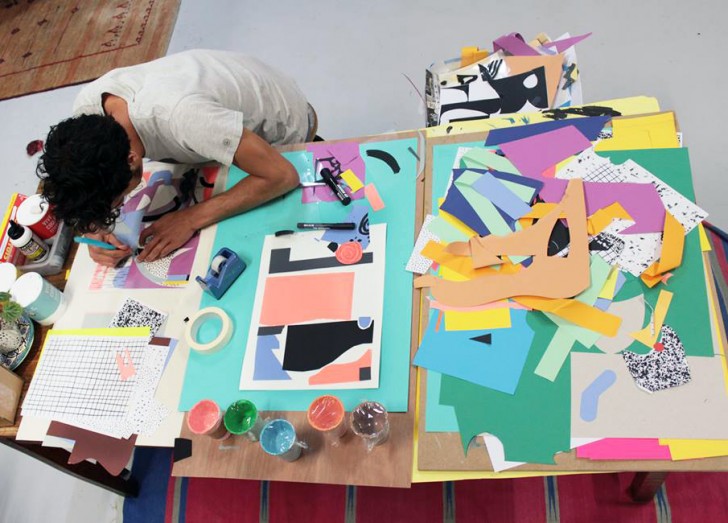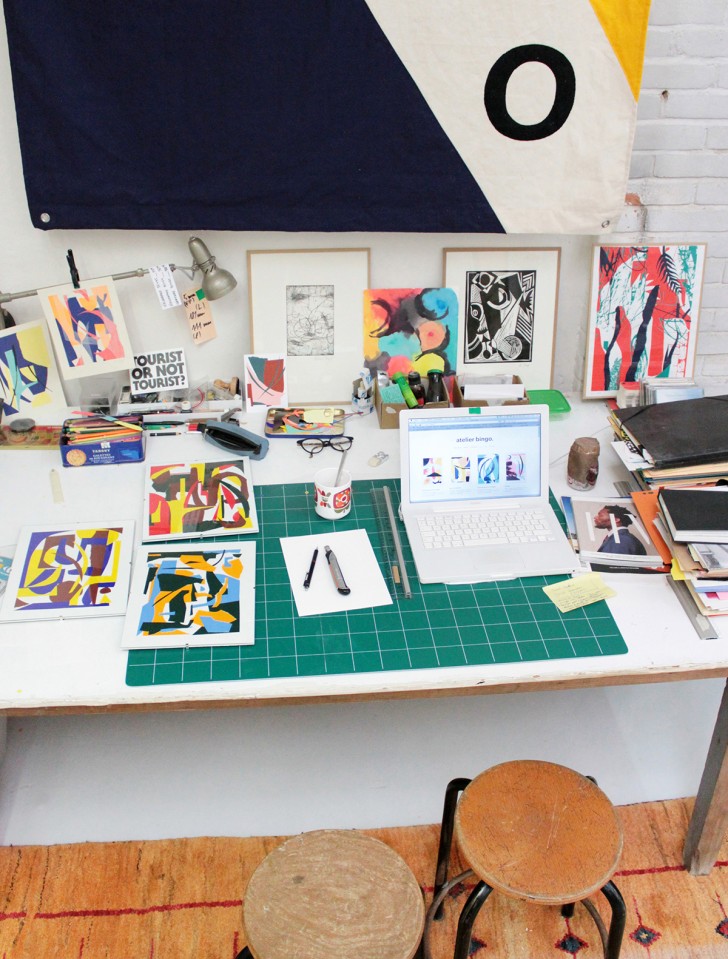 Walk us through a typical day in your studio.
Adèle: We start the morning drinking a big coffee and looking at our emails. One of us goes walking with the dog for an hour, and the other prepares the day. The afternoon is always different; we'll do screen-printing projects or go to the post office, call our clients or cut paper and find new shapes. Our most-used tools are scissors and paper — we use them to make our screen prints or do digital illustrations, because those always start with us cutting paper. If we need creative ideas, we try to be bored or we experiment, go to the library, or take a trip to Paris.
What are some of the influences behind your work as Atelier Bingo?
Maxime: Matisse is a big inspiration for us — his colors, compositions, and shapes are incredible and so poetic. We also love Poliakoff, Picasso, and Robert Motherwell, and we just saw an inspiring exhibition of Sonia Delaunay's work. Her patterns are very splendid. We have a big admiration for the Memphis movement, and particularly for the career of Nathalie du Pasquier, who's not only an artist but a furniture, textile, and installation designer.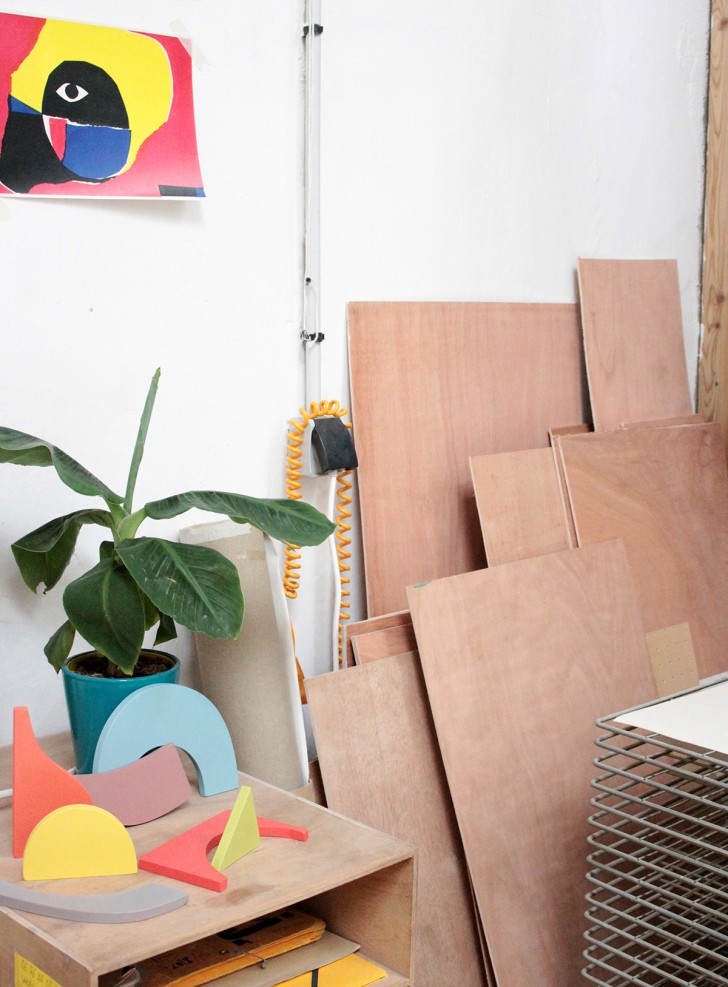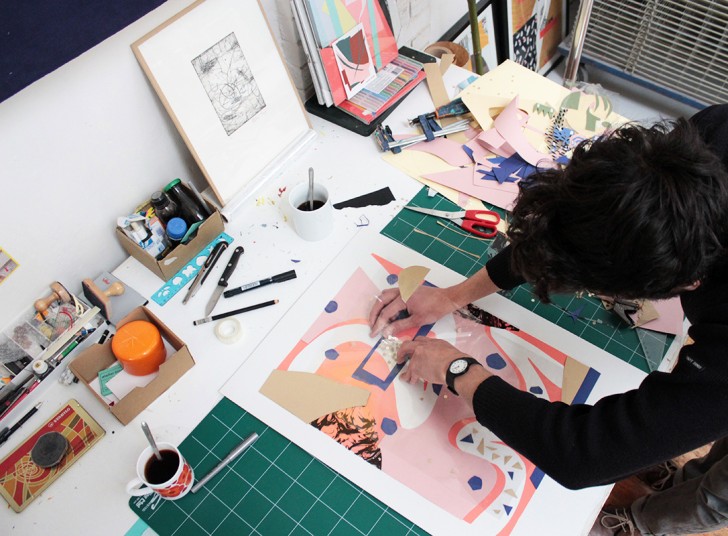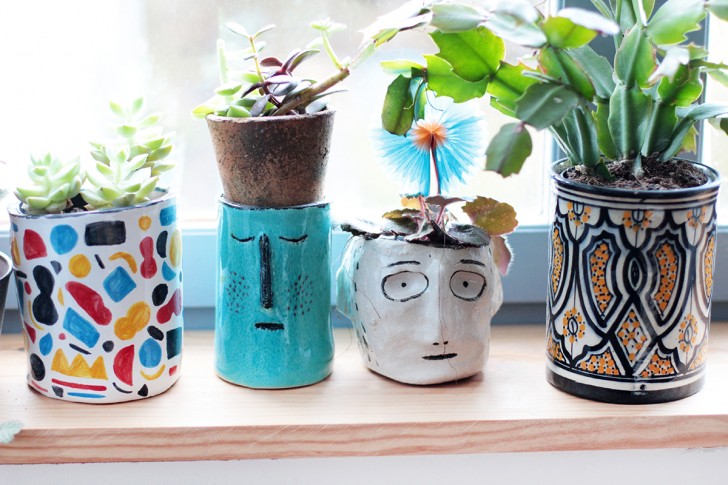 What are you currently interested in? Are there new techniques or materials you're planning to explore?
Adèle: I would love to work for fashion brand like Gorman, Marimekko, or Obus. We do lots of patterns and have so many ideas for this.
Maxime: I want to start painting on canvas and exploring new sizes for our images.
Please name three things that are currently inspiring your work.
Adèle: India, the Danish artist Tal R, and children's drawings.
Maxime: Xeroxes, record covers, and walking with the dog.
What are some of the projects you're working on now?
Adèle: We've been working on a wallpaper for Feather.com, an illustration for thebookerycook.com, lots of new art prints for our online shop, and preparing to take part in a French market in Paris called Les Puces Chromatic.