03.23.15
Julia Leonard of Either Way LA
"I sometimes think I wear too many hats," says Julia Leonard, the Los Angeles–based artist, interior designer, curator, gallery owner, and shopkeeper, whose backyard retail venture Either Way LA — an every Sunday sale of thrifted or commissioned pieces — has recently become a hit via Instagram and word of mouth. Since moving from San Francisco a little more than four years ago, LA has offered her the chance, as it does to so many, to start over. In San Francisco, where she had studied, worked, and lived for over a decade, she had been teaching alongside her art practice. However Los Angles marked the opportunity to focus on her art, giving her a fresh perspective: "I even dress differently," she admits wryly.
By nature Leonard is very personable, and has extended this approach to her artistic endeavors: "I have been doing my shop and gallery for about a year now, and have managed to keep it close," she says. By "close" she means that the artists she works with are, on the whole, people she knows, or friends of friends, and that they are making pieces by hand exclusively for her. But close could also refer to her shop's backyard locale, as each Sunday from 9:30-3 Leonard welcomes scores of in-the-know shoppers into her home. When she began a year ago, she was in her front yard and a handful of people came. But word spread, numbers grew, and she relocated to her backyard to give her neighbors peace. Not that they mind, as most are customers anyway and bring friends along to shop the amazingly edited collection. "I feel lucky that I meet so many interesting people, who bring a lot to me in friendship and art," she says. "You learn so much when you sit still."
Weekdays are less stationery. When she is not working on small-scale interior design jobs, she is often scouring the city for secondhand gems. She thrifts, and visits fleas and estate sales, but often receives tip-offs from friends and clients: "When someone finds themselves in front of a whole bunch of stuff, they usually call me." Her passion for thrift, she explains, is about the stories you can project onto the things you find; she likens it to meeting a new friend. "When you find something loved and worn that has been in someone else's life, you can question how it will fit into your life, and I see that as being an artistic endeavor."
We recently caught up with Leonard in her home in Echo Park, where she selected her favorite artworks and latest vintage finds — and gave us the skinny on how they found their way into her hands. (Follow @eitherwayla for sale updates!)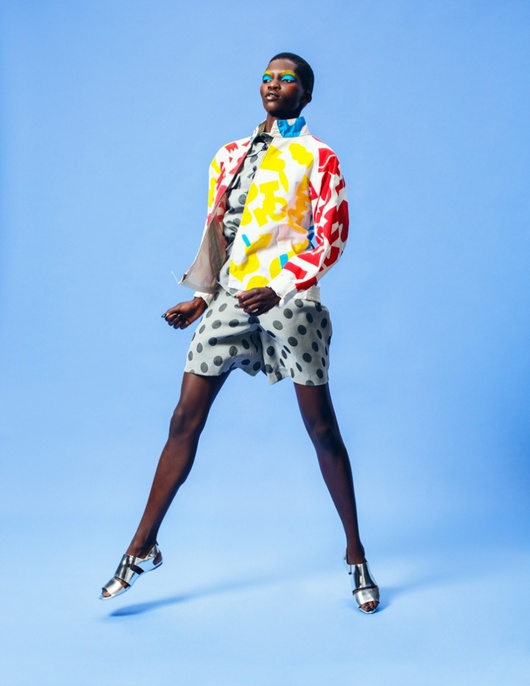 Hand Painted Jacket by Dane Johnson
Leonard has been working with LA artist Dane Johnson for the past year, having initially met during their undergrad years in San Francisco. "Dane han- painted these clothes for a show we did together earlier this year, and I just love the way he fills space." She says the artist has been very supportive, and even made the leggy sign that Leonard places outside every Sunday morning, flagging the sale's whereabouts in the leafy winding road where she lives.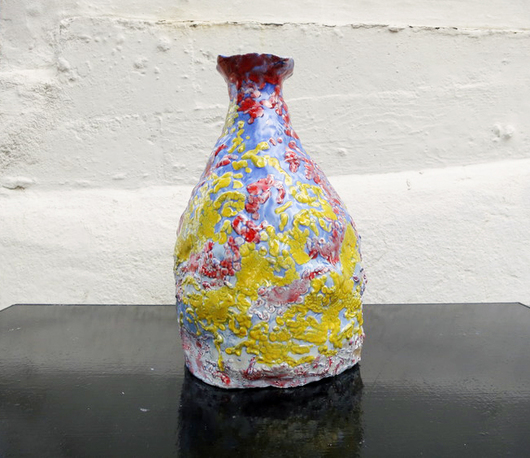 Vase by Jessica Hans
This vessel was hand-built by Philadelphia-based ceramicist Jessica Hans. Although many of the artists Leonard works with are people she has met organically through school, shows, and friends of friends, she connected with Hans via the Internet. The pair then met up and worked on pieces together. "What I love about her work is she is always trying new things," explains Leonard. "For a lot of the pieces she created for the Either Way show, she took stones, rocks and sand that she'd collected when on hikes, and then ground them down and added them to clay or glaze. It created this new look."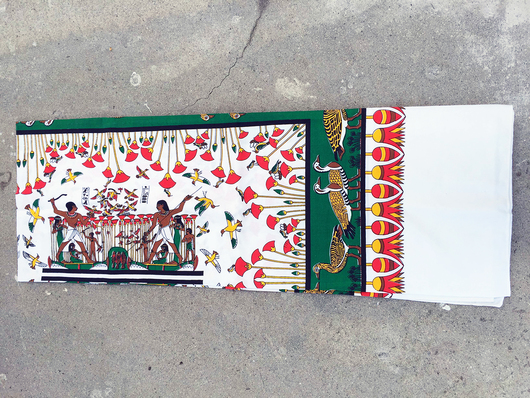 Egyptian cotton tablecloth
Leonard finds this "tourist stuff" here and there, but it's still one of her favorite things to pick up. "It is almost dumbed down, but by today's standards this tablecloth is pretty well made. They were trying to spend the least amount of money but trying to make it look fancy, emulating something special."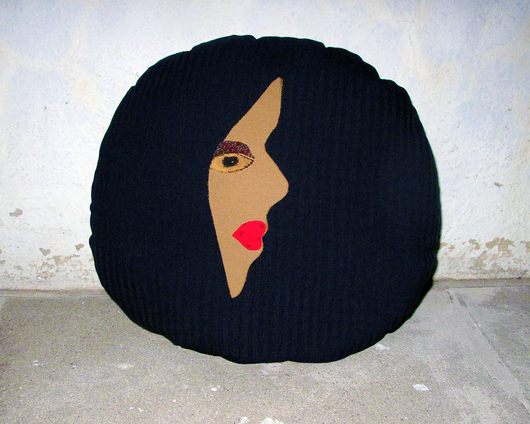 Collage cushion
She met artist Paul Gellman through her sister, a sculptor also based in LA. "He does a lot of printmaking and paper collage, he is very talented. He and his mom made a load of pillows together for me: I love that the family worked together on them. This one is I believe is kind of supposed to be me."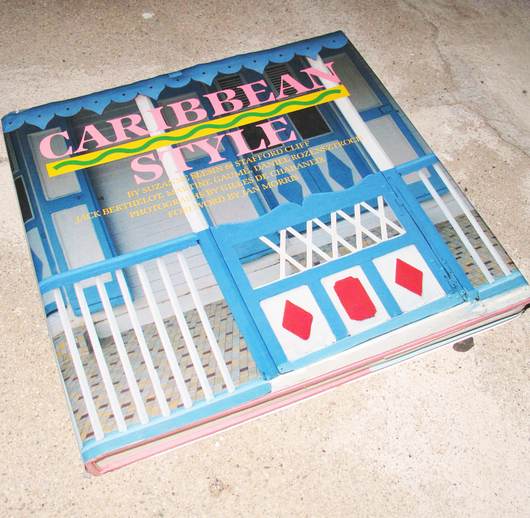 Caribbean Style
"This is one of the best source books ever, it is a palette cleanser," says Leonard of the interior classic Caribbean Style. "Why I love this book is that those structures are so well suited to the area and who fills them. That is what we are all looking for, right?" Leonard often finds multiples of items when she is thrifting. "The first I bought I kept for myself. I then found two more in two totally different places within a week, and sold those, and I just found this copy. I was like… Yep old friend!"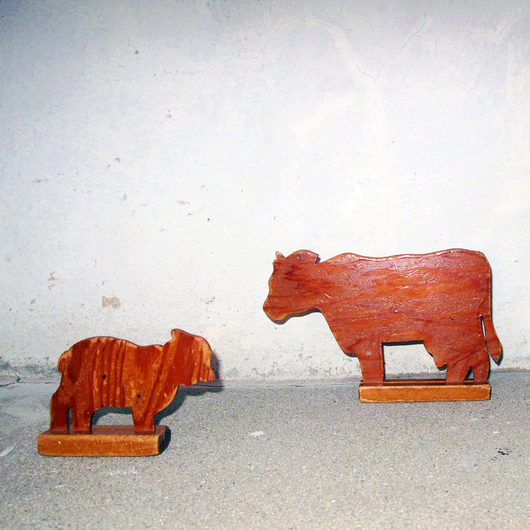 Wooden Animal Toys
"These guys came from a thrift store. They are so worn and have been loved by someone else. If you ask me, they were probably made from one of those science magazines from the '50s that would have build-it-yourself projects in it."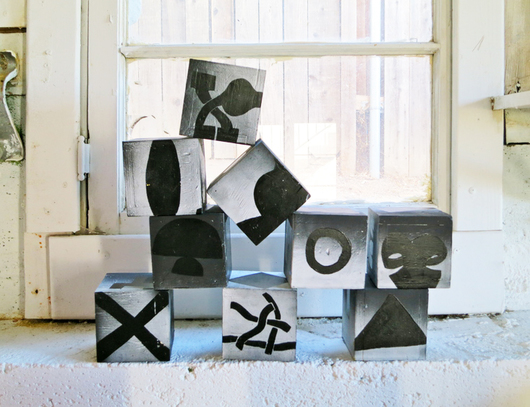 Toy Block Sets by Dane Johnson and Chris Lux
These blocks were inspired by child toy sets. Each block is illustrated and when you place them together a larger picture forms. People, Leonard says buy a handful of each size, leaving mixed sets. Rattling one: "This one has a penny in it."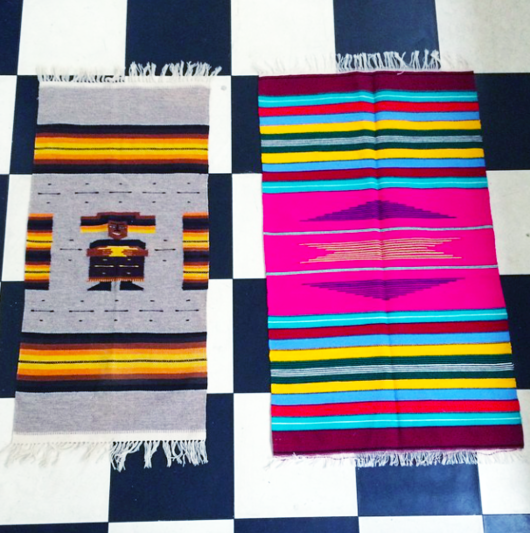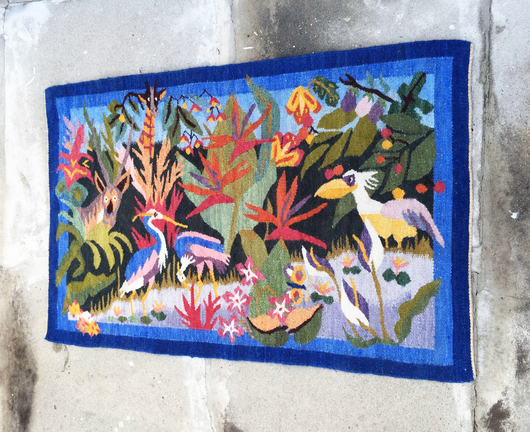 Rugs
Leonard sometimes travels south of the boarder to source pieces but these are a thrift find. "I think what is magic about thrift finds is you don't really know. Here there is no label, you don't know the year: It's left to the next owner's imagination."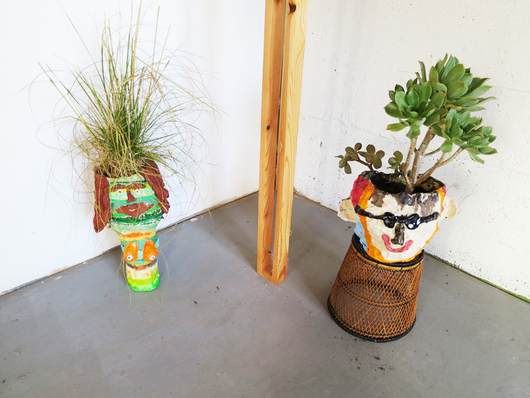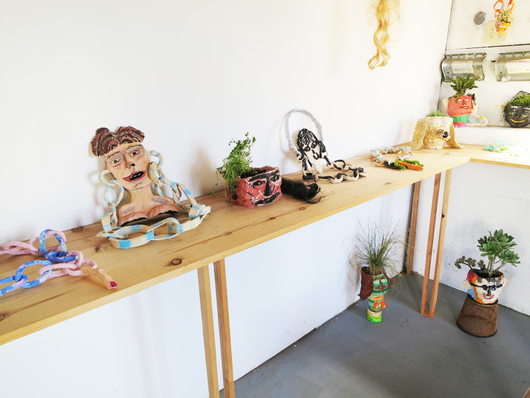 Head Pots by Willy Reed
A younger painter from San Francisco, Leonard enthuses about Reed's work. "He is really out there. For the show I told him I needed useful objects and not paintings. It was the first time he had worked in clay and he showed up with 75 or 80 pieces. We sold so much, it was one of my most successful shows."