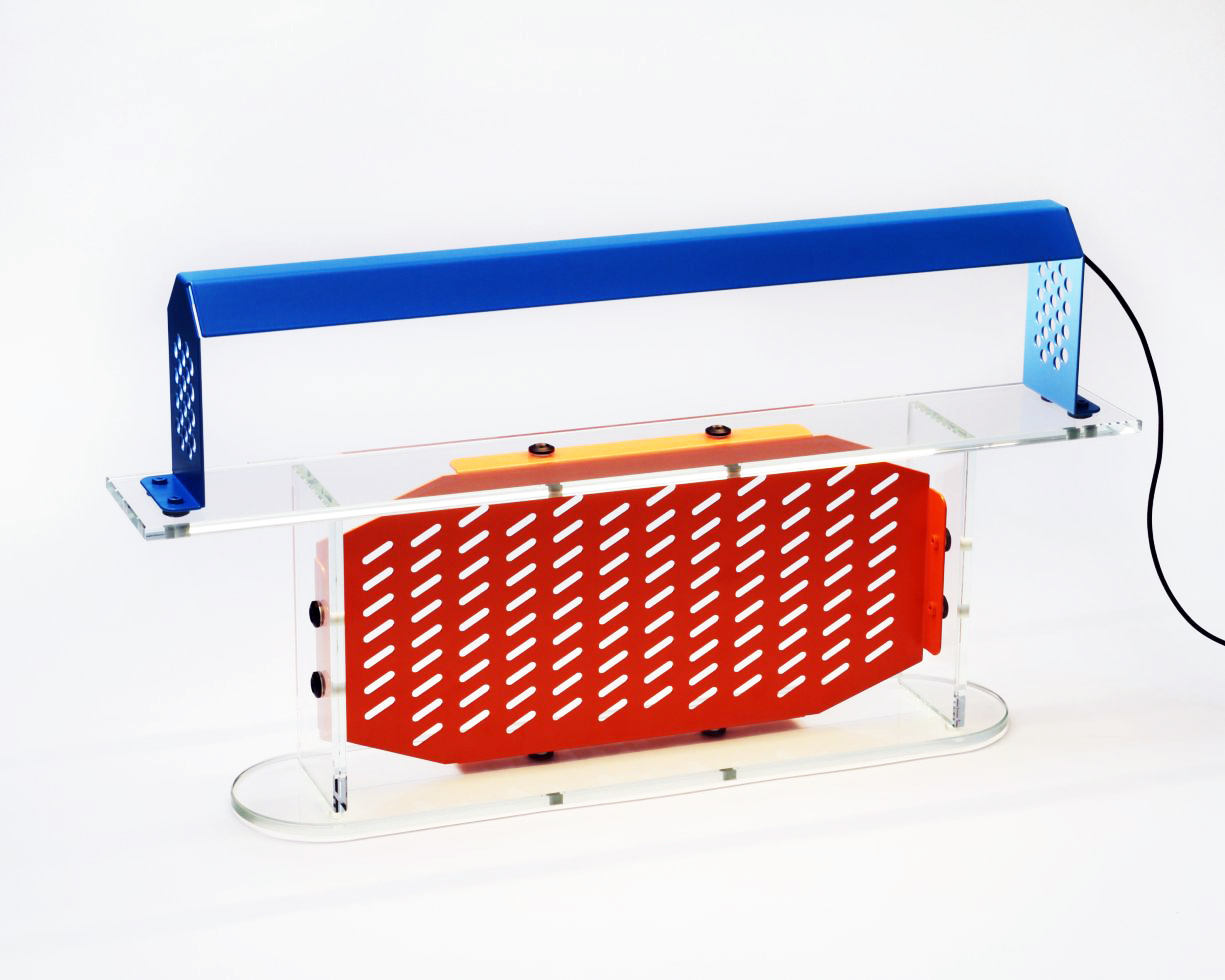 A weekly Saturday recap to share with you our favorite links, discoveries, exhibitions, and more from the past seven days. This week brought a bounty of our favorite things: oxidized metal, iridescent leather, lenticulars, miniature fruit and furniture, and a special appearance by a Bucky Fuller–inspired Jell-O mold.
Discoveries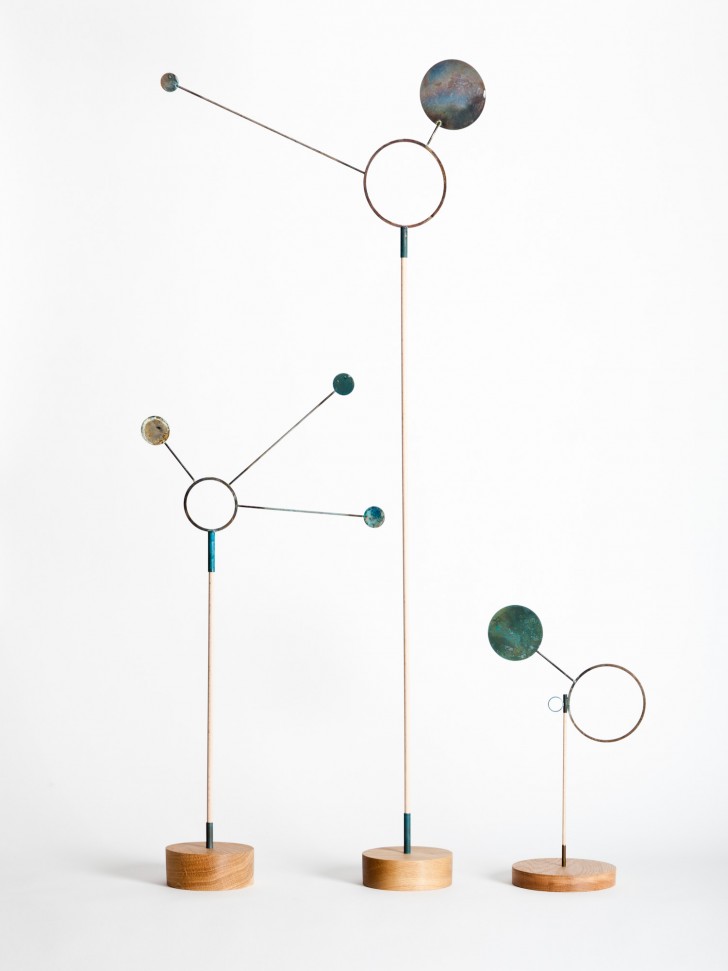 Norwegian up-and-comers Kneip are one of our favorite new studios to watch. We recently featured their oxidized copper candlesticks, and next week they'll introduce Weathered, a new experiment in patination, in Milan: "We began the process by exploring the theme of weather and natural phenomena," the designers explain. "With this in mind we created a series of sculptures that explore and illustrate the forces of nature. The series consists of five objects that contain traces of elements like degradation, humidity, wind, and movement." Their Breeze sculptures, shown above, are kinetic sculptures that illustrate wind; view the whole collection here.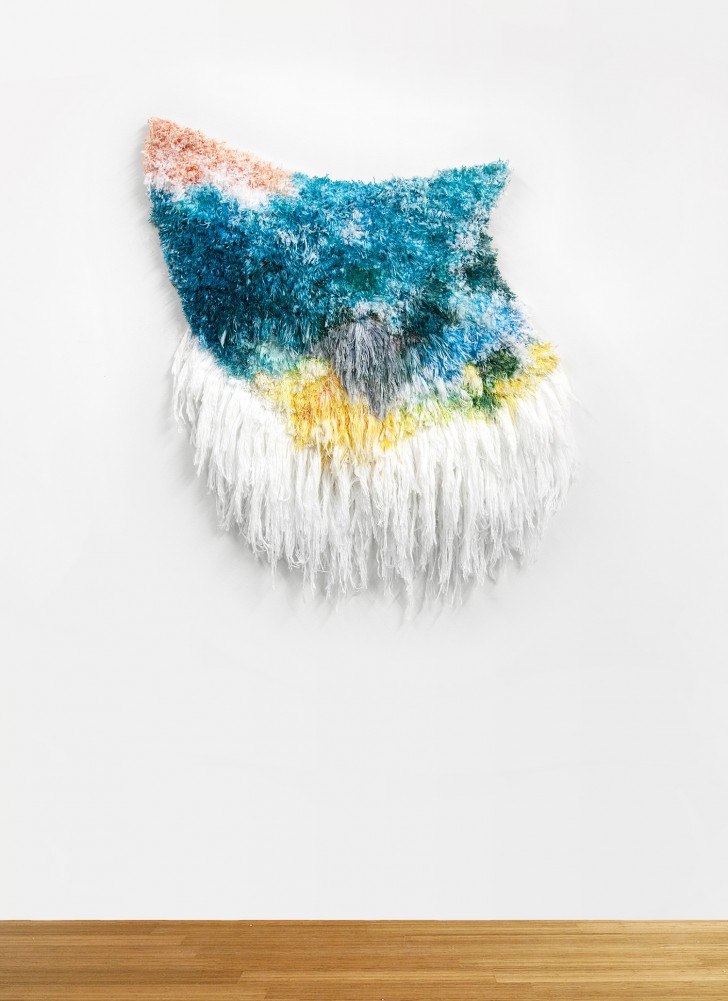 A pretty submission in our inboxes this week from Brooklyn-based artist and graphic designer Junpei Inoue, who introduced us to her experiments using yarn as a canvas for acrylic paint.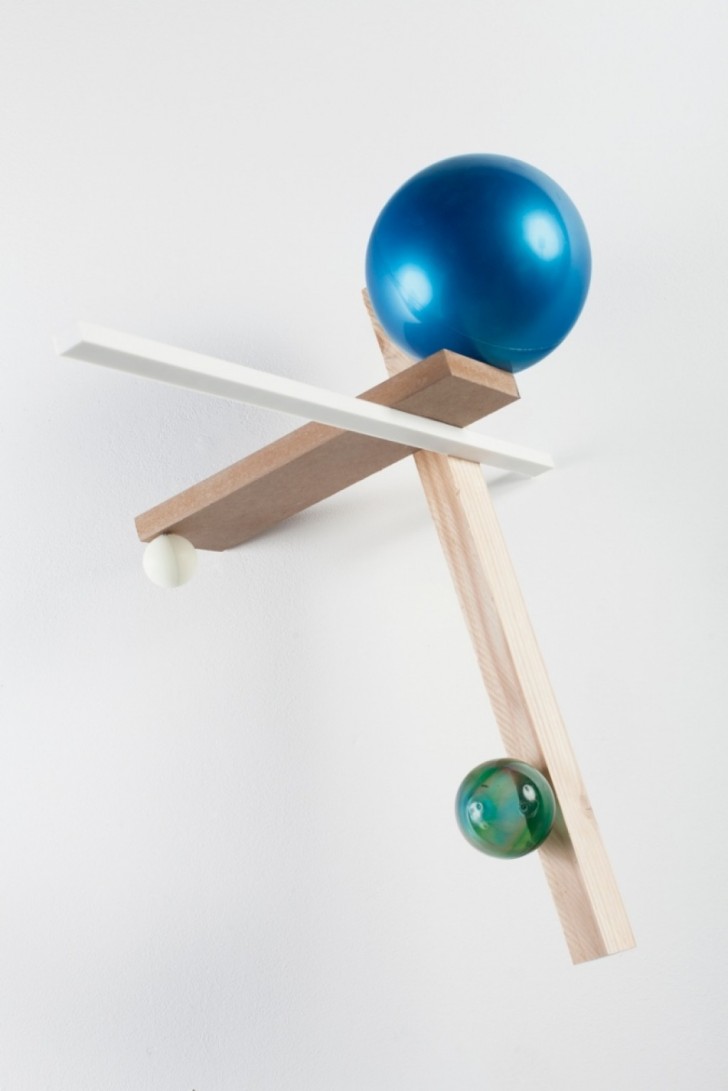 Monica couldn't stop raving about the curation of Miami's Untitled fair last December, but I didn't attend, which may be why I'd never been introduced to the work of French artist Mathieu Mercier, who had a solo showing there with Denis Gardarin. Another iteration of his 3 Axes, 3 Spheres sculpture popped up on the Instagram of Galerie Torri this week, and we're officially obsessed.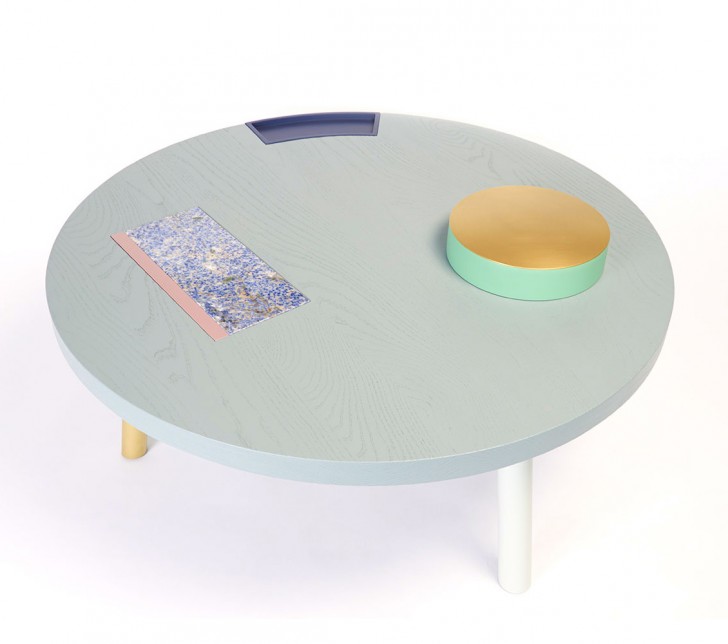 Montreal designer Zoe Mowat showed the original, squared-off version of her Tablescapes series with us at Sight Unseen OFFSITE last year, but when a client approached her to make a softer, more kid-friendly iteration, this was the (adorable) result. We especially love the purple marbled slab in the middle, a perfect perch for hot drinks.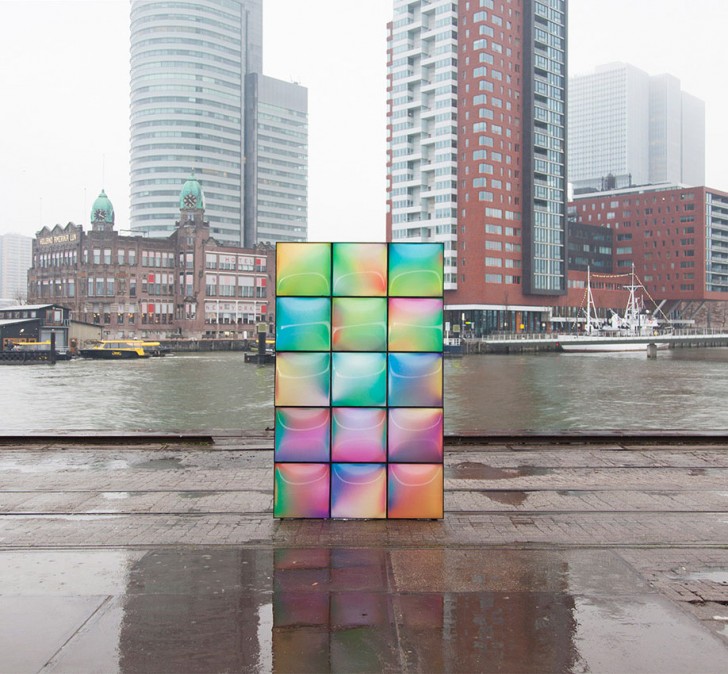 In Milan last year, the Dutch studio Nightshop launched a ceramic cookie jar with a rainbow-lenticular surface that changed colors as you moved around it — hence its name, P.O.V. For those who are obsessed with pretty colors but have little use for a cookie jar, they've now expanded the concept into a trippy series of wall tiles for DHPH. See a video of the tiles in action here.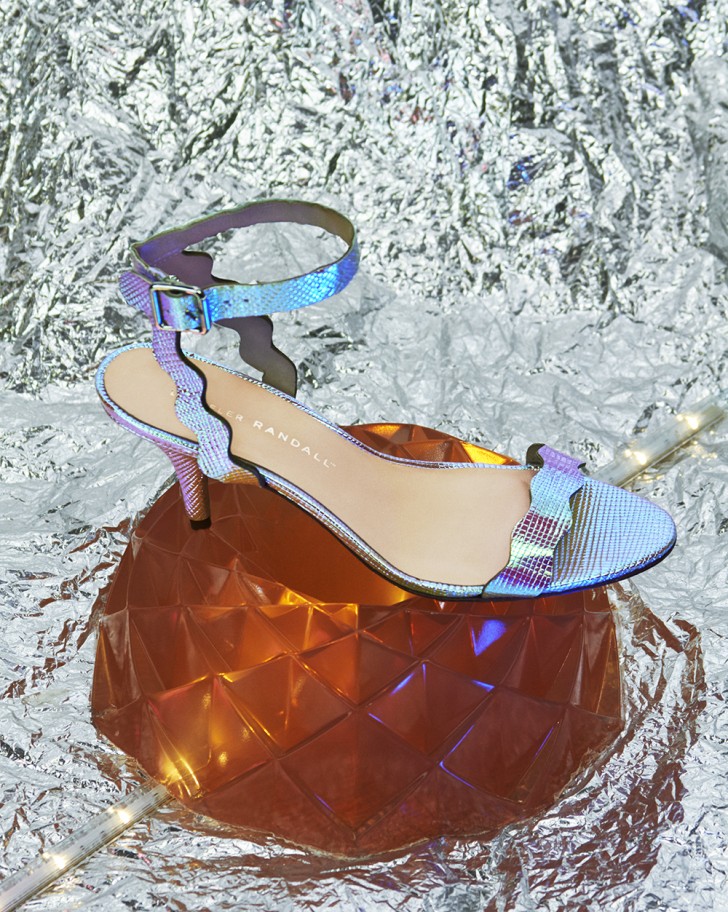 This week, two of our favorite entities joined forces: Loeffler Randall's Jessie Randall tapped Eric Trine to compose a series of what he's calling "visual situations" to highlight the brand's spring shoe line. Trine was kind enough to forward us this incredible outtake, which employs three of our favorite things: foil, Jell-O molds, and iridescence.
Links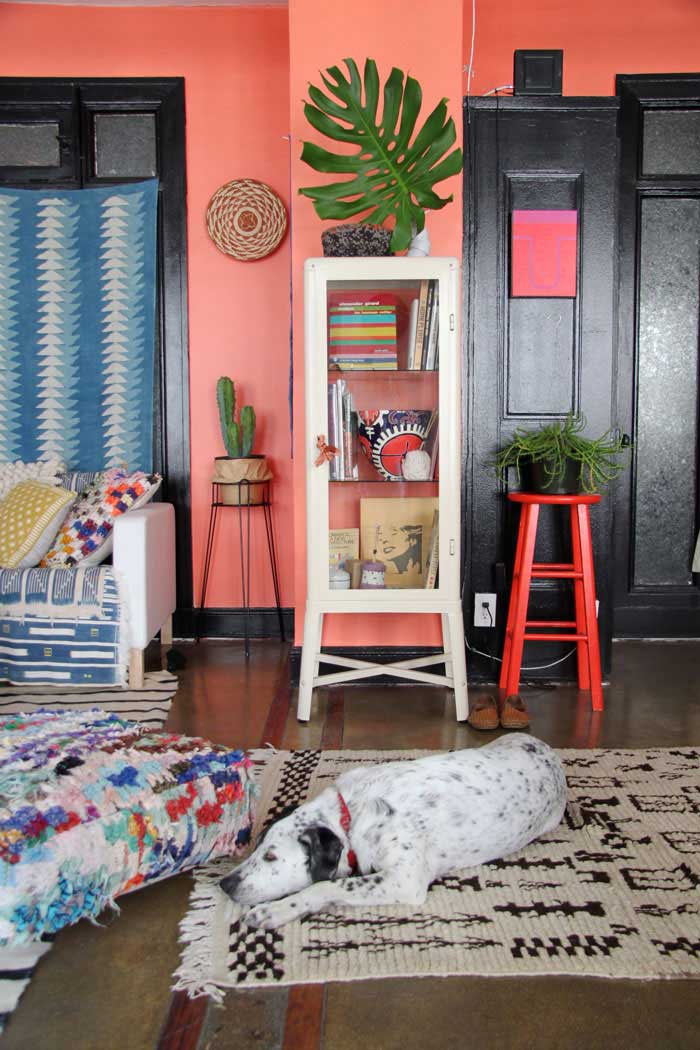 In Los Angeles last month, we met Lily and Hopie Stockman, the sisters behind scarf line Block Shop Textiles, so we were happy to see on Design Sponge this week that their studio is as happy and lovely as they are. We need that salmon color in our lives.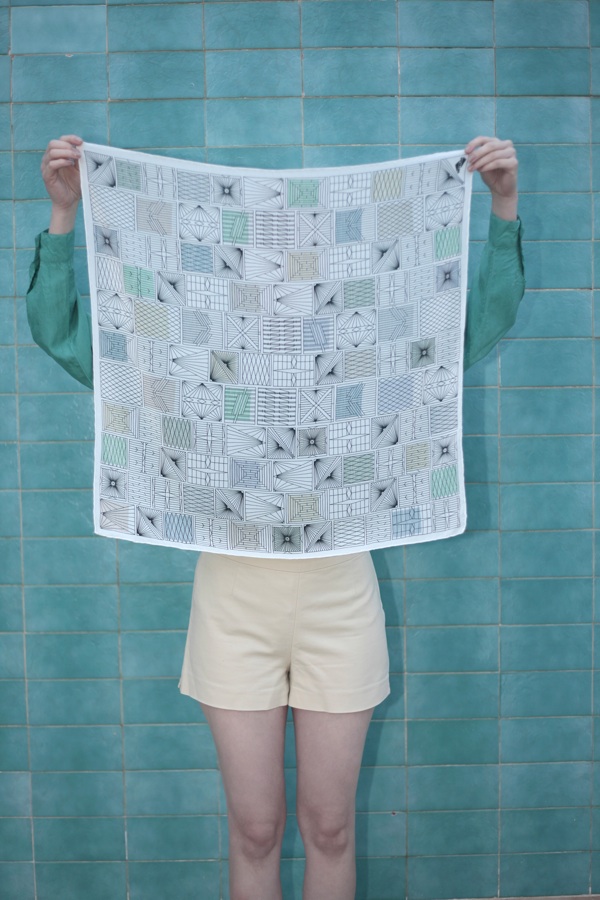 Speaking of scarves, it's been a while since we checked in with the Spanish brand SuTurno, but we're loving their new Blacksmith print, inspired by window grates around Europe.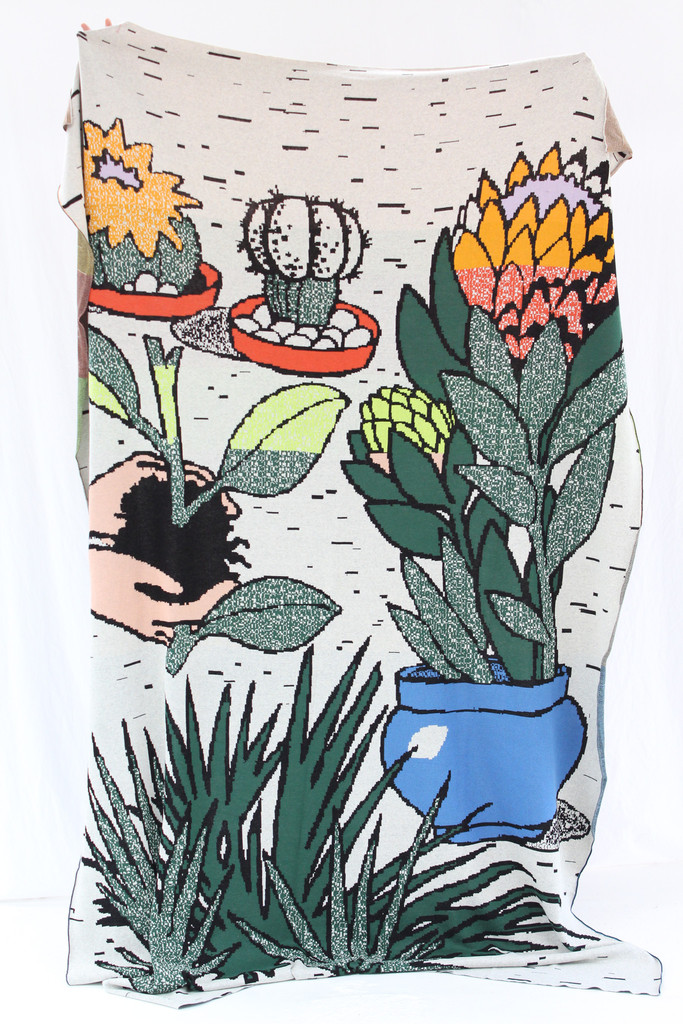 Yesterday we talked about having a black thumb; perhaps this awesome blanket by Berlin fashion brand Anntian is the solution?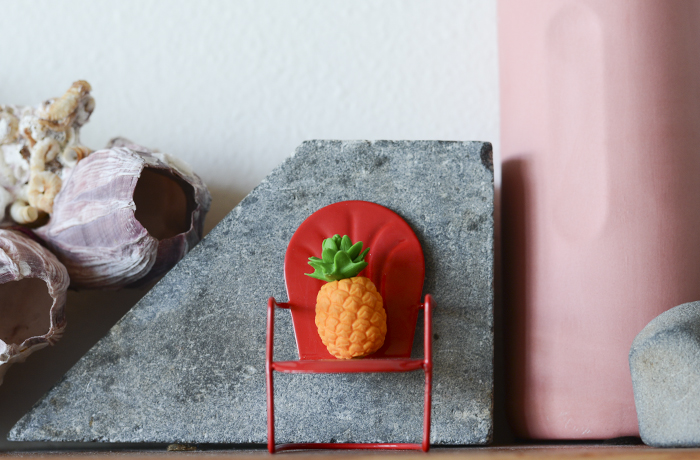 Seattle's Blk Pine Workshop will be launching their new collection of small furnishings at Sight Unseen OFFSITE next month, but they're best known for their simple canvas bags, which they recently invited another friend of Sight Unseen, photographer Amanda Ringstad, to style and shoot. Highlighting the collaboration is an interview with Ringstad on the Blk Pine blog that features photos of her live/work space, including this shot of a teeny tiny pineapple that lives on her mantel — it's one of dozens of curios she keeps around her studio for inspiration.
Exhibitions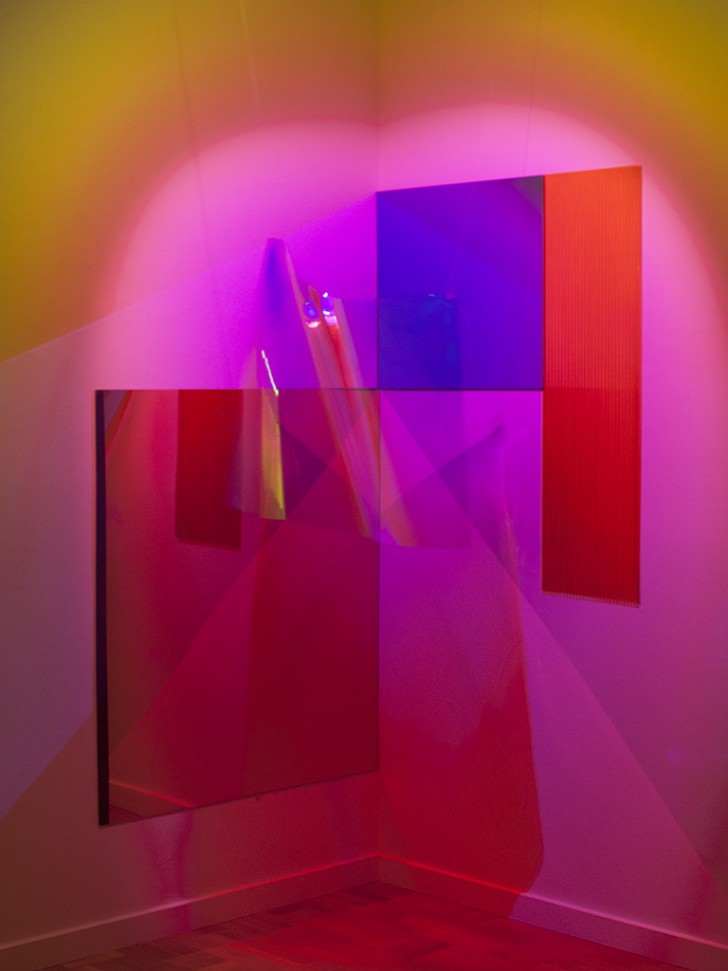 A few weeks ago, we wrote about the outsized, undervalued influence of the Chicago artist and set-designer Barbara Kasten. This week, we're introducing you to a prime example of that influence: the work of Portland-based artist Laura Hughes, who counts Kasten, as well as James Turrell and Robert Irwin, among her biggest inspirations. Hughes manipulates light using materials like plastic, dichroic film, and reflective vinyl to create architecural interventions like the one above, a piece from 2014; earlier this week she created a new site-specific installation around 9 skylights at the Groton School's de Menil Gallery, in Massachusetts. No photos yet of that piece, but check the school's website for updates.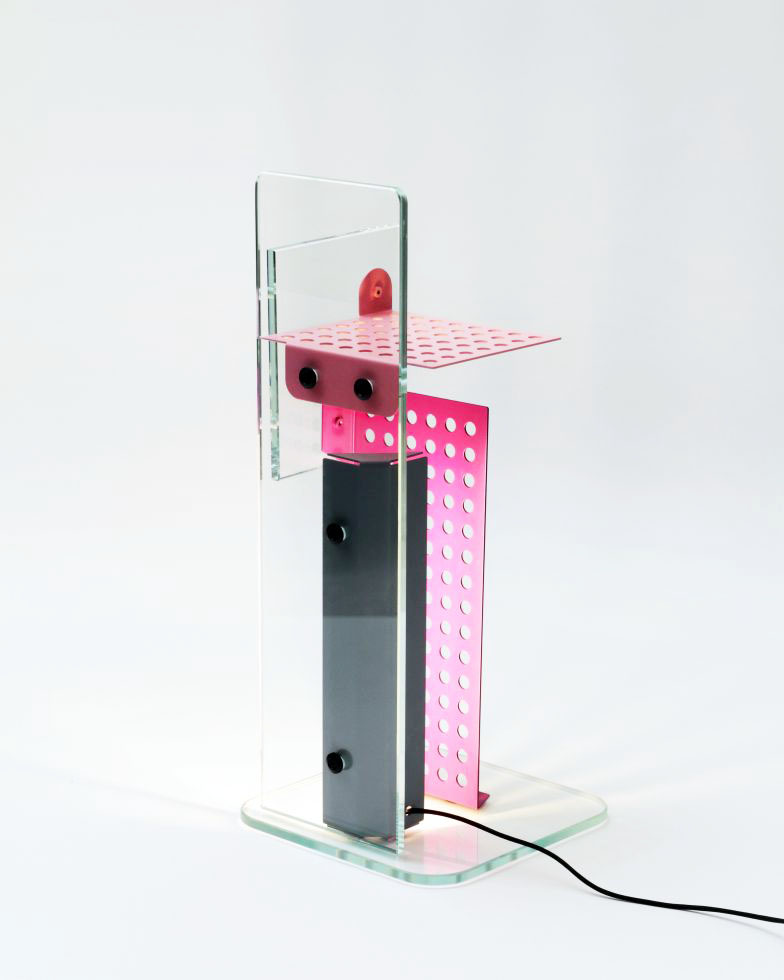 One of our favorite discoveries this week was the Parisian Galerie Torri, who is currently showing the work of our friend Fredrik Paulsen at Milan's MIART fair. Some Instagram sleuthing, however, led us to this incredible series of perforated metal and glass lamps by London-based designer Fabien Cappello, which debuted at last month's PAD fair in Paris. We especially love the toolkit-looking one at the top of this post.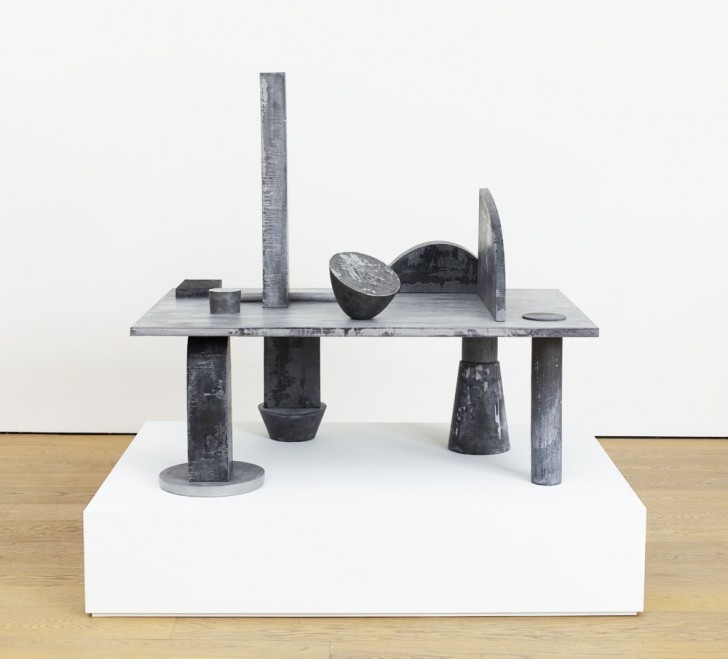 The Canadian-born, New York–based sculptor and photographer Erin Shirreff will get a big survey show at the ICA in Boston later this year, but as of this coming Friday, you can get to know her oeuvre more intimately at New York's Sikkema Jenkins & Co gallery. The gallery is hosting "Arm's Length," in which Shirreff has used geometric shapes and surfaces to play with scale and spatial perspective. The piece above is made of graphite-pigmented plaster and is part of her "TitledCatalogue (Value Lesson)" series: "The objects comprising each work are geometric blanks – curves, cylinders, ovoid spheres, irregular rectangles, each formed from unique molds – that come together in open-ended arrangements of uncertain scale that could suggest art school drawing models, landscapes, architectural plans, or an ordinary desktop."