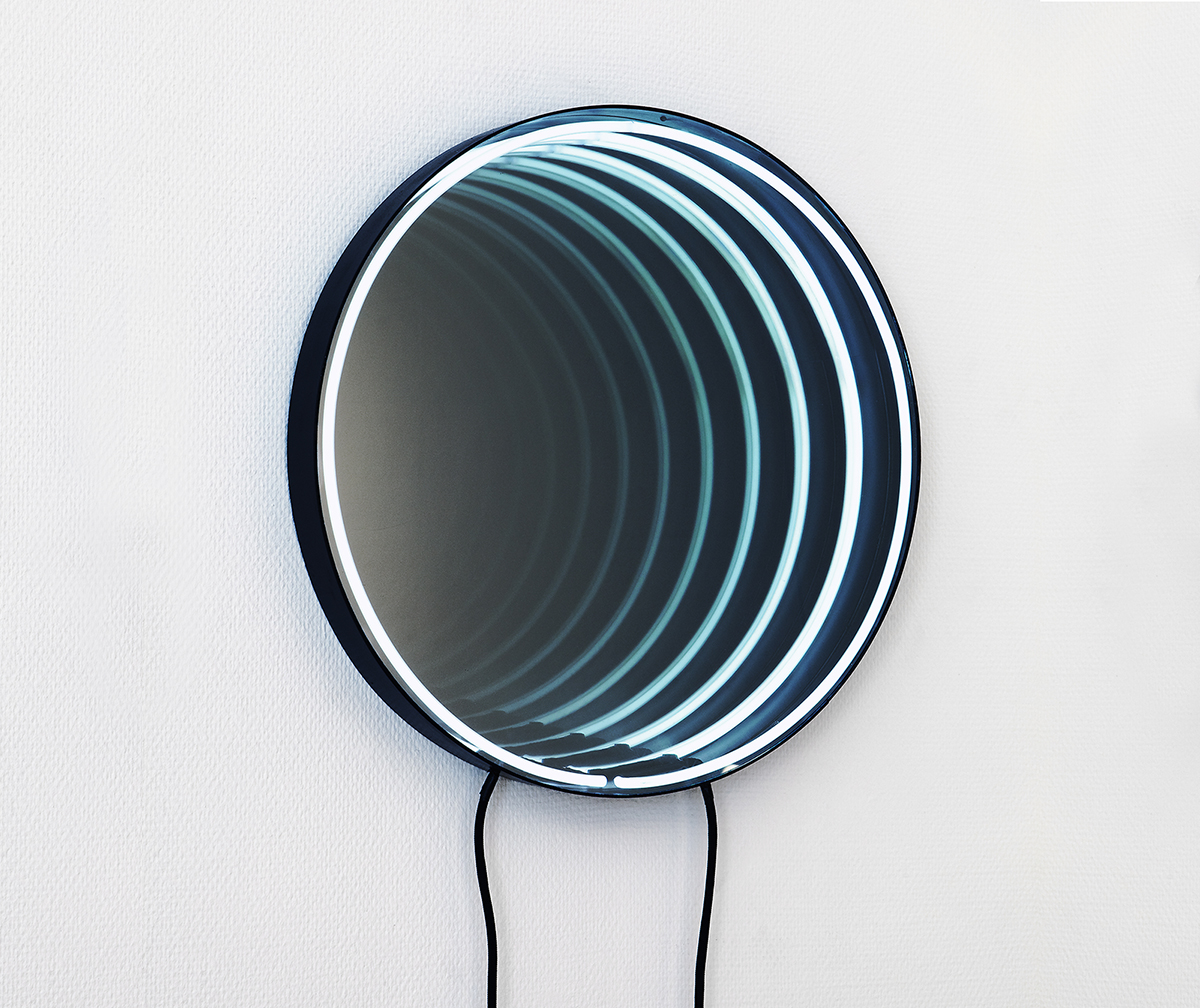 A weekly Saturday recap to share with you our favorite links, discoveries, exhibitions, and more from the past seven days. This week: two groundbreakingly gorgeous ways to hang your clothes, two making of videos featuring Misha Kahn and Rafael de Cardenas, and two of the hottest Mexican talents to come out of the Zona Maco art show.
Exhibitions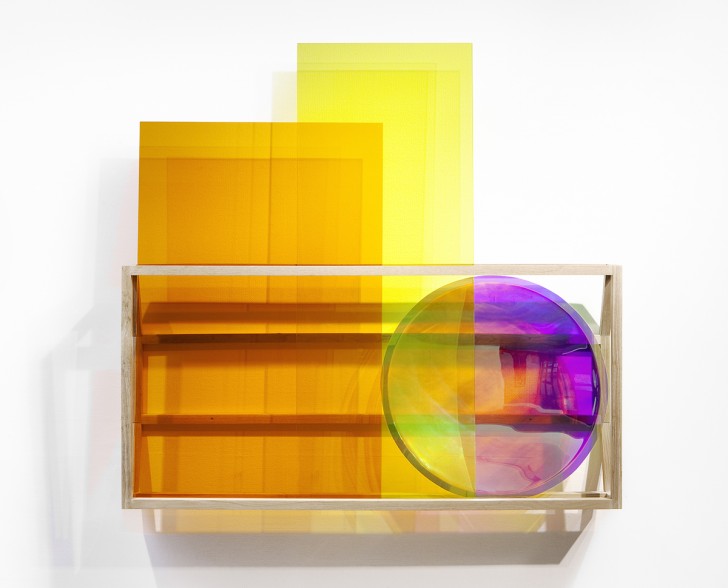 The new Helsinki design-art gallery Saariaho Järvenpää opened last week with a show inspired by the '70s California light and space movement. Called simply "California," it features light-inspired work by Finnish designers Mari Isopahkala, Sebastian Jansson, Jari Saariaho, Kalle Järvenpää, Mikko Paakkanen and Iina Vuorivirta — everything in the show is pretty gorge but we particularly love Vuorivirta's infinity mirror (top) and the piece above, by Jansson, which evokes the "light of the sun in the desert."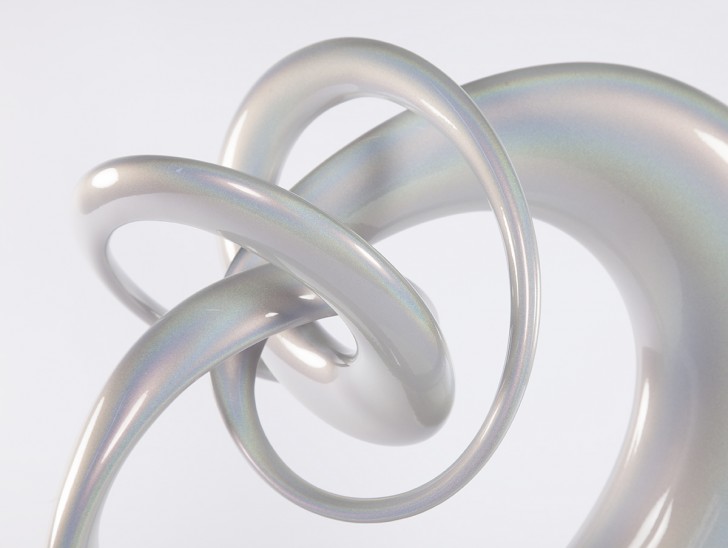 Mariko Mori's show Cyclicscape at Sean Kelly gallery in New York doesn't open until March 21, but we were kind of into this crazy preview rendering depicting one of ten new sculptures she'll be presenting that are inspired by Möbius strips and, from what it looks like in this image, coated in some kind of iridescent car paint? Mark your calendars.
Discoveries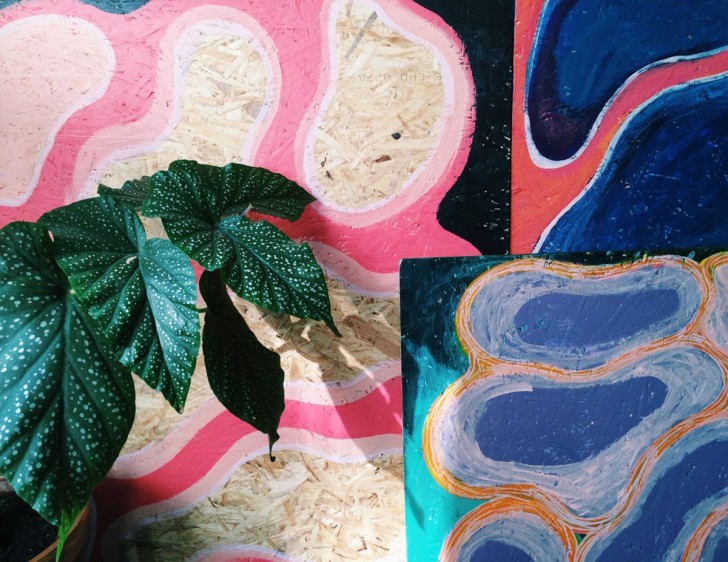 Stockholm-based graphic designer Lilit Asriyan wrote us this week to introduce us to her Morphosis series of paintings, which have a blobby, organic vibe that reminded us a bit of previous Sight Unseen subject Malin Gabriela Nordin. Asriyan's note also reminded us of how key it is these days to photograph your art with plants — it just looks so right.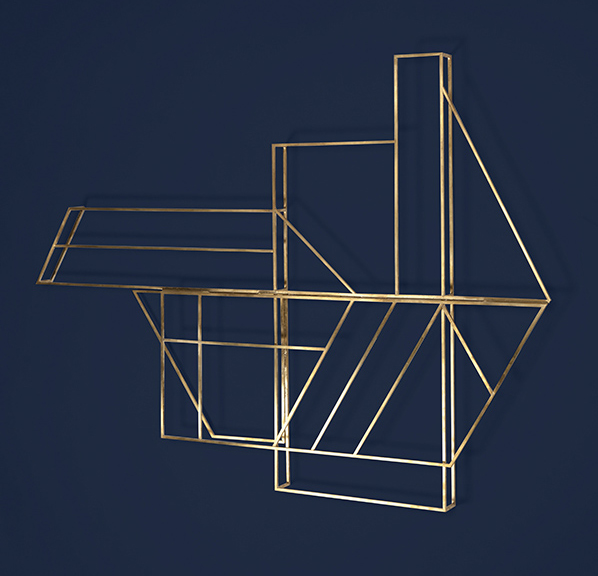 Maybe one of the best ideas we've seen this year: a brass laundry drying rack by Berlin's Studio Berg that hangs on the wall, folds out when you're using it, and looks convincingly like an art piece when you're not. We would kick our shitty folding wood rack to the curb in a millisecond if we could get our hands on this thing. See an animation of it in action here.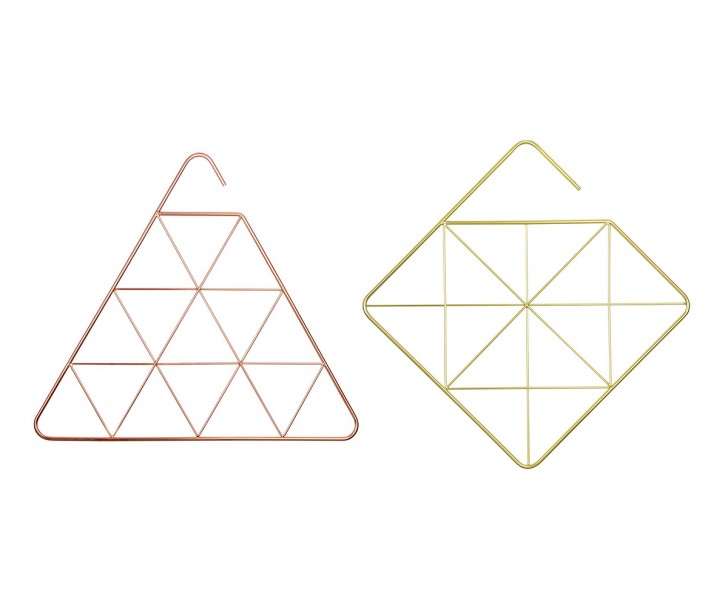 Another unexpectedly pretty metal armature on which to hang clothing: the Pendant series by Laura Carwardine for Umbra, which is a serious upgrade to previous solutions for hanging scarves and such in your closet. We've been paying so much attention to Umbra Shift lately that we'd scarcely noticed how good Umbra proper has been getting lately; these guys are part of the brand's new spring collection, which also includes this great wireframe wall shelf.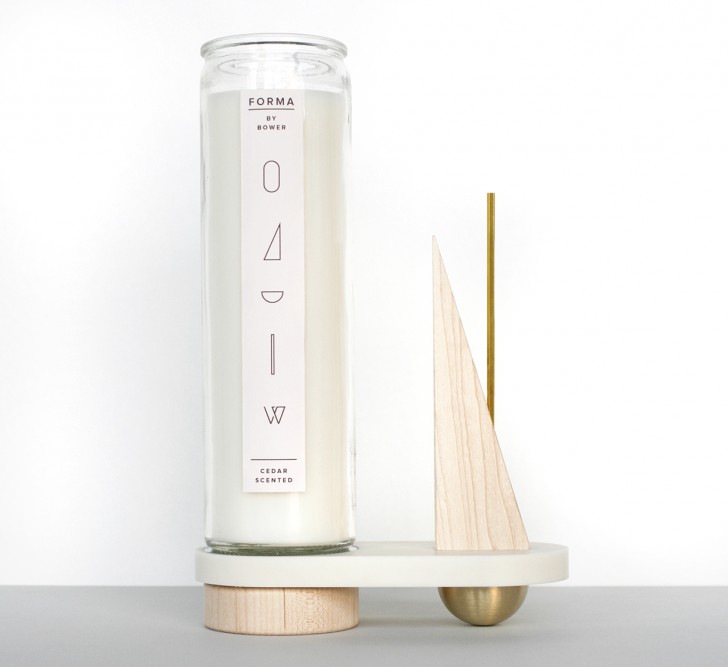 Last weekend we attended the NYNOW gift fair, where we saw some exceptionally pretty new housewares by young designers. Among them was this new candle and incense set by Bower, which doesn't appear to be for sale yet in the studio's online shop, but which we'll be snapping up as soon as it is.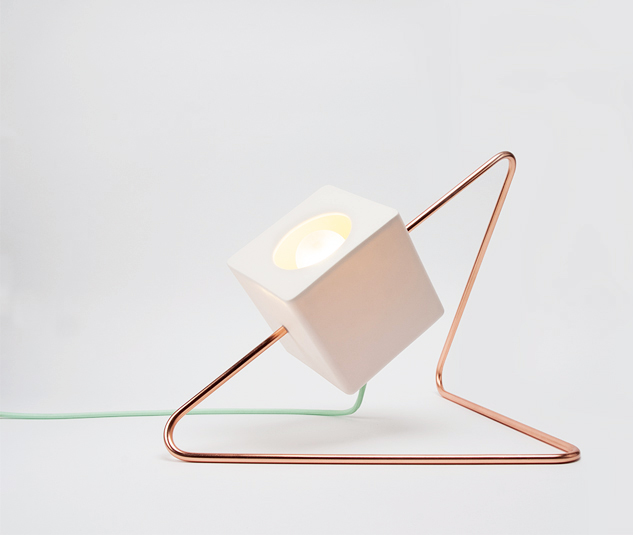 We're not gonna lie — the first thing we thought when we received a submission this week from Montreal designer Chifen Cheng of Designlump was, Designlump?? Strange name aside though, Cheng's new Focal Point Lamp is pretty cute, with its mint-green cord and porcelain shade that rotates 360 degrees. It won a best prototype award at Toronto's IDS fair last month.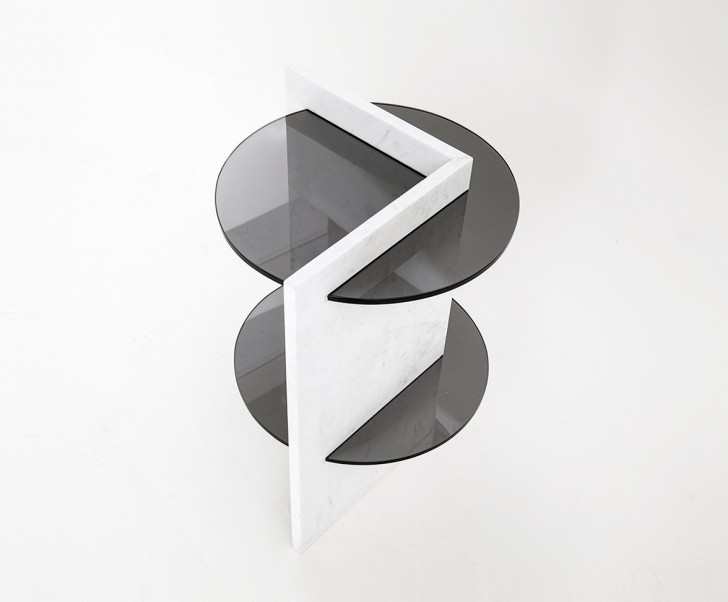 When we featured Panoramica's Mono collection on the site two weeks ago, we had no idea the Mexican design collective had another new series on the way so soon — at Mexico City's big Zona Maco art fair this week, it unveiled Level, consisting of three different tables in smoked glass, marble, and steel that features angular frames bisected with geometric tops. Our favorite is the bi-level side table above, which kind of looks like an abstracted kaleidoscope.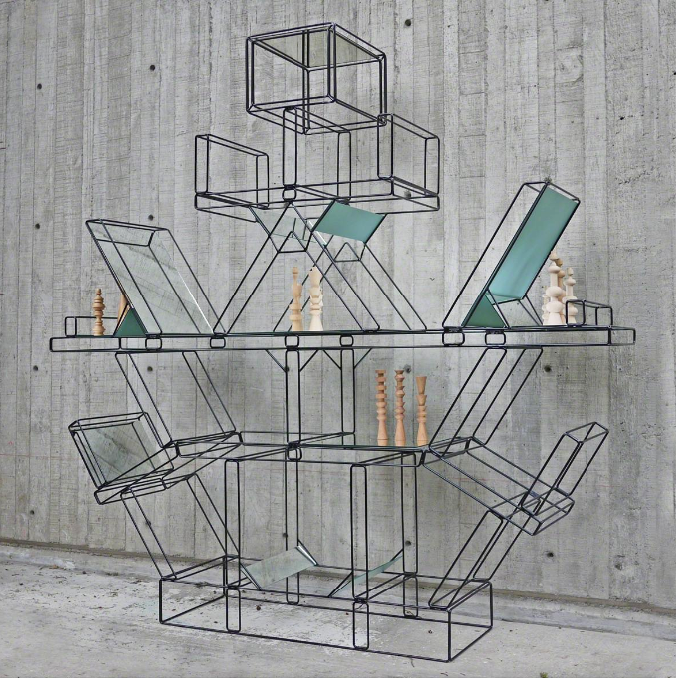 Just after we learned about Panoramica's collection, an email arrived in our inboxes from Artsy featuring the site's roundup on the best Mexican talents they discovered at Zona Maco, including Edgar Orlaineta, who created the Sottsass-inspired piece above in 2013. We'd seen it before on Pinterest but couldn't help posting it again here — so good.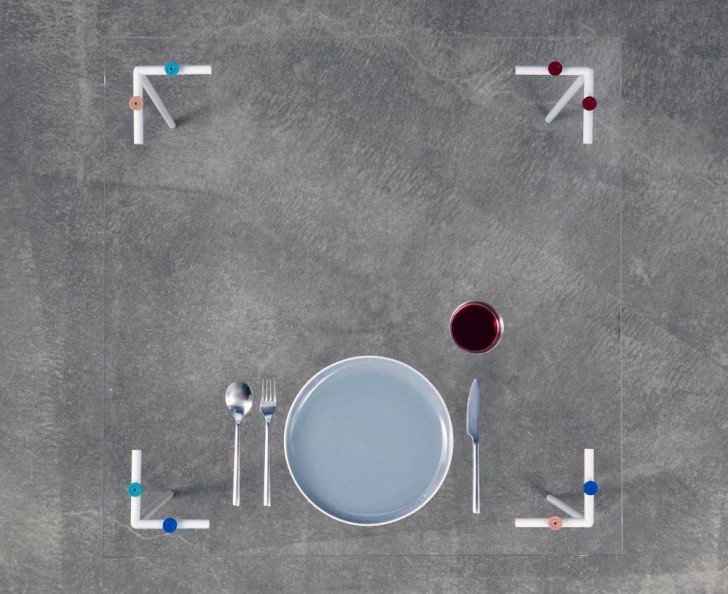 White Cubes is a new interior and furniture design studio launched by architect Faye Tsakalides, who contacted us recently about her series of tables that combine simple white steel legs with glass tops held on by brightly hued anchors, pictured above. For hyper-minimalists who enjoy secret pops of color.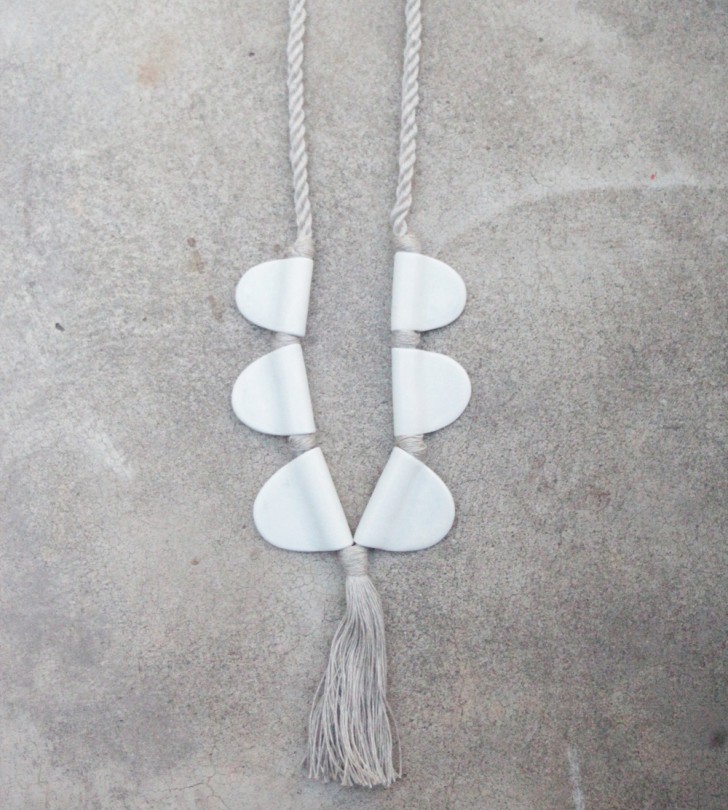 I'm in LA for the month, and making all kinds of LA-ish discoveries, like the insanely amazing necklaces of Fanny Penny, who's based in Ojai. We spotted them at Alchemy Works in the Arts District and pretty much almost fainted. You can't tell from the photo but these things are large and heavy; they look like tribal artifacts you'd find in a museum. We hope to score a studio visit story with Penny — who's also an illustrator and graphic designer — soon.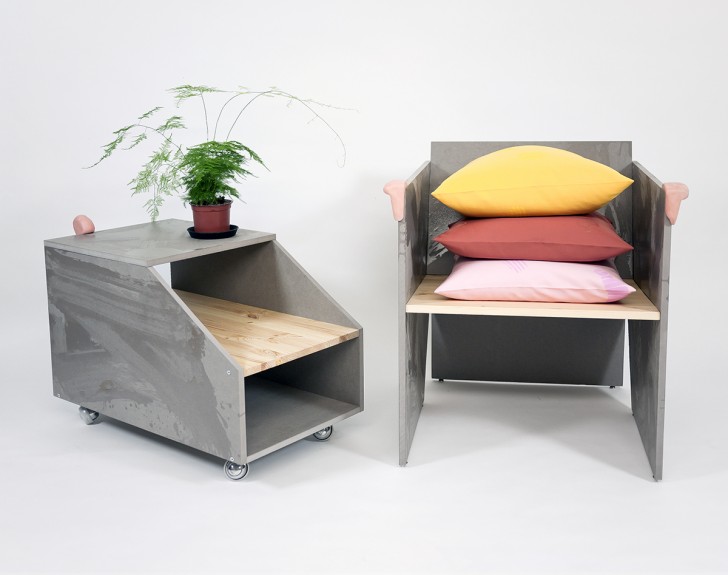 We'll have a full report on all the news from the Stockholm Furniture Fair later this week, but for now, we wanted to share a peek at this project from Sight Unseen OFFSITE alum Jenny Nordberg, who presented a project called 3 to 5 Minutes that explored the idea of "rapid handmade production." She used wood, fiberboard, clay, and textile to make a chair, storage trolley, dining table, and pillows, each within the titular timespan of 3 to 5 minutes. Making-of video here.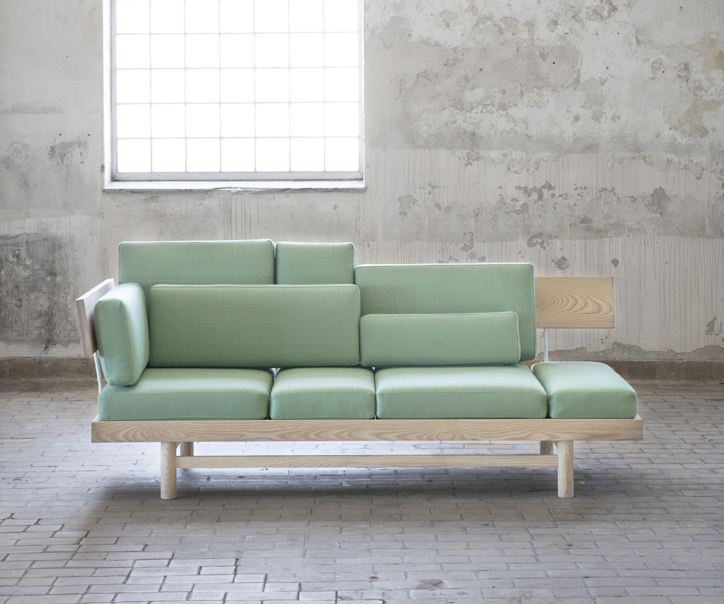 Another sneak peek from Stockholm: the Norde daybed from Norwegian designer Silje Nesdal, which is inspired by mid-century Scandinavian furniture but with a modern playful element of modular, rearrangeable cushions that can be used to totally change the appearance and ergonomics of the piece.
Links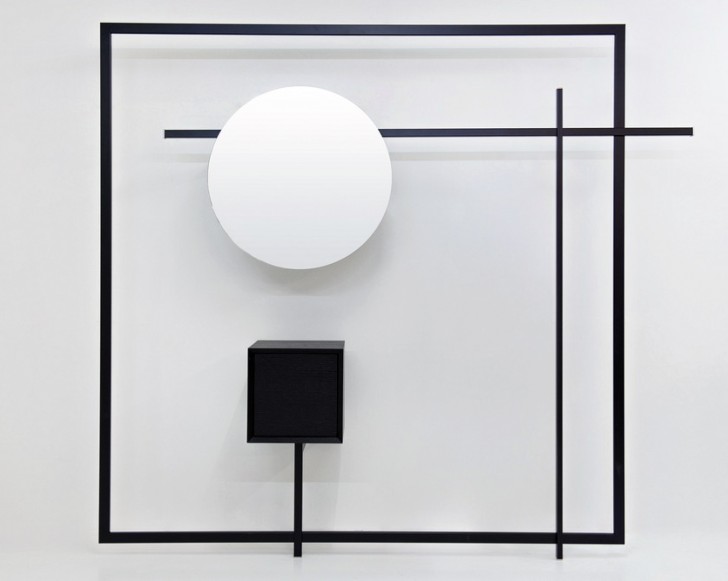 Speaking of furniture fairs, we posted a great roundup on the 2015 IMM Cologne show by Rae Blunstone two weeks ago, but we've never been to a single fair where we've managed to see everything. That's why we scoped out Wallpaper's Cologne roundup just in case, which included a few great things we didn't feature, most notably the new Go by MM collection, whose mirrored bedroom valet is pictured above. The studio's name stands for "Gentle Objects by Martin Mestmacher," which is kind of funny considering the hyper-graphic pieces are all based on geometric steel frames.
Videos


Last month, the Museum of Arts and Design uploaded two amazing videos featuring talents from last summer's NYC Makers show — Misha Kahn and Rafael de Cardenas — designing objects that could be rapid-produced by Shapeways. Misha made a tape dispenser and Rafael and his team made a baroque nesting keepsake box. We've embedded both videos here for your viewing pleasure.