06.29.15
Lily Kamper, London Jewelry Designer
Though she studied textiles at London's Royal College of Art, Lily Kamper spent most of her time in the jewelry department experimenting with acrylic, resin, and offcuts of Corian. The lathe became her tool of choice, enabling her to machine pillar-like, geometric forms that could transform those everyday materials into vibrant, beautifully crafted pendants and accessories. The success of her graduate collection led to it being picked up by retailers including Liberty of London and Colette in Paris.
These days, the acrylic components of Kamper's jewelry are dip-dyed to produce subtle gradients that make each piece unique. In order to create the prototypes, Kamper takes an experimental and intuitive approach to mixing the dyes; once happy with the palette, she works backwards to figure out the recipe so it can be re-created. Among Kamper's influences she counts the late Dan Flavin, whose geometric sculptures of colored fluorescent light can be seen in her sensitivity to light-play and ombré. Architecture from Art Deco and Modernist periods are also a recurrent source of inspiration and we see the familiar forms of steps, fluted surfaces, and geometric cut-outs incorporated into neckpieces that resemble mini cityscapes.
Kamper's sense of color and form are also demonstrated in her beautiful Tumblr, where she publishes the inspirations behind each collection to coincide with the launch. The research is largely sourced from the web but she's gradually building up a library of rare and inspiring books; recent additions include Cosmic Communist Constructions and Living Architecture: Indian.
Recently, Kamper began taking on commissions for wedding bands and engagement rings, which moves her into the field of fine jewelry. With little formal training besides an evening course while studying her BA, Kamper has gained the skills needed to work precious metals and set gemstones. The two sides of her work — fashion and fine jewelry — come together in recent pieces which combine sapphires and gold with her signature machined acrylic components. This mix of high and low value materials, luxury and playfulness in a single piece is a difficult balance to strike, but we're excited to keep seeing the results.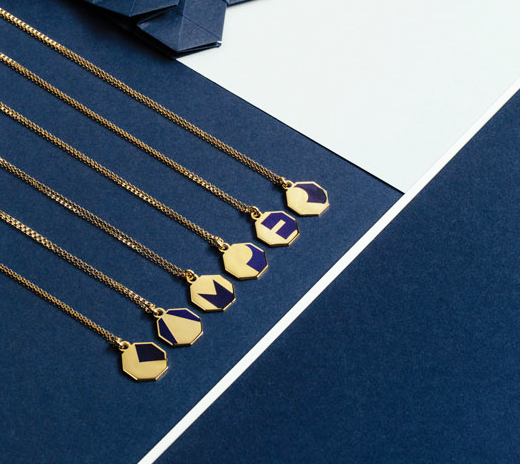 Describe your most recent project and how it was made.
For my Autumn/Winter 2015-16 collection, alongside my signature turned resin and Perspex pieces, I designed an alphabet for a series of pendants. I liked the idea of the letter pendant, but I wanted to design something that was a bit more symbolic than what I'd seen on the market, so I sketched the initial ideas while sitting at London Fashion Week. The letters are fairly geometric and become quite abstract when taken out of the context of the rest of the alphabet. I enjoyed playing with negative space to achieve this and I enjoyed designing something 2D and graphic in contrast to my other work. Each pendant is made from laser-etched silver that's then enameled in a very dark navy blue, and plated in 18k gold.
I've also recently been working on commissions for wedding bands and engagement rings. Each commission is totally different from the last and it's exciting to create something that's not a traditional band or diamond ring. I was very lucky to be asked to make the rings for some of my closest friends. I made some solid gold rings, with blue sapphires set down one side, and a matching engagement style ring covered in pavé-set sapphires.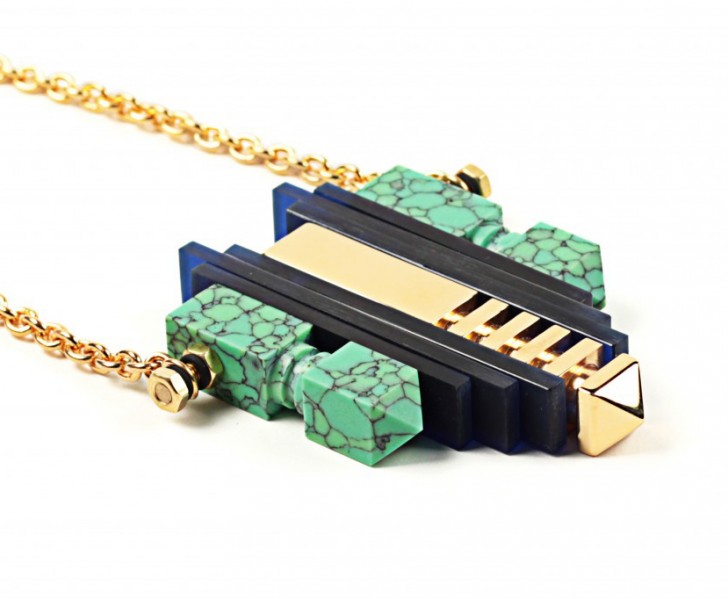 Describe your next project and how you're currently making it.
At the moment I am working on the new Spring/Summer 2016 collection to show at London Fashion Week in September. Alongside the resin pieces I'm bringing in some more 'fine' focused pieces, and creating a set of four pendants made of solid marble, with caps set with pink, white, and green sapphires. I'm also working on some pendants and earrings that have quartz and jade briolette stones hanging from them; I have spent a long time researching the different stones I would like to use.
I'm also working on some bespoke commissions and it's always nice to have this going on alongside the main production of the collections. At the moment I am working on a large pendant set with emerald baguettes and some rose gold cufflinks.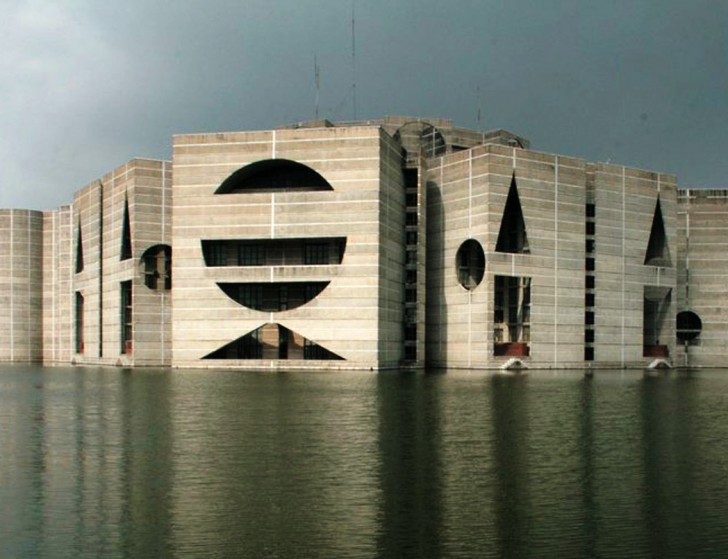 Tell us one thing that's been inspiring you lately and why.
Each season I like to create a mood board for the new collection to inspire some of the shapes and colors, and each season I notice my continued fascination with architecture. At the moment I have been particularly captured by the works of Louis Kahn (above) and last season it was the work of Ricardo Bofill.
I draw inspiration from a huge variety of imagery and objects, from doors and stairways to lighting and furniture. I love the work of Ettore Sottsass, in particular his ceramics and jewelry, and Eduardo Paolozzi. When the regeneration work started at Tottenham Court Road Underground Station I went and photographed all of his beautiful mosaics before they were removed.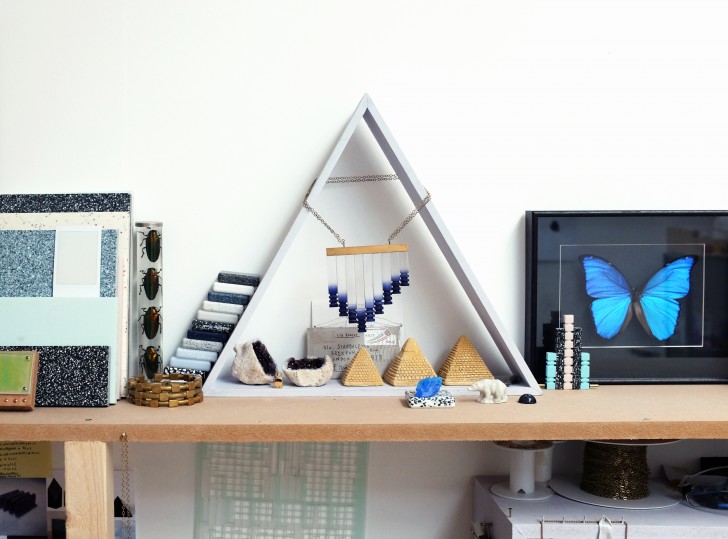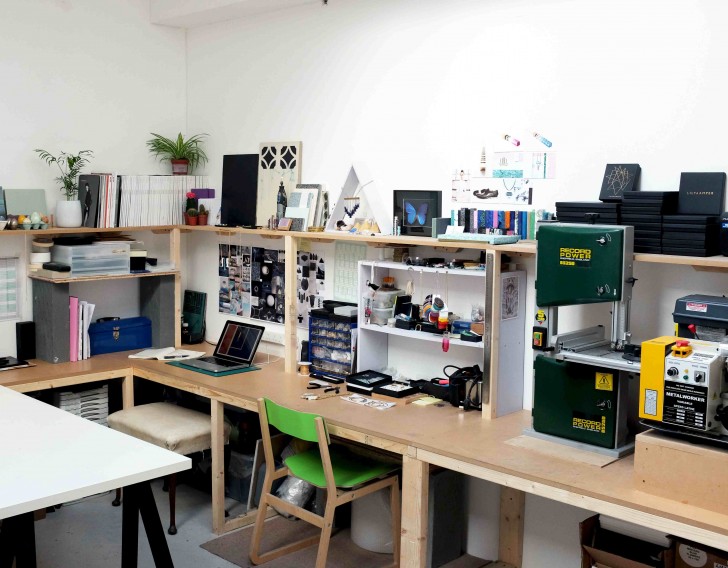 Show us your studio and tell us what you like about it.
My studio is in south London, in a studio block I share with a great community of other artists and designers. The space itself is really just a white cube with a big skylight. My husband Darius built me some amazing desks and shelves that go all around the edge of the room to house my tools, books, and materials. I've split the space into two areas — one where I cut, turn, and sand materials and the other where I work on designing or constructing the jewelry. I have a big white table that I've now moved into the middle of the room and have a black leather chair that I found in the hallway of the studios, which is great and comfy but makes me feel a little like Dr Evil!
At the moment the studio is filling up with half-made pieces of jewelry and I've had to start stacking the trays of components that I'm working on. The Autumn/Winter 2015-16 pieces need to be finished to go into stores in August, and I'll be making the new collection at the same time, so the walls are plastered with sketches and material ideas for next season.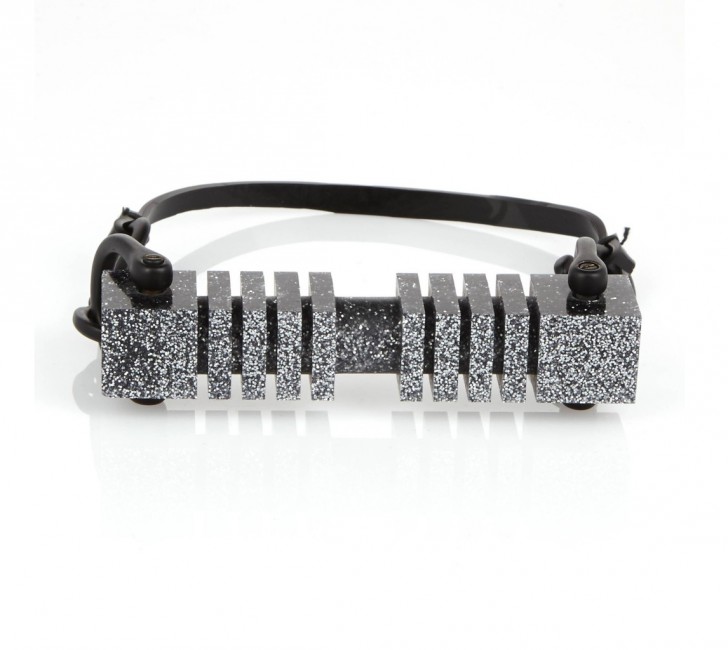 A/W14 Collaboration with Helen Lawrence
A/W14 Collaboration with Helen Lawrence