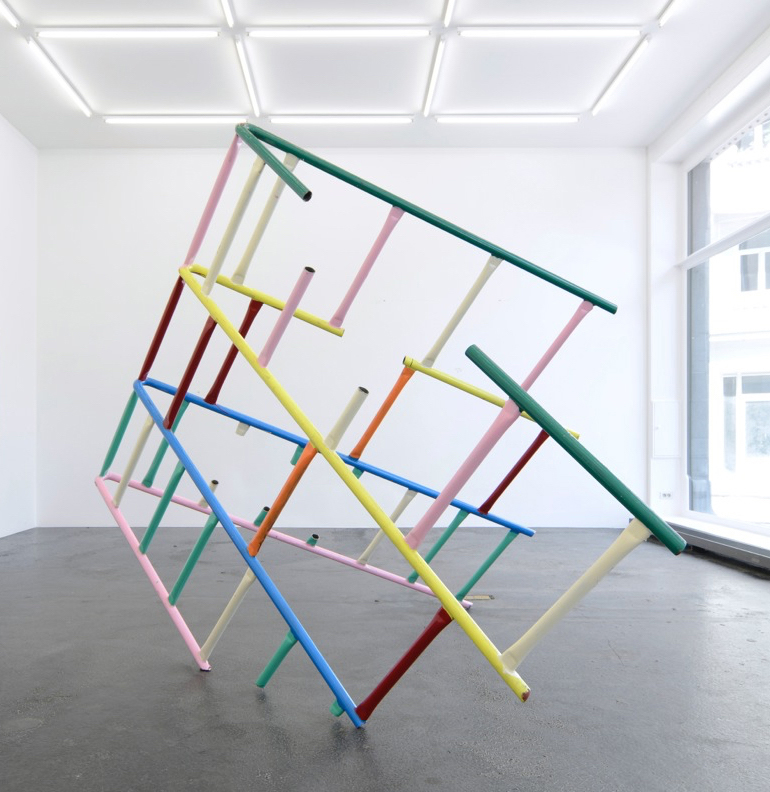 A weekly Saturday recap to share with you our favorite links, discoveries, exhibitions, and more from the past seven days. This week, a bounty of colorful goodies to go along with America's end-of-week joy hangover: euphoria–inducing interiors, retro-futuristic group shows, and lots and lots of colorful Op-Art — plus a deconstructed jungle gym (above)! 
Links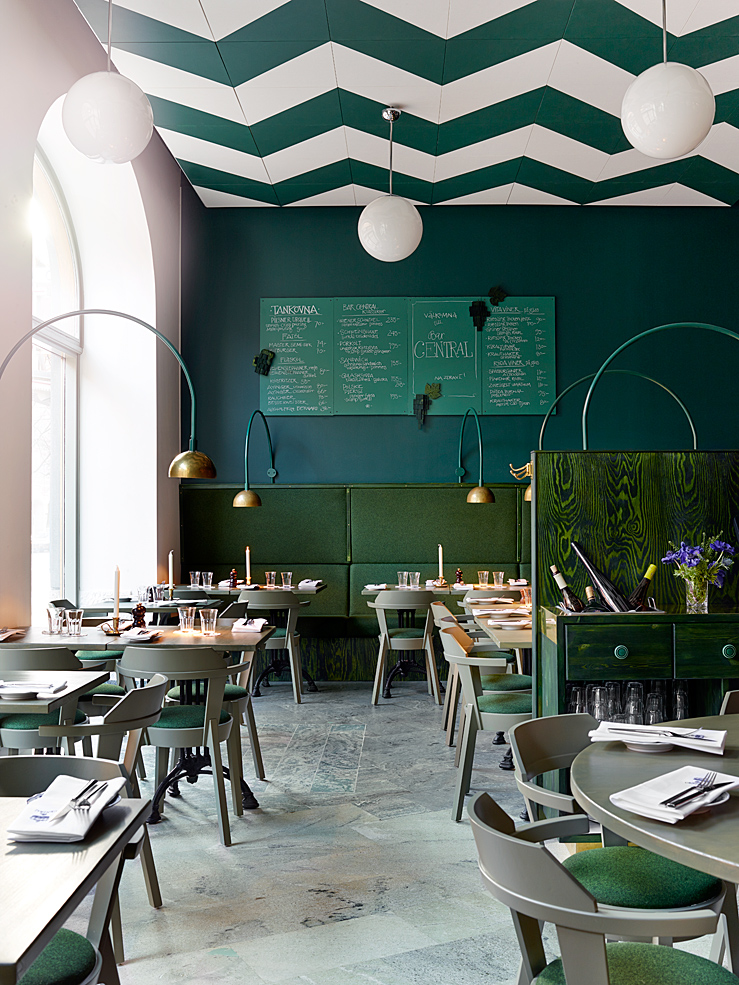 Green — when executed perfectly — is the most unexpectedly welcome interiors color we know (we've been seriously drooling over this Cameron Diaz kitchen lately as well), and Uglycute's new design for the Stockholm watering hole Tankovna Bar Central hits all the right notes. Who knew we needed emerald and white chevron ceiling in our lives? We found this beauty on Edith Galloway's London Design Journal.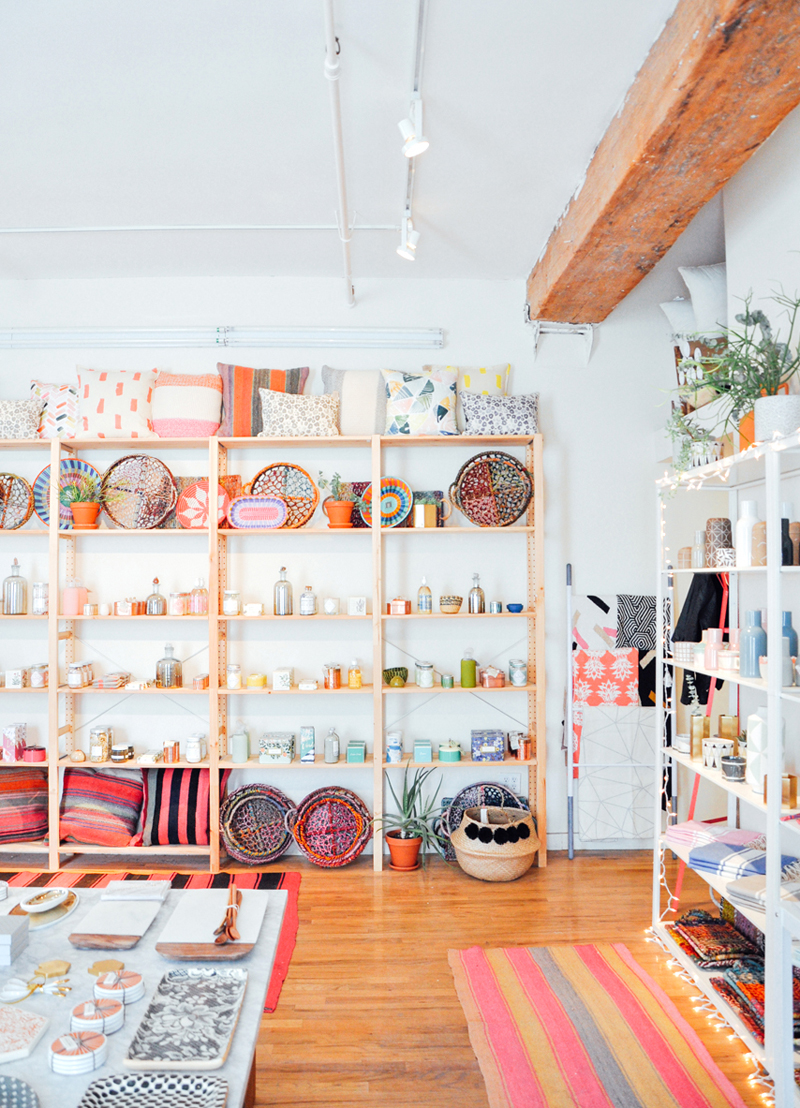 Speaking of interiors that make us happy, we loved this peek inside the Brooklyn showroom of the online shop LEIF, which Design Sponge featured as part of their Life & Business column.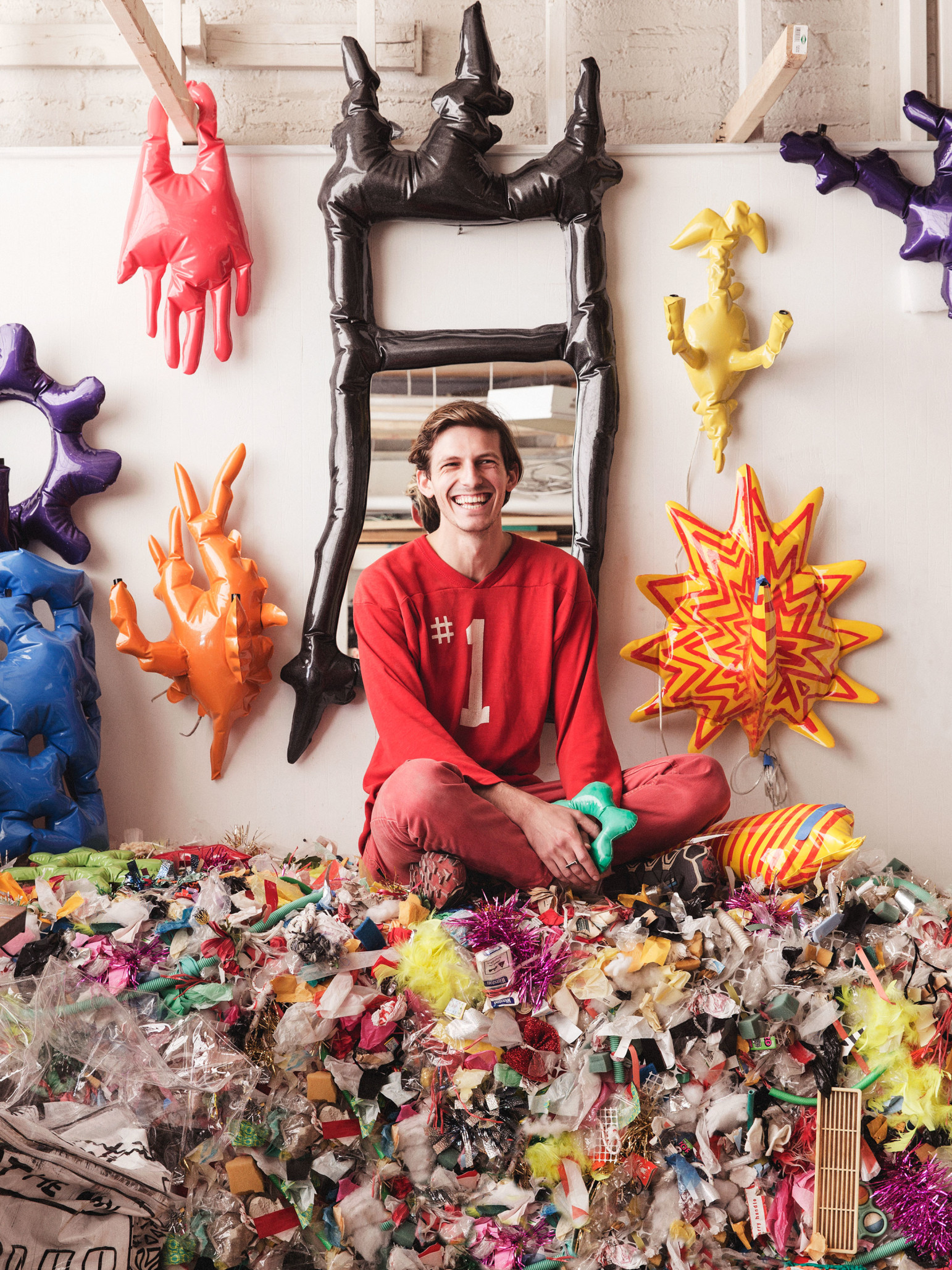 This studio visit with Misha Kahn on W Magazine's website — and accompanying photo of Kahn sitting atop a pile of trash — is home to one of the most interesting quotes we've read on design in a long time: "I think it's almost unethical to draw from nature. Nature is so incredible and beautiful, so whatever you make is just some shitty facsimile. I employ a lot of artificial crap in a way that feels almost like I'm using earthy materials."
Exhibitions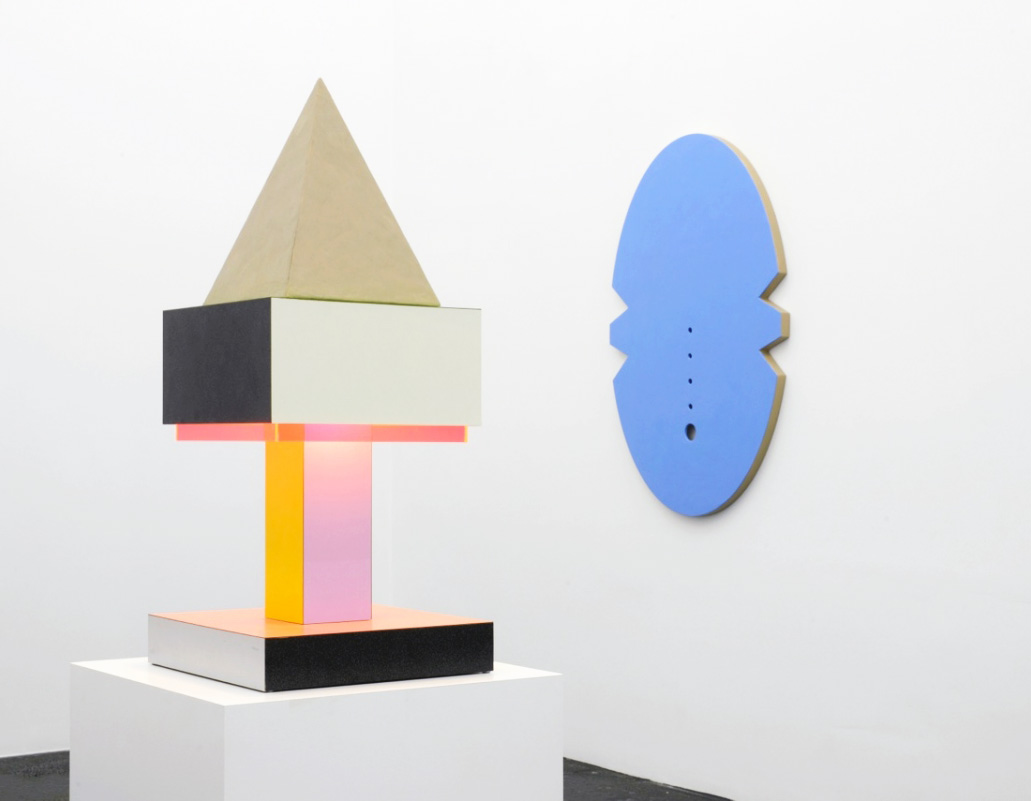 In Brussels this month, a group exhibition called "Rio" at Office Baroque pays homage to the pop aesthetic of '80s, including work by that era's talents — like Peter Shire and Patrick Nagel — along with more contemporary artists like Przemek Pyszczek (whose deconstructed playground equipment can be seen at the top of this post) and Michael Rey, above, who will be the subject of a solo exhibition at the gallery this fall.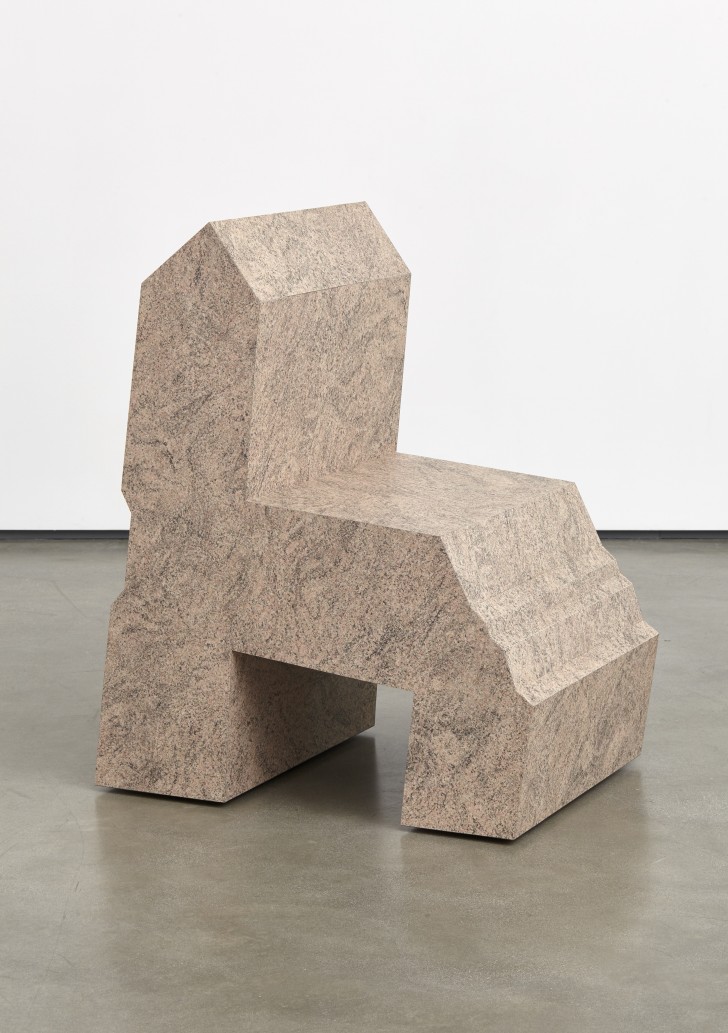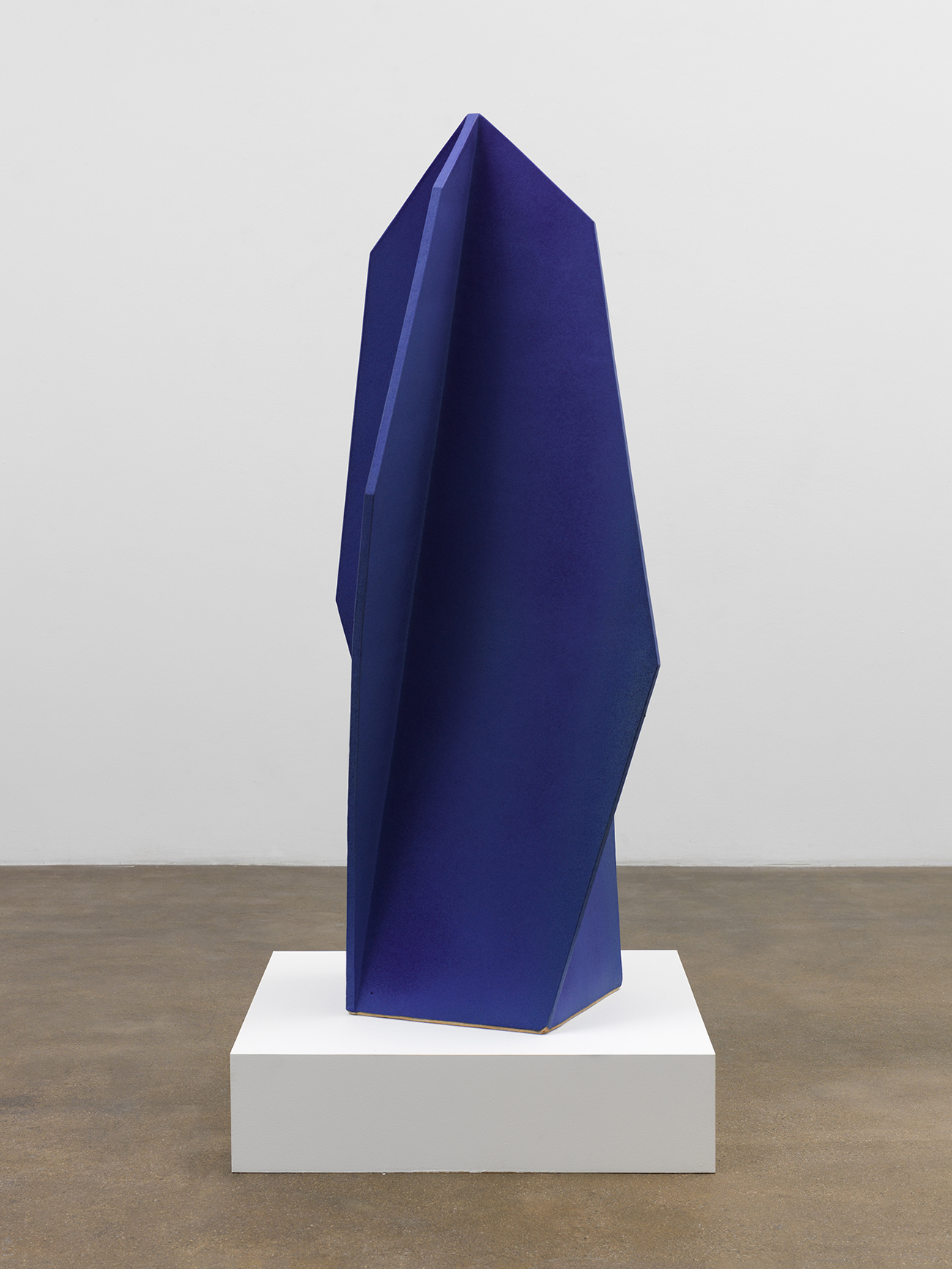 "Flat World," another group exhibition spanning the decades, opens this weekend at LA's David Kordansky gallery. Organized by Karma in New York (whose Noho digs are too small to contain such a wide-ranging show), the exhibitions meditates on flatness as a formal element as well as a vehicle for "unexpected depths, complexity, and discovery." This translates to lots of lovely work by Peter Halley, Tauba Auerbach, John Mason, and Richard Artschwager.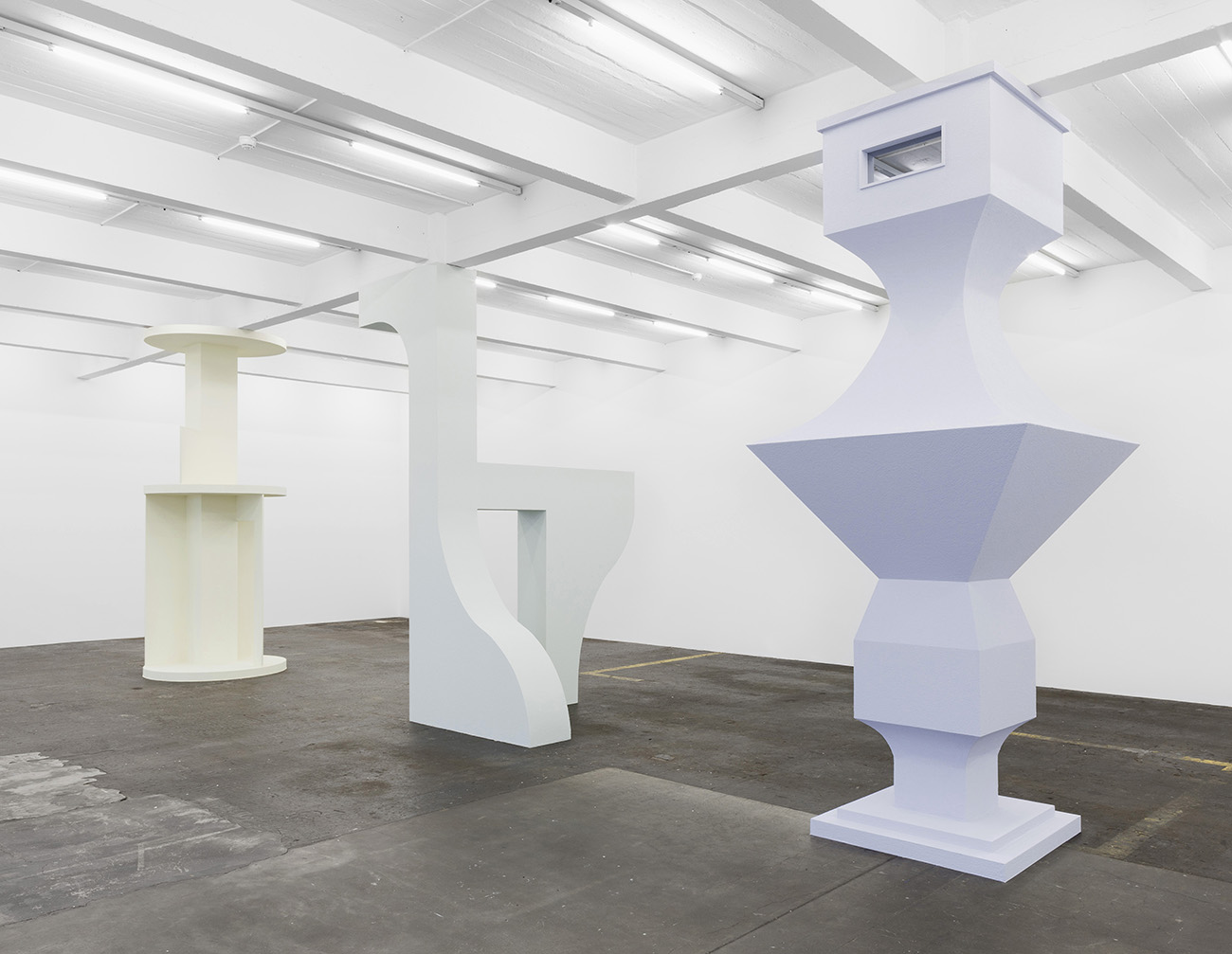 If you happen to be in Switzerland, this weekend is your last chance to check out these massive totems by up-and-coming artist Florian Graf. On view at Kunst Halle Sankt Gallen, the exhibition is called Chamber Music; in an interview with 01 Magazine, Graf points out: "Music theory has always been the theory of proportion as well, so actually music is mathematics and geometry equally. And that's the point, there it all begins: in the relation between space and time, between static and dynamic, between 'eternally valid' laws and the sounding moment."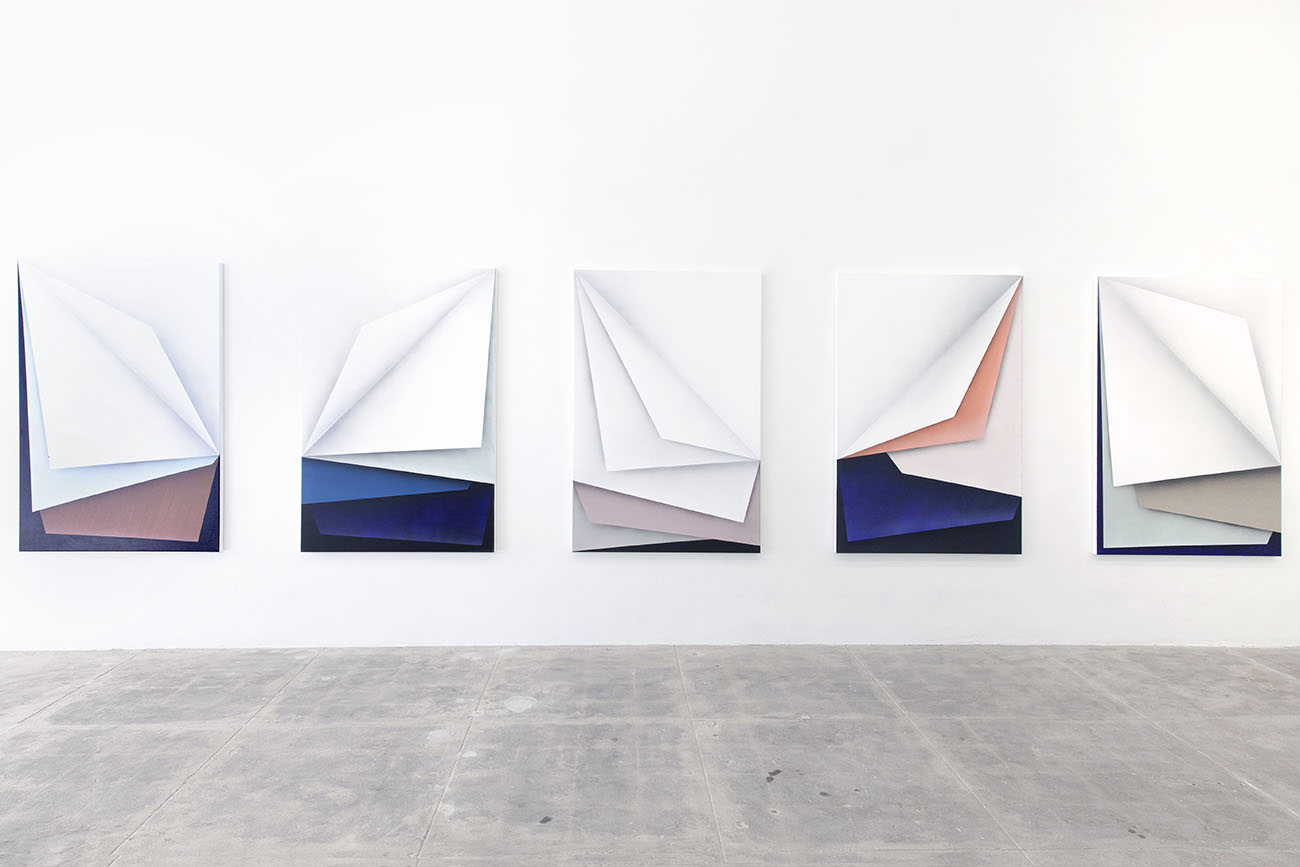 The LA gallery CES has been killing it lately; their latest showcase — a series of acrylic paintings called "Papercut," which resemble intricately folded planes — represents Czech artist Ira Svobodová's most interesting and beautiful work to date.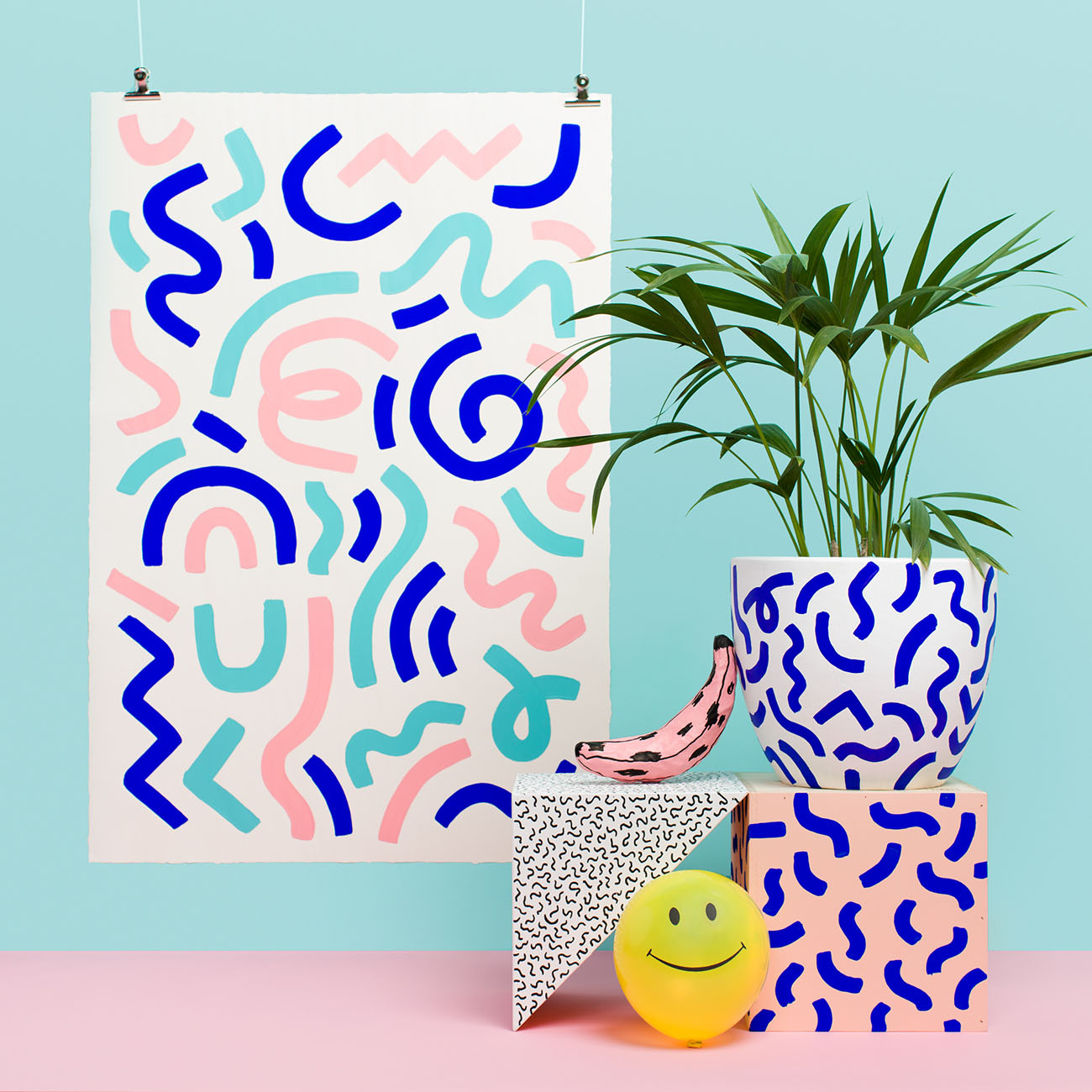 We've had our eye on the Hello Play exhibition by Melbourne-based creative Spencer Harrison since its conception last winter, and now the exhibition is finally open at the gallery No Vacancy! Featuring Harrison's signature happy prints on everything from posters to planters, to socks, clocks and plaster bananas.
Discoveries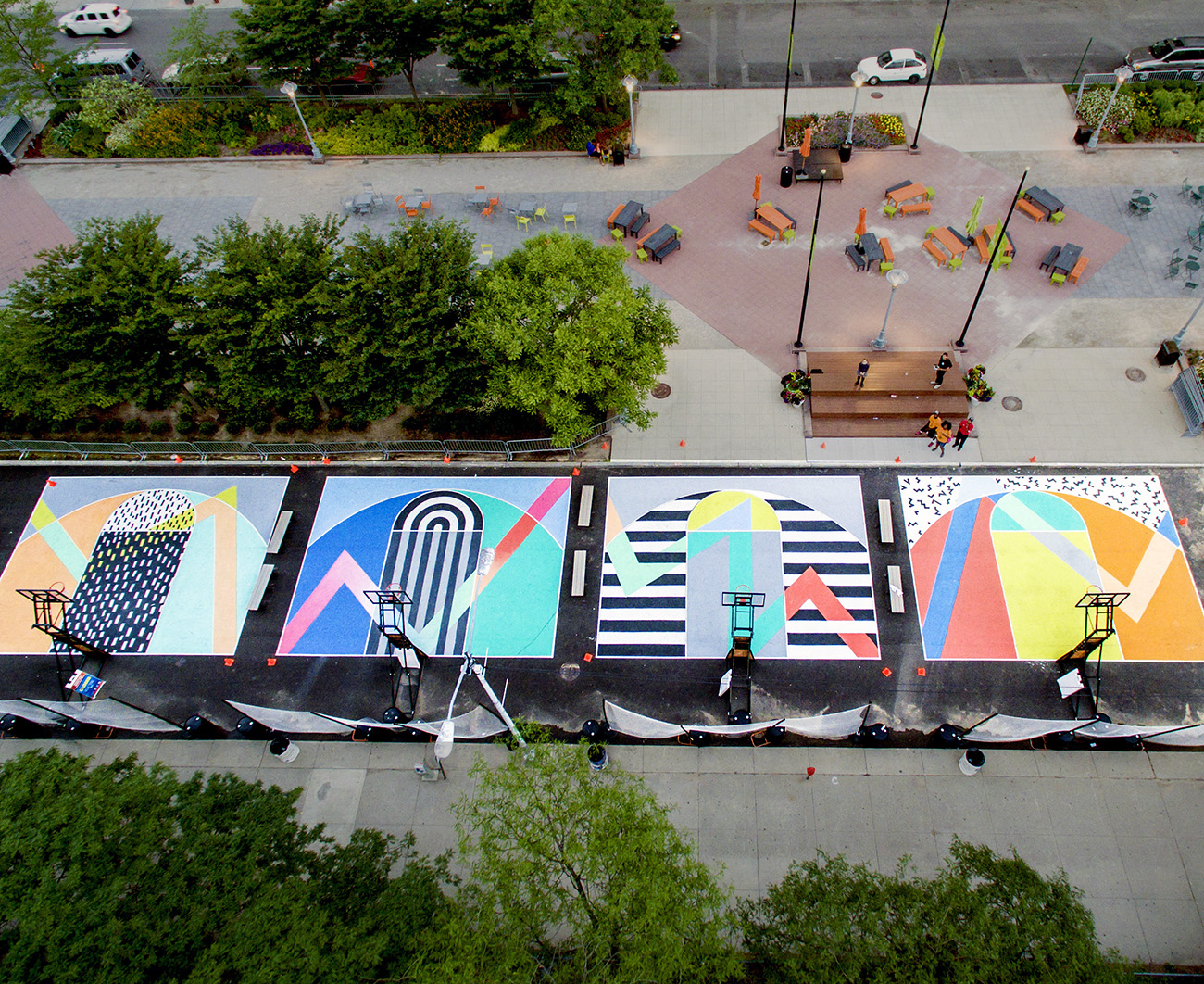 We have a recurring lament on Sight Unseen's Instagram: "Even the _____ are prettier in Scandinavia," which this month translated to a set of gorgeously painted basketball courts Monica spotted in Norway. But look out! Here comes America, pulling up the rear, first with that gorgeous ombre swimming pool on Roosevelt Island and now with this incredible set of four basketball courts in Detroit. Curated by the Library Street Collective and located in the city's Campus Martius district, the murals were painted by local artists Ellen Rutt and Patrick Ethen; sadly these are only a temporary summer addition while the road is closed off.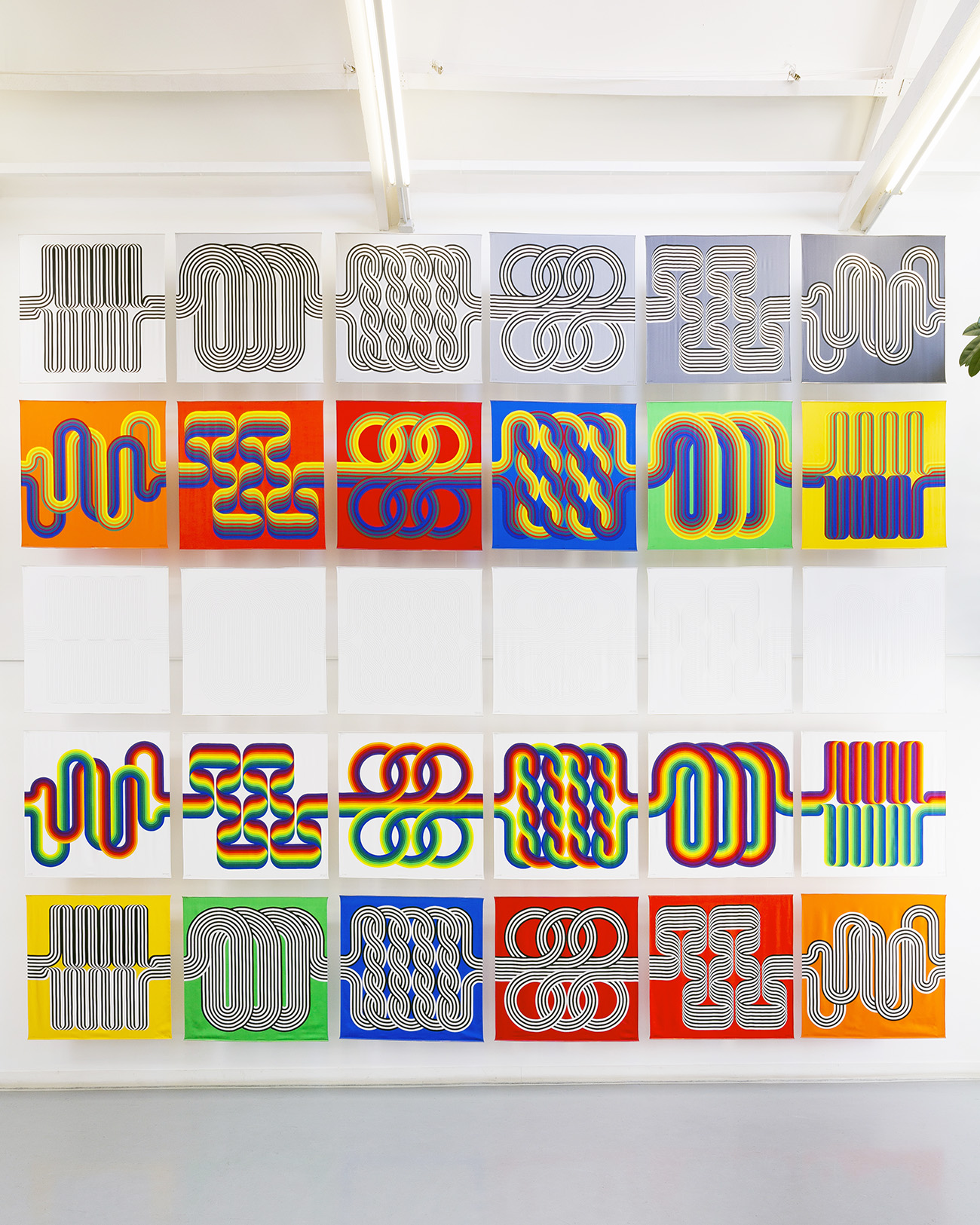 Hermès Éditeur is a program by the French fashion house which invites artists to apply their works to a series of the brand's signature silk scarves; since its inception, the program has featured the archives of Josef Albers plus works by Daniel Buren, Hiroshi Sugimoto, and now the kinetic French artist Julio Le Parc, who created 60 colorful and monochrome variations on his twisting, chromatic Op-Art drawings.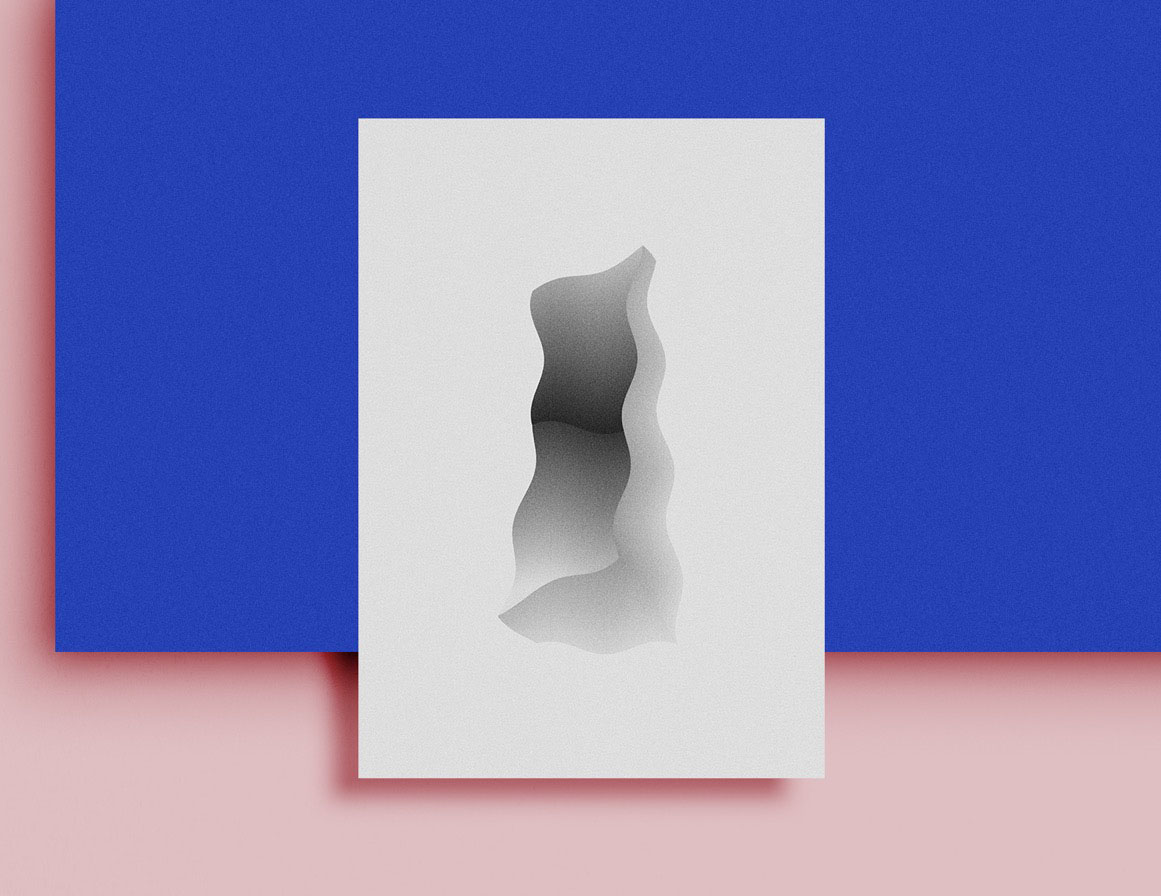 The Australian graphics and branding agency SP-GD this week sent us a link to their updated website; we're partial to their shop, which includes digital prints like this "Not So Geo" shadow series.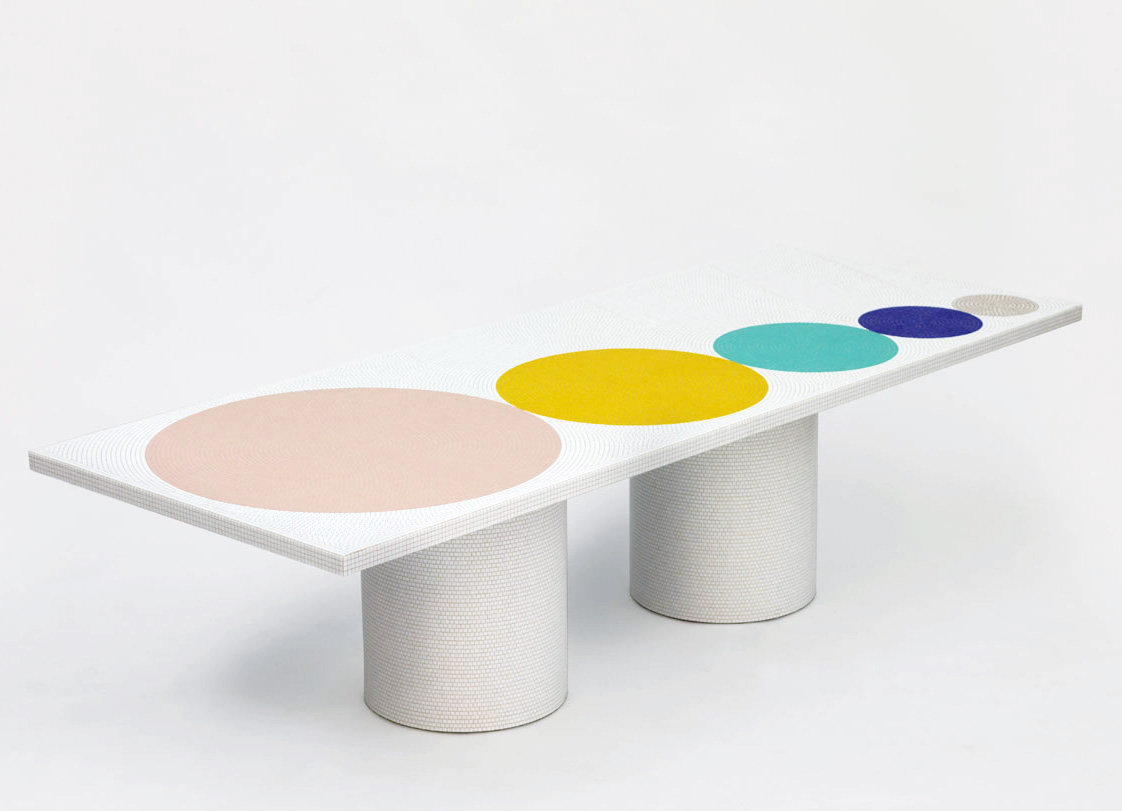 The ECAL / Le Corbusier story we posted a few weeks back had us poking around the website of perennial SU fave Pierre Charpin; somehow we missed this beautiful mosaic table he designed for Galerie Kreo, which debuted last fall.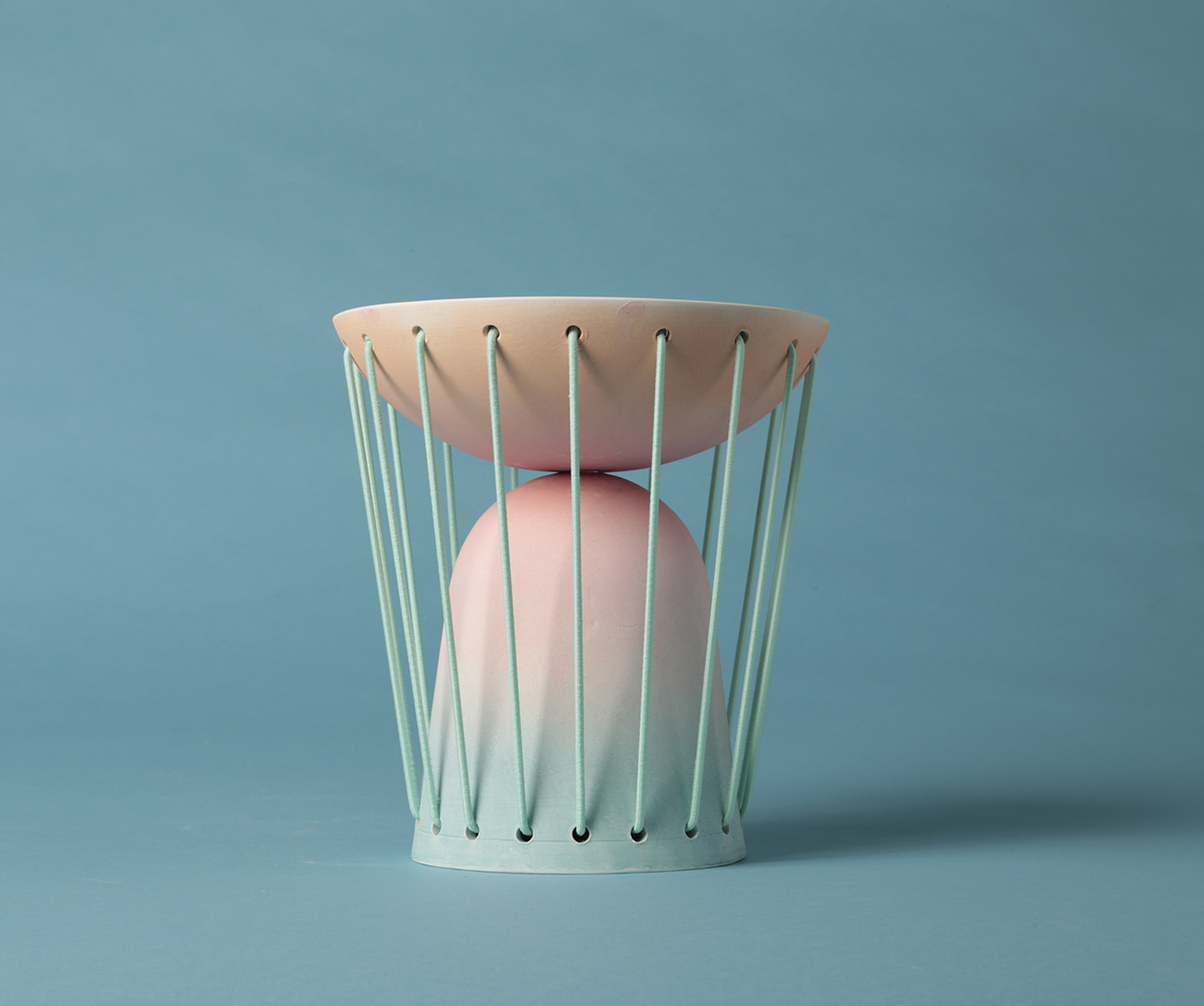 Next week, we'll be diving into the graduate design shows more in-depth but we're offering a sneak peek in the form of these Elastic Lights by Central St. Martins graduate Marta Bordes. The ceramic lamps articulate on ball joints and are available in an array of punchy hues.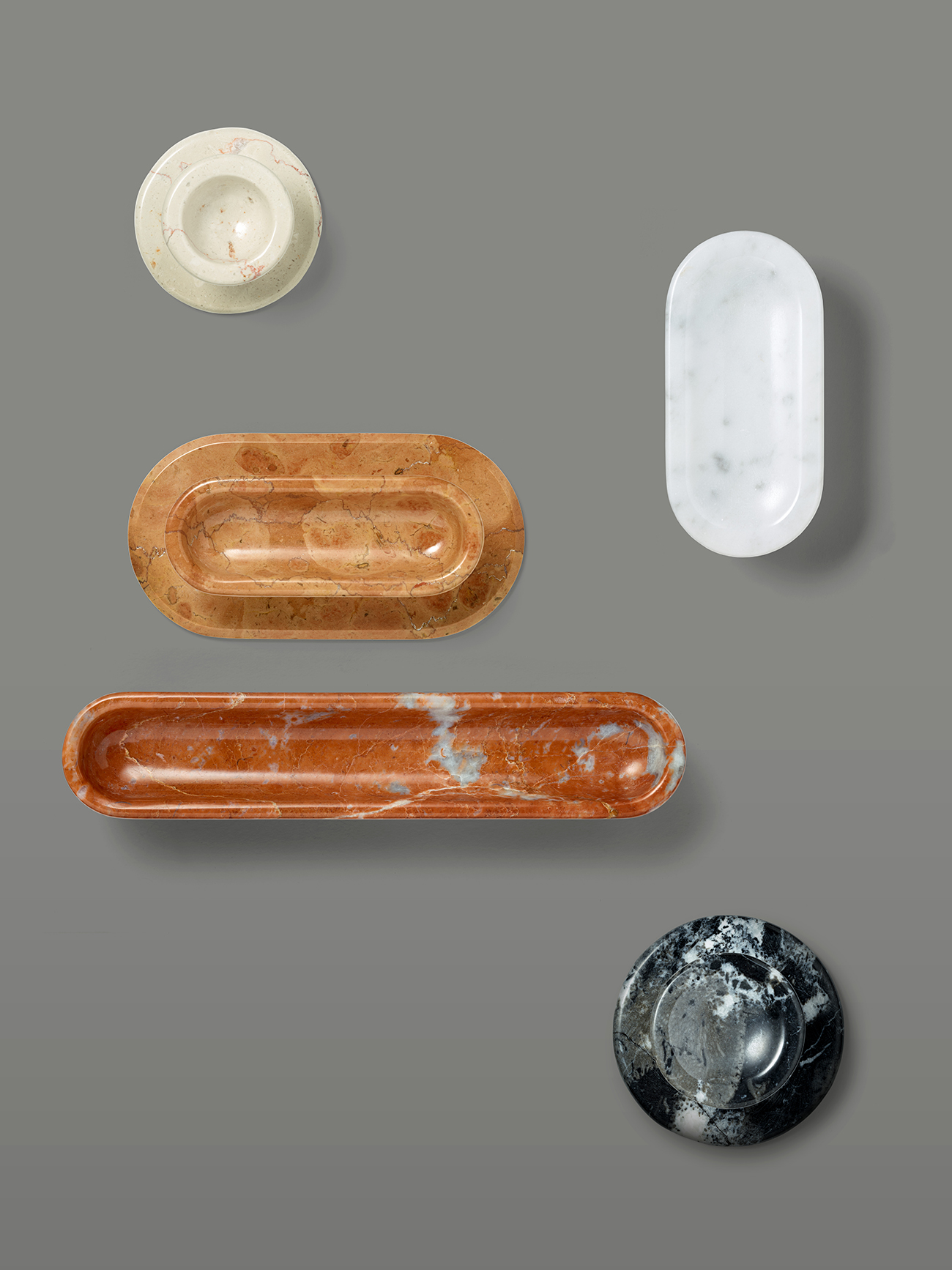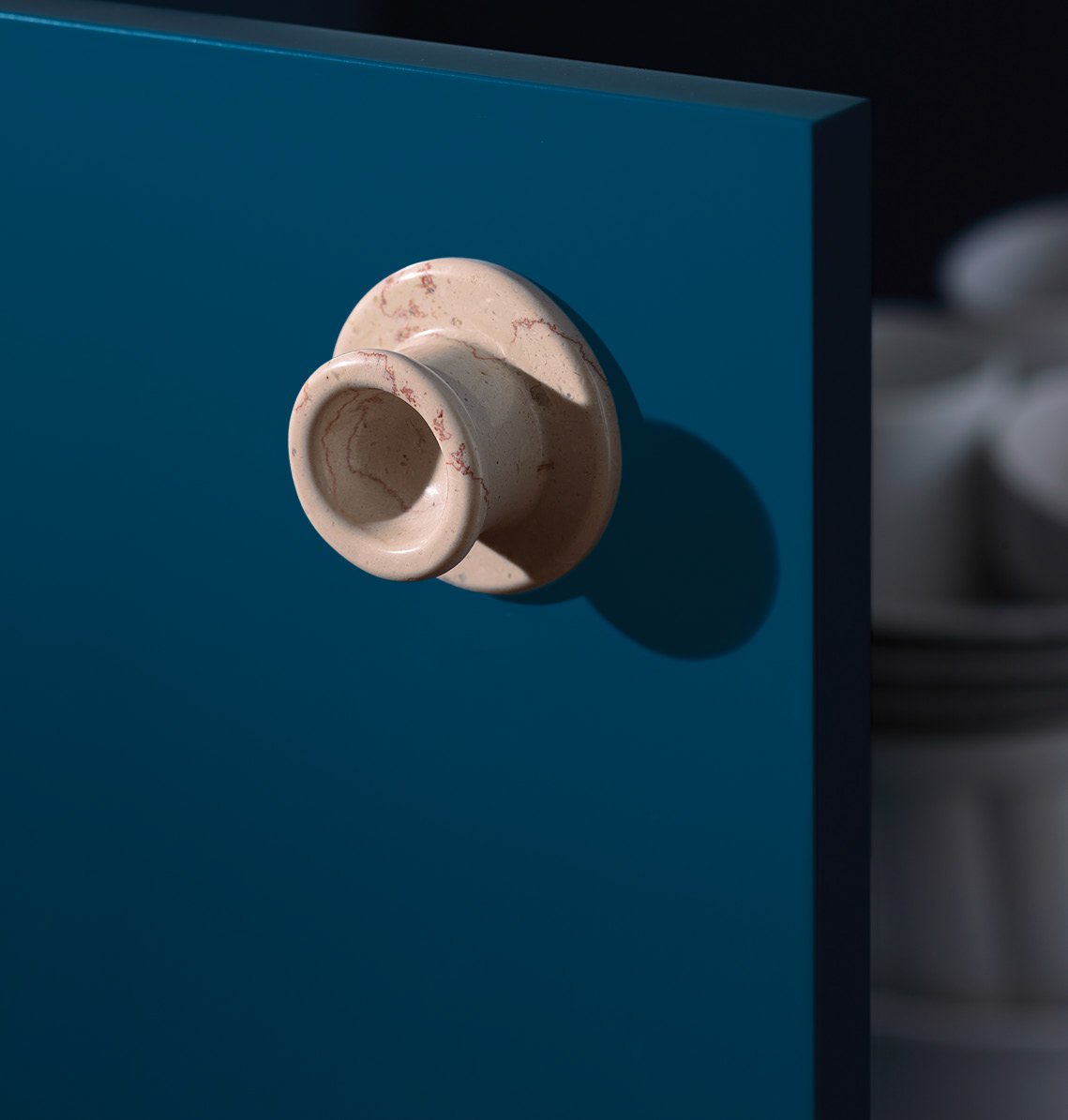 We pretty much never expected this site would be a forum for highlighting something as workaday as door handles, but such is the power of London-based designer Fabien Cappello, who has never made something we didn't love. Called Marmo, the sculptural handles are crafted from five kinds of Italian marble for the company Manico.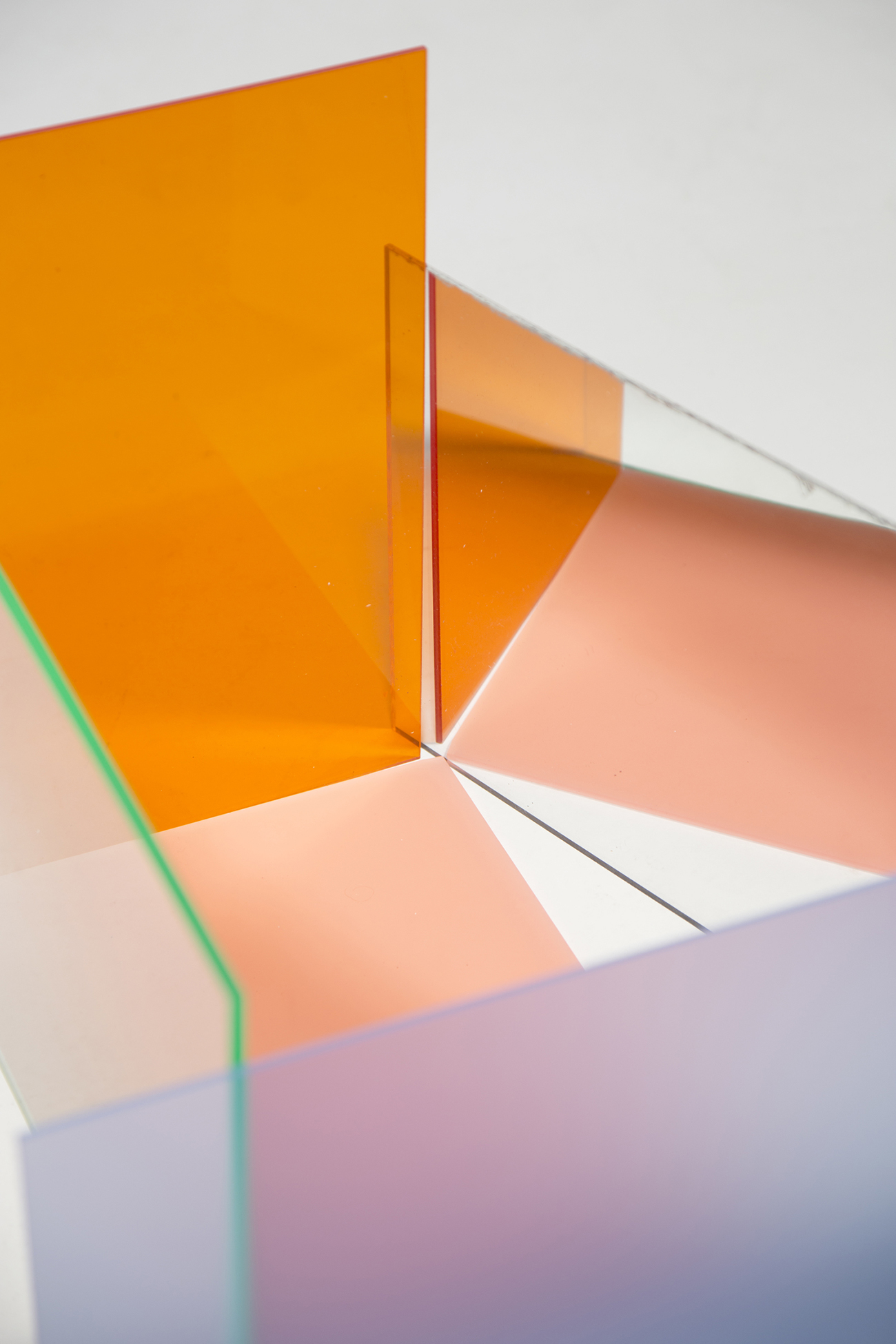 We're not yet tired of the colorful intersecting planes theme in set and prop styling, are you? This latest beautiful example is by up-and-coming London stylist Poppy Hatami.