07.08.15
London Accessories Designer Ejing Zhang
Growing up in China, designer Ejing Zhang was fascinated by traditional calligraphy and ink painting — art forms that are both fine and expressive, requiring a fluid interaction with brush and ink. Zhang is now based in London, but at the heart of her work is the same sensitivity to materials that she observed growing up. Four years ago, while studying at the Royal College of Art, she developed a new technique for creating work that involved taking spalted beech wood (partially decayed wood that has a marble-like pattern), wrapping it with colored thread, and casting it in resin, before sanding and polishing it to reveal its beautiful cross-sections. It was a lengthy, but rewarding, process.
In the years since graduating, Zhang has continued to develop the technique (investing in a spool-winding machine to make the process a bit less painstaking), creating atmospheric compositions using this innovative craft process. When Zhang finds a color palette she is drawn to — whether from an image, sculpture, or textile — she'll often make a painting to familiarize herself with the palette and work out the right color balance. She then matches thread to the colors in her painting as closely as possible, and makes a small yarn winding to refer to.
Alongside her handicraft, digital processes form an important part of Zhang's work. She embraces technology with an open and collaborative spirit, using it to assist her as a designer whilst not allowing it to dictate her aesthetic sensibility. This is nicely demonstrated in her collaboration with Weilong Xie, which resulted in a 3D printed tote bag with dip-dyed and hand-woven detail. We recently caught up with the designer to find out what she's working on next.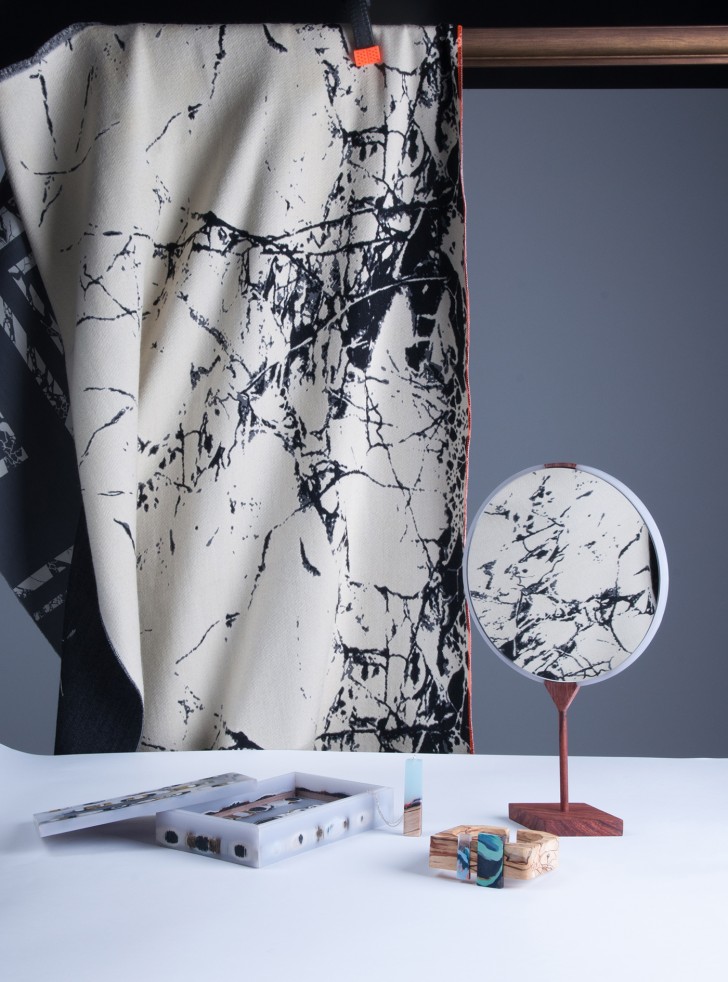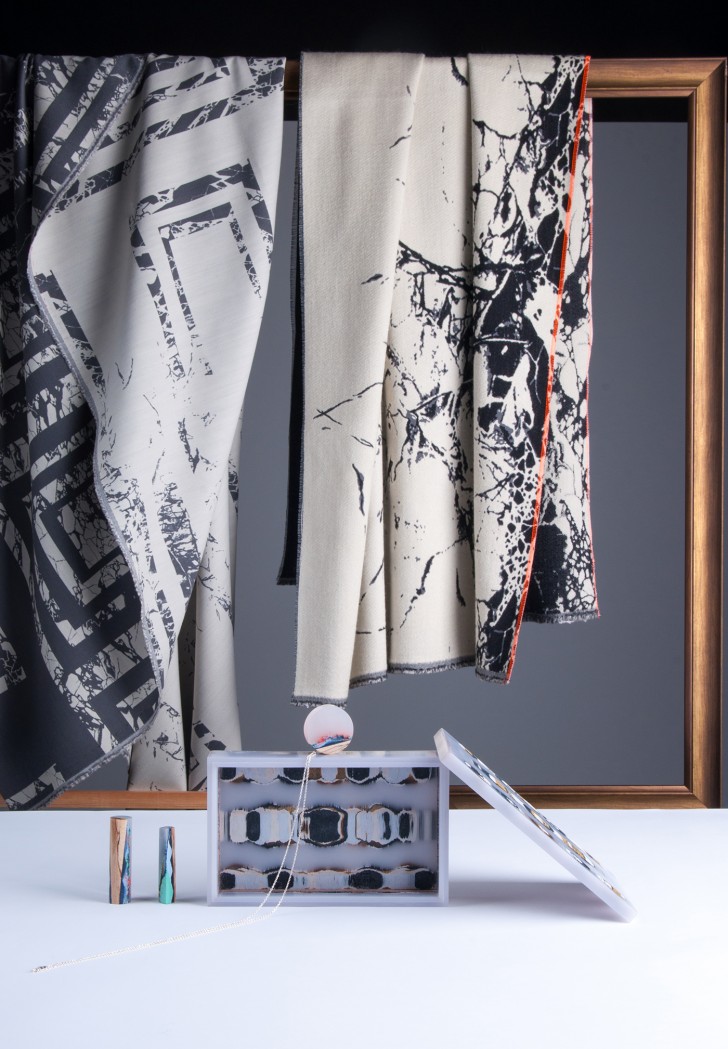 Describe your most recent project and how it was made.
My latest project is called Faux Rocks, which is partly a continuation of my resin, thread, and wood studies and partly inspired by a trip to the marble quarries in Carrara, Italy. I was fascinated by the impact years of human activity has had on the natural landscape there. I wanted to capture the marble patterns in soft, jacquard wool blankets, giving the opposite feeling of the cool, hard stone surface.
I worked with a factory in my hometown in China to turn this idea into a product. I have always wanted to challenge China's manufacturing of textiles — the industry is so big yet most of what they do is plain or checked fabrics. I wanted to inject a sense of creativity, and the factory I approached welcomed my idea.
I've also been working on a project with Sony that brings tactility together with technology. I designed a swimming cap that doubles as a bag, a limited edition bottle, and a ring to accompany their underwater earphones.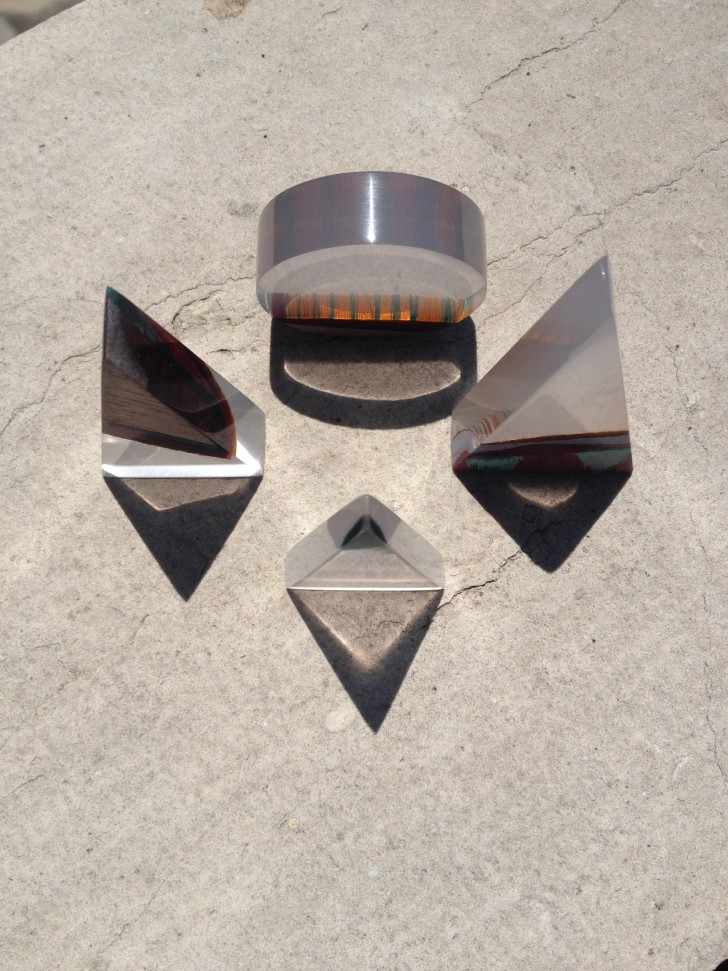 Describe your next project and how you're currently making it.
I am working on a collaboration with Swarovski and Lane Crawford to celebrate the 165th Anniversary of the Hong Kong department store. The outcome will be a statement piece of jewelry with embedded crystals and hand-pleated fabrics in resin using my signature technique.
My personal projects are also focused on jewelry — a collection that I hope to launch at Paris showrooms this September. It involves 3D printed wax and metal casting as well as my 'synthetic rocks.'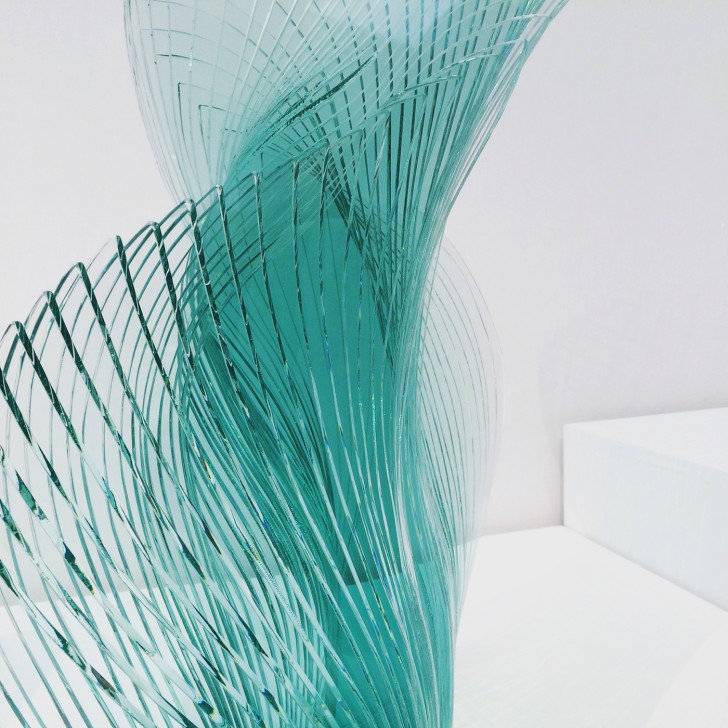 Tell us one thing that's been inspiring you lately and why.
I keep referring to Niyoko Ikuta's glass art, which I saw at COLLECT at The Saatchi Gallery, London. The combination of fluid form, the transparent yet slightly tinted glass layered together to build up color, and the crisp edges that define each contour make her sculptures just perfect in every way. I like the effortless beauty of things that are simple yet carefully crafted.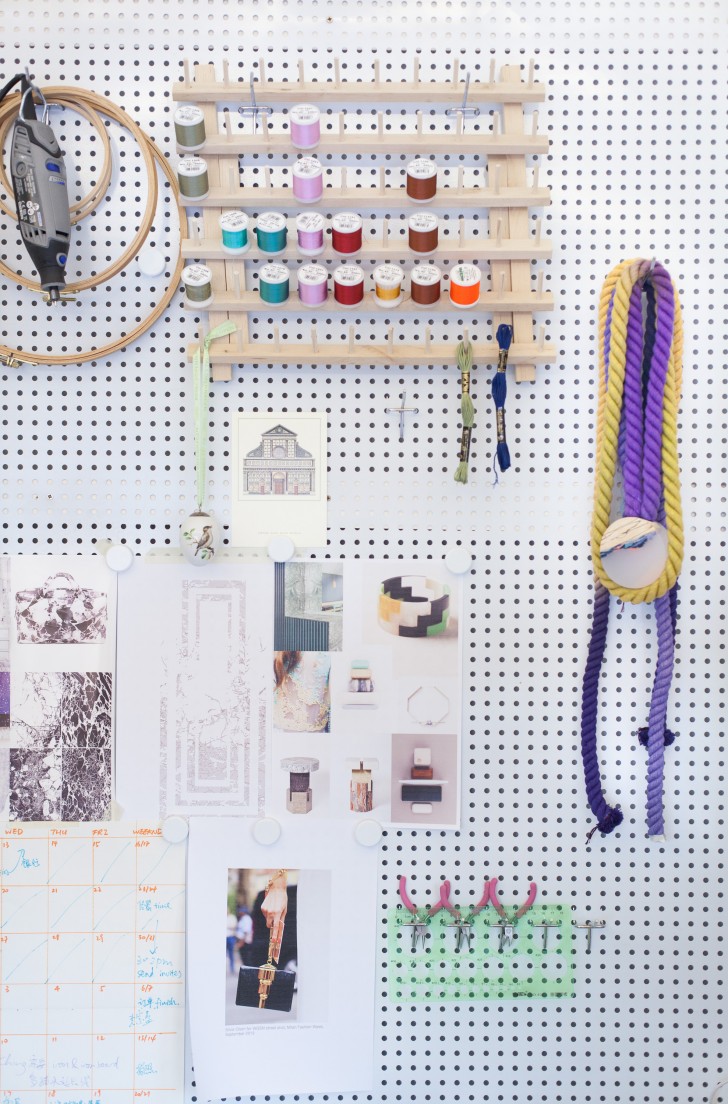 Show us your studio and tell us what you like about it.
These pictures are of the studio I had in China, I'm in the process of setting up my London studio now, and it will definitely include the perforated metal board which is essential for me so I can organize my tools and display combinations of materials, designs and ideas. I love order in my surroundings!