10.19.15
The Dogs of American Design + A Shinola Pet Giveaway
There's a reason that adorable dog photos are used as clickbait — almost everyone, even people who are impervious to adorable baby photos, has a soft spot for them, especially dog owners themselves. So we weren't particularly surprised to see some of our favorite designers — successful people with high aesthetic standards — turn into piles of utter mush when we invited them to show us their four-legged friends, heaping on the superlatives and waxing poetic about the joy their pets bring to their lives. In fact, we kind of asked for it: To celebrate the line of dog accessories our long-time partner Shinola has developed with Bruce Weber, we reached out to nine American designers we'd previously spotted Instagramming their canines alongside their creations (like Ben Medansky, above), and solicited the best of those photos with an explanation of what makes their dog a hero. Post your own response on Instagram, and you could win the Shinola Pet items pictured below. (Photo at top by Aleks Eva)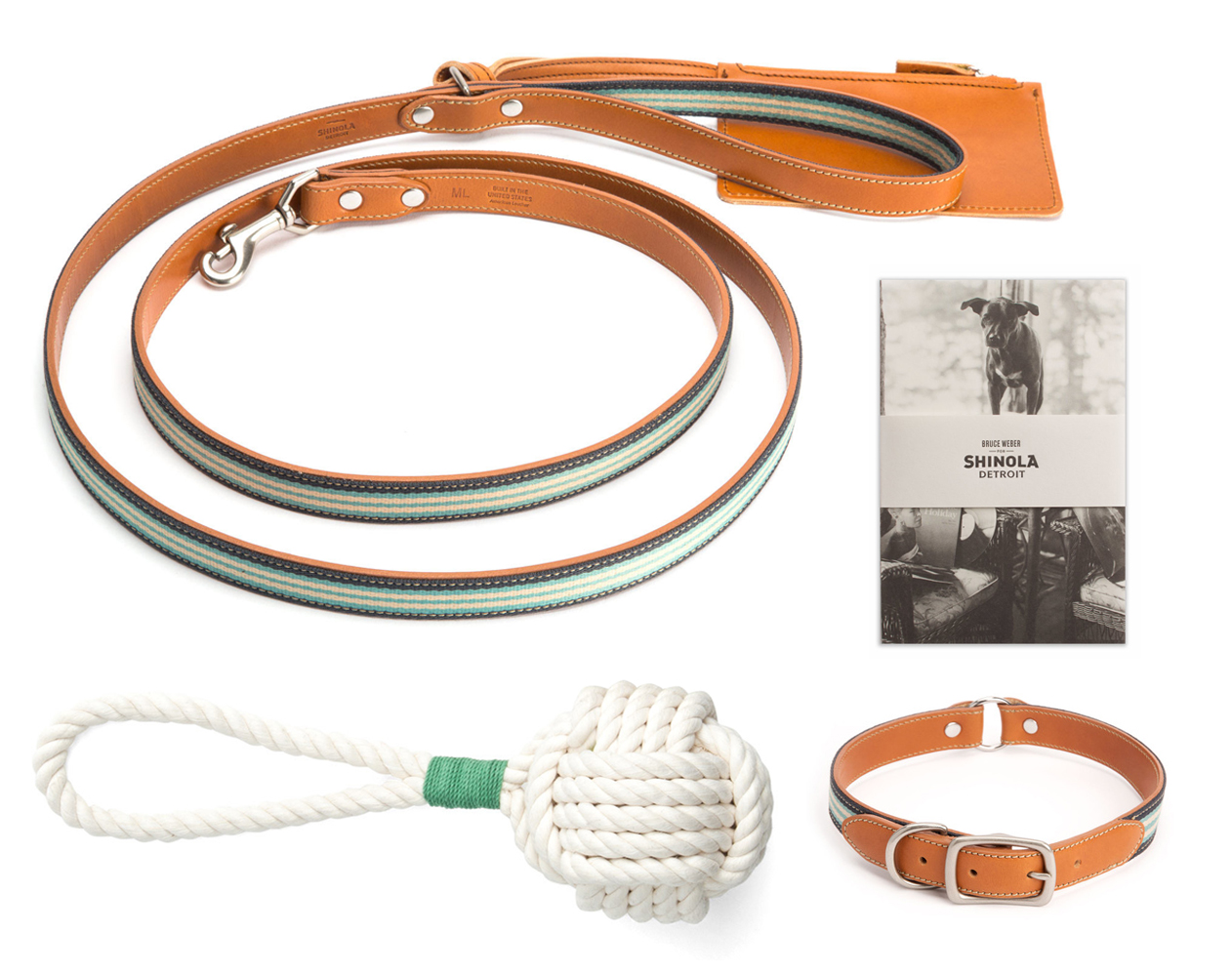 To enter, Instagram a picture of your own dog (or the dog of someone you love) in a design-y or art-y context and tell us what makes that dog a hero. Make sure to use ALL of the following tags so we can find you: @_sightunseen_, @shinola, and #shinolapet. This Friday, we'll pick our favorite photo and regram it, then send the poster a Shinola rope toy, newly released leather leash and collar, and Bruce Weber postcard set worth $227 (US shipping only). Need some inspiration? Check out the responses of our nine designers!
What makes your dog a hero?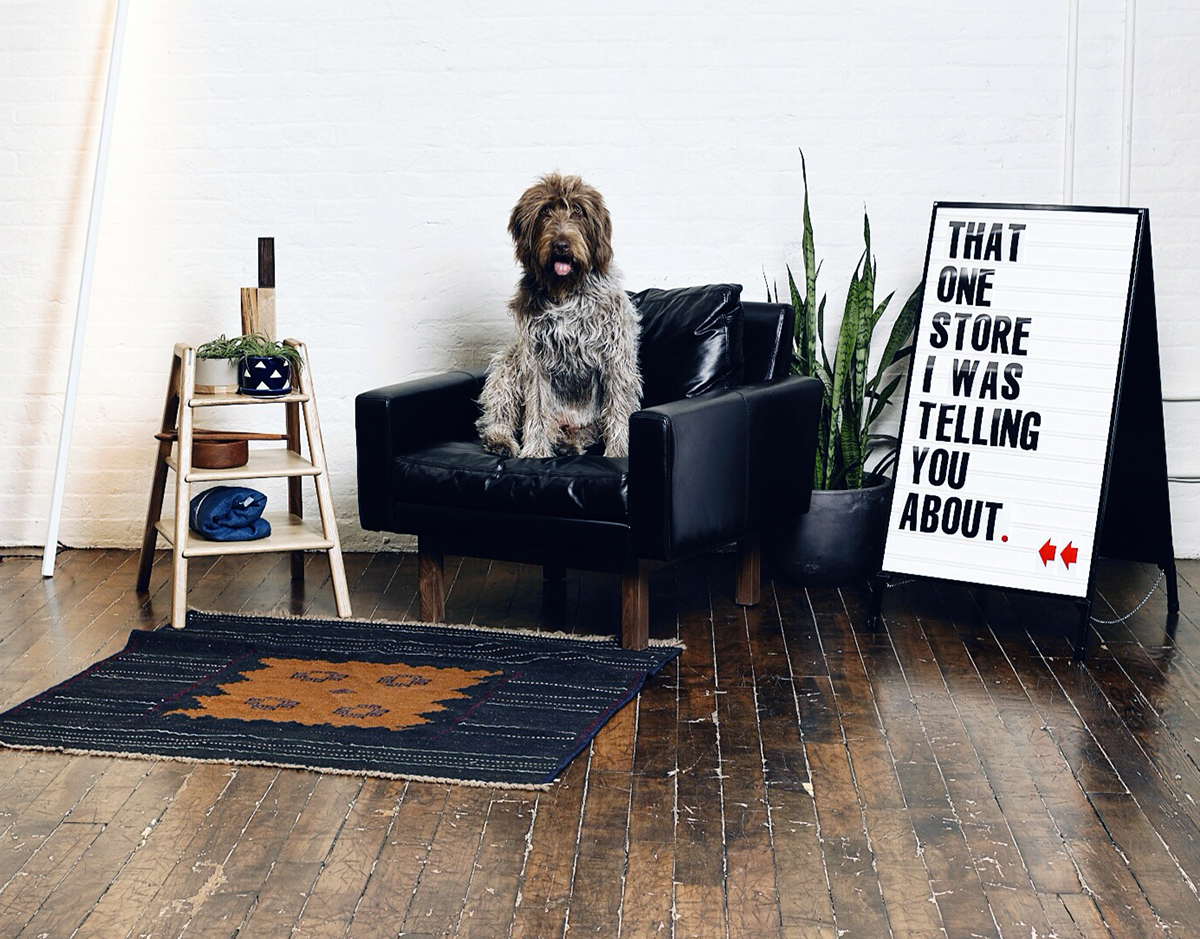 Caroline Ventura of BRVTVS and Calliope
"Darryl's heroism lies in his ability to make you appreciate the smallest, most seemingly insignificant things. Since bringing him home I've learned the importance of stopping to smell the roses and the art of true patience. Our evening walks together are one of the things I look forward to most in my day; getting to slow down and just enjoy a leisurely stroll through the neighborhood together brings me such happiness. He has the biggest heart and the goofiest personality that quickly wins the affection of anyone he meets — big or small, stranger or friend. He's a master at making people laugh. Next year he will begin training as a Therapy Animal, so he can continue to bring joy to a new set of friends." Photo by Christine Blackburne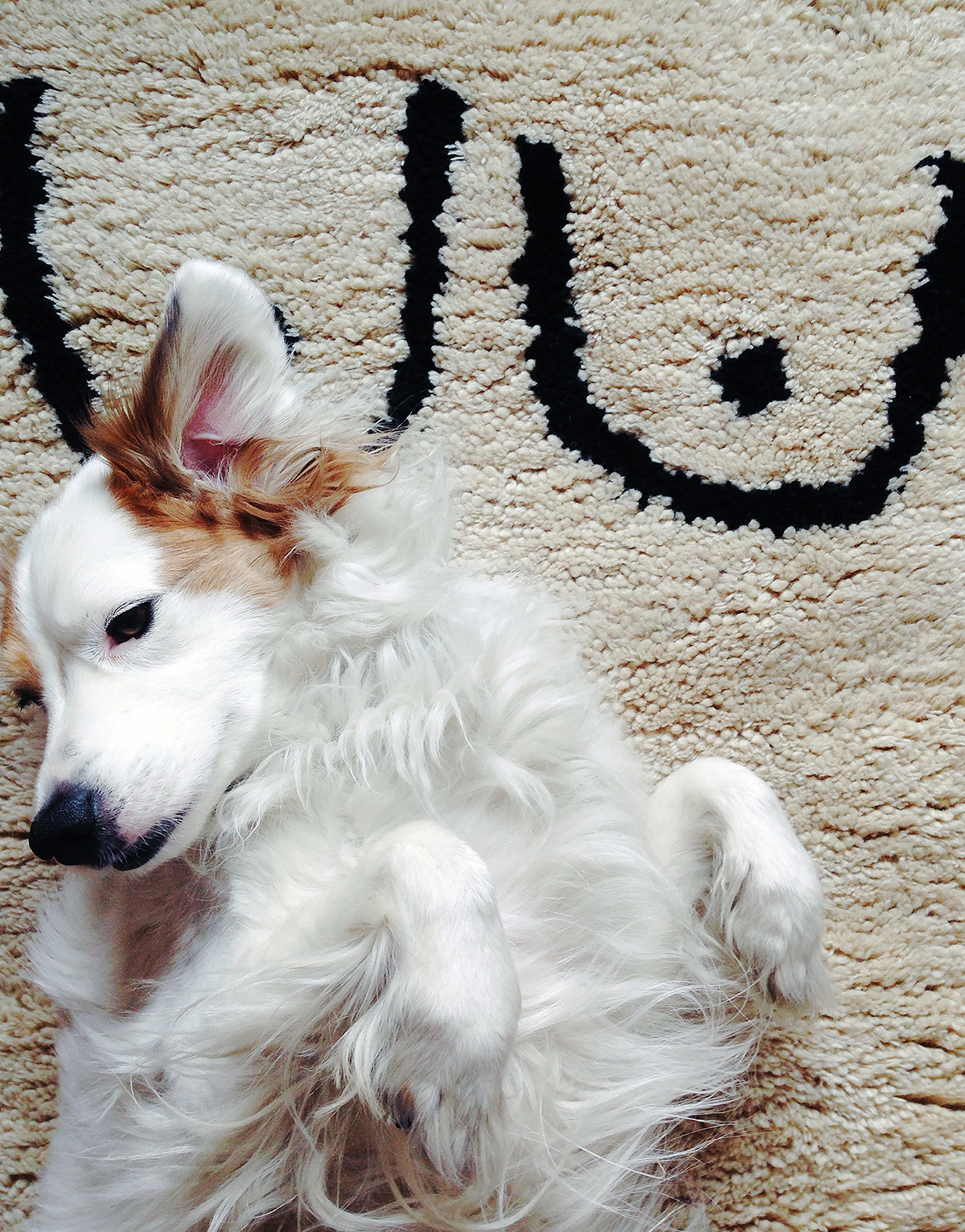 Peter Buer and Phoebe Sung of Cold Picnic
Peter: "We adopted Phillip after 7 years of Phoebe's daily appeals for a dog finally wore me down. He was 3 years old at the time and his name was originally Mopsy, and he'd been transported from a high-kill shelter in Kentucky to a foster home in New Jersey. I had never had a dog or particularly wanted one, but Phillip won me over pretty much immediately. Now I can't imagine how we ever managed without him."Phoebe: "Phillip is our hero because he has nearly perfect manners in all situations, and more importantly, because it takes so little to make him happy."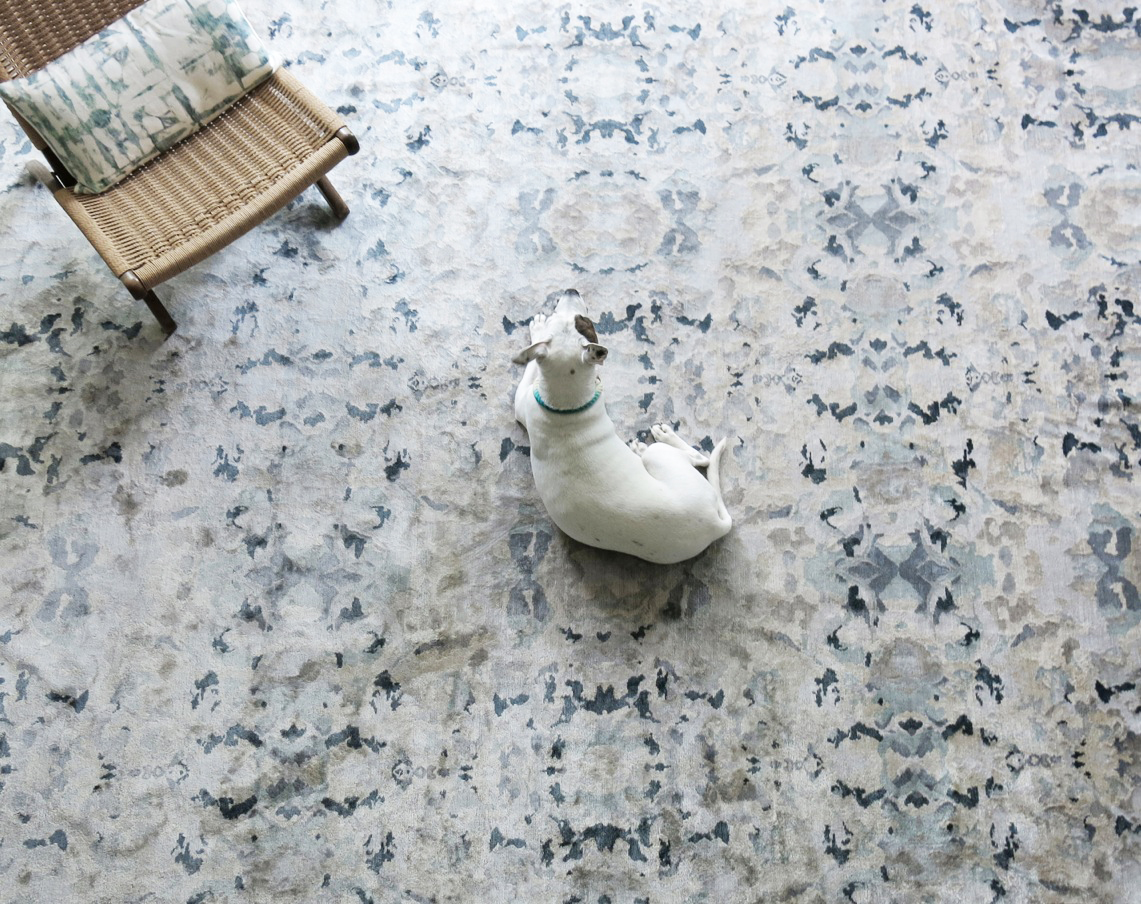 Shanan Campanaro of Eskayel
"About 10 years ago a friend of ours mentioned that his girlfriend had taken in pit bull puppies from some kids who fancied themselves breeders in the projects near her apartment. We stopped by to see them for fun and one of them was Kaya: all white except for a perfectly round brindle patch over her right eye. She was extremely cute and sweet, unlike her brother, who was crazy and aggressive. Our friend suggested we take her home just for fun for the night, and after we went to bed, Kaya came to me in my dreams. There was was white light glowing behind her head like a halo in a medieval painting, and angels humming while she just sat there staring at me. When I woke up I found her lounging on a stack of Turkish pillows, feeling perfectly at home. Because of the dream I kept her. I had to.
"It hasn't been easy — she turned out to be the most headstrong little beast — but she's a hero because she makes just about everyone smile. There's something in her eyes that makes everyone notice her. One of the funniest and most frequent things that happens in our neighborhood is that someone will see her and comment, 'That dog looks like Petey, from the Little Rascals!' Often it's older people, and they get so excited as the experience of seeing her brings back some fond memory. Other frequent comments include 'Look, it's Spuds!', or 'The RCA dog!', or 'I know that dog!' But the absolute best was when a little kid walking by yelled out 'Look mommy, that dog is a pirate!'"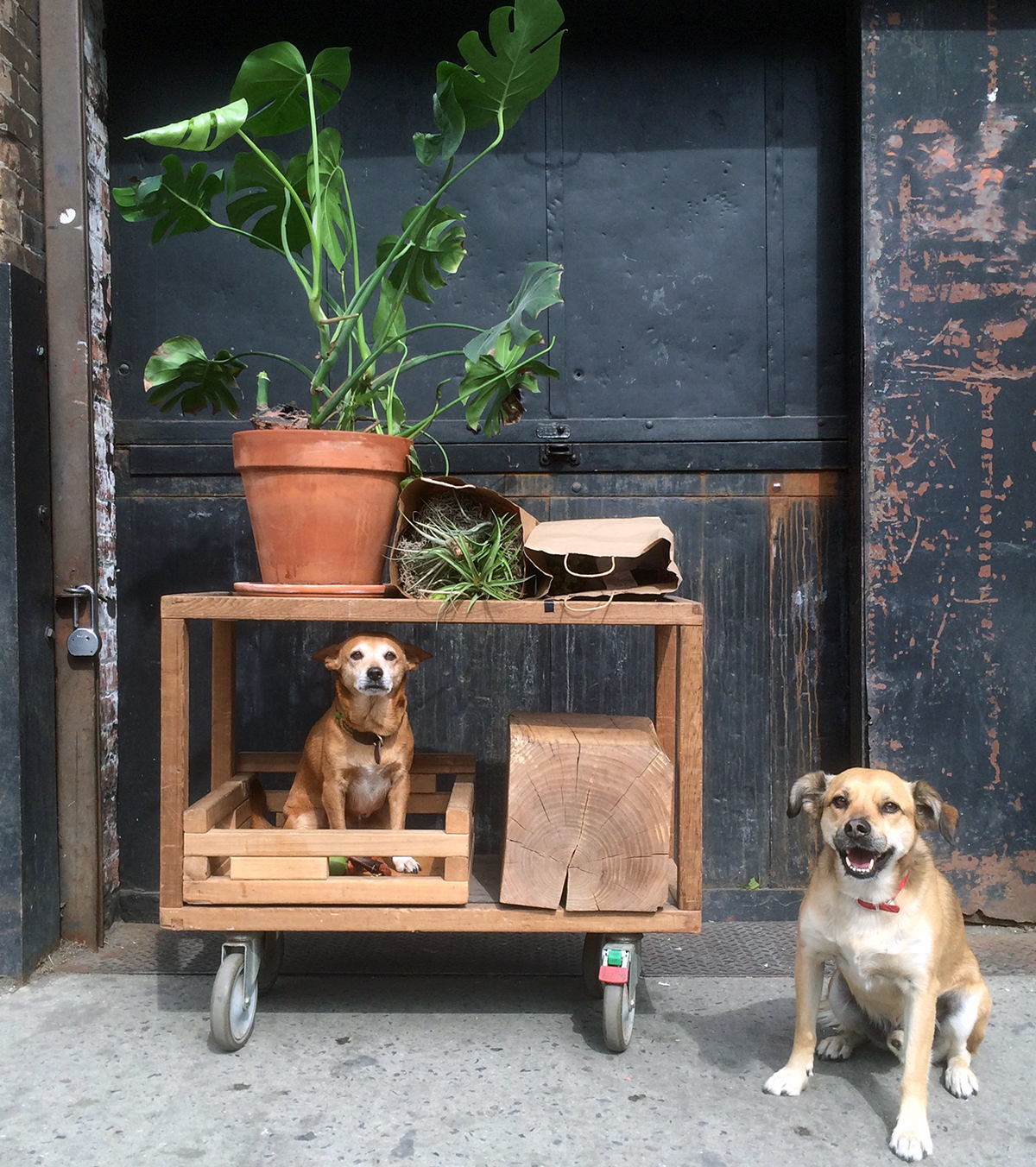 Huy Bui of HB Collaborative
"Mio and Loopy make the world a better place! Their charming smiles and wagging tails bring joy to many who cross their paths. Their emotional IQs are off the charts — they'll sniff out your bad mood and greet you with a hug and a kiss in a jiffy. They're just as game for city life as they are for chilling and curling up while watching a movie. They've stood by my side during meetings, installations, and exhibitions. I've taken them to family gatherings and barbecues, where they're just part of the crew and having a great time. These dogs are my heroes for sweetening day-to-day life in my New York community."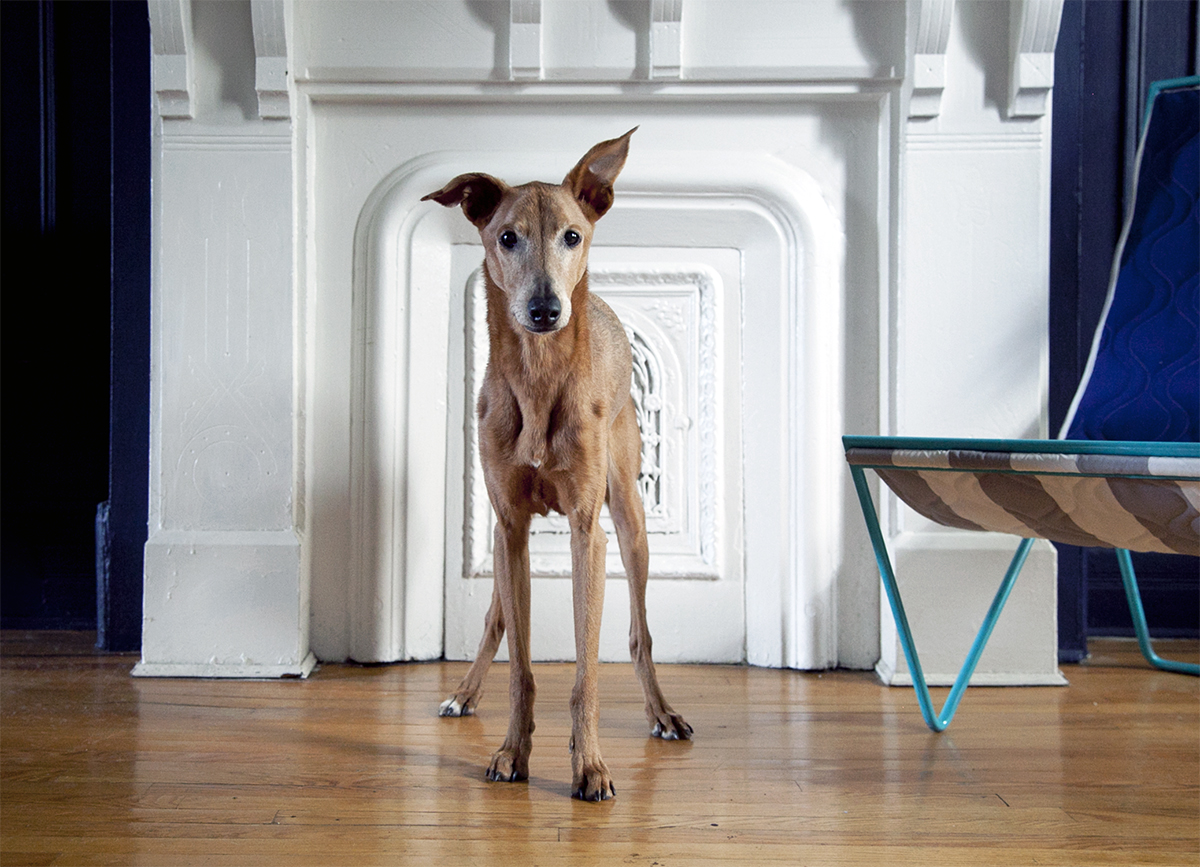 Kyle Garner of Sit and Read
"I rescued Nia from a slightly unstable neighbor in Oakland, California, 12 years ago, when she was just 9 weeks old. She's been by my side every day since, teaching me patience, kindness, and the importance of simple pleasures."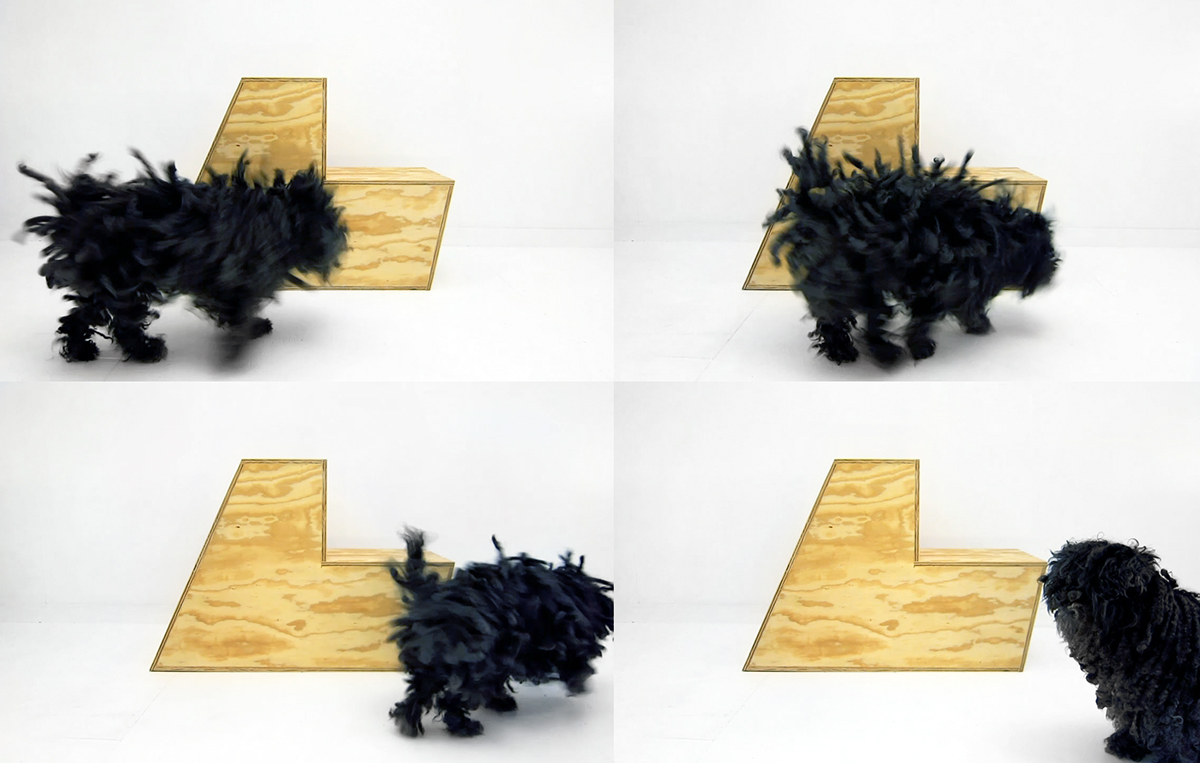 Matt Olson of RO/LU
"My wife Amy and I have a good friend named MOJO. He's a puli: a Hungarian sheepherding dog known for its cords, which are sort of like dreadlocks. They're a fairly rare breed. I'd only seen them in the occasional dog show on TV, and on the cover of Beck's Odelay album, until we adopted MOJO when he was 5. He's an old man now — almost 15 — and he's still working hard to keep track of his flock (ie, us). We love him more than ever. He stays with my parents sometimes when we're traveling and I remember calling from the road once to check on him. My Dad laughed and said, 'MOJO is is his own man.' That sounds about right. He's a hero the same way all dogs are: Humans have so much to learn from them! Unconditional love, joy, loyalty, presence, simplicity… I think we should all try to be more like dogs."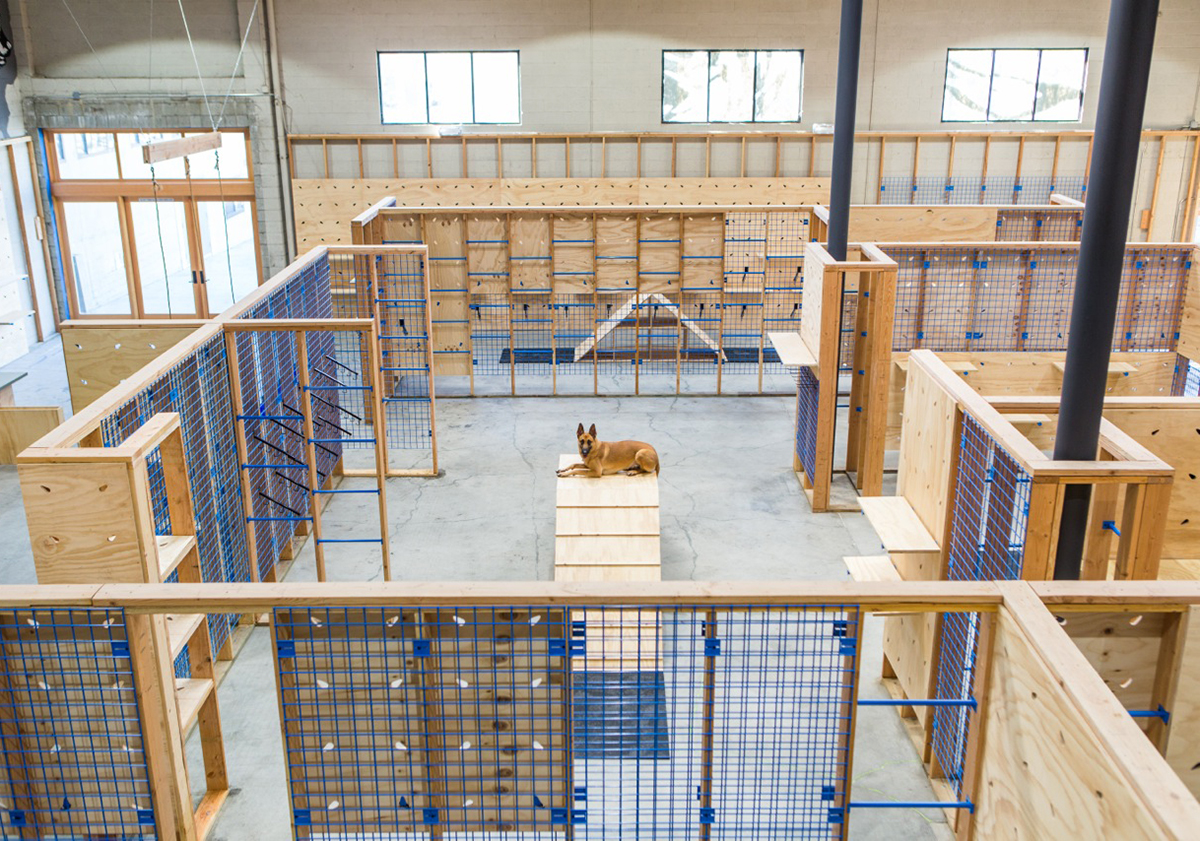 Makoto Mizutani and Benjamin Luddy of Scout Regalia
"Penny is no stranger to being a hero. She's a Belgian Malinois, which is a working dog breed usually seen in the military and police, and the one exclusively used by the Secret Service to protect the President. They're high-energy, high-drive dogs that definitely need jobs. Penny's job here at Scout Regalia is to be our official mascot, field scout, security detail, peace ambassador, and muse. She inspires us every day to enjoy the moment and to take a break from designing products, furniture, and spaces to go outside and have fun. Most recently she helped us design our latest interiors project: Blue Collar Working Dog, a 6,000 square foot dog supply store in Los Angeles (pictured above). We designed the space to include an agility course built into the retail experience, which was tested and approved by Penny. Penny's work ethic and obsession to detail is right in line with the Scout Regalia ethos. She's our #1 team player!" Photo by Laure Joliet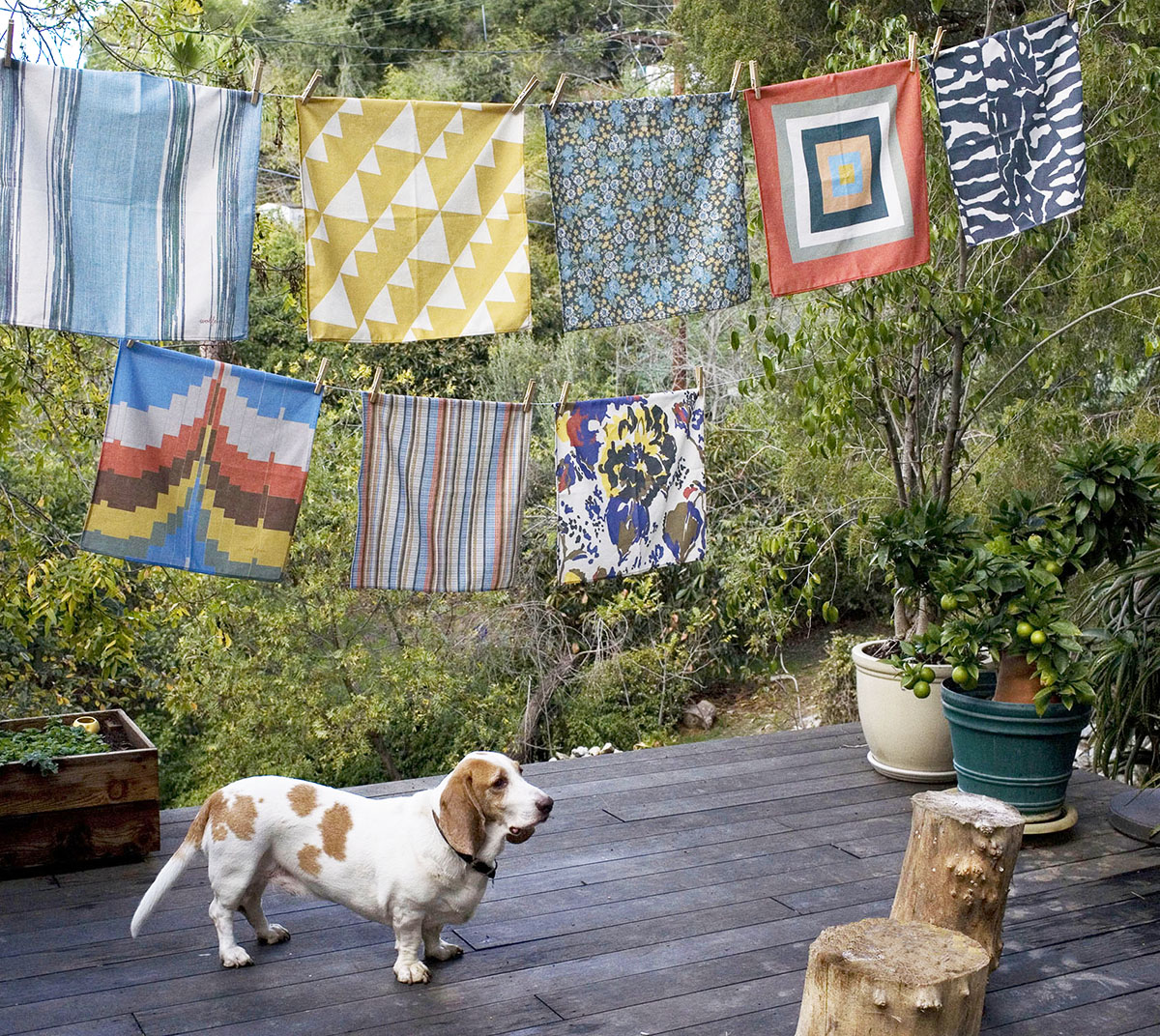 Annabel Inganni of Wolfum
"Gus — full name Gustavo Blue of Richard Hill — is a 10-year-old basset hound, and our first baby. Rambunctious, adorable, sweet, and doting, he was just about the cutest puppy in the world when we got him, with giant feet that looked like a baby elephant's and a signature dot on the top of his head. Pippa Jefferson (not pictured), named for the street she was found wandering on in south L.A., came to us by way of my lifelong rescuing habit; from dogs to bunnies, I've always had a knack for finding wayward creatures and helping them. Pippa was so small and hungry, and I couldn't resist her sweet face: a mix of Chihuahua, Jack Russell, and Dachshund.
"What makes them heroes? Being a senior dog, Gus has suffered through many changes in his lifetime. Once a shop dog, he now chooses to spend his time lounging on the couch rather then trekking through sawdust, but despite that, he still rallies like no other. He's my hero for gracefully manipulating me into endless back scratches on the couch, for being able to find any cat, coyote or possum in the vicinity, and for being able to sleep so soundly that not even a 4 year old can wake him. Then there's Pippa, who's equally comfortable burrowing under the covers in bed, racing around with the cat, or playing dress up with Birdie, she's endlessly patient and perfectly playful. When our daughter was born, I was concerned that the dogs would feel displaced, but Pippa was there for Birdie from the first moment we brought her home. Her loyalty is inspiring, and I can't imagine our family without that little street runt we found so many years ago."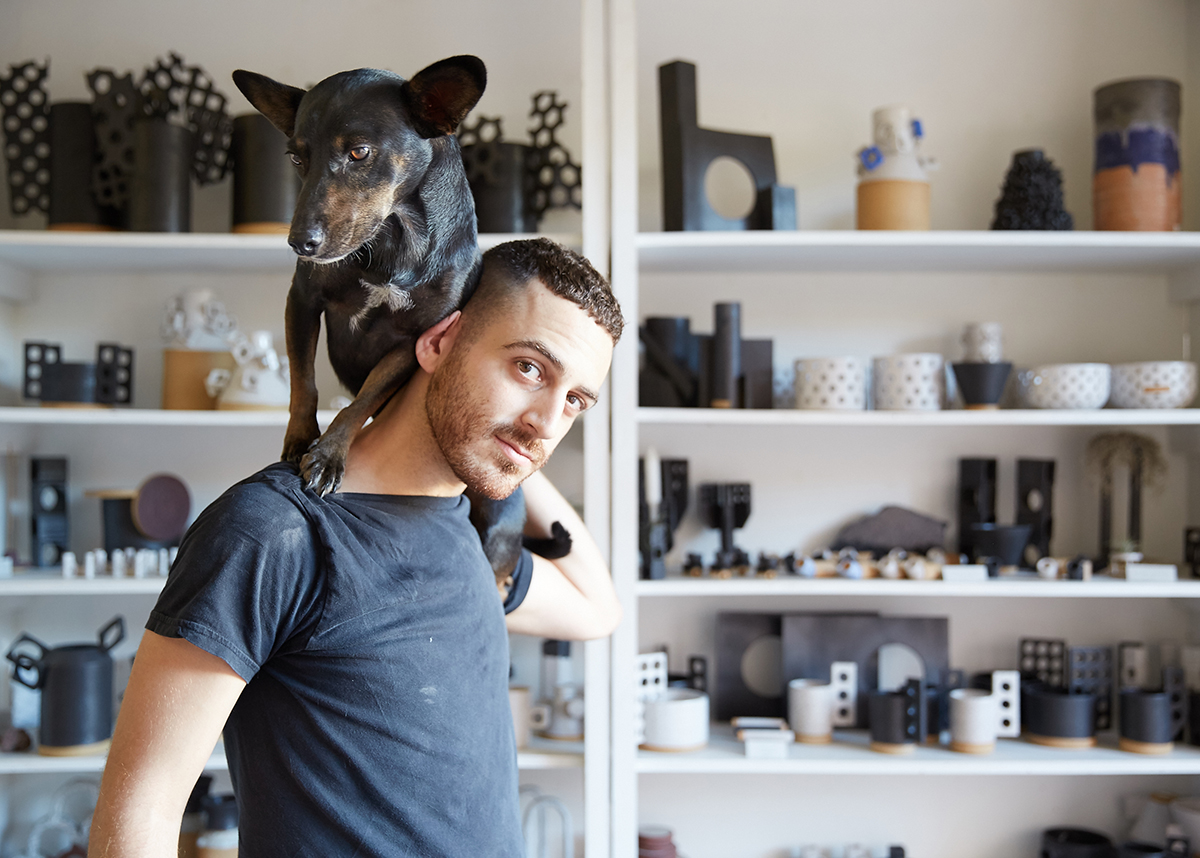 Ben Medansky of Ben Medansky Ceramics
"My dog Banjee Girl is a hero because of her magnetic energy and the affection she shows to everyone she meets. Her love and enthusiasm for everyone is an instant reminder to stay positive and let go of the negative and uncontrollable. I adopted her as a puppy from the West LA animal shelter — I immediately knew that she was the one because of the instant and intense connection we had. She definitely got the best qualities of her two breeds: the aware and intelligent nature of a Basenji, and the playful and cuddly characteristics of a Dachshund. She's become somewhat of a mascot for my company because of her presence on my Instagram. I bring her along when I make deliveries of my ceramics, and she's really remarkable at greeting and connecting with the people we meet. Any time someone comes to the studio, they leave with Banjee's autograph: two dusty paw prints on their pants to show her love."
This post is sponsored by Shinola. Like everything at Sight Unseen, our partner content is carefully curated to make sure it's of the utmost relevance to our readers.