11.19.15
Robert Storey, Set Designer for Kenzo, Nike, and More
London set designer Robert Storey consistently wows us with his work. The strong lines and shapes and bold color have a lot to do with that, but so does the way he fluidly pulls from different disciplines while maintaining a distinctive, coherent vision. "I grew up around this kind of make-it-yourself attitude," Storey explains. "Both my grandfather and my father are incredible carpenters as hobbyists and they built a lot of the furniture in our houses. And that's influenced the way that I feel about designing and making. Everything feels feasible."
In 2004, Storey moved to London to attend Central St. Martins, where he focused on sculpture. After graduating, he headed to New York for a couple of months, which turned into a year. It was there he met an agent who got him thinking about set design as a way to make sculpture in a more commercial context. "I see every set I make as a sculpture, really. Or an installation that just happens to be in the world of fashion." He began assisting other designers and doing side projects before starting his own studio in 2010, attracting clients such as Nicholas Kirkwood, Christopher Kane, Alexander Lewis, and Kenzo. In the last year, StoreyStudio has been increasingly in demand — the team doubled in size, to a collective of six, including a couple of architects.
What really interests Storey is creating immersive environments. "A spatial design work can exist in an image and it's great for people to experience it that way," but it's not the same as being there. The temporariness is an essential part of the experience. "You can only walk into it for as long as its there, which I love." But he's also followed an opposite impulse lately — the urge to make something lasting, whether that's designing more permanent spaces or products. For the Wallpaper Handmade exhibition at Salone del Mobile, Storey created a brass and marble floor lamp in collaboration with Kalmar. "It was something I'd been wanting to do for a long time," and he's eager to do more.
For Storey, it all fits together. "As the studio's grown, it's developed this aesthetic and when you have a kind of design ethos, you're able to apply it to anything, from the way you style a room to the way you decide to make a sculpture. It's hard to explain; it's just innate." At the same time, nobody creates in a vacuum and we wanted to know more about what moves Storey and pushes his work forward. The eight influences here are wide-ranging but have a lot in common. "They're all kind of complicated and showy but at the same time they're very simple when you really look at them. Just clean lines with interesting cuts or colors." In talking about them, he admits, "I just want to say the same thing for everything!" Happily, though, he came up with a few more details.
1. Dan Flavin, Untitled (for A.C.), 1992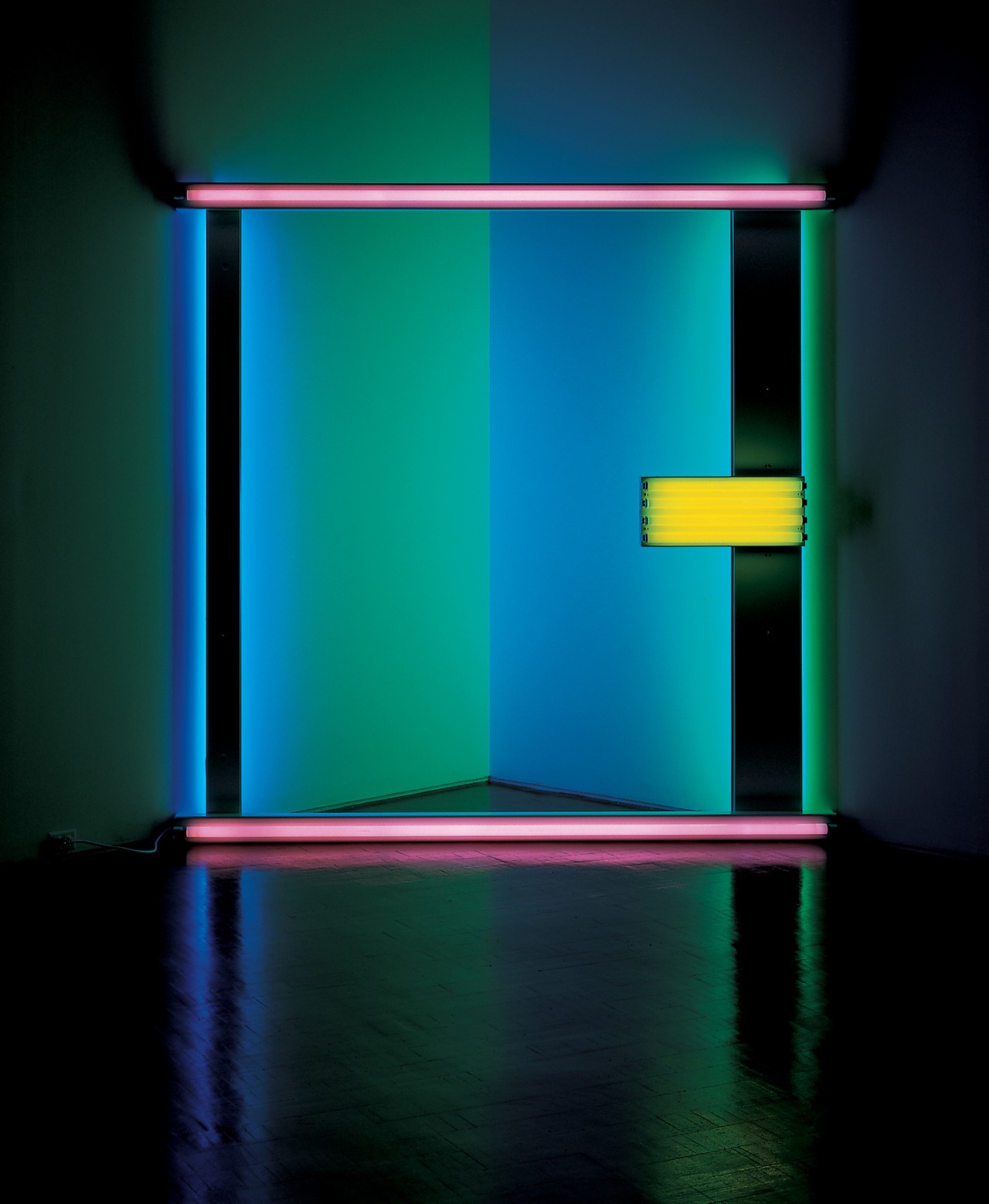 "American minimalism is something I am incredibly drawn to and take a lot of inspiration from. I love to create work which has an elegant simplicity in its design yet seems complex in its application. Dan Flavin creates sculptural installations which take over your senses as soon as you are immersed within them."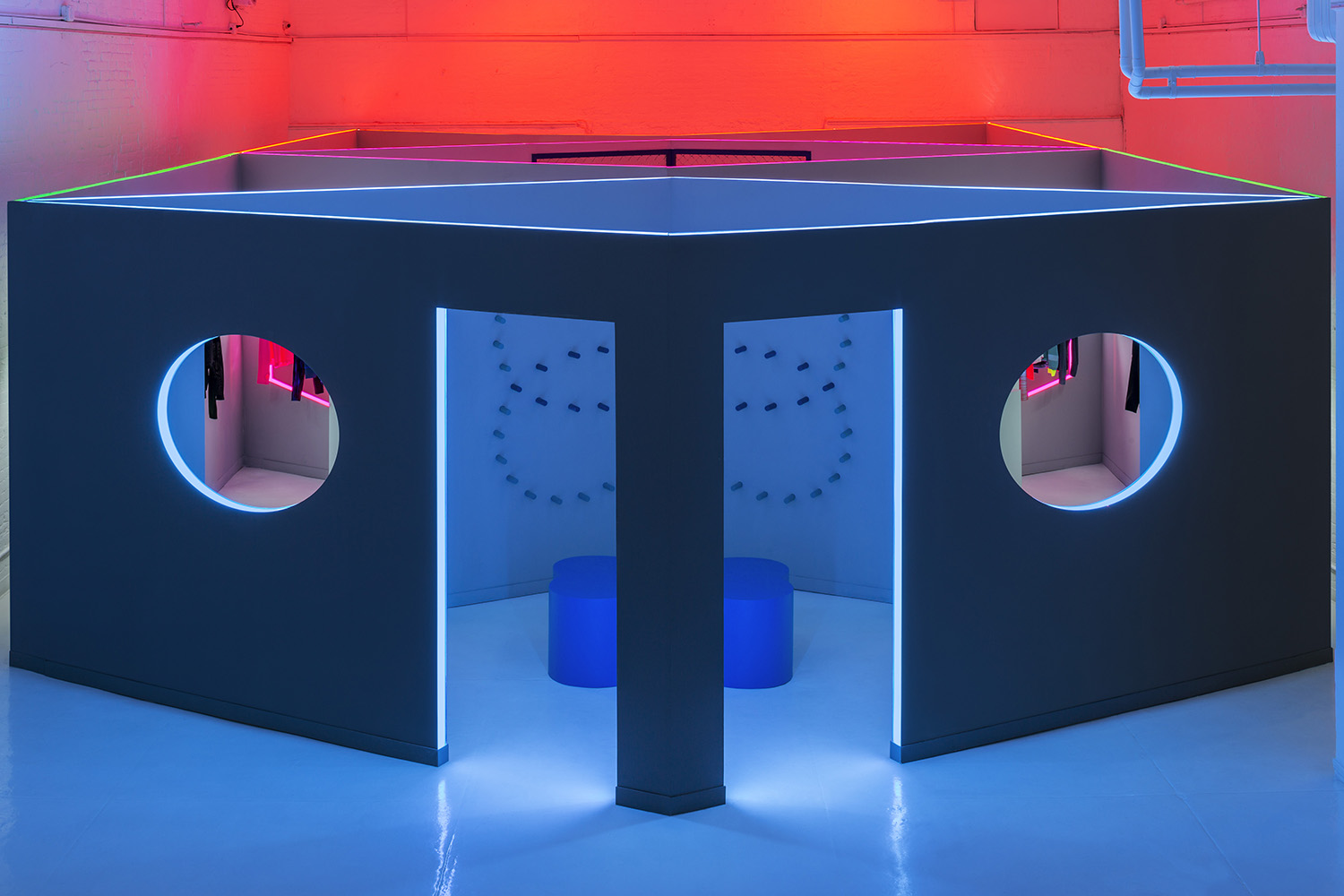 Storey designed this presentation space for Nike Women in 2014 "with clean lines and graphic shapes in mind. I wanted the light from one room to bleed into the next in the way that Flavin did."
2. Le Corbusier's High Court Building, Chandigarh, India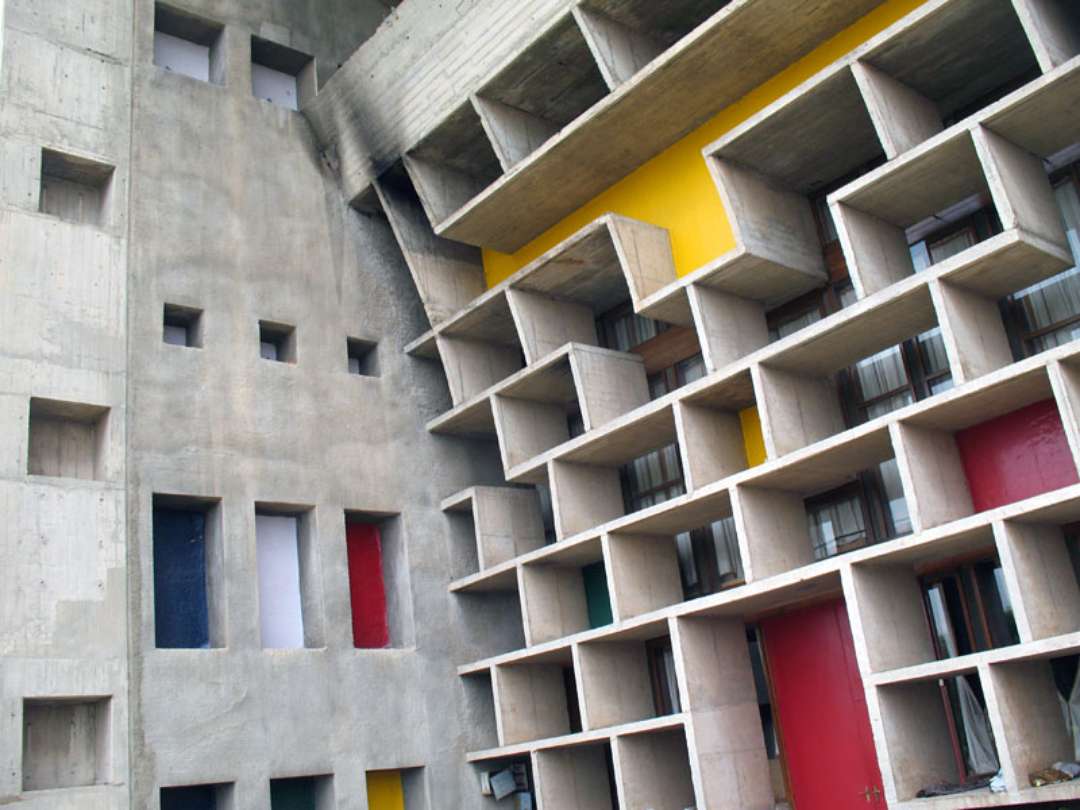 For Storey, Le Corbusier is "the ultimate creative polymath. All of Corbusier's work, from painting to furniture and architecture, has inspired me to work in whatever medium excites me, knowing that so long as I stay true to my own aesthetic, the outcome can be as successful as the previous project."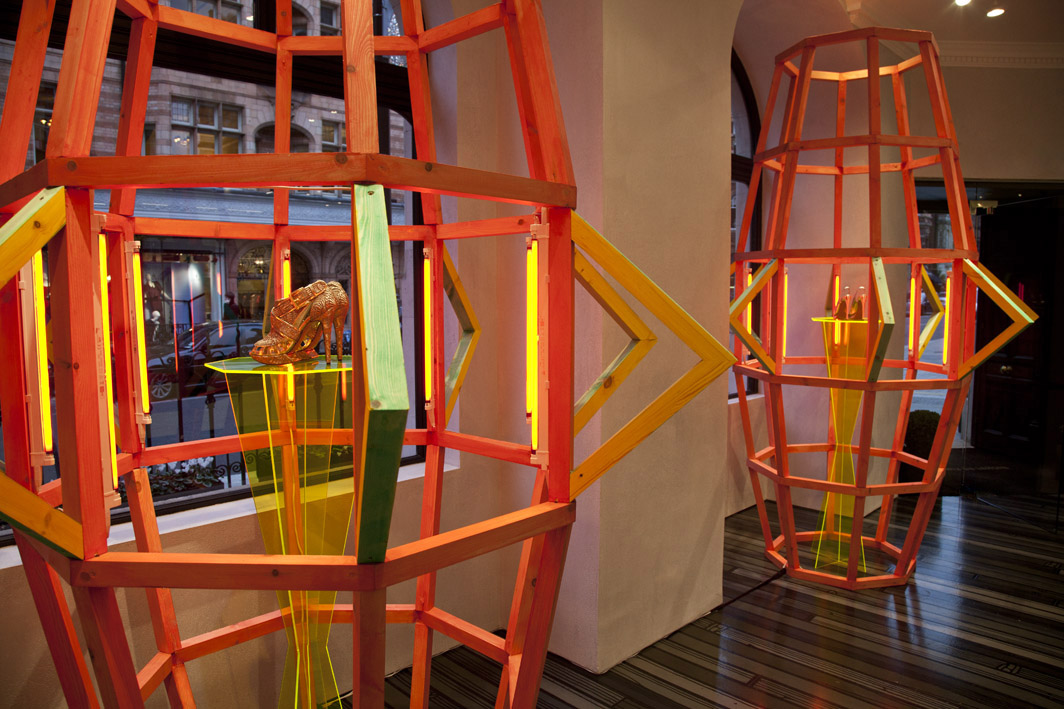 For this 2012 Christmas window display at Nicholas Kirkwood in London, Storey "was thinking about architectural frameworks and showcasing product in a way that would be exciting and bold. As with most of my projects, I approached the windows with making sculptures in mind." While there's "always a commercial aspect you have to think about in set design" it's something Storey enjoys. "I like discovering the heritage of brands and understanding the identity."
3. Anish Kapoor, Void, 1990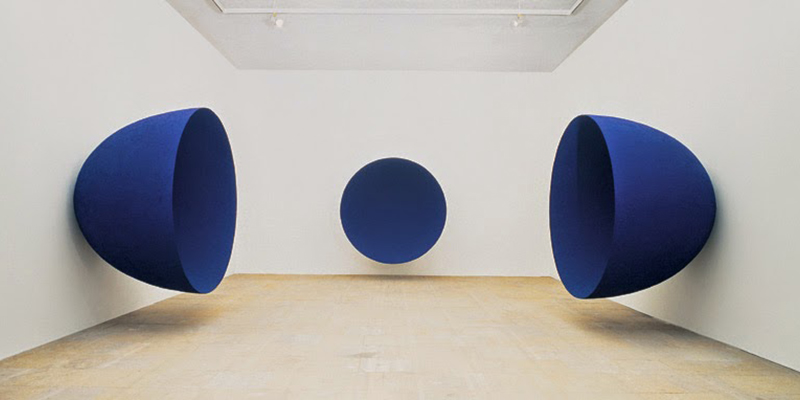 "The combination of simplicity and depth in Kapoor's biomorphic sculptures keep me staring for hours. My love of sculpture completely informs the way I design and these pieces demonstrate perfectly how to create an impactful environment through something so 'simple.'"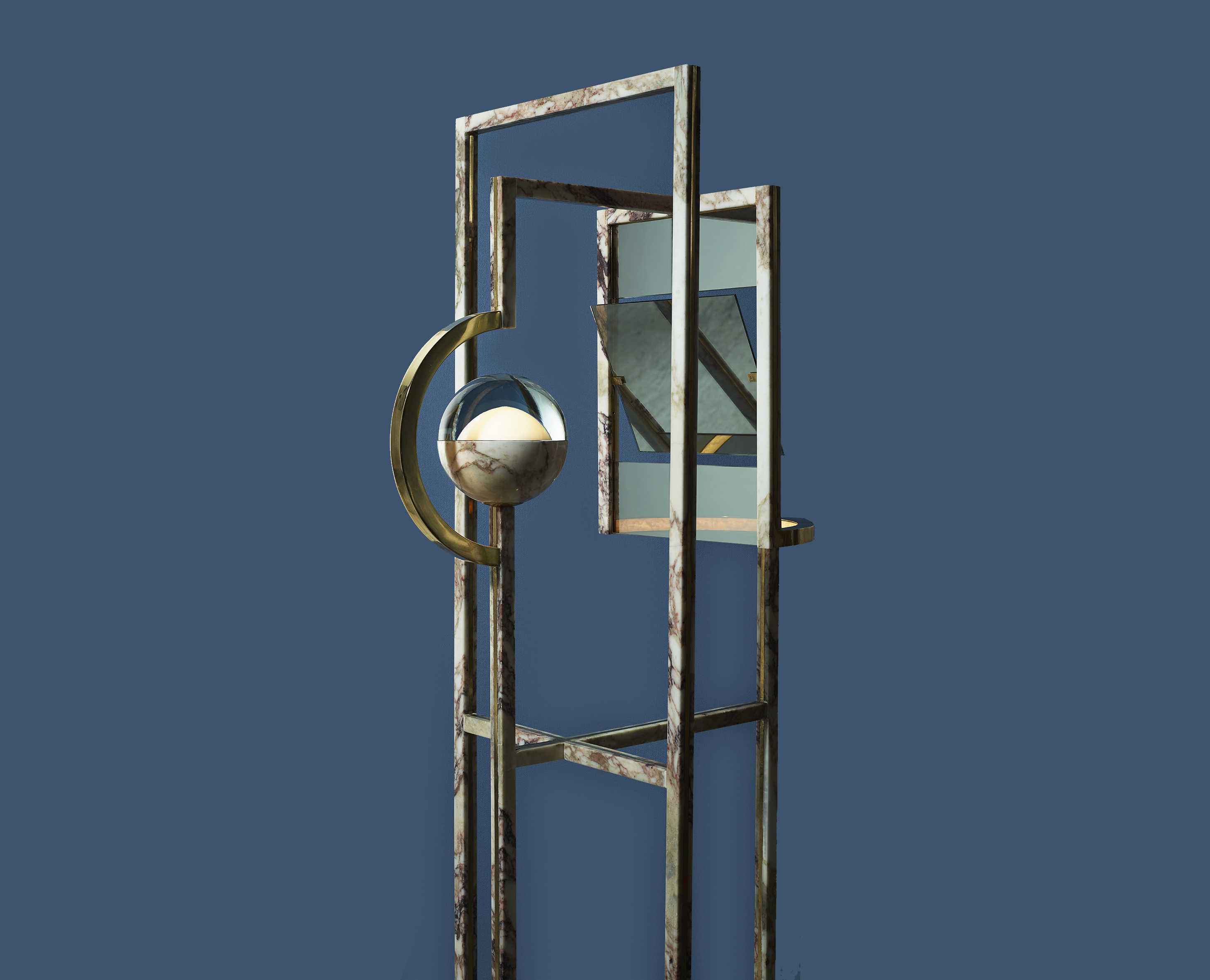 The Formative Floor Lamp, Storey's first foray into product design, was commissioned by Wallpaper magazine as part of their 2015 Salone del Mobile exhibition. "I wanted to create a contemporary yet timeless piece which felt elegantly simple but complex in its design." It started off as a cabinet, Storey explains, "which is why it has that framework and then I was just stripping it back more and more so that it was no longer a cabinet and had to become a lamp."
4. Lygia Clark, The Inside is the Outside, 1963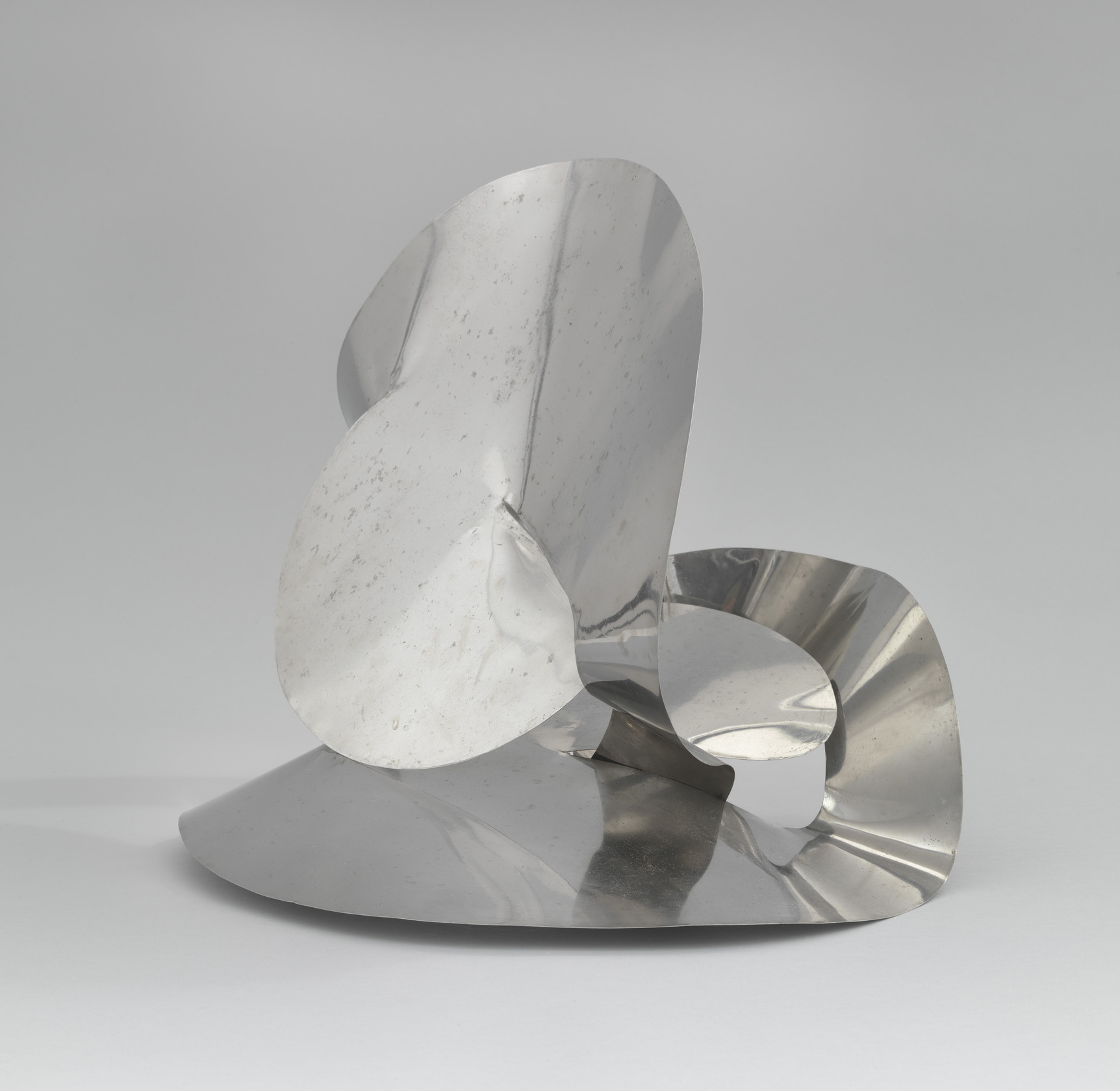 "Shape, material and form are incredibly important to me," says Storey, who loves "the simple elegance and beauty of this sculpture," by the multi-faceted, hard-to-categorize late Brazilian artist Lygia Clark. Her later projects were increasingly participatory and though Storey was introduced to Clark's work "after I had exhibited my sculptures," he felt "kindred in our motivations."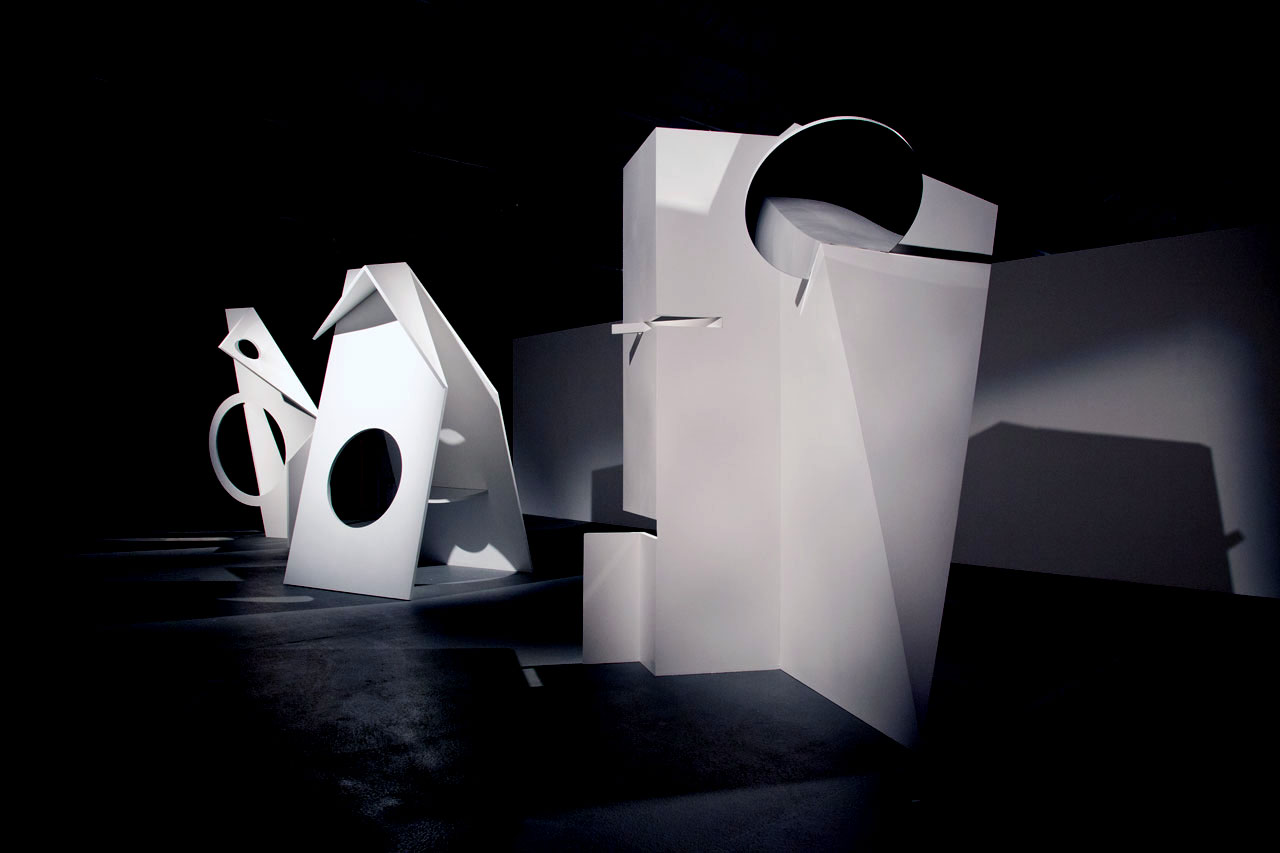 Storey made these sculptures — Opposite Surfaces Subtract — for a 2014 exhibition at The Vinyl Factory in London with multimedia artist and filmmaker Quentin Jones. Drawing "inspiration from origami and constructivism, I was focused on taking simple shapes and playing with perception by making cut outs and using mirrors."
5. James Turrell, The Way of Color, "Skyspace"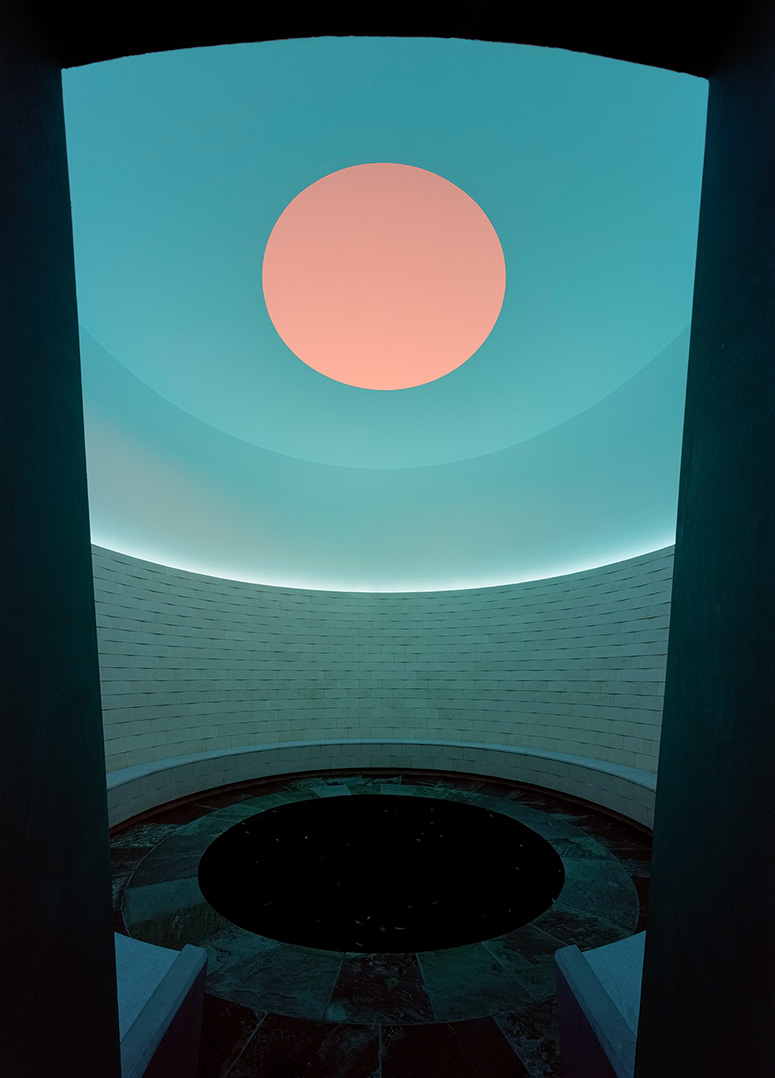 "I feel my work sits somewhere on the border of fine art and architecture. Turrell builds spaces in which he creates evocative environments — these installations are incredibly beautiful dreamscapes which take over my imagination and remove me instantly from my immediate reality. I aspire to create spaces in which people can be transported from their world to mine."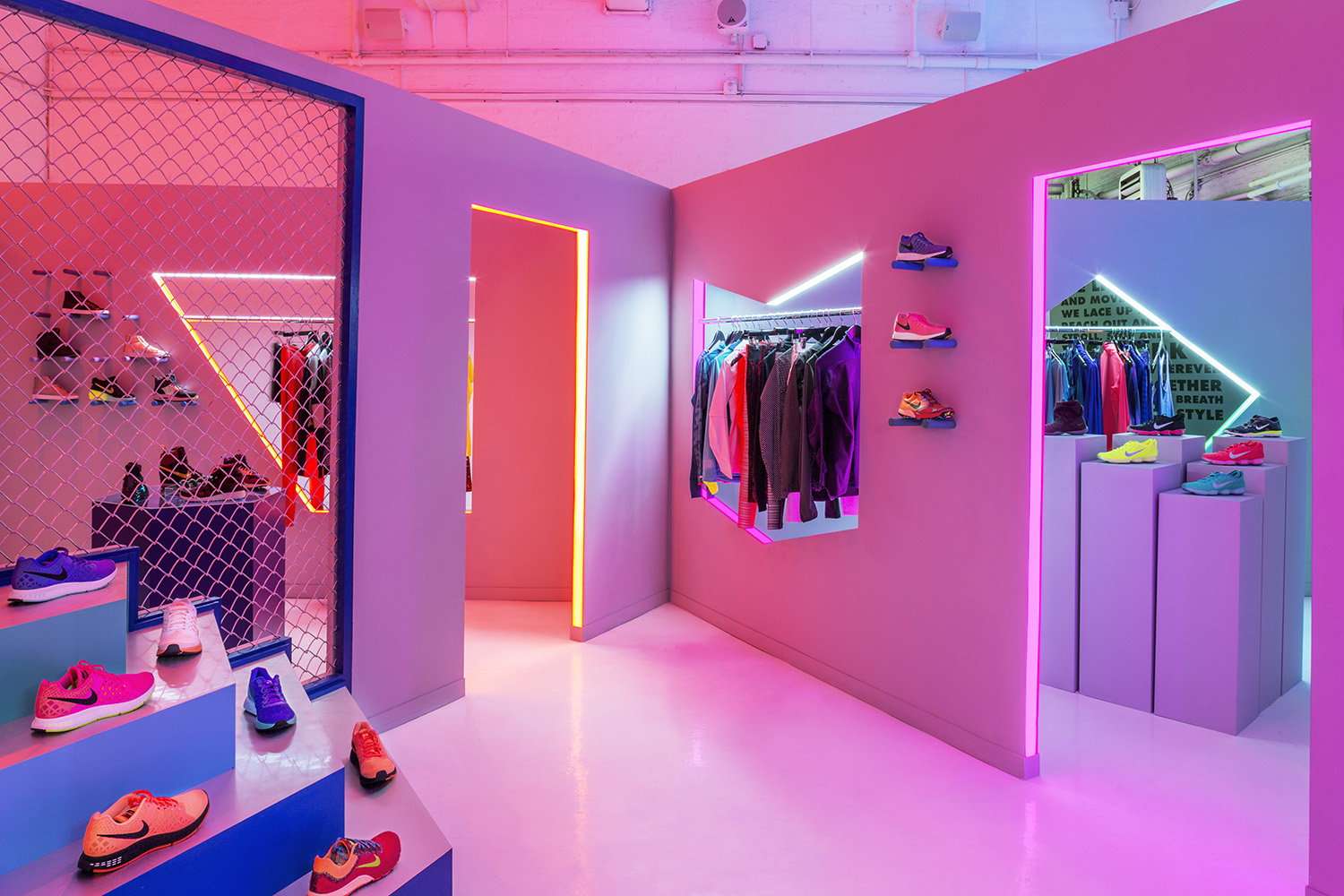 With that in mind, Storey hoped this project for Nike "would transport its audience from the busy streets of New York into a fantastical work of Nike, making them forget about what had happened before they walked through the door and focus on the collection."
6. The Brion Cemetery, in Italy, Carlo Scarpa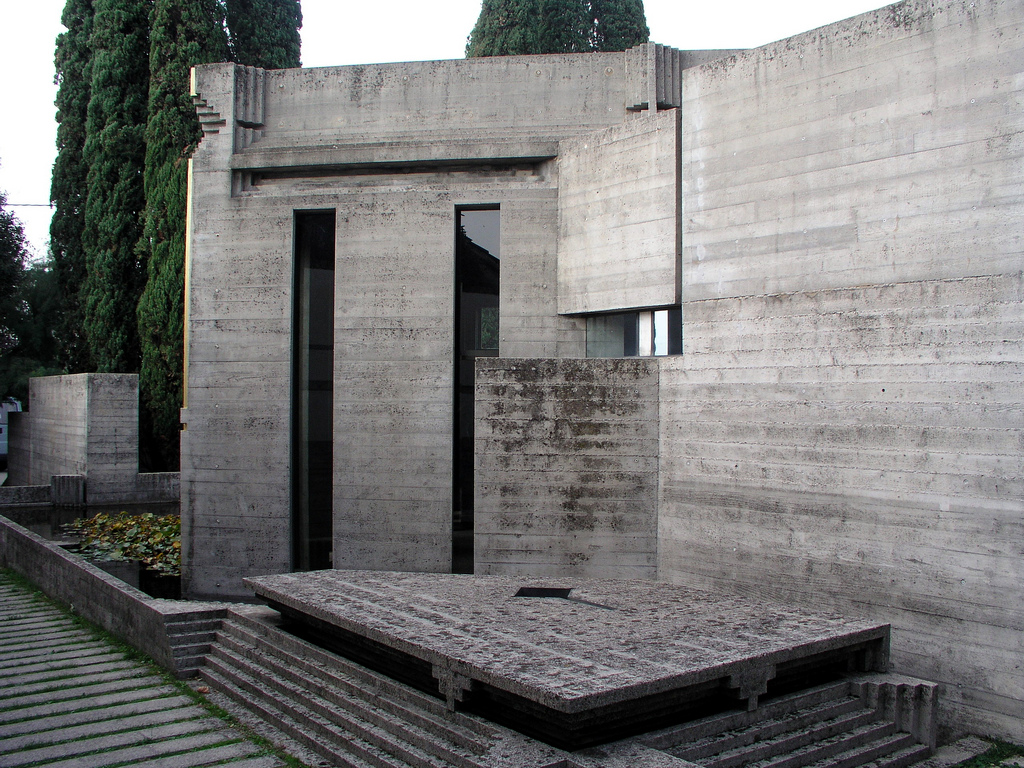 "The theme of graphic cut outs and geometric forms that divide space within my work" are influenced by Italian architect Carlo Scarpa, one of Storey's favorites. Scarpa designed this memorial for the Brion family in Italy in the 1970s. "The eccentric details within his buildings show personality that can only be his own."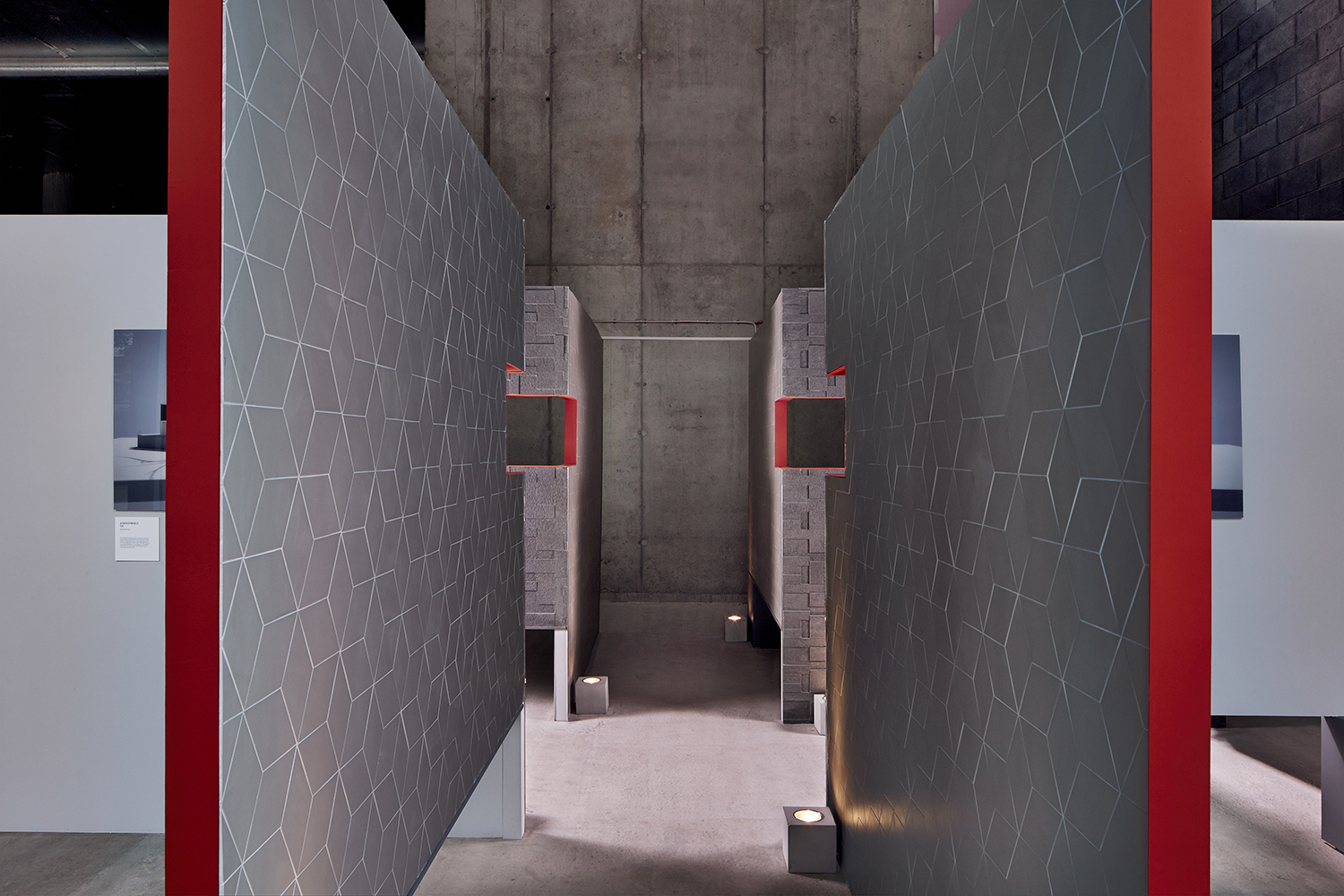 On his Wallpaper Architect Directory Exhibition Design: "Working in an industrial space, I wanted to keep the feeling of the Brion Cemetery, using graphic wall shapes and keeping a symmetrical floor plan to mimic the images displayed in the exhibition."
7. Donald Judd, untitled stack, 1967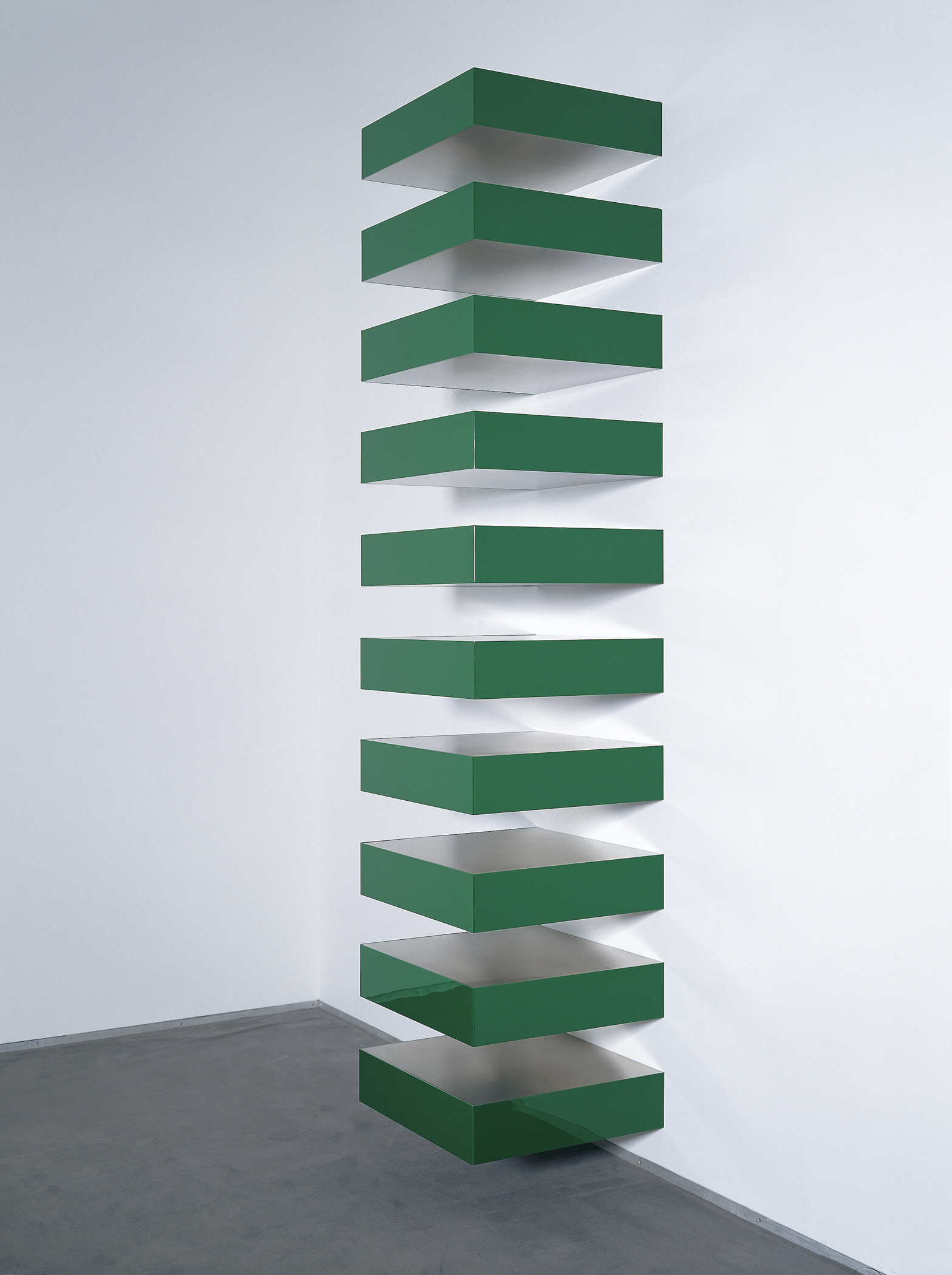 "My favorite artist and the king of American minimalism. There is a little bit of Judd in everything I do. He demonstrates that all you need is craftsmanship, beautiful material combinations and simplicity to create sculptures which have a timeless beauty."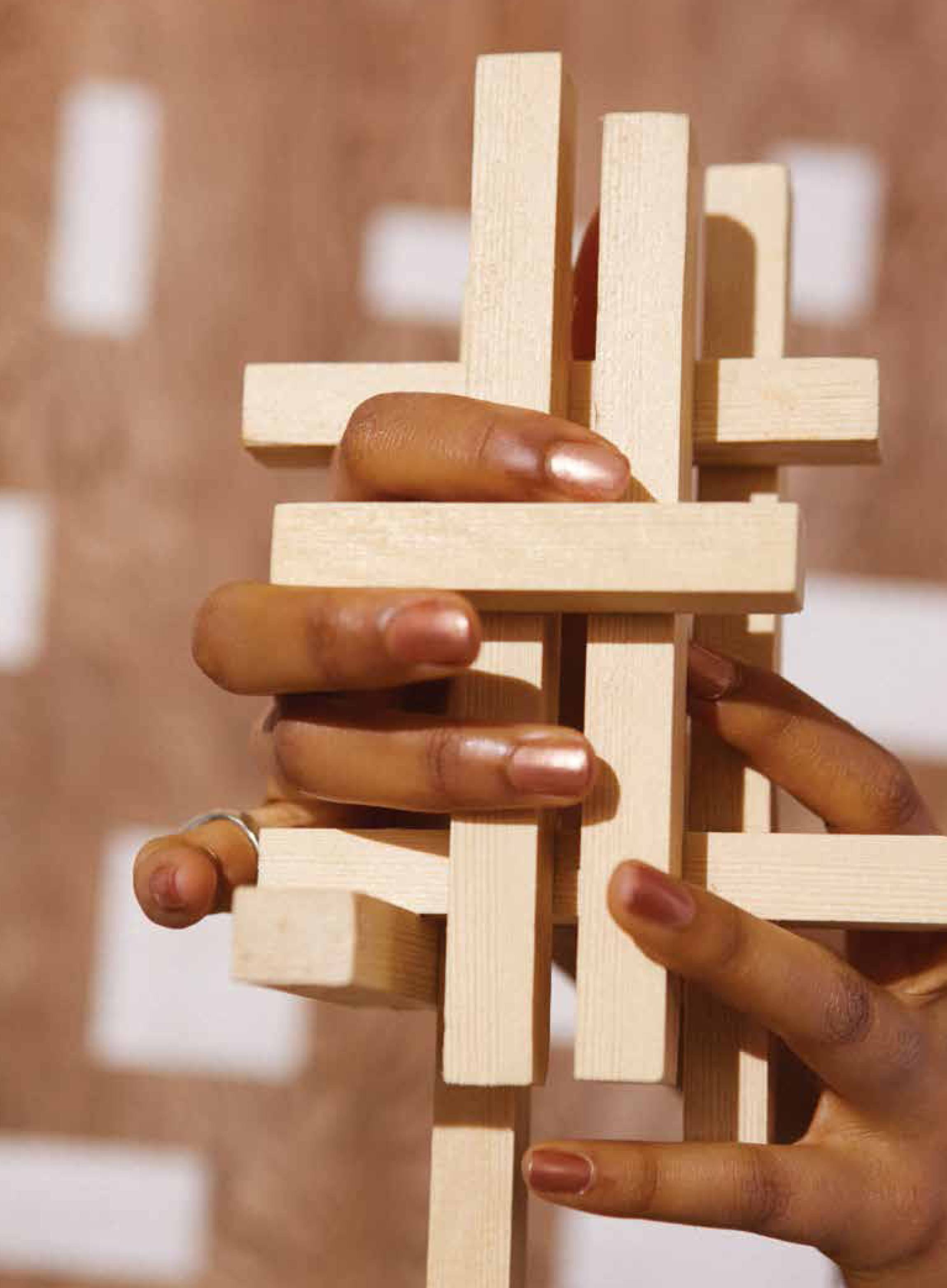 On Storey's brand book for Alexander Lewis: "I made this hand sculpture to mimic the larger set elements I built. I wanted the model to have a hand piece which would draw attention to the hands and then to the jewelry. The set was inspired by Judd, taking block shapes and deconstructing them."
8. Kazimir Malevich, Suprematist Composition, 1916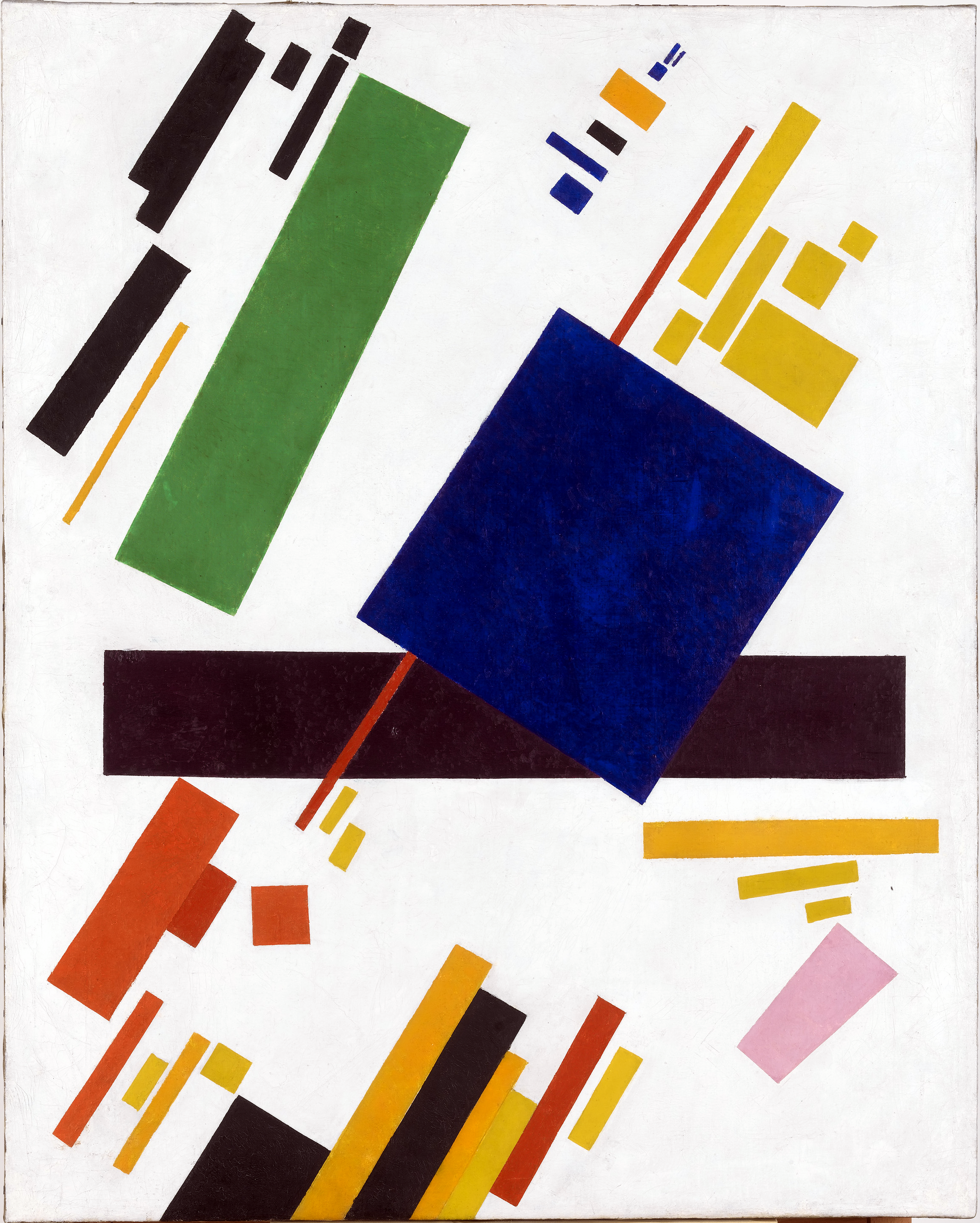 "I have always enjoyed Malevich but was incredibly inspired by his work after seeing the retrospective at the Tate Modern earlier this year." What particularly struck Storey were "the composition and layers of shape within his work, which can transcend into spatial design so easily. I am amazed by the amount of depth you feel when you look at this piece; it fills my mind with ideas."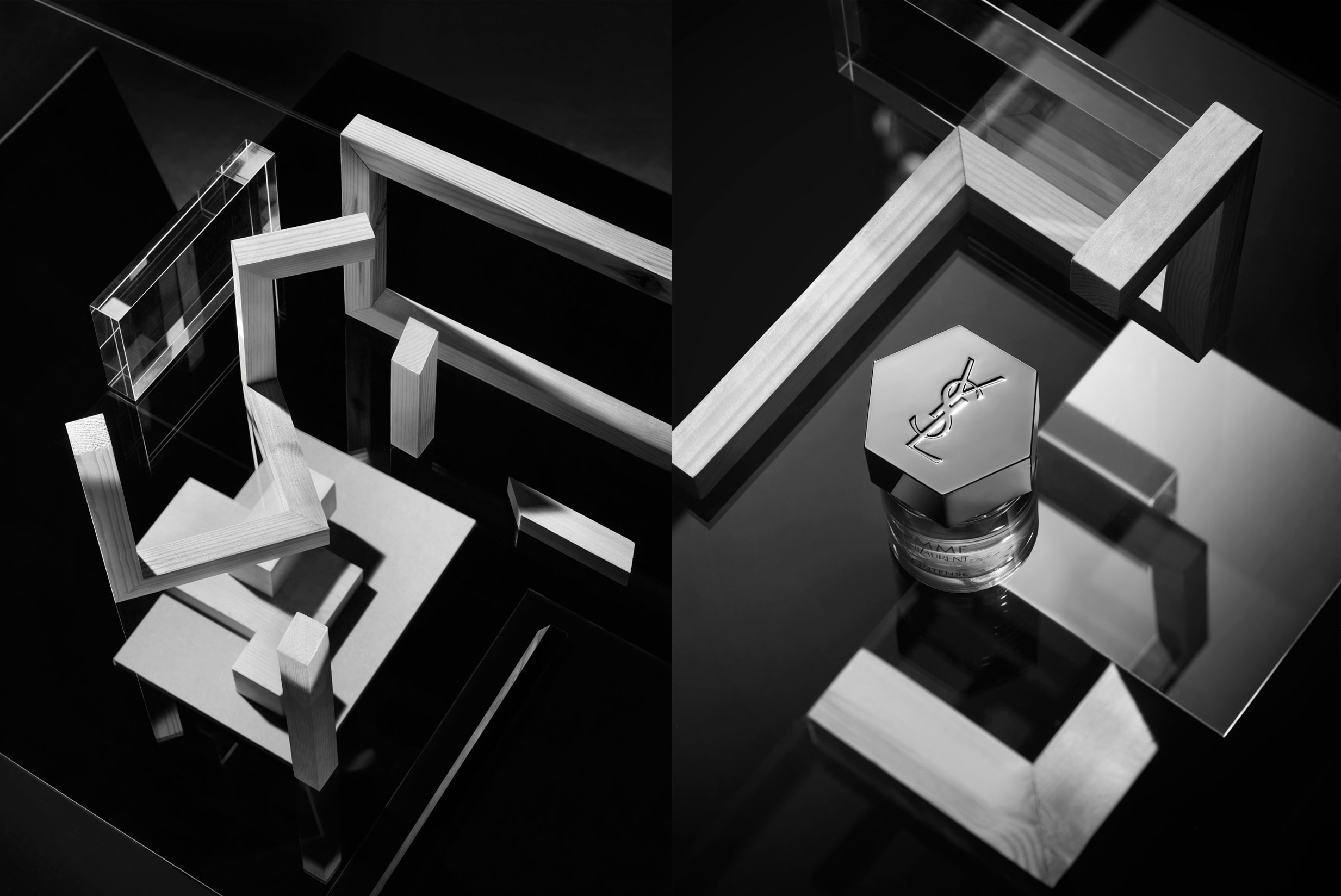 Storey directly channeled that inspiration from the Malevich show into this personal project, Constructivist Perfume, he worked on with photographer Thomas Brown. "I wanted to play with the depth created within an image using a monochrome pallet and a mixture of materials. My work ranges from small still life shoots to large spaces but compositionally and aesthetically, they all come from the same place."