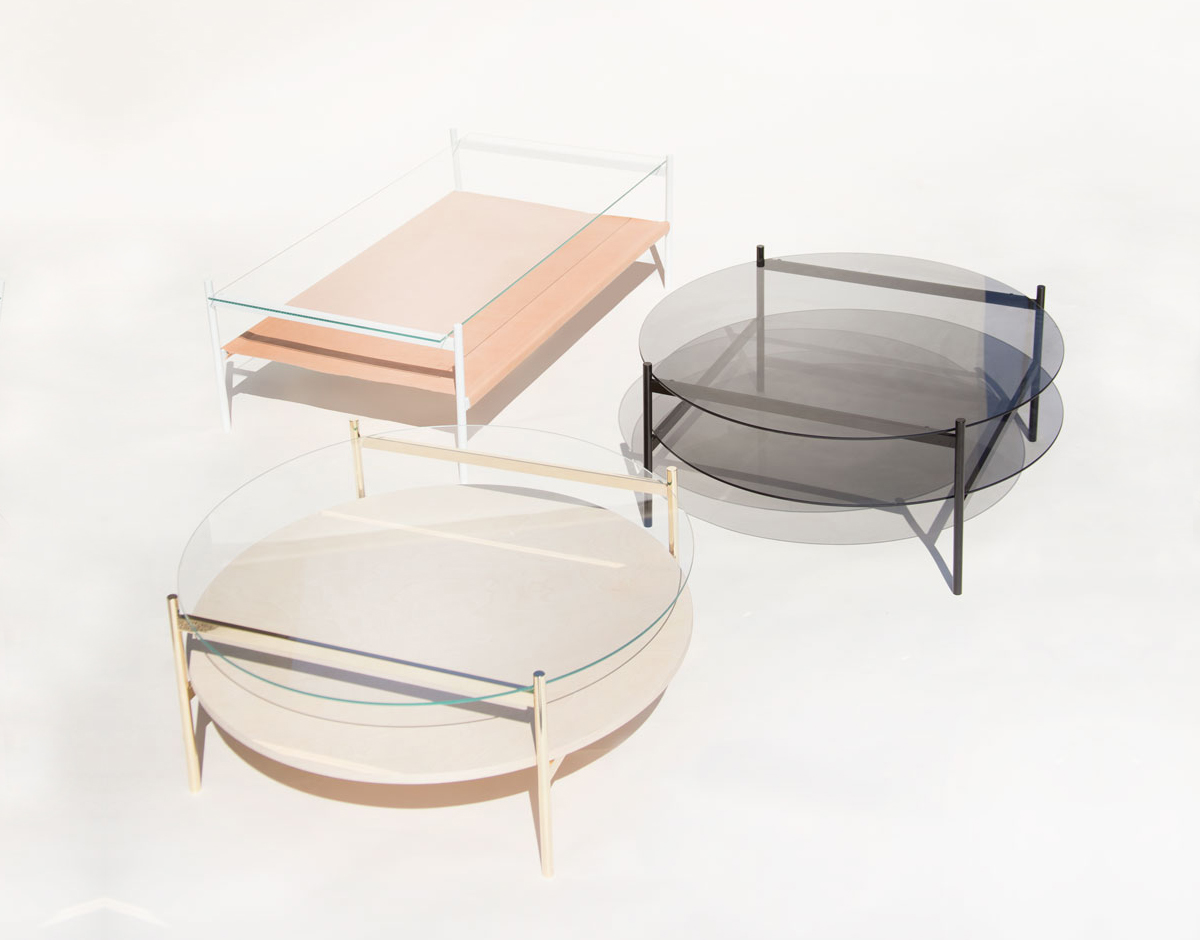 A weekly Saturday recap to share with you our favorite links, discoveries, exhibitions, and more from the past seven days. This week: a resurrection of old Castiglioni furniture, the most anticipated art exhibition of the summer opens at the Guggenheim, and four (more) of our favorite releases from New York design week, including the tables by Yield above.
Discoveries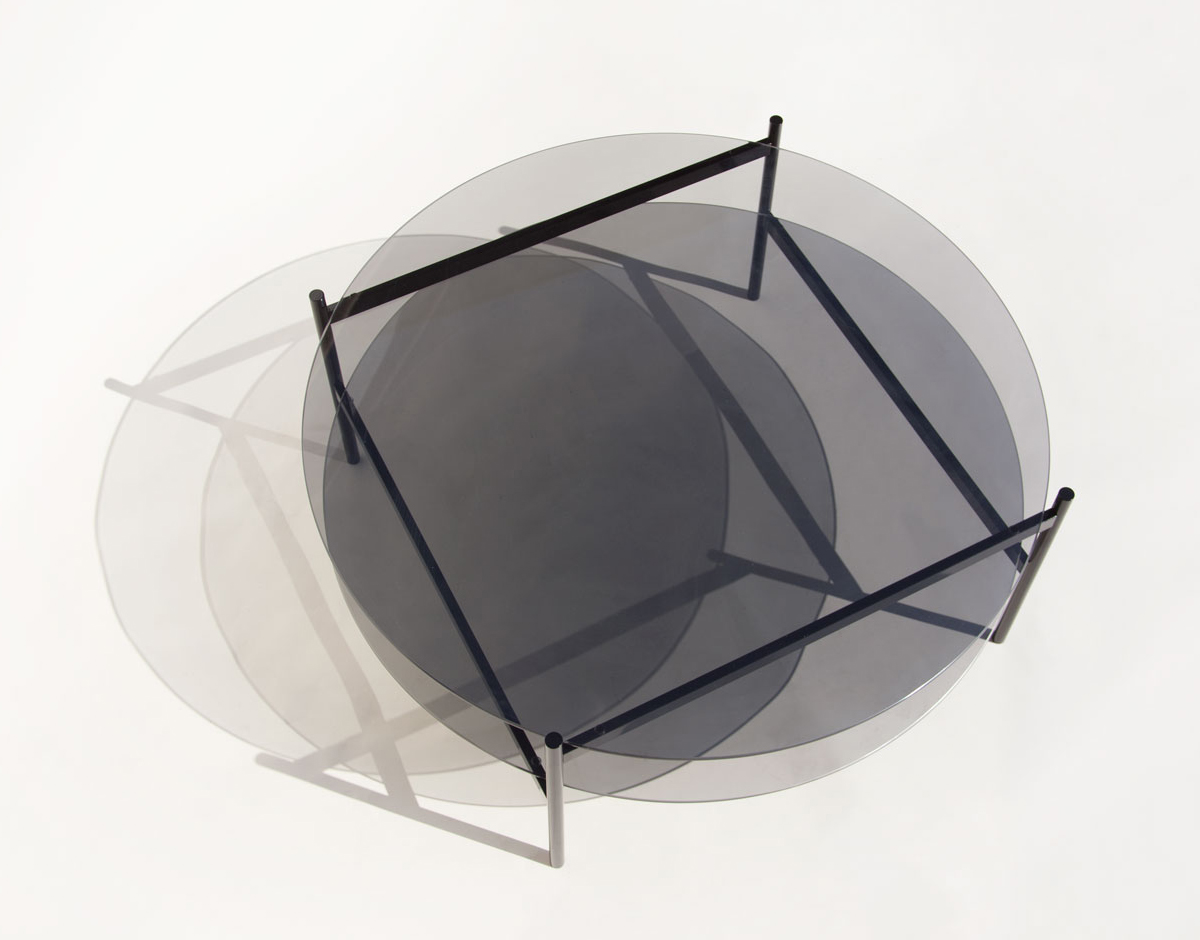 Last week we published an exhaustive roundup of our favorite New York Design Week debuts which, exhaustive as it was, still missed a few things. Like the Duotone tables above and at the top of this post, launched at ICFF by Yield. Each has a lower tier made from either glass, leather, or wood.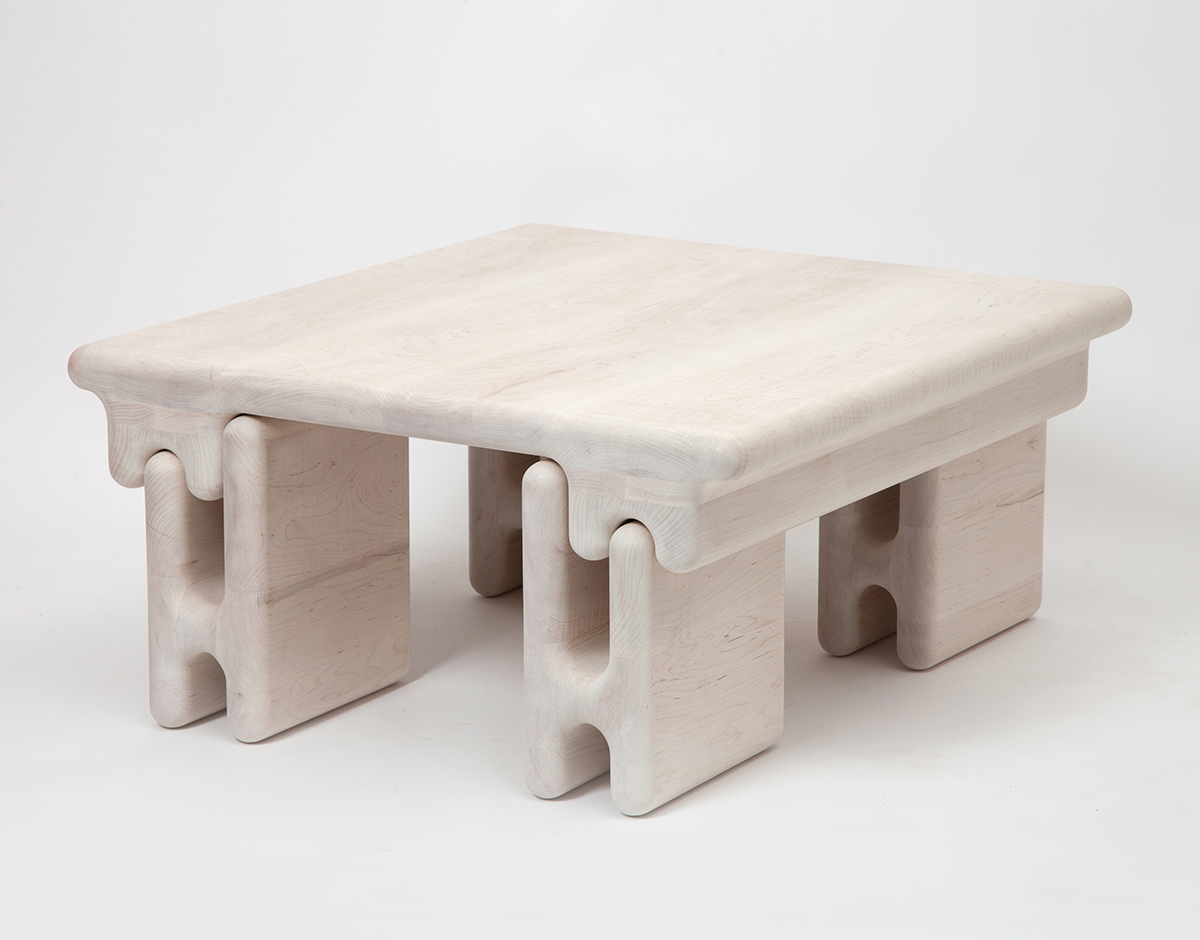 Vonnegut Kraft's Mesa table was actually shown at Collective Design by Jack Chiles gallery, but this week was the first time we managed to get our hands on professional photographs of it. Made from chunky sculpted wood, its legs can either be positioned as pictured or flipped so their taller end faces outward, giving the table a wider stance.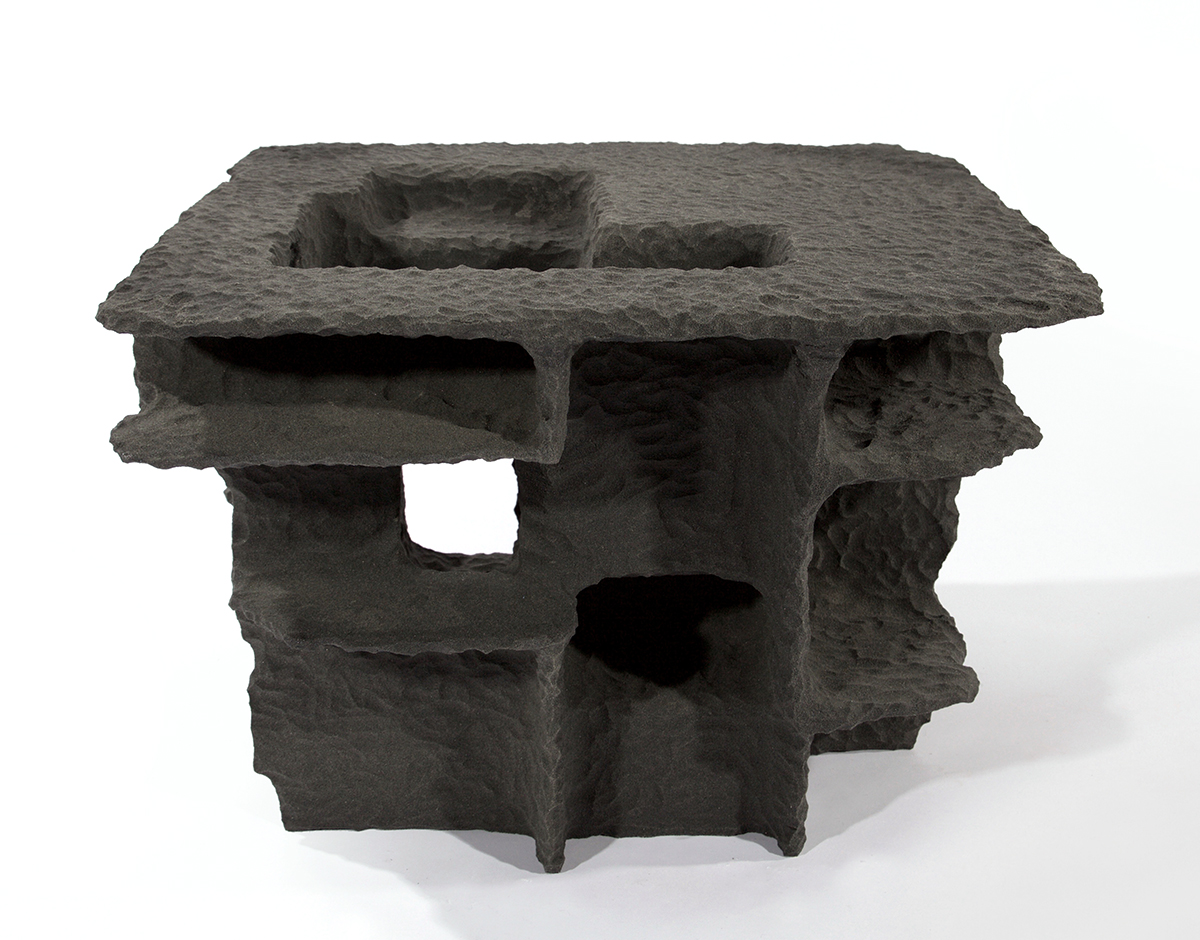 Steven Haulenbeek showed his new RBS collection at Wanted, made from carved, resin-bonded sand — not sure how well it would hold up around children or pets, but we like the combination of complex linear forms with rough-hewn surfaces.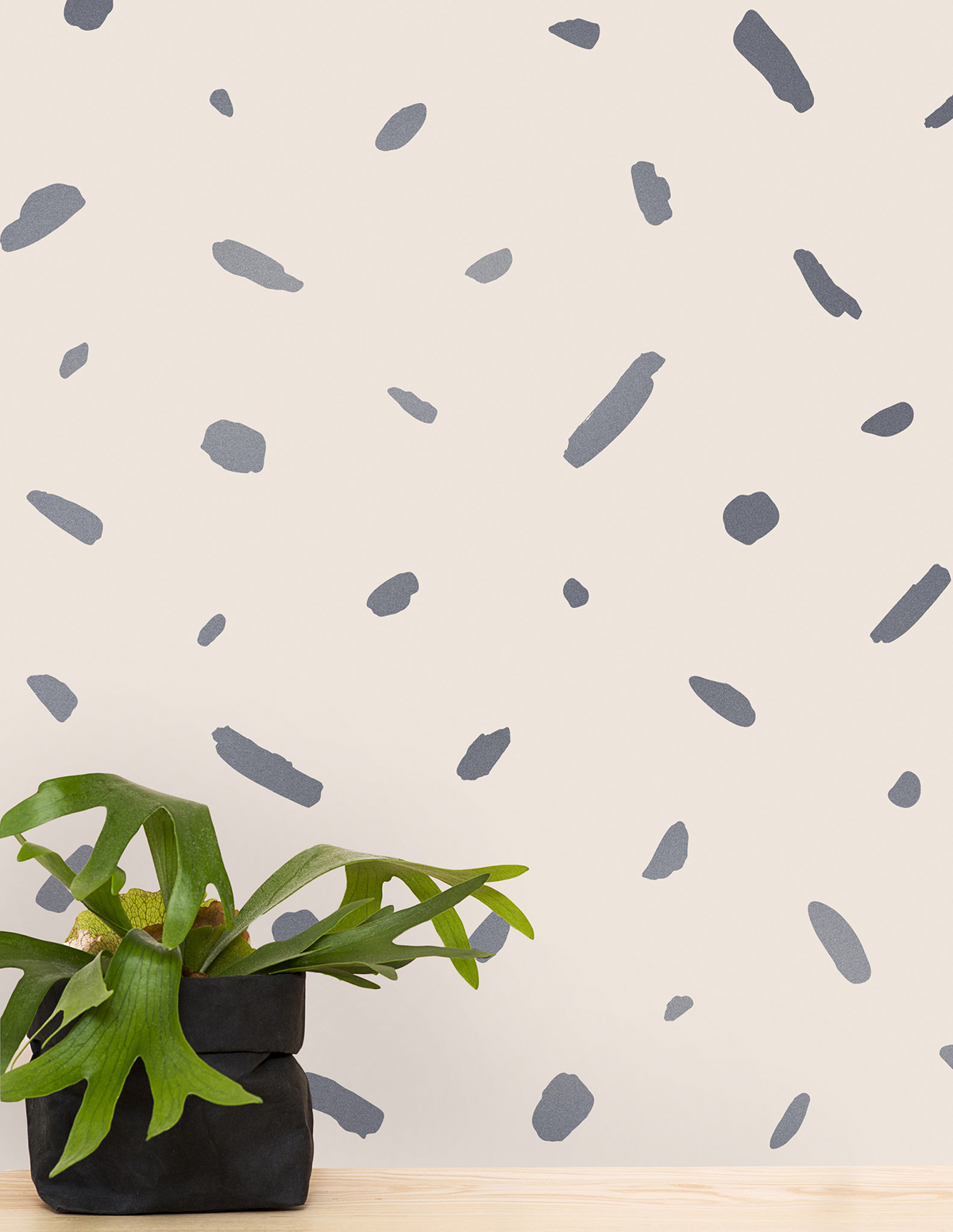 Portland's Juju Papers is one of our favorite sources for non-fusty wall coverings, and they also posted up at ICFF with a new collection we missed until now: the Coso Collection, which they say is inspired by "an abstract visual exploration of time theories." We don't know the particulars, but there are a lot of pretty organic shapes and metallic finishes involved so, thumbs up.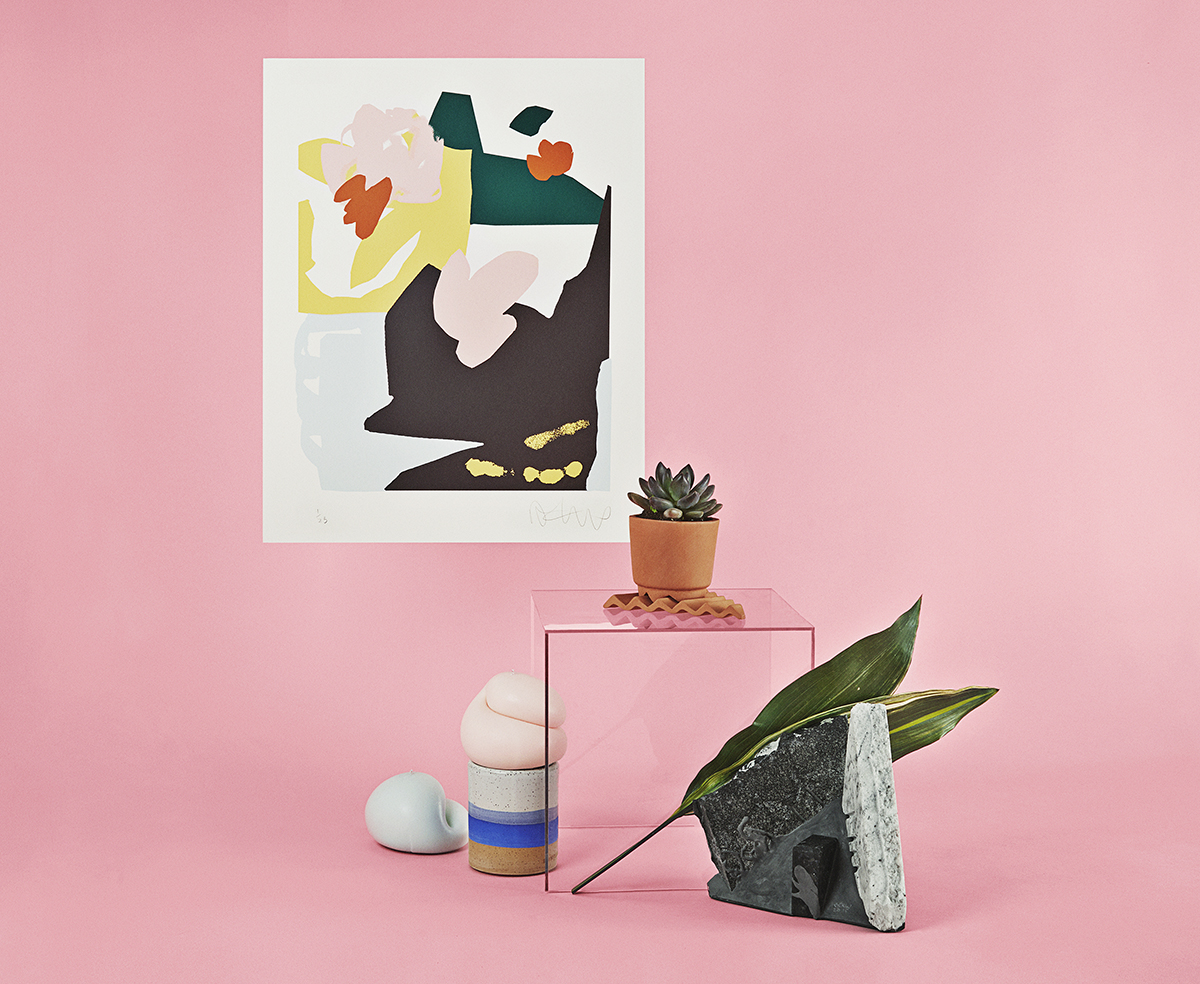 Does the internet need another online shop? I mean, why not? This one, YOWIE, launched recently out of Brooklyn by Shannon Scott Maldonado (with impeccable graphics and photography), has something of a novel approach — it comprises small, temporary collections curated around obscure themes. The first is "Saturday Morning in Bed Stuy," and it features wares by Cold Picnic, Felt + Fat, Ben Medansky, and more.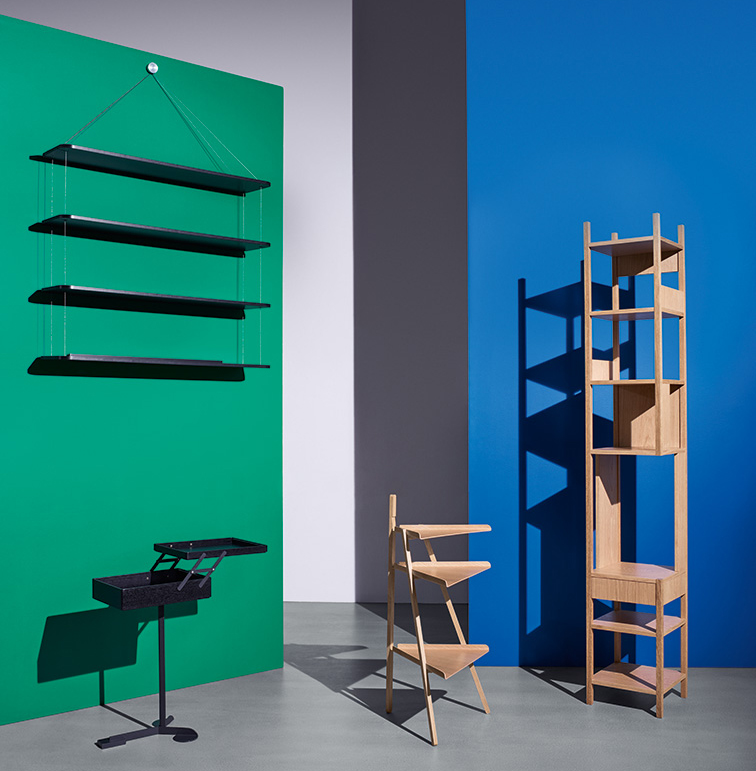 Reaching all the way back to April here, but how did we miss Danish brand Karakter reviving a whole series of furnishings by Achille Castiglioni and releasing them at the Milan fair? That wall shelf… (Photo c/o Wallpaper)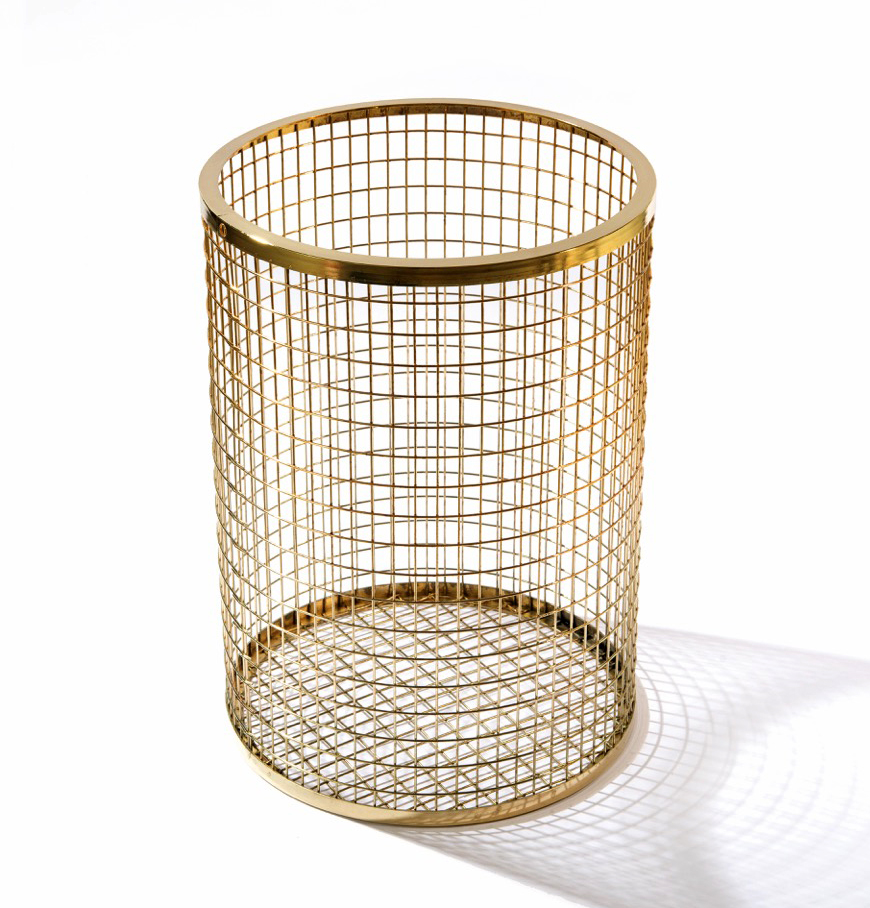 Plenty of brands and designers have put their stamp on the wire mesh trash can, but we're feeling this new one by Berlin designer Sarah Illenberger, made from brass-plated zinc and inspired by the crappy sidewalk trash cans she noticed in Berlin while walking her dog. Illenberger is selling her classed-up version for 300 Euros each on her website.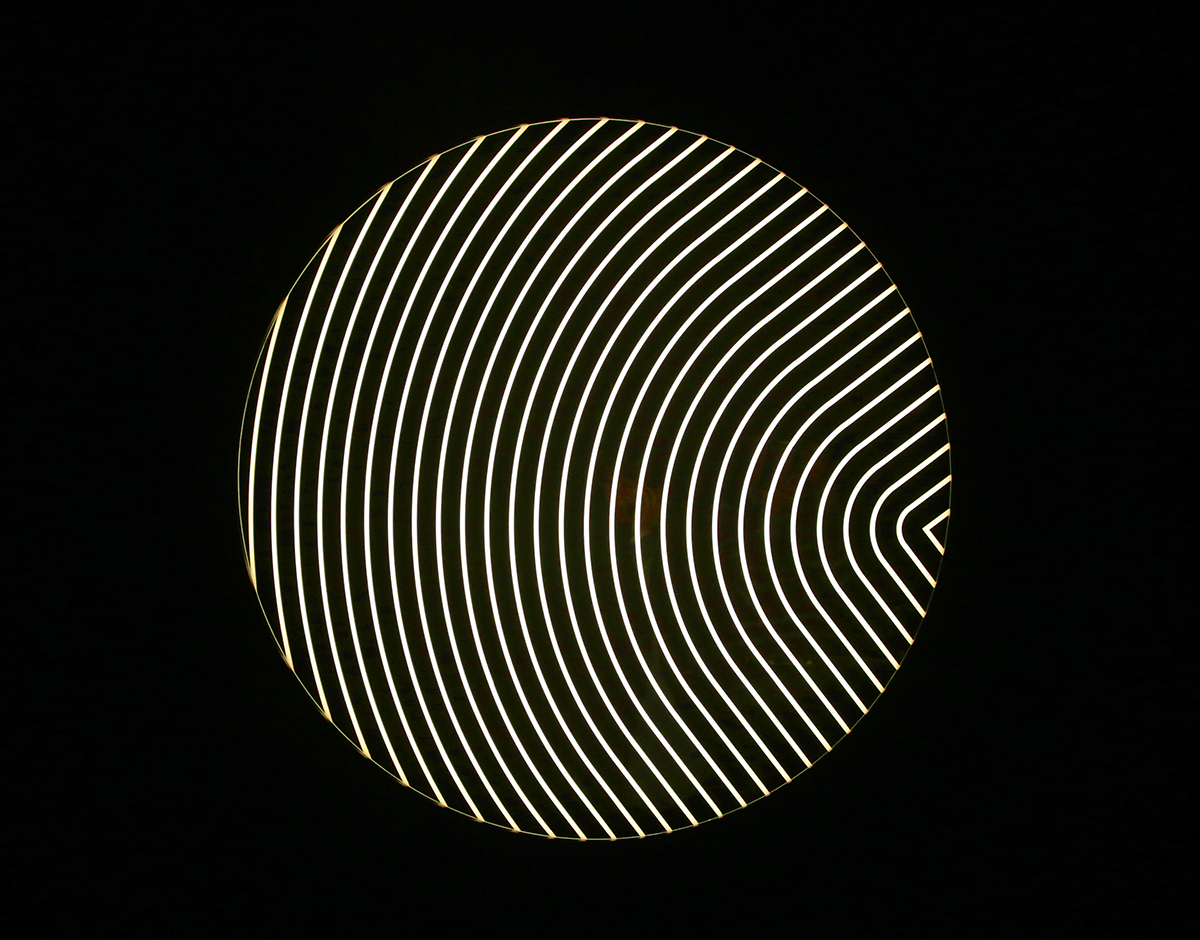 We don't have a dog, but while walking the design fairs lately we've noticed something too — a trend for what we're calling "weird mirrors." So, objects that are nominally mirrors but that don't function entirely as a mirror because they're obscured by color overlays, graphic overlays, or in the case of this object by Flynn Talbot, a fingerprint-like pattern of embedded lights that slowly rotates. Now that paintings are more expensive than houses we guess mirrors are the new affordable art?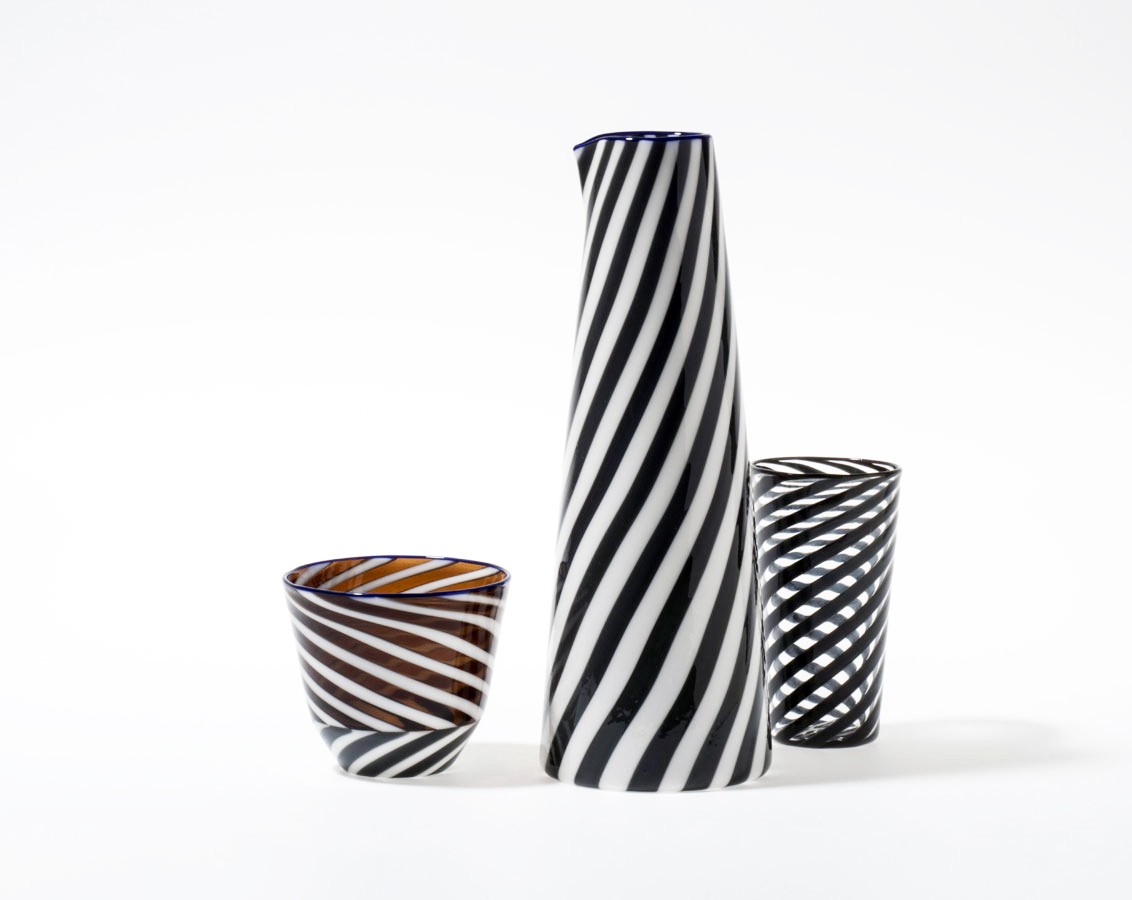 Totally random discovery of the week: A beautiful spiral-striped carafe set by French glassmaker Laurence Brabant, which you can purchase here. There's also an insanely amazing teapot with an oversized handle. We are feeling stripey glass right now and we don't know why. (We're still considering stocking our kitchen with these guys, if we can get over the sticker shock.)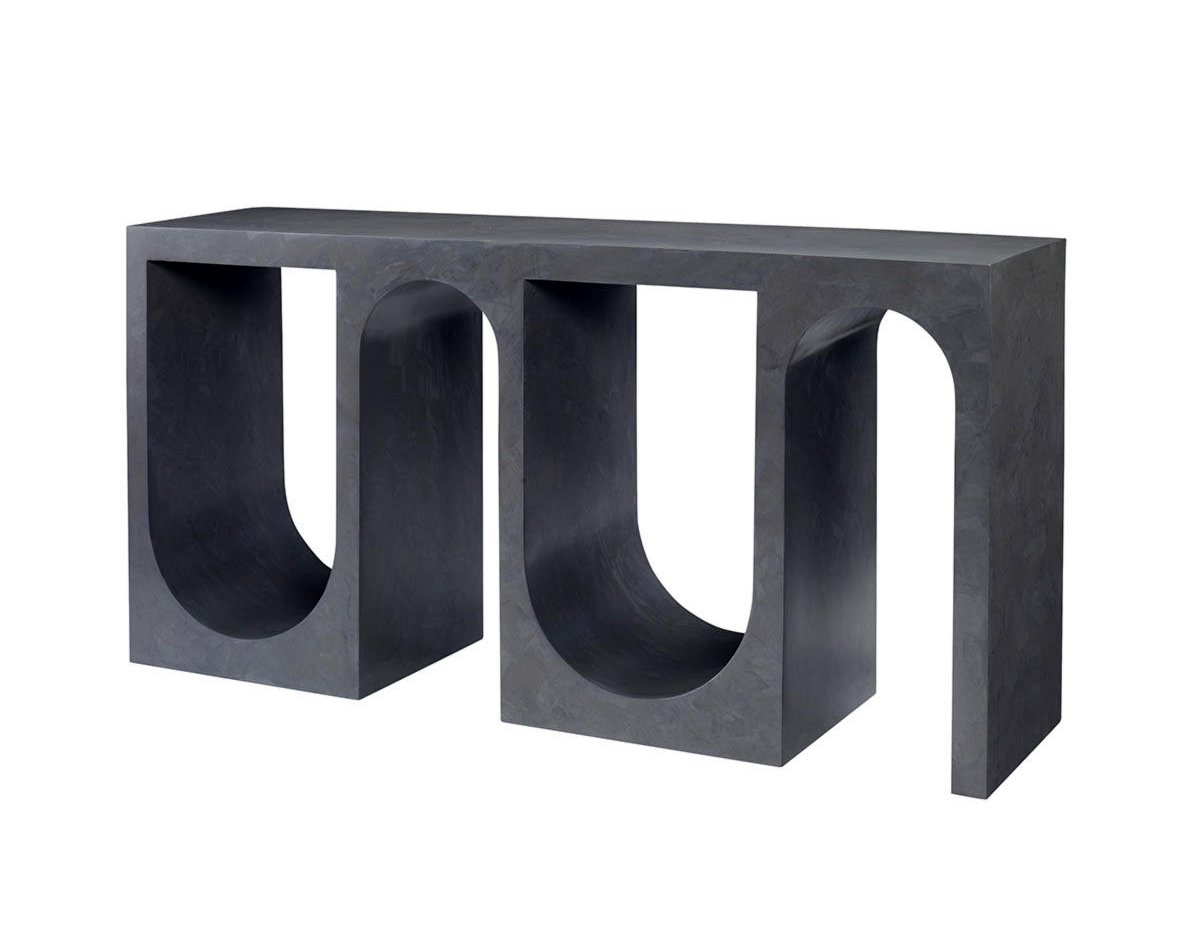 Speaking of sticker shock, every time we visit Kelly Wearstler's website we're shocked by something new and amazing that no one seems to be talking about. This week it was the Roxbury console above, made from solid wood with a plaster finish. It pretty much nails the geometric shape of the moment: the arch.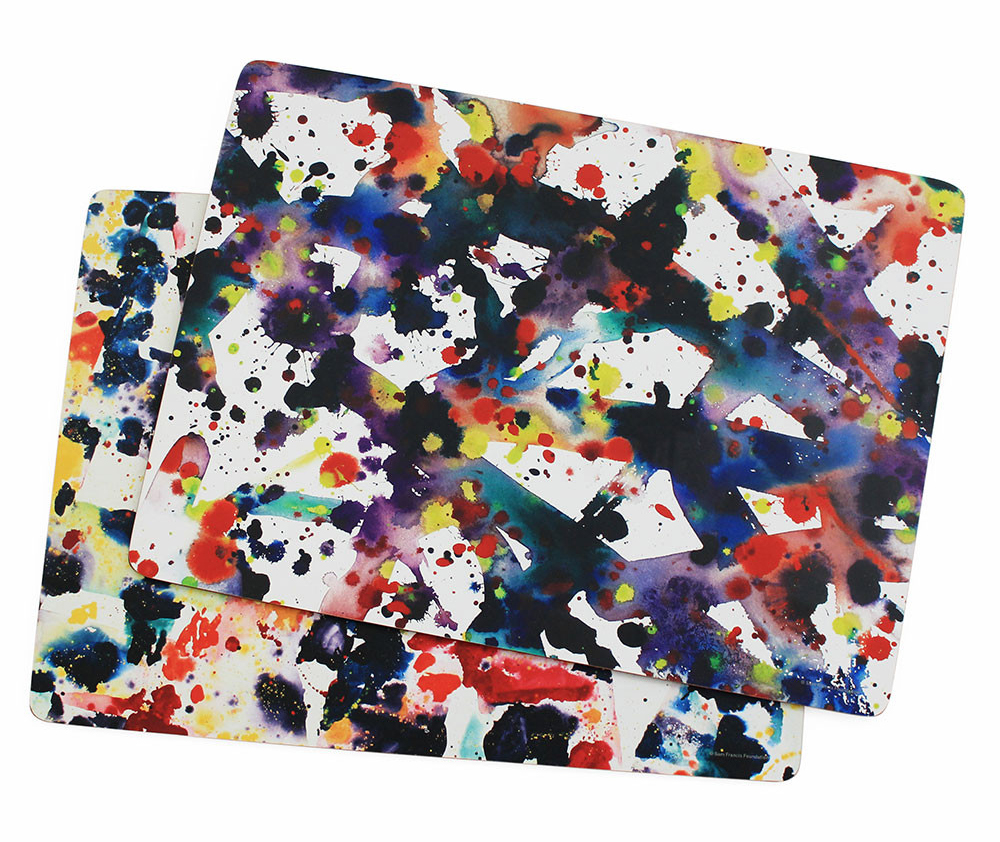 For those who don't shy away from an adventurous tablescape, we recently discovered this set of placemats created by Third Drawer Down with the estate of the late abstract expressionist painter Sam Francis. For the less adventurous, there are also coasters and a tea towel in the same motif.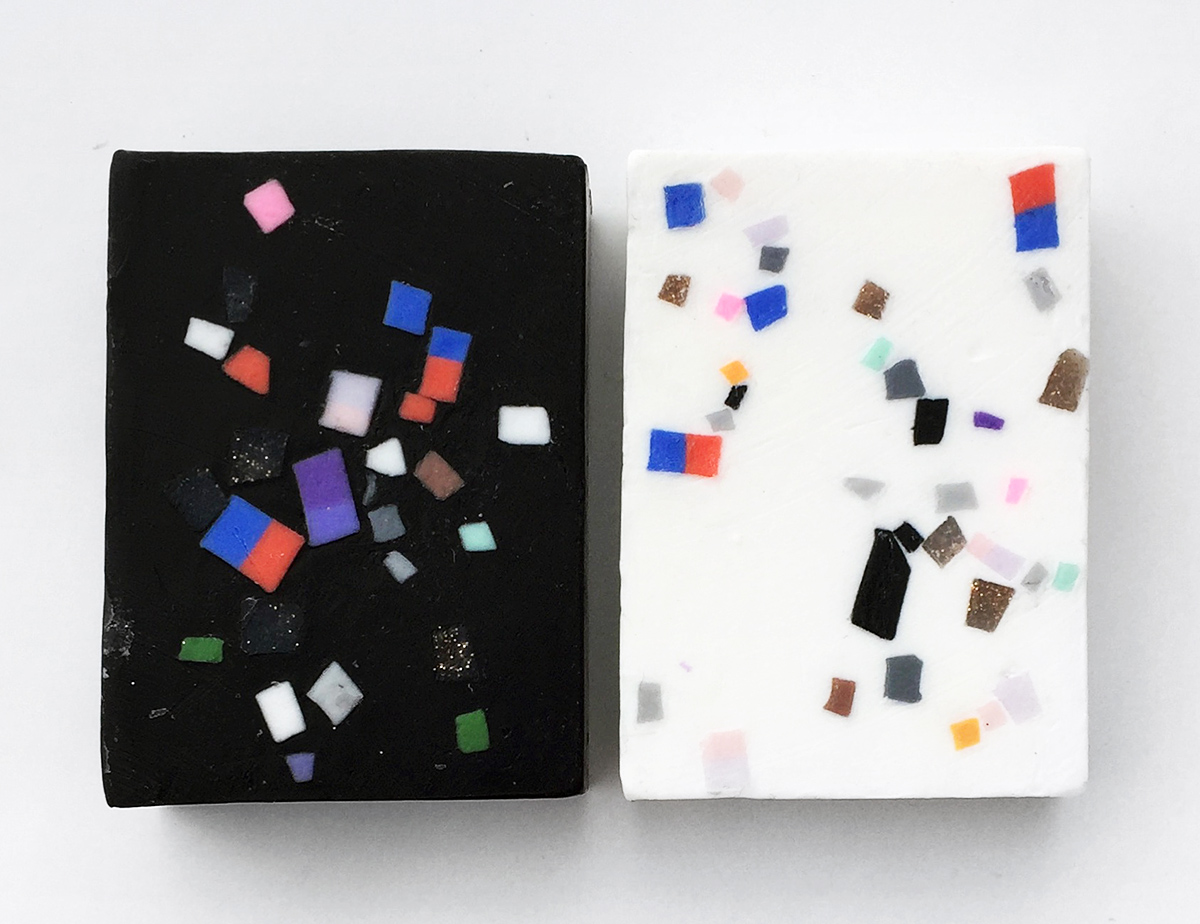 Maine-based duo Wary Meyers have made tons of beautiful, colorful soap bars in the past few years, but these are our favorite yet —  they're inspired by Shiro Kuramata's terrazzo furniture and are made by embedding black or white bars with little colored soap scraps. No more Dr. Bronner's for us!
Exhibitions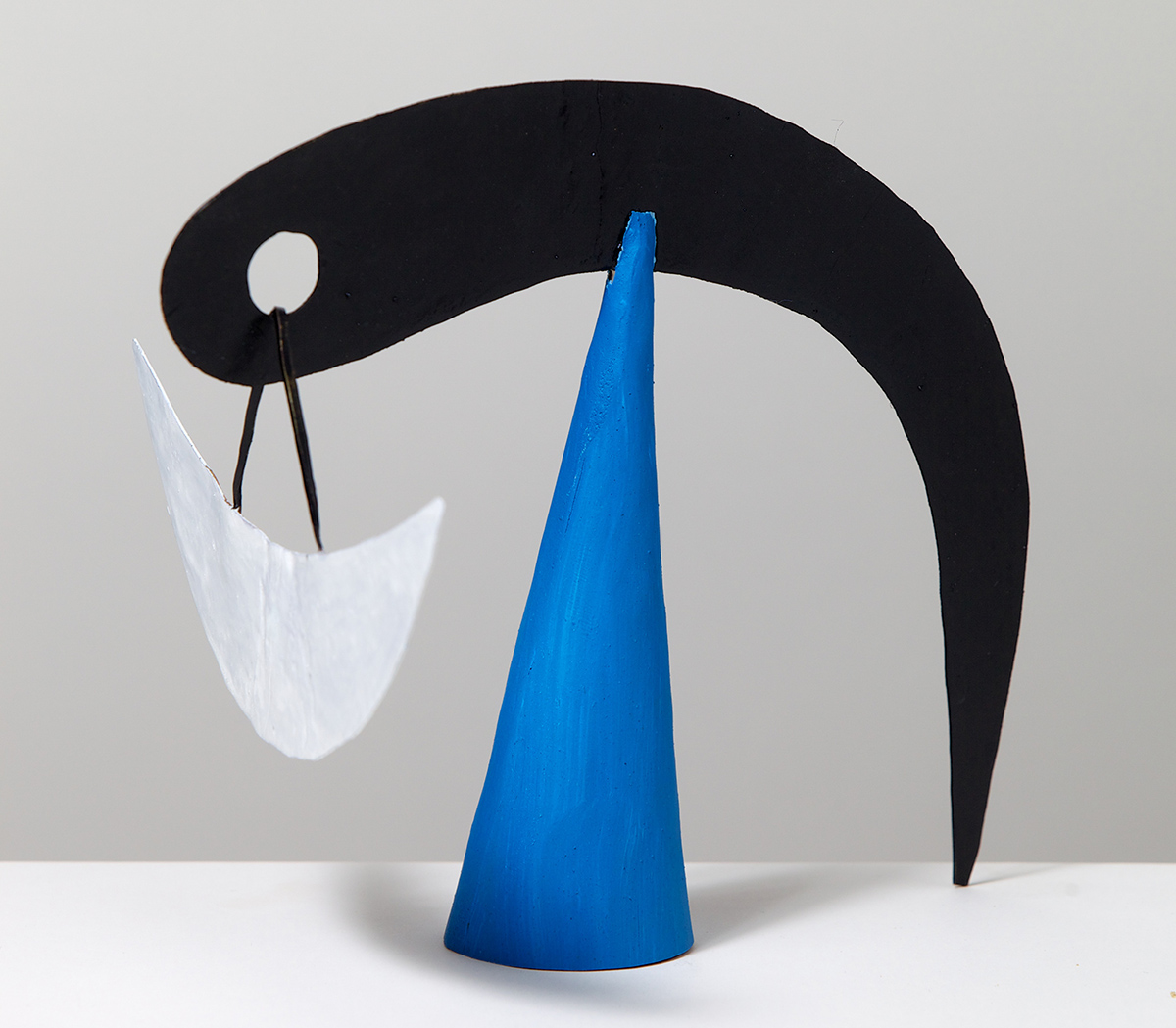 London's Marsden Woo gallery has just opened a show of Bryan Illsley's work called Timepieces, which features both paintings and these amazing little painted-brass sculptures with major Calder vibes.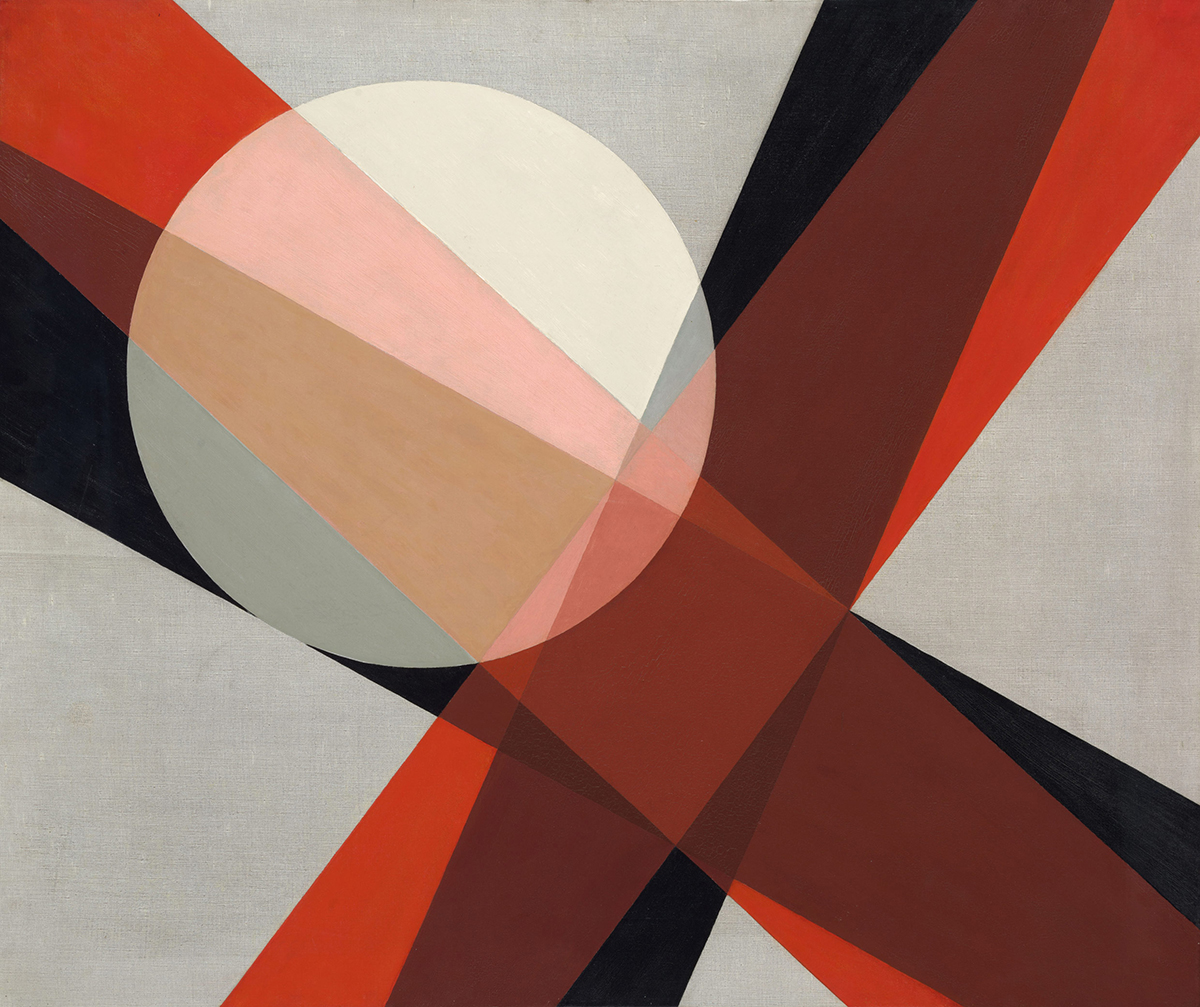 Slightly more epic is the show opening this weekend at the Guggenheim in New York, by another famed kinetic artist — László Moholy-Nagy. It's the first comprehensive retrospective of the prolific Bauhaus artist to be shown in the US in 50 years, and includes more than 300 collages, drawings, ephemera, films, paintings, photograms, photographs, photomontages, and sculptures. Not to be missed.