10.05.16
Meet the New Generation of Italian Design
"Learning something new in every project gives us energy and happiness, which are fundamental not only while designing, but also in everyday life," says Marco Zavagno on the curiosity that drives his collaboration with co-founder, Enrica Cavarzan, in their Venetian-based design practice Zaven. It's a malleable mindset that sees the understated duo flexing their design muscles across various disciplines, having created everything from lights and chairs for companies such as Atipico and Secondome to catalogs and logos for design brands and schools. "We think of design as an open discipline, and we don't see any difference between product and graphic design. In the end it's about a process or an attitude, rather than just a final result."
Where two design languages seem to be different, Zaven often see connections, which coincide with their diverse research interests and their constant crossover between communication, design and art. Their WWW collection of wood and laminate pieces, for instance, are an ongoing investigation into the development of a visual language: an inventory of interlocking surfaces that reveal different geometries when presented in varying lights. With In Primis, a collection of furniture made from marble offcuts, the forms are re-jiggered to create a collection of tables whose surfaces alternate between corrugated and smooth.
Their side-brand Something Good — born out of an exhibition during Milan Design Week a couple of years ago — began as a dialogue between designer friends and craftsmen with the goal of investigating the juncture where technology and craft meet. Following plenty of requests and two years of design development later, the small brand launched in order to produce and sell the handcrafted products and simultaneously form a platform for promoting Italian craftsmanship. The series includes their Extra series of extruded ceramics, which borrow obsolete pottery techniques from the Nove district of Venice.
We recently caught up with the busy duo to discuss their current inspirations and plans for the forthcoming year.
Describe your most recent project and how it was made.
We were recently asked by Nike to interpret the concept of natural motion for an installation during Salone del Mobile 2016. The brief was very challenging; we tried to meld art with design, creating a piece that could express the tension of the movements and the power of energy.
Our research began with the shapes undertaken by sculptors from the 1950s until today. We studied Alexander Calder, Anthony Caro, and Fausto Melotti's work, focusing on their use of materials, especially metal. These artists, while exploring the material's potentiality, created an evocative and powerful imagery. That's why we decided to experiment and build our lamps with metal. When it came to the shape of the lamp itself, it was crucial to create a visual balance between the metal tube's lightness and the geometry of the lampshades, and we took as reference the Bauhaus experience, in particular Moholy-Nagy's 'Study in equilibrium'.
The final result was The Athletes: four oversized lamps conceived to freeze the archetypal shapes and lines of sporting gestures. Nike gave us the opportunity to work with their Flyknit technology, and the challenge was to combine the technology with the lamps. We decided to design and produce, together with the Nike team, tailored textures that were applied as lampshades.
Describe your next project and how you're currently making it.
We are about to release our first collection of leather wallets for DuduBags, an Italian company specializing in the production of leather accessories. Our collection is inspired by the desire to have accessories that are easy to manipulate, that fit everywhere, and that are unisex. With Zip-it we are trying to introduce a very slim and minimal wallet, suitable for men and women of different ages. In the next year we are also going to develop bags and backpacks to further the collection.
In the meantime we are already working on some new furniture for next year's Salone del Mobile, which includes: a new store design concept for a sunglasses retailer; a collection of electronic devices and accessories for the young Italian brand Tribe and some 3D-printed jewelry for Maison 203. The opportunity to work on different scales is the thing that we like the most, and gives us energy and curiosity.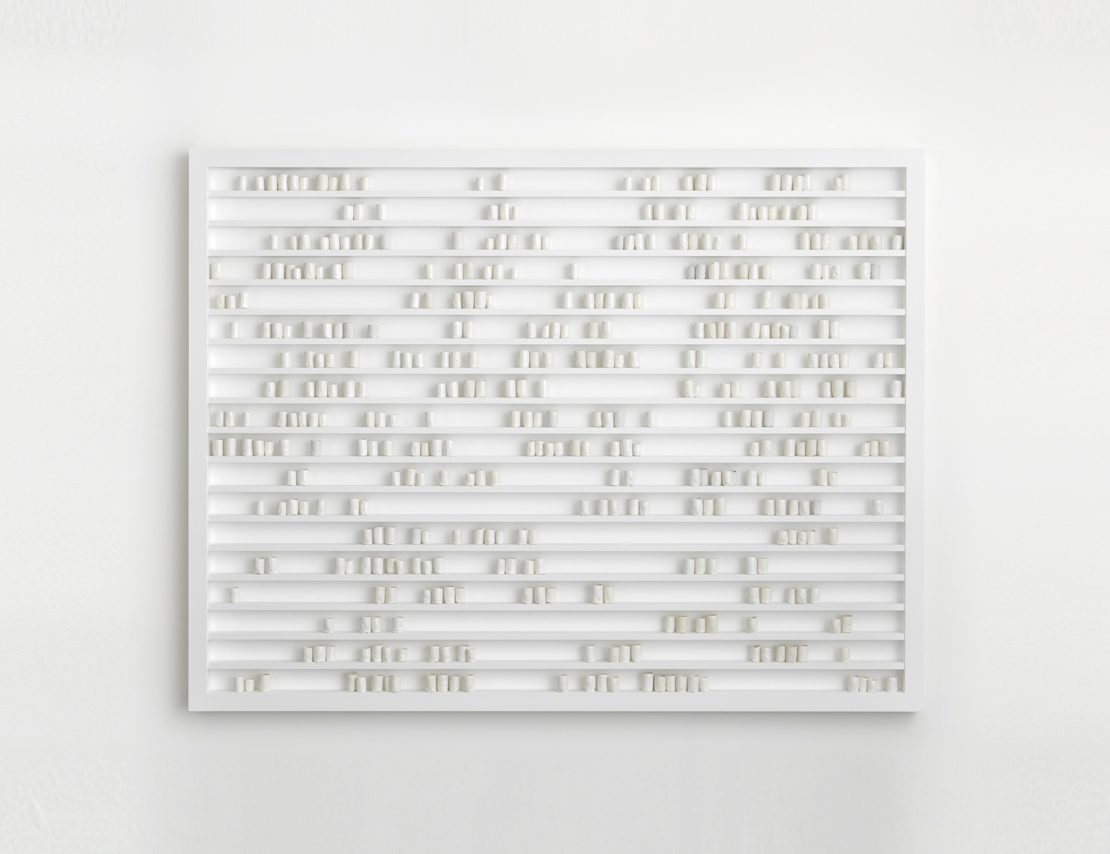 Tell us one thing that's been inspiring you lately and why.
Currently we are fascinated by British ceramicist and author Edmund De Waal's perfection and repetition. With de Waal, we're fascinated by the power of his language. His work is really minimal, the ceramics he produces are so simple but unique, each one is handmade and slightly imprecise, different in shapes and tones. These imperfections remind us of humanity.
On the other hand we love Danish fashion designer Henrik Vibskov for his energy; he can communicate just with colors and shapes, creating a fresh and vibrant imagery. These two languages seem to be so different, but we see some connections, some overlapping areas, which coincide with our research interests.
Show us your studio and tell us what you like about it.
We have been in this studio since 2008, and there are a lot of pieces of our life in here; this is the space where our practice took shape and grew during the past eight years. The first day we moved into our studio we had just two chairs and a table; now we are surrounded by books, tools, prototypes and stuff we keep collecting.
It is located very close to Venice, but far enough so as not to feel overwhelmed by the continuous tourist's flow. Our studio is small and we tried to create an open space that was as comfortable and familiar as possible. The open space allows us to work and delegate with our team in every moment. We have a wall where we collect pictures, postcards and inspirations as well as a small workshop where we can play with materials.