03.13.17
A Brooklyn Home Accessories Brand On Mining the 1970s For Inspiration
Phoebe Sung and Peter Buer — the couple behind the textiles and accessories line Cold Picnic — make conversation-starters. Their witty, often abstracted designs work as décor, for sure, but they also exist as their own little worlds. Recently, Sung and Buer took this idea of imaginary landscapes one step further, turning their newest rugs into a series of dioramas that are as evocative as they are fun. The inspiration for their Passenger collection is Michelangelo Antonioni's 1975 movie of the same name, which stars Jack Nicholson and Maria Schneider in a story about assumed identity and the desire to be someone you're not. As with all Antonioni, atmosphere and imagery take precedence in what is essentially a mesmerizing travelogue and architectural tour across Barcelona, Munich, London, the north African desert, and Andalusia. It's location after stunning location, all rendered in an irresistible color palette. Not surprisingly, the initial run of the small, plush Passenger rugs sold out quickly, but look for more to be available later this month and larger versions to arrive in summer.
Sung and Buer, who met in 2006 in Boston, have backgrounds in fine arts and fashion design and formed Cold Picnic in 2010. They now work and live together in Brooklyn, where they've steadily made a name for themselves with their inventive, '70s-feeling editions, including their Private Parts collection (featuring the "boob" rugs that seem to be everywhere). Sight Unseen OFFSITE alums, they're also regulars in our Saturday Selects round-ups, so we figured it was more than time to catch up with them and ask a few questions.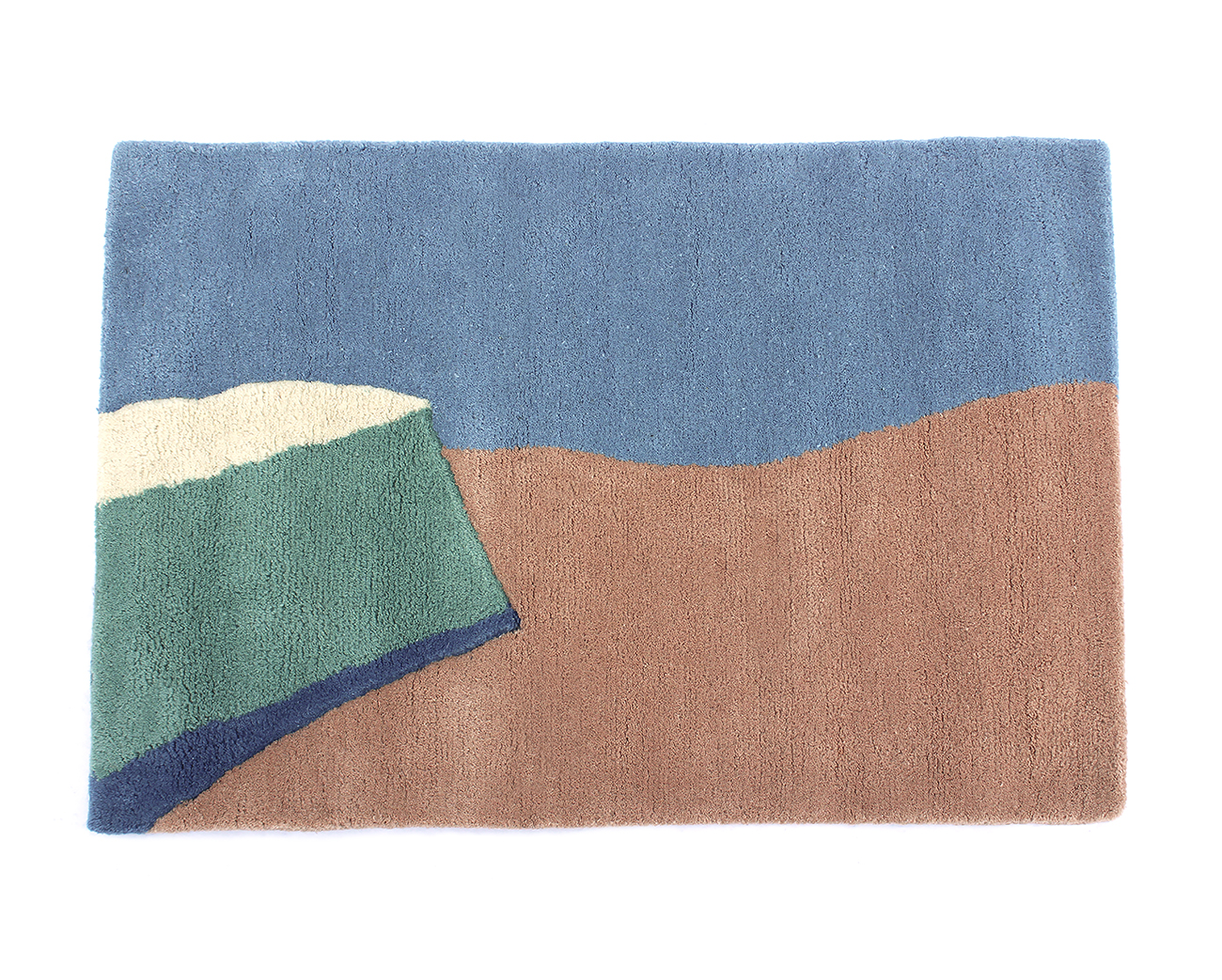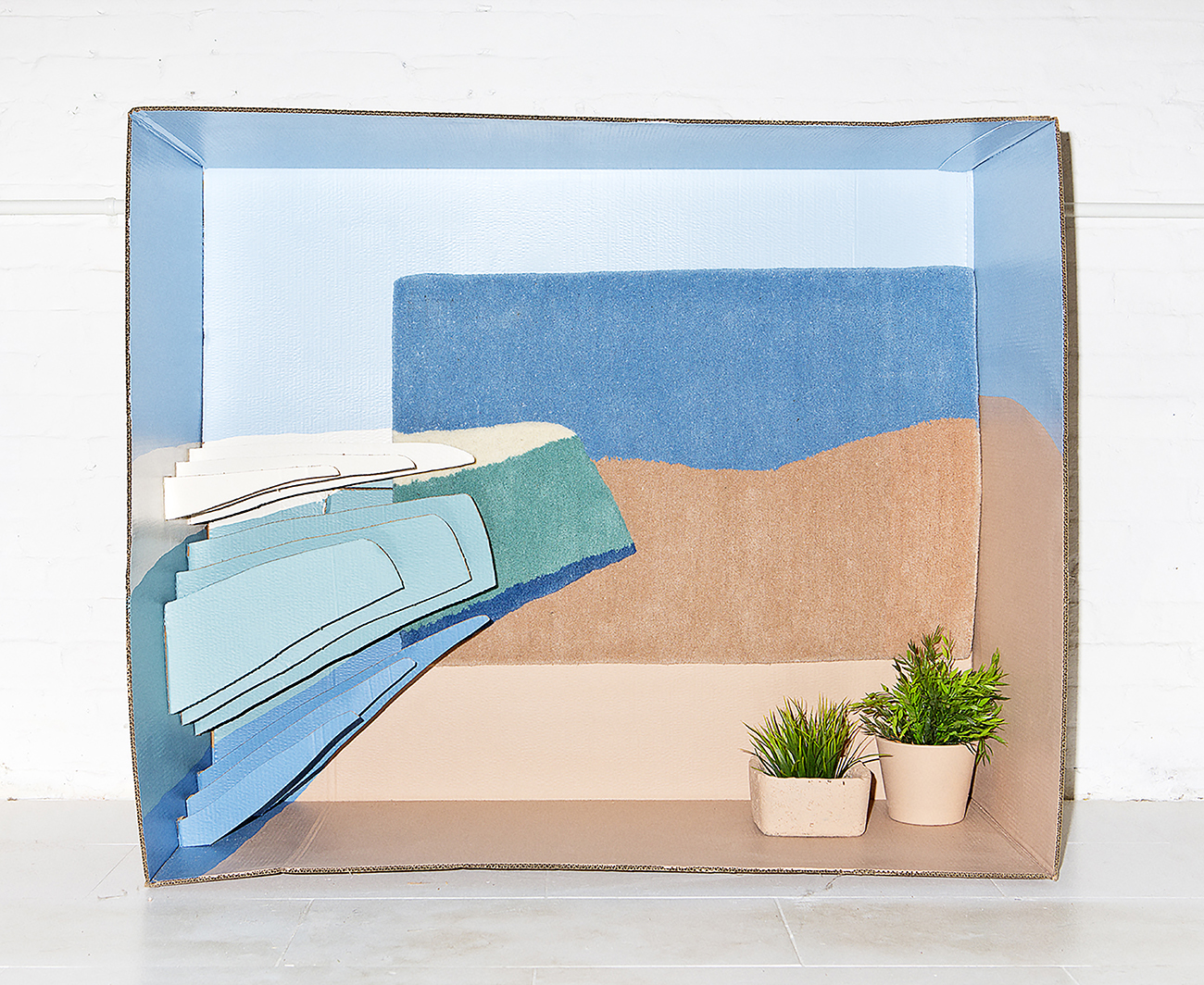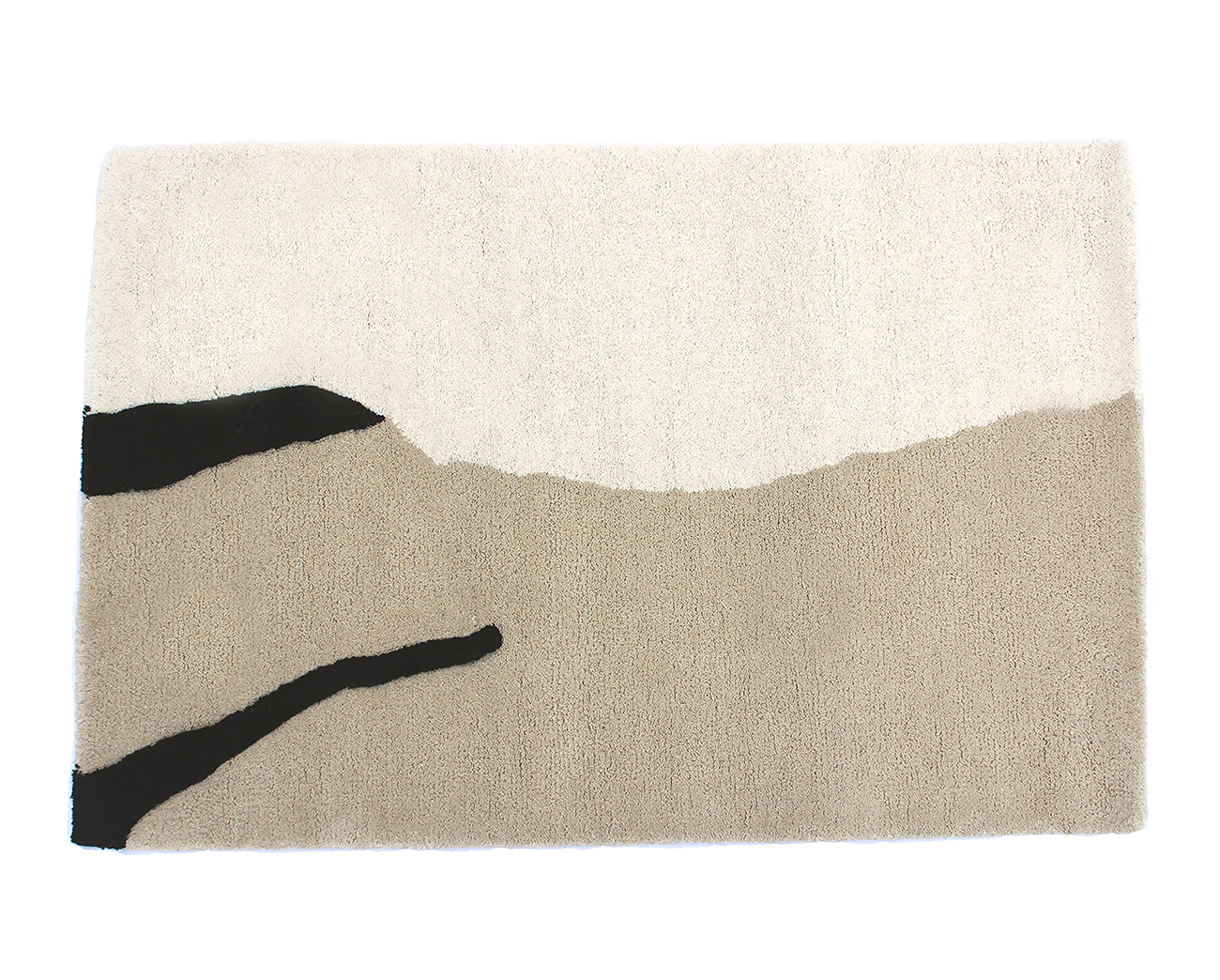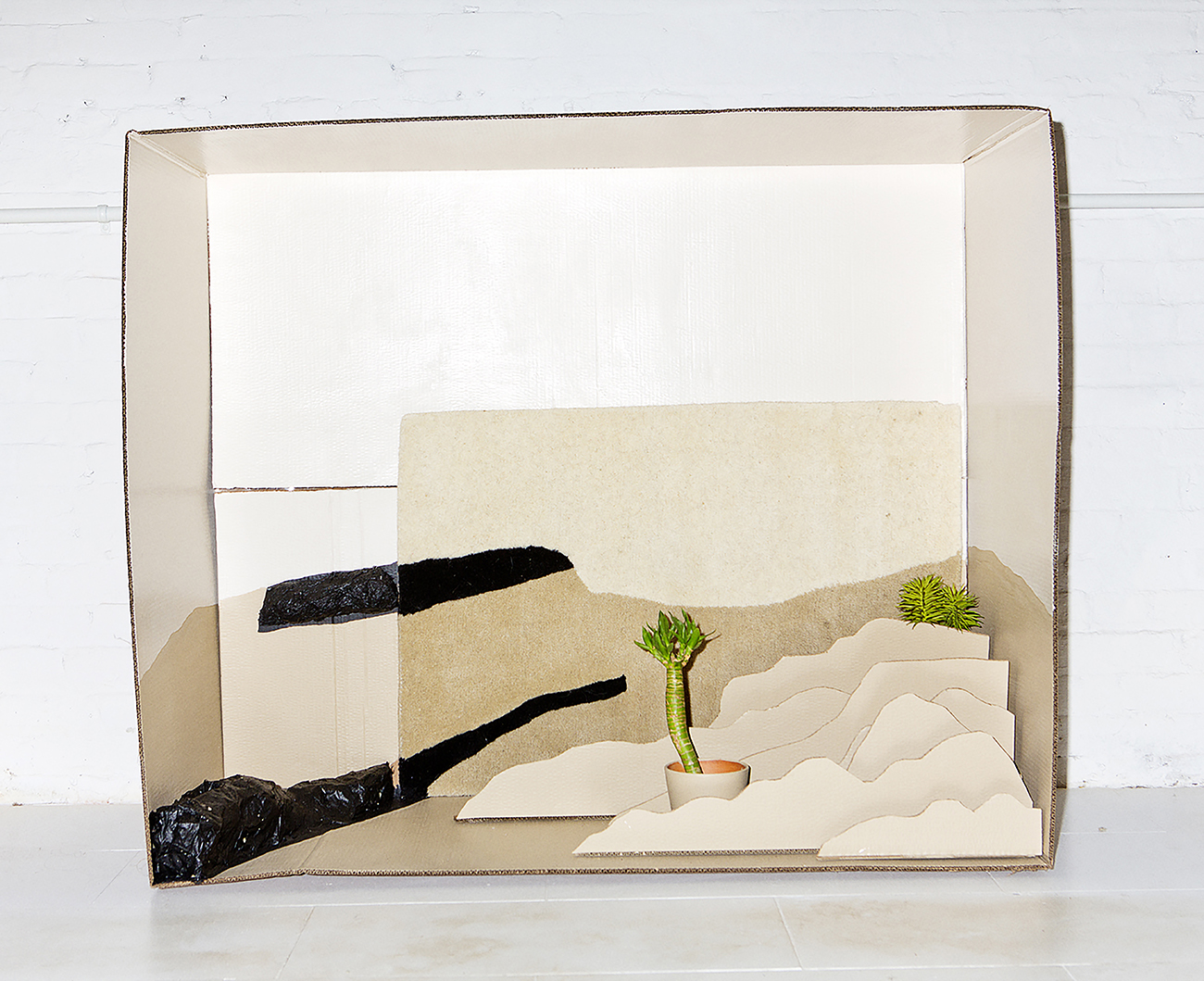 Let's start with The Passenger collection. What's your history with the Antonioni movie? Is it an old favorite? Something you discovered more recently? Antonioni is such a master of framing and color and composition, but what, in particular, drew you to this film as a design inspiration?
Phoebe: The Passenger has always been a favorite for both of us. For me, personally, it's just one of those films I think about, however briefly, before designing nearly anything. Maria Schneider was all over my mood boards when I was in school for fashion design. But it doesn't just influence what I design, I find myself thinking about it for random reasons — where is my ideal vacation, what haircut do I want, anything.
Over the years, the landscapes and the entire palette and atmosphere of the film really stuck with us. There's a quality to so many of Antonioni's films, and for us, The Passenger in particular, where you remember the places and scenes almost as if you'd actually visited them. It was this quality more than any other that drew us to the film as our main source of inspiration.
And what prompted the dioramas you did for the collection? 
Peter: We'd been playing with extending the shapes from our rugs onto their surface with our previous collection of High / Low rugs. We incorporated all of them into a corner of our studio and continued the designs onto the wall and floor, and even into the air with shapes hung by fishing wire.
For the release of the Passenger collection, Coming Soon was kind enough to let us fill out their entire basement with an installation, and we made a bunch of funny little papier-mâché shapes which echoed the shapes in the rugs. So we decided to combine those two ideas, which both involved bringing aspects of the rugs into their environment, and make enclosed worlds for each of them. We'd always wanted to make dioramas and this collection seemed the perfect fit for it.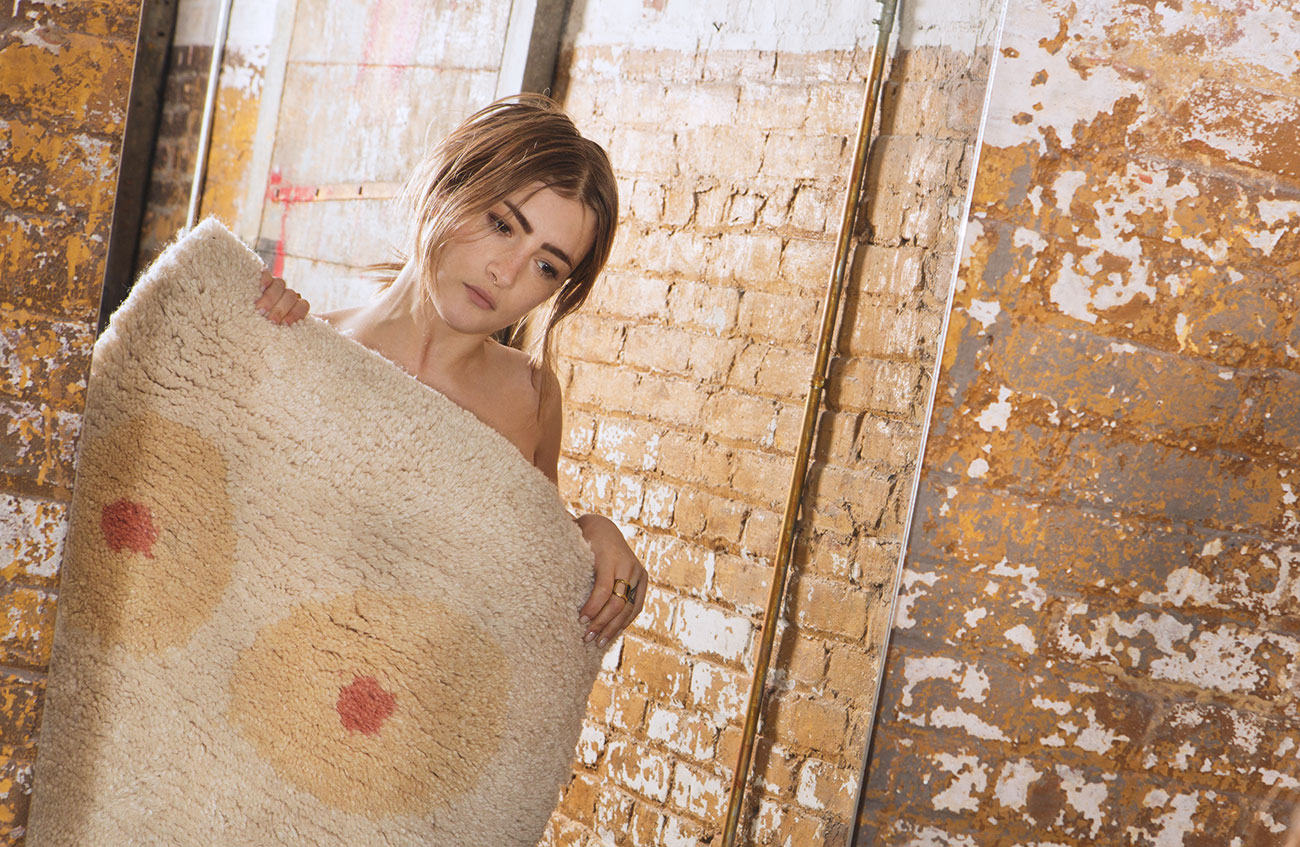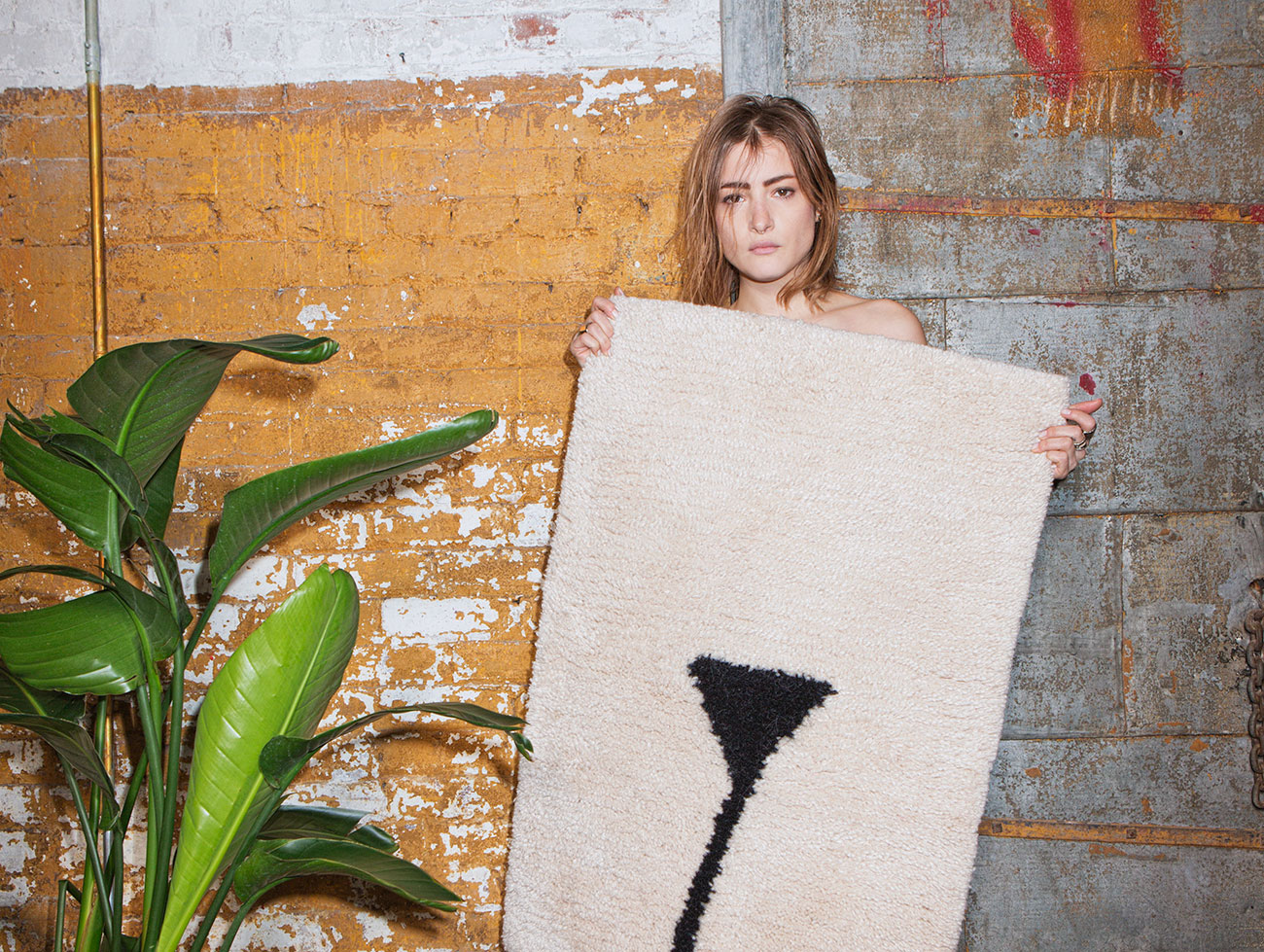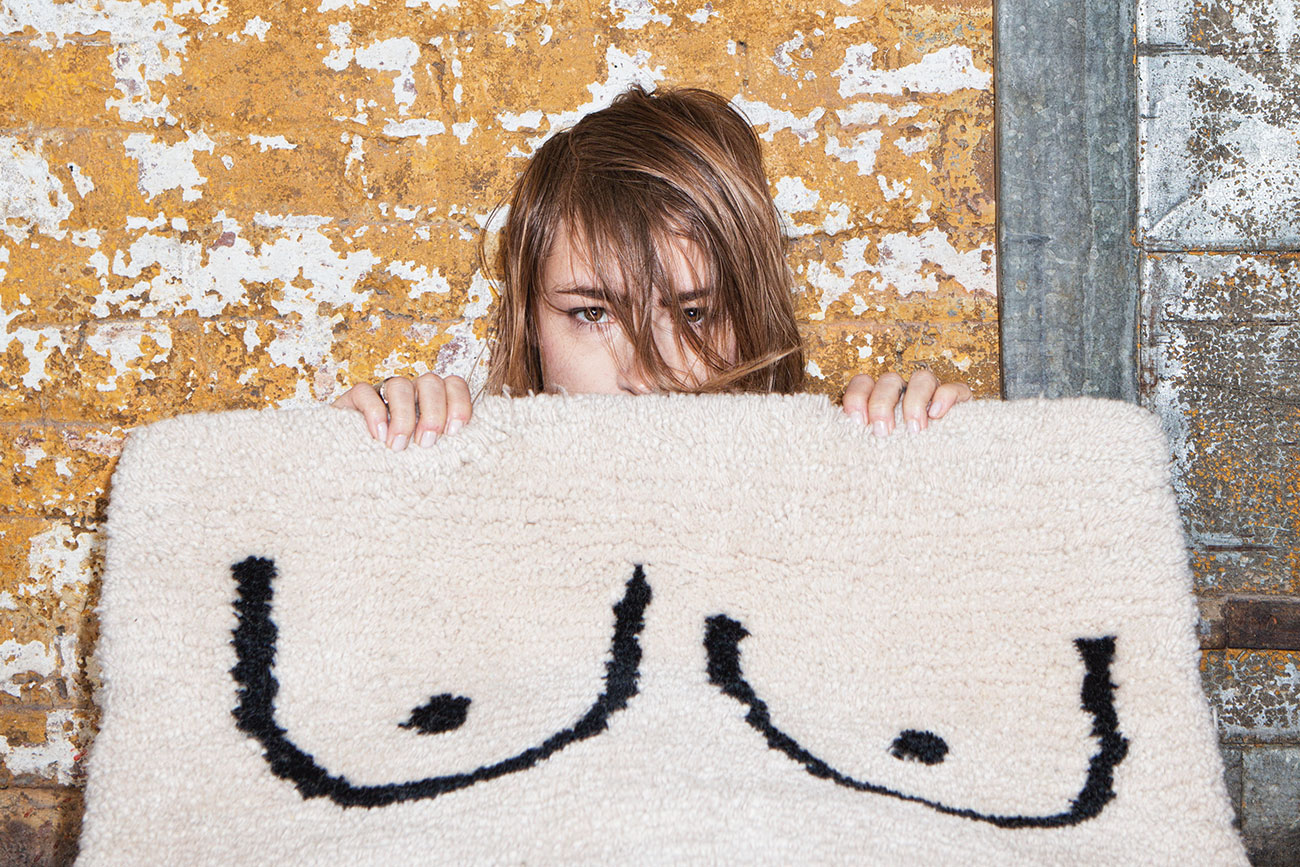 The Private Parts collection was such a hit, especially the boob rugs. Where did the idea for those come from (I mean, aside from, well, boobs)? Do you see yourself continuing with that direction, either directly or indirectly? 
Peter: We usually have a lot of sources of inspiration we draw from when designing a new rug, but the Private Parts were almost an accident. We'd been sketching a lot of designs and somehow everything started looking like boobs, or penises. Neither of us can say now whether this was actually the case now but at the time it felt like the direction was being chosen for us. In the end, we just went with it and it was really fun!
The response has been lovely and we're grateful for it. As for continuing in that direction, I think a lot of what people responded to was the simplicity and line drawing quality of the designs, and most of what we do now is a bit more colorful and abstract. But our newest collection of rugs, 1974, has a few pieces that also focus on the human figure, though in a more intimate and less universal manner.
Something I really admire about your work is that it's suggestive — it invites conversation and thought, more than just judgment. My reaction isn't simply "that's a cool rug," but more like I'm entering a world that I'm curious about. Is that something you're consciously going for?  
Peter: That is very kind! And yes, this is absolutely something we are going for when we design. We've always been inspired by landscapes and the effect of time on the environment, and we've always looked to film and art almost as a way to get into a state of mind when we design. Making rugs enables us create landscapes that feel very real to us, and the Passenger was the first collection where we felt like we were not only documenting a world, but actively creating it.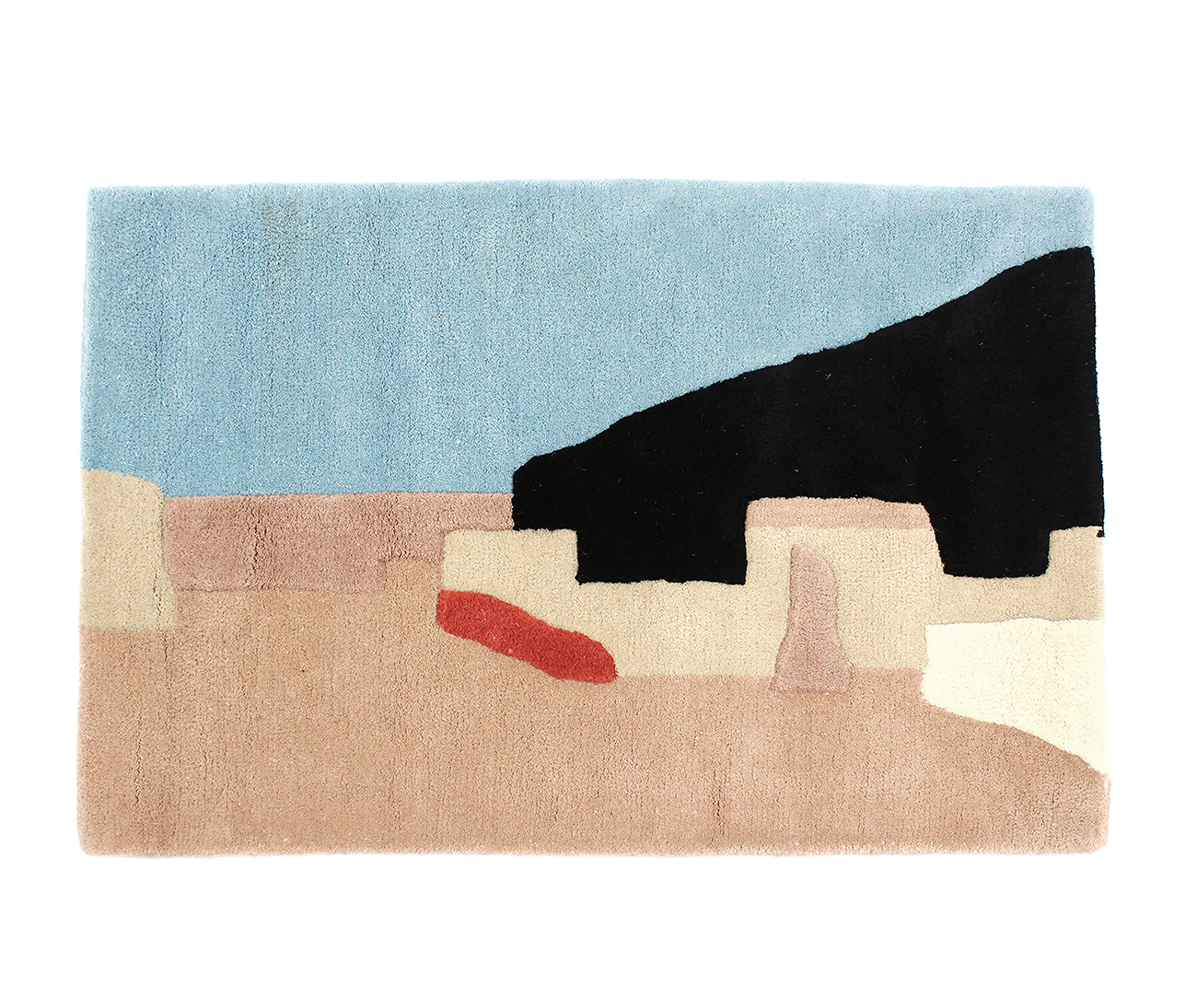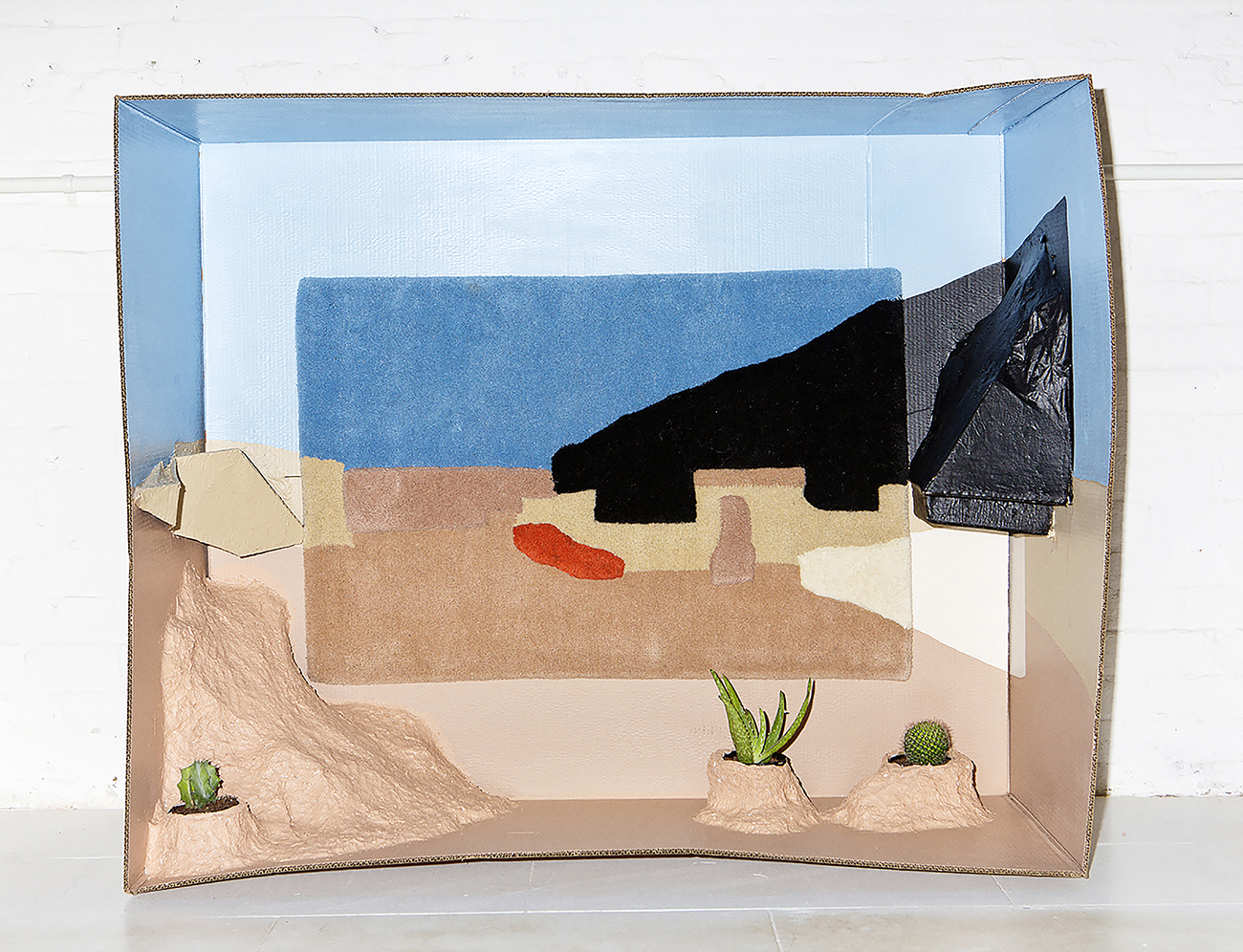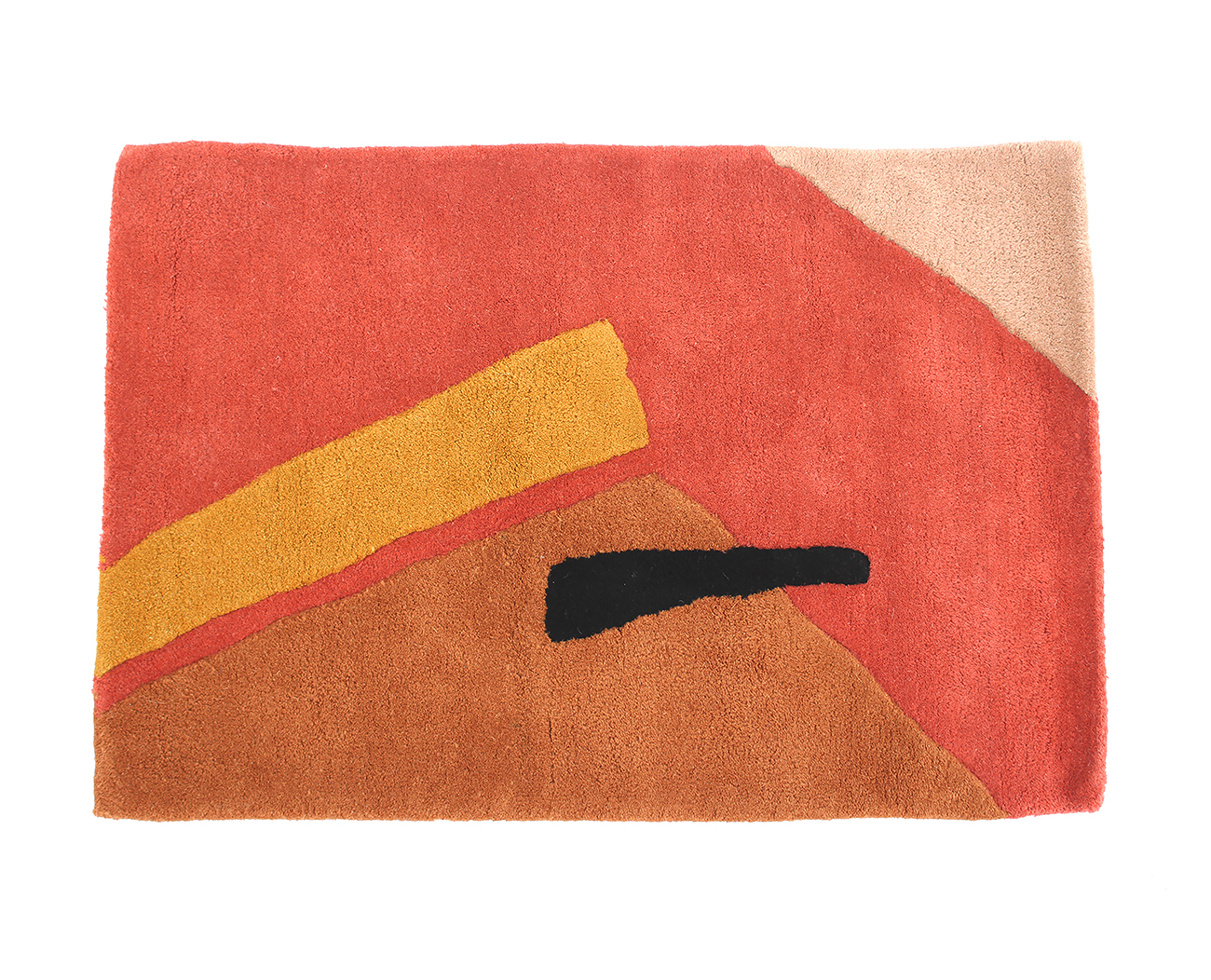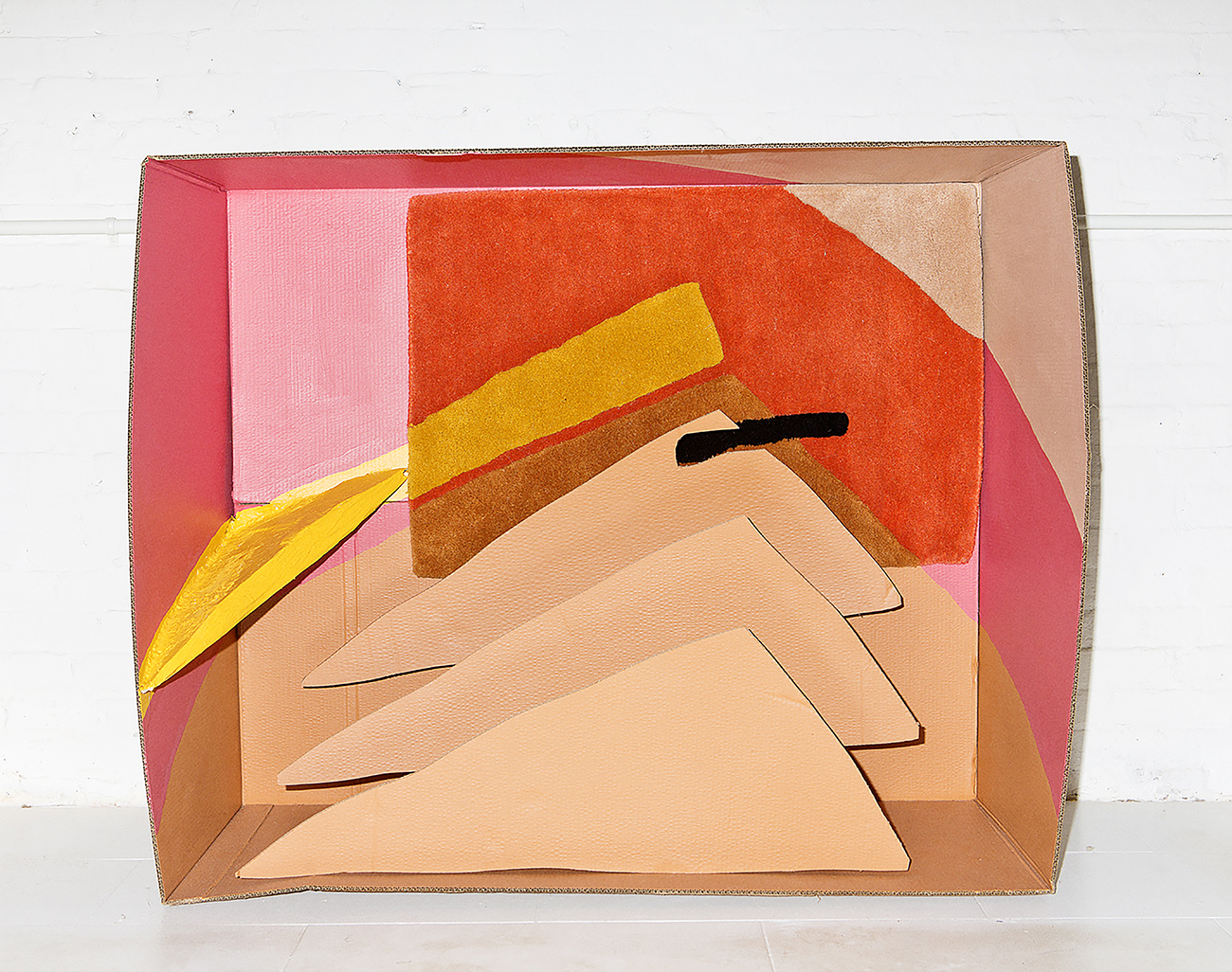 How do the two of you tend to work together? What is your process like and has it changed over time? It seems like a lot of creative partnerships are either mind-melds or else thrive on a tension between two distinct visions. 
Phoebe: Definitely more of a mind-meld! A sense of collaboration has almost been built into our relationship from the beginning, so we never had to consciously encourage it. We met in school for fashion design, and collaborated pretty closely on all our pieces, even though none were official collaborations. We probably developed a language for talking about our work and handing off small tasks to each other during this time, and we also came to rely a lot upon each other's creative feedback.
In general, Peter's designs are a little more elegant, maybe a little more cohesive or thought-out. He has an idea and sketches it. There are definitely standouts, but when we look through all of his designs, there aren't any real stinkers.
I am not skilled at drawing or painting, so I have to go with whatever instinct takes hold of me. Sometimes I draw with pastels, or sketch using the computer, or make a collage. Sometimes I have to make a wall hanging to figure out an idea. I guess I find out where I'm going on the way there. So when we look at my designs, there are a few we really like, and then a lot of wild cards, to put it politely. But in the end, his good ones and my good ones sit well together, and there's usually an even number of both. We always look at what the other is doing, and if we like the direction, we'll try it out as well. So even though we're working on our own sketches, we're always bumping into each other.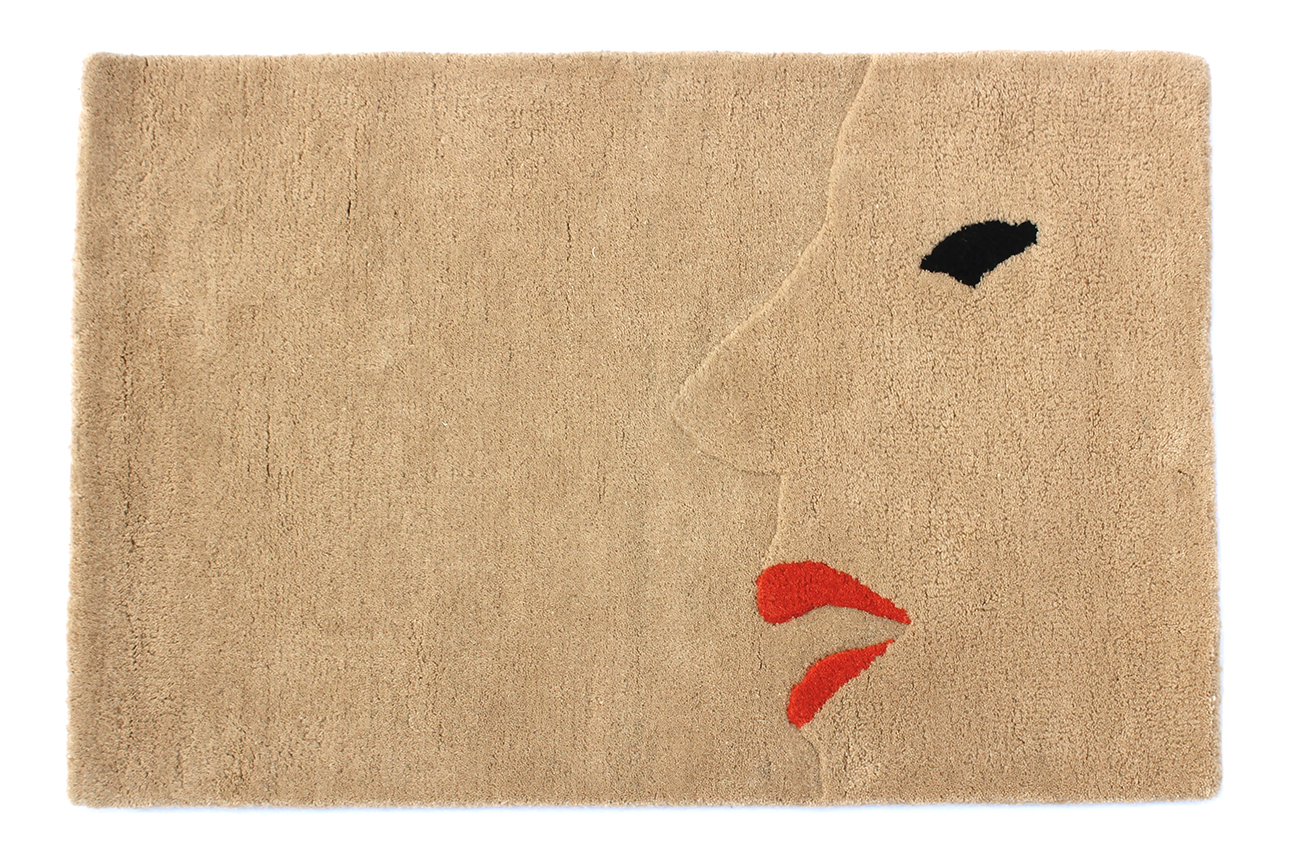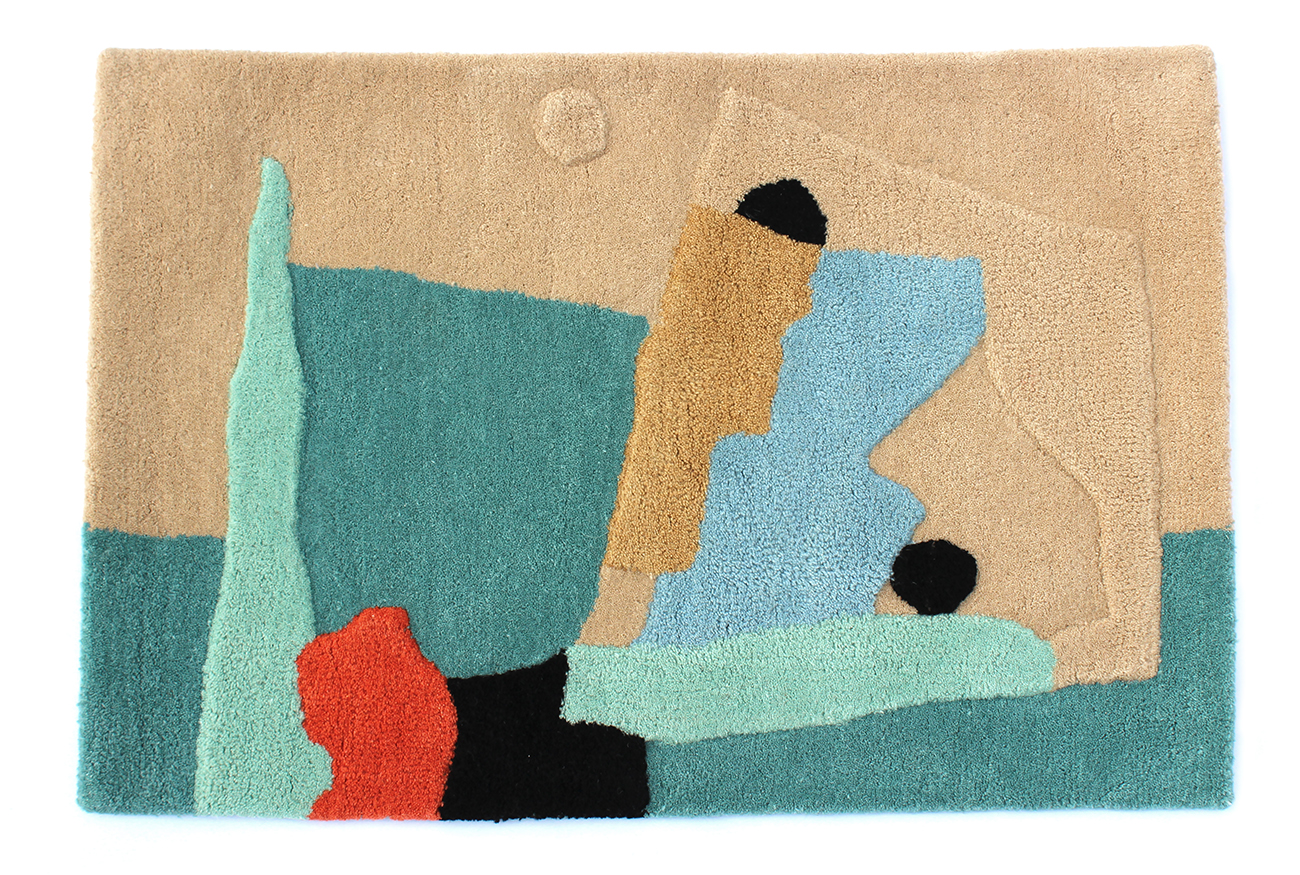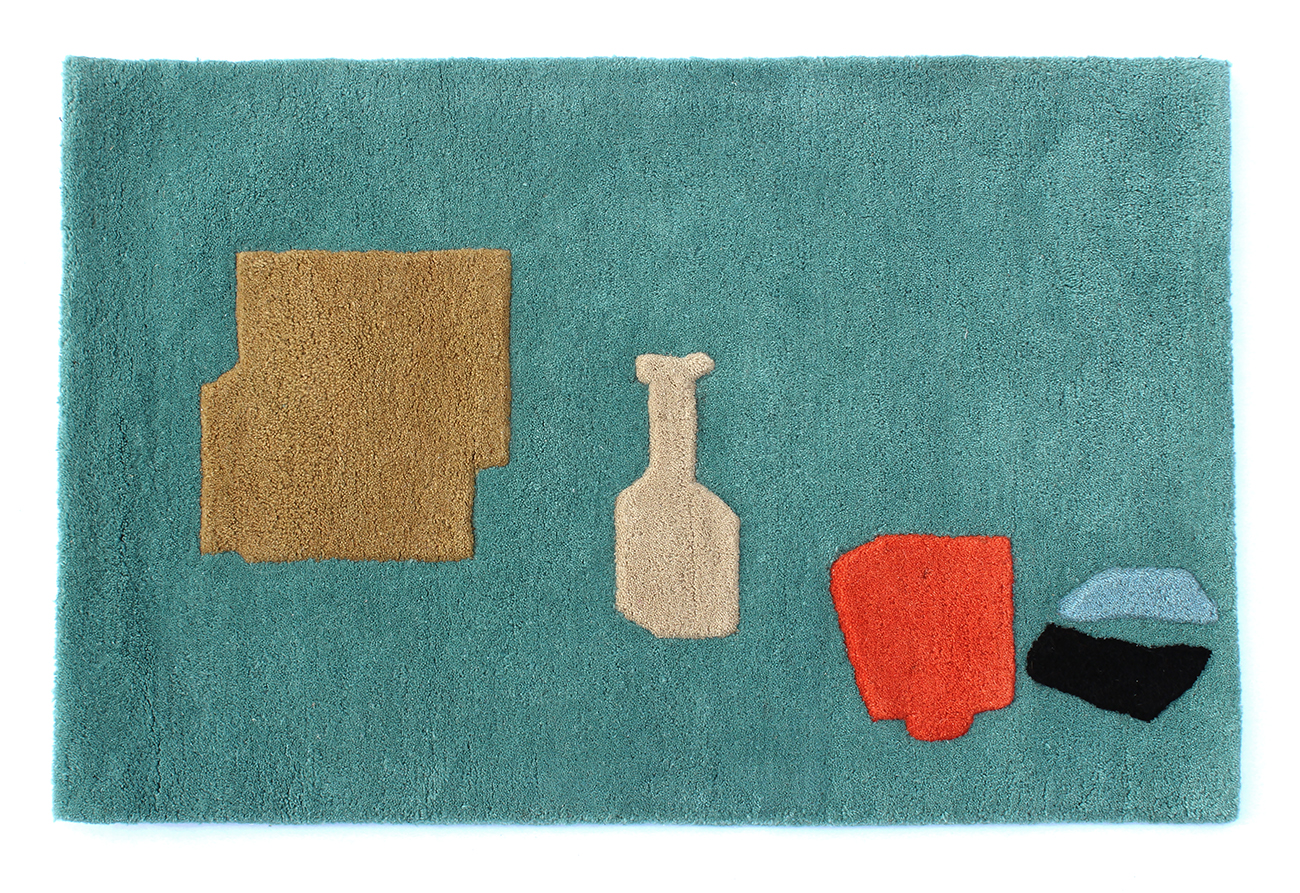 Where is your work headed, in terms of product but also thematically? 
Phoebe: The Passenger collection's environment was mainly wide outdoor spaces, a lot of desert, roads, even open municipal squares. While designing our next collection, 1974 (above), we watched a lot of Rainer Werner Fassbinder films, especially Ali: Fear Eats the Soul (from 1974). Many of his films, Ali especially, also have a less removed quality than Antonioni's work — Ali is pretty much a melodrama — and we intentionally let a lot of that emotion into the new collection. We were also were looking more at interior spaces — kitchens, terraces, views from the window of a hotel room.
In terms of products, we are expanding the rug and bathmat lines, but also want to focus on more items for the home, smaller pieces like objects for the kitchen. We're still in the stages where we are just thinking and talking about it, and so much can change as we start to design, but we're very eager to start. First, though, we are making a new set of dioramas for the 1974 rug collection. They will be completely different, and have real live models and hopefully animals in them. We always regretted there were no iguanas or canaries on hand when we shot the Passenger dioramas.