03.15.17
Meet the Couple That's Reinventing Bathroom Style
Call it what you will — wash room, water closet, commode, loo — the bathroom is nothing if not the unsung hero of many a home and apartment. It is a place of quiet refuge for space-deprived urbanites and, if Pinterest is any indication, an actual spa if you live outside New York City. No one knows this better than Lisa and Michael Fine, the founders of Quiet Town. Dubbed #theshowercurtainpeople on Instagram, the Fines are a dynamic duo — she, a stylist, he, a photographer — who have taken their complementary skill sets and combined them to make a covetable line of bath essentials including shower curtains, rugs, and wall hooks that pleasingly upend convention while marrying (often geometric) form to function.
They are that rare brand that manages to be locally made but not preachy, and ethically produced without tacitly encouraging you to judge yourself for every other home purchase you've ever made. Plus, they seem to love cacti as much as we do. We sat down with the couple to talk textiles, creative thinking and transparency in the age of Trump.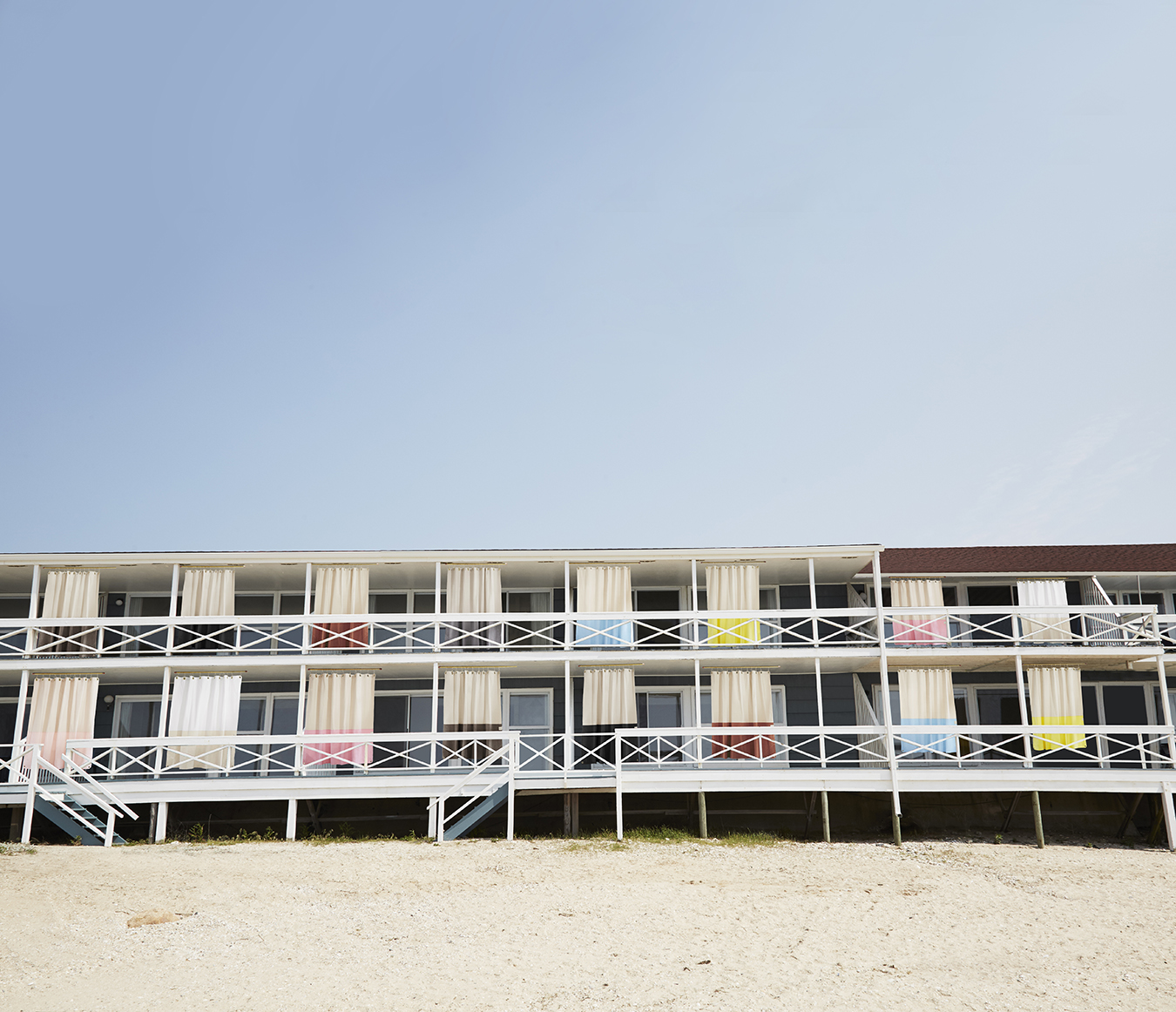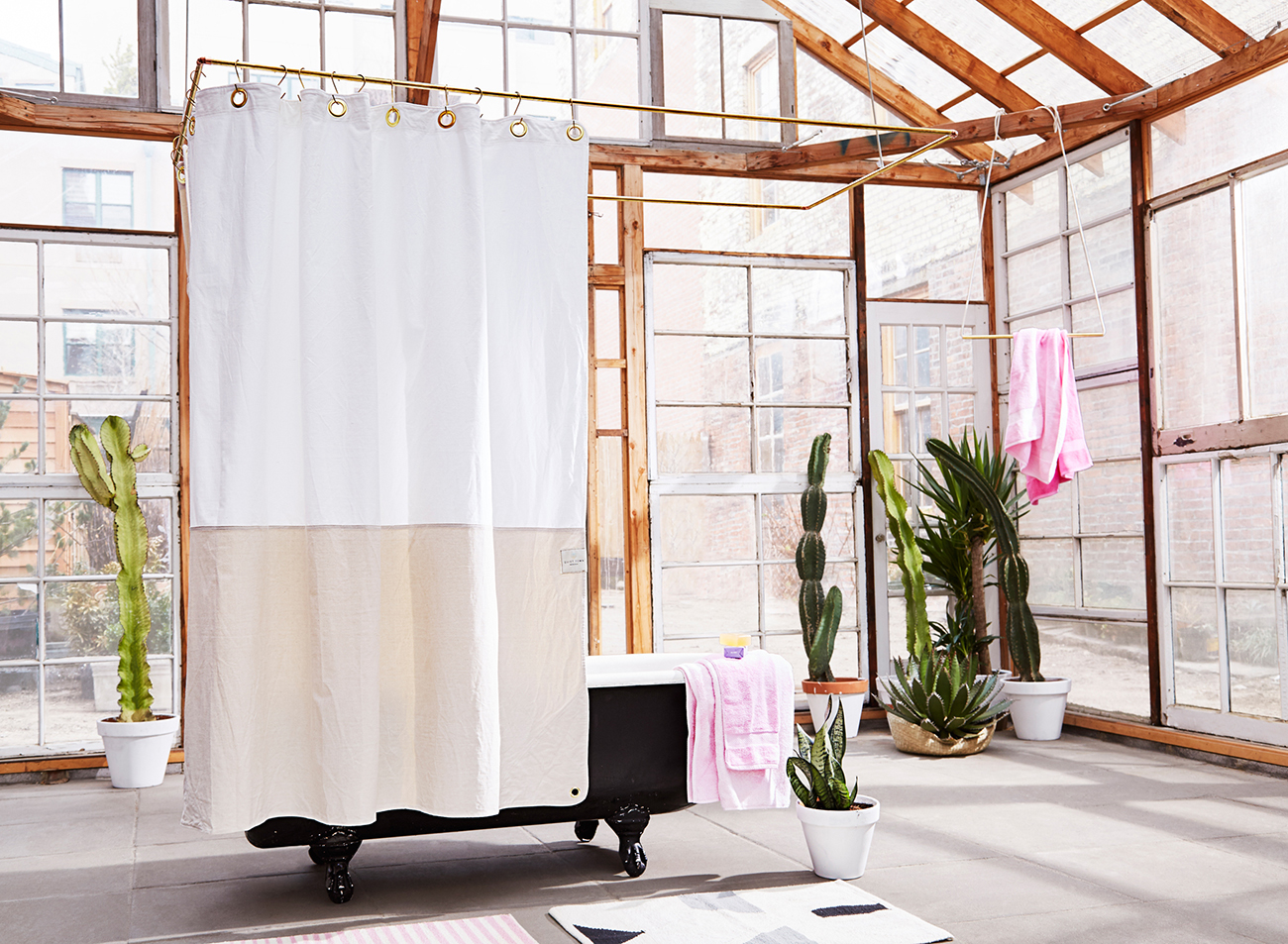 How did you get the idea to start Quiet Town?
Lisa: I work as the in-house stylist for an American fashion brand, and while I was on maternity leave with my son six years ago, I had this nagging thought about the terrible shower curtain offerings out there. I admit, not the most stimulating post-natal preoccupation, but probably about all I could muster given my sleep-deprived state.
I couldn't shake the thought, so about four years later I started putting the pieces together. It was then that I realized that it wasn't so much a shower curtain that I was obsessed with making. It was the idea of thoughtfully designing objects that were: A) 100% functional and at the same time 100% decorative B) underdeveloped by other brands and C) had the potential to last a lifetime.
Where did the name Quiet Town come from?

It came from a Josh Rouse song of the same name. It's about a man who used to live in a big city and moved to a small town which, though not a bustling place, is full of interesting people and life. There isn't much there and that's the beauty of it. We connected on many levels. For one, Brooklyn has become that small, Quiet Town for us. As we've carved out our life here we feel less and less connected to the larger city we used to call home. On another level, we started Quiet Town with the idea that we would only make and sell things that were necessary and functional so as not to add to the noise and clutter of anyone's home or life. And even further still, we imagined Josh Rouse's quiet town to have a Main Street; on that street there is a general store which touches every one of the town's inhabitants through their everyday offerings. No noise, no ephemera, just well-made things you need. And the song just made us feel really, really good.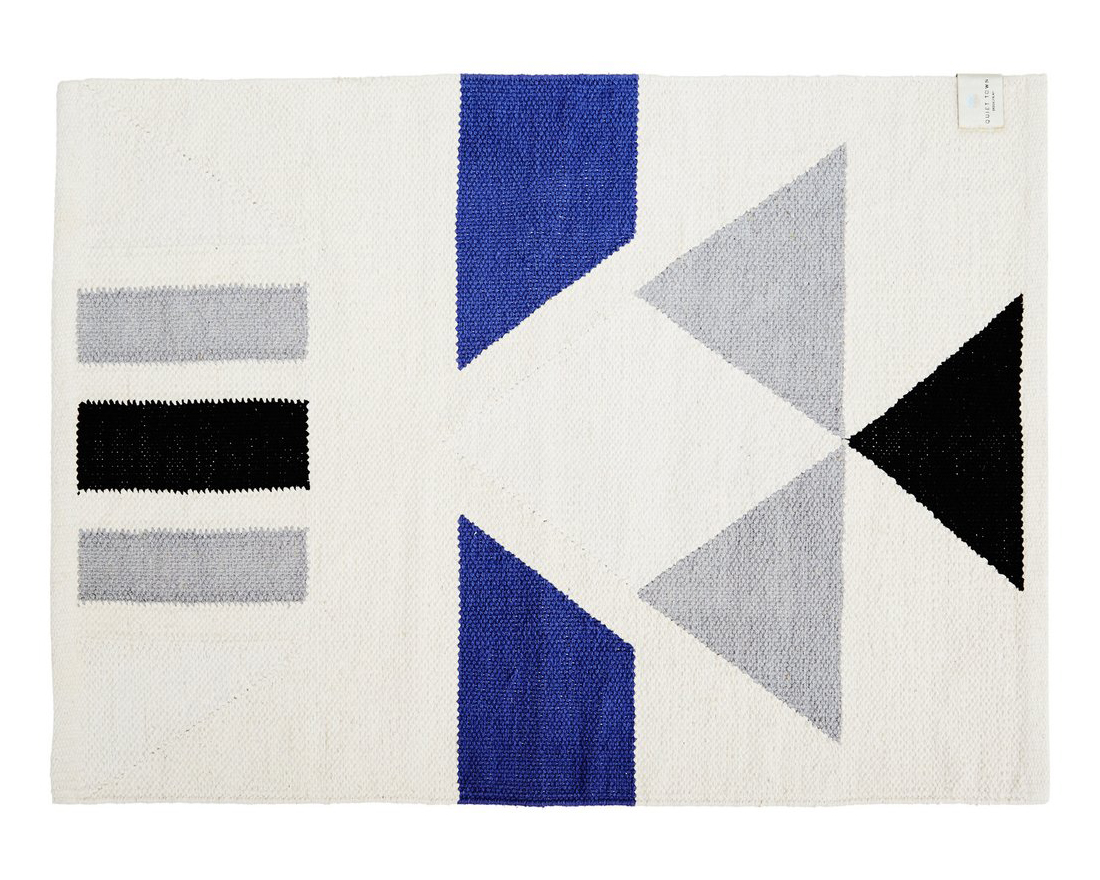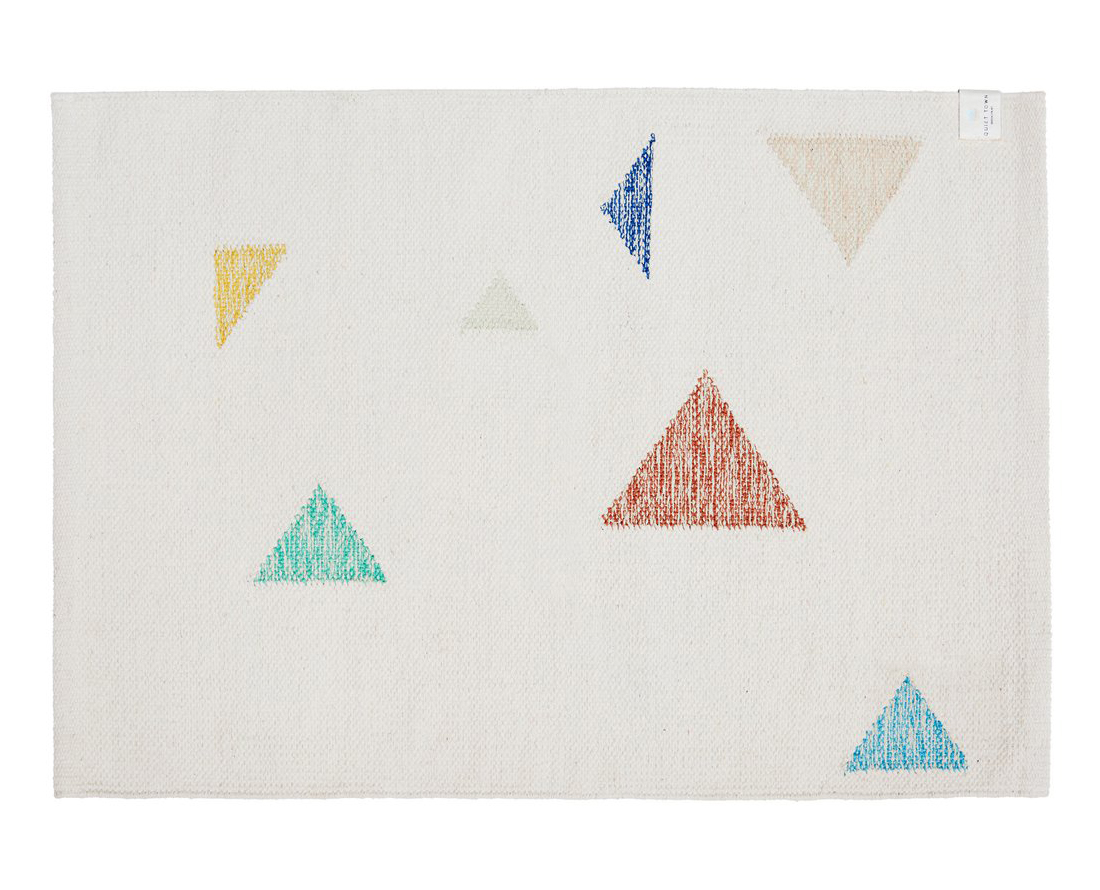 Why did you decide to focus on the bathroom in particular?
I'm a Virgo and the idea that I could reconsider this small, un-sexy space by making a checklist and literally going item by item and identifying what works and what doesn't and what we could improve on — I just really love parameters. But Michael's a Sagittarius; he's the one breaking down the bathroom wall and thinking about what's next.
Can you talk a little bit about your design process?
Our design process begins and ends with color and light. We employ a ton of warm, sunny, emotional colors balanced by breezy calm, which is where our heavy lean on natural, un-dyed canvas comes in. We are ardent vintage furniture and textile shoppers and are drawn to worn, lived-in things. Odd, 70's color combos slay us and we're drawn to these ideas when playing with our color blocking and quilting.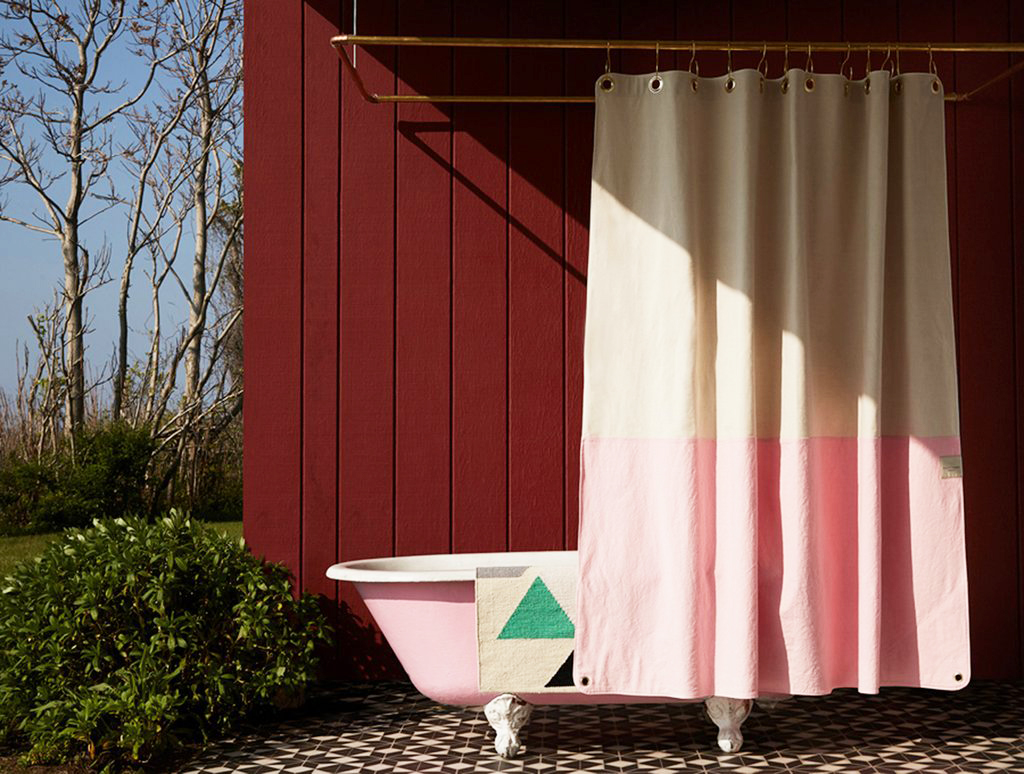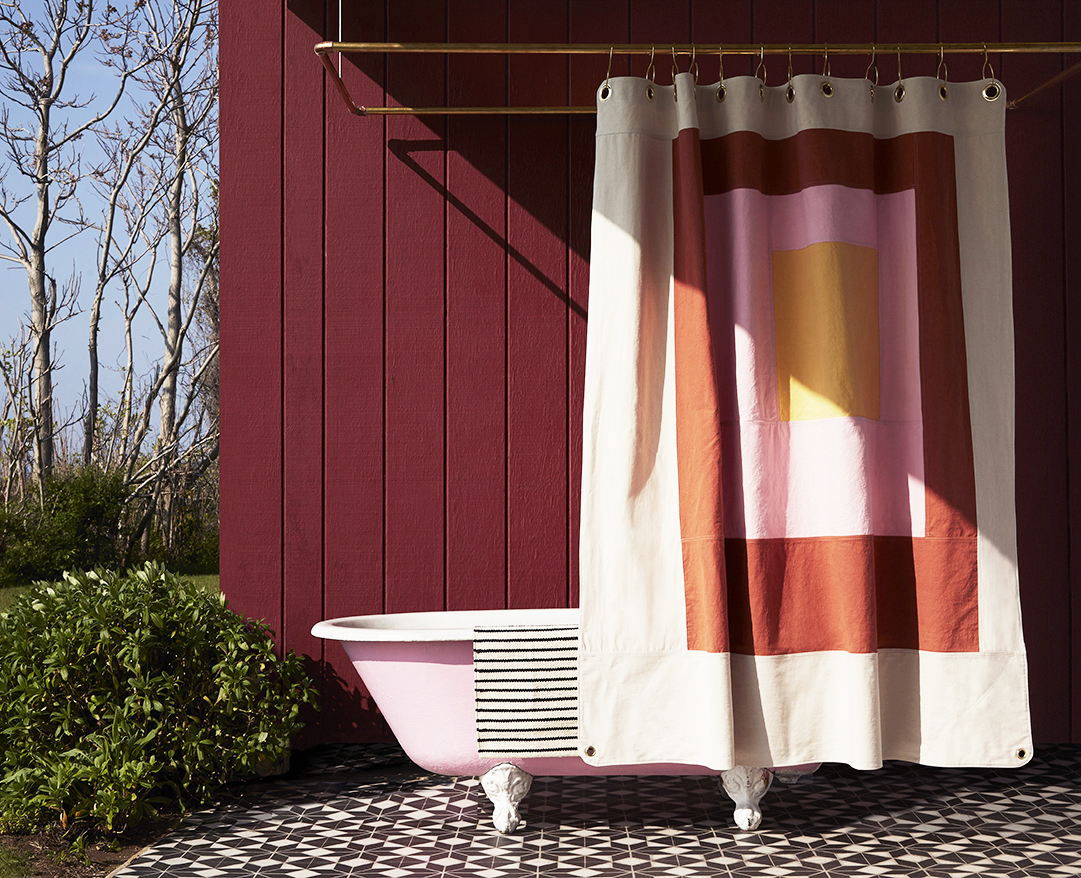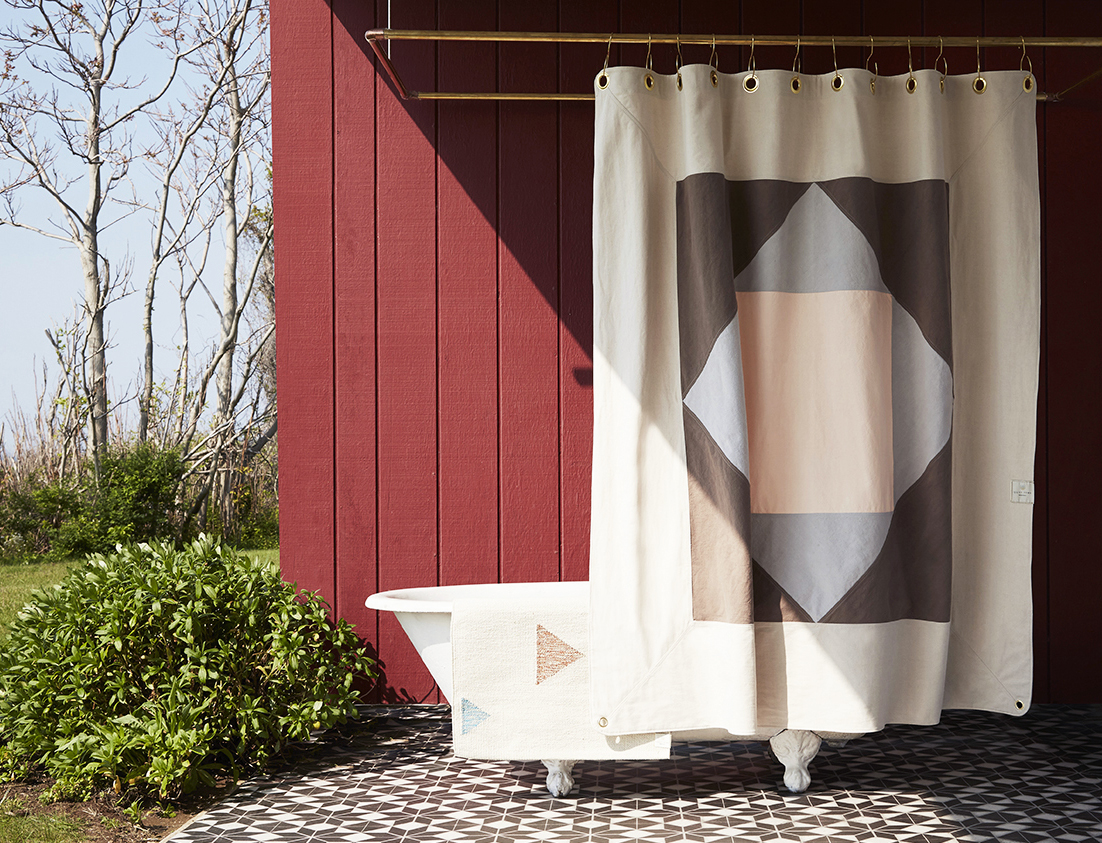 How did your work as a stylist prepare you for this side of the business?
I'm a fashion stylist and Michael is a photographer and our work has always taken on a casual, easy, offbeat language. The fashion industry can take itself pretty seriously but that has never been a zone that we've felt comfortable in. I could draw a lot of parallels between our apparel shoots and our Quiet Town shoots. Aside from shying away from sexy in both categories (and what could be more un-sexy than shower curtains and bath rugs?) we push against the obvious. For instance, we've shot our curtains and bath rugs everywhere but a bathroom. Our curtains have filled glass houses, zig-zagged across the beach, covered the exterior of a hotel — but never been in a bathroom.
We are pretty against using pattern on our curtains, which is where the majority of our competitors tend to go. And when designing our bath rugs, we never for a moment thought to use a terry or toweling fabrication. I'm not even going to mention that creepy micro fiber/memory foam creature.
Most of all, we push against the commoditization of our category and think of it as much, much more. This is why we care so much about the materials we use, the factories that make our products, and the way in which we market ourselves. Your bathroom should be a place for re-energizing, a space that allows you to just "be" and feel good. Did you know that there's a scientific connection between showering and doing your most creative thinking? Look it up. It's pretty amazing.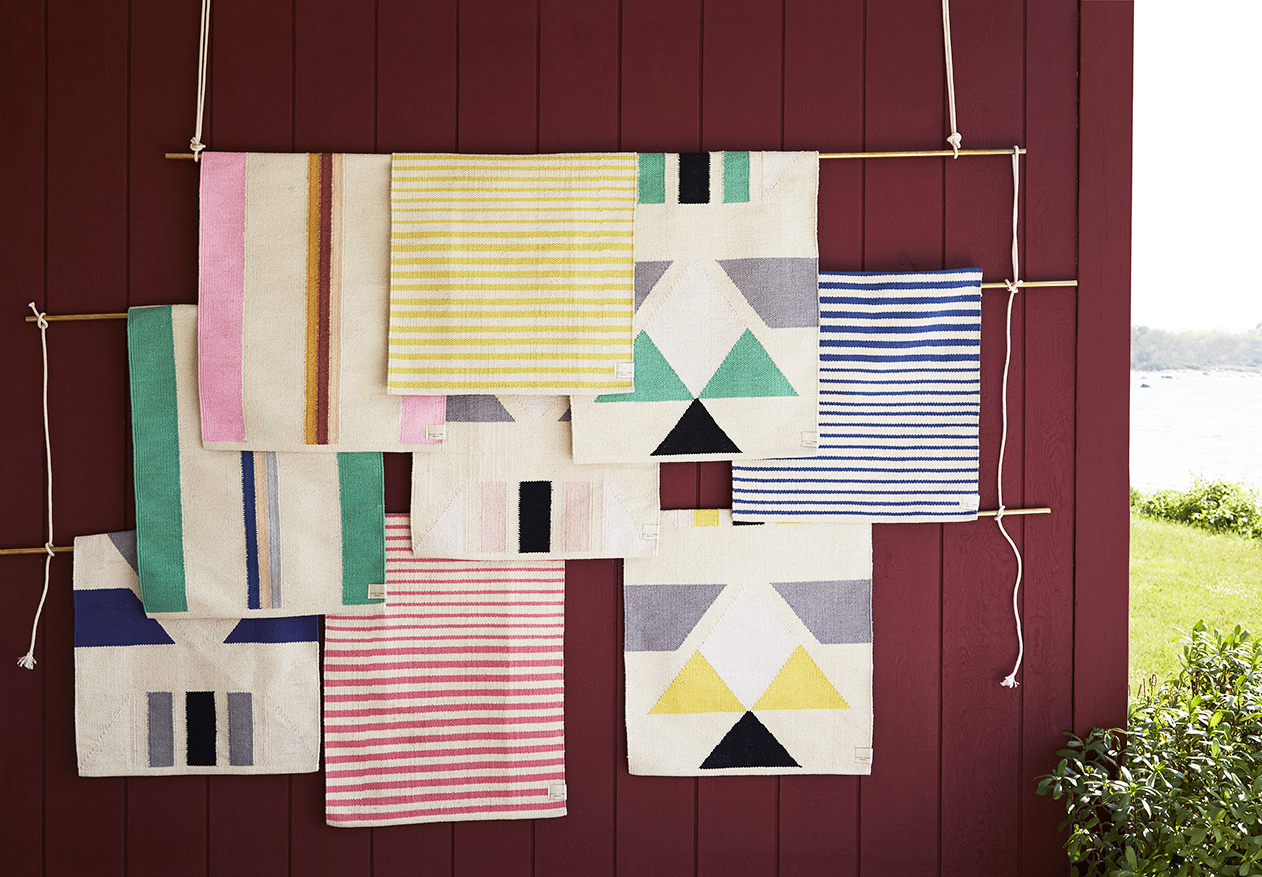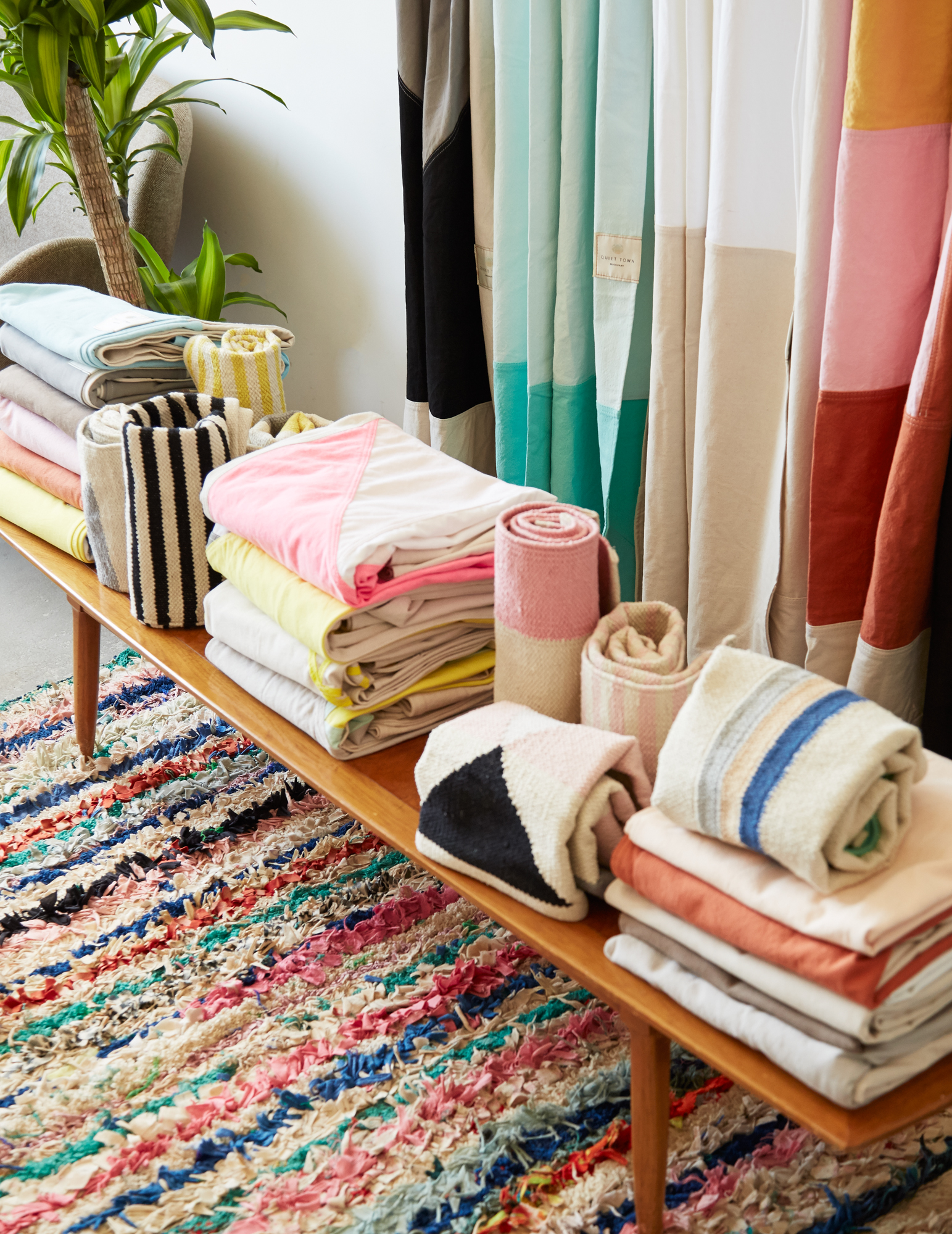 What's been inspiring you lately? And why?
Transparency. Transparency as a design trend, as a characteristic in people, and as a virtue in business. All of the acrylic pieces in the design world right now are fascinating to me. I love the 1980's brashness, the fragility and durability, but mostly how light can play within it. I'm personally craving honesty and openness with a hard, unrelenting edge and maybe that's why I am responding to transparency right now. Professionally, it's a great time to own a business because you can put your money where your mouth is and support your beliefs beyond your own household. Again, more transparency. And one day, Michael and I hope to live in a sunny, glass box somewhere near the sea. Or in the mountains.
What are you working on right now? And what's next?
We have two projects in the works right now. The first is a zero-waste project that will take on different shapes depending on the remnants we have available and what we're feeling would be a useful object to offer our customers.
Our first no-waste product is a modern rag rug utilizing the canvas remnants from our shower curtains. I am not a weaver, so I went to my favorite textile artist, Janelle Pietrzak of All Roads to ask for help. We basically sent her a box of scraps and she sent us back four beautiful rugs. Now we're looking for local production, which I think we have scored right around the corner from our Gowanus, Brooklyn studios! The second project is for a hotel on the North Fork of Long Island. We designed color-blocked, quilted blankets for them — and may be doing some shower curtains as well.