06.07.17
Tauba Auerbach on Making Art — and Salad — In a New Cookbook
There's been a glut of cookbooks lately with as much a foot in the art and design world as they do the food (see Nacho Alegre and Peter Shire's amazing photography collab in the recent Sqirl book, for starters). But perhaps no author has melded the two worlds together as effortlessly and as completely as Julia Sherman, the artist behind the immensely popular blog Salad for President, whose cookbook of the same name was released last month. On her blog, each entry is both a conversation and a salad made in collaboration with someone in a creative field: celeriac slaw by Justine Ashbee, stuffed avocados with shoyu and nutritional yeast by Caitlin Mociun, shaved zucchini with feta and mint by Anna Karlin.
The new cookbook follows suit, finding Sherman chatting with and photographing everyone from Alice Waters to Tauba Auerbach, whose chapter we're excerpting here today. The chapter offers not only an intimate glimpse at Auerbach's vegan cooking chops but also a surprisingly candid and insightful look into the vicissitudes of making and selling work as a commercial contemporary artist. And therein lies the appeal of Salad for President: "Making and serving food is not a new art form," writes Bon Appetit editor Christine Muhlke in the introduction. "From Gordon Matta-Clark's 1970s restaurant, FOOD, to Rirkrit Tiravanija's gallery curries of the '90s… the public has consumed the work. But for Julia, the work also involves curating experiences and discussions, bringing food and artists together as she invites them to share their processes and discuss how it relates to their own art." Read on for a slice of the book, and click here to purchase one for yourself!
INTERVIEW AND PHOTOS BY JULIA SHERMAN
I met Tauba Auerbach in a chance encounter in Rome, where she was scouting the location of her upcoming show with the gallery Indipendenza. She was actually sleeping in the gallery itself, a family home only partially transformed into an exhibition space with perfectly peeling floral wallpaper and patches of original mosaic tile on the floors. Despite her extraordinary grasp of design and construction in both 2-D and 3-D, Tauba insists on visiting a space before conceptualizing the show that will live there. She feels it out, visualizing her work in each unique site. I made a plan to picnic with her on the gallery roof for dinner. Tauba is a committed vegan, so we indulged in a spread of marinated vegetables, breads, seasonal fruit, and lots of wine. Her company, and our view of the city from that rooftop, made it a meal I will  never forget.
When the sun set, we went in search of the Aventine Keyhole, a storied opening in a locked garden gate said to perfectly frame a view of the Vatican far off in the distance. Tauba had been assured that it did really exist; she just didn't know where it was. We spent hours roaming the city. When somehow we happened on the tiny keyhole at the end of a pitch-black residential street, it was four a.m., and the only people to be found were in parked cars with steamed windows (apparently, this was the Roman take on "make-out point"). We took turns peeking at the Duomo through the hole, and then we parted ways. It was a romantic way to meet an artist whose work I had long admired.
Tauba's work is as alluring as it is smart, drawing on mathematical and architectural theory, linguistics, and tetrachromaticism manifest in handmade glass, woven canvases, spray paint, and musical instruments. She is right-brained and left-brained all at once—and to the max. I have to admit, I was relieved when she assured me that, despite the incredible volume and range of her creative output, she is "not a morning person."
As much as I gravitate toward her mystifying objects and canvases, it is Tauba's side project, Diagonal Press, that most aptly speaks to who she is. All of her critical and market success has inspired Tauba to pour more energy into an endeavor that bucks the commercial art market. The works she makes under the aegis of Diagonal are thoughtful, personal, and meant to be distributed as widely as possible. For every coveted painting Tauba sells through her blue-chip gallery, she sells thousands of enamel pins, ornate rolling papers, books, and posters. These are inexpensive and often sold by the artist herself, from behind a folding table at the Los Angeles and New York Art Book Fairs. I sat down with Tauba in her Chinatown studio to make a cruelty-free vegan meal and talk about the optimism inherent in her parallel practices.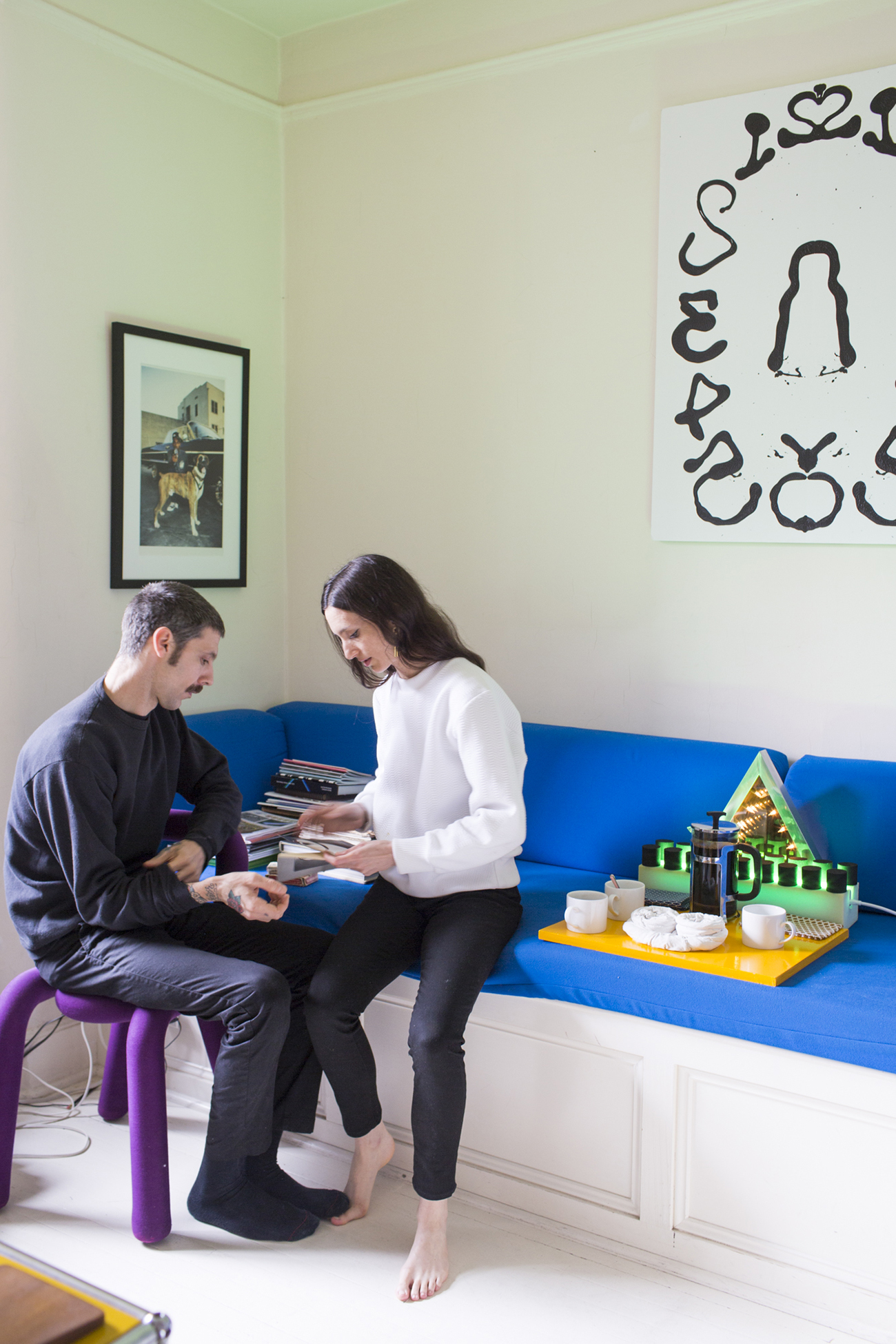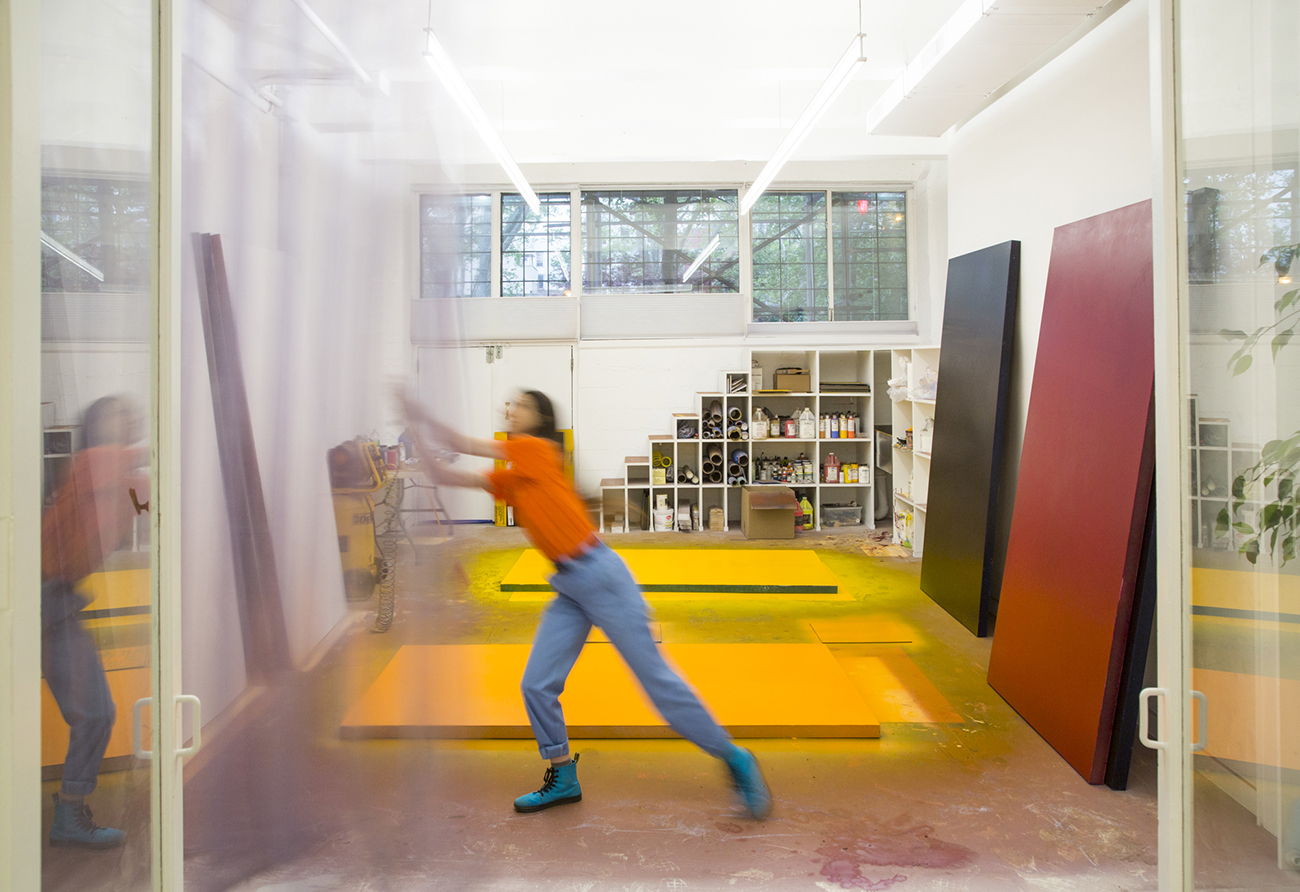 Julia Sherman: I'm interested in how you think about your life's work as compared to your artwork? What does success look like for you, and how has it changed since you started showing your work?
Tauba Auerbach: This is such a big and great question! I can't imagine trying to answer it all at once though. Maybe an answer will just sort of emerge as we talk?
JS: That's fair; I guess I jumped in with a mega-existential inquiry right off the bat . . . Taking  a step back then: Can you tell me about Diagonal Press?
TA: Diagonal publishes books, type-specimen posters, paraphernalia, mathematical models, and enamel pins with topological/ornamental symbols. The publications are as inexpensive as possible, mostly made in my studio with office supplies and generic binding machines. I think it's fun to do ambitious things with simple resources.
JS: I love that. In some ways, you could see it as an insurance policy against the temptation to make things bigger and more elaborate, just because you can. I can think of so many artists whose work became flashier over time, but their best work is usually their early, more modest experiments.
TA: I agree. I think it's a very corporate-minded mistake. I personally want to work with as small a team as possible. I have no ambition to run an empire.
JS: Some silly people might find it surprising that you would spend your time, resources, and energy on an endeavor designed in opposition to the very market that has embraced your work. How did Diagonal Press come to be, and what role does it play in the way you shape your own career?
TA: I started Diagonal in 2013 after receiving a crash course in the distinct ugliness that the art world has to offer. It was my dream since childhood (other than being an astronaut) to spend all my time making art, and I'm overjoyed that I get to do that. But, when I started having shows, I was as green as a person can be, and I've had some painful learning experiences. I was just kind of feeling my way along, figuring it out as I went, and then suddenly people went nuts over a certain series of my paintings. A few months later, my New York gallery announced that it was closing. Then the craziness began.
JS: How so?
TA: I received creepy mail at my house and threatening emails from collectors who couldn't get paintings. Basically, I just saw a lot of people wielding the power of their wealth in unkind and destructive ways.
JS: Why was this happening? What caused the frenzy?
TA: One reason was that I had kept my prices much lower than they could have been, as some kind of misguided gesture of sincerity. I wanted it to be clear that I was making art for the right reasons, not to get rich. But people saw an opportunity to flip my work for huge profits, and it slowly became evident that my strategy had encouraged the greed I had intended it to stand against. It also created an instance of great wage disparity—as the artist, I had done all the work, but the flippers were making twenty to one hundred times as much as I was. Eventually I decided to get over my embarrassment at the fact that people were willing to pay a lot for my paintings, and just use the opportunity to treat my employees well and support causes I believe in.
JS: Why is it embarrassing to know that people value your work, and that they are willing to pay for it?
TA: I worried that people were valuing my work for reasons I don't agree with. So to answer your original question: The press is an experiment intended as a counterweight to all of this—some-thing that I could build from scratch using all the knowledge and experience I'd acquired while bumbling naively through the first part of my career. A key feature of the business structure is that Diagonal publishes everything in open editions, and nothing is signed or numbered.
JS: Why is it important that your editions remain open?
TA: I wanted to remove the secondary market from the equation. Since buying from Diagonal is not a financial investment, one would only bother to purchase something if they valued the thing itself, which is the kind of exchange I'm after. I want people to own the Claude Bragdon books I just republished because they want to experience his thinking. I'm trying to create the circumstances for a straightforward transaction.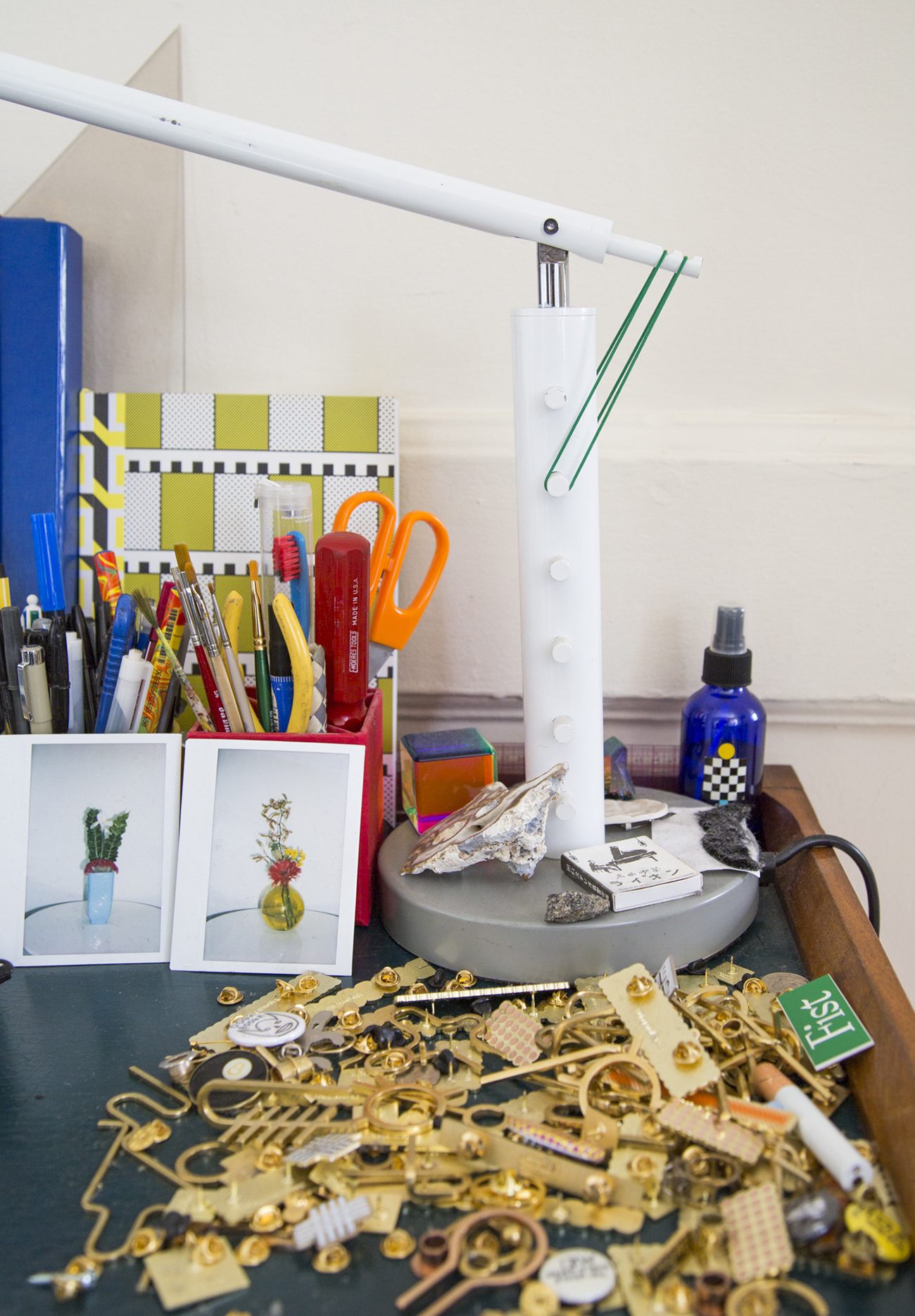 JS: It must also give you the opportunity to expand your audience exponentially. I mean, what percentage of the population feels comfortable walking into galleries, let alone collecting art? Even I find it intimidating!
TA: Yes! I love being at the book fair and talking to everyone from design students to antiquarian booksellers to people who just came because it was something to do with their weekend.
JS: So, with the typefaces you design, for instance, you are making something that would typically fall under the umbrella of "design" more than "art," but I think it is actually one of your most personal projects. How do you make the fonts, and how are they supposed to exist  in the world? What don't people understand about them?
TA: They just kind of happen along the way as a natural document of where my head is at a particular moment in time. It's like the fonts are different voices. Fig Font—the font I made in 2006—was the voice that narrated that year for me. And, a few years later, when I was making a lot of woven paintings in the studio, I found myself making a woven-style typeface. I don't sell them as usable typefaces, just as specimens. I'm too emotionally attached to sell them for use. I once spotted a copy of one on a magazine cover, and it felt like seeing someone else's lips move and my voice come out.
JS: I like that. Our experience of the world is never fully separated from language, so the fonts are like a visualization of a complex moment in your life. Somehow beyond words, but rooted  in them.
TA: They are indeed very personal, but I didn't expect that would register with anyone. Thanks for noticing!
JS: I am curious how you became vegan. What led to that decision?
TA: It was something I thought about a lot over the course of fifteen years as a vegetarian. I agreed with veganism in principle, but my favorite food was cheese, and I thought it would be just too difficult. Then a few years ago I had a conflict with a fashion house that led me to do a lot of research about animal welfare. I had some money to give away, and I didn't know what the most pressing issues were, or what forms of activism were most effective. In the research process I learned and saw so many things that I just can't un-know and can't un-see. I simply cannot enjoy a milk product, knowing what dairy cows experience. It's not delicious anymore. These products are a result of pain; it's just that simple.
JS: Vegans get a bad rap for being a buzz kill, but the truth is out there; it's just a matter of choosing to pay attention.
TA: Well, it's hard to find a non-alienating way to talk about this issue. My decision was not only one of compassion but of logic. Raising animals for food produces more greenhouse-gas emissions than all forms of transportation combined. Most of the land deforested in the Amazon is used for raising cattle. There are a million damning facts, and I could go on and on, but basically the industry is a disaster on all levels, and I can't support it.
JS: Any tips for people looking to make the plunge to give up animal products?
TA: I started by committing to it for just a month to see how I liked it. I highly recommend this experiment! And honestly, I wasn't optimistic that I could stick with it, but I quickly felt much healthier and much happier because my behavior was more aligned with my thinking. Maybe to answer your very first question, I think my life's work is figuring out how to live in this surreal, fucked-up world in a way that's both ethical and fun. The circumstances of our time make that really difficult, so this is a lifelong project.
JS: If you weren't an artist, what would you be?
TA: My astronaut dreams are still intact.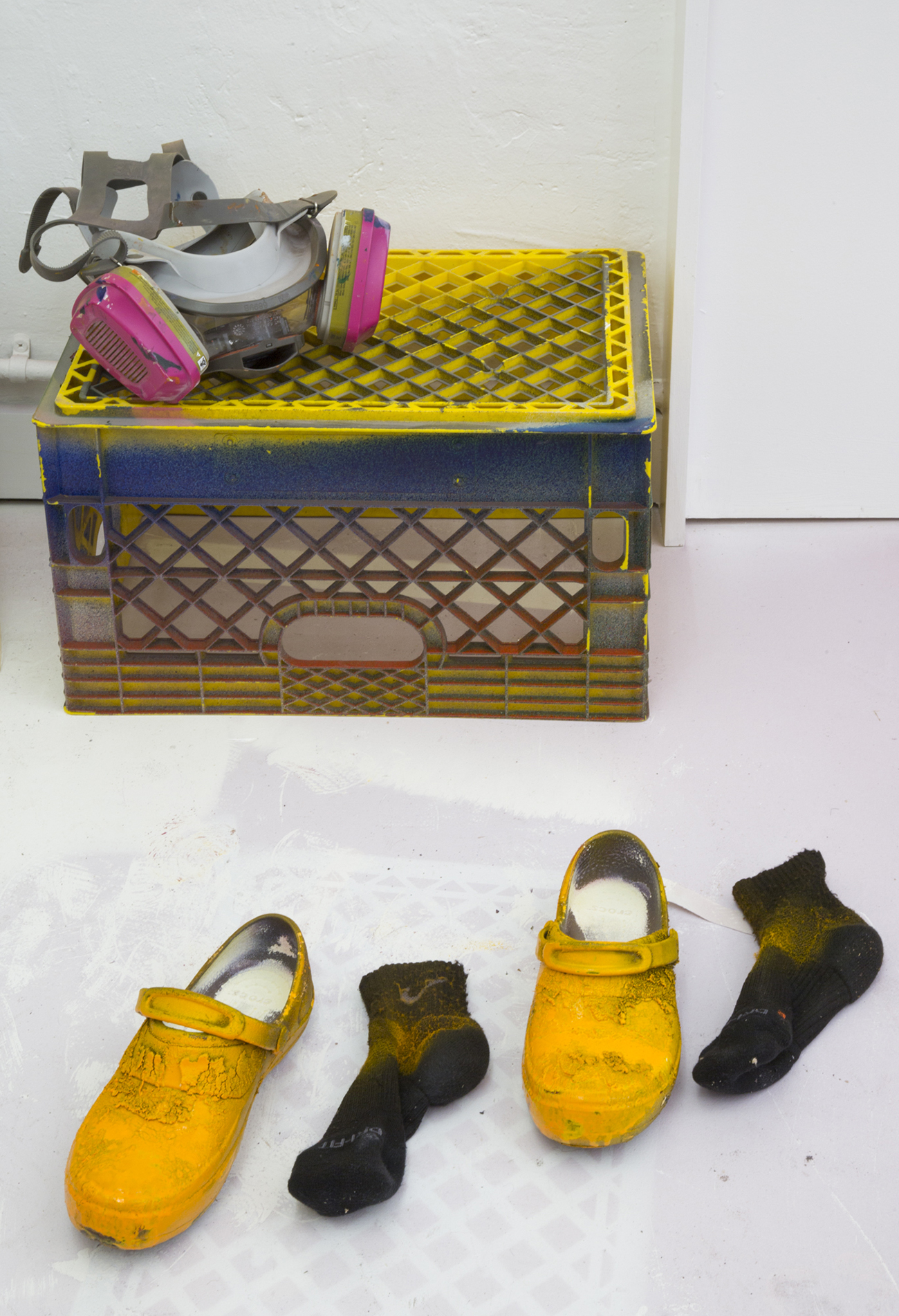 Tauba Auerbach's Shredded Brussels Sprouts Salad with Lemony Almonds and Shaved Apple
Serves 4
Prep Time: 15 minutes active, 50 minutes passive

The genius of this recipe is in the lemon-soaked almonds, toasty and crunchy, tart and salty. Tauba keeps these on hand as a healthy, high-protein way to graze throughout the day. After baking for 20 minutes the nuts will be a very dark brown, almost burnt. Don't worry; that's just what you want. You can make them up to a week ahead of time, cutting down on the prep time for the salad.When purchasing Brussels sprouts, select the tightest, most compact little dudes you can find. As long as they are a nice green, not yellow, the big ones should still be good, but they lose some of their sweetness with time. Brussels sprouts are available from September to March, but they taste best after they have lived through the first frost, making this an ideal winter or spring salad. Chervil, my favorite salad herb with a delicate fresh anise taste, will be nearly impossible to find in the winter. But as soon as it is in the greenmarket, grab as much as you can and you will find yourself tossing it into all your basic salad greens and on top of soups. Tauba dresses her salad simply with the juice of one Meyer lemon and 5 tablespoons of olive oil alone. I included a sherry vinaigrette with this recipe, just in case you are like me and crave a little sweetness with your winter salads. The choice is yours.
For the almonds
¾ cup (105 g) whole raw almonds
Grated zest and juice of 1 small lemon
½ teaspoon fine sea salt
1 tablespoon olive oil
For Julia's dressing
¼ cup (30 g) thinly sliced shallot
2 tablespoons sherry vinegar
1 tablespoon plus 1 teaspoon cider vinegar
2 teaspoons Dijon mustard
1 teaspoon maple syrup
5 tablespoons (75 ml) extra-virgin  olive oil
For the salad
4 cups (370 g) trimmed and  thinly shaved Brussels sprouts
½ teaspoon sea salt
1 medium, firm, sweet apple, such as Gala, Fuji, Jazz, or Cameo
1 cup (200 g) cooked farro
2 teaspoons Pickled Mustard Seeds (optional)
¼ cup (13 g) loosely packed  fresh chervil leaves
Freshly cracked black pepper
1. Make the almonds: Coarsely chop the almonds, making sure each almond is chopped at least in half. Put them in a small bowl. Add the lemon zest and juice to the almonds. Set them aside to marinate for 30 minutes.
2. Make the dressing: Put all the ingredients in a medium salad bowl and whisk until the oil is emulsified.
3. Make the salad: Add the Brussels sprouts to the dressing and toss to evenly coat them. Season with the salt and set aside.
4. Finish the almonds: Preheat the oven or a toaster oven to 325°F (165°C). Add the salt and oil to the almonds and stir to combine. Spread the nuts evenly on a baking sheet and bake on the center rack for 20 minutes, stirring them around halfway through the cooking time to prevent burning on the edges, until they are very dark. Let cool completely.
5. Finish the salad: Cut the apple in half. Cut each half into thirds, cut out the core, and slice the wedges crosswise ½ inch (12 mm) thick.
6. Toss the apple pieces into the salad, along with half of the toasted almonds and the farro. Scatter the pickled mustard seeds on top, if desired, then top with the remaining nuts and the chervil. Season with salt and pepper to taste.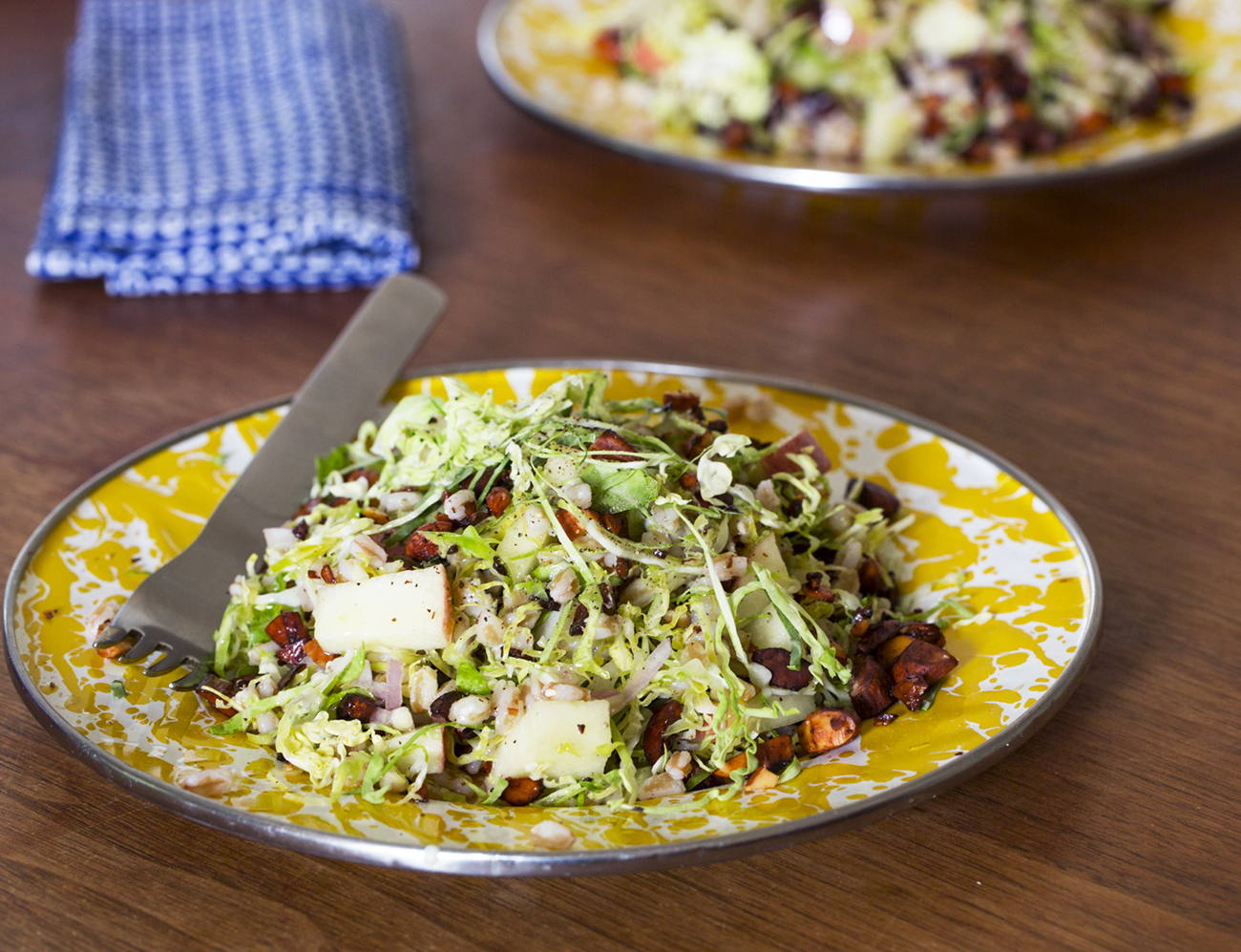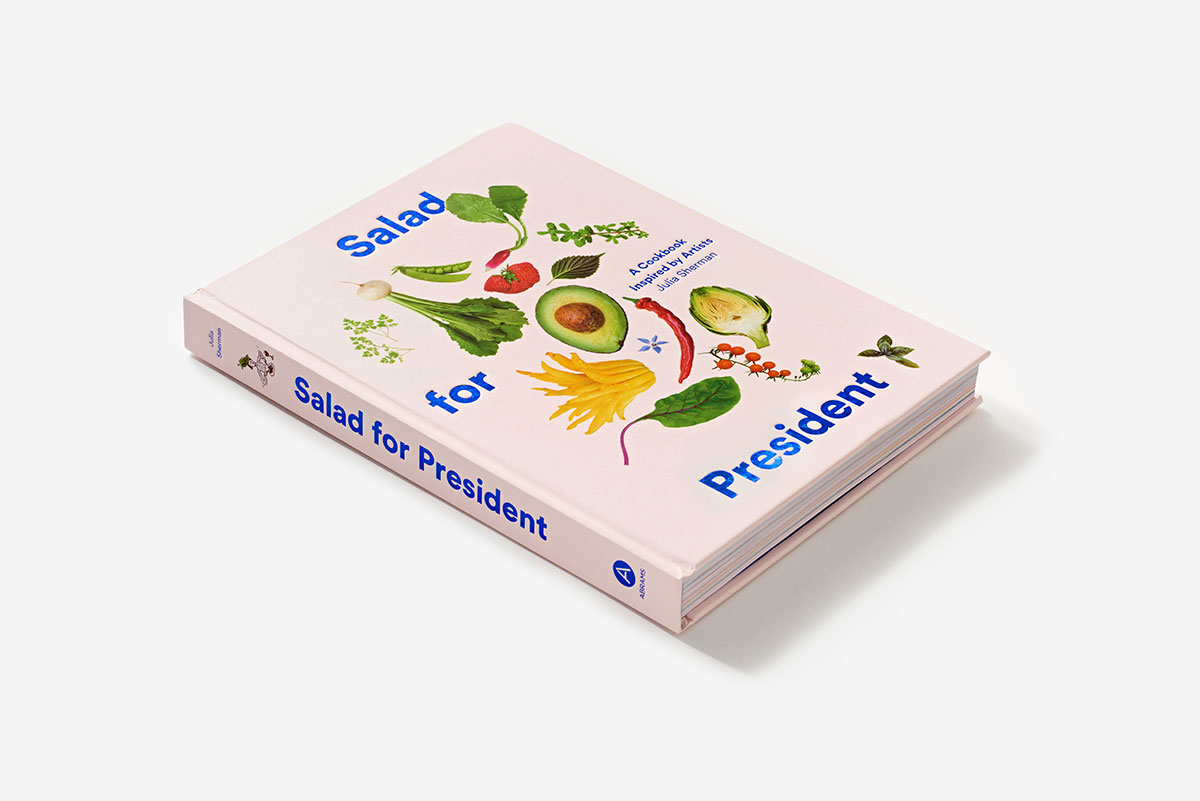 From Salad for President, by Julia Sherman. Copyright © 2017 and reprinted with permission from the publisher, Abrams.