05.16.18
A Berlin Duo's Salt-Treated Tables and Fringe Lamps, On View at Assembly New York
Design firm Llot Llov was founded in the most Berlin of Berlin ways possible: In the back seat of a taxi shuttling between nightclubs. Jacob Brinck had just thrown a party to raise funds to start a design studio, and in the back of the cab — sandwiched between friends in the early morning hours — he explained to Anya Bauer his grand scheme. She immediately jumped on board, and they've been working together ever since.
That was twelve years ago. Since then, the studio has made a name for itself with furniture and interiors that beautifully fuse craft — knitting, macramé, natural dyeing processes — and design. This week, for Sight Unseen OFFSITE, they're debuting two new projects at Assembly New York on the Lower East Side: A fringed overhead lamp called Fran, and the latest addition to their ongoing Osis line, a range of colorful, customizable side tables.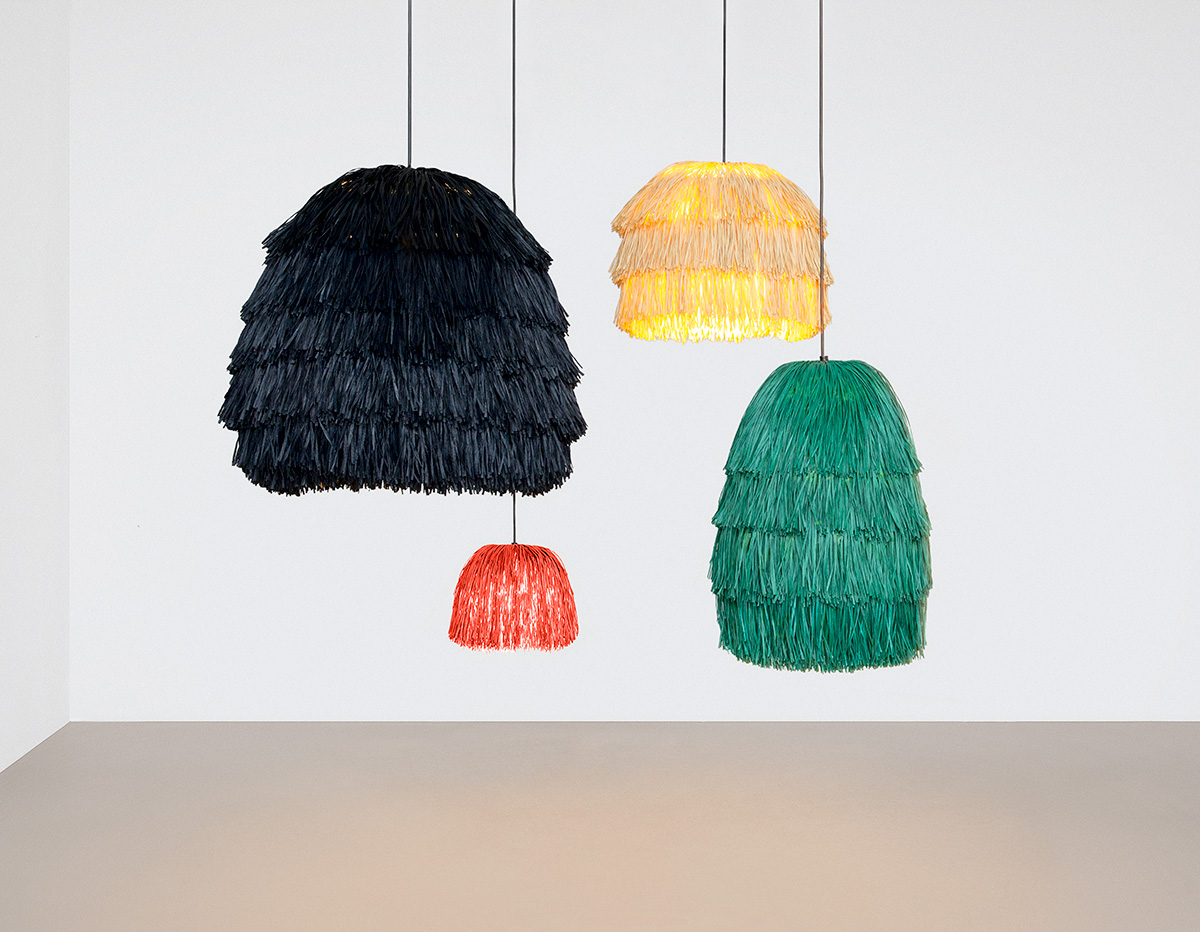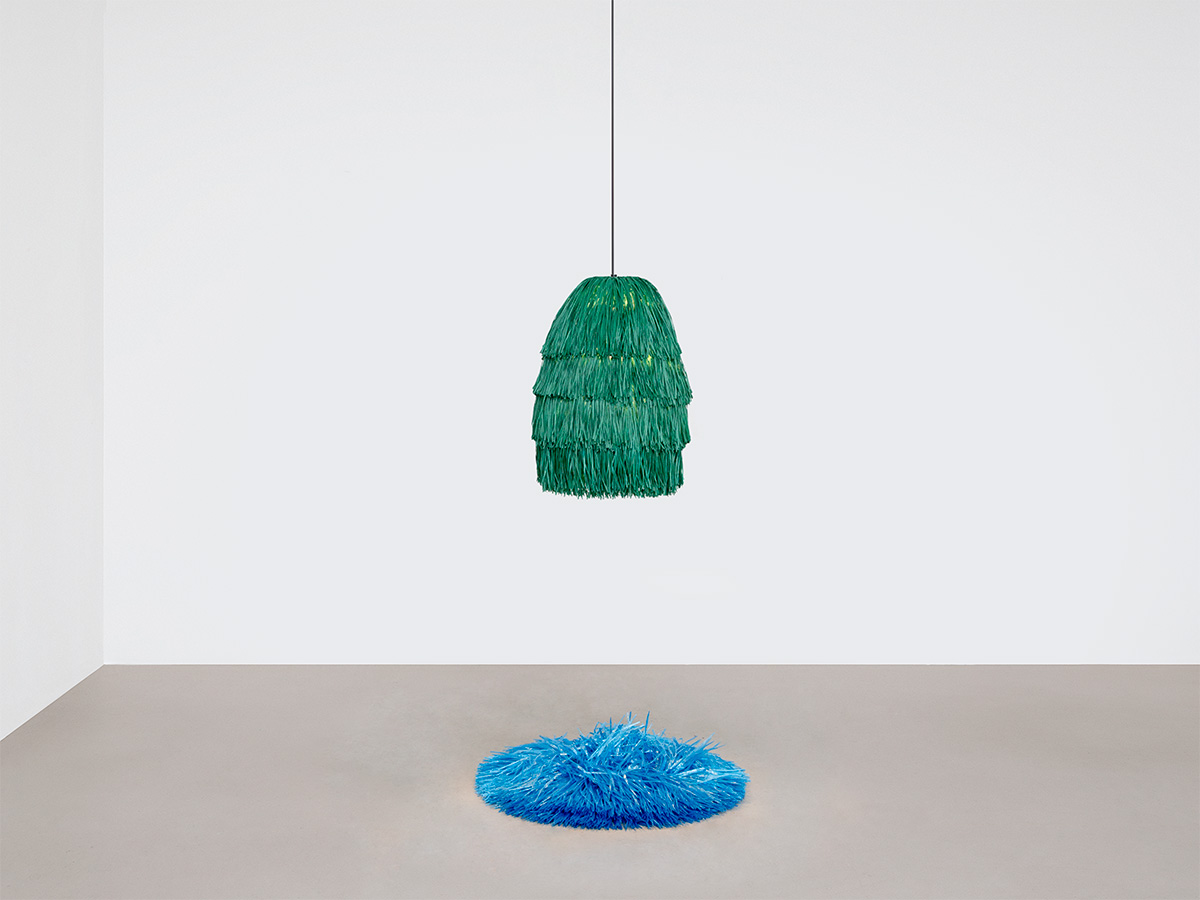 The lamp, made from floating tiers of streaming rayon, is one part cheerleader's pom-pom, one part party-ready piñata. Composed of strips of fabric attached to a series of wire rings, Fran rustles and shakes in the breeze, but aesthetics weren't the only thing on Llot Llov's mind when devising it. "We needed to create something simple enough for the production we wanted to use," explains Brinck. To produce the lamp, they worked with Mammu, a Latvian-based social enterprise that recruits stay-at-home mothers — who otherwise wouldn't have access to income — to craft projects from home.
The tables, too, have their roots in craft. Now in its fifth edition, their Osis series revolves around a blurry, kaleidoscopic surface pattern achieved by scattering sea or stone salts onto the painted surface of birch wood boards. As it dries, the salt soaks up some of the liquid in the paint, leaving a rich gradient behind. With their blocky, geometric bases and removable tops, the tables are designed to be mixed and matched; each base can fit with each top or be flipped over entirely. But the surface treatment is the star here, with colorways — swirling shades of red and orange, deep teal, pinks and blues — designed to fit logically alongside Llot Llov's previous work. "With this collection, we really wanted to show what's possible with this technique," explains Brinck of the salt-dyed material. "We wanted to show how interesting it looks in different color combinations, and on a six-sided table with sharp edges, it comes out almost psychedelic."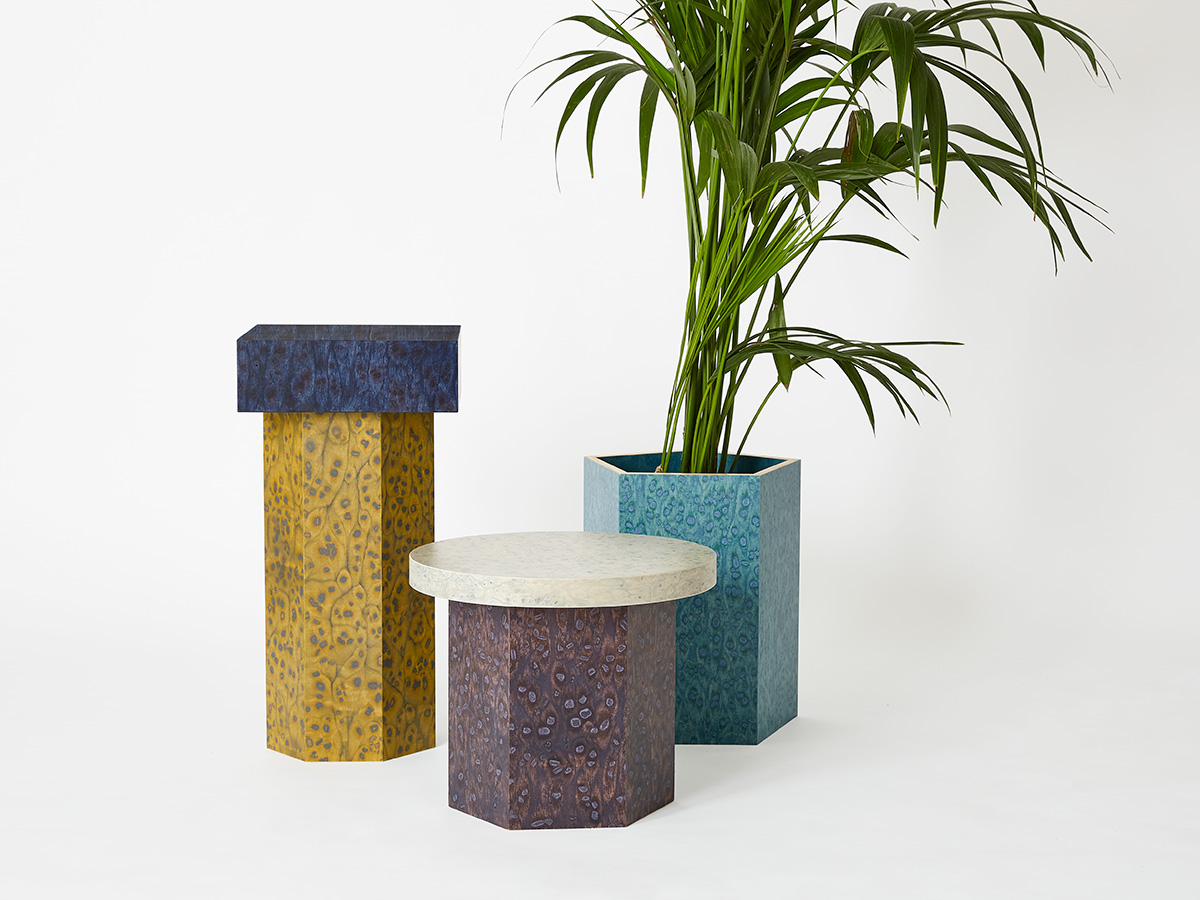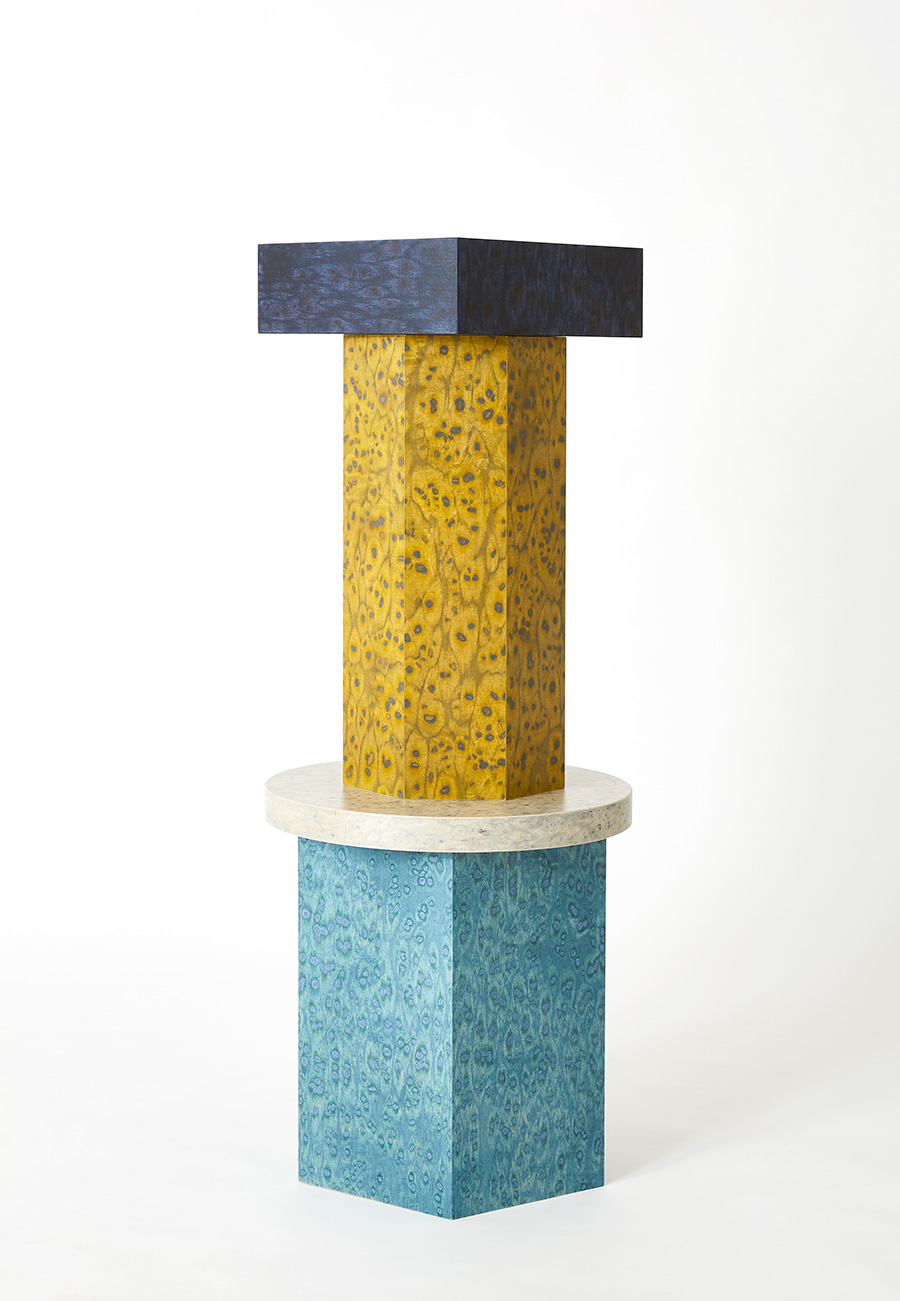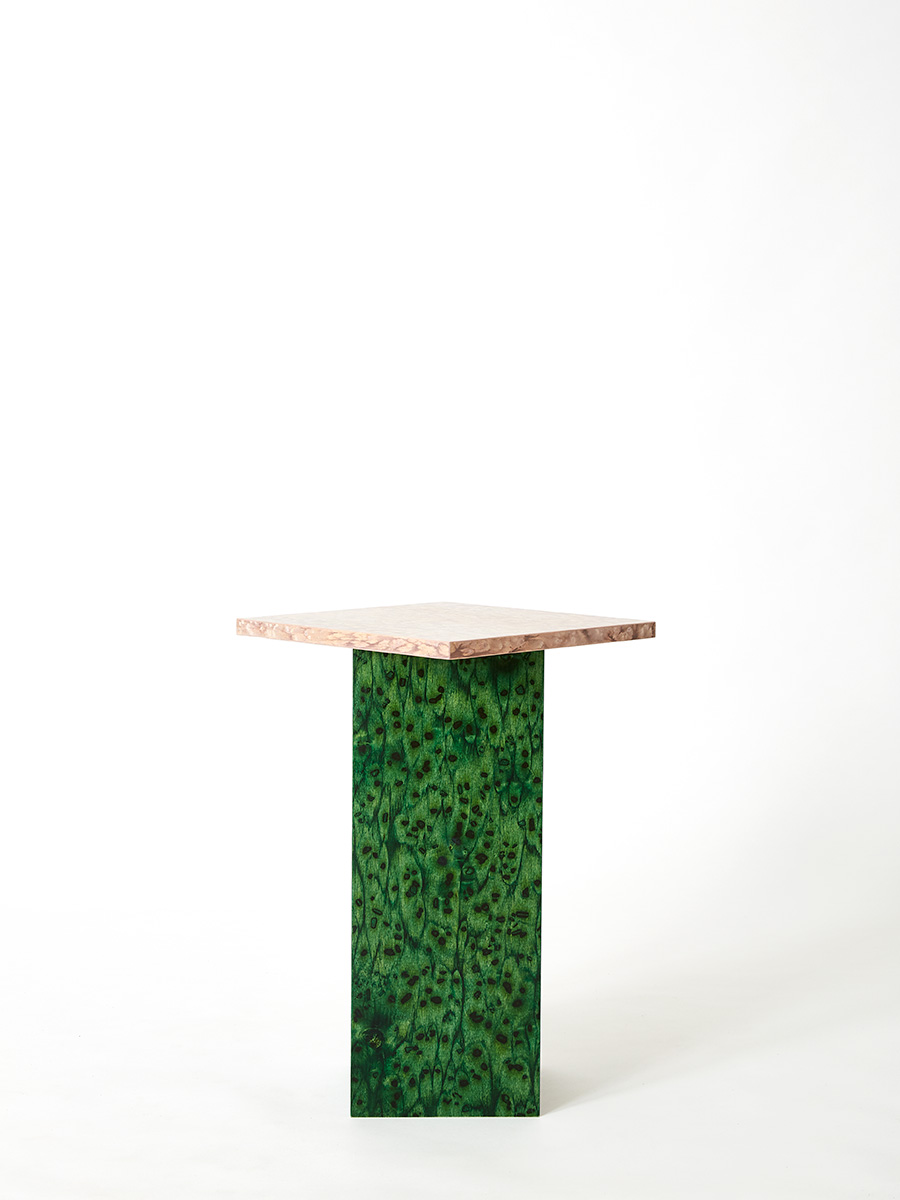 Llot Llov will be on view at Assembly New York from May 16-20. Go here to learn more about Sight Unseen OFFSITE, and pre-register on Eventbrite for faster entry at our hub space at 201 Mulberry.