12.15.18
Week of December 10, 2018
A weekly Saturday recap to share with you our favorite links, discoveries, exhibitions, and more from the past seven days. This week: An amazing gingko-leaf chair from the past, and a new stainless-steel chair (above) from the future. Plus, four on-trend interiors and a surreal immersive exhibition in Paris.
Discoveries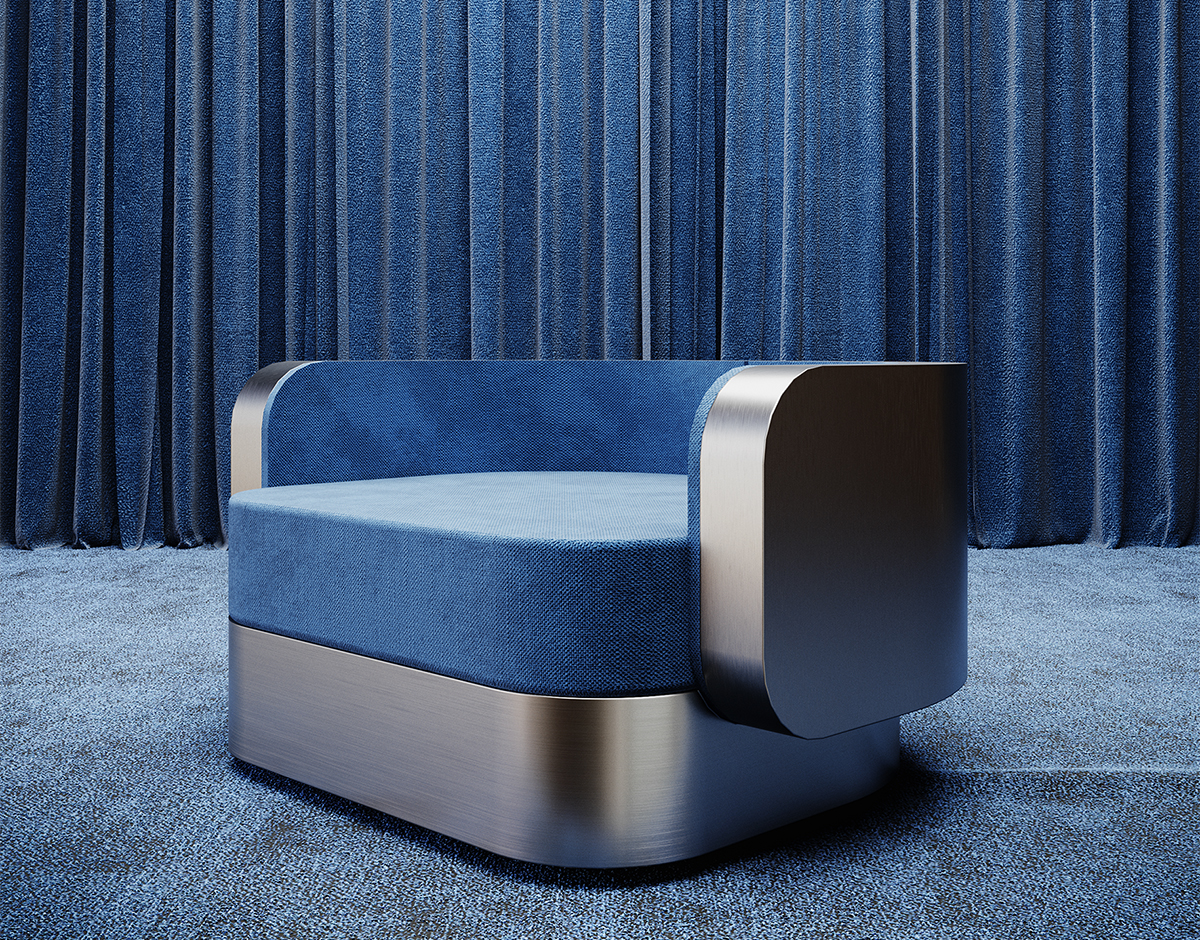 This week we launched two pieces by French designer Joris Poggioli, of Youth Editions, in our 1stdibs shop, and at the same time he launched a new mini-collection called Odyssey. It comprises an oval mirror offset in an onyx marble base, a stainless steel desk, and a steel and velvet chair that feels like a message from the future.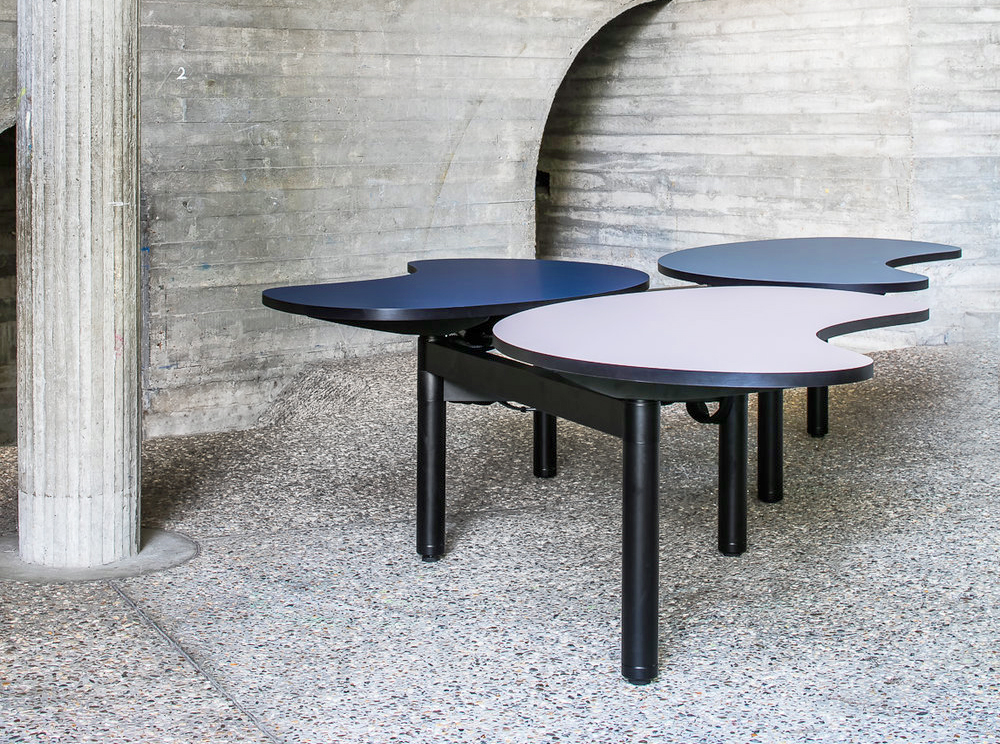 We also learned this week about the amazing Senses table, designed by architect Nathalie Van Reeth for Bulo. It features independent organic shapes united around a black table base, and comes in multiple forms: coffee table, dining table, and height-adjustable desk, where each module becomes a separate workspace. There are also standalone tables with an individual organically shaped top; they can be pushed together or used on their own. It's so good.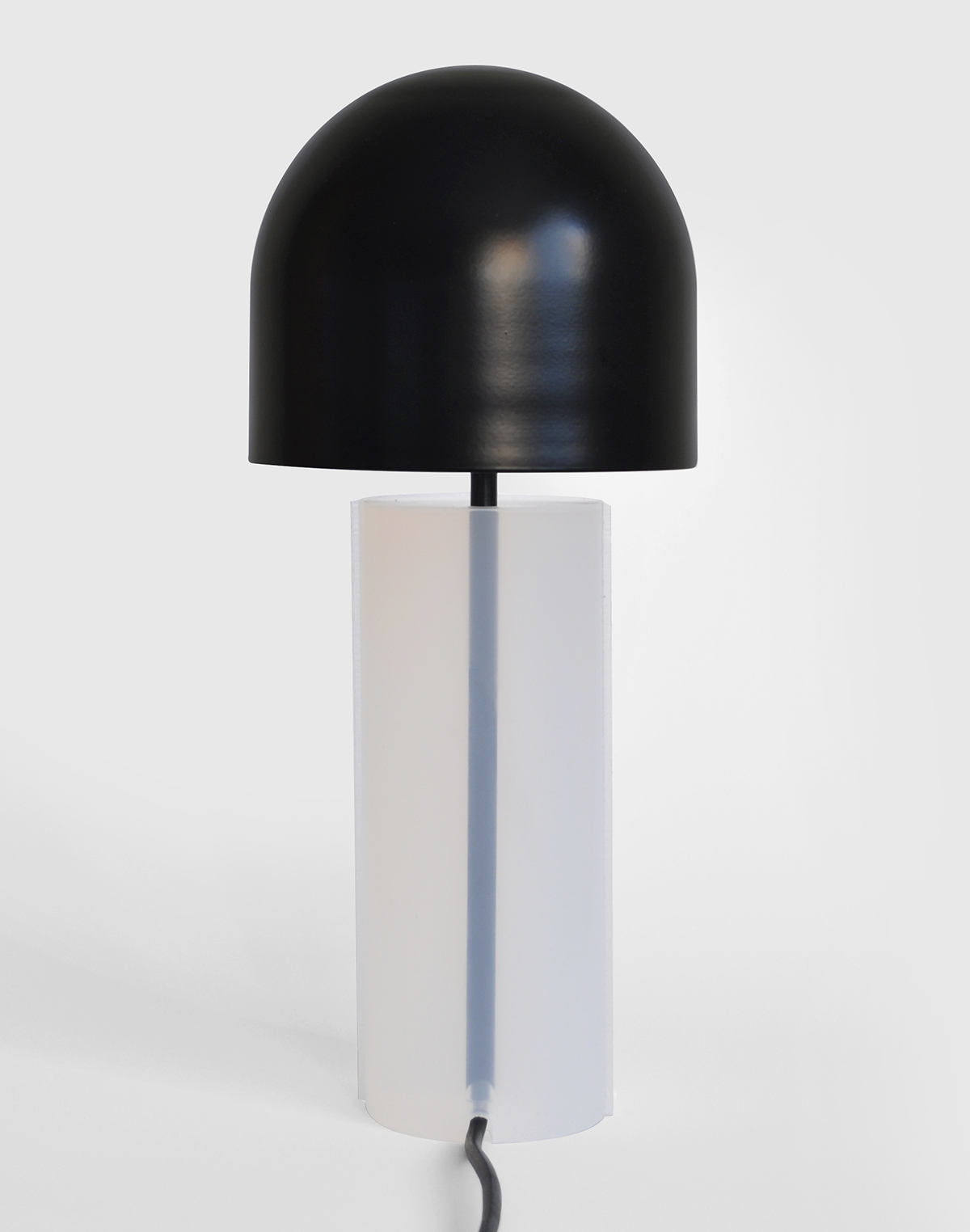 A submission from L.A.-based designer Alex Brokamp: The R-2230 lamp, which has a gumdrop shade and a base made from translucent cast silicone.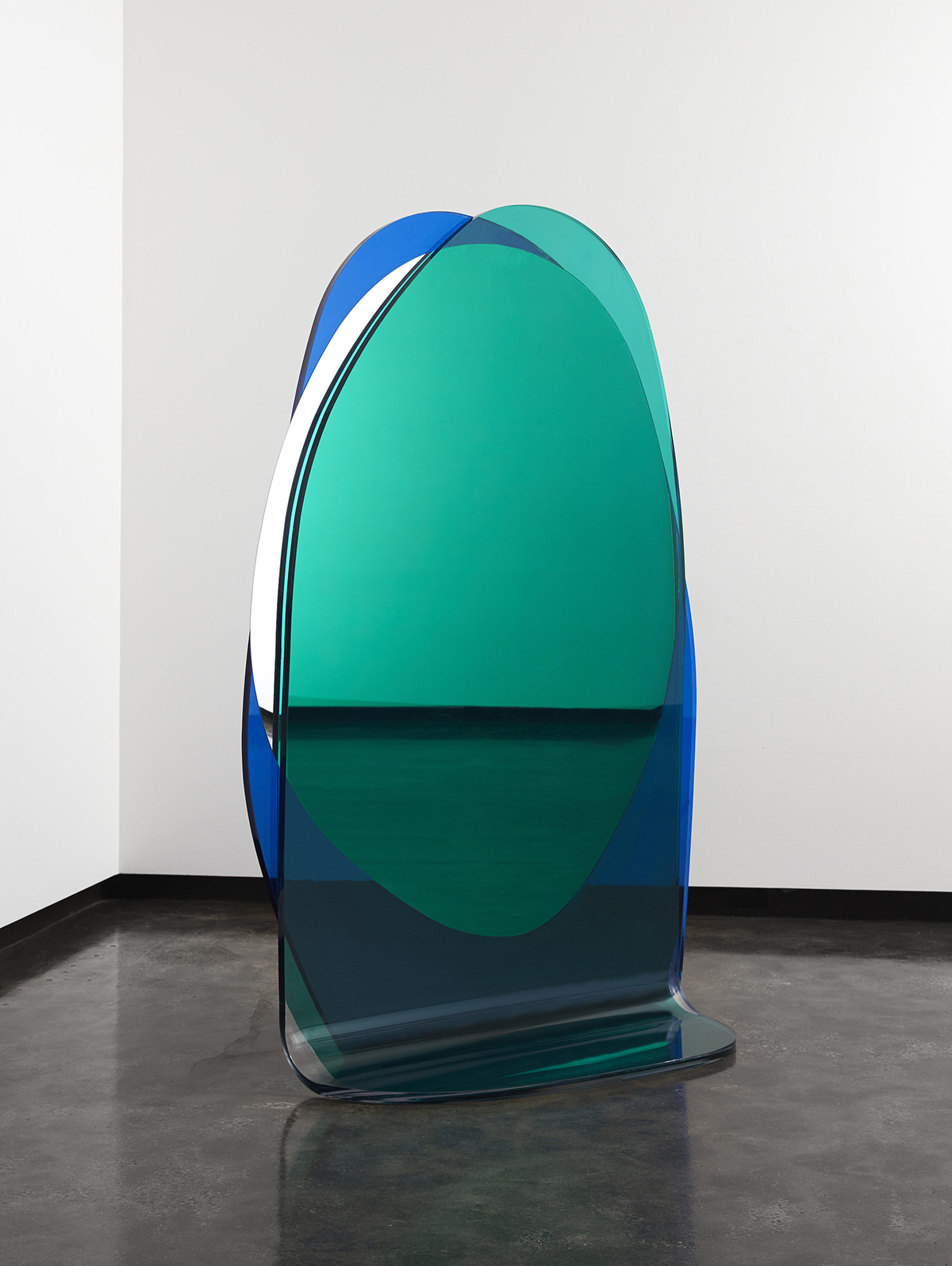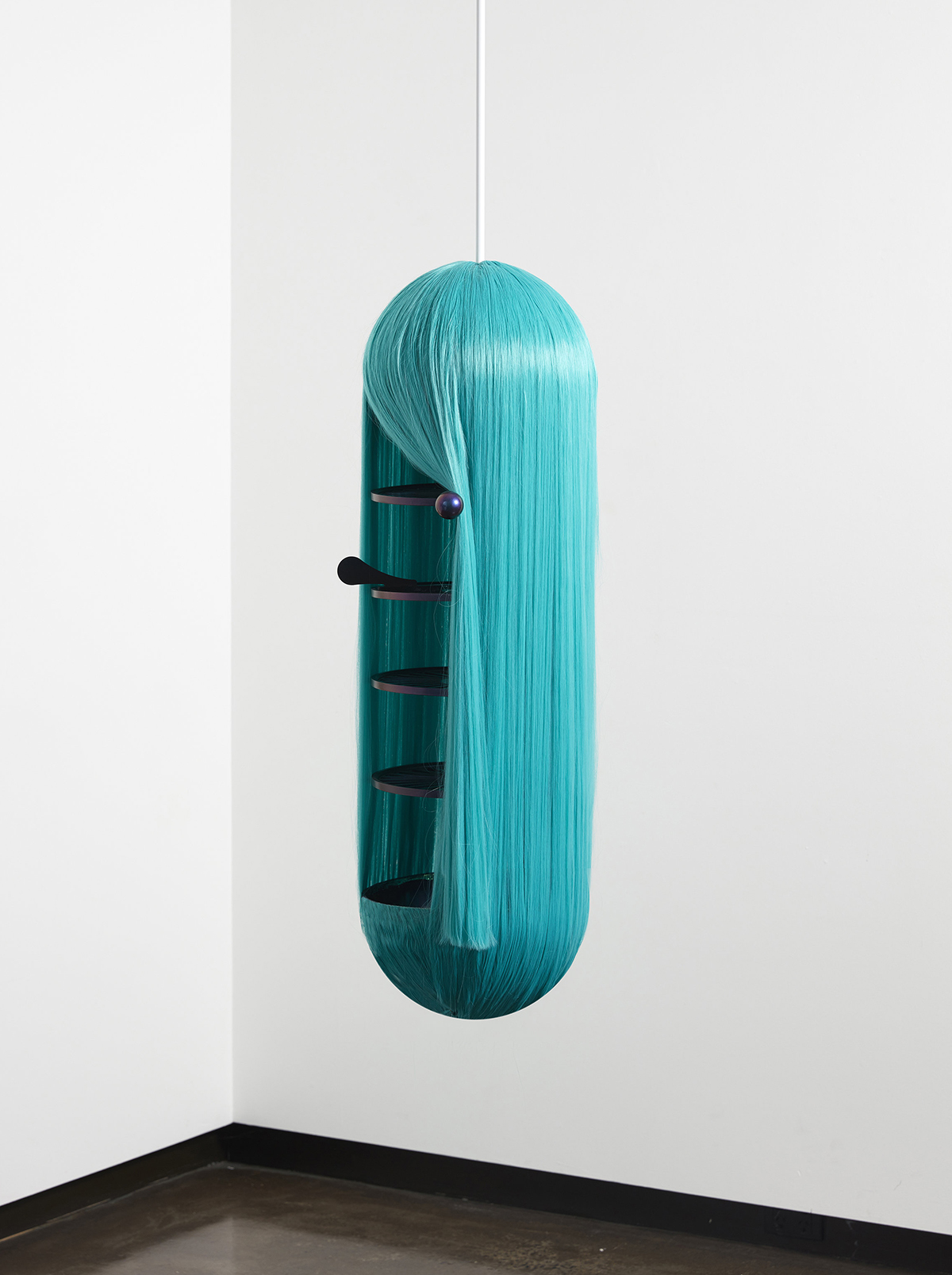 A mutual friend recently introduced us to the work of Australian designer Elliat Rich, and of course we immediately gravitated towards her Other Places Mirrors, made from layers of acrylic tinted with colored film. But her Weaver suspended shelving unit, which features iridescent (?) shelves hidden inside a capsule of turquoise "hair," are also pretty great, partly because they somehow remind us of Jem and the Holograms. (Photos by Sean Fennessy)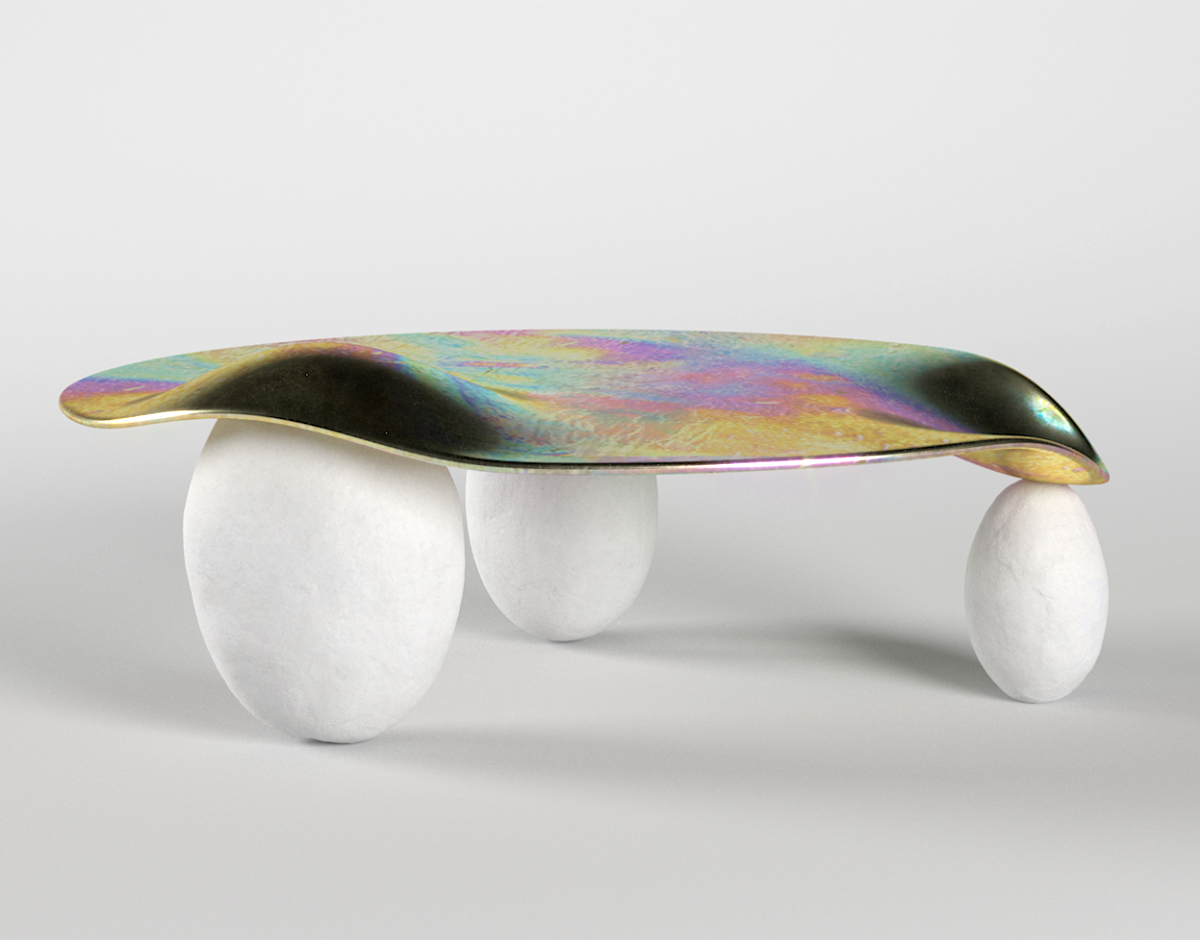 We spotted this table in a Wallpaper story about the Lebanese design showcase House of Today Biennale in Beirut, part of an exhibition in which "selected designers were tasked with producing tables that go beyond function to elicit emotional responses through sensory considerations." This one is by Rogan Gregory and French experimental glass artist/designer Flavie Audi.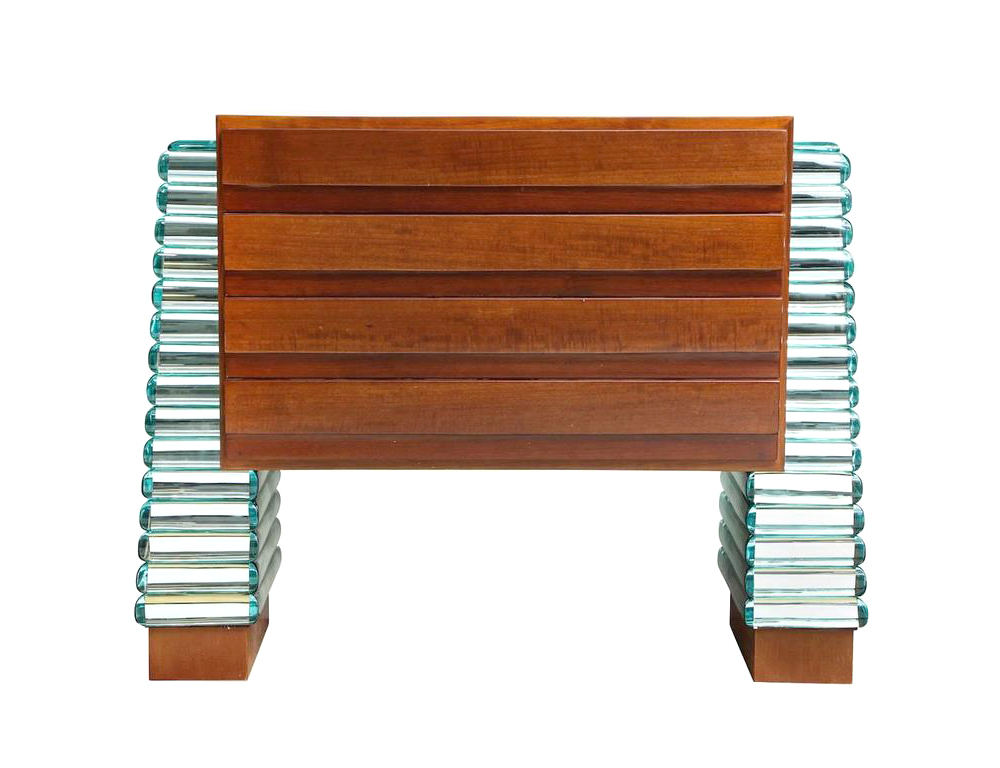 If you've got $45,000 lying around that you'd like to spend on an Art Deco–meets–ancient Egypt console with mirrored legs, well, we suggest you donate it to a non-profit, then spend a little while daydreaming about this 1stdibs listing for Roberto Giulio Rida's amazing 2016 Maia chest.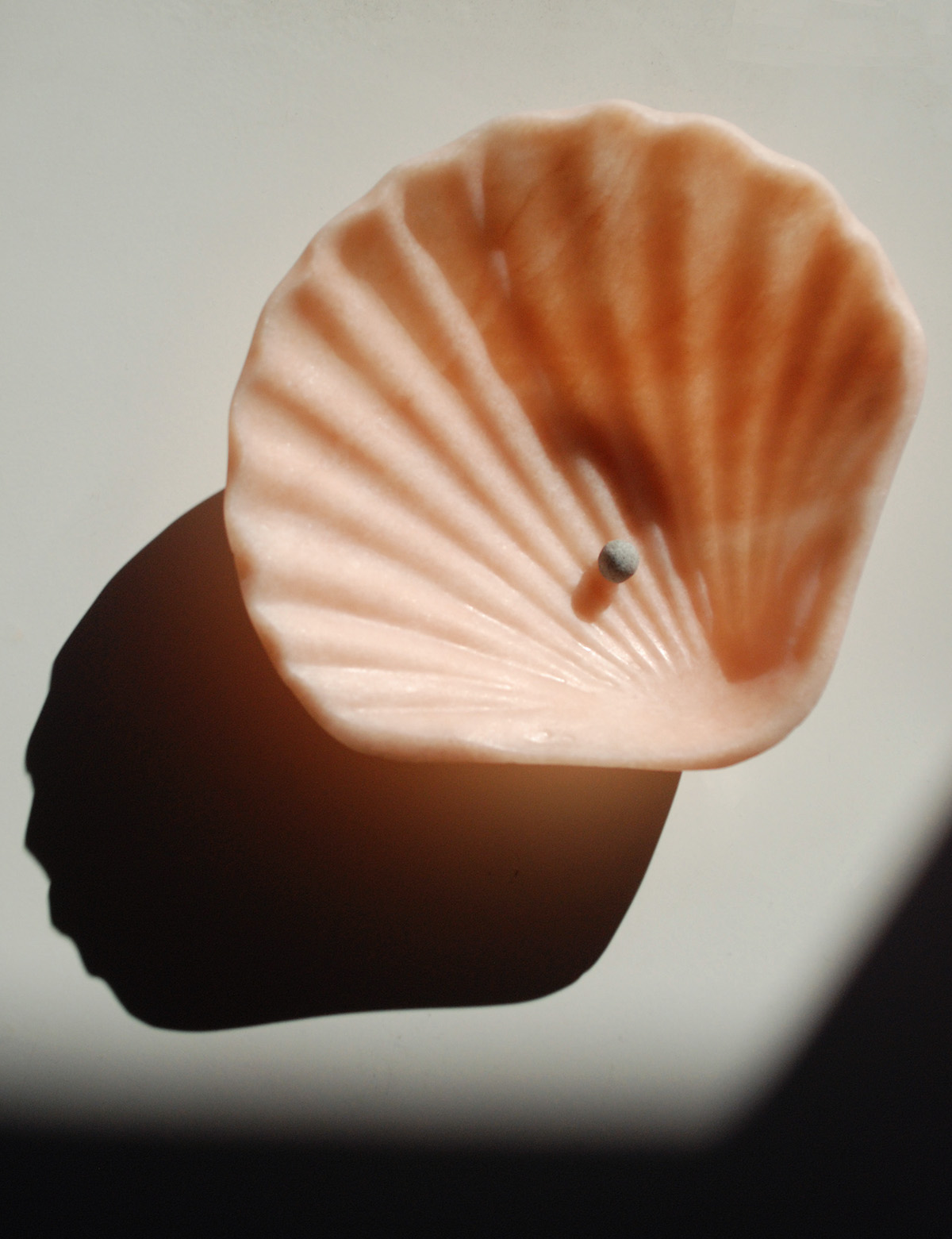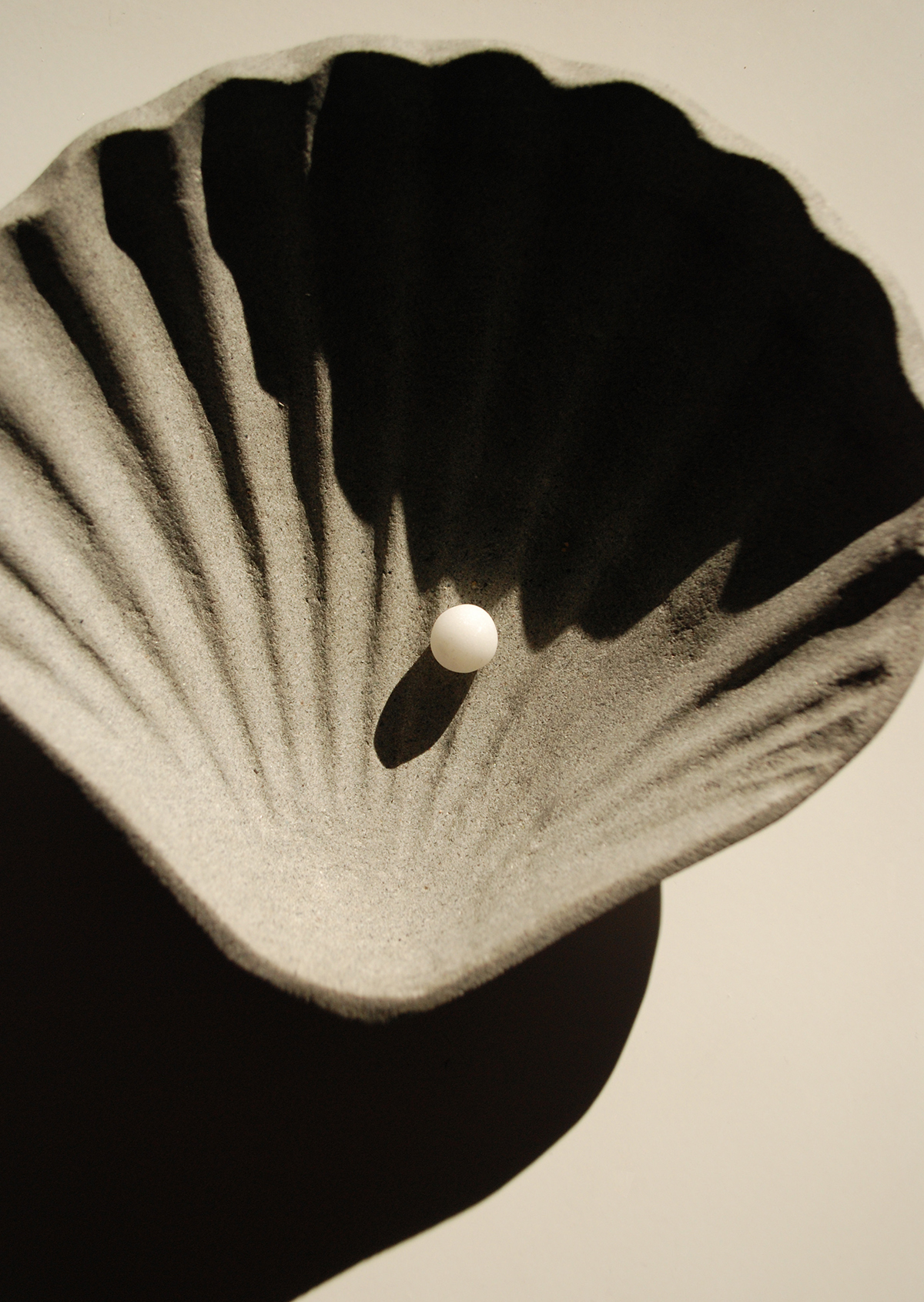 This week Bloc Studios launched a new series called Symbols, in which they'll periodically release mini-collections in marble that are based around symbolic forms, the first being The Shell. Inspired by Bloc's proximity to the Ligurian Sea (they're based near Carrara, Italy), the collection includes three shell forms — one in sandstone, one in white marble, and one in pink marble, with contrasting "pearls" in the same three materials. They're now available for sale (185 Euros each) in Bloc's online shop.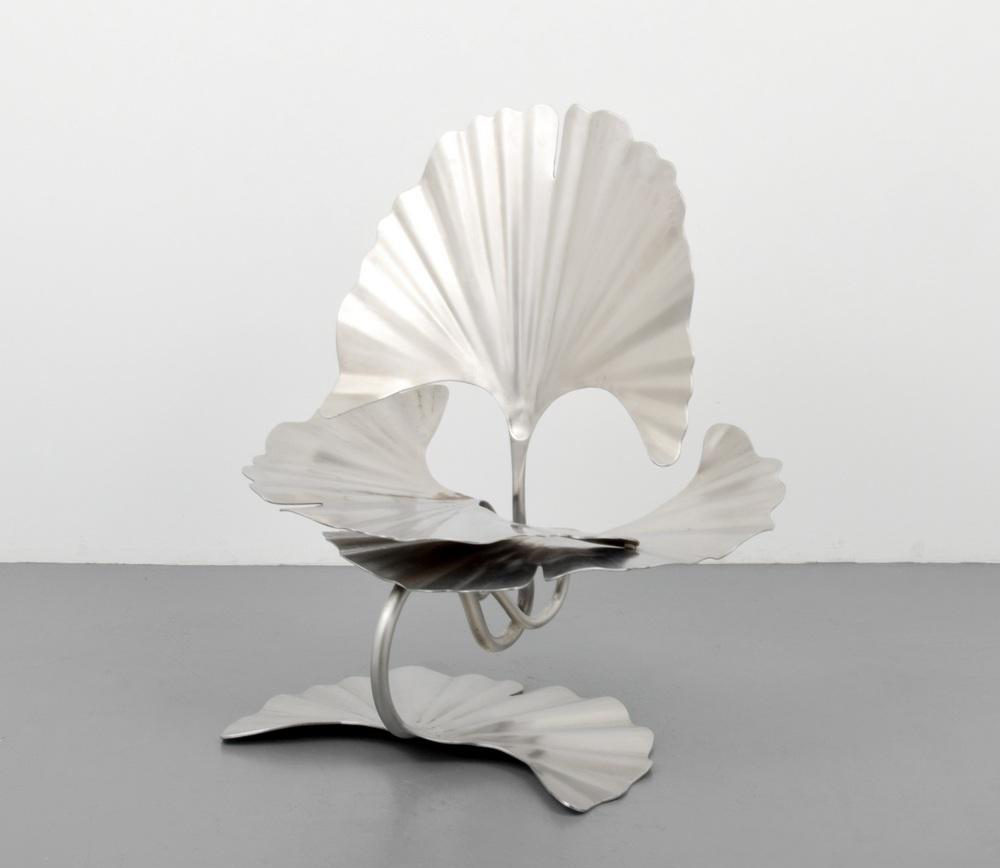 Semi-related but not: how insane is this Gingko chair by New York artist and obsessive chair-maker Alan Siegel, which we spotted on Instagram this week? We aren't sure what year it's from, but we think the '90s.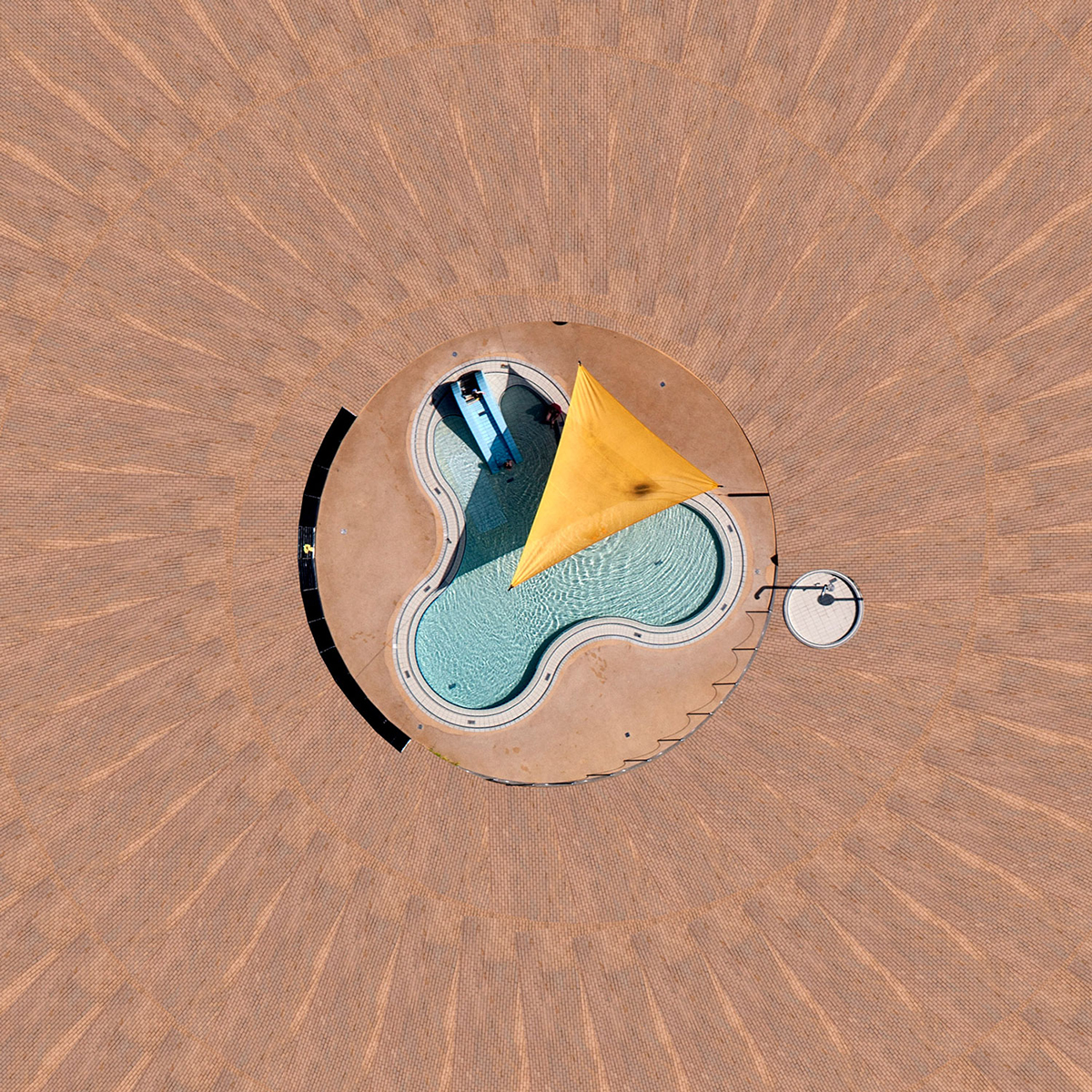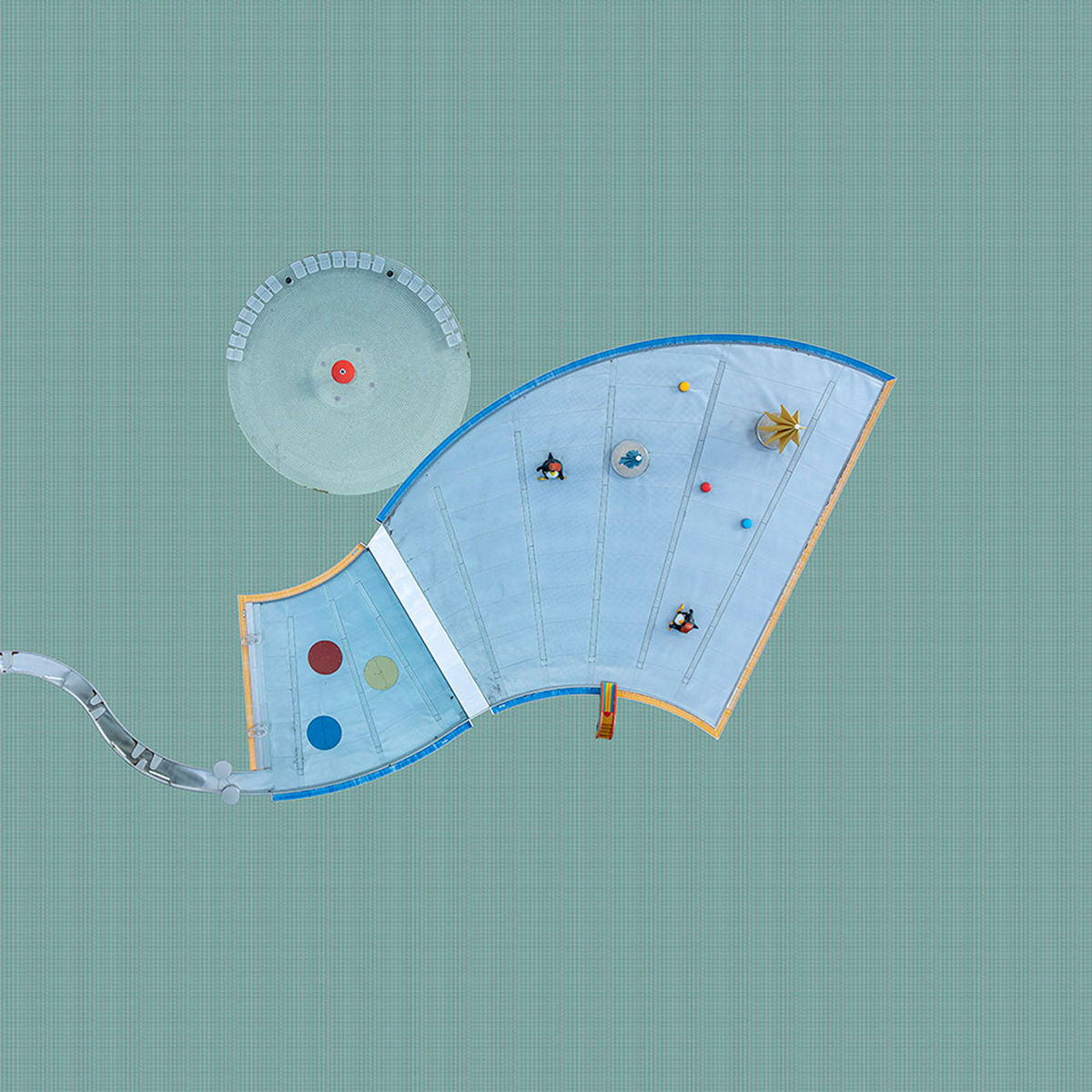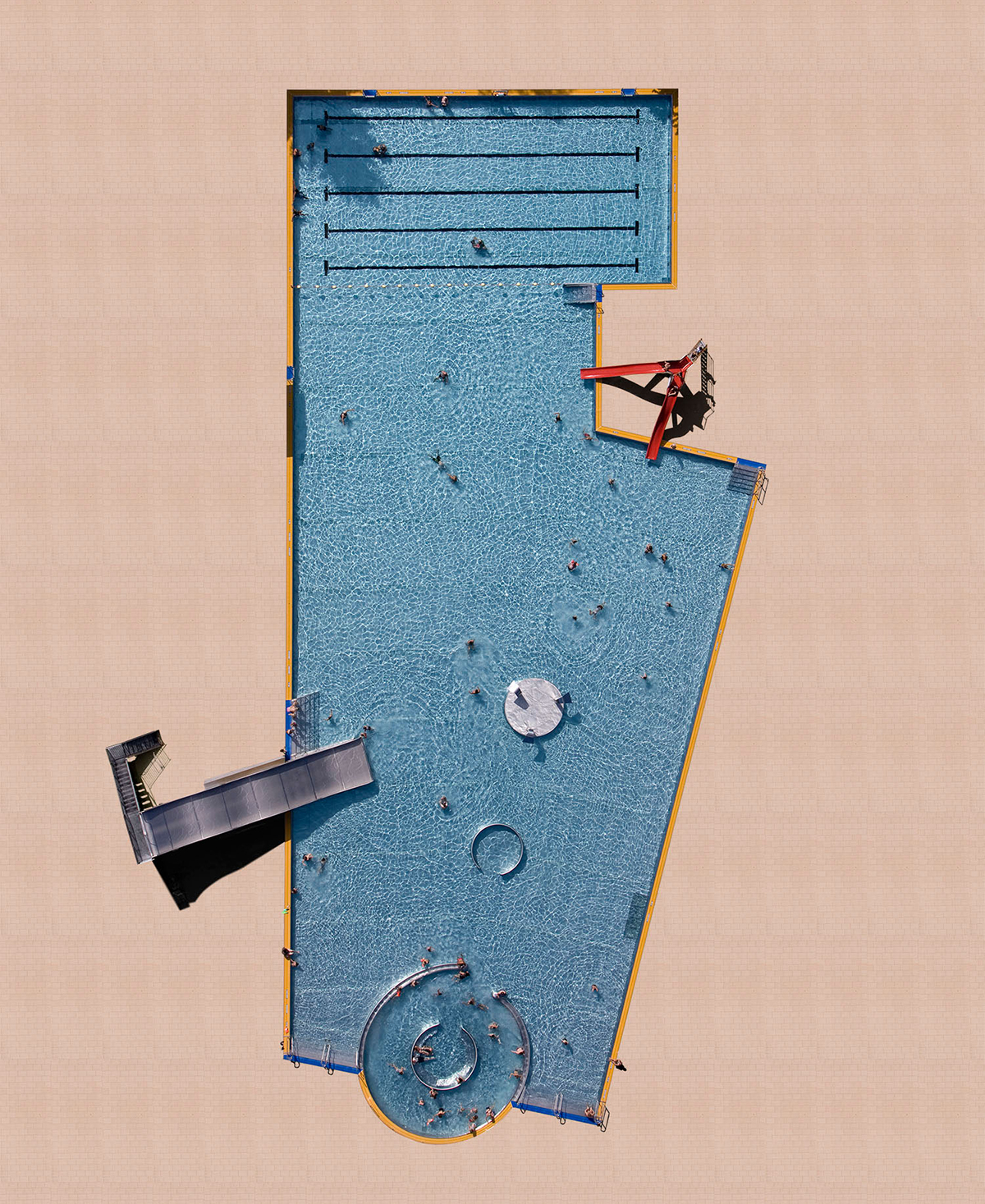 There are very few web digests we open religiously every time we receive them, but Yellowtrace is one of them, partly because they snag some of the best interiors and partly because of random amazing content like this series of aerial photos of swimming pools by Stephan Zirwes. The Stuttgart-based photographer shoots the pools with a drone and then Photoshops the crap out of them — at least the tiles that surround them, but no doubt more — and turns them into artworks.
Interiors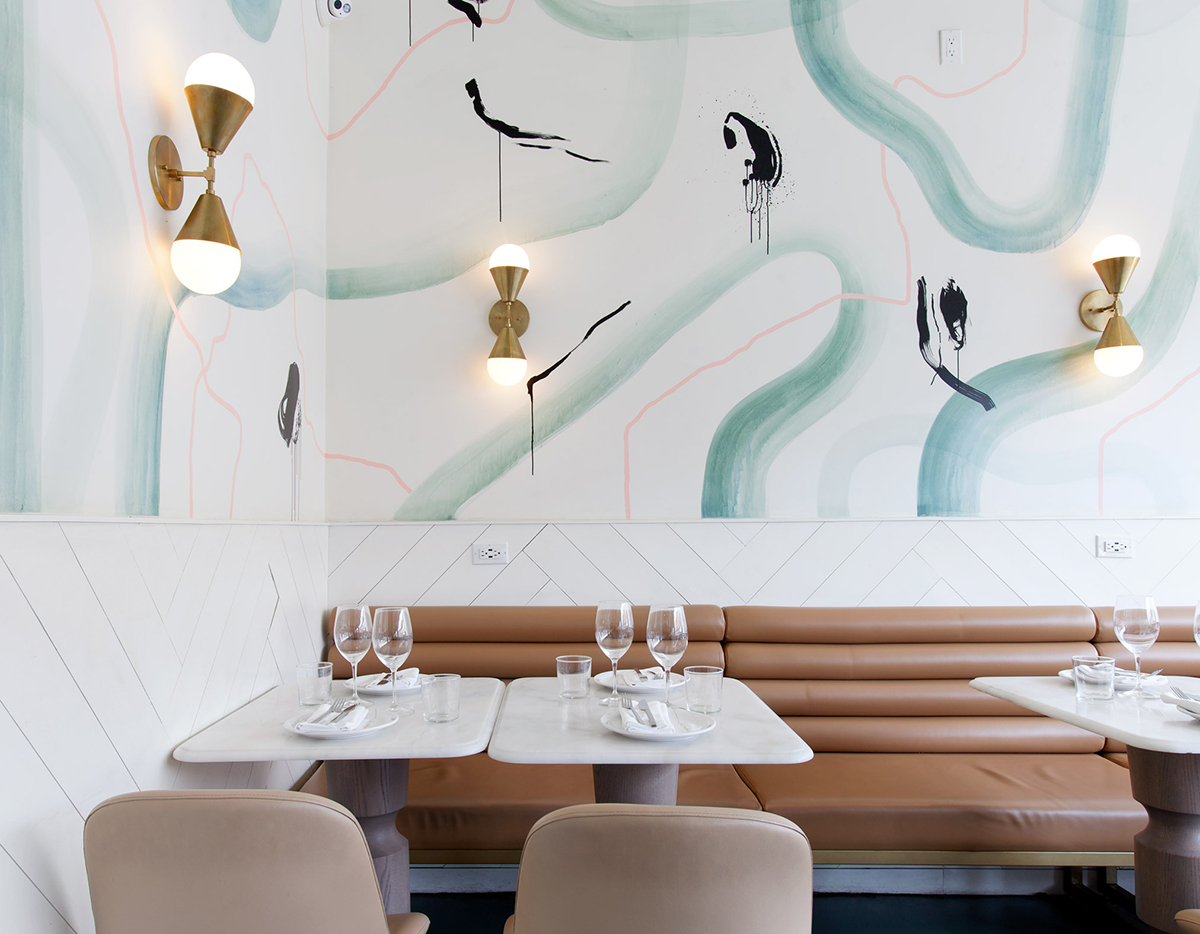 Interior designer Alexandra Hutchinson recently opened a California-inspired restaurant called La Palma in Toronto, but the hand-painted wall mural steals the show — it's by local artist Madison Van Rijn.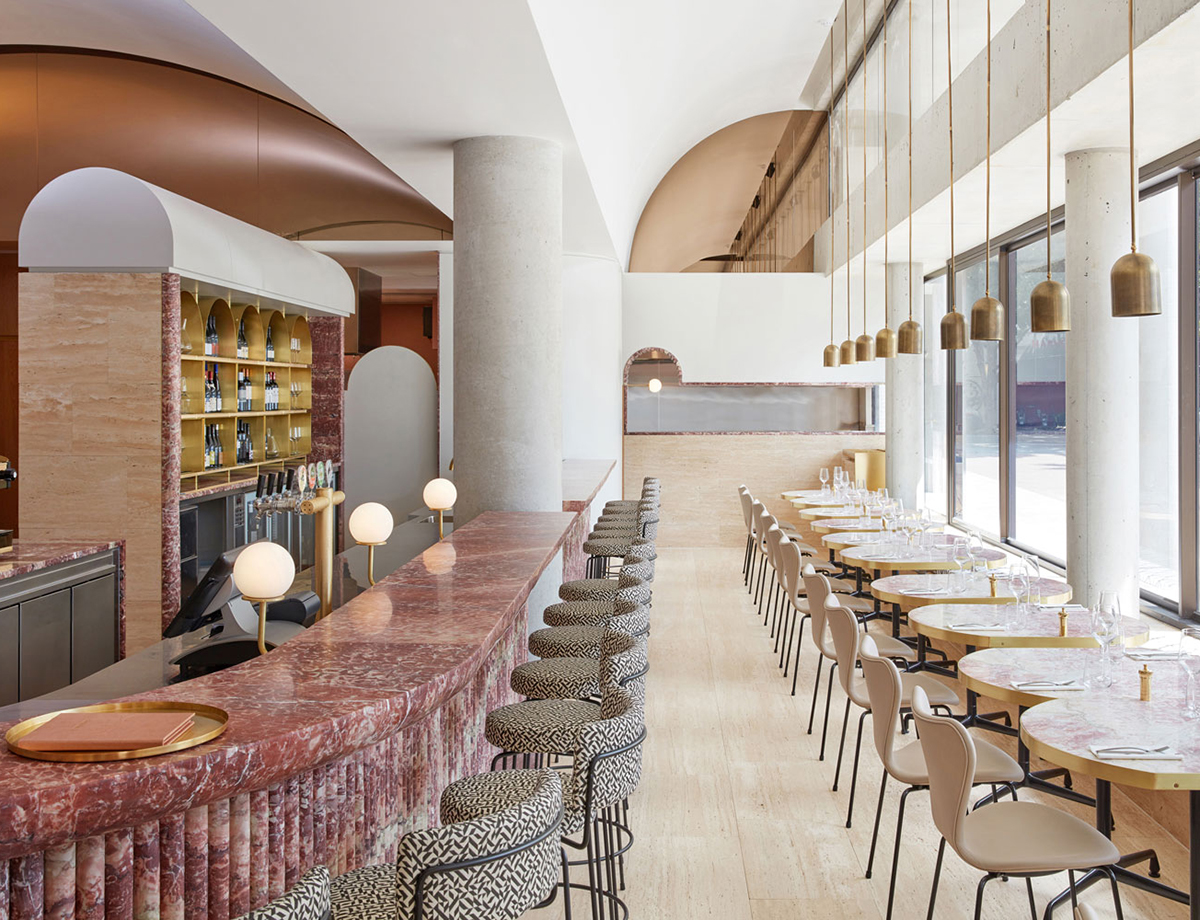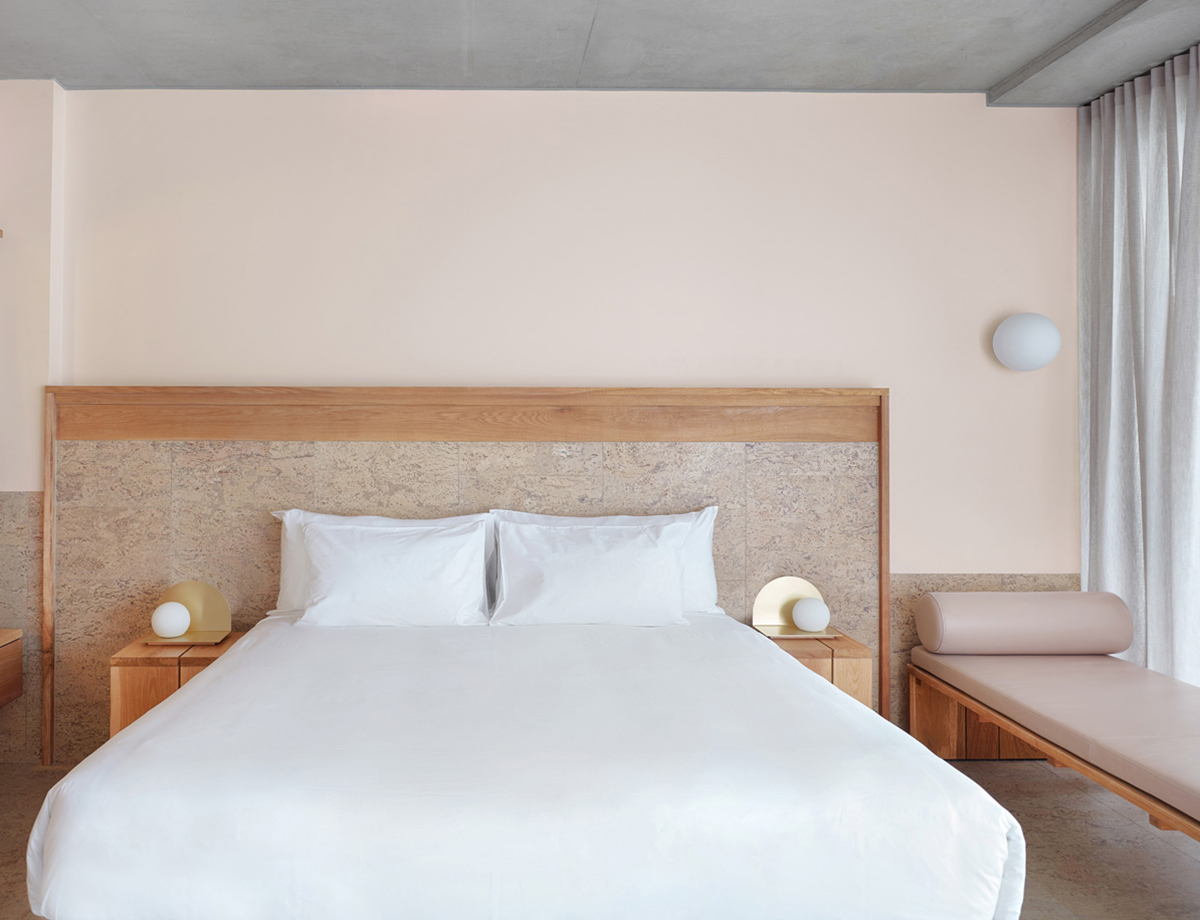 The time is nigh when the world will finally overdose on the arches and soft pastels look — one year? two? — but for now, if we were heading to Brisbane, Australia, we'd no doubt stay at the chic Calile Hotel. The design is by Richards and Spence.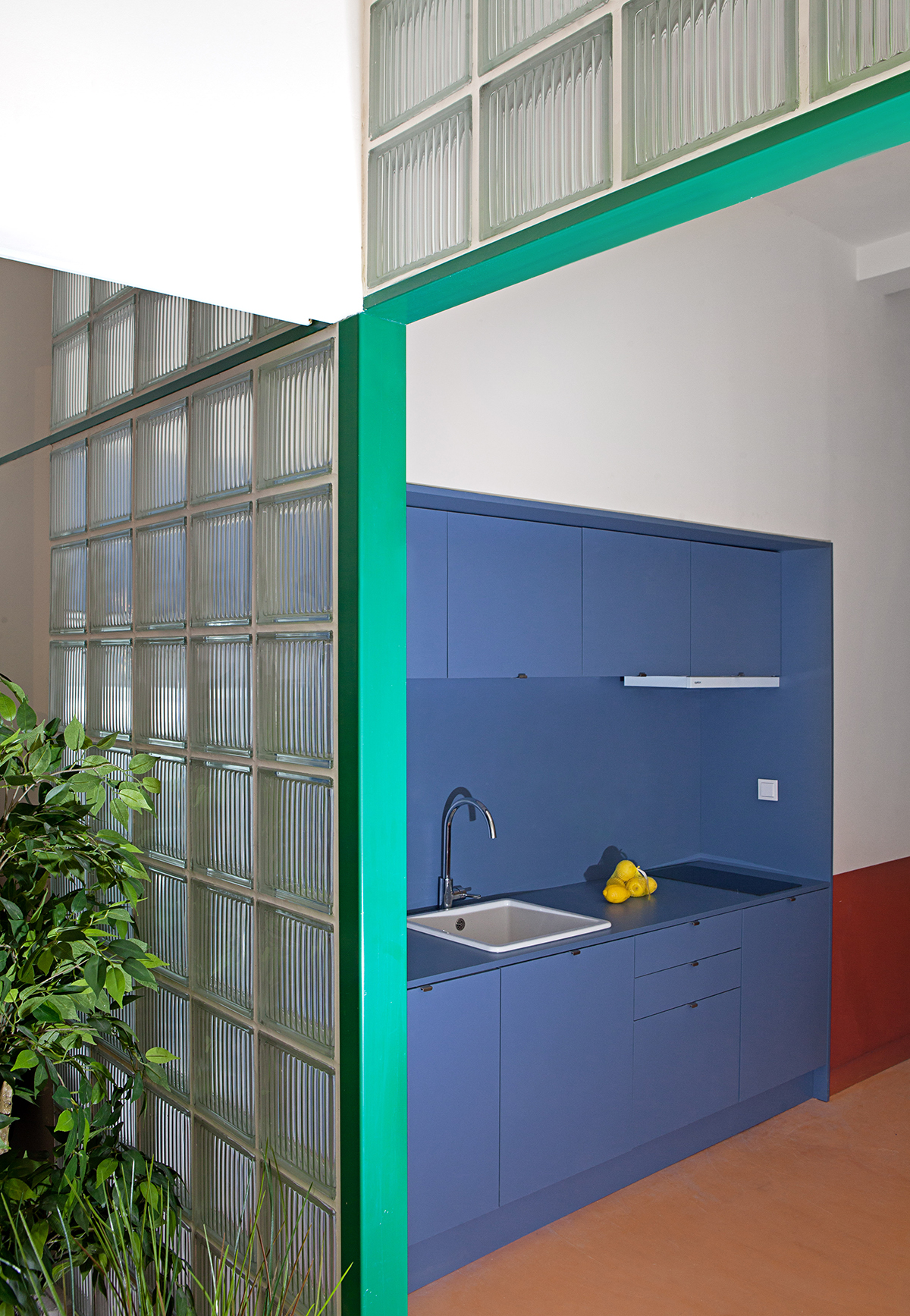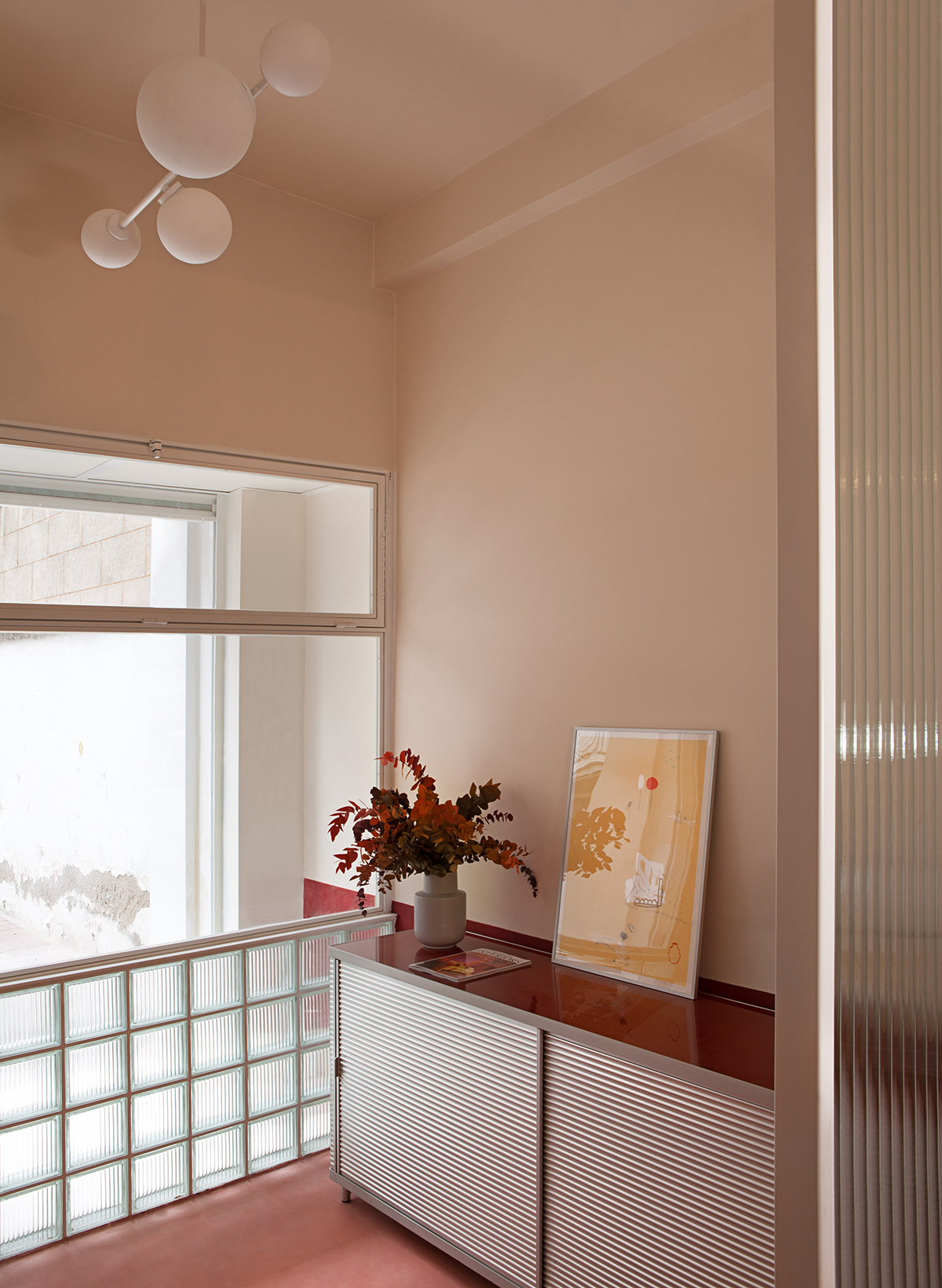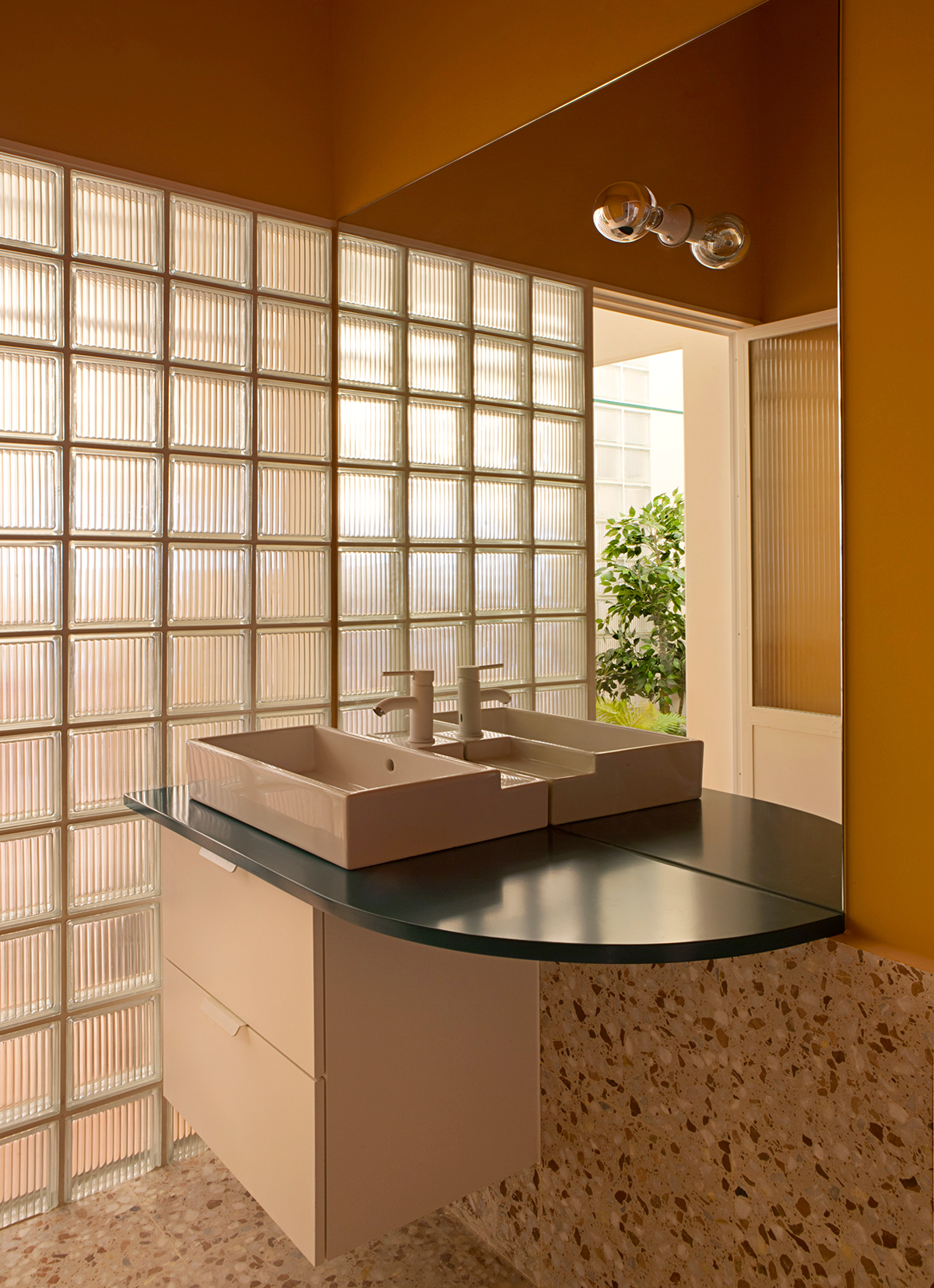 Does the same go for our obsession with glass blocks? Probably. But in the meantime, how nice is this office interior by Plutarco? The designers were inspired to use glass blocks by the Maison de Verre, but also because the space was "tube-like" and needed tons of light let in on either end so the middle wasn't super dark. The client also asked for lots of COLOR. Yay.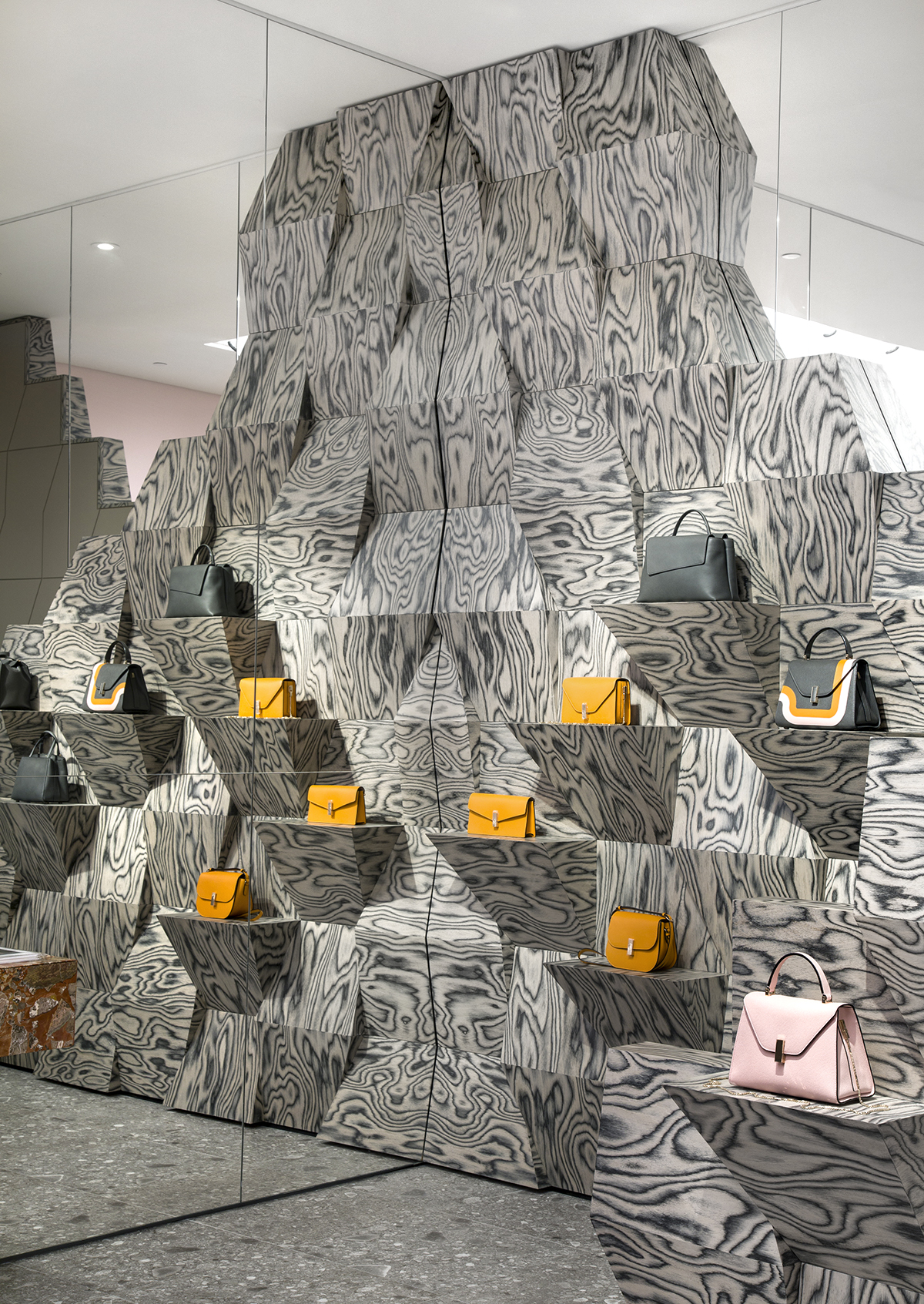 Inside the new Valextra store in Miami, Aranda/Lasch used marble to make long shelves and little tables balanced on wire mesh bases, but the real wow moment is this display wall veneered in Alpi's Sottsass Wood.
Exhibitions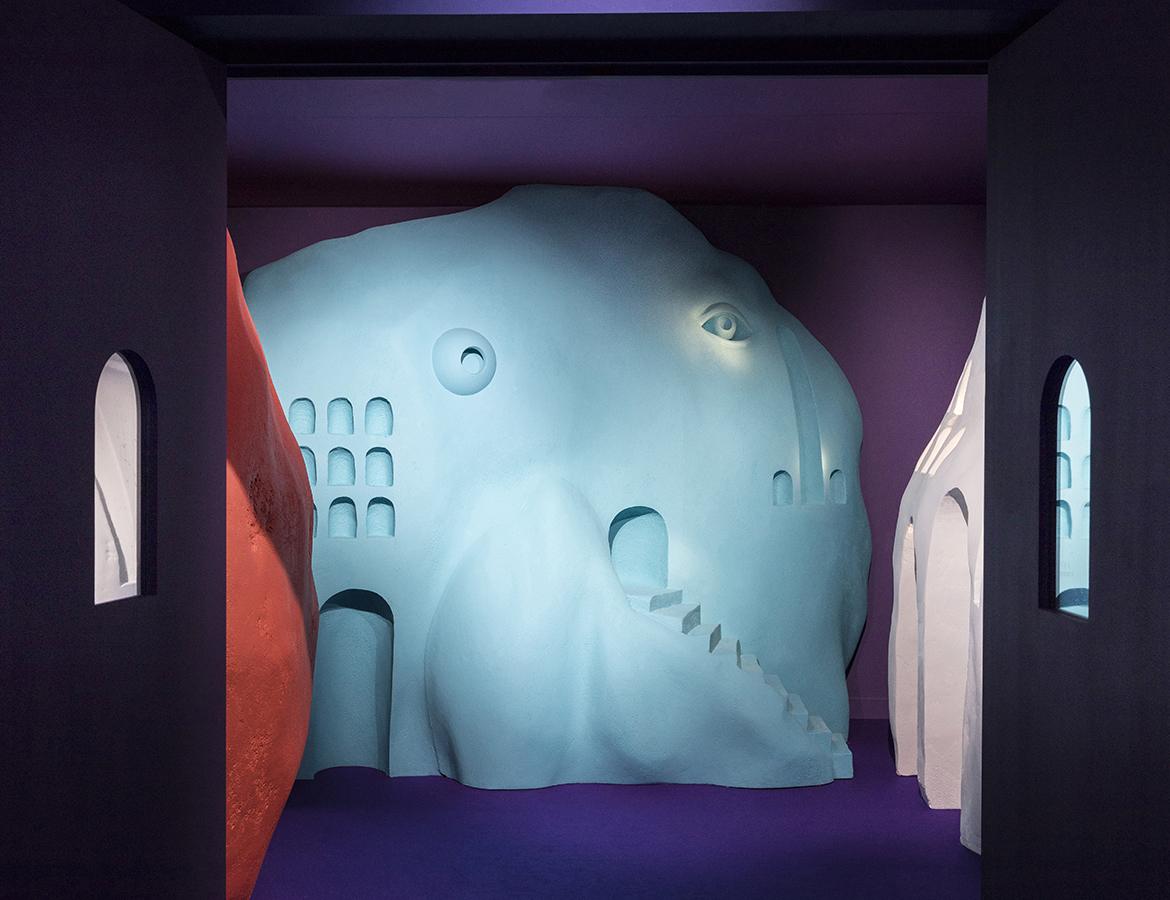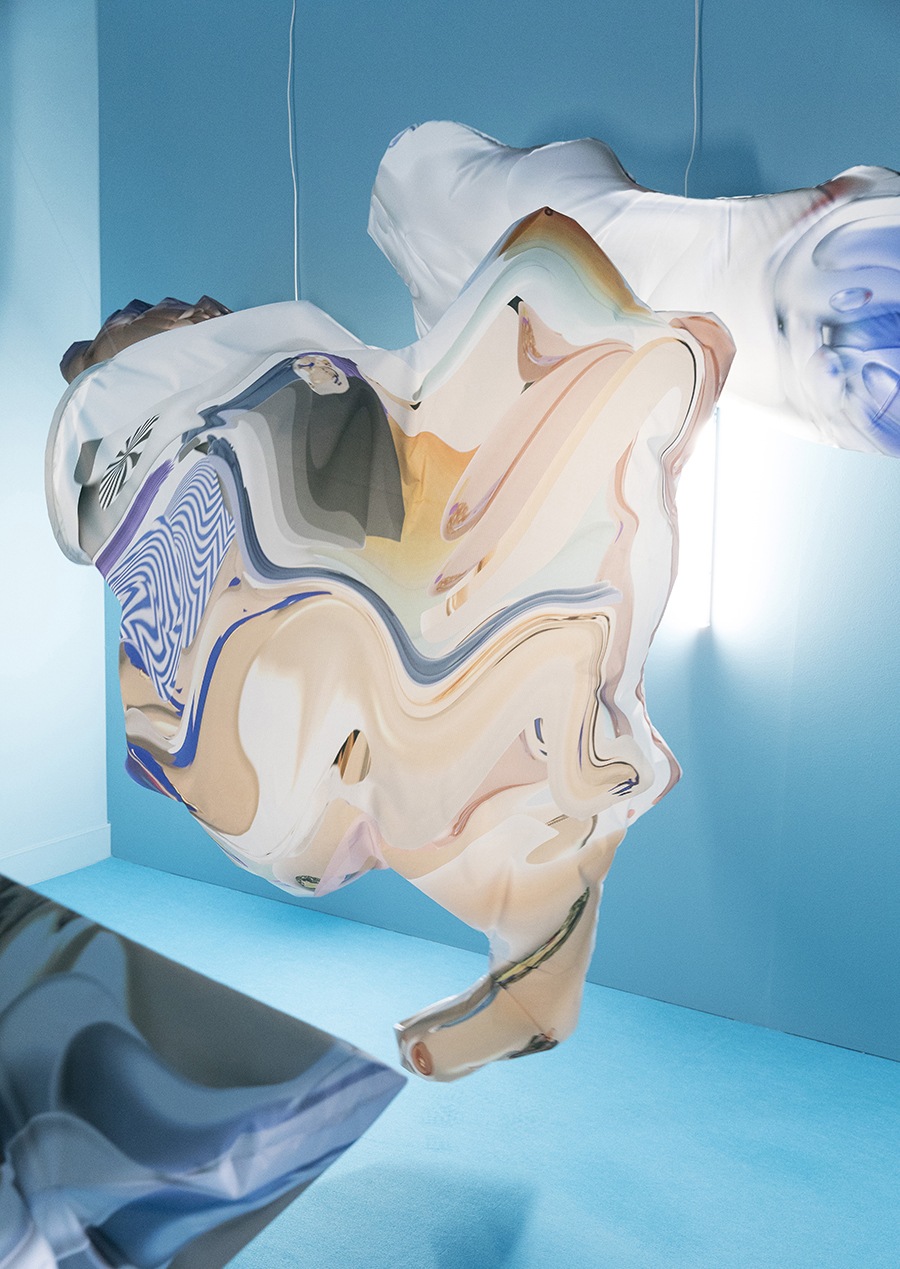 If you happen to be in Paris between now and January 25, and you like immersive installations (who doesn't these days?), we suspect that seeing photos of the new exhibition Demain, Le Vaisseau Chimère at Galerie des Galeries is nothing in comparison to seeing it in person. It's a surreal scene created by French duo Gaëlle Gabillet and Stéphane Villard.