01.09.19
The 2018 American Design Hot List, Part III
This week we announced our sixth annual 2018 American Design Hot List, Sight Unseen's annual editorial award for the 20 names to know now in American design. We're devoting an entire week to interviews with this year's honorees — get to know the third four Hot List designers here, then follow this link to shop their work in a special nine-week trunk show on Moda Operandi that also features objects by past Hot List winners.
Ian Cochran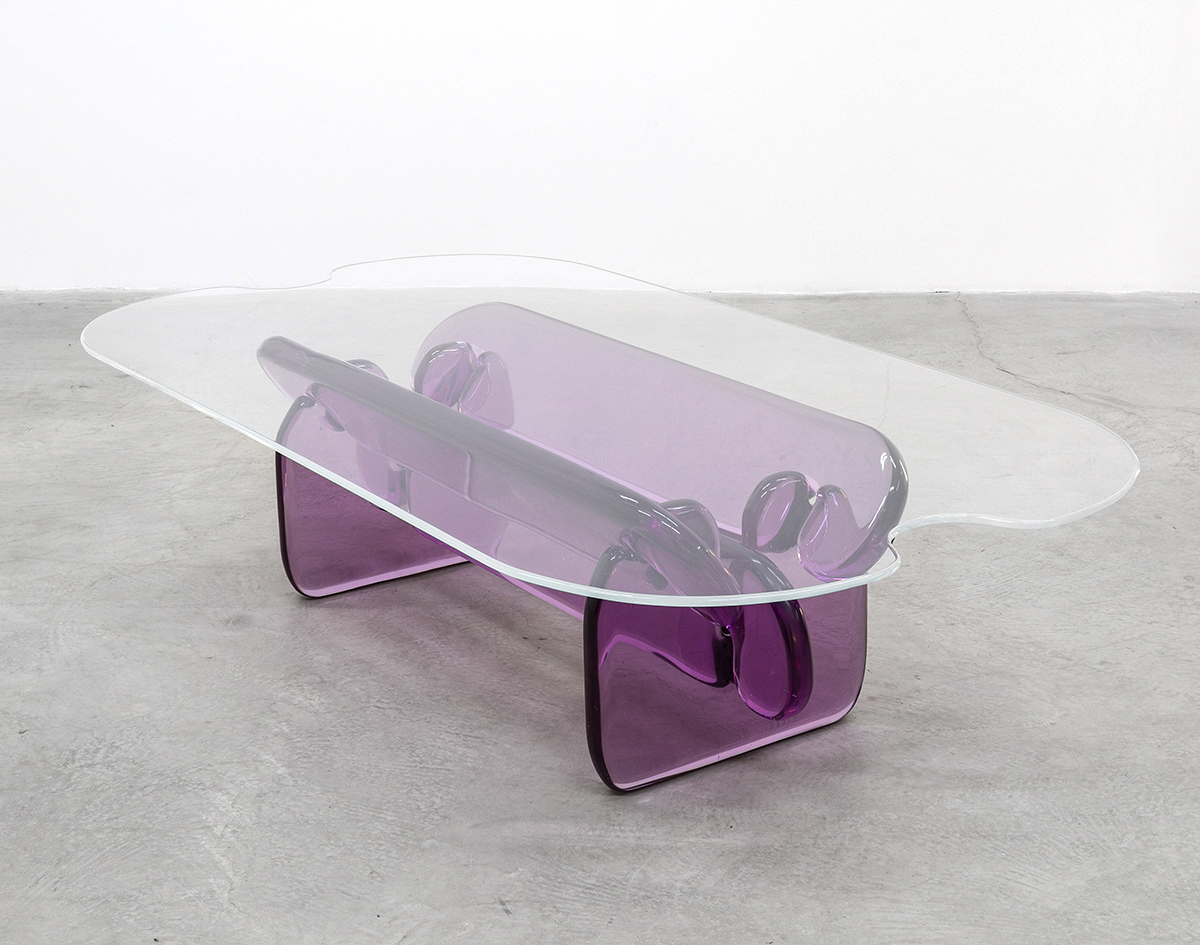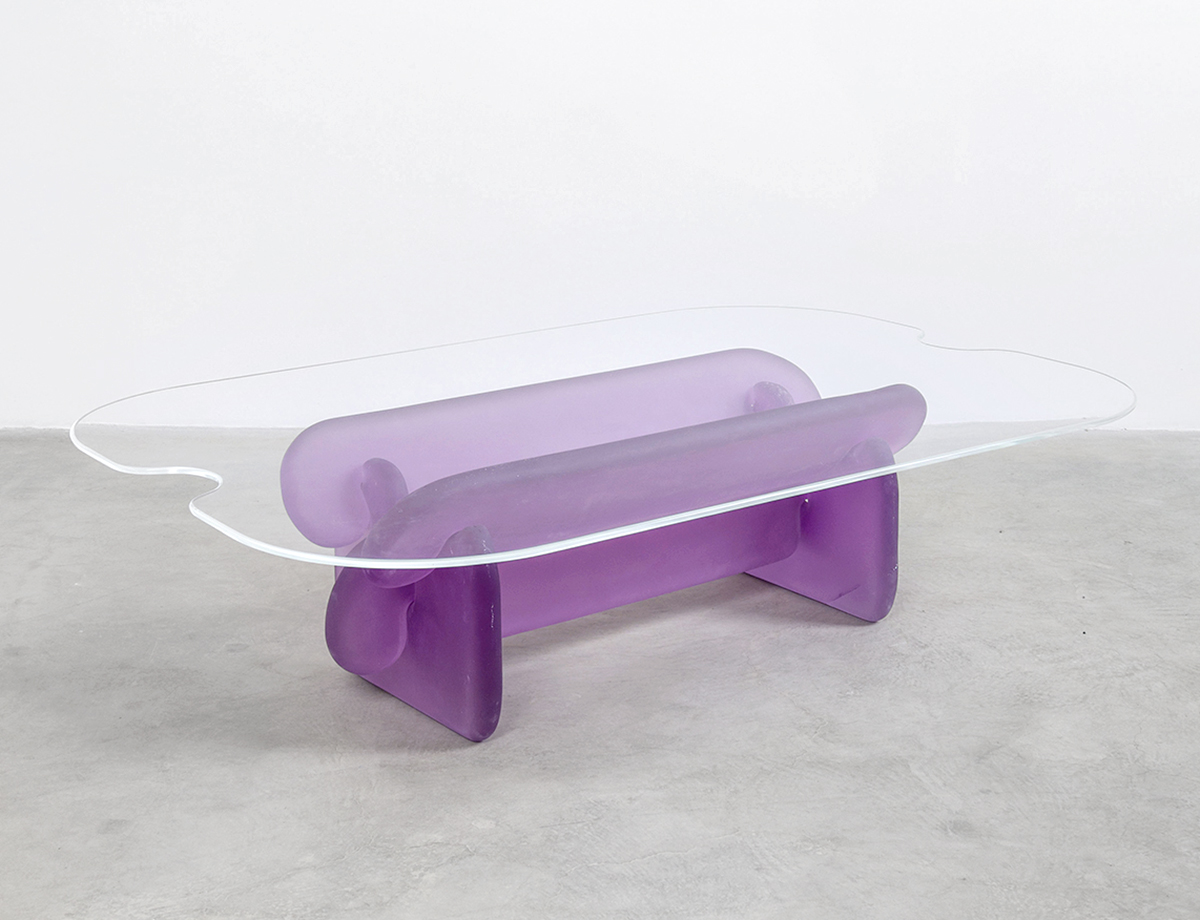 New York, iancochran.com
Sculptor and photographer Ian Cochran has only designed a single table, for Fernando Mastrangelo's second In Good Company exhibition in September. And yet it was so major — made from thick interlocking slabs of purple resin with a clear, curved top — that we felt compelled to mark him as one to watch, as he further develops the design side of his practice.
What is American design to you, and what excites you about it?
American design, or history, isn't that old. Without tradition-setting precedent, American innovation works by constantly trying to reinvent the "new." The precedents that are set don't last long. Without a history of tradition setting boundaries, there's a great freedom to explore new and old, mix the two, make bad look good, or be the best at what's popular. American design is both limitless and inviting.
My imagination tends to run on high speed, so I enjoy the freedom of chasing after whatever wild ideas I have. I'm excited about the tight knit community of design in America that I'm getting to know. Working alongside the other creatives that make up this dynamic landscape is a huge inspiration and I love that aspect.
What are your plans and highlights for the upcoming year?
Come January, I will have moved into my new studio with a fellow coworker, Bailey Fontaine, a designer himself. It's part of a bigger project space that I think will be really exciting, fostering collaboration and conversations. Another big thing for me coming up will be bringing my next set of ideas to physicality. My Plump Table is my first foray into design, and furniture design specifically, so I have lots more that I want to work on.
What inspires or informs your work in general?
Up until my Plump Table, my work as an artist focused on our reality and the perceptions that form it. I played around with this idea through mainly sculpture and photography. A series of photos I did look like the surface of Mars, but are actually macro photos of iron oxide dust fragments the size of a pin head. It's investigations like these that have lead to my interests in varied materials, as well as my fascination with effects that play with the eye. I love to research. Sometimes I tend to research too much; I just emailed a nanoparticle company about silicon dioxide spheres. Inspiration for me comes from not knowing the limits and trying to find out more.
In Common With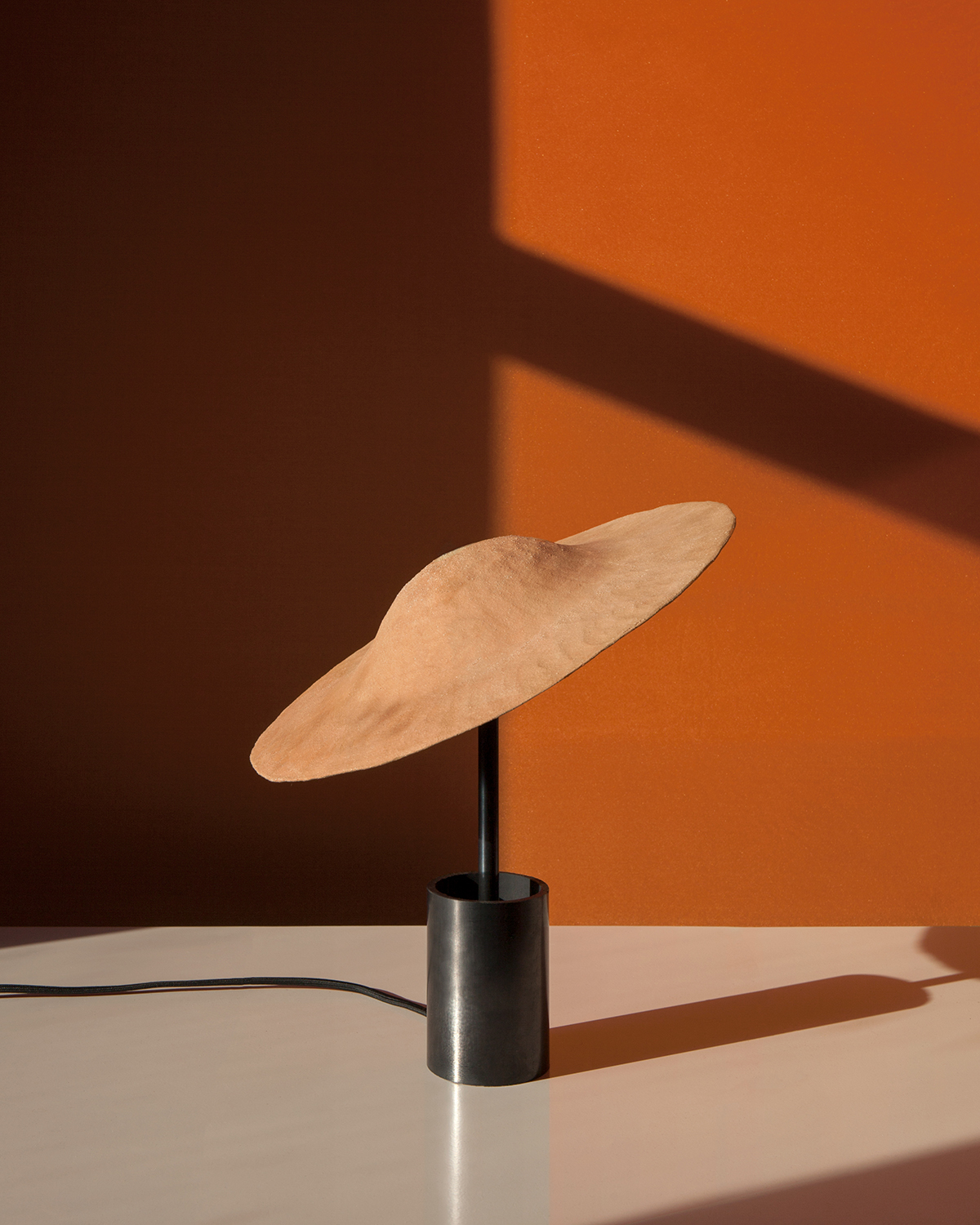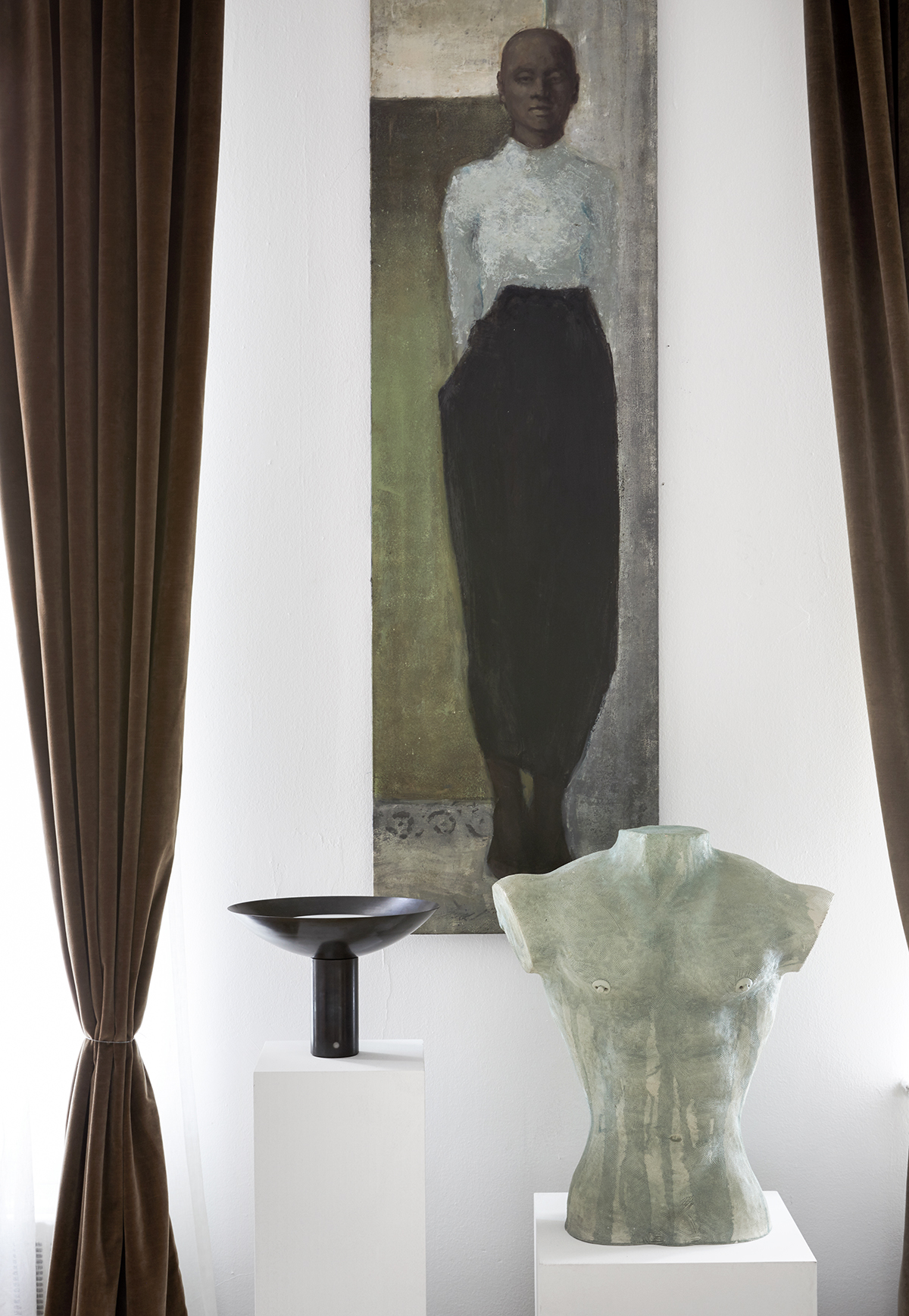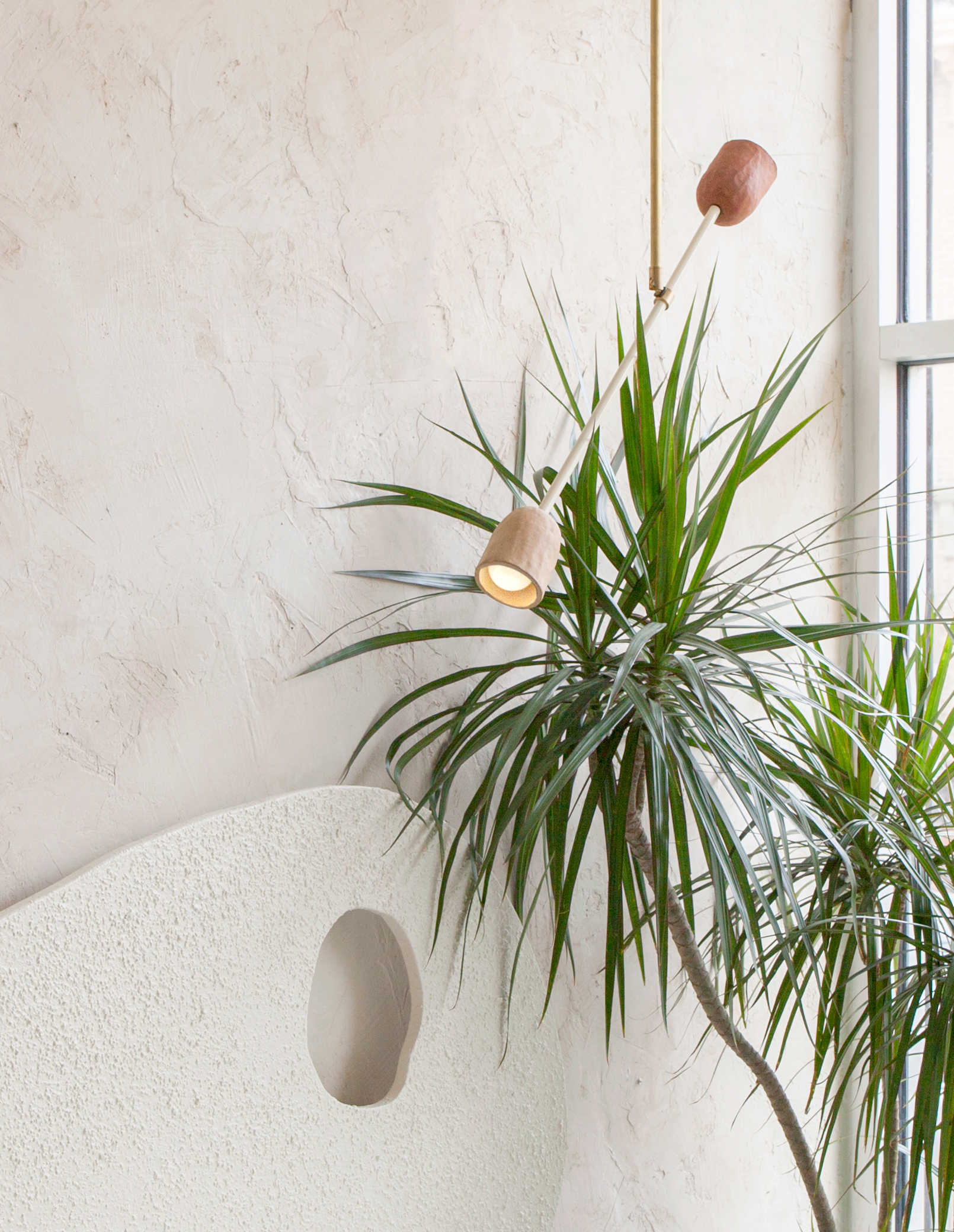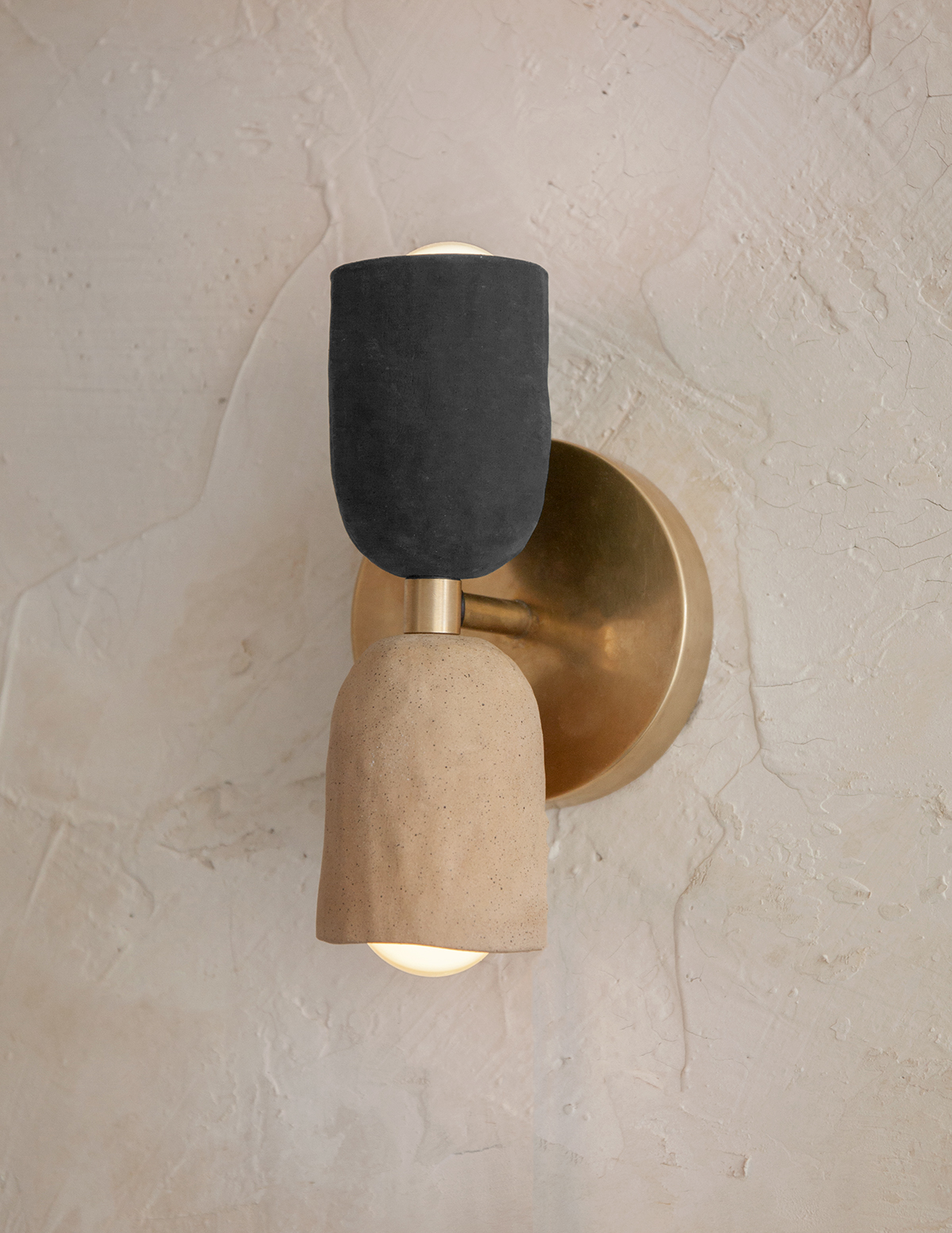 New York, incommonwith.com
Like many New York studios, RISD grads Nicholas Ozemba and Felicia Hung have a special focus on lighting. But rather than design yet another statement chandelier for the luxury market, In Common With has placed its work squarely in the realm of accessible, opening up the idea of custom lighting to a wider audience than ever before. We have a particular fondness for the duo's hand-pinched clay shades, made in collaboration with ceramicists from Ohio to Brooklyn.
What is American design to you and what excites you about it?
American design to us is ever-evolving and not bound by traditional standards. It doesn't have a defined aesthetic quality, but rather a distinct attitude, energy, and heart. It is autonomous, and ambitious.
There is an aim for simplification that is changing human habits, constantly shifting and evolving our lifestyle. This has trickled into how a lot of designers and companies interact with people. We're excited to see what happens next.
What are your plans and highlights for the upcoming year?
We launched our first lighting collection this past May during New York's design week and have been busy developing new products since! We're planning to launch these new forms throughout the coming year including new colorways in some of our popular ceramic pieces. We are also experimenting with making shades in some softer materials like linen, corduroy, and paper, in addition to a collection of tabletop objects.
We're equally excited to share the evolution of our brand. We've been working on a new website and graphics which will make our customer experience a bit more user friendly. All of our collections are designed around a family of components which allow for a variety arrangements and configurations. Up until this point we have been launching each fixture in a single configuration but our new site will better activate the system, and allow everyone to explore a broader range of design possibilities. Beyond the virtual, we are working on the concept of an experiential space, which we hope to introduce later this year.
What inspires or informs your work in general?
We're both very hands-on thinkers and learn a lot from working with tangible materials. Each material tells you how it wants to be used, which sparks new ideas and better informs how we use them. We're constantly experimenting in the studio, but are also fortunate to work alongside a handful of highly skilled artisans and industrial manufacturers from around the world who bring a unique element to everything we create.
The way we design and manufacture gives us the opportunity to travel and experience different places and cultures. Whether it's meeting with designers for collaborations or visiting each of our manufacturers to learn how our products are made, each place brings a unique element and perspective. The architecture, the food, the people and how they interact with the world all influence the way we design. This past year Nick was able to spend some time in Mexico, Japan, and along the California Coast, while Felicia spent time in Hawaii, the Pacific Northwest, and Hong Kong.
JUMBO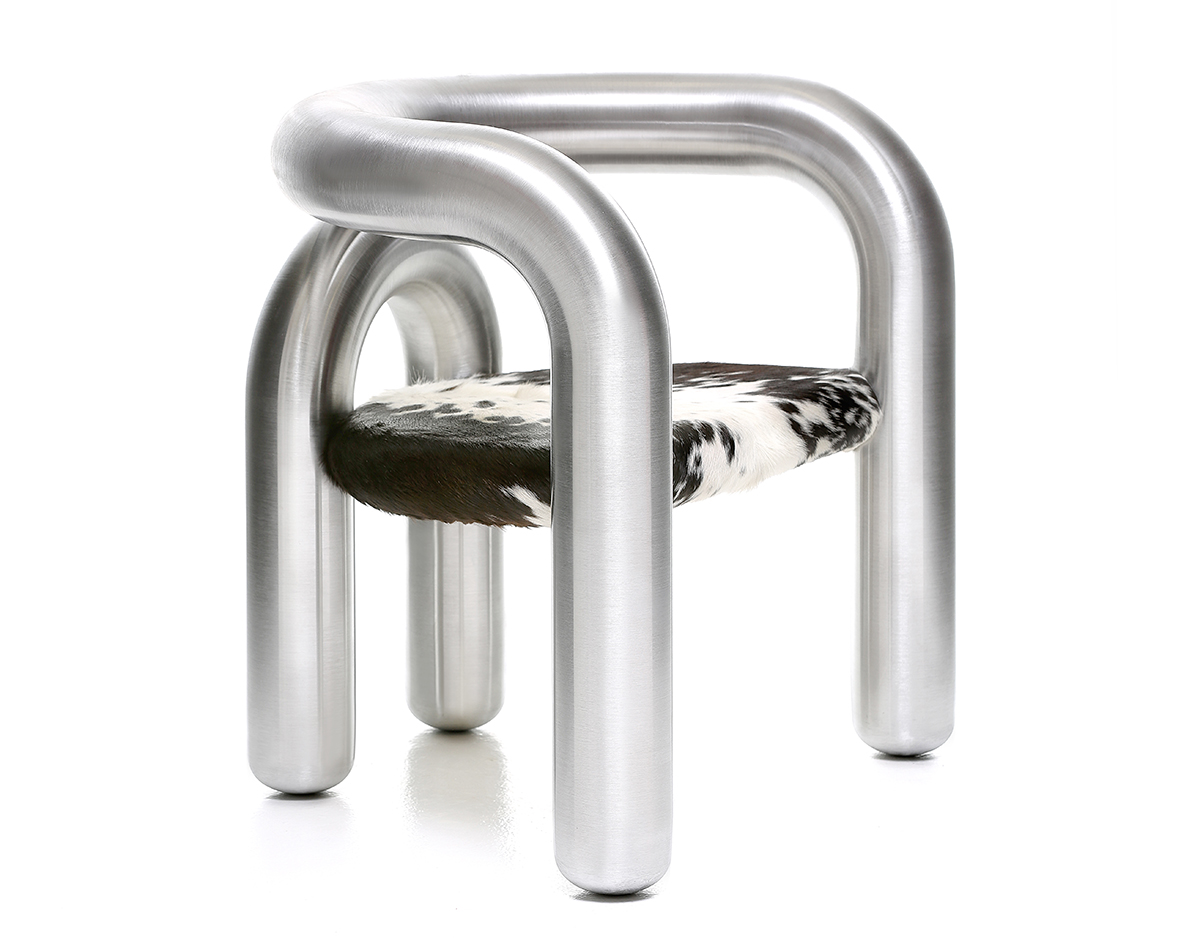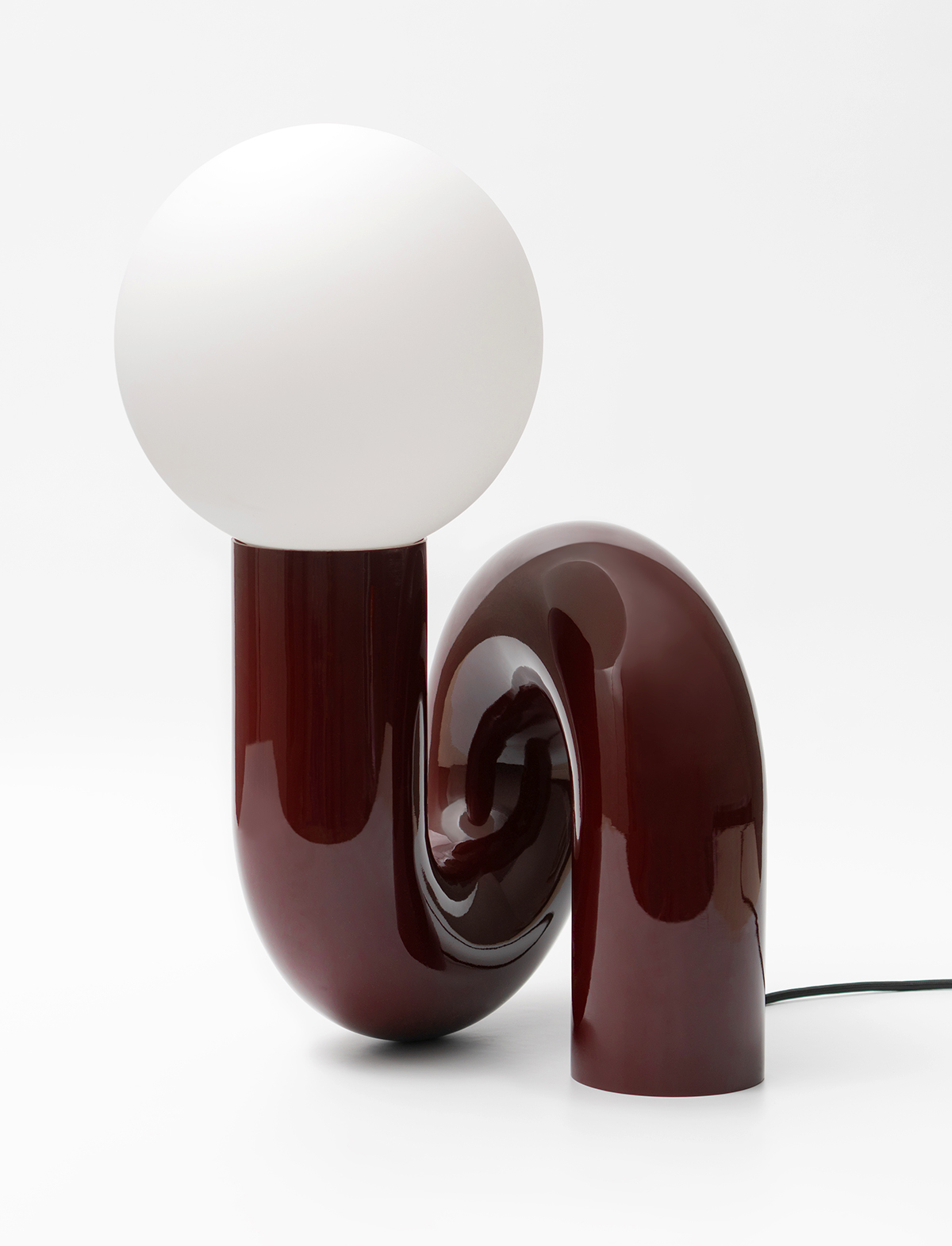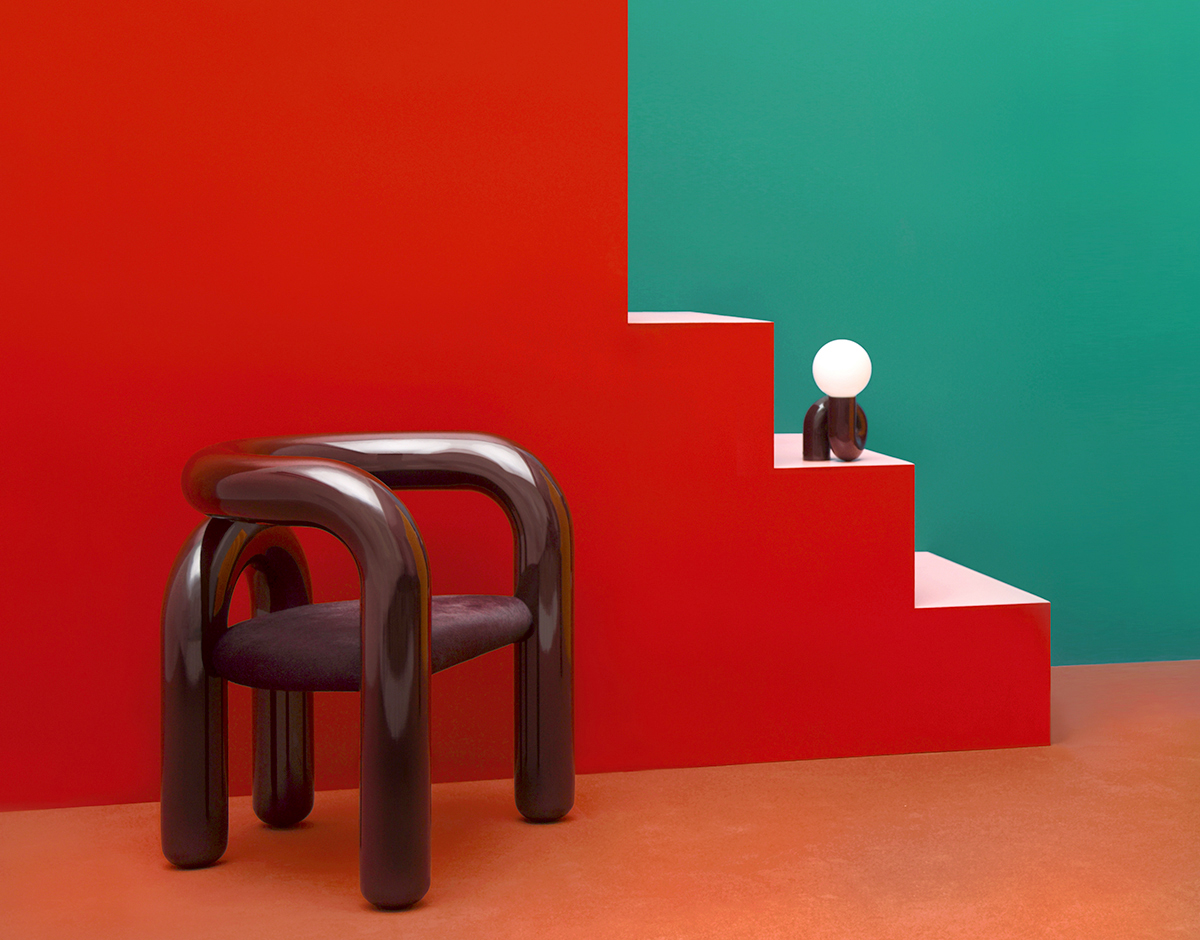 New York and Washington, D.C., jumbo.nyc
In our experience, architects tend to take themselves rather seriously, which makes it all the more surprising that Justin Donnelly and Monling Lee of JUMBO — possibly the most joyful design studio to launch in years — met in architecture school. The two specialize in a kind of conceptual but unexpectedly lovable aesthetic that's made them darlings of the design world since their launch almost two years ago.
What is American design to you, and what excites you about it?
When we decided to start a studio together, we celebrated by taking a trip to the 2017 Chicago Architecture Biennale. That weekend, we discovered that we share a love for McDonalds, Mickey Mouse, and Michael Jackson. For us, these are the hallmarks of American design — each of them is pure pop perfection. We want to make work like that. We want to make designs that are reductive, synthetic, and emotionally engaging.
What are your plans and highlights for the upcoming year?
This is a really exciting year for us. Here is what we are doing:
1. We are designing ANTHOM's new Chelsea retail space off the Highline on West 22nd.
2. We are designing and curating an exhibition and conference at A/D/O, entitled Neotenic Design.
3. We are writing an article about childlike furniture for Disegno Magazine's Spring Edition.
4. We are designing our very first standalone building for an institutional client.
5. We are participating in Greenhouse at the Stockholm Furniture Fair
6. We are introducing a new furniture collection at Salone in Milan.
What inspires or informs your work in general?
We want to make things that are sort of dumb — objects that are so reductive, they couldn't be any simpler. We use basic, prismatic shapes, and build them without visible seams, fasteners, or transitions. It's actually quite hard to do. But by suppressing the constructive aspect of our designs, the resulting objects become abstracted, like a drawing or a cartoon. And as a result, they are so much more pleasurable. This idea — the dematerialization of form — is a core principle for our studio.
Objects of Common Interest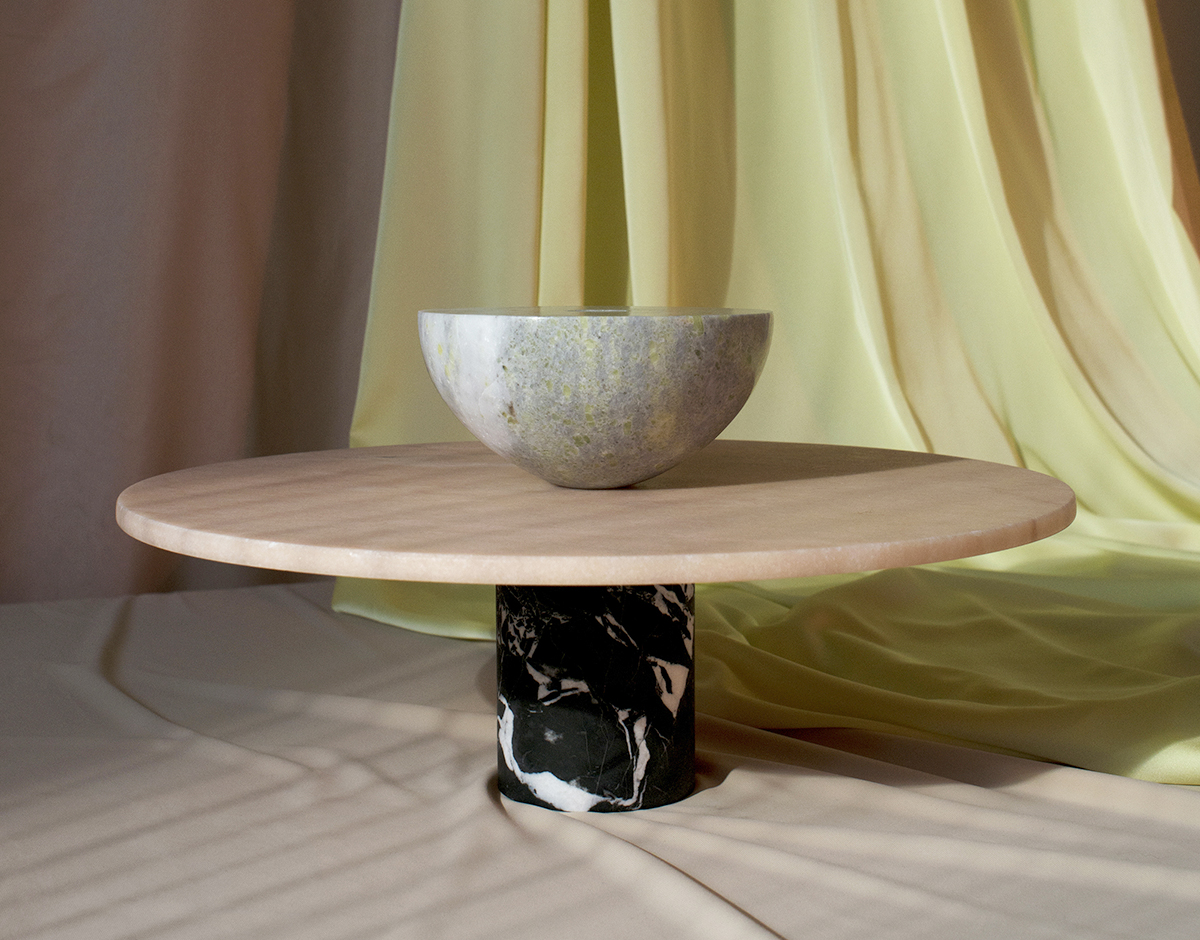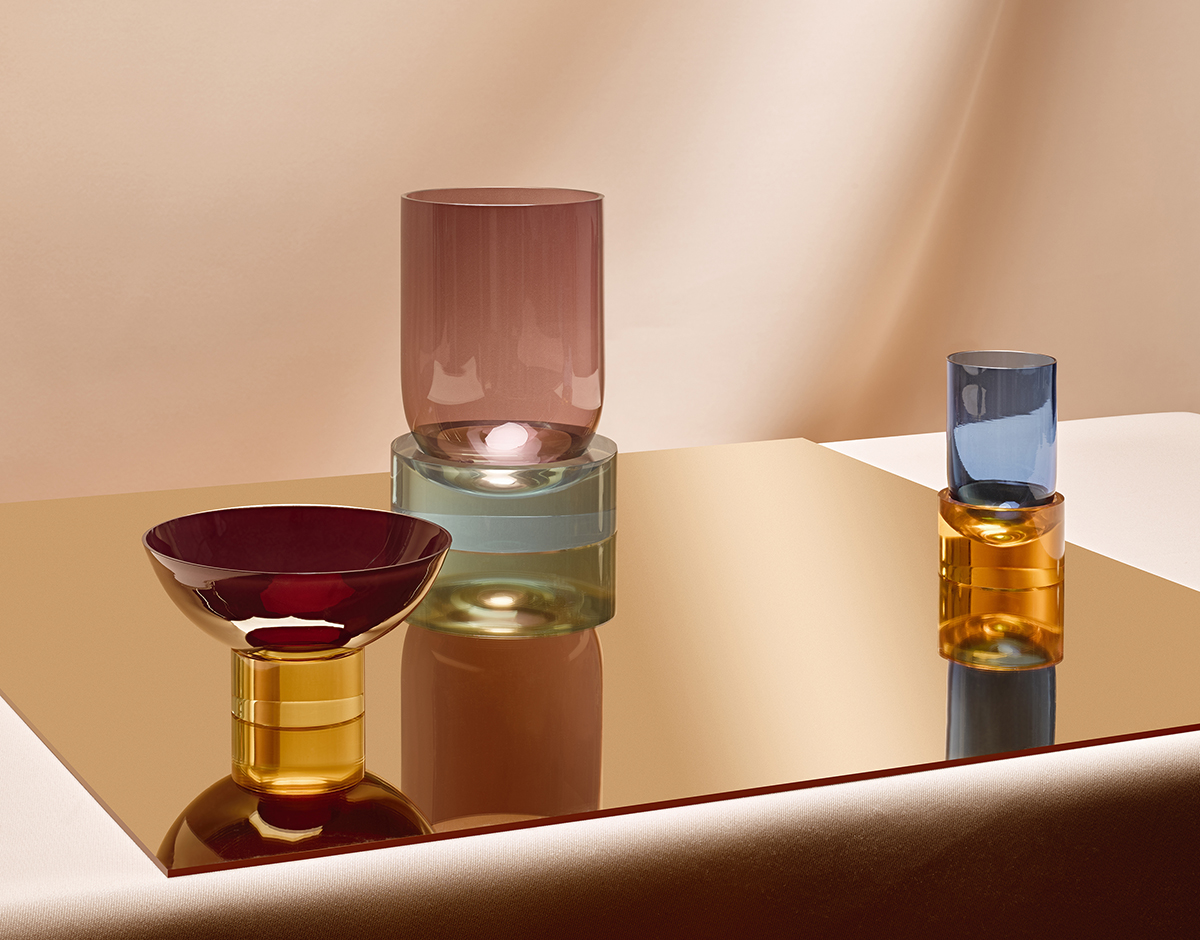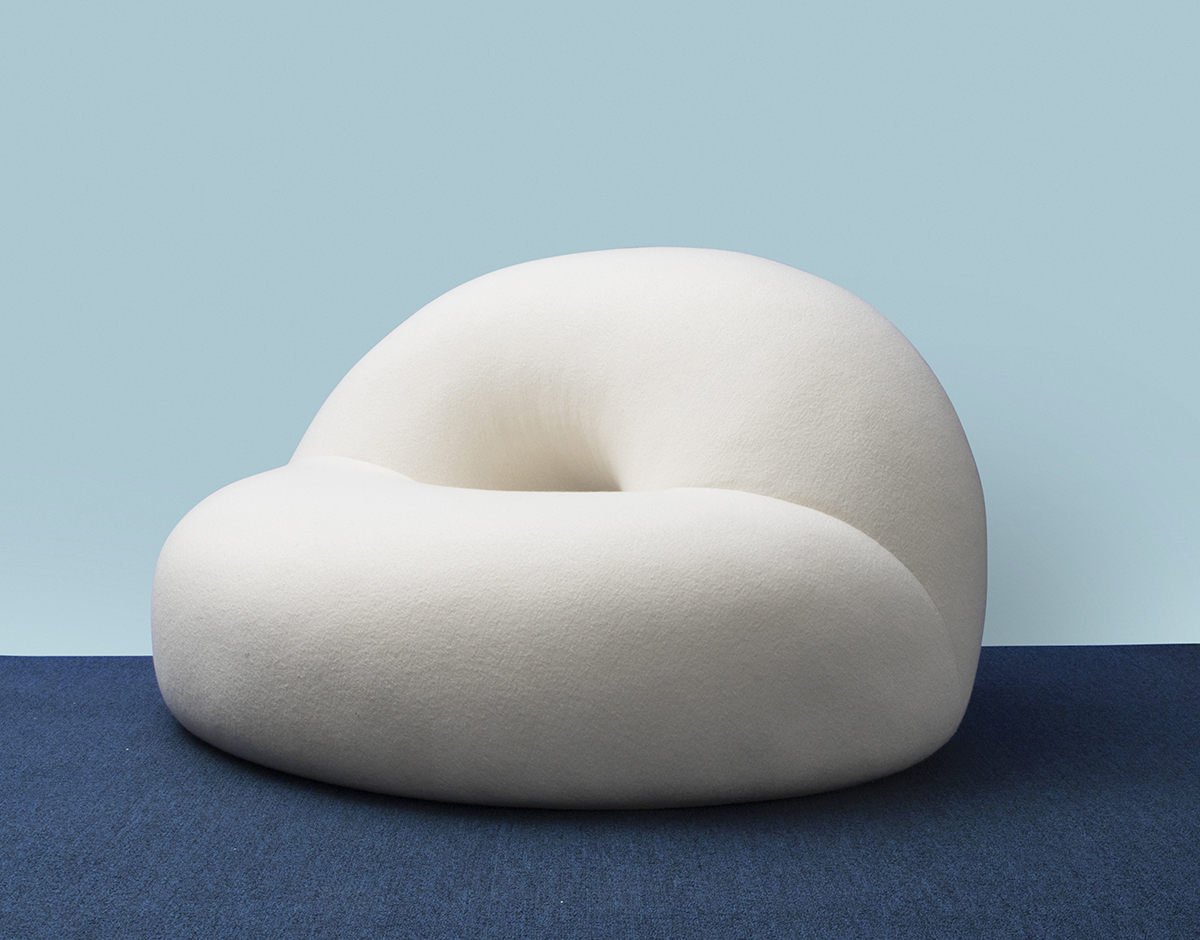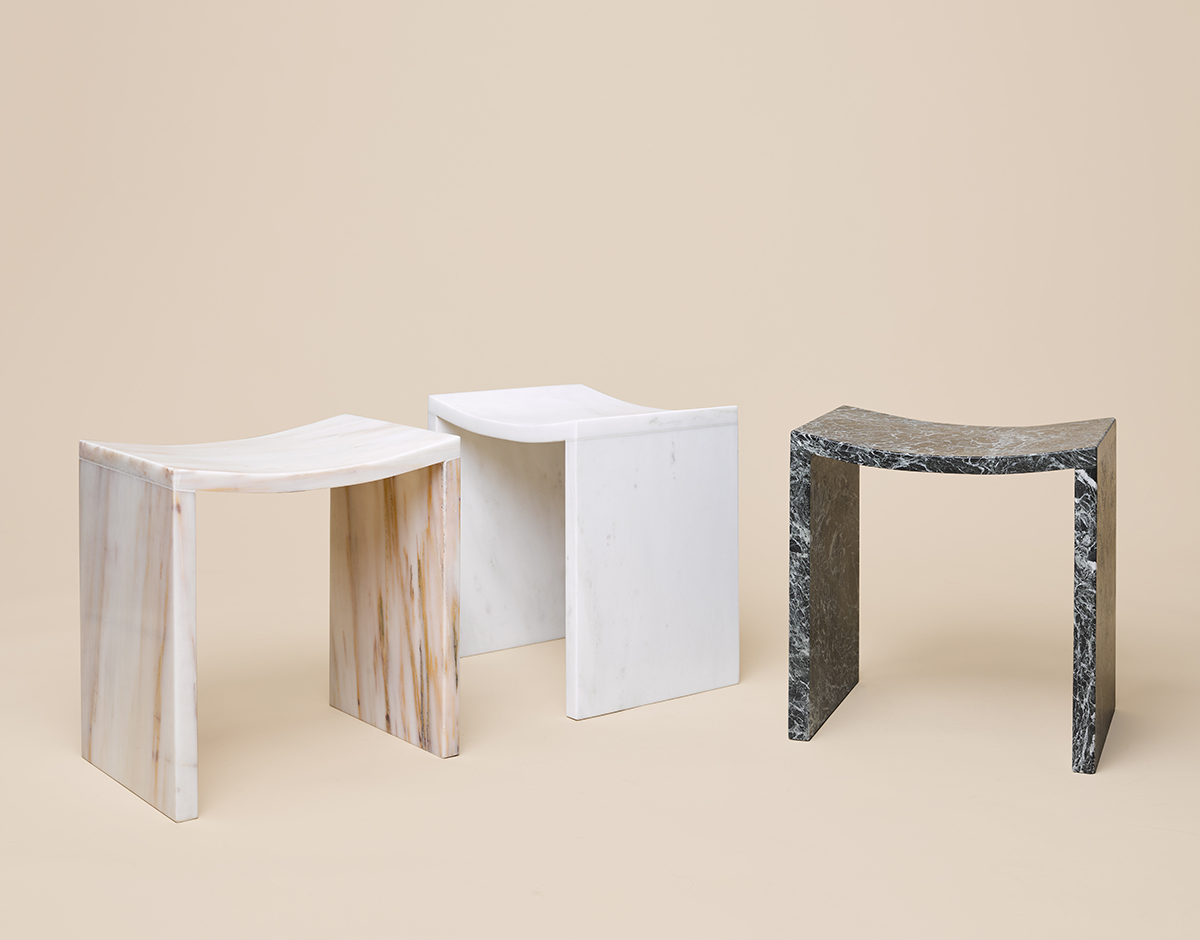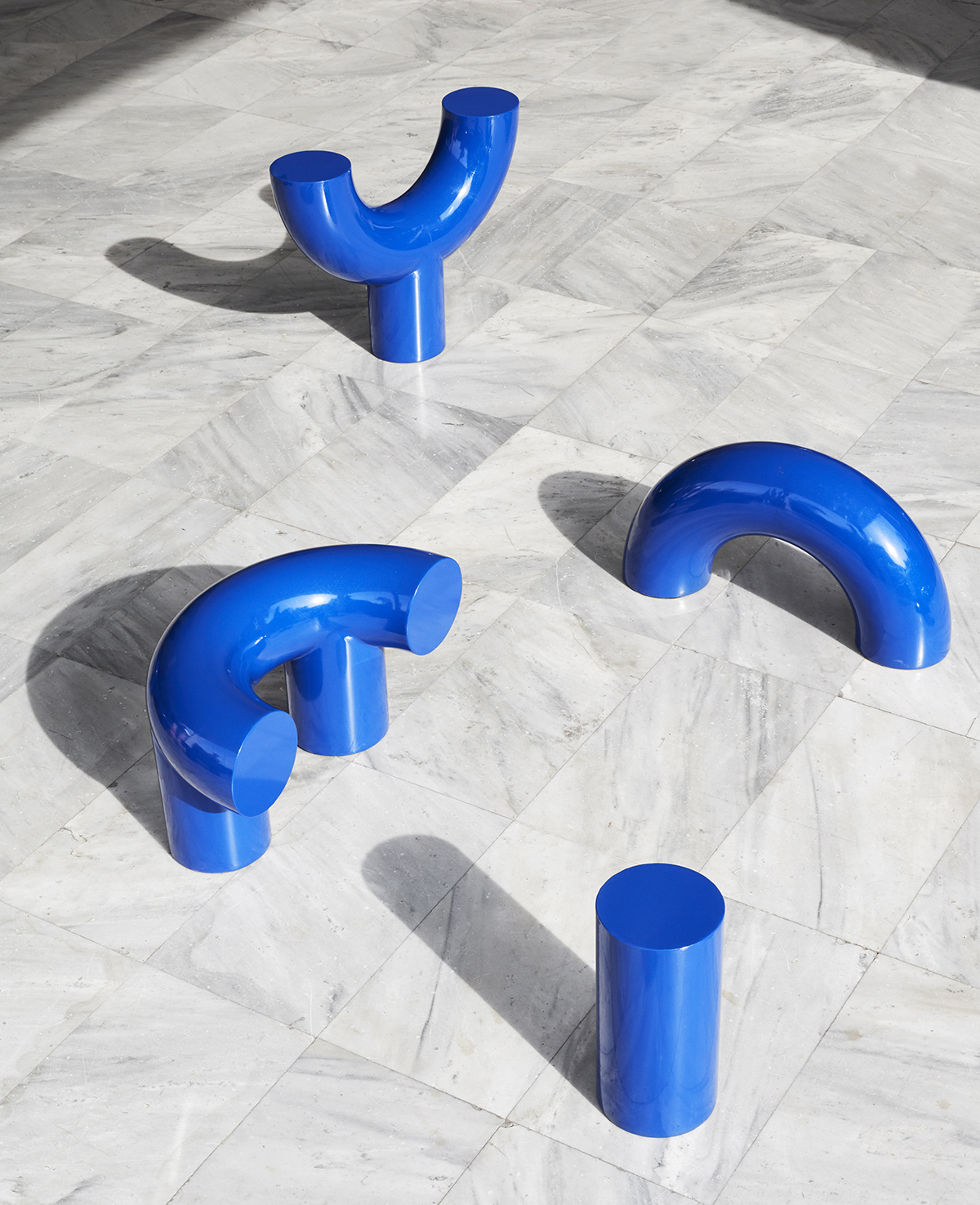 New York and Athens, objectsofcommoninterest.com
Founded by the Greek couple Eleni Petaloti and Leonidas Trampoukis, Objects of Common Interest is not only one of the most prolific studios we've seen in recent memory — constantly launching high-profile collections and installations, all while running a separate architecture firm at the same time — it's also one of those rare outfits that seems to produce only hits, no misses. The pair simply have a killer aesthetic.
What is American design to you, and what excites you about it?
Contrasts, freedom, and openness to cultural interpretation has been our interpretation of American design in the way that we are a part of it, blending our European background with our American experience and international activity. American design offers an unprecedented openness to ideas, and a fertile ground for experimentation, innovation, and expression of personal identity.
What are your plans and highlights for the upcoming year?
We've started planning a major installation for the Art Athina fair in Greece. This is the 3rd year in a row where we've been invited to present a public installation piece, and it's been our ground for experimentation, setting up our new ideas for the year and letting us explore materiality and concepts. Our office in Athens is moving to new exciting space and we're doing some special objects for that space. We're also designing a new series of light pieces that will result in an installation and a new collection. We're working on an interior project for a dance studio in Williamsburg, for which we'll create custom objects. And finally, a commissioned series of lounge pieces will be permanently installed at the rooftop of the Essex Crossing Development site in New York by the end of this year.
What inspires or informs your work in general?
Architecture — and ideas about volume, structure, articulation, materiality, plus dual notions of lightness and weight, transparency and opaqueness, and light and shadow — has always been our core source of inspiration, and a parallel discipline of ours by way of our separate architecture practice LOT. We're attracted to simplicity, illusion, and natural references of momentary beauty that define mood and bring out certain feelings. We look at art rather than design in a search for clarity of concept, leading to stripping ideas down to an abstract expression, then injecting practicality to make our work balanced with room for personal interpretation.
Shop Objects of Common Interest's work on Moda Operandi here!
The 2018 American Design Hot List is presented in partnership with Moda Operandi — the only luxury fashion platform inviting customers to shop directly from designers' complete runway collections prior to production — but all thoughts and editorial content are our own. Thank you for supporting the brands that support Sight Unseen.