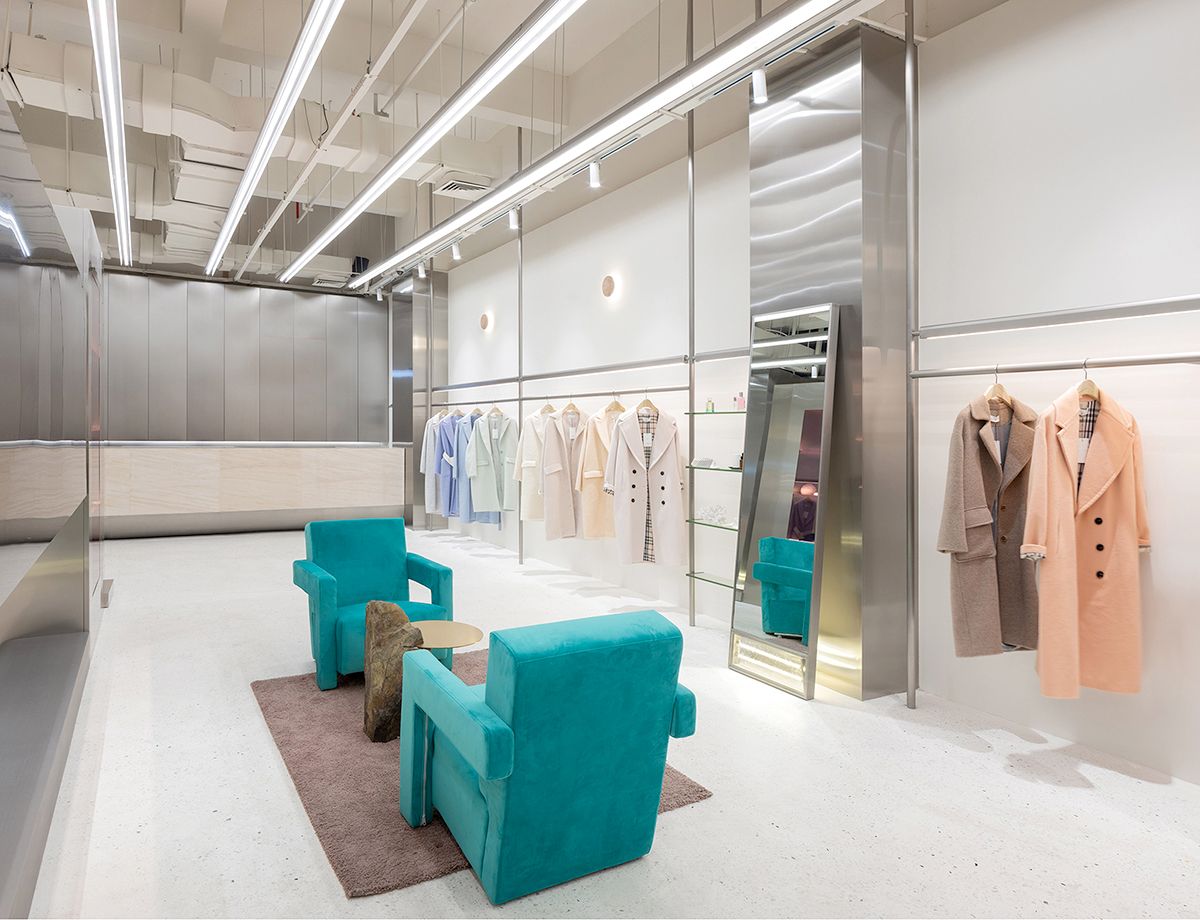 A weekly Saturday recap to share with you our favorite links, discoveries, exhibitions, and more from the past seven days. This week: Highlights from Zona Maco, a new gallery in Brooklyn launching with epic works by Mimi Jung, and three retail interiors with absolutely perfect color palettes, like the Chinese womenswear store above.
Interiors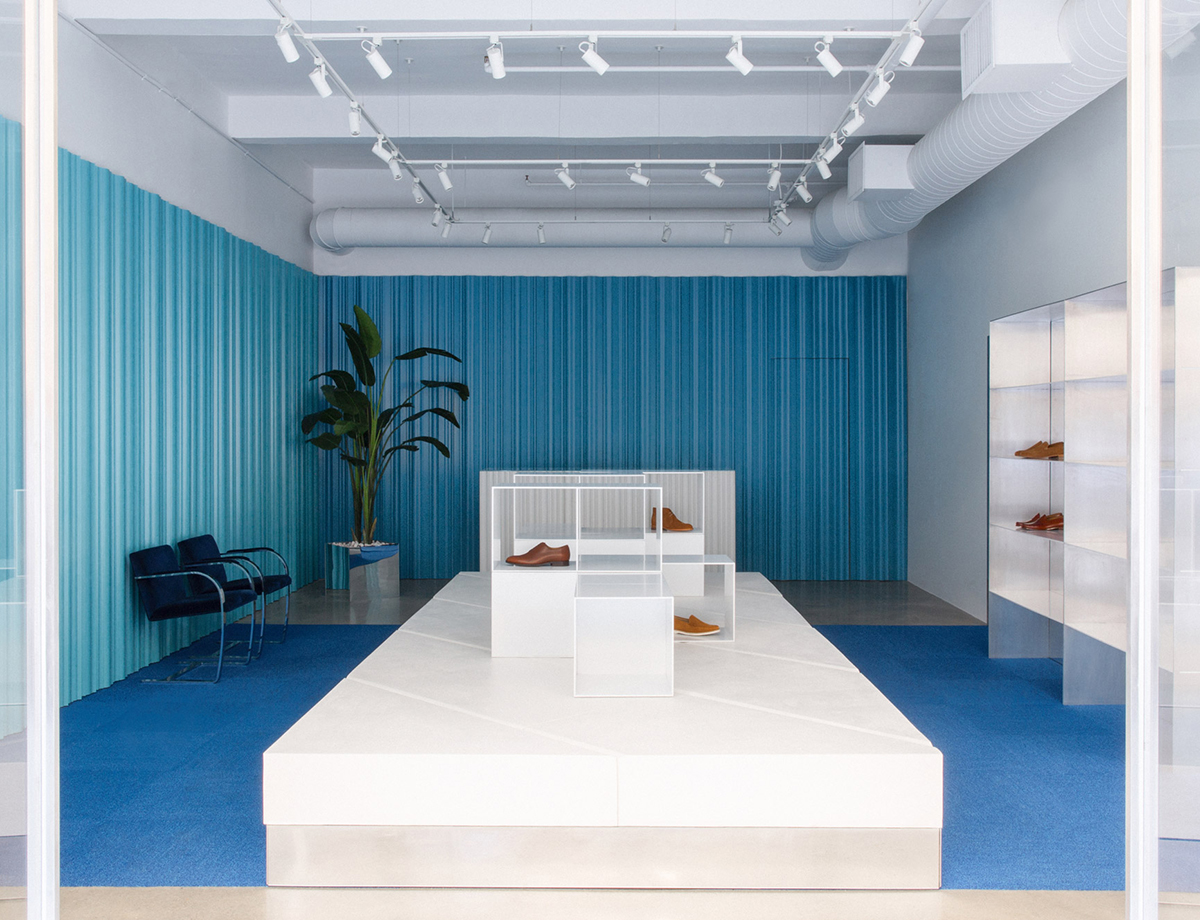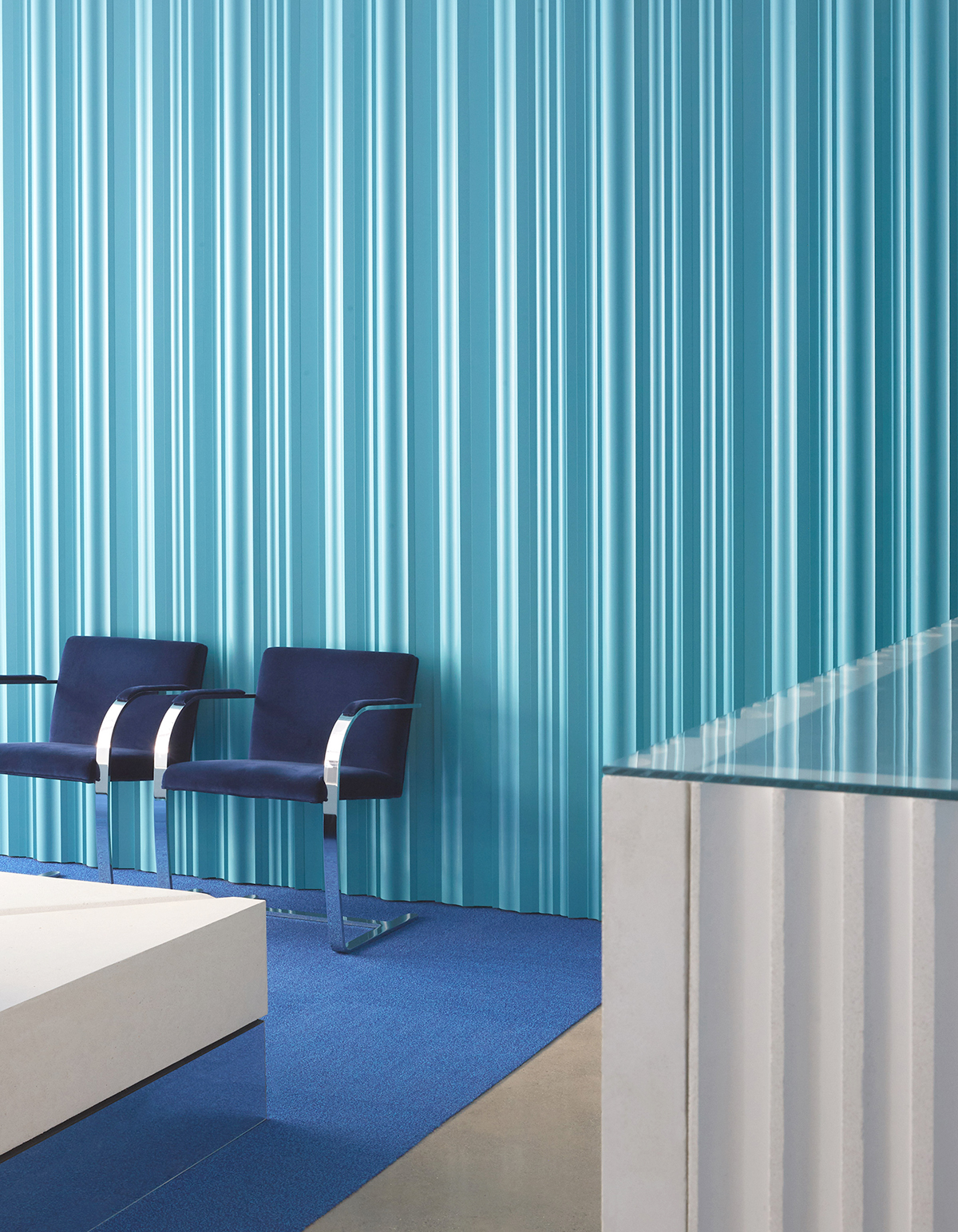 The architecture firm Milliøns recently completed a new NYC flagship for the men's accessories brand Jack Erwin that, owing to its location on Madison Avenue in Midtown, takes inspiration from typical corporate office interiors, with teal aluminum "curtains," blue commercial carpeting, and a central concrete display unit.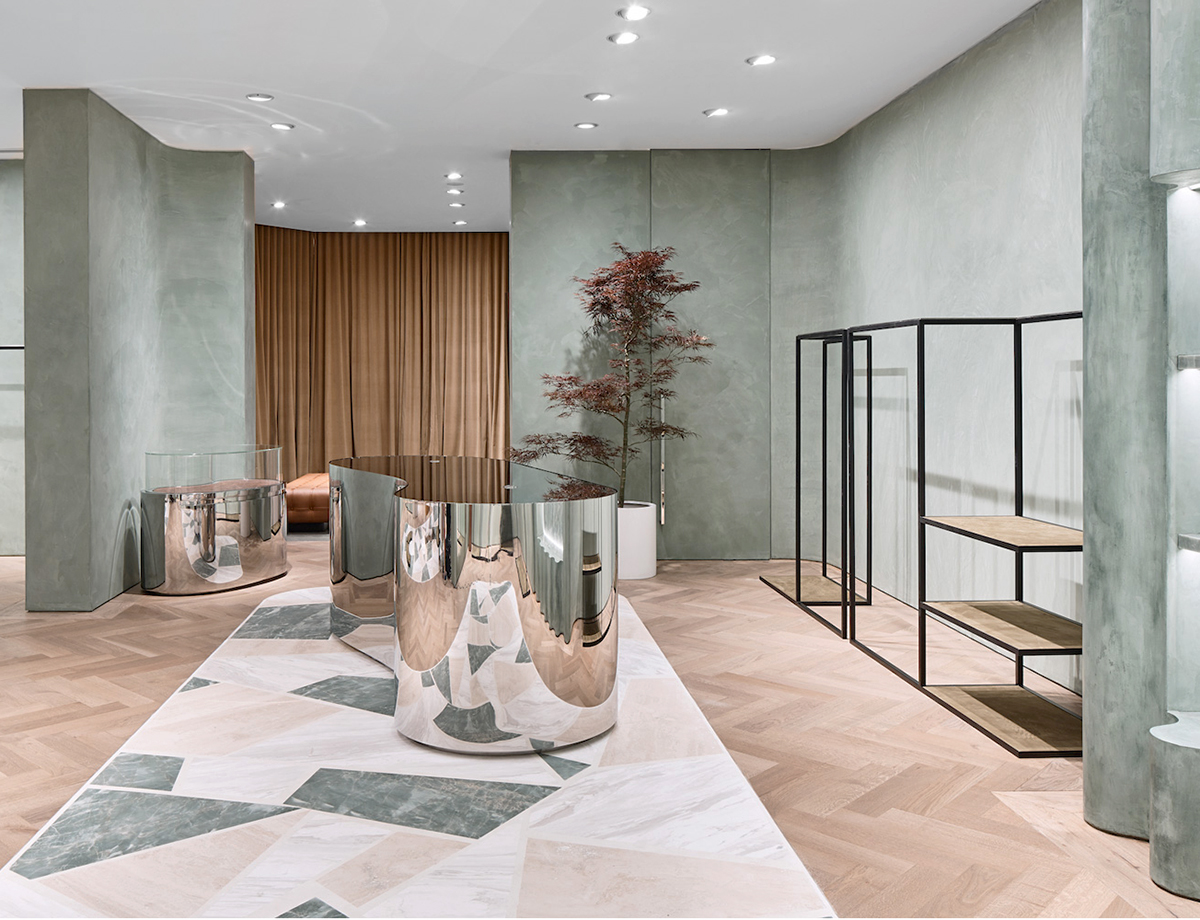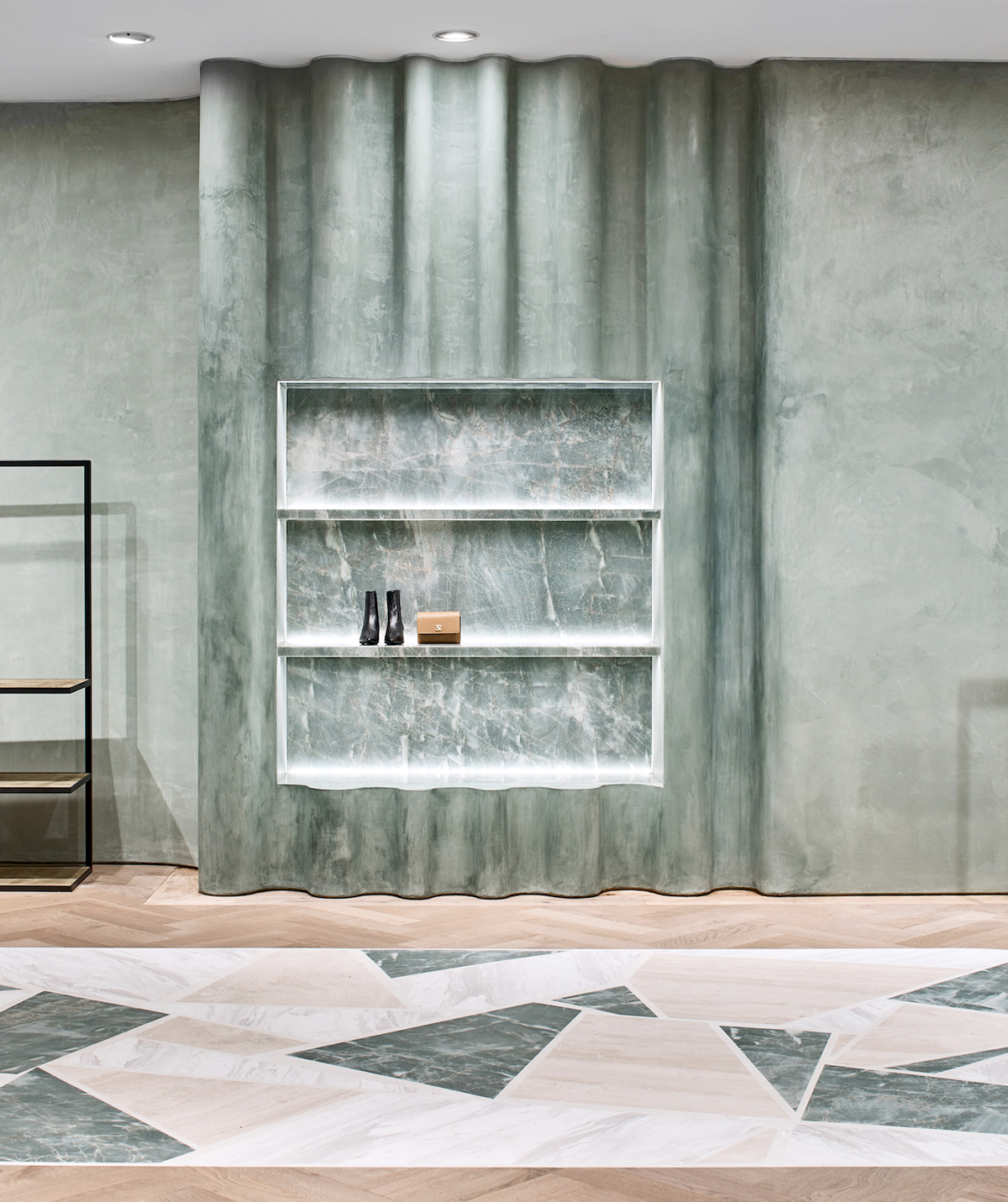 Strangely enough, another favorite retail interior we found this week, the Camilla and Marc flagship in Sydney by Akin Atelier, also featured a faux curtain of sorts — in the form of the rippled wall seen above. There are real curtains, too, plus a series of mirrored Karl Springer–esque furnishings and oversize terrazzo floors.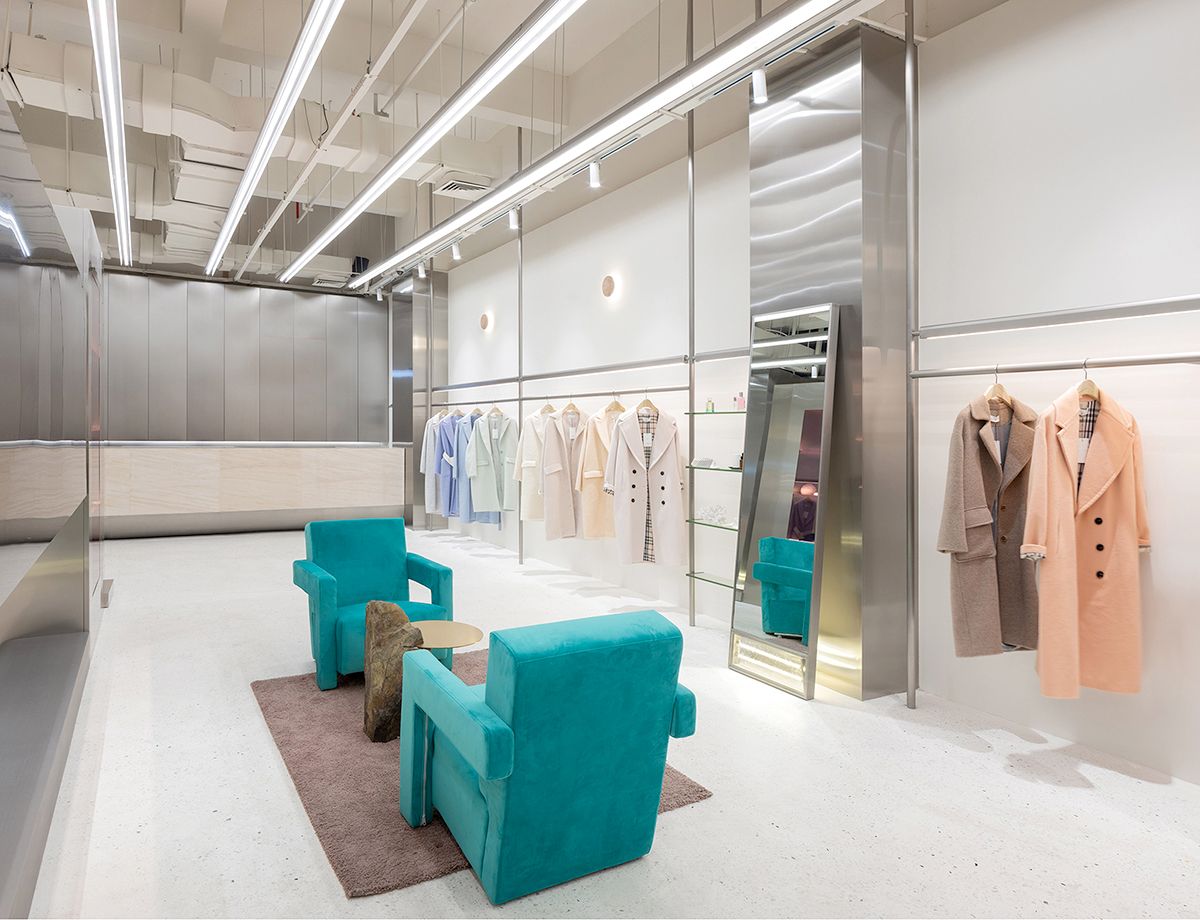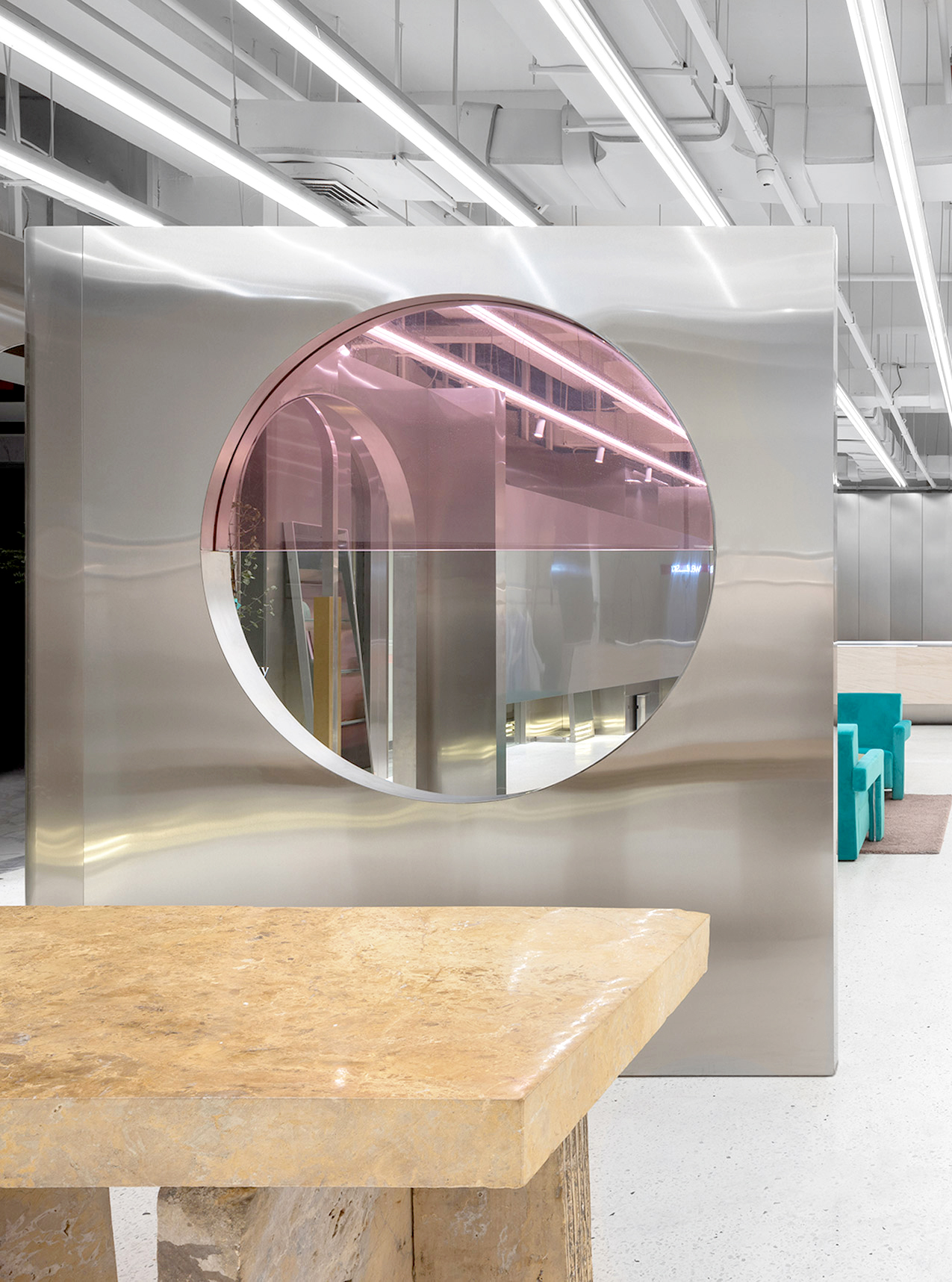 Not gonna lie, we Photoshopped a blaring red logo out of the top image of the Wellsky boutique in Hangzhou, China, but it came from a good place — wanting to show you how pretty the unadulterated interiors by Xian Xiang Design are. Especially the pink glass semicircle and the teal armchairs situated around some sort of stone and brass end table. Also not gonna lie, we can't find the website of this design firm anywhere, but hat tip to Dezeen for the images.
Discoveries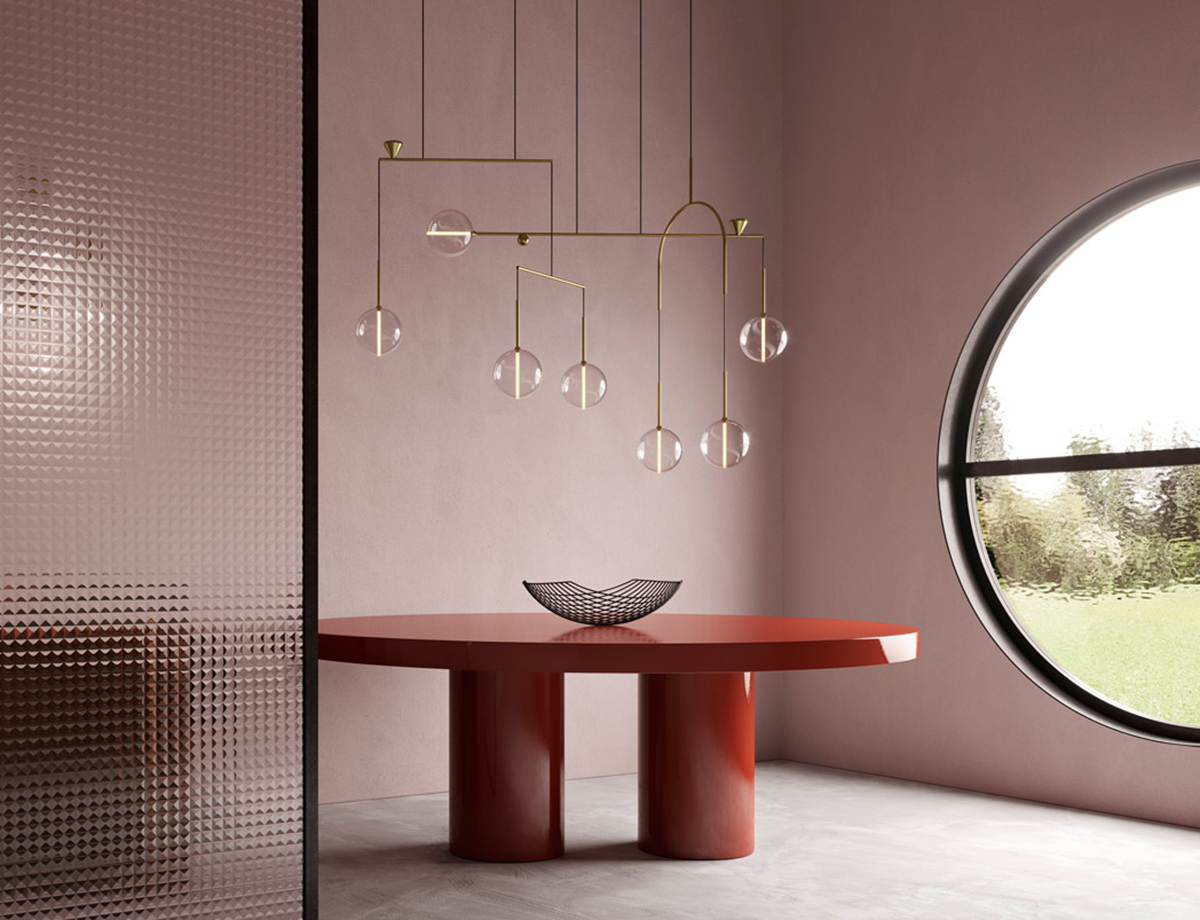 We found this new light, the mobile-like Dewdrop chandelier by Giopato & Coombes, on Design Milk this week.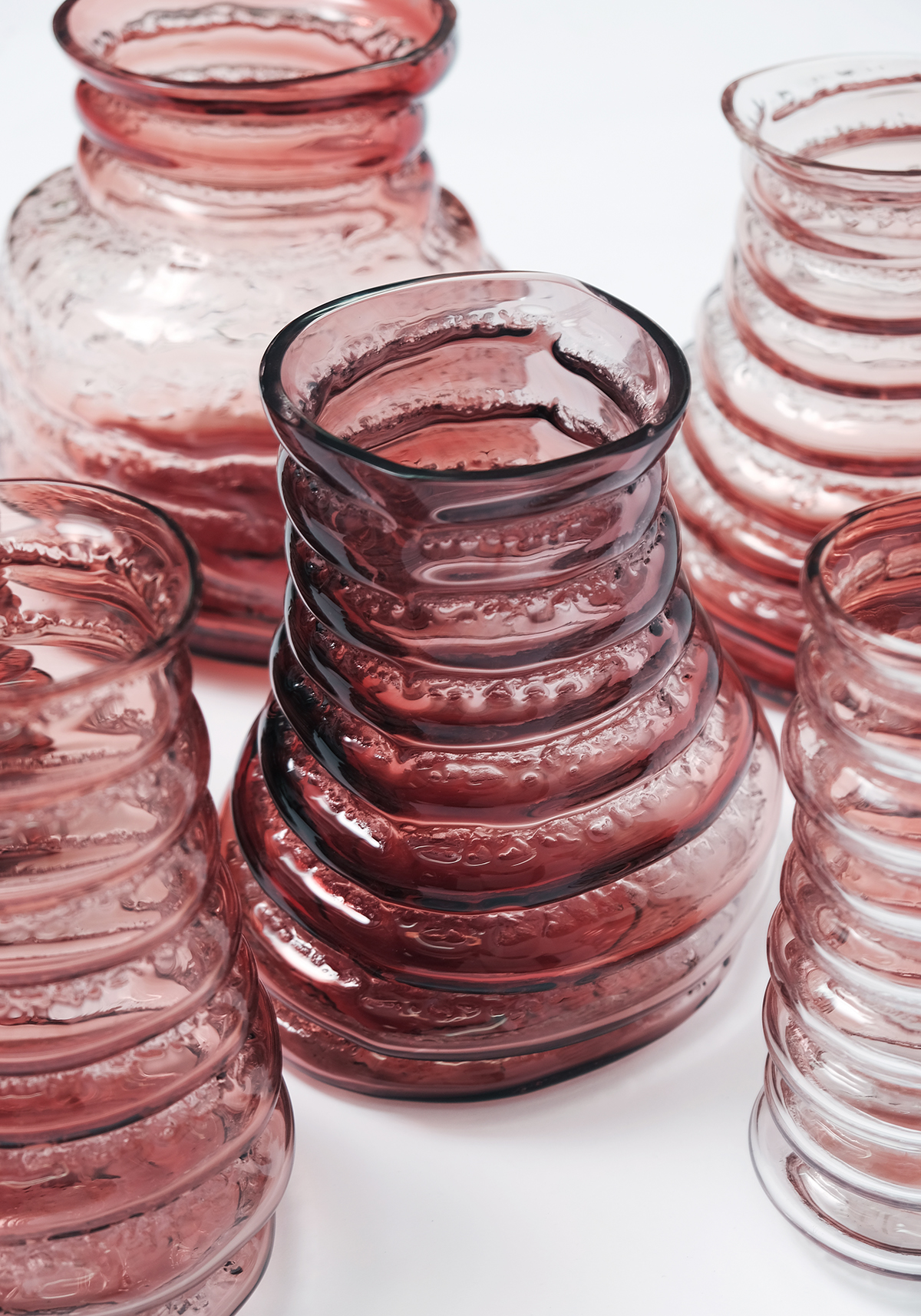 We almost went to Mexico City for Zona Maco this year, but it wasn't in the cards — luckily Brian Thoreen sent us images of his latest work with Héctor Esrawe and Emiliano Godoy for Vissio, the offshoot of the Mexican glass company Nouvel Studio that they created to make and show more cutting-edge collectible design. The vessels above are part of the trio's Burnout series, made by molding glass inside burnt plywood.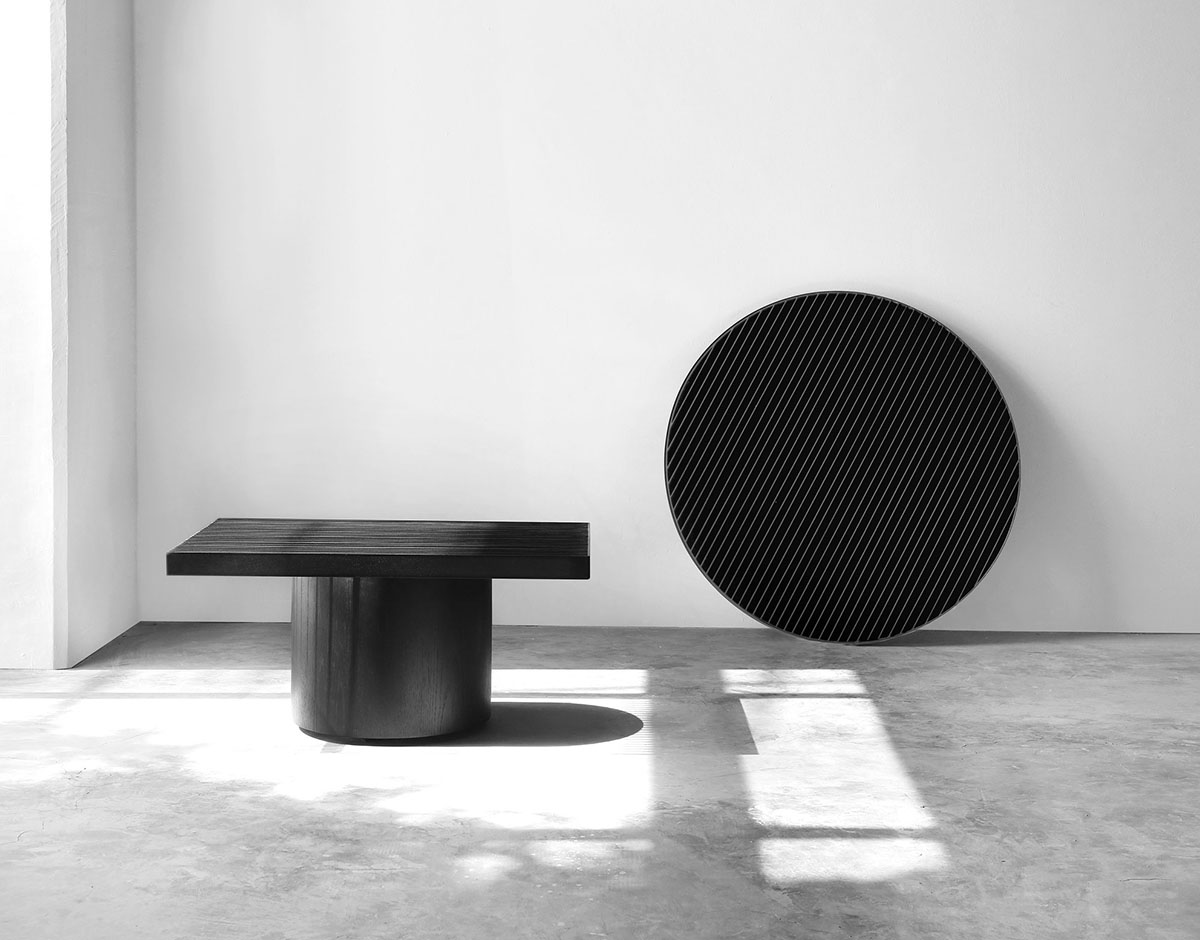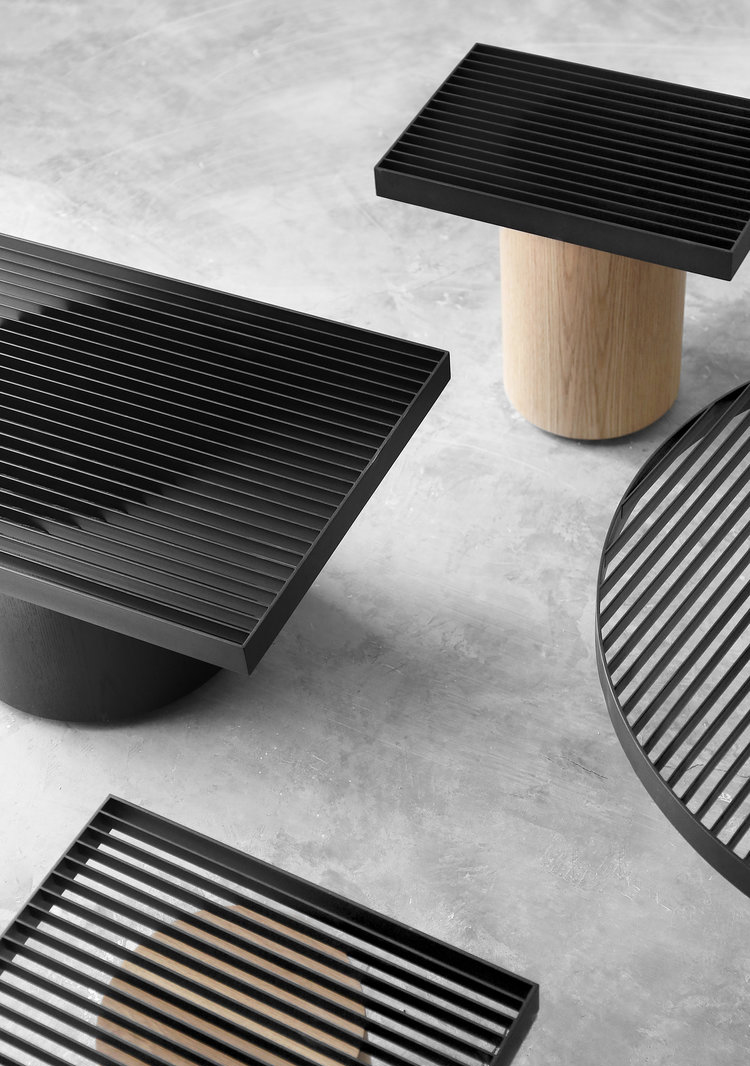 Our other Zona Maco find: Joel Escalona's Laws of Motion series for Breuer, a series of mirrors, tables, chairs, and room dividers that abstractly explore principles of gravity, movement, and acceleration.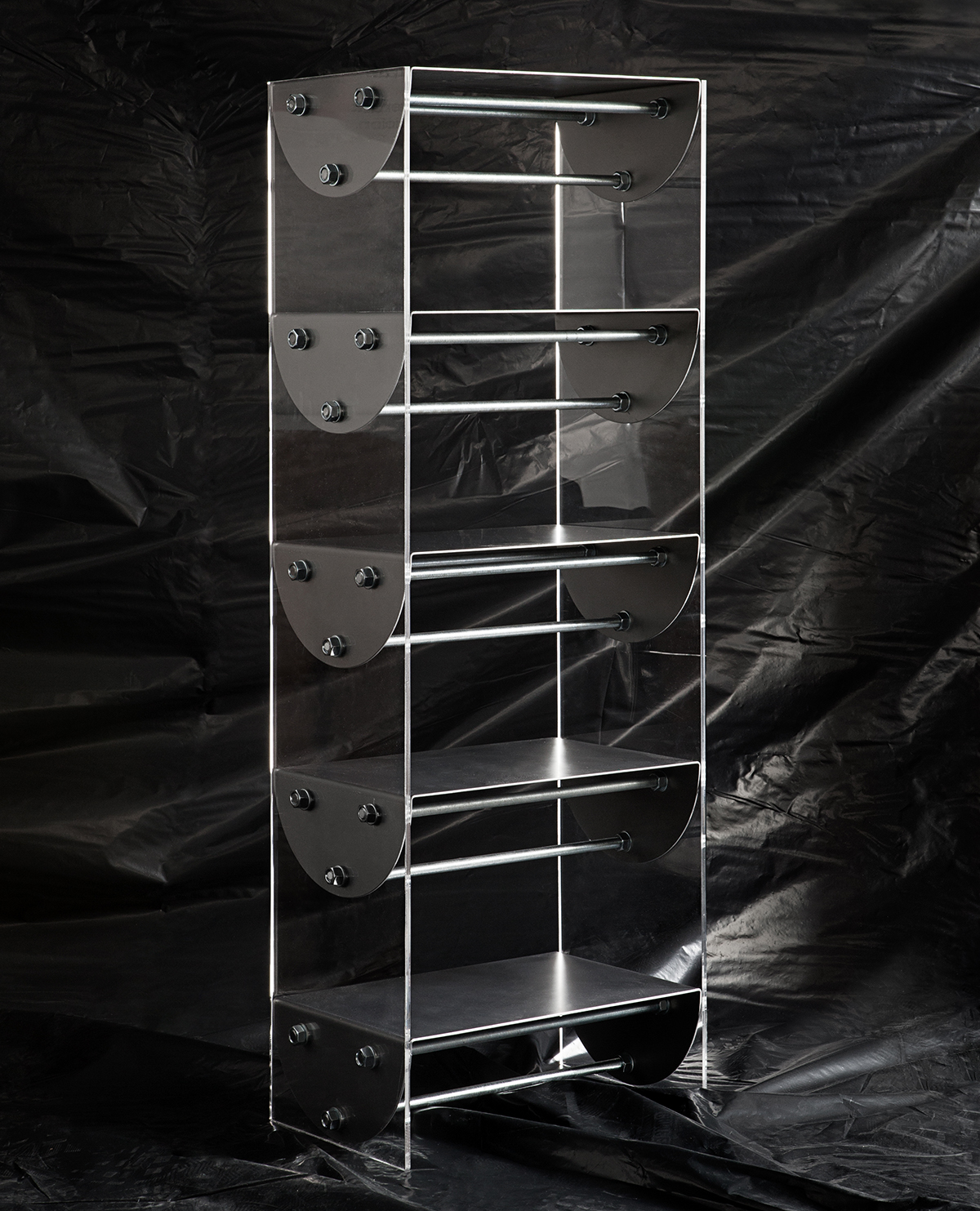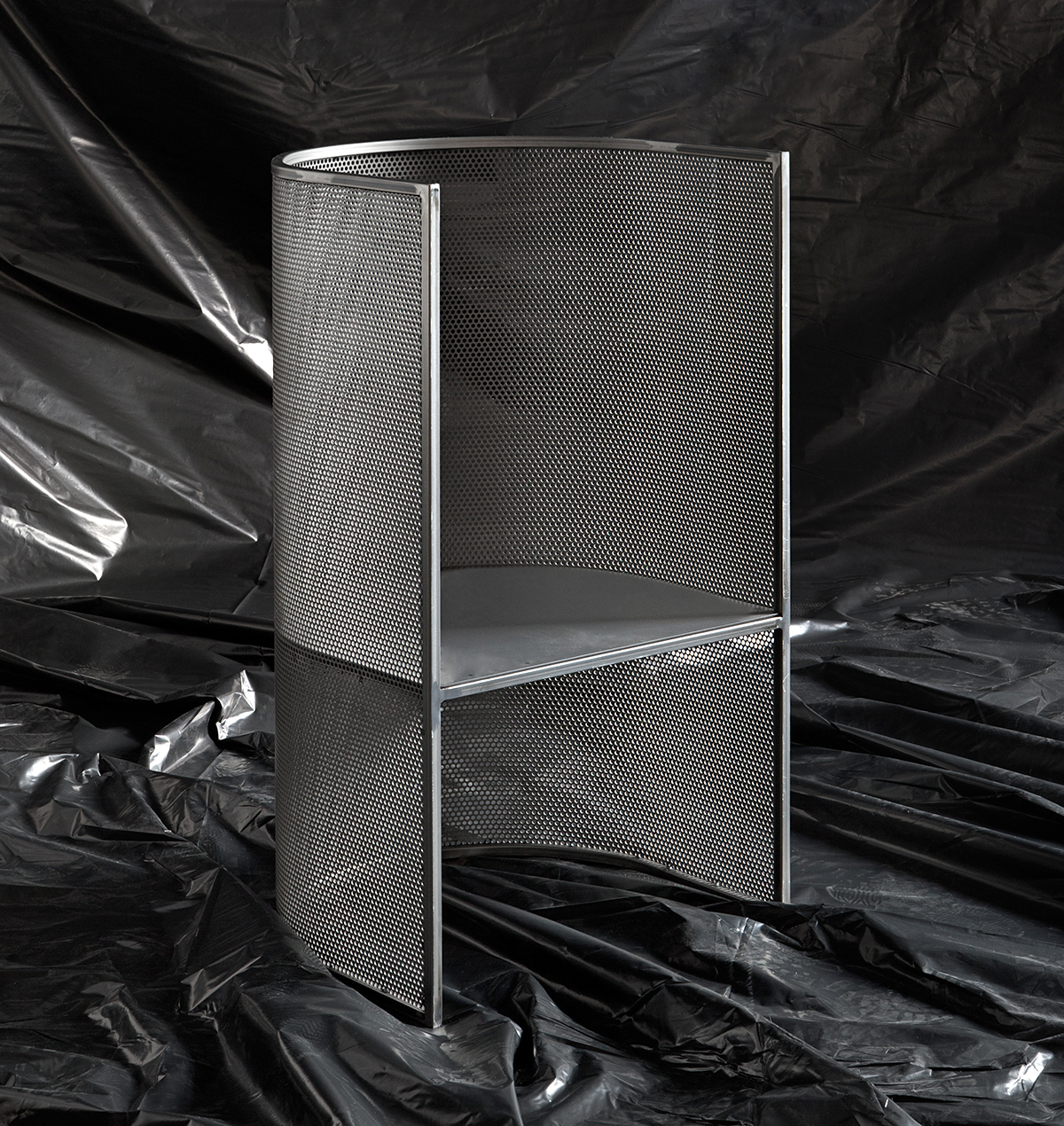 Spanish studio Plutarco's latest furniture collection, Kraf(t)mxn, is the duo's own revivalist take on the Arts and Crafts movement, "a reaction to industrialization where the artisan is the designer as well as the maker of the pieces," they say. "This pieces of furniture try to show how things are made, which is why the materials are kept as they are without being treated."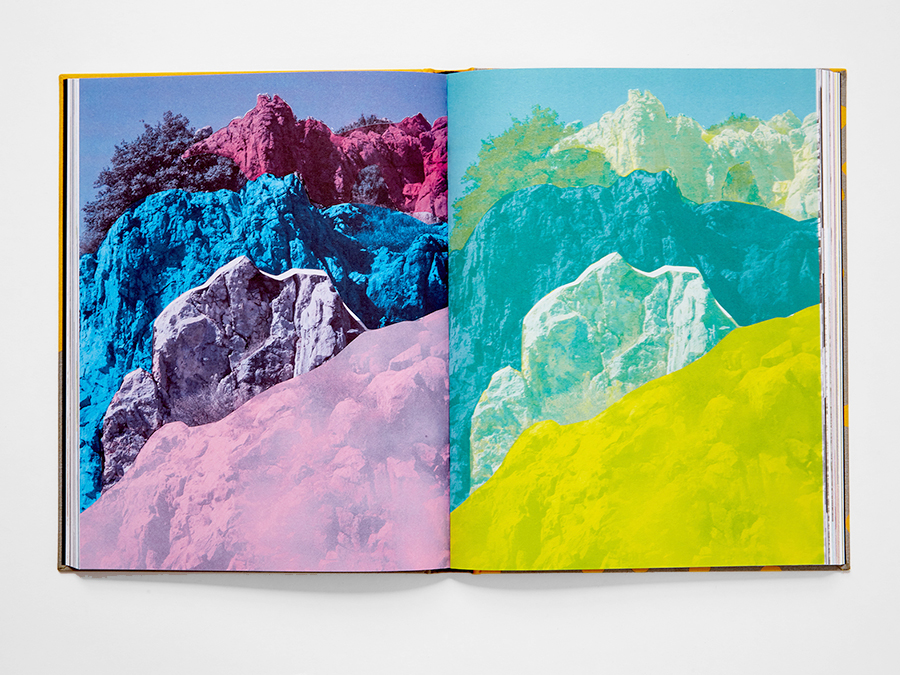 We're quite taken with Swiss artist Douglas Mandry's new book Equivalences, and not because it features a series he calls "Unseen Sights" (lol). We just appreciate the technique he used to make the book's stunning images: using acrylic paint and an airbrush to colorize black-and-white landscape prints.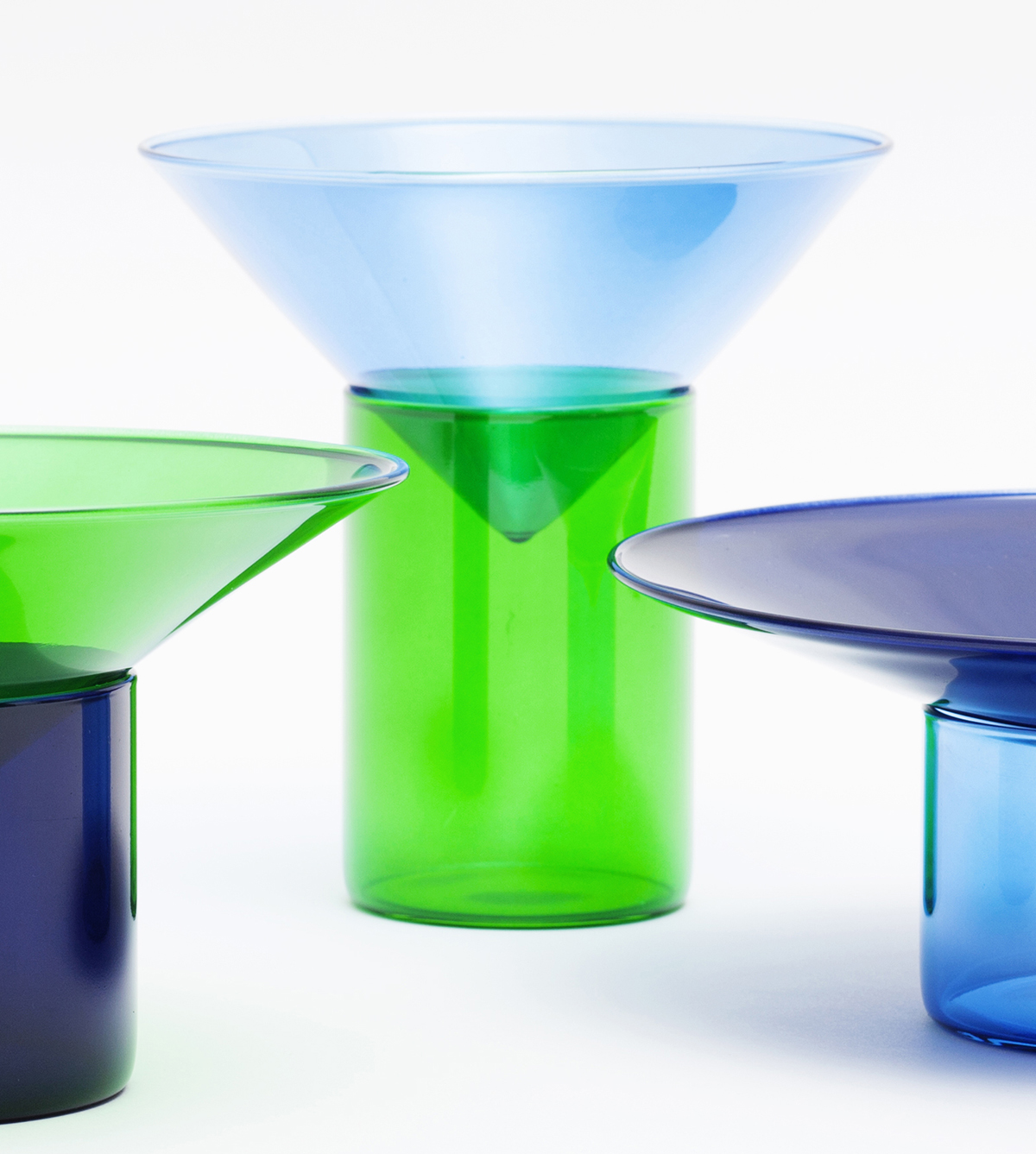 The Polish furniture brand Tre released a whole suite of new products during Maison et Objet, our favorite of which are these blindingly colorful Vovo glasses by Ewa Hiller. We tried looking for more info on the brand's website but it almost crashed our computer so, let's just agree that they're pretty.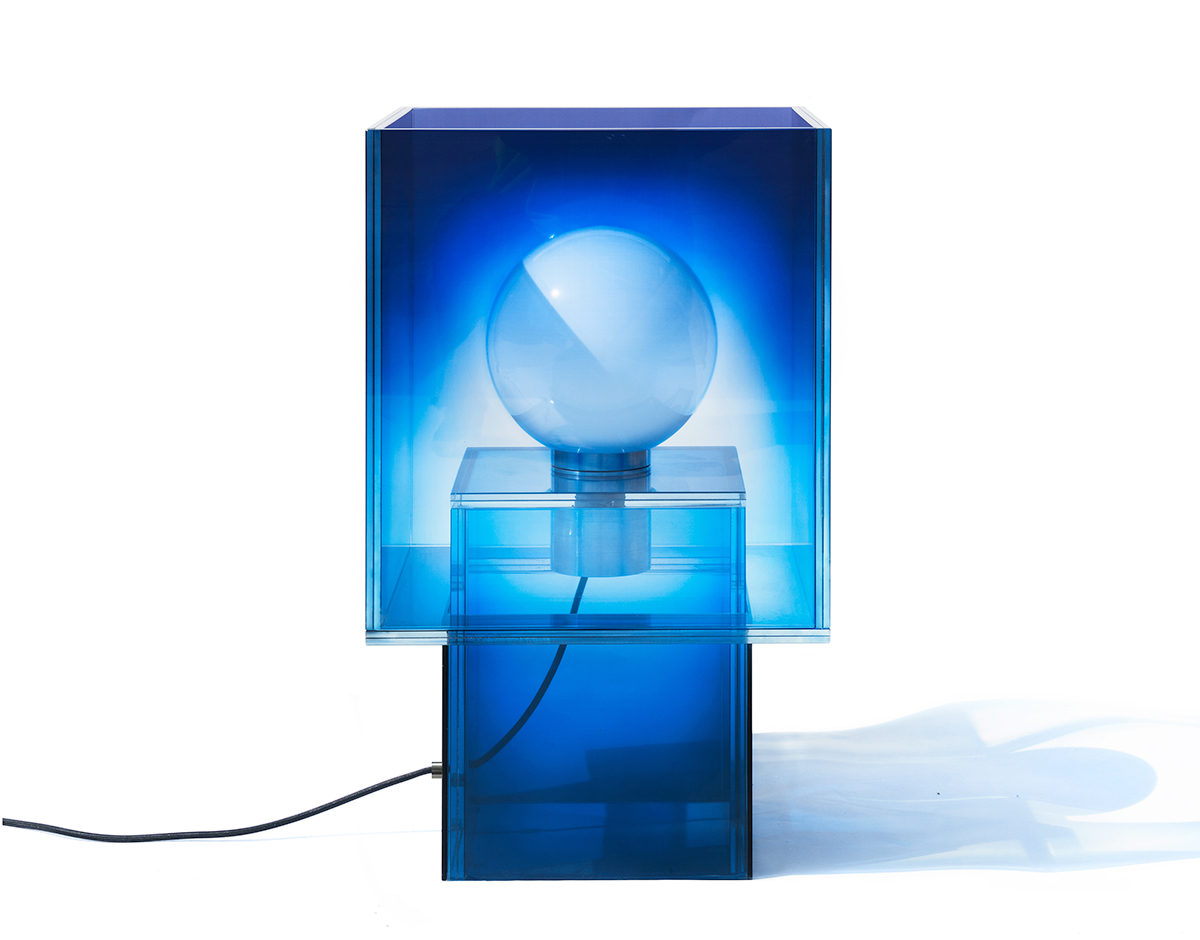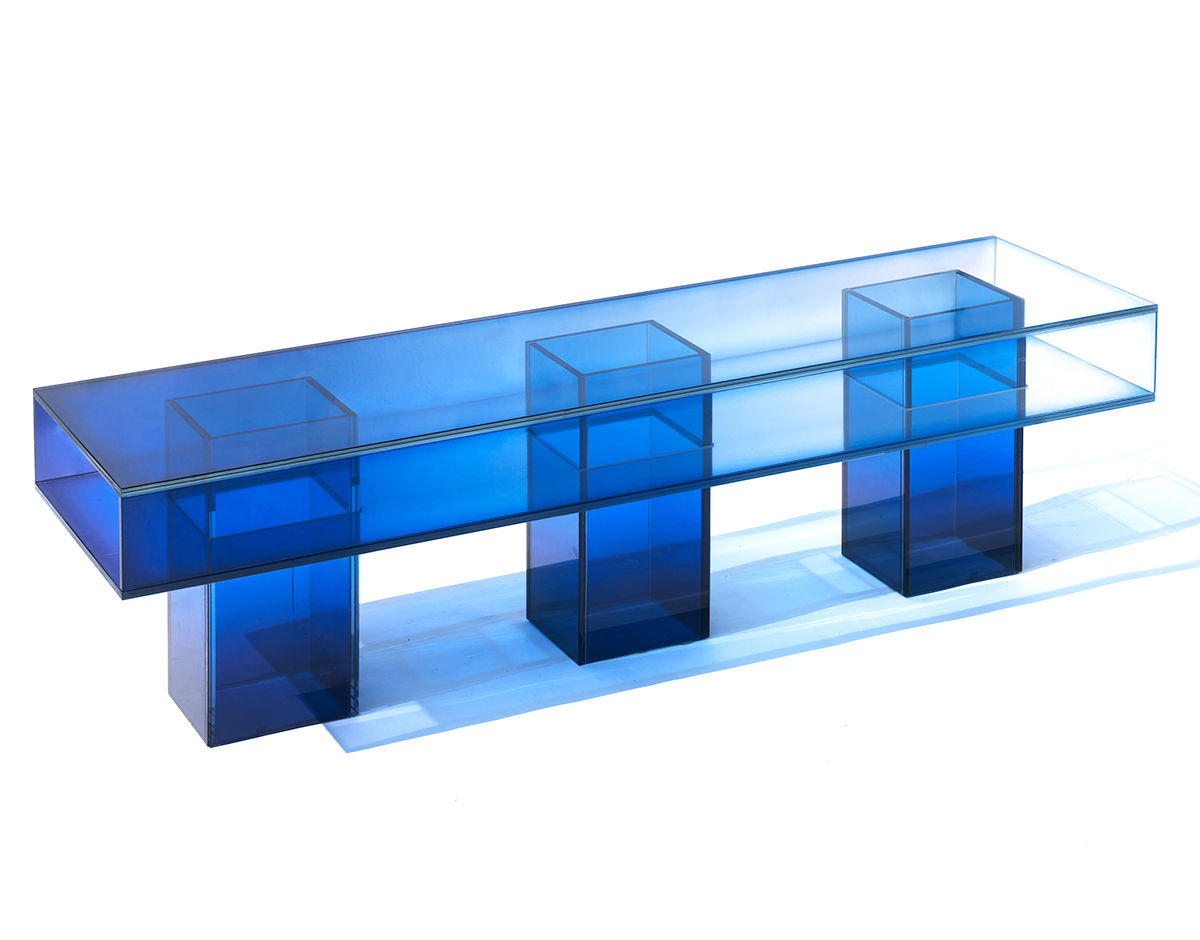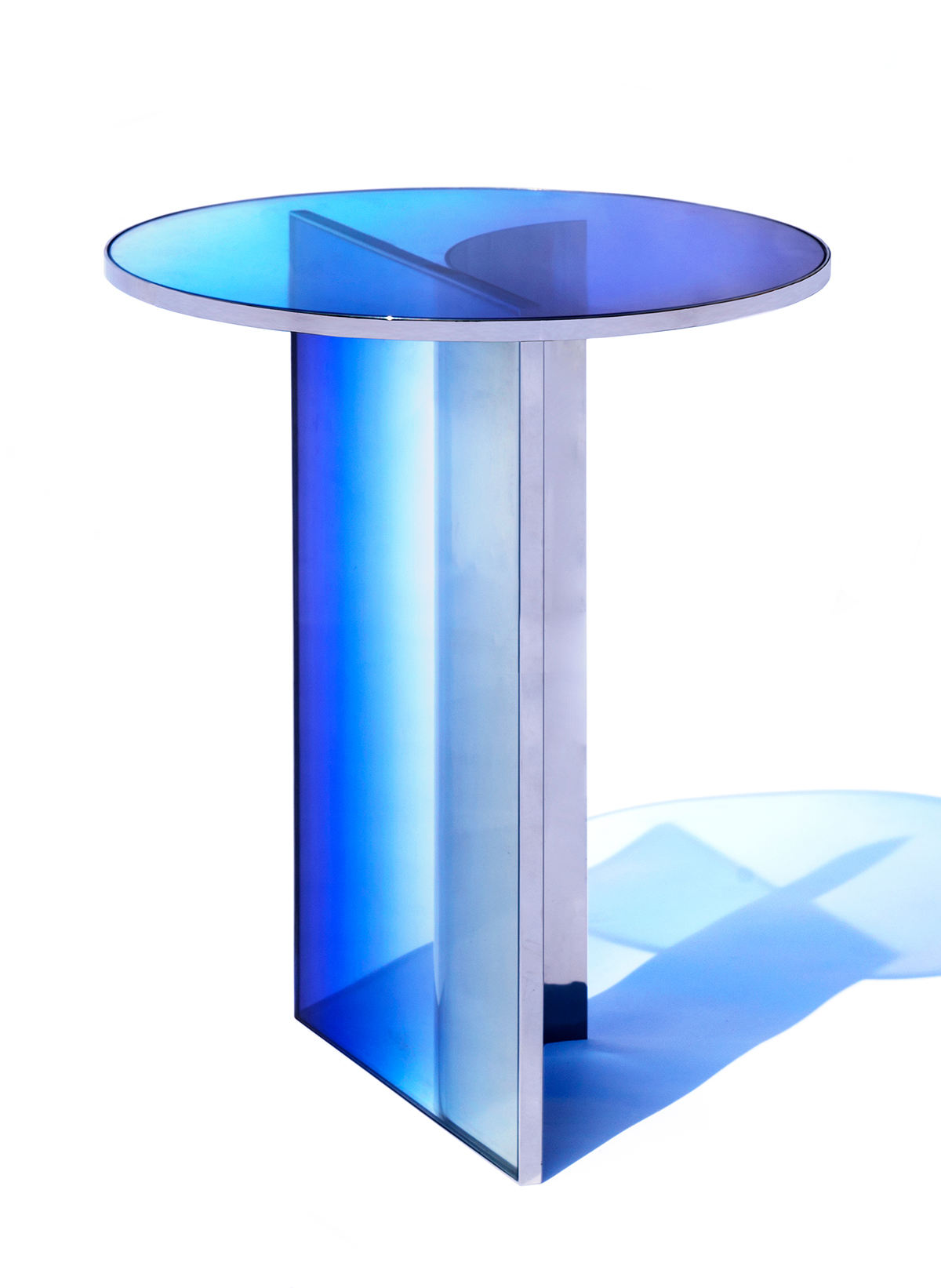 Our other hyper-colorful glass submission this week — with another website that almost crashed our computer — came from the Chinese studio Buzao, whose Null Set series is like a more transparent, more formally complicated version of Germans Ermics's work.
Exhibitions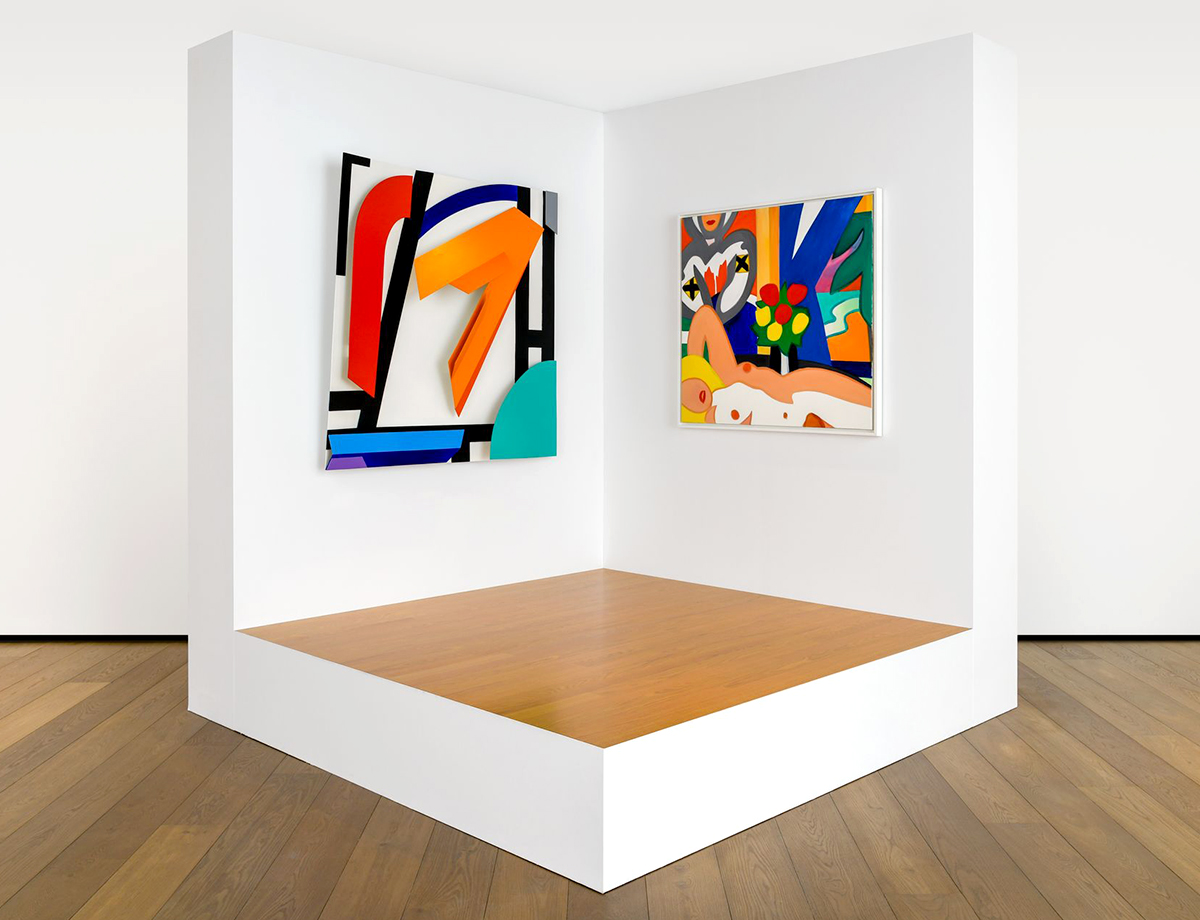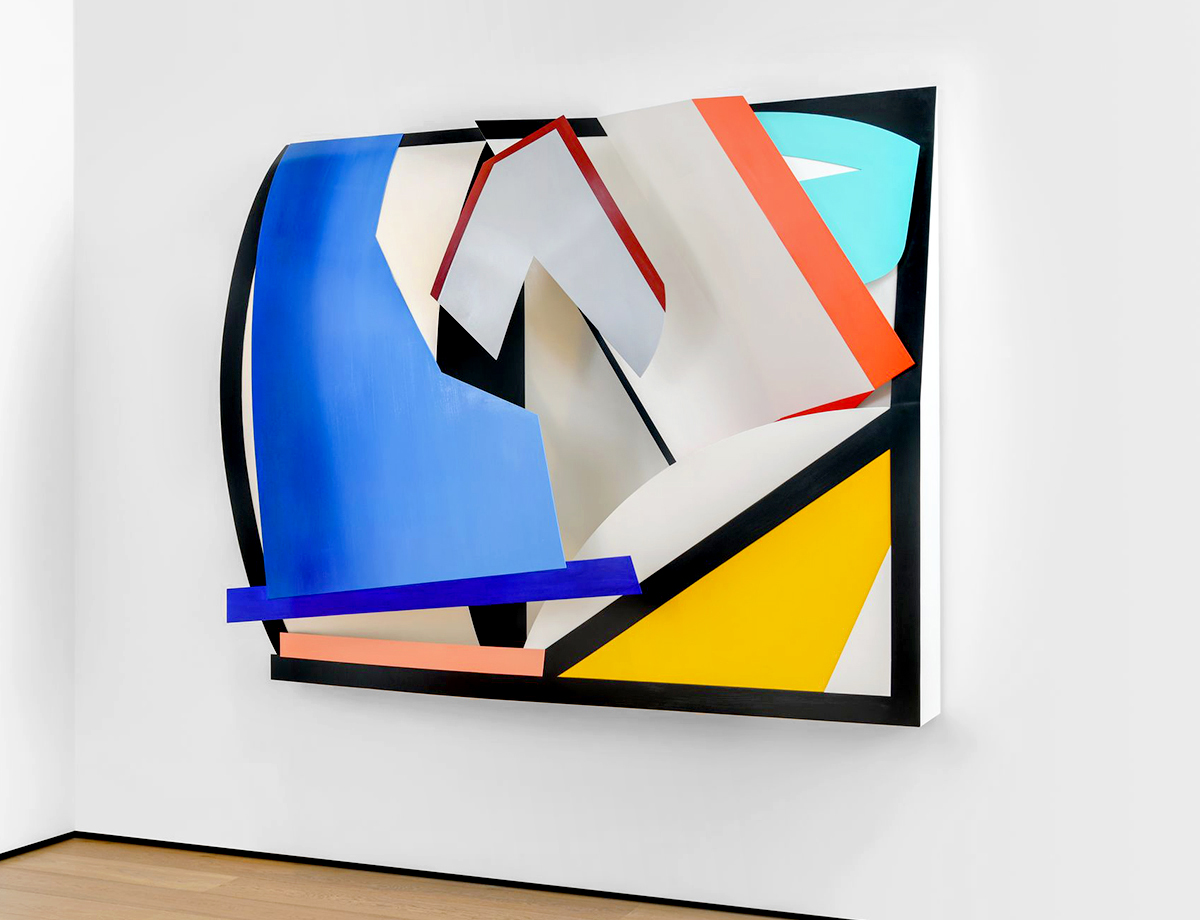 The London outpost of Almine Rech gallery just opened an amazing show of works by the late American Pop artist Tom Wesselmann, which pairs his colorful, Matisse-inspired Sunset Nudes series with sculptural laser-cut metal "drawings." (Photo courtesy of the The Estate of Tom Wesselmann, licensed by VAGA, New York, and Almine Rech. Photo: Melissa Castro-Duarte.)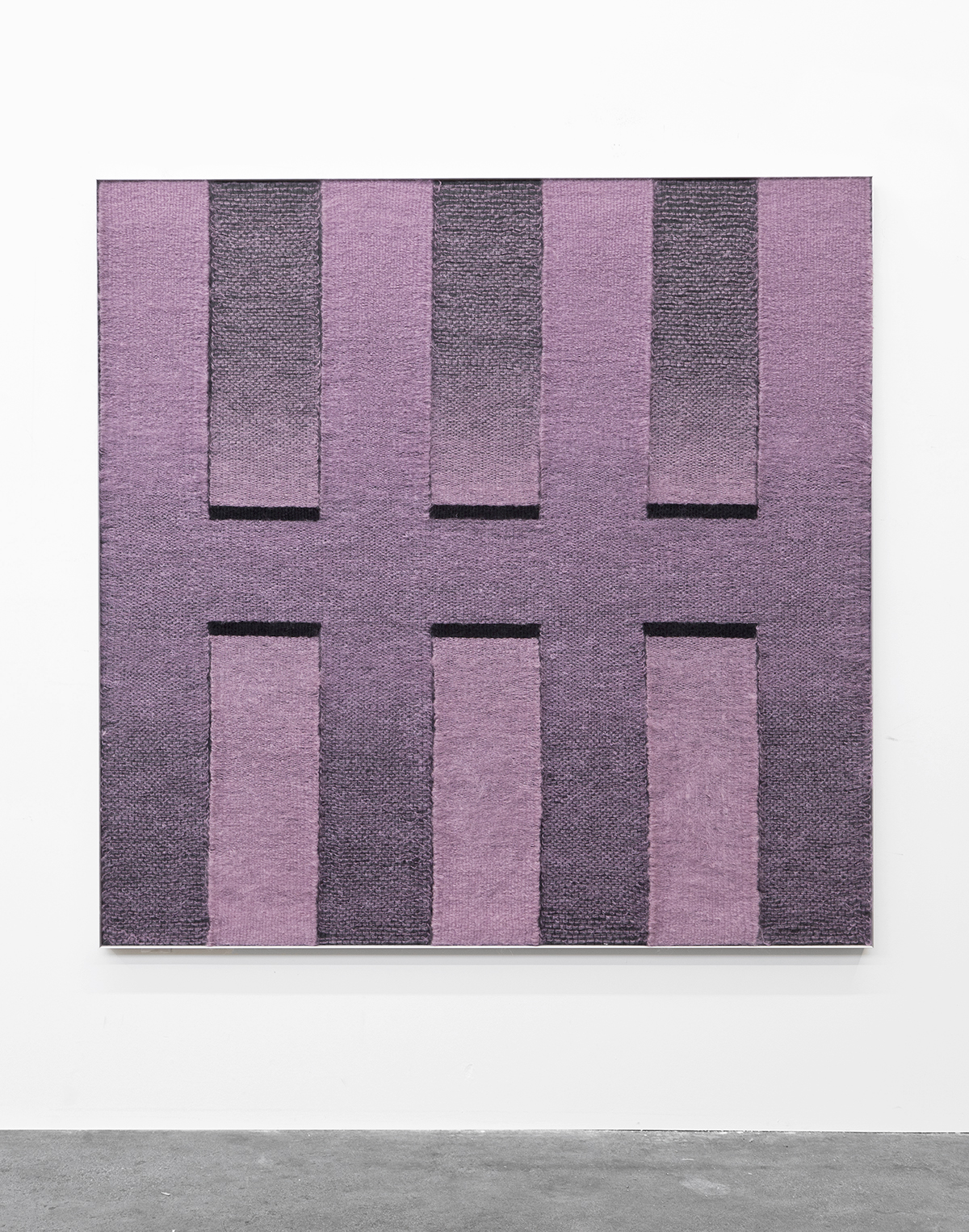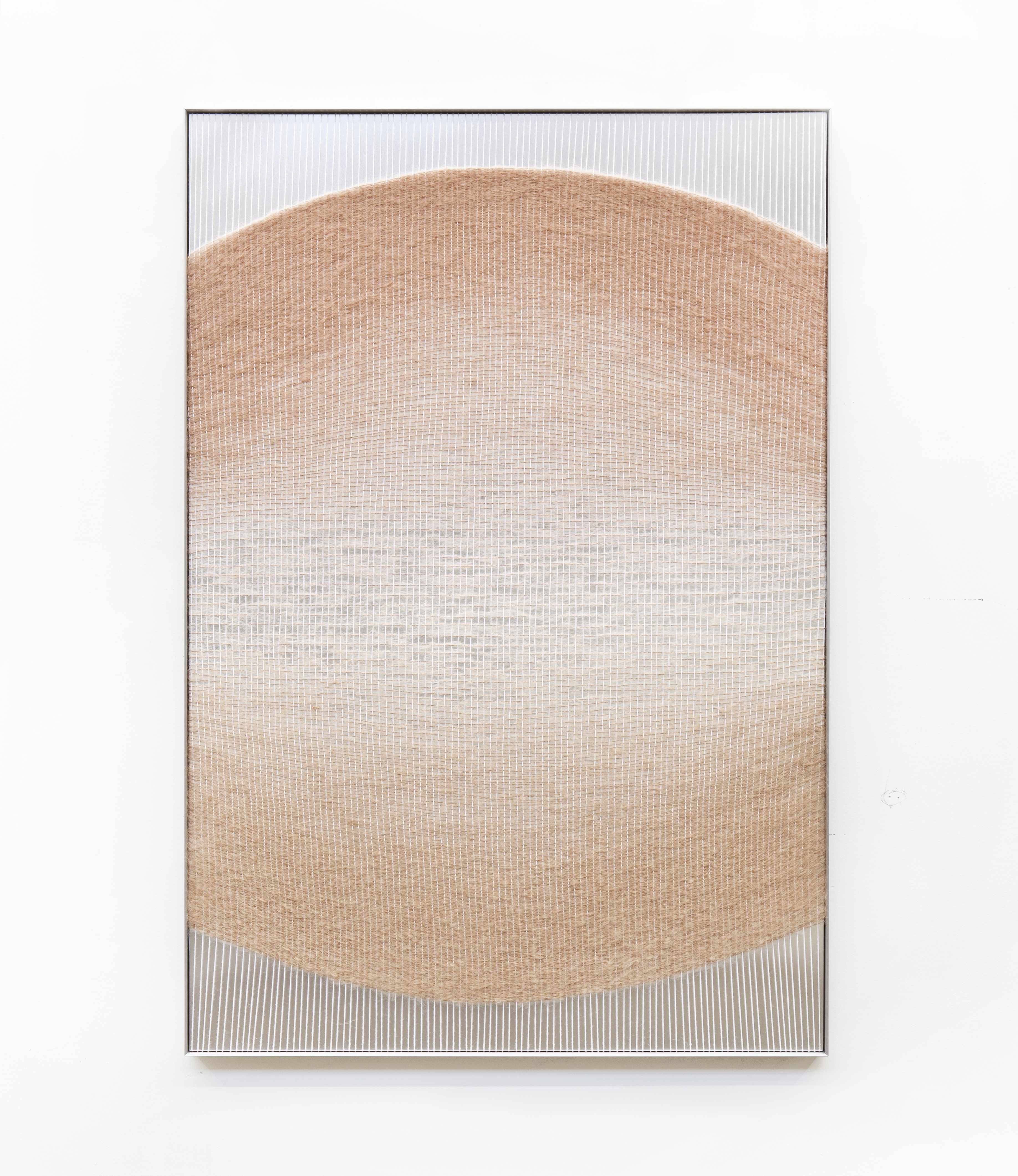 If you're in Brooklyn between now and March 17, don't miss the inaugural show at the new East Williamsburg gallery Carvalho Park, which pairs new works by L.A. fiber artist Mimi Jung with beautiful, storybook-esque paintings by Delphine Hennelly. (I feel the need to mention here that Carvalho Park is less than four blocks away from my first New York apartment, where I lived from 2001-2004, and it's blowing my mind that the same neighborhood now has a gallery of this caliber. Crazy.)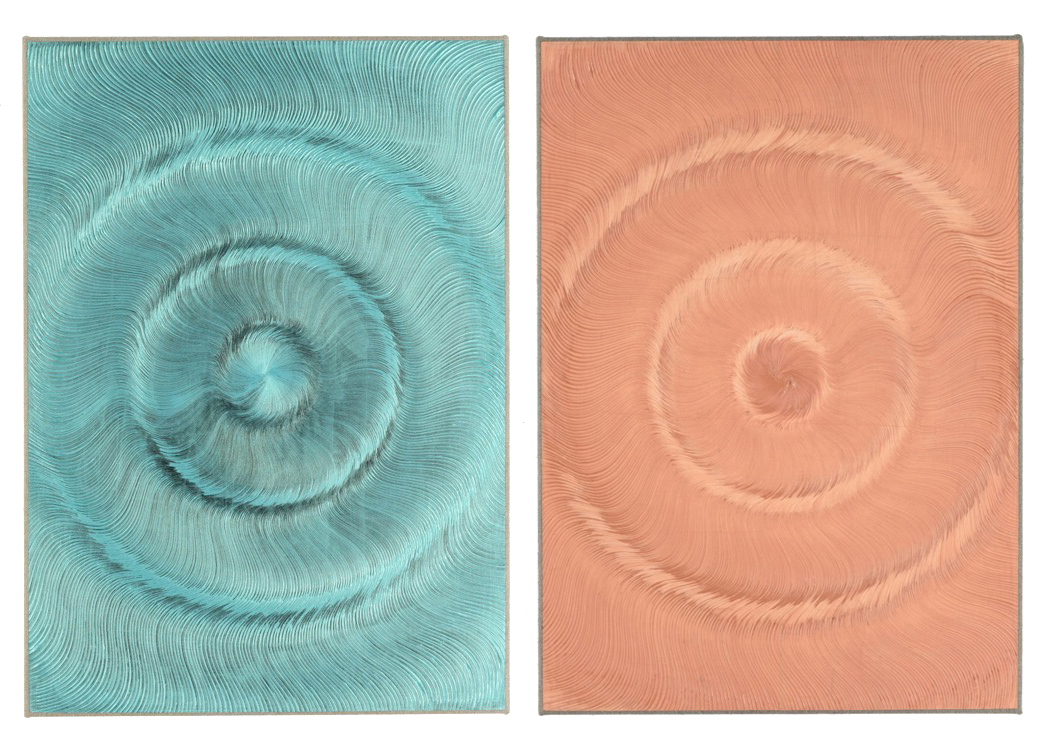 Super pretty exhibition by the Swiss-born, Berlin-based artist Giacomo Santiago Rogado at the Frankfurt gallery Bernhard Knaus. Not much info online, but it pairs what look like bleeding inkblot paintings with the optical illusion paintings above, which look like whorls of fur but are just acrylic on canvas.