03.26.19
Designer, Painter, Sculptor, Architect — This Parisian Multihyphenate is About To Be Everywhere
The Instagram bio of Paris-based designer Garance Vallée once included the designation "HumanCreativeRomantic;" a quick scroll through her works, and painter, illustrator, jewelry designer, sculptor, and architect could all easily be included as well. Vallée is a quintuple threat who recently completed her master's degree in architecture and scenography, where she focused on concrete pieces, or what she considers "objects as small architecture." But whichever medium she's in — from her delicate, but clearly informed illustrated scenes of painted fronds and chairs to her strikingly angular cement pillars and stools of marbled mauves and layered pinks — Vallée seems equally at home. The romance is clear in the velvety rooms she has begun collaborating on with friends, like in the lounge area she designed for the offices of Milan PR maven Martina Gamboni during Salone last year. Starting from a sketch, Valleé often dreams up original architectural scenes that result in the production of objects in raw concrete, plaster, or wood, tinted with the natural pigments from her signature mineral palette — ochre, beige, and terracotta. Read on to find out more about one of our favorite new talents.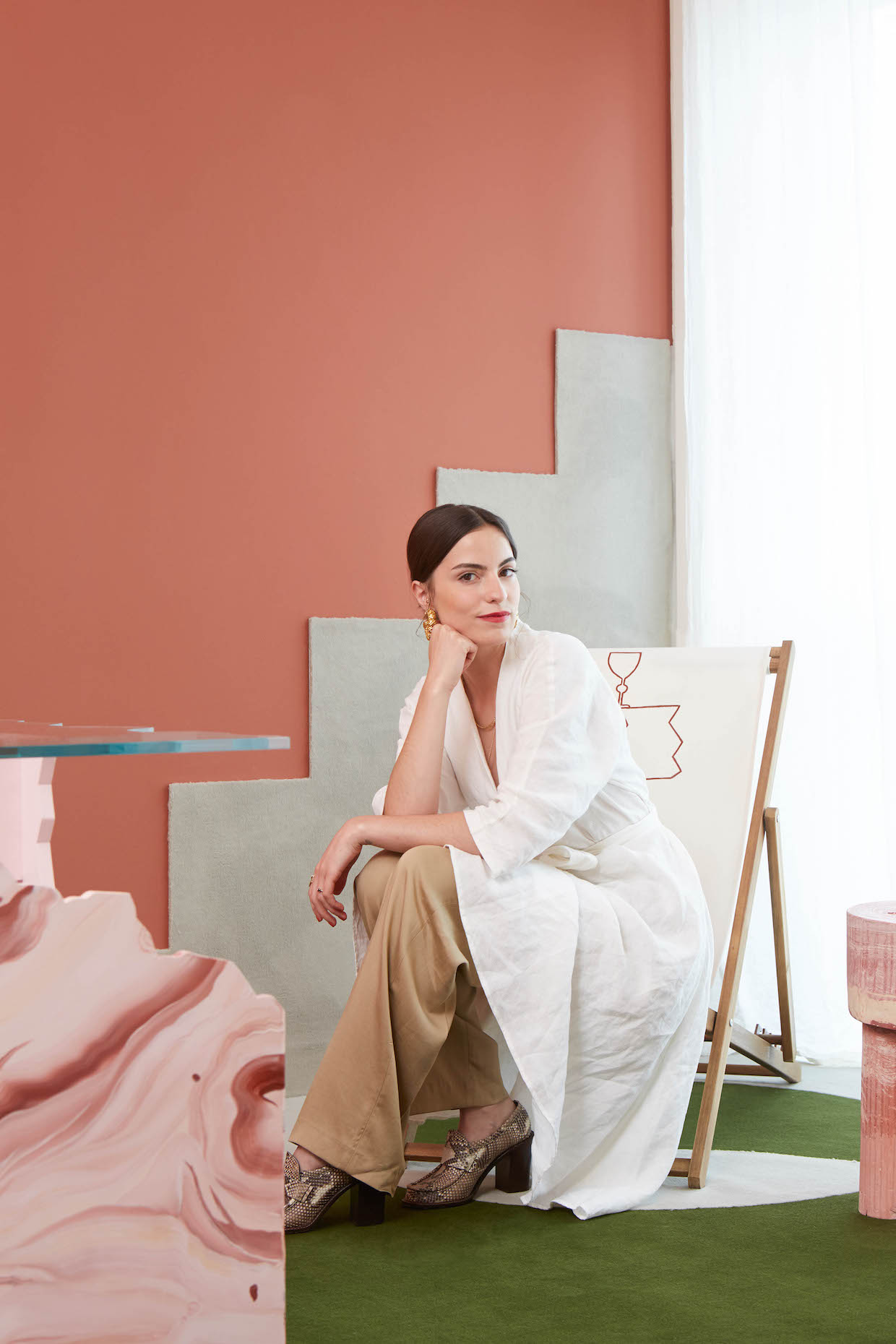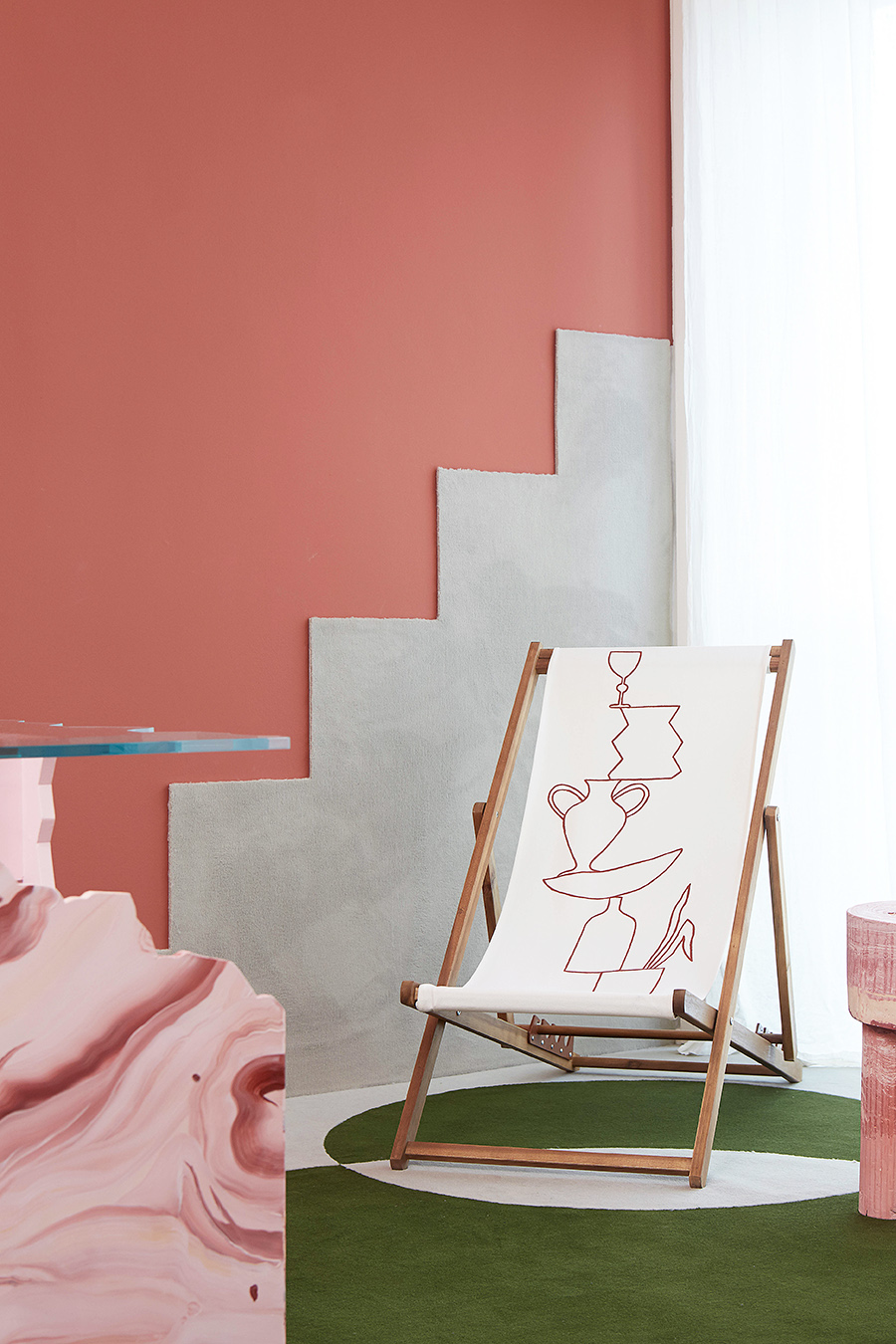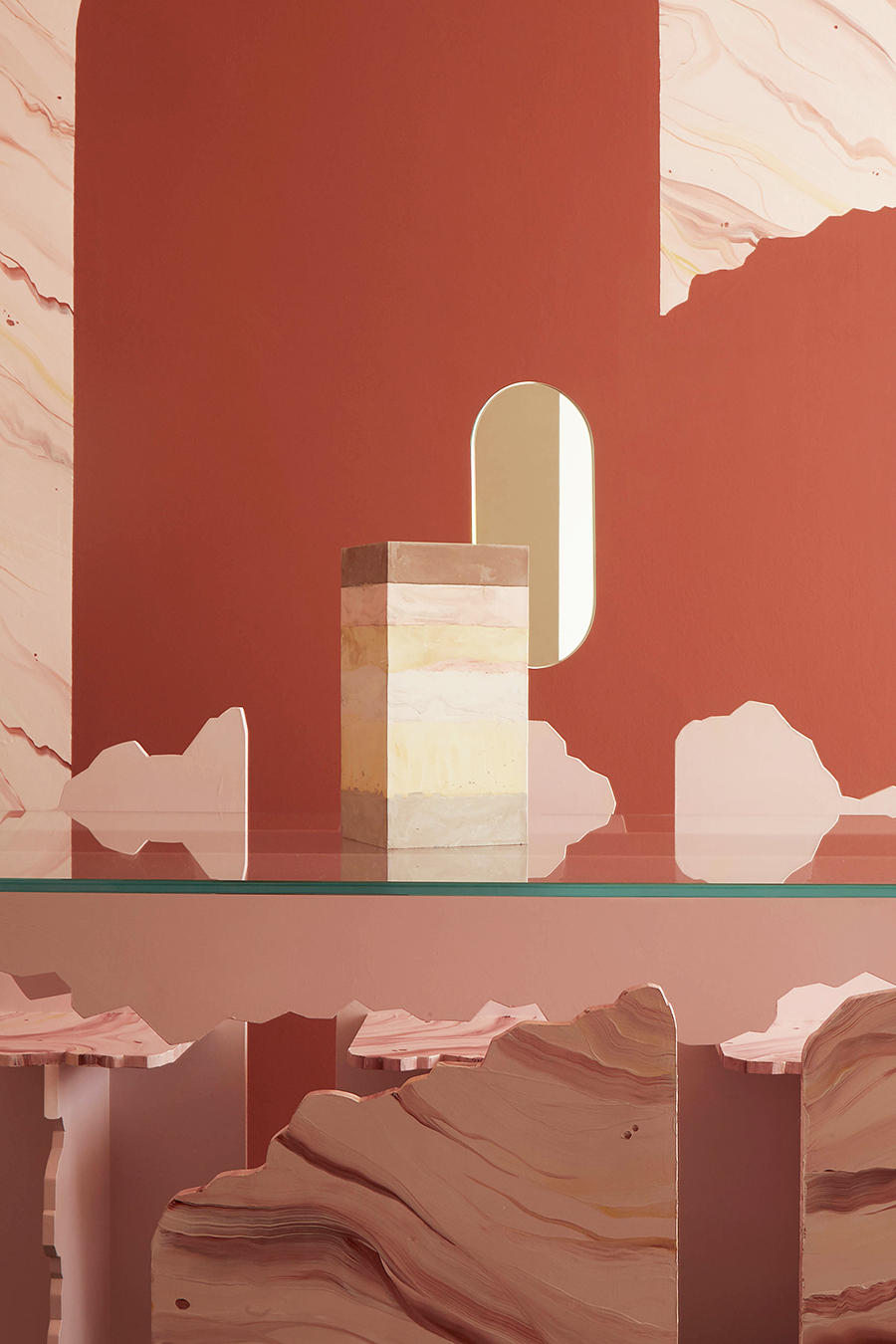 Can you tell us about your process and creative path?
I grew up in the painting studio of my father KRIKI, between paints and punk music. I began to draw and create objects near him. My love of the straight line results unmistakably from his hand. My parents raised us, my brother and I, in this arty lifestyle. My mother, who studied art history, taught me to have this thirst for "knowledge" which influences my creativity today. They are my first sources of inspiration. I owe them my open-mindedness; they're the ones who shaped my artistic eye. I've always drawn and built little objects in my father's studio. Now I'm in my studio with my fiancé in the center of Paris, and this romantic atmosphere we create together is the most important for my creativity.
What drives the choices you make in your work — color, textures, shapes, symbols, patterns, mediums?
New York was a revelation to me. I worked in an architecture agency called LOT-EK, and they pushed me to give everything I have to offer to the world. They showed me that art is definitely a lifestyle. Everything is a creation: walking, eating, talking, and even being. Even if we're not practicing any art, the way we see things, the way we pay attention and are sensitive about everything is what define ourselves. They deeply changed my creative process. I was very rigid and wanted to control everything in my work and now I let my feelings more influence my work. It was my first time in NYC, and I started to see things, to be more attentive and sensitive.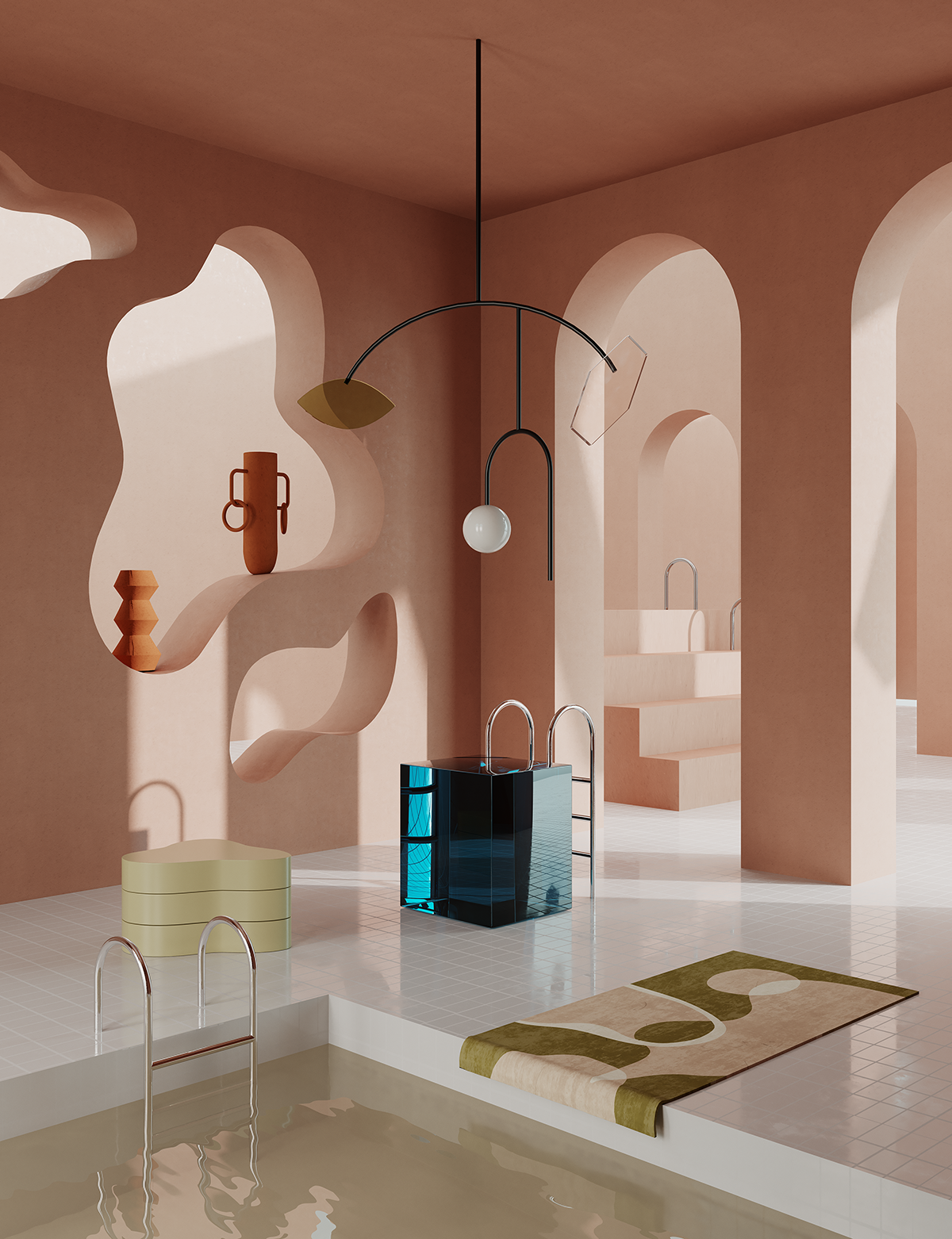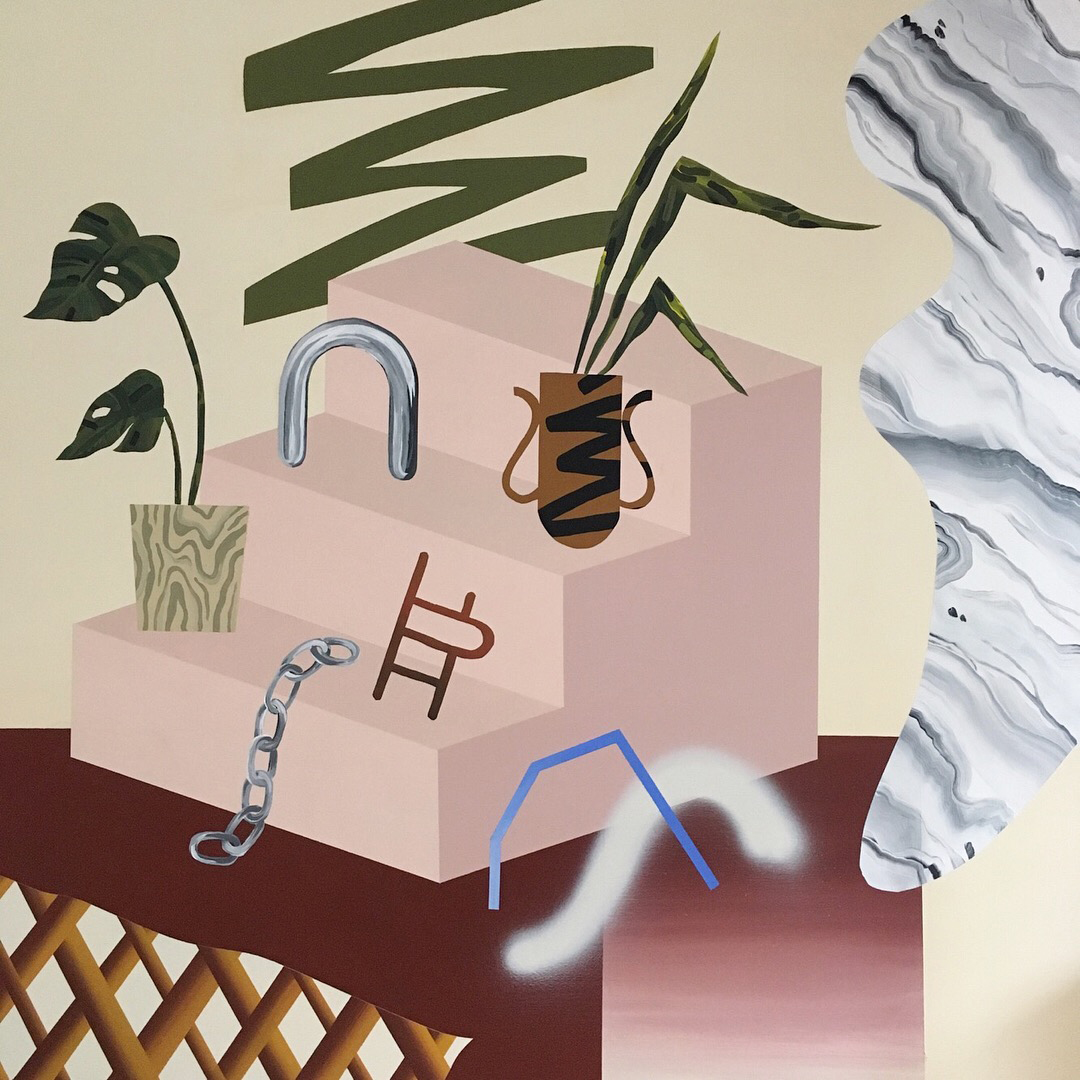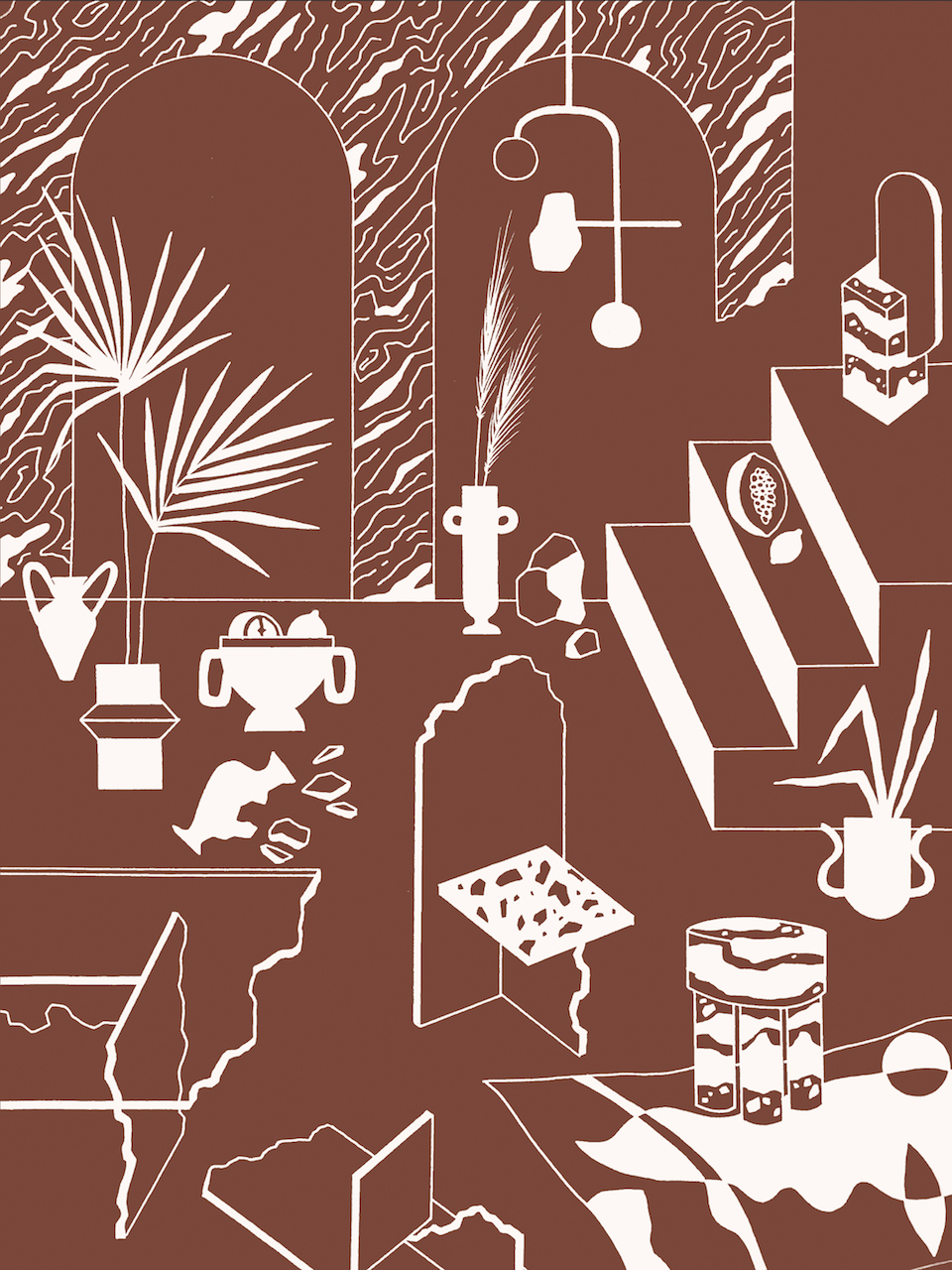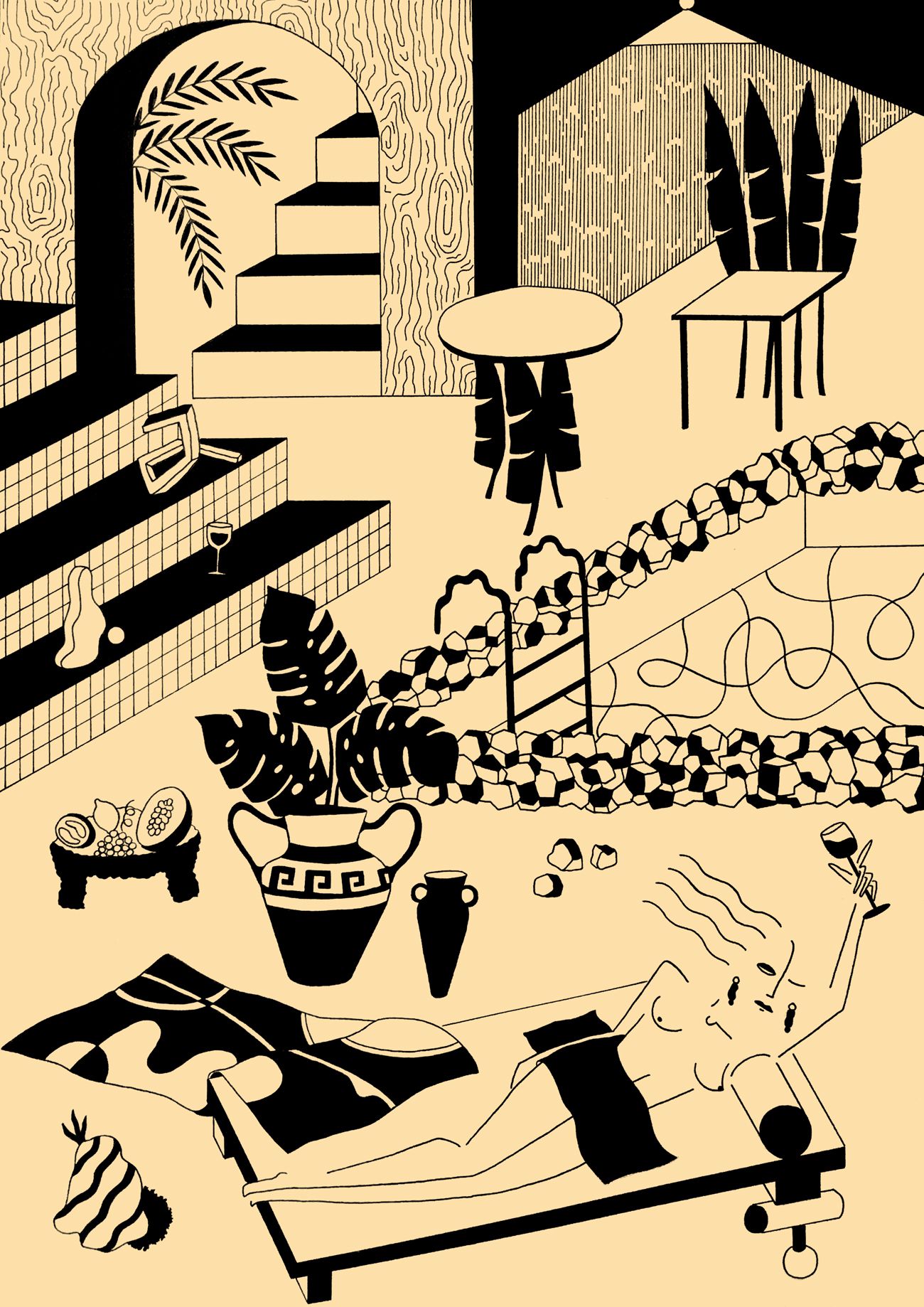 Where do you find inspiration?
I'm passionate about contemporary art, design, and architecture — even music or clothes are a source of inspiration. It's a lifestyle. Everything informs your artistic personality. But I'm particularly inspired by modernism, shapes from the '70s and '80s, Mediterranean and antic philosophy, travels, and definitely the most important, the young talents of the avant-garde of today. I like to use everything. I'm not locked into one technique or one inspiration current. To me, experimentation is primary. Testing things, seeing that they don't work, trying and trying again, and sometimes trying once, succeeding, and never being able to recreate it again. It's the magic of experimentation.
Furthermore, in my architecture studies, I'm currently receiving training in scenography which helped me find my own way of presenting my world, of staging my drawings and objects. Every staging of a drawing becomes an installation itself. I love working with a lot of different materials, I like feeling them, modeling, having a real contact with the textures that I use. What excites me most is bringing my drawings to life, to go from 2D to 3D. My drawings are very geometric, probably due to my father's love for straight lines, and my architecture studies. But from time to time I like adding curves through a feminine figure that represents the women in my life.
If you had to choose, could you pick a favorite material or process?
To me, drawing is the first step towards object design. That's how I currently consider it. As if everything I draw is destined to be built someday. That's what happened during last Milan Design Week, with my TERRA installation for Martina Gamboni, at the Strategic Footprints office. I decided to create a space based on my utopic drawings and convert it to an habitable room. TERRA was an interpretation of the cradle of humanity and its experience of Mother Earth's matters. The interior was fully made by hand, from a painted wall to the wood furnitures, concrete objects and carpet.
My favorite material is concrete, I often consider my objects as small architecture — that's why I love to use real construction material. There is an interesting contrast between my small girl body and this hard material to work with — heavy and stiff.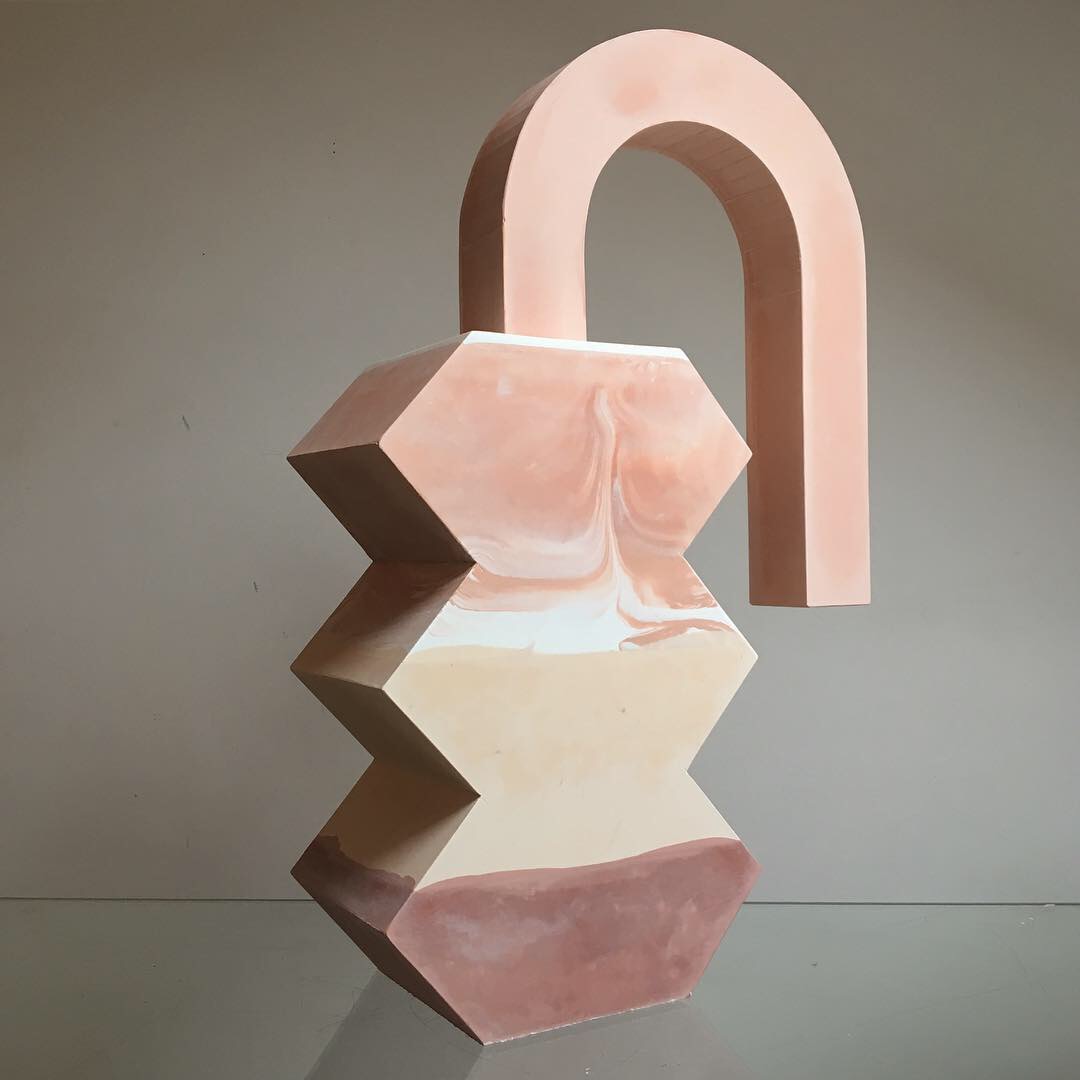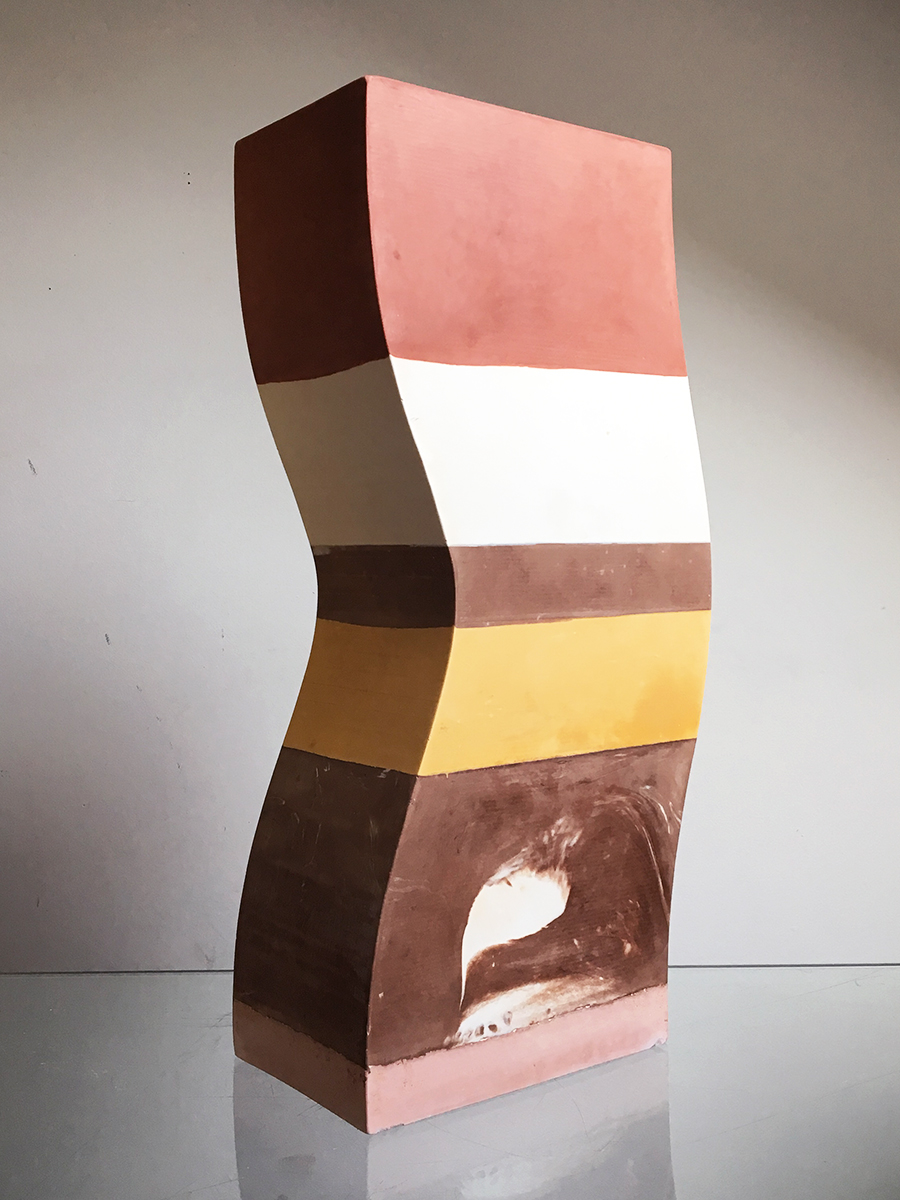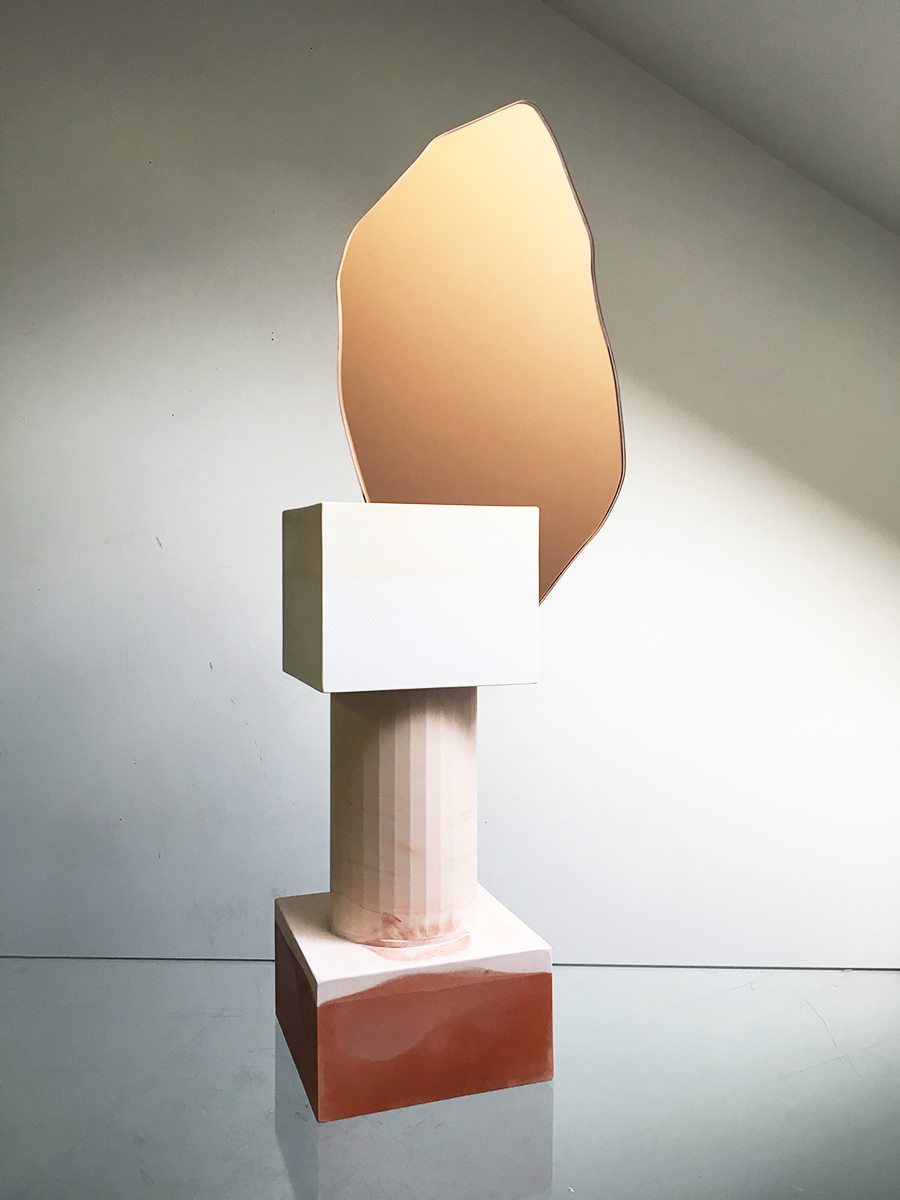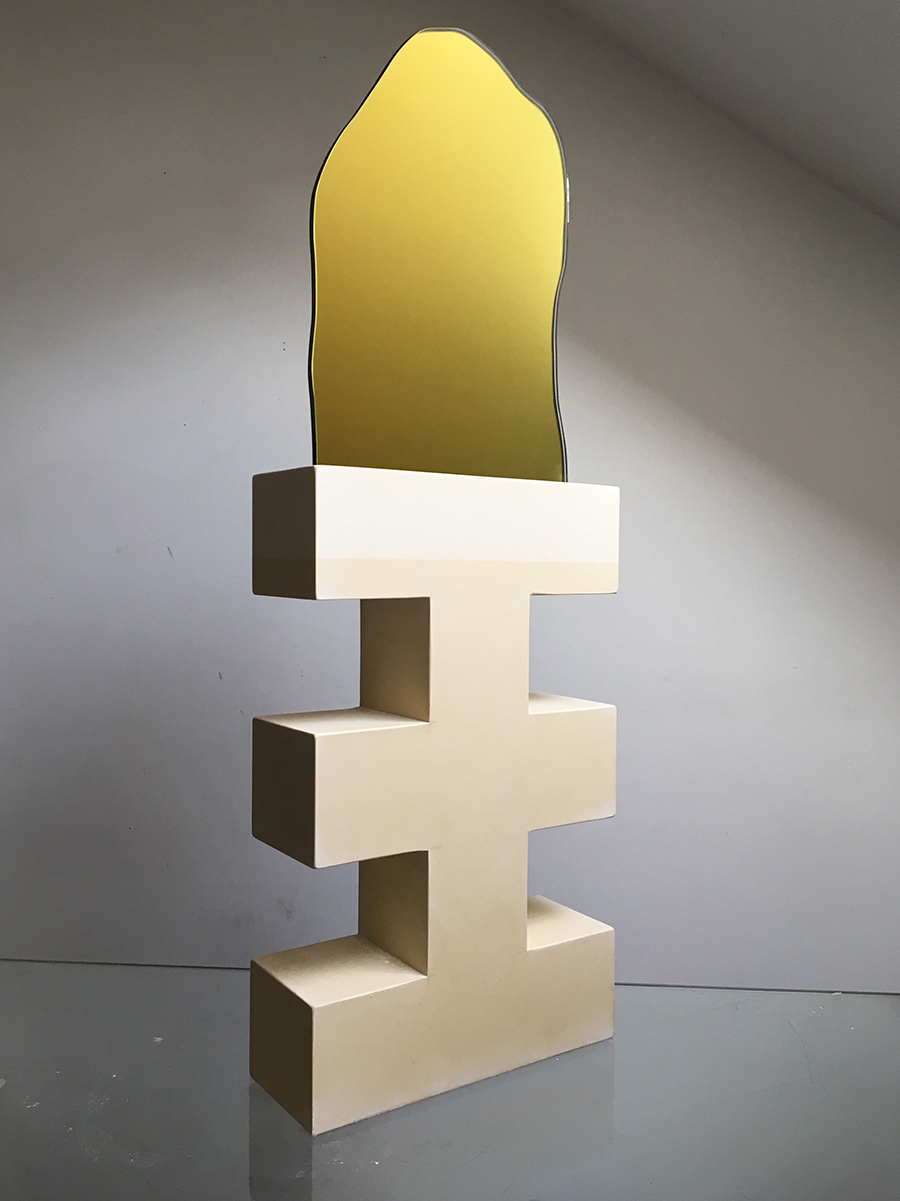 What is next for you?
I just launched a solo show, my first one, about objects at Swing Design Gallery in Benevento, in Italy. To continue my reflection about the matters of the earth — the shape and color — I dedicate this exhibition to my mother, who was diagnosed with brain cancer. By working on the image of the earth-goddess Cybele, mother of the mountains, the objects are poured with layers of concrete and plaster to represent the strata from past and future matters and sedimentary rock of Mother Earth.