11.19.19
Fabien Cappello's Studio is an "Island of Quiet" in the Middle of Mexico City
When asked about his relationship to color, furniture and interior designer Fabien Cappello stifles a laugh. "I find this so funny," he says, "but I am colorblind." This comes as somewhat of a shock after having seen the inside of Cappello's Mexico City studio, a 1,075 square-foot space littered with designs in various stages of development: yellow and red fiberglass plant pots; a woven lounge chair with teal legs; lantern-like prototypes made of blue, orange, and pink wire. Outside, on the terrace, a wall is painted in bold strokes of magenta, mint green, and royal blue.
"When I was younger, I couldn't study photography because there were color tests I had to pass to enter school," Cappello says. "It was that frustration that led me to want to live and work with color. It became something instinctive, more about feeling than any sort of intellectual understanding. The wall outside? I never thought I would paint with these colors until I opened the pots and started to mix. It just happened."
Intuition guides much of Cappello's work, which ranges from limited-edition furniture to the design of public spaces. Of equal importance is a finely tuned sensitivity to place, developed at school in London and Lausanne, Switzerland, and from embarking on residencies in Italy, Portugal, and Korea. For now, the French-born designer, who moved to Mexico City in 2015, is content to grow his practice out of the spacious La Merced studio he calls "an island of quiet." (Cappello lives here, too, in a room off of the main workspace.) "I'm very much focused on my work," he says. "It's the biggest aspect of my life. In a way, my space reflects that." We recently spoke to Cappello to find out more.
PHOTOS BY GENEVIEVE LUTKIN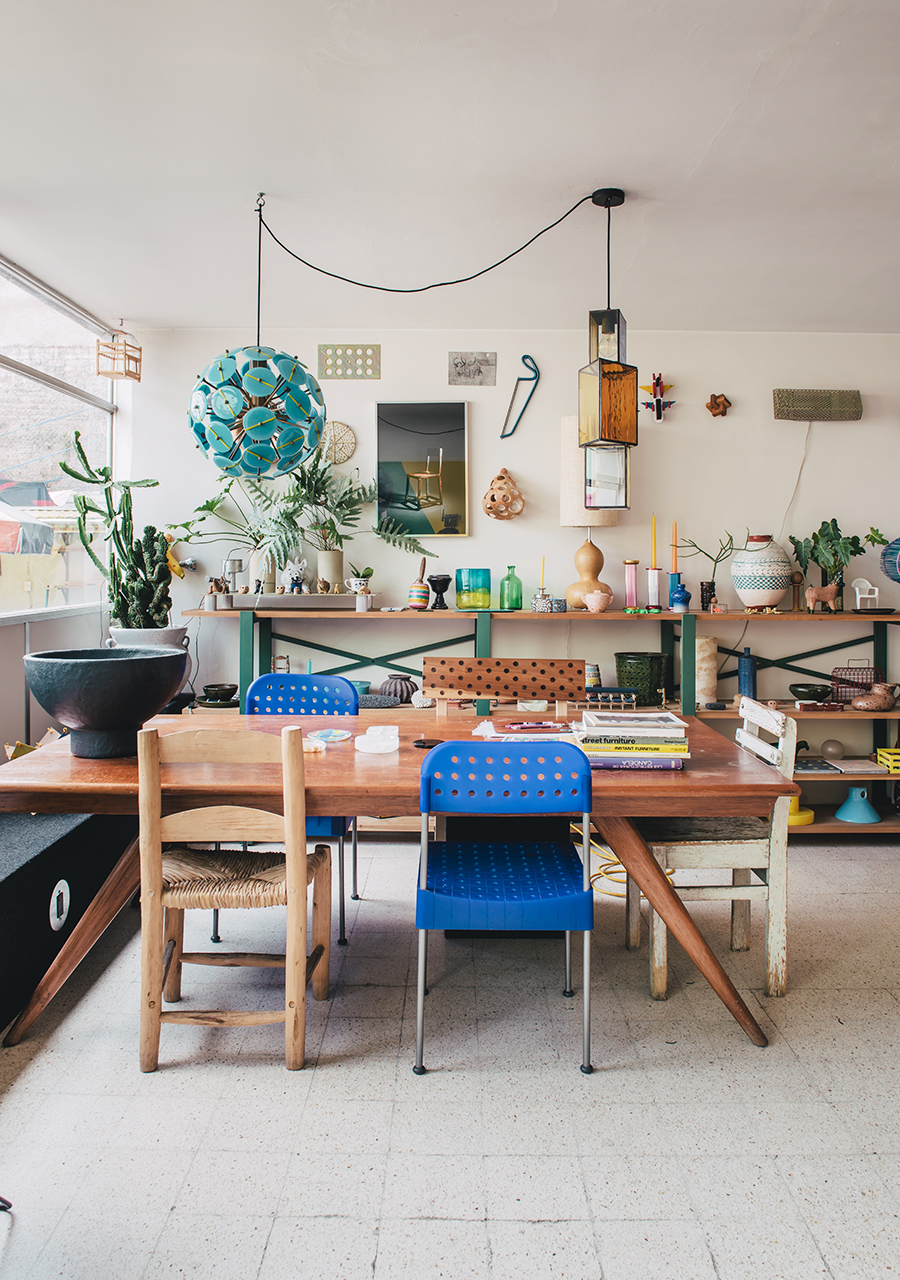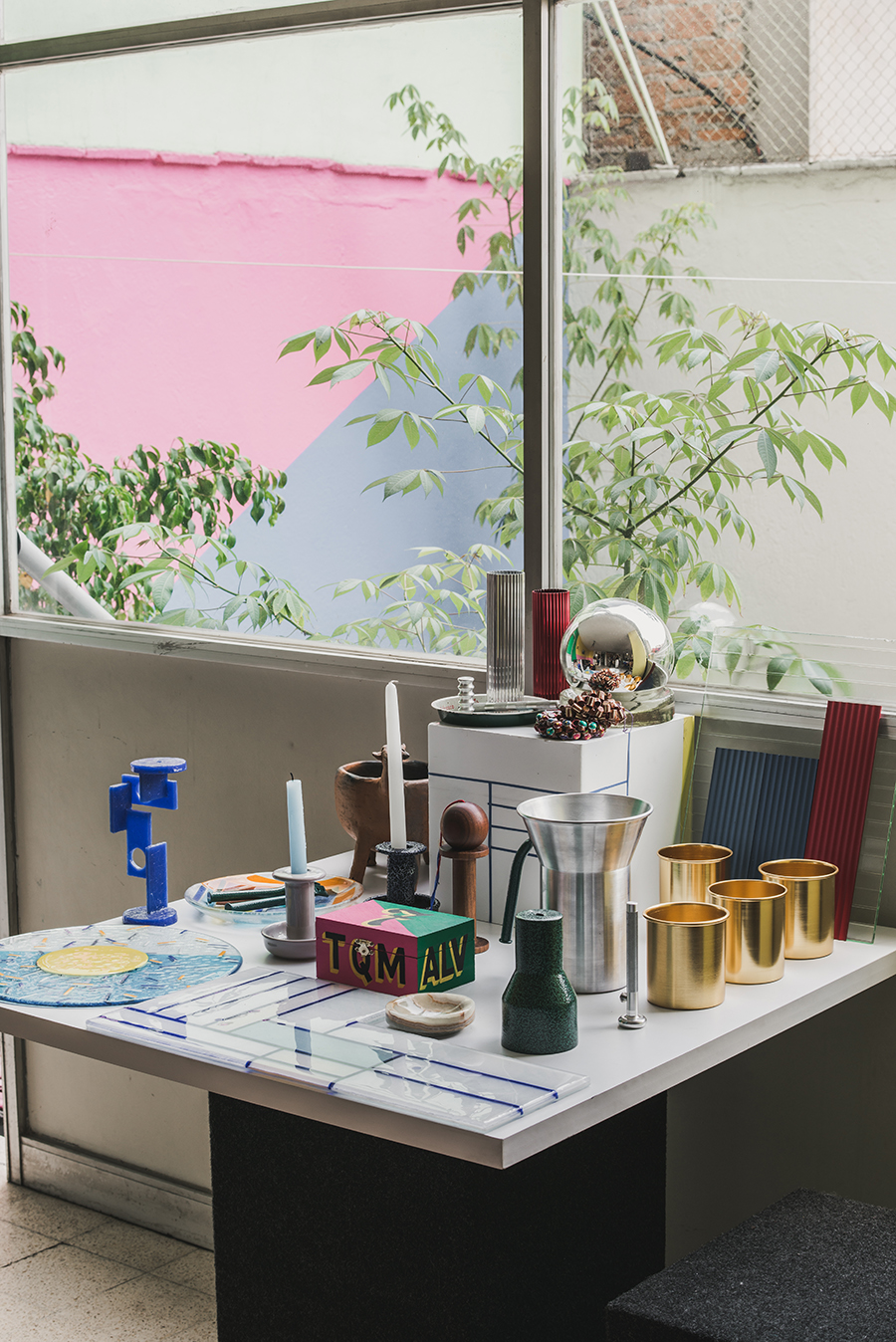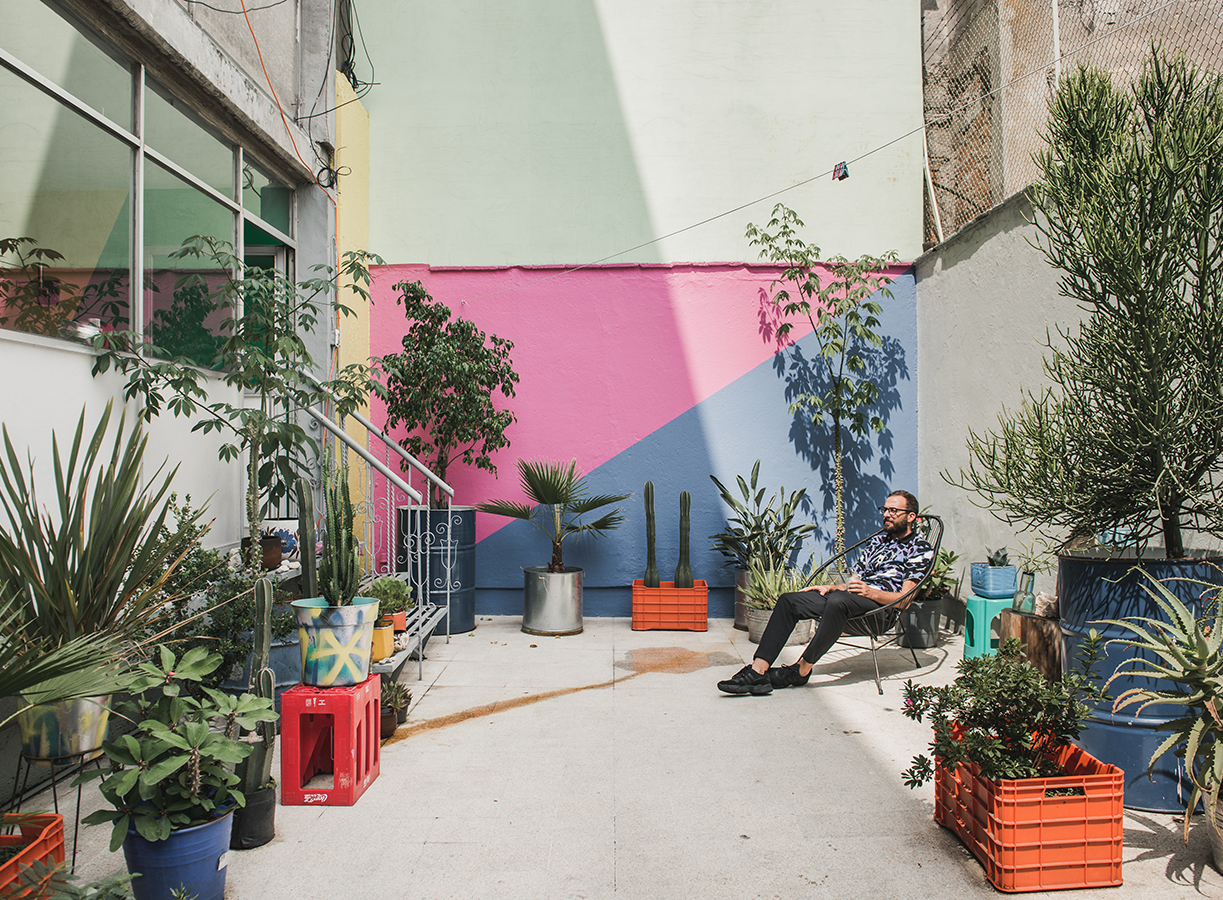 You were born in France, educated in the UK and Switzerland, and have lived in Mexico City for the past four years. What ultimately brought you here?
It's important to mention that at the moment, Europe is a bit of a fragile concept. But when I was growing up, it was as if there were no borders between Switzerland and France and the UK. The cities I traveled to felt connected. On my passport, it only said "European Union." Things are changing now, but when I was a kid, I could take trains and cross into different countries easily. As for how I ended up here, I've always been keen on learning from other places, and by chance, I ended up spending some time in Mexico City a few years ago. There was something so impressive and so beautiful about the constructed environment here in Mexico, and there was a lot of resonance with the projects I had been developing in Europe. I thought it would be a very interesting place to try to work.
How has living and working in Mexico City influenced your practice?
My work did not change when I moved to Mexico City. To say that would be devaluing the work that came before. But I really do think it has been valuable in terms of developing some of the interests I had before, for instance in color, in locality, or in the ways a designer is involved in society.
Here, there's a much more direct connection between the place where something has been made and the place where it ends up being used. For example, at some of the markets that exist in Mexico City, all of the furniture — whether it's displays the stall owners use or the seating areas set up for the public — is made in the same way using the same design language, and it's all made by the same person a few blocks away. This type of economy is super interesting to me, and in our studio, we try to work in similar ways. We try to collaborate with a network of makers that are directly connected to each project and to each context we're working with.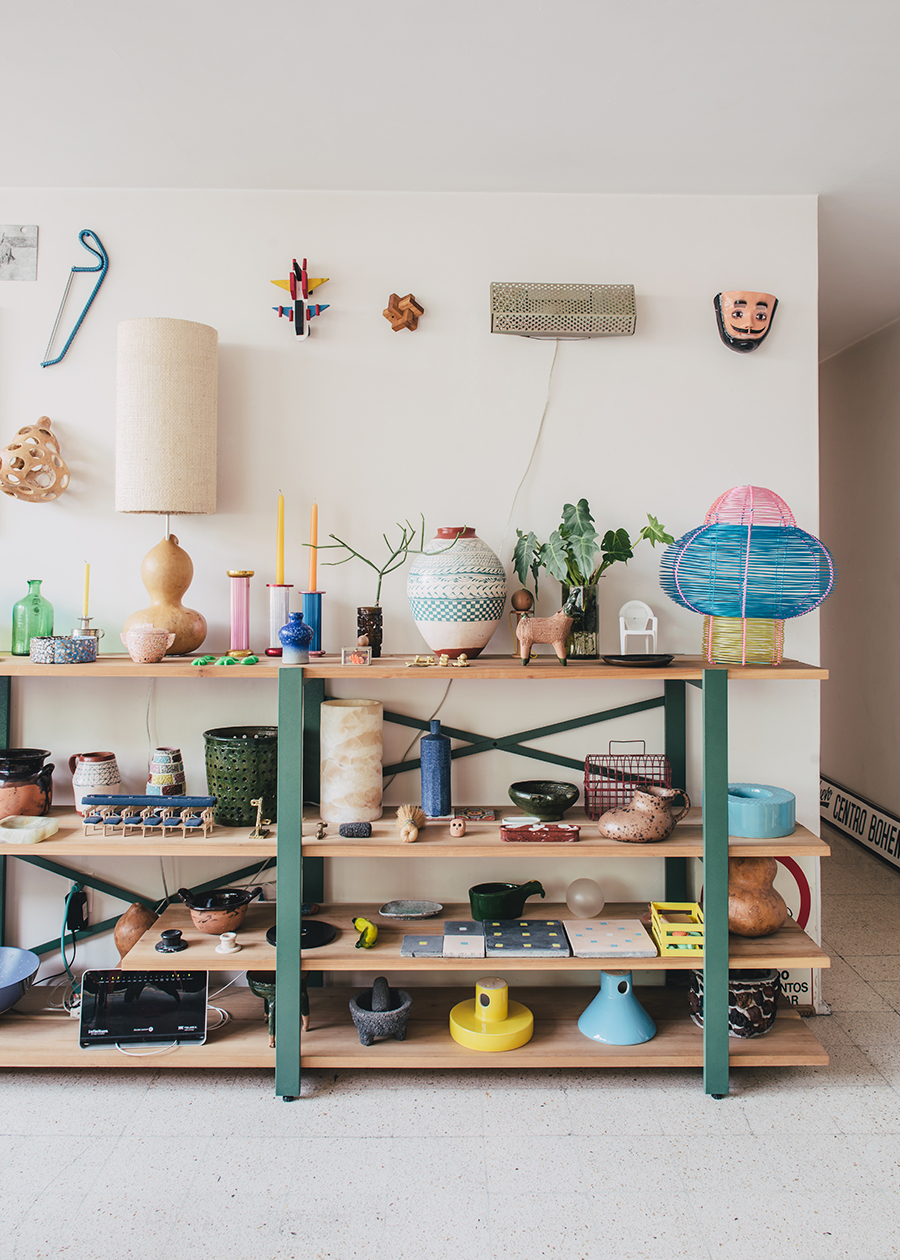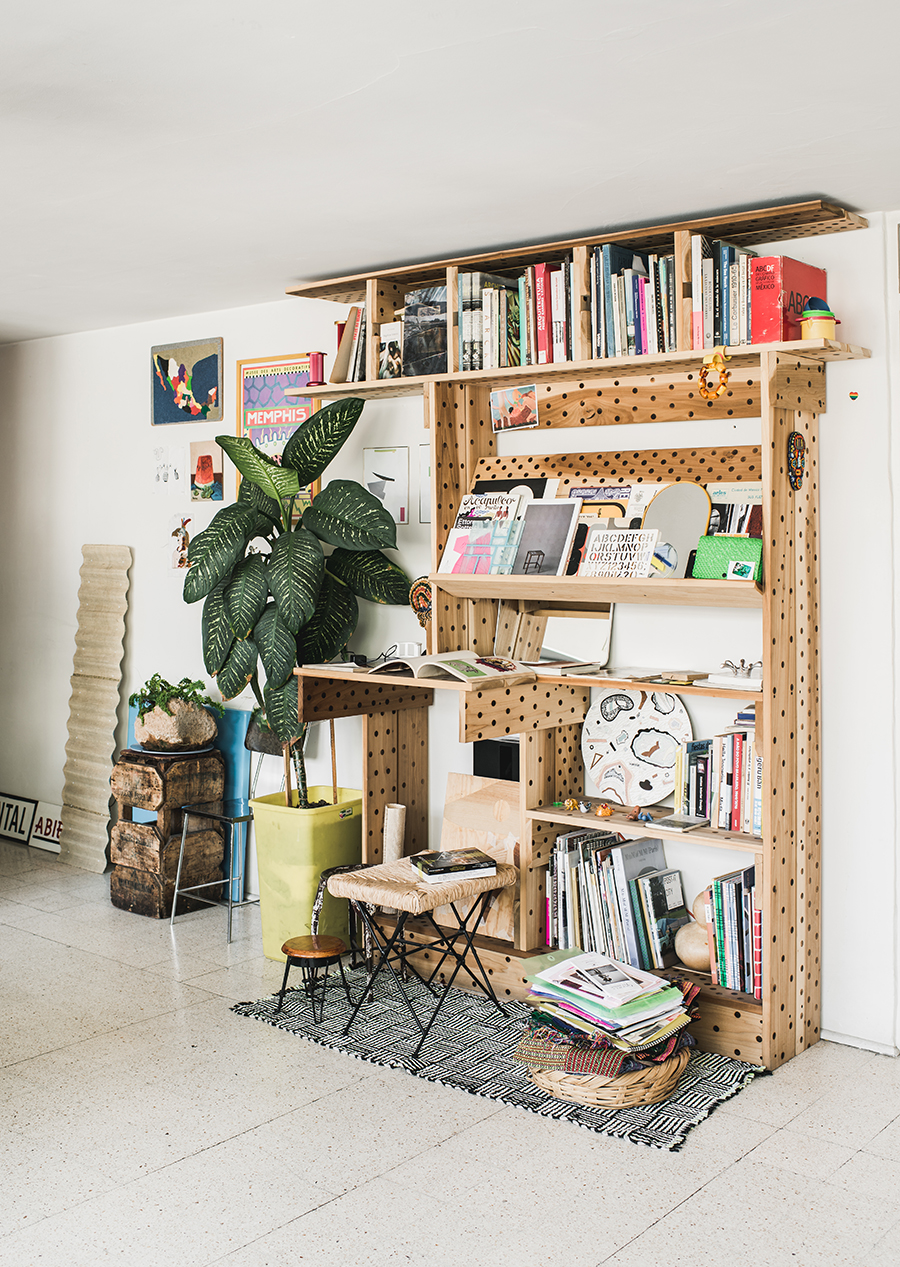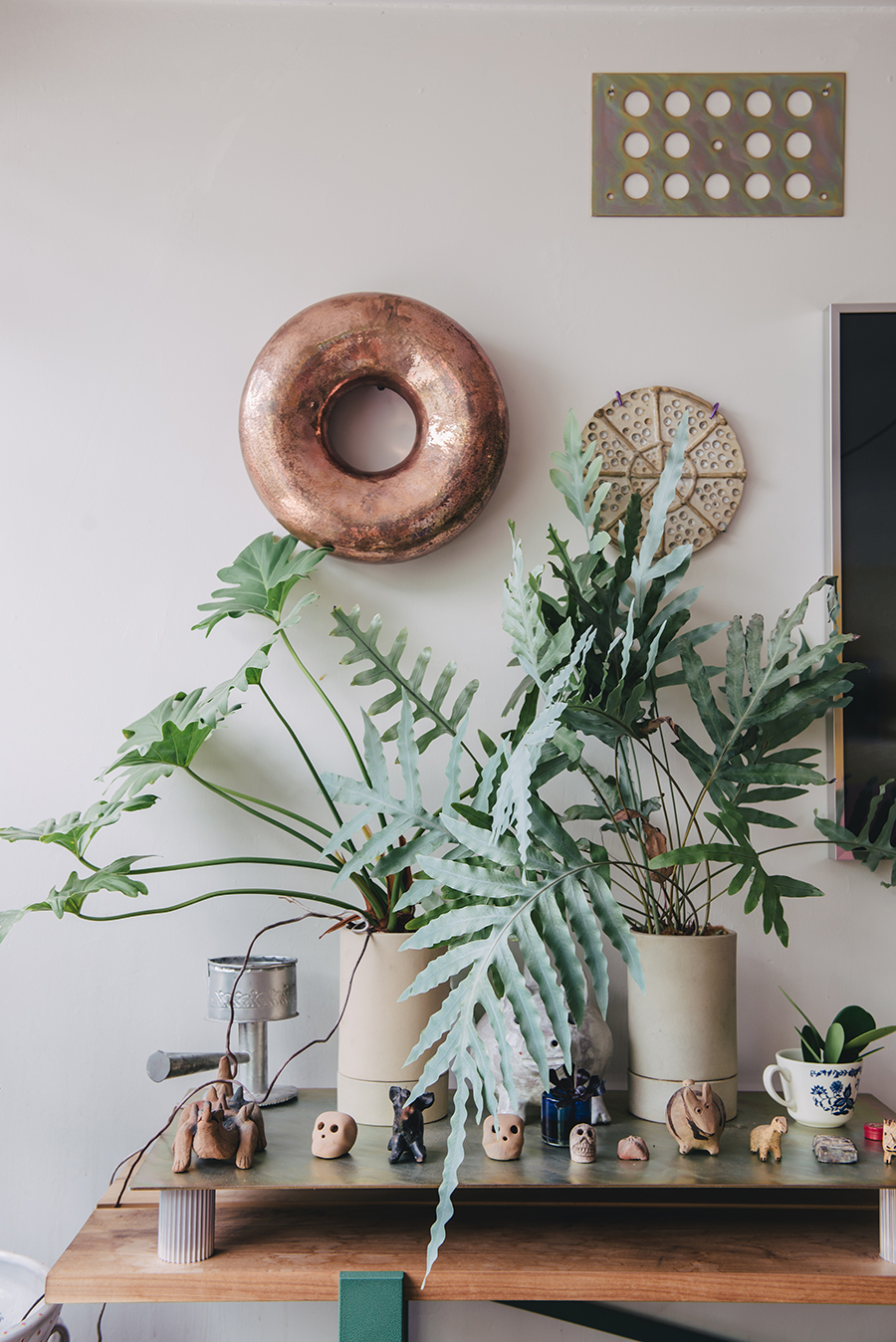 You've lived in the same neighborhood since moving here in 2015. Tell us about what you love about this part of the city.
I live in a very popular area that is part of the historical center of the city, part of downtown. The neighborhood is called La Merced. It's not a very touristy area. It's a lively and vibrant neighborhood, and it's a place that reflects the way I most want to live. As a kid growing up in Europe, I always wanted to be in the center of the city, and so here I am, right in the middle of the monster. I grew up using public transportation, and here, I can do that. There's almost no car traffic in La Merced because all the streets are filled with market stalls. For many people, this may be seen as a fault, but I think it's actually a rendition of the future. We need cities that are completely pedestrian, that are full of people walking. In that way, this zone of the city is really forward-thinking.
Another reason I'm here is that I found an amazing flat that is like an island of quiet and light in this very crowded place. It's situated facing the inside of the block, so I don't hear any sounds from the street. It's a beautiful experience, when you're on the street and there are thousands of people with trolleys, and street sellers and taco stands right outside the door—and you enter and go up the stairs and you can't hear anything. The flat also comes with a huge terrace, which is very green and filled with plants.
Your studio is filled with color and light, and lots of your own pieces and works-in-progress. Was it important to you to design this space in any particular way? How did you want it to feel?
It very much just happened to look this way. It's the outcome of all the different projects we've been doing, and the different collaborations we've been a part of. It's meant to be a very engaging environment where we are able to develop ideas, draw on computers, draw by hand, make mock-ups.
Nothing is a precise equation. I love how that feels. It doesn't feel engineered. It feels like what was meant to happen.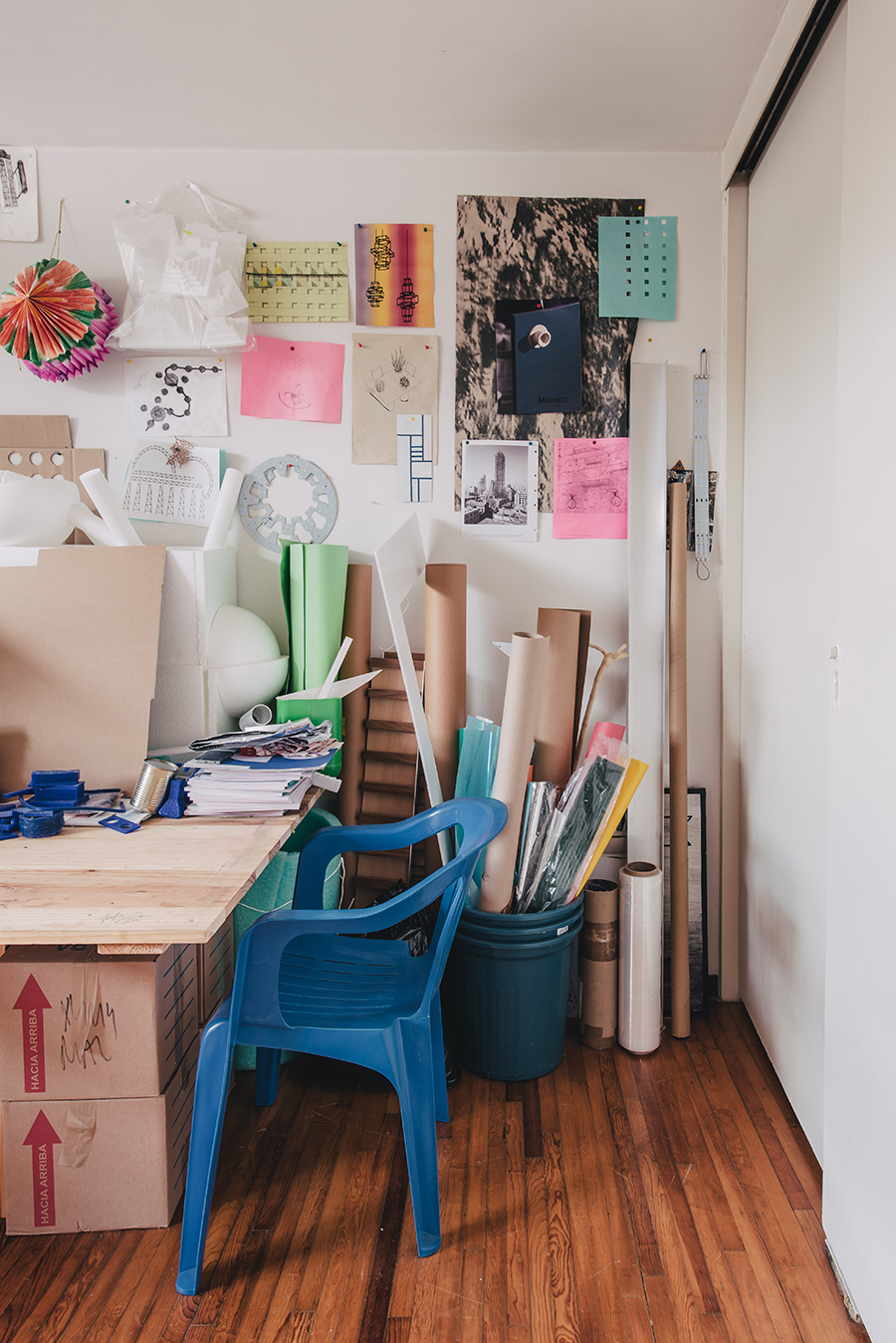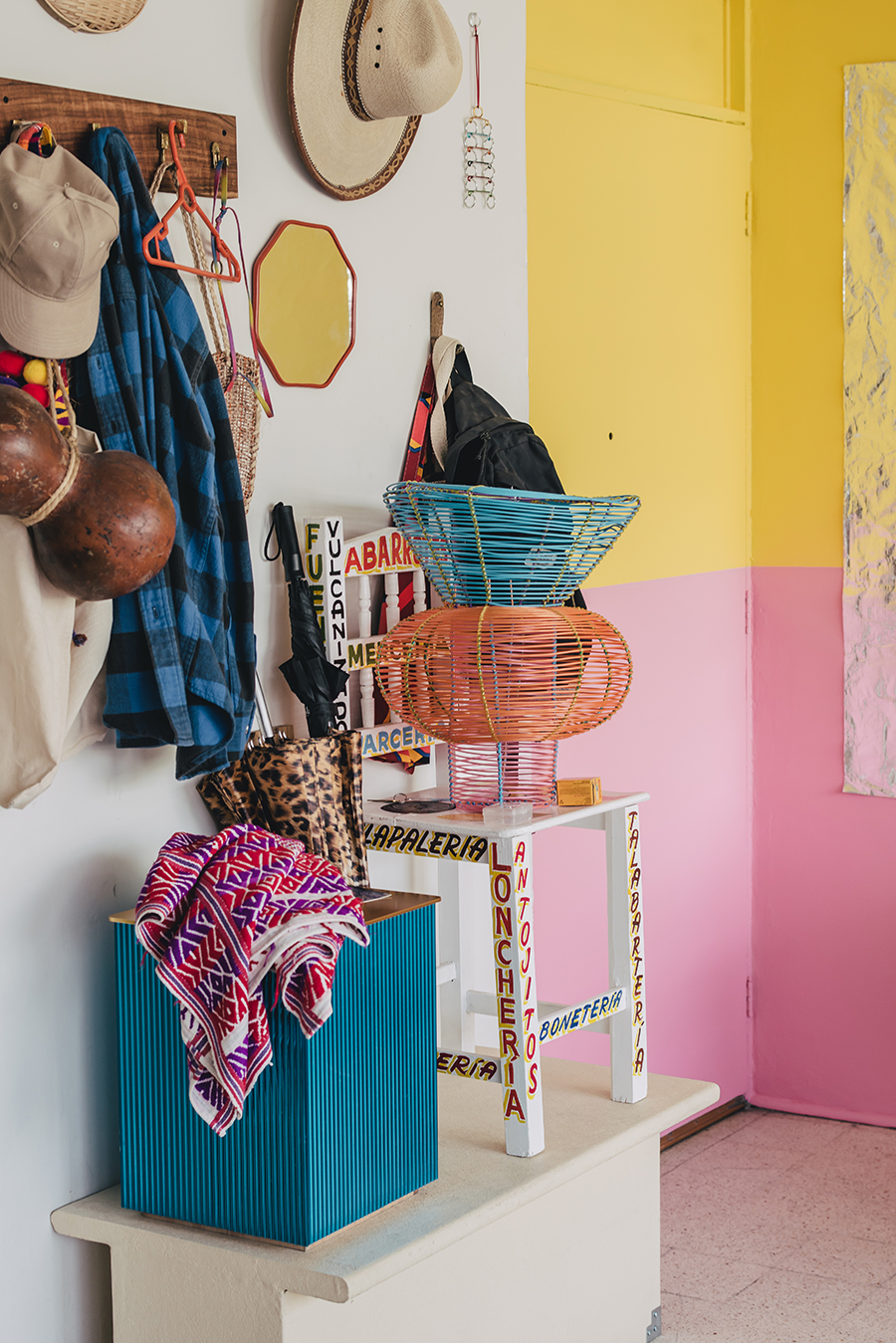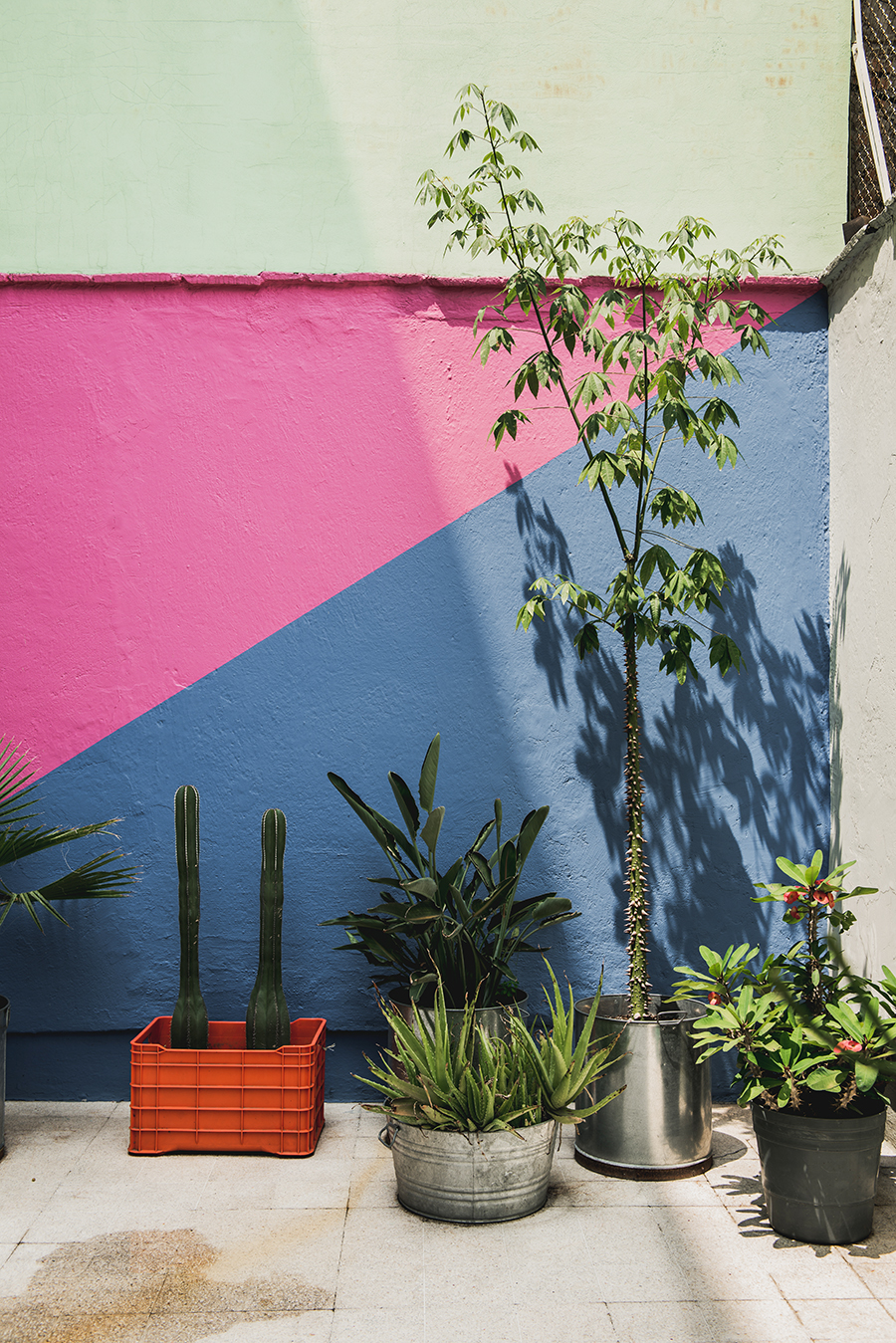 Speaking of your work: What interested you about furniture design and interiors to begin with? What drew you to this path?
As a child, I was very interested in architecture. I grew up in a suburb of Paris, in a huge, modern housing project, a beautiful one. It had strong architectural qualities and that really inspired me. I was especially interested in how a space that someone has designed can influence the way one lives. But when I started to study architecture later, I felt very little connection to the spaces I was generating. I was keen on doing something hands-on that could be touched and experienced, and I felt like the 1:1000 scale drawings I was doing weren't giving me that result. So I decided to downgrade in scale. I thought, 'I'm going to do a piece of furniture instead, that is really going to have an impact on the space where it sits.'
On your website, you say that in your studio, "projects arise from collaborations, questions, [and] intuitions," but also from a place of excitement and optimism. Can you elaborate on that?
Optimism is seeing the potential in something. It would be difficult to run a design practice without the ability to say, 'Okay, there are many different options we can use, but one is probably going to take us to a more interesting place than the others.' This approach is important to the type of work that we do with clients, and to the way we communicate our work to them and to the public in general.
What inspires you creatively when it comes to both interiors and furniture?
There's no one thing, specifically. The word 'inspired' is the same in a lot of languages. It means to breathe. As human beings in living bodies, we cannot do without breathing. We breathe without even noticing. It's a natural function. What inspires me is much more complex than what I can really identify. However, I can say that I am a visual person, and I am very much inspired by what I see: details of architecture, furniture, behaviors, the way people start using objects, or the way people appropriate a space. I should also mention that I pay very little attention to Instagram or what's going on on the Internet.
When it comes to starting a project, however, usually the first thing that inspires a design is an observation about a topic, or the way things are built, or the qualities of a space, et cetera. Then, we do a lot of drawings. For me, an ideal day is just drawing.
 The word 'inspired' is the same in a lot of languages. It means to breathe.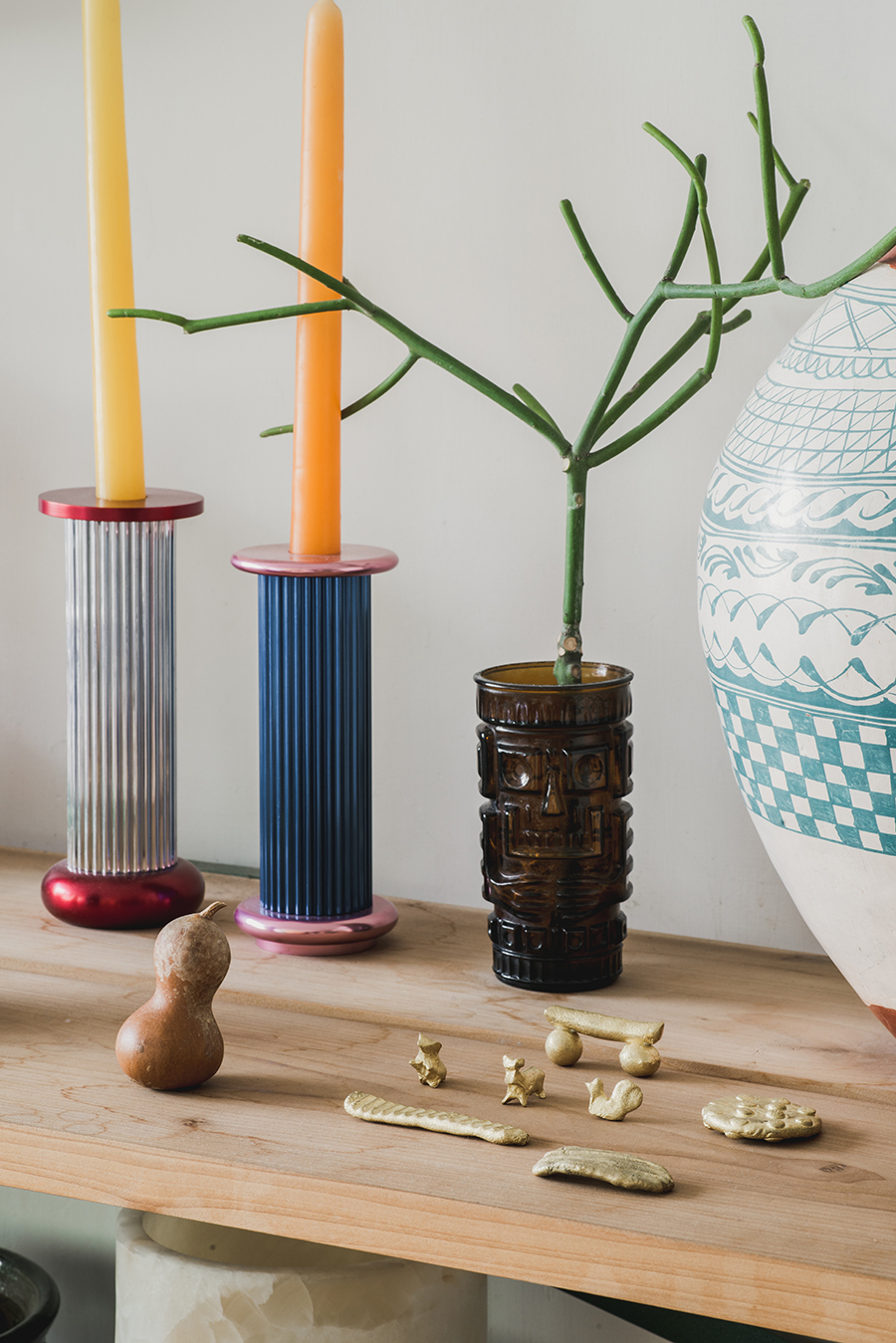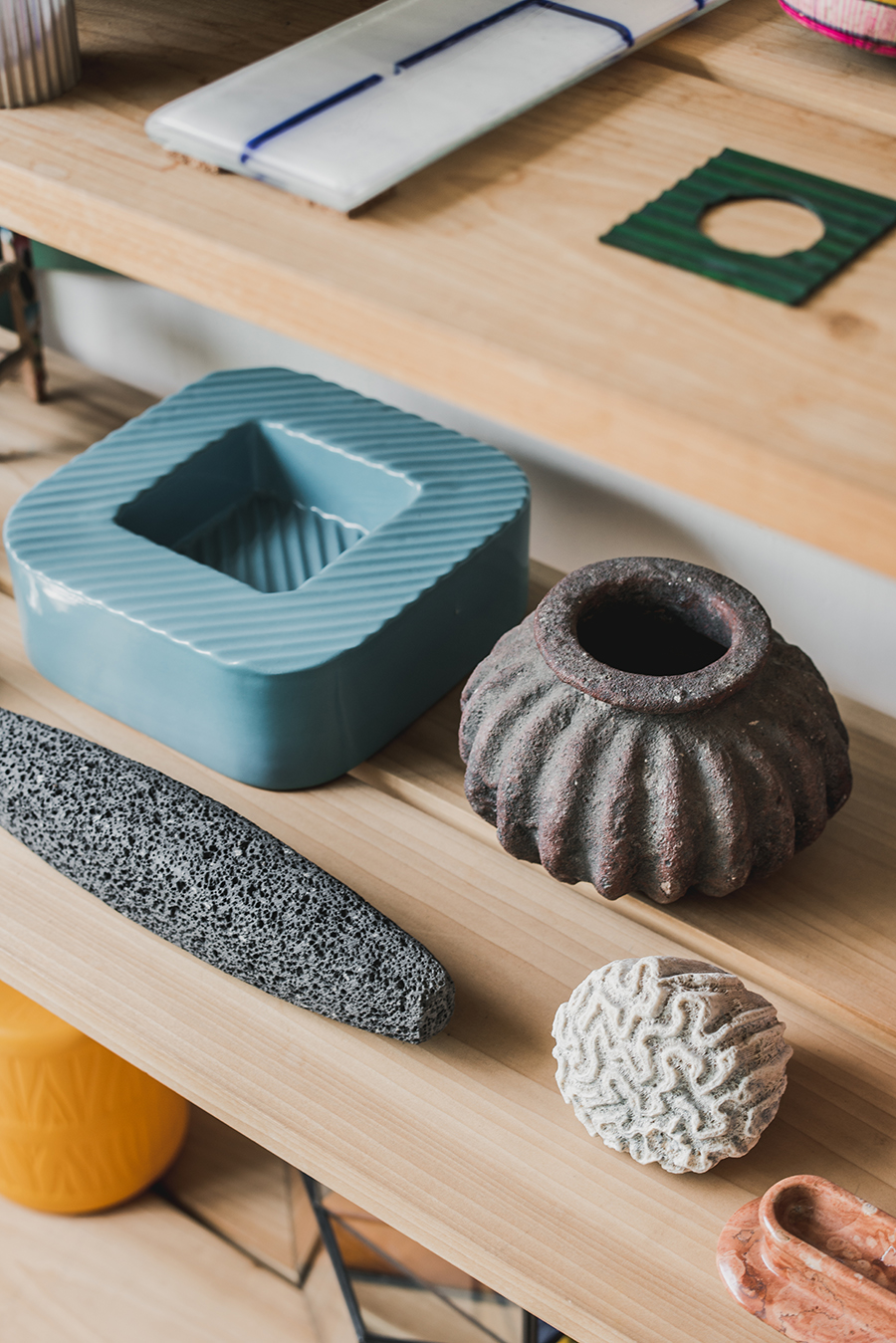 What does a more typical day look like for you?
The best thing about my daily life is that every day I am doing something different, or meeting with someone new. But my work day is not as romantic as I would like to make it seem. I am not an artist. I work closely with clients, with engineers and architects. A lot of time is spent in discussion, making sure the projects are moving. At the end of the day, we are a business.
You're represented by Rudy Weissenberg and Rodman Primack's Mexico City gallery, AGO Projects. How did that relationship form?
AGO is like my design family. I met Rudy and Rodman before they opened the gallery in Mexico City, so I was glad to be involved in their projects here. I wasn't necessarily looking for a gallery to show my work — when I met them, I had more client-based projects and I was very happy about that. But we really clicked, and they offered a relationship based on trust and long-term collaboration. I am so proud of all the work we've been developing the last year, and that we will include in my first solo show at the gallery space, on February 2nd, 2020.
We'd love to know more about a couple of pieces carried by AGO. First, your wicker and leather reading chair. What inspired this design?
The tropical armchair was designed in 2017 for the reading space of a museum in Mexico City. It really is all about comfort. I was looking at how furniture for resting is constructed in totally different ways if you live in a warm and humid climate. Construction is thinner and uses less upholstery and textiles. Here, the palm weaving is bent to accommodate the body while a single upholstered detail, the head rest, is just large enough to provide support. I was trying to make the chair look bigger than it actually is, when in reality it's only a thin surface bending in the space —from the side you can literally see through it.
What about the stained glass pendant lamps seen in your studio?
The stained glass lamps are geometric constructions made of planes of colored glass that intersect to create more colors than the ones contained in the glass itself. They are made using a very traditional lantern-making technique that can be found in different parts of Mexico. It's a really intuitive process. First, I make cardboard model and work with the lantern master, who replicates the design in glass. The ones in my flat are prototypes, but we have developed new models for the February show at AGO, in wall-mounted, pendant and standing versions.
Both the glass lanterns and the reading chair reflect a methodology I've tried to develop in the studio. Both are based on observations of traditional typology and techniques, and both represent the ways these things can look in the context of Mexico as it is today.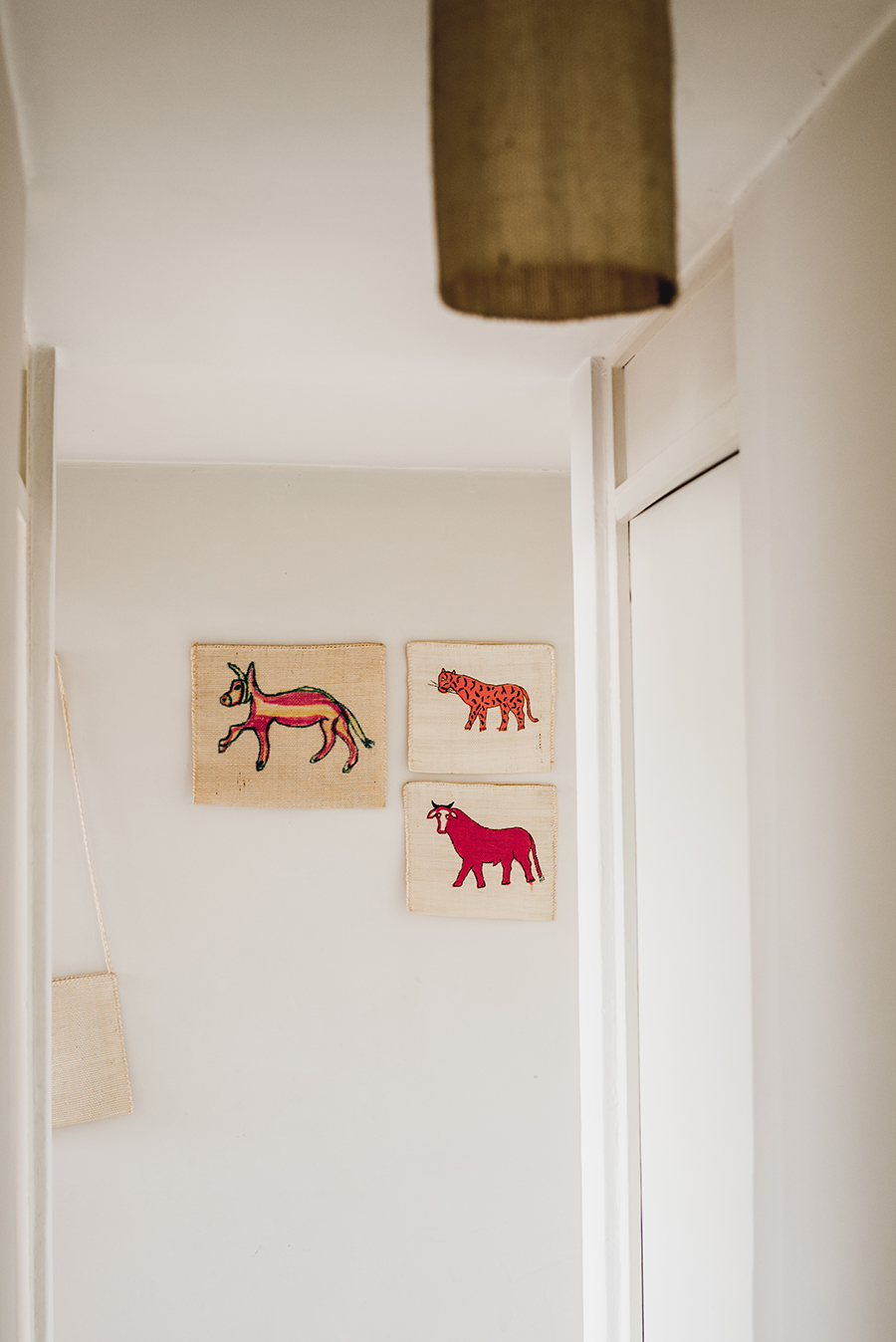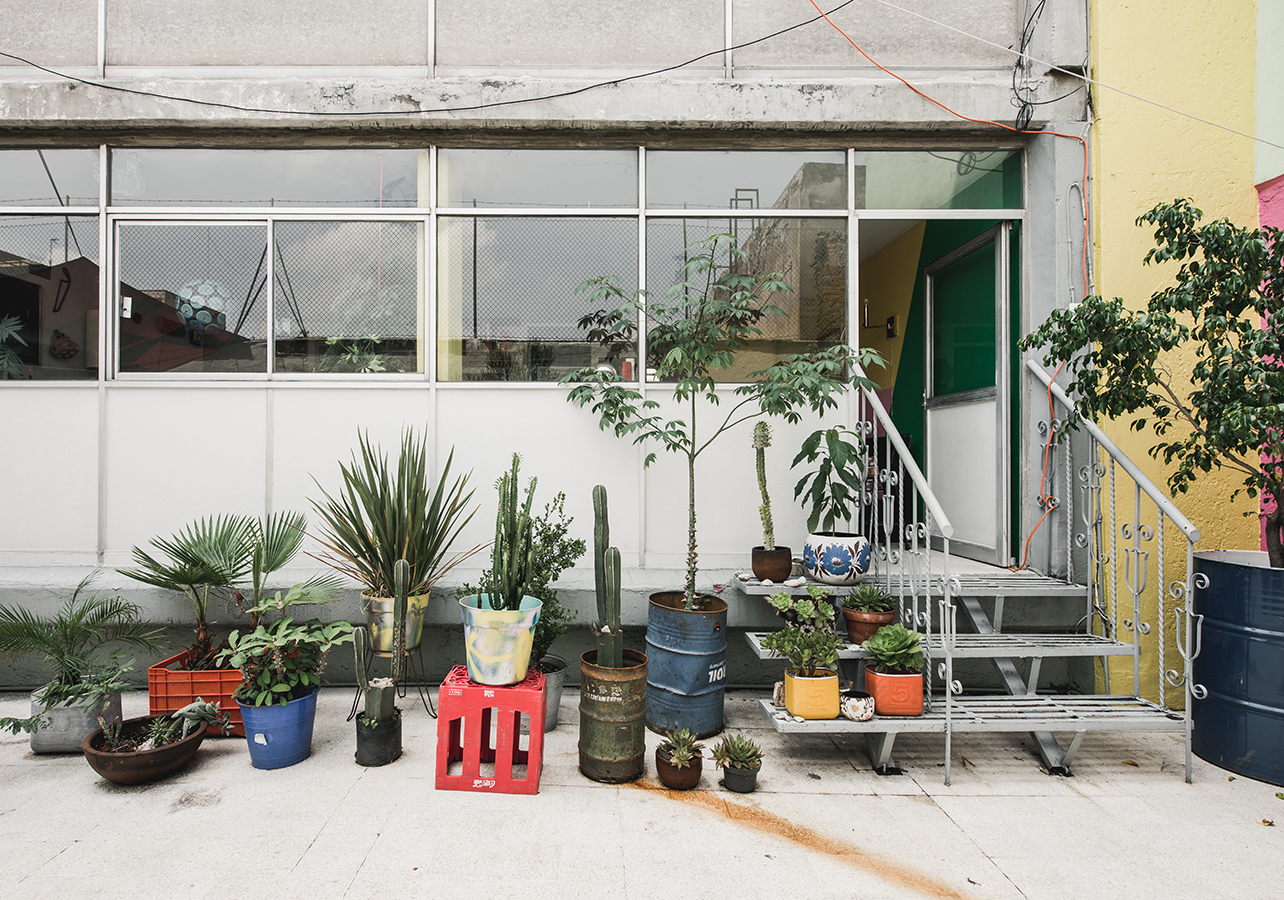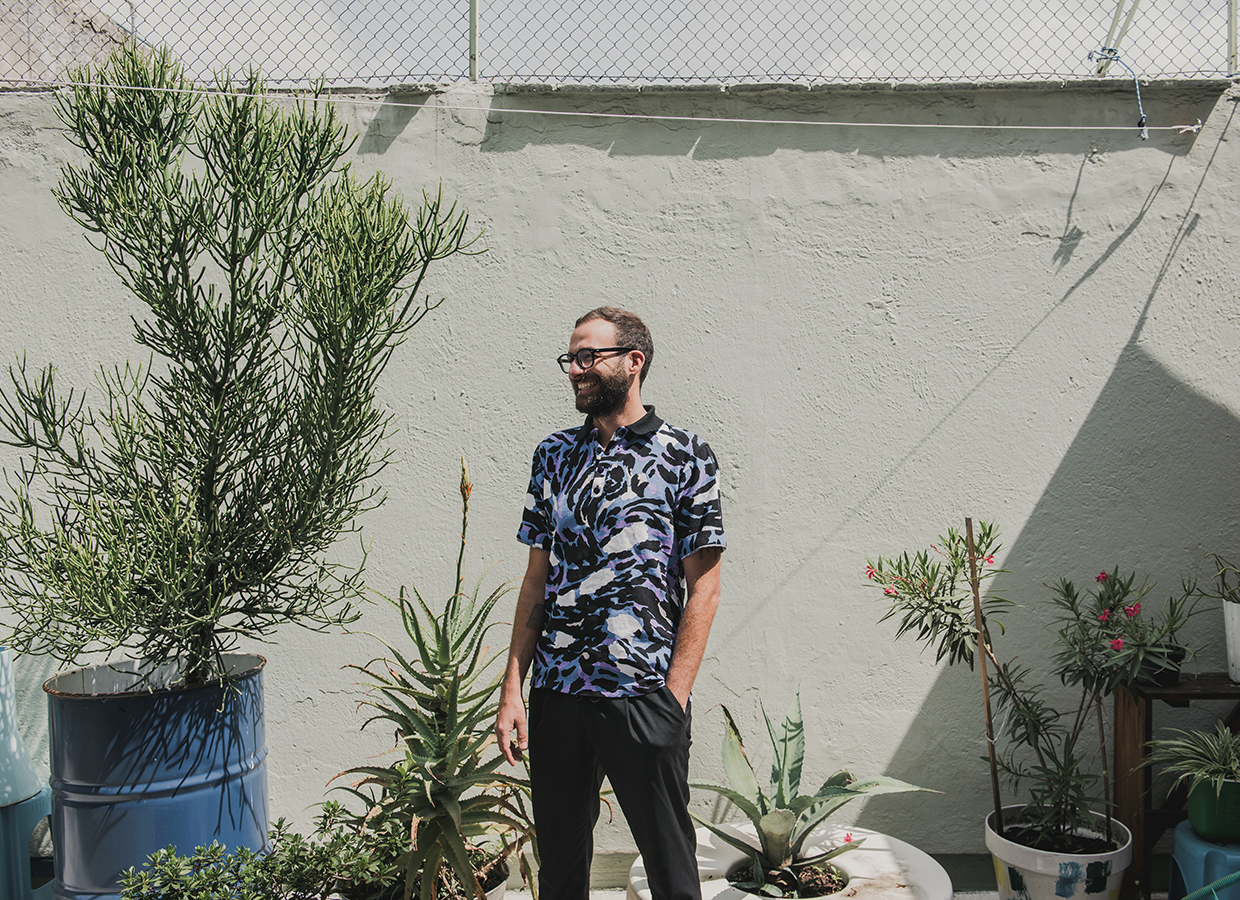 Besides the solo show at AGO, what else are you working on at the moment?
I'm also working on the Material Art Fair in collaboration with Carla Valdivia, and I'm designing an installation for an event in Guadalajara called Capamento de Diseño. Both of these events are also in February. It's a big month.
You're now on your fourth year in Mexico City. Do you think you'll stay here long-term, or will you eventually move the studio somewhere else?
I do see myself in Mexico for a few more years. I am very open to the idea of moving the studio somewhere else, whether it's back to Europe, or South America, or Asia, or Africa. I'm open. I'm definitely interested in knowing more about other places. But I do see myself coming back to Mexico eventually. I think this is home.
Fabien Cappello's top 3 secret spots in Mexico City
"I love Mexico City's urban metro network. Some of the most inspiring architects and designers were involved in the original designs of the stations in the 60s and 70s, and although there were modifications made in the 2000s, some stations remain worth a trip, for the architecture and construction details alone."
The designer's top stations to see:
1. Metro Pino Suárez. Here, "a long corridor opens onto the ruins of the Pyramid of Ehecatl, an ancient Aztec structure that was found when the station was built."
2. Metro Candelaria, Metro Merced, or Metro San Lázaro. "Although most of the stations designed by architect Felix Candela have been very poorly refurbished, it's totally worth hopping on and off to admire the roofs, stairs, and benches."
3. Metro Tasqueña or Metro Nativitas. "Both stations were designed by architect Enrique del Moral. The windows, which are made of colored glass and concrete, are worth the five-pesos metro ride."
This post was generously sponsored by Tequila Don Julio, but all thoughts and editorial content are our own. Like everything at Sight Unseen, our partner content is carefully curated to make sure it's of the utmost relevance to our readers. Thank you for supporting the brands that support Sight Unseen.