11.21.19
The Mexican Art and Architecture Studio Tezontle on the Necessity of Reinvention
Founded by Carlos H. Matos and Lucas Cantú in 2015, the studio Tezontle takes its name from a type of reddish volcanic rock used widely in construction throughout central Mexico and in many pre-Hispanic building sites. A porous material, Tezontle is often used in aggregate with concrete, allowing for new forms of expression and world building.
To Matos and Cantú, the materiality of their work guarantees its ruination — existence necessitates obsolescence, birth and death, concurrent in their designs. This sensitivity to the cyclical nature of creation is the crux of their practice. It has guided them from the jungles of Las Pozas, where time spent observing Edward James's Surrealist sculpture garden birthed the studio's materials-based approach to art and architecture, and where they are co-founders of a concrete intervention workshop that explores methodology. "A lot of the techniques of how the park was made appear in the work we're doing," notes Cantú. "You learn a lot by replicating what you look up to."
PHOTOS BY GENEVIEVE LUTKIN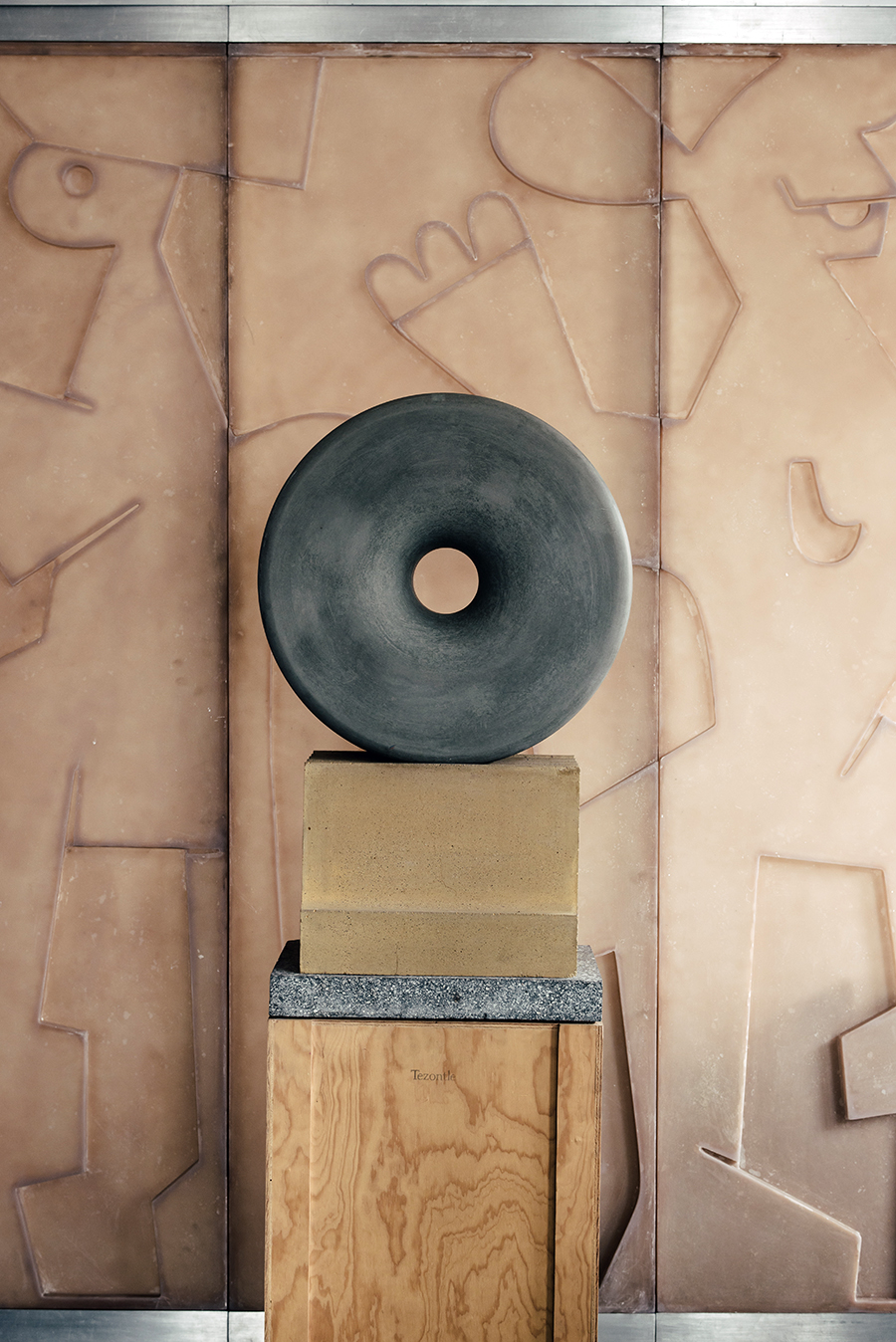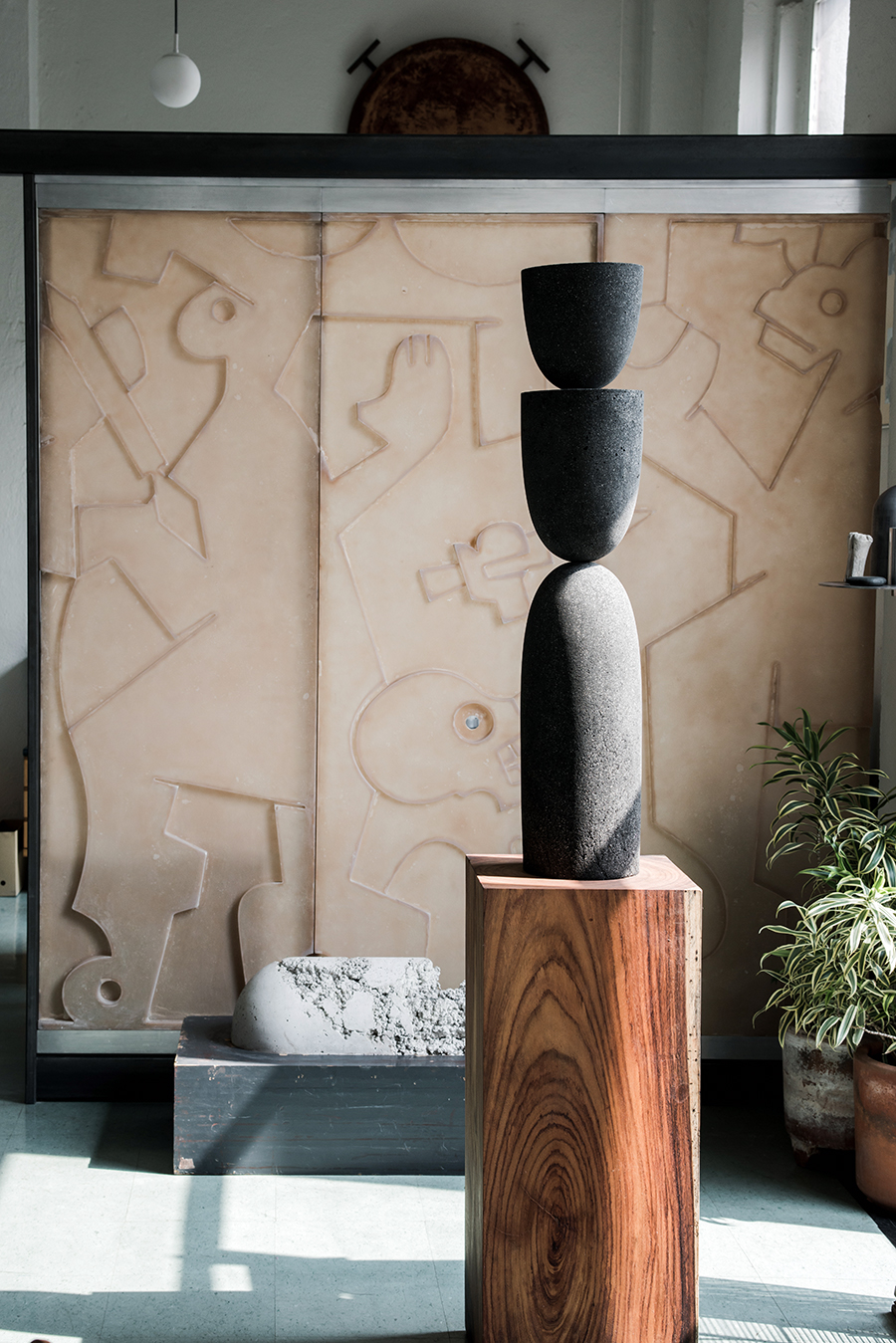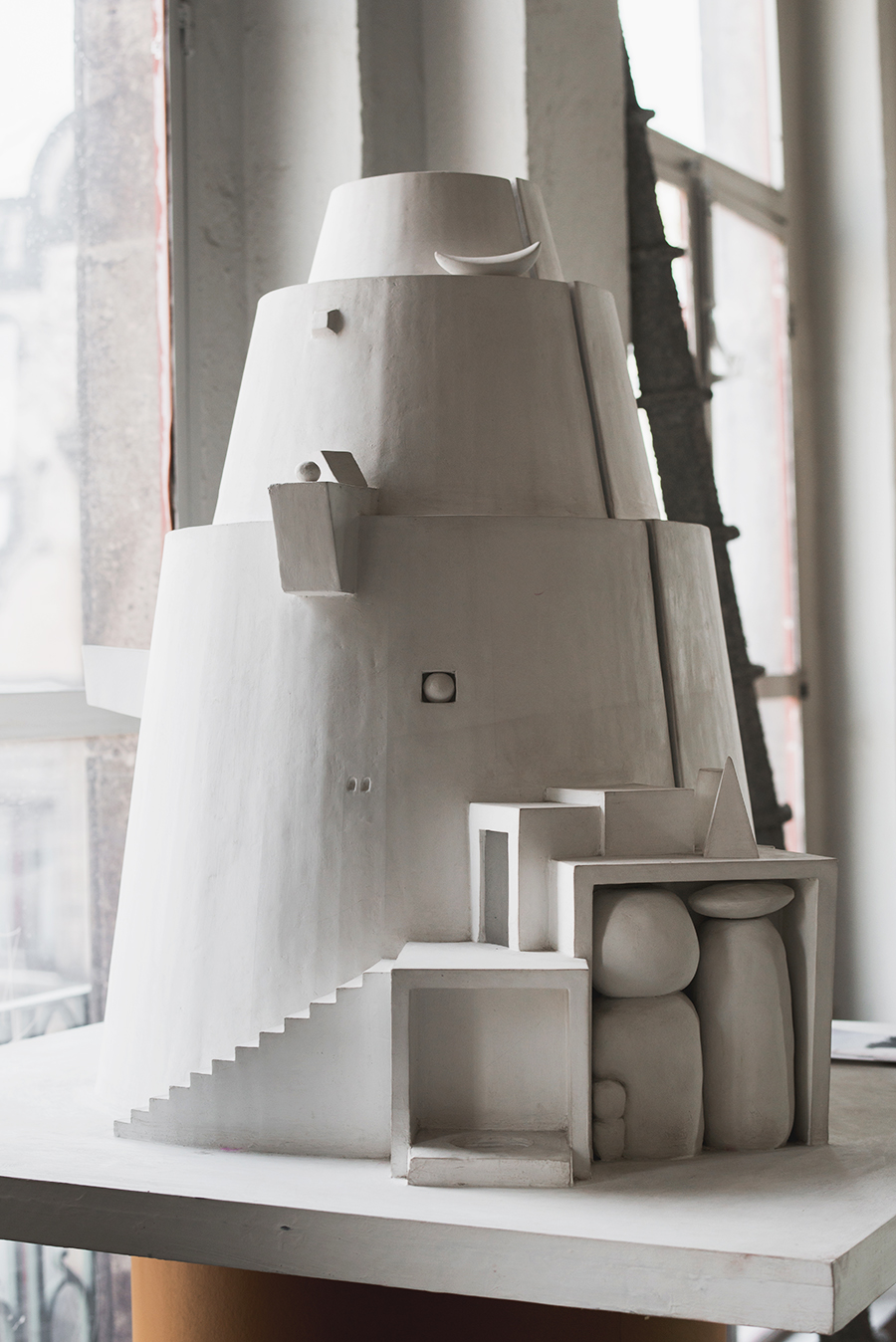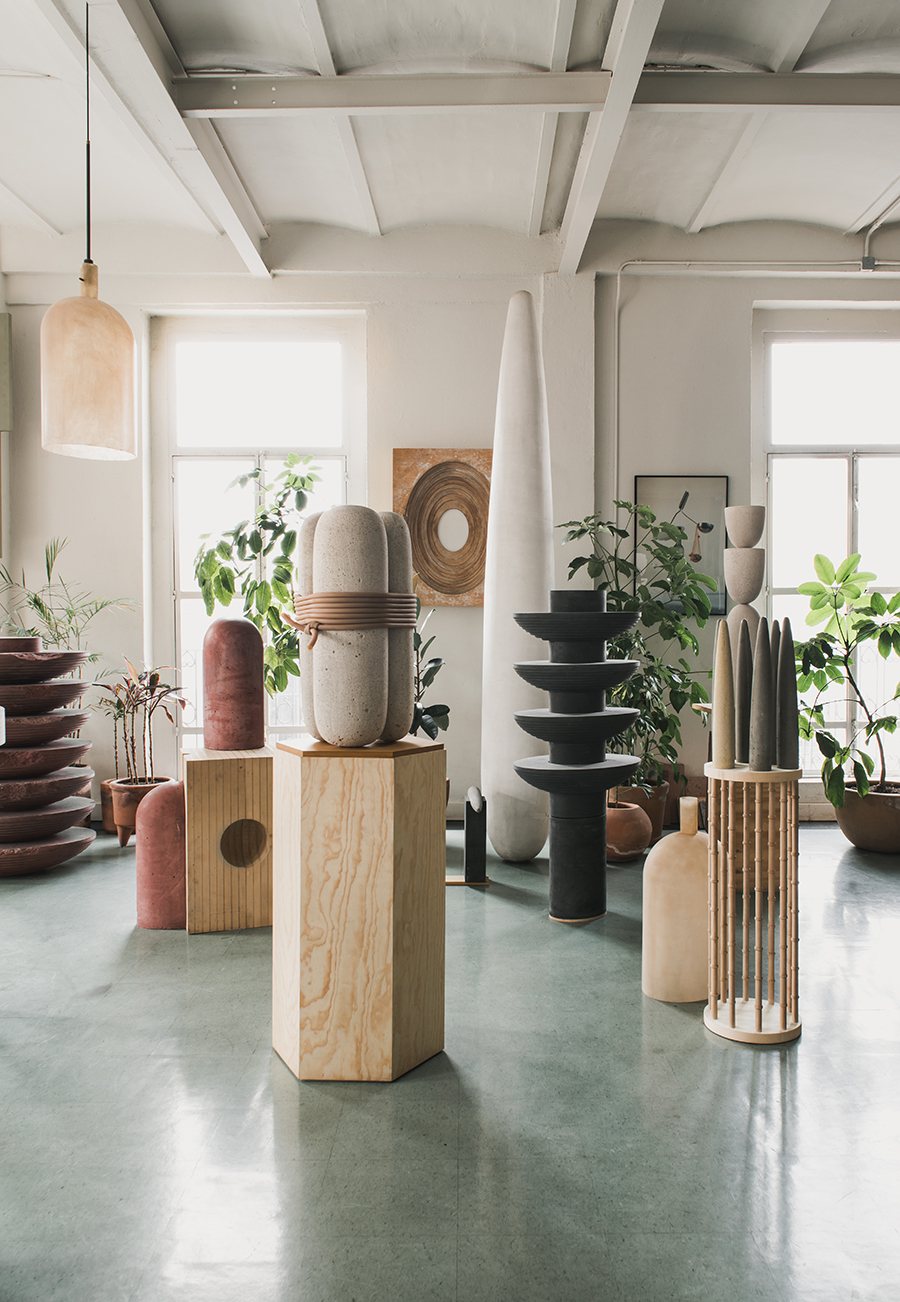 Those explorations continue in the sun-soaked loft Tezontle calls home, their workspace in a nondescript building in historic Centro. Cliques of models and maquettes rub elbows in a kind of creative ecstasy, shelved or littering the floor. Repeated forms emerge as a lingua franca; context creates and evolves meaning.
When I visit Cantú, we camp out on a sofa, material research for his upcoming exhibition, "Second Life," strewn about the yellow carpet underneath us. He shows me photos of the family who used to live in a home, recently demolished, whose contents will be reimagined as architectural follies  populating the interior of Ernesto Gómez Gallardo's Möbius House, the site of Second Life. (Gómez Gallardo happens to be Matos's grandfather.) Alongside these are contemporary photos of workers extracting stone from the property walls, removing balustrades and grinding stone on the front lawn; the men used carpet to wrap sculptures so that they wouldn't break. The show is as much about memory as it is about the objects we live with, and the spaces we call home. Through the exhibition Tezontle interrogates personal and shared accounts of history, the way we build our lives and what they're built around.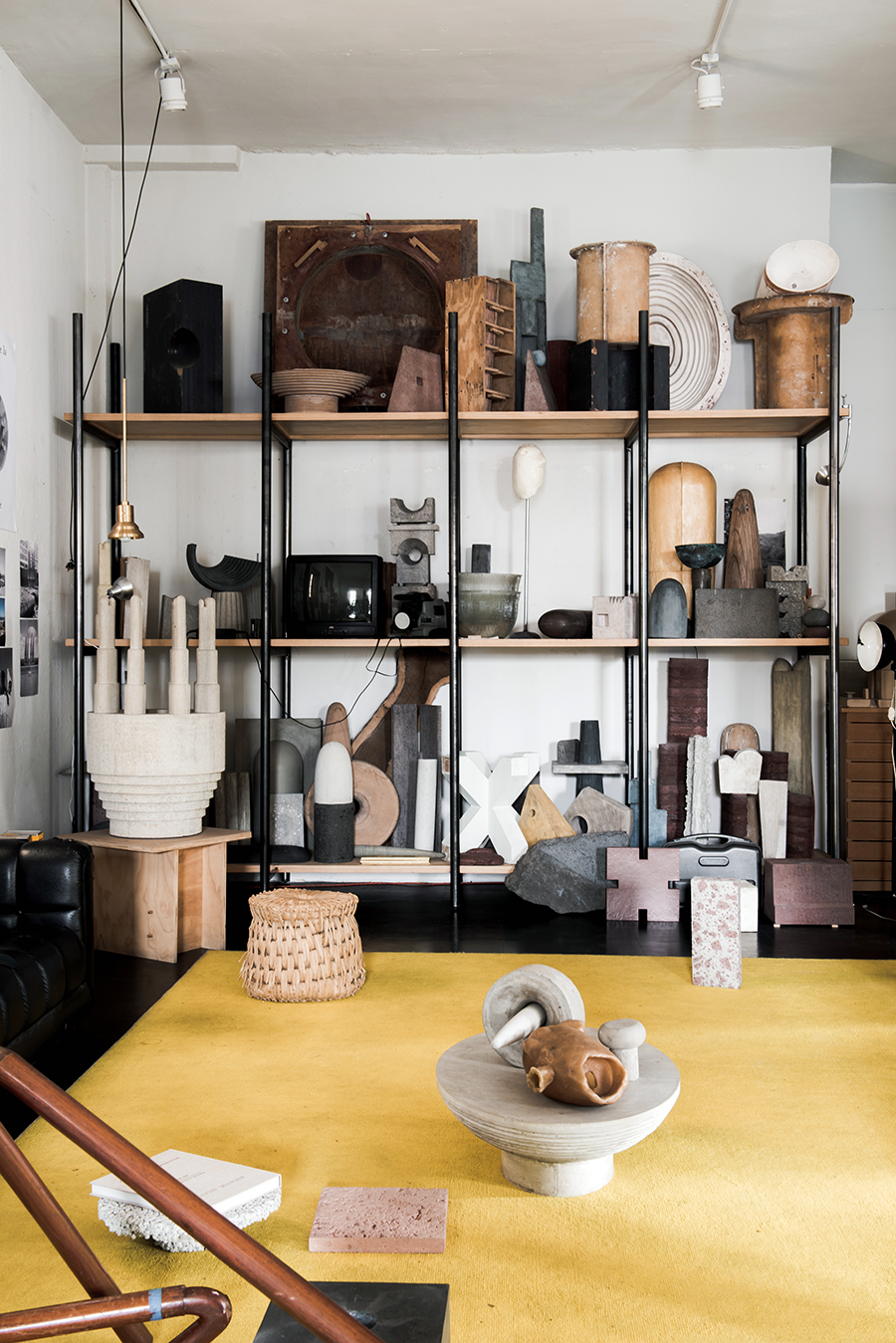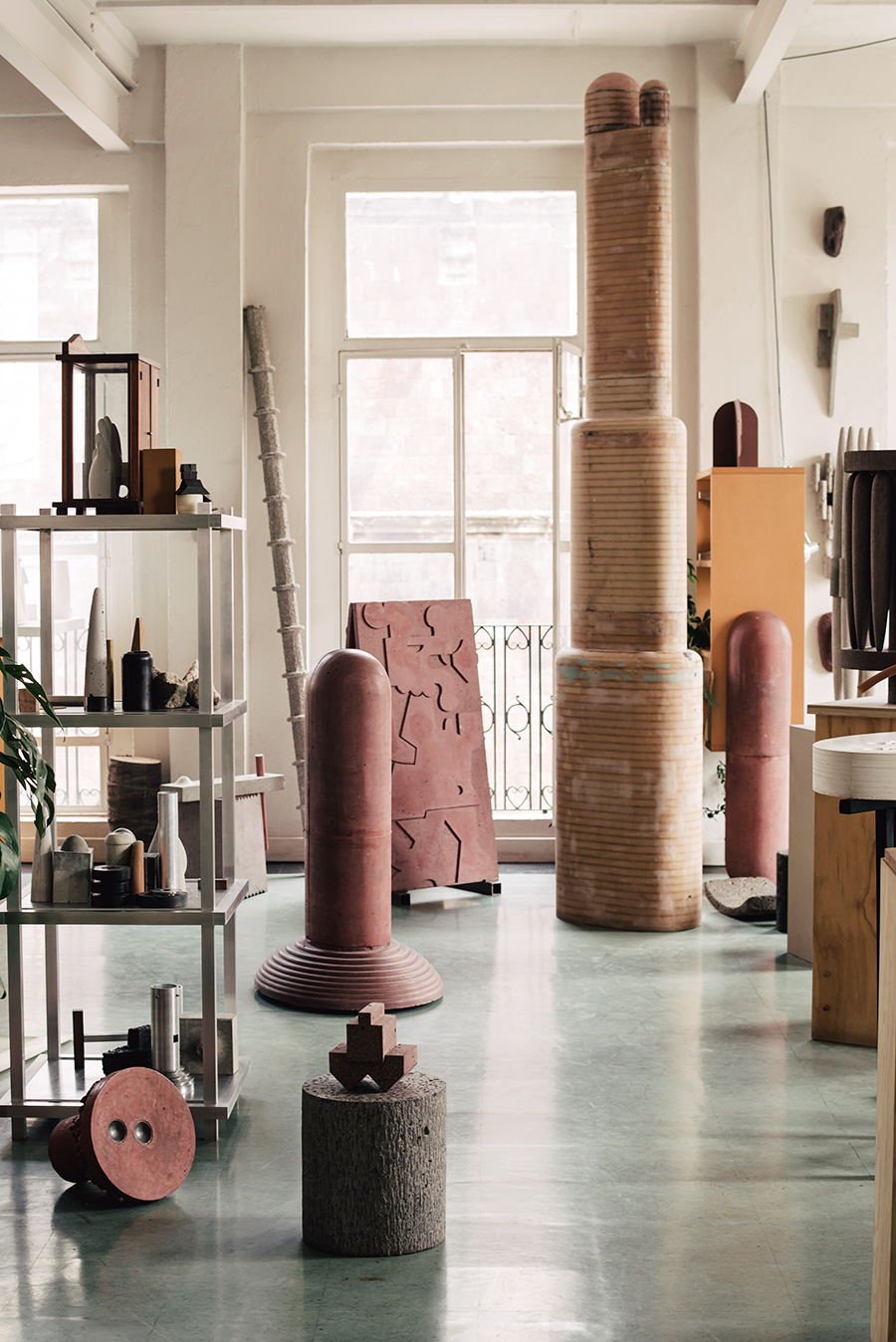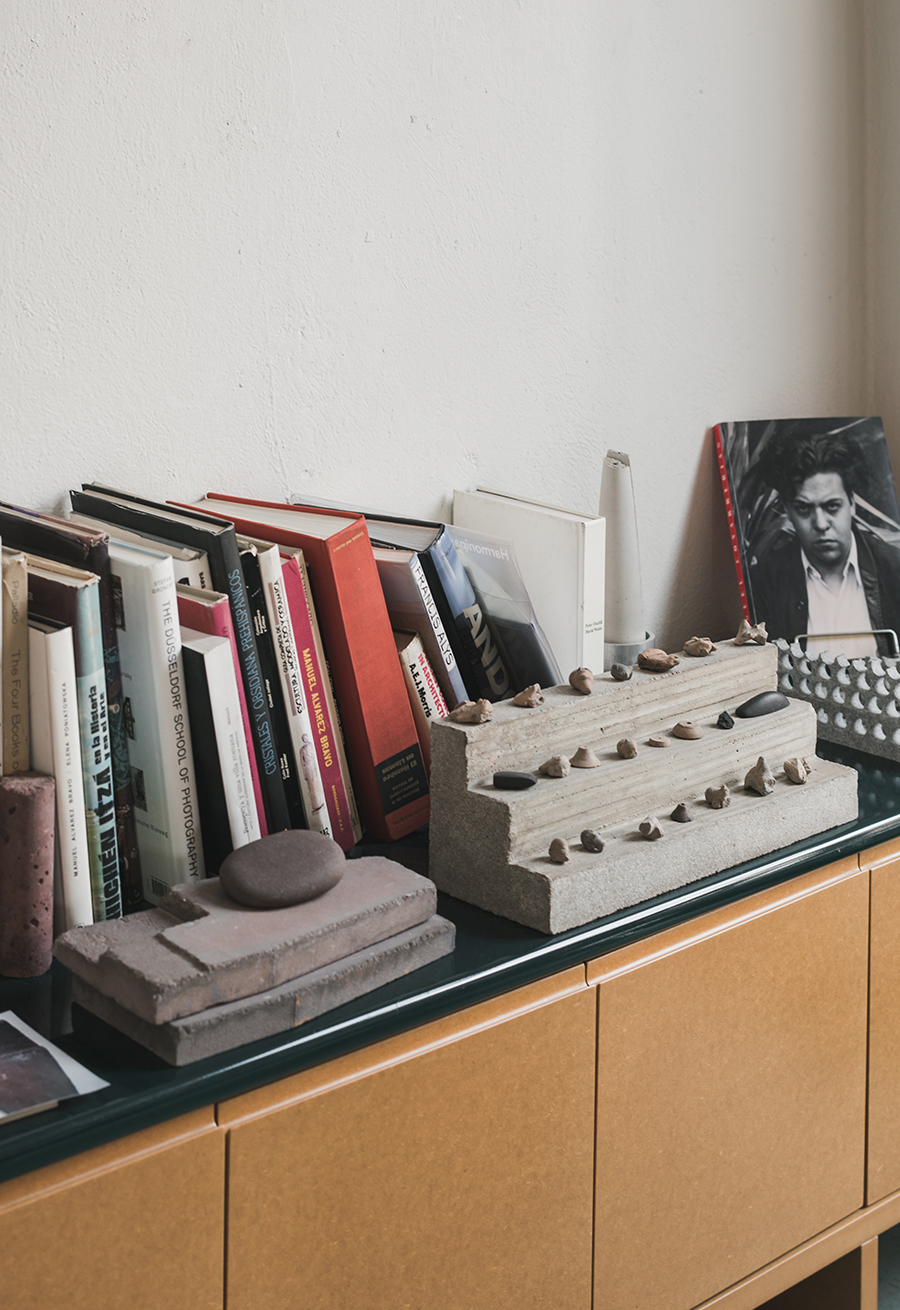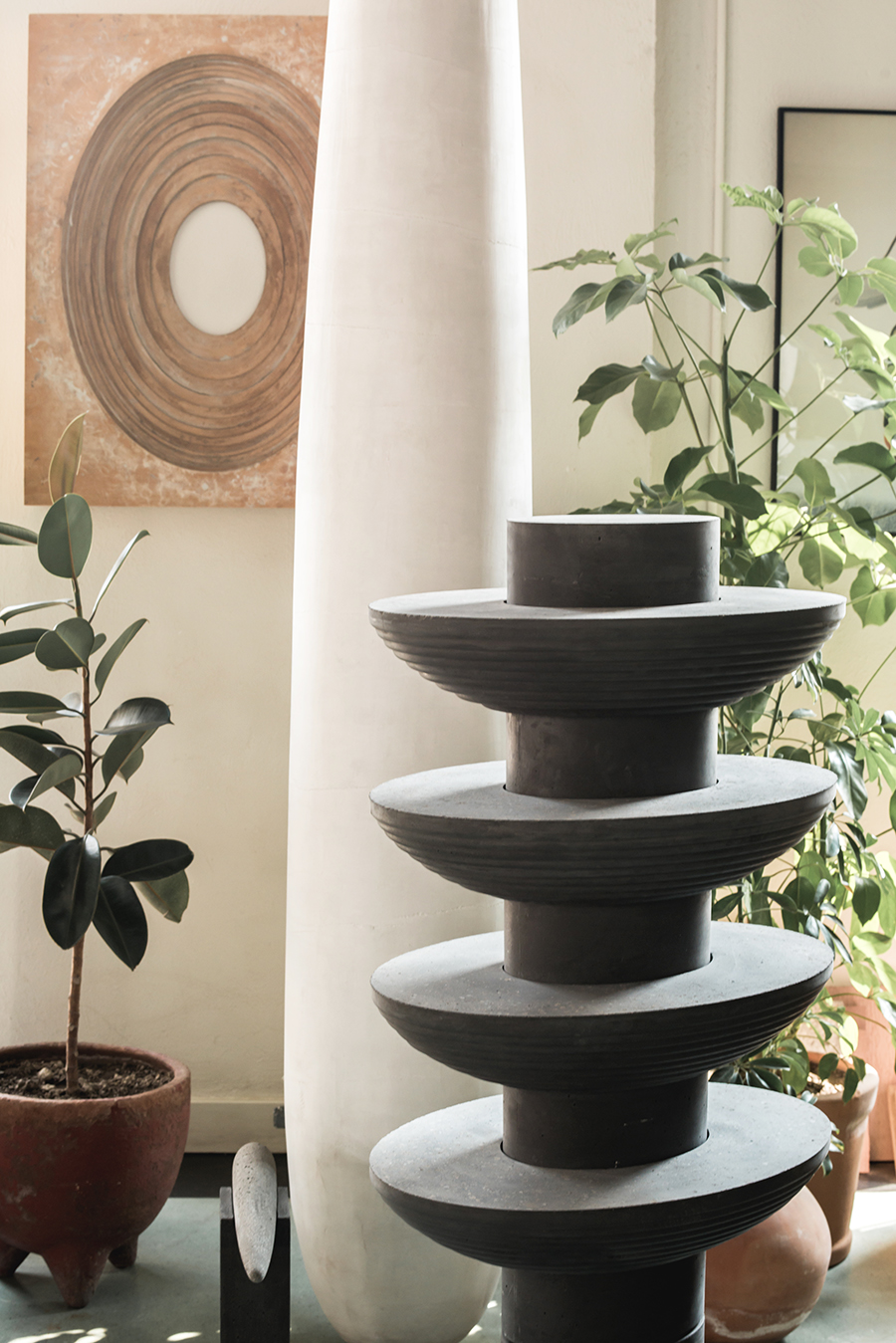 "The back and forth between architecture and non-functional art is what inspires a lot of the shapes and the scales we work with. One thing leads to another one," says Cantú. He points to what reads as a pillar, standing upright on the floor. "This could be a column, or a balustrade, but it's going to be a shelving system. And also a sculpture," he says. "We like to have a very free-flow process because if we get an architectural commission we can push an idea — maybe doing this column at an architectural scale, and maybe we do another object at a much smaller scale. You can see a version of this in Aldo Rossi's design; he did the pen, the espresso cup, the Moka machine, the cabinet, the furniture piece, the house, and the building — and they all look the same."
Themes of impermanence and reinvention are central to many of Tezontle's projects, whether intentionally or not. 2017's "Tu Casa Es Mi Casa", an artist residency with Frida Escobedo and Pedro&Juana, was staged at the Neutra VDL House in Los Angeles. For that project, the studio custom-cast fiberglass paneling based on Carlos Merida's relief murals in Mexico City and Guatemala. The translucent panels were fitted inside the floor-to-ceiling window frames of the VDL House pavilion, creating a sort of bunker. Matos and Cantú stayed in the house and conceived of the project there before modeling and designing the panels in 3D in Mexico City. But on the install day, September 19, 2017, an earthquake struck, and the panels ended up being delivered a week after the opening of the exhibit.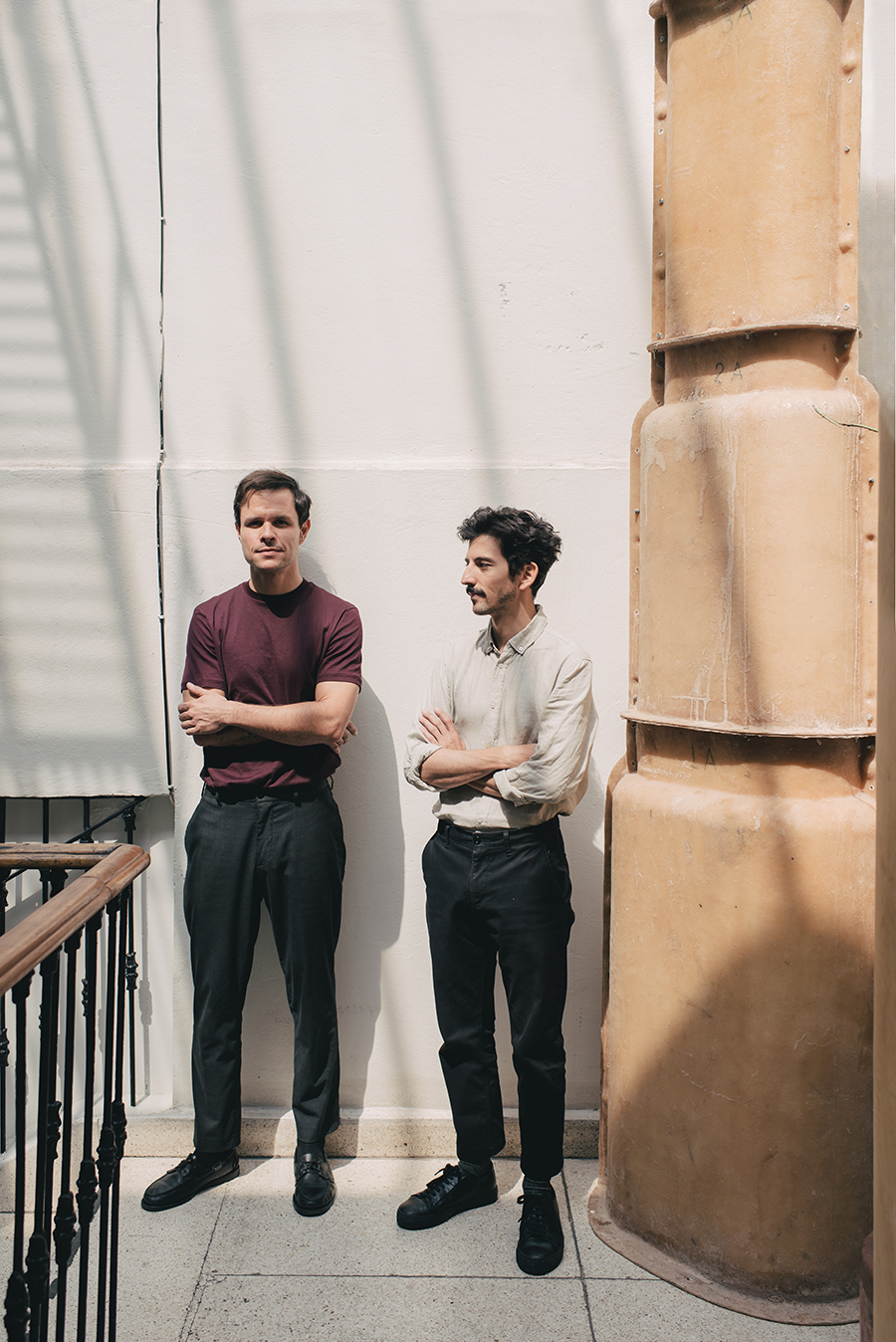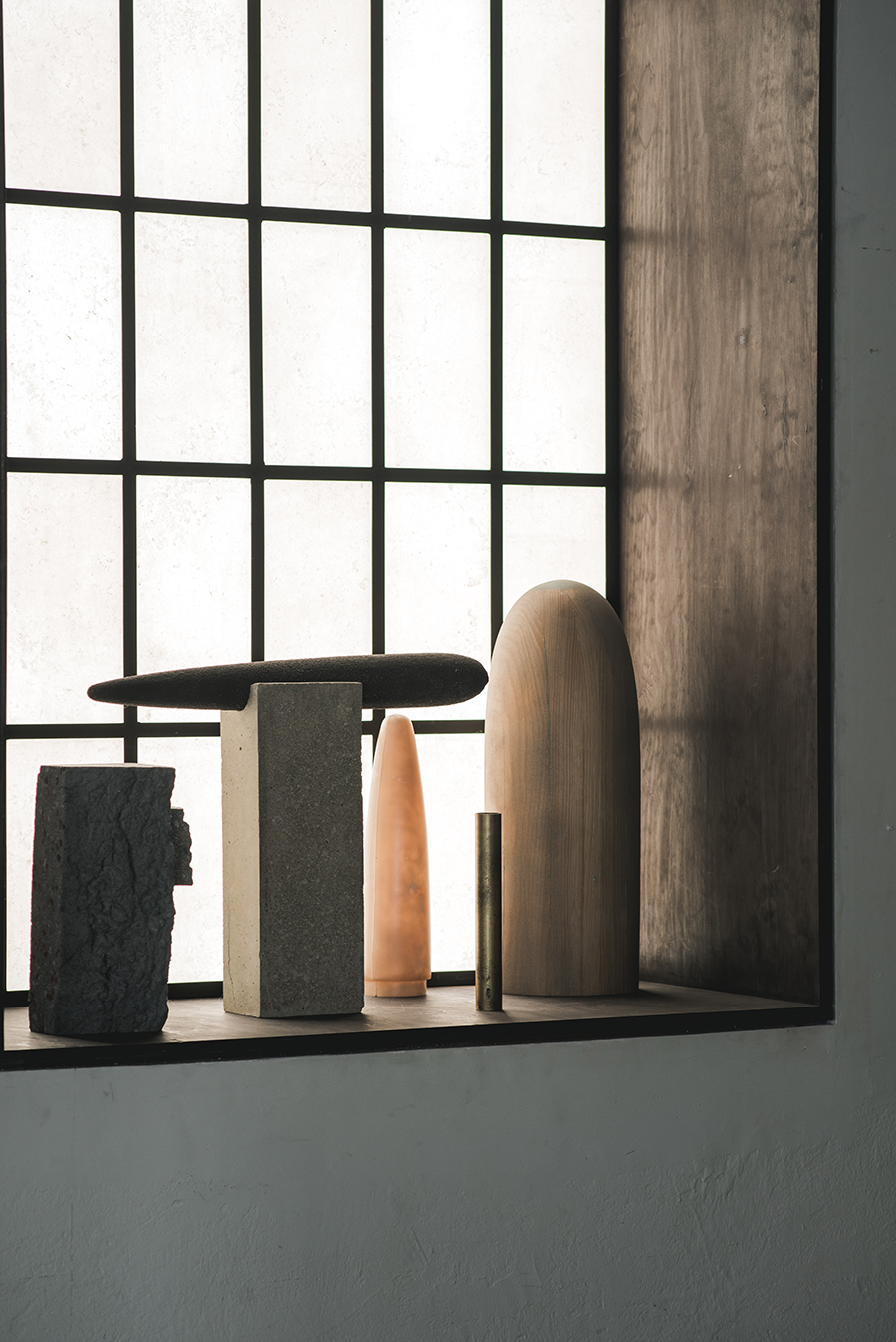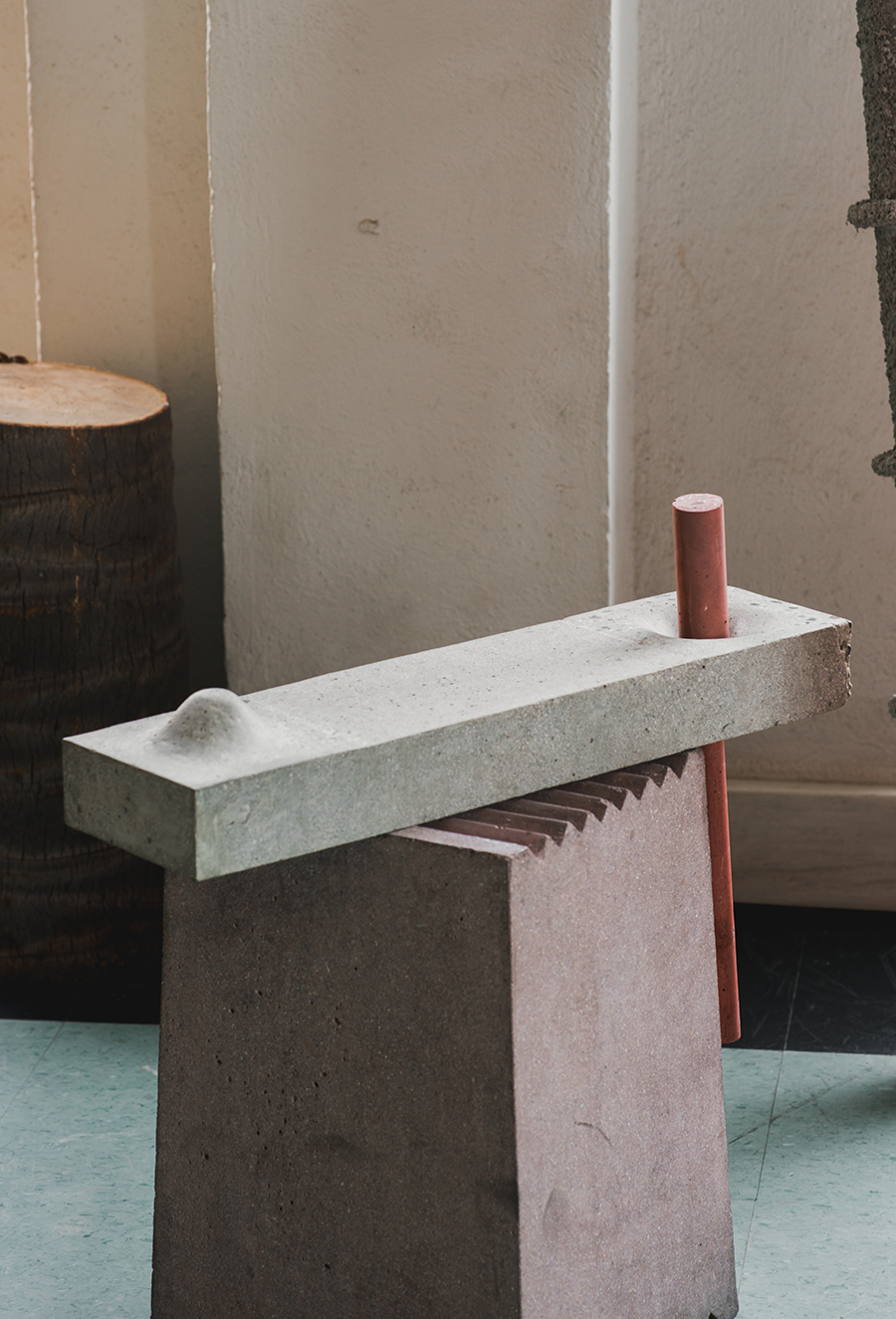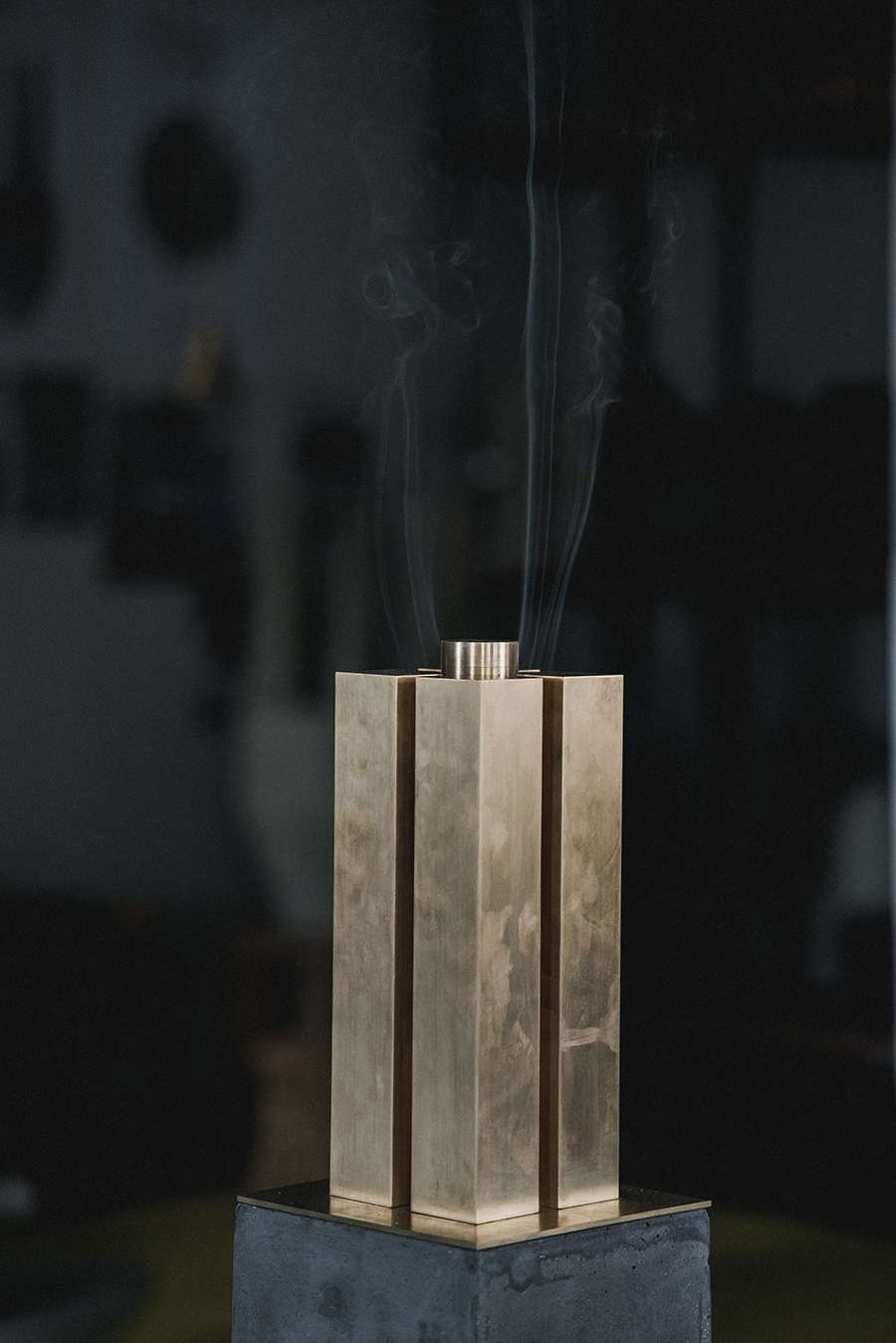 Architecture is a pain in the fucking ass. But art is the freedom to do whatever you want.
Loss is expected and inevitable; in the studio, nothing gets thrown out. Something conceived in error gives birth to a new technique. Results can be learned from and iterated upon. Earlier this year, Tezontle debuted Tenaza, a site-specific modular pavilion made out of concrete parts, cast on-site from molds, at the Havana Biennial. "For us it's one of the most important projects that we've done," says Cantú. "We designed the molds so that we could take them down in our luggage. We were the first to arrive and the last to leave; we were there for almost five months." The resulting work looks like it belongs on a playground in a castle in the sky.
Described accurately as "part ruin, part monument," the project speaks to another important element of Tezontle's practice: the repetition of forms. Matos and Cantú understand the way iterating on a shape can create something more than the sum of its parts; the weird Donald Juddian alchemy that transforms a series of, say, negative molds left over from one project into a repetitional minimal art piece. "Architecture is a pain in the fucking ass," says Cantú. "But art is the freedom to do whatever you want."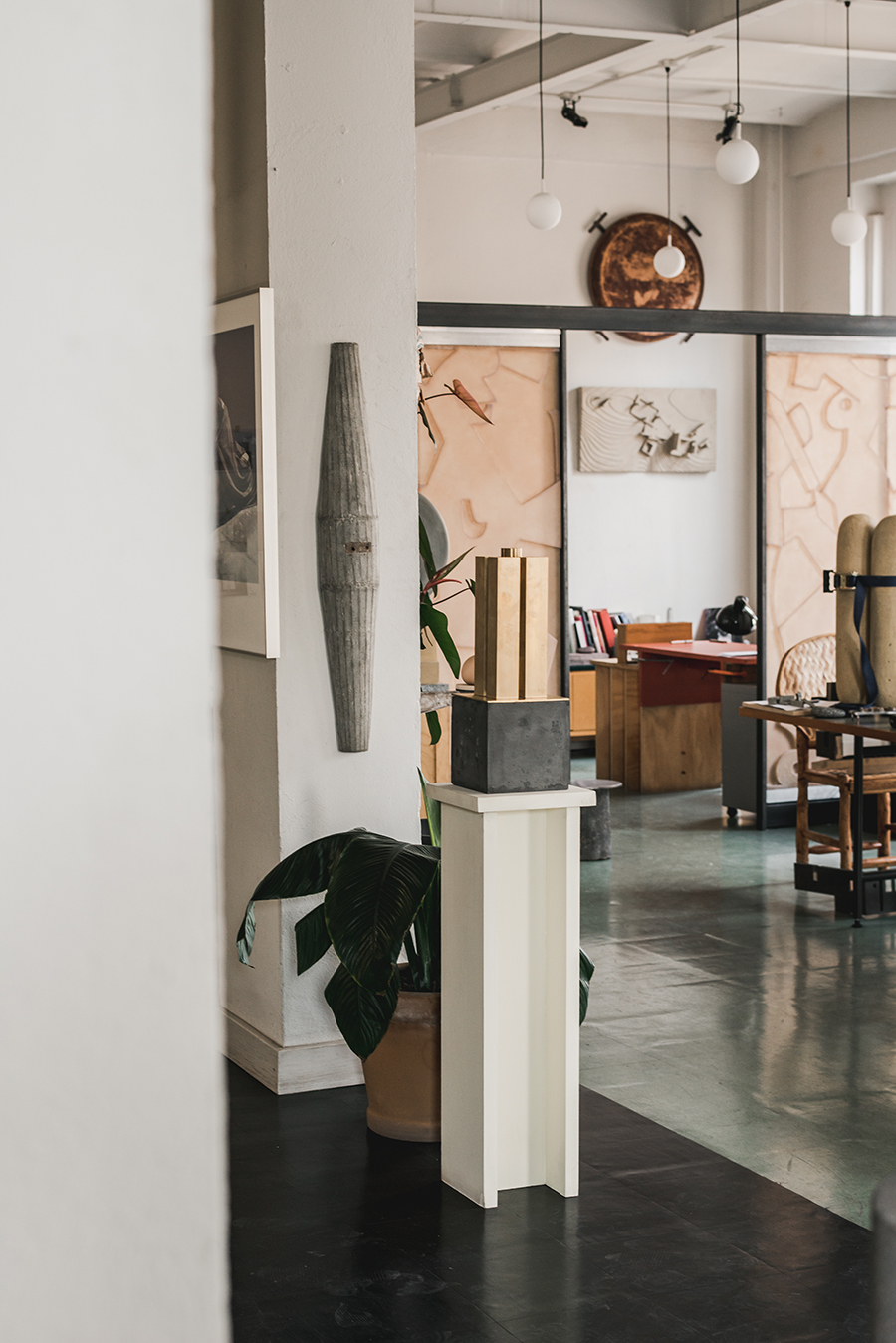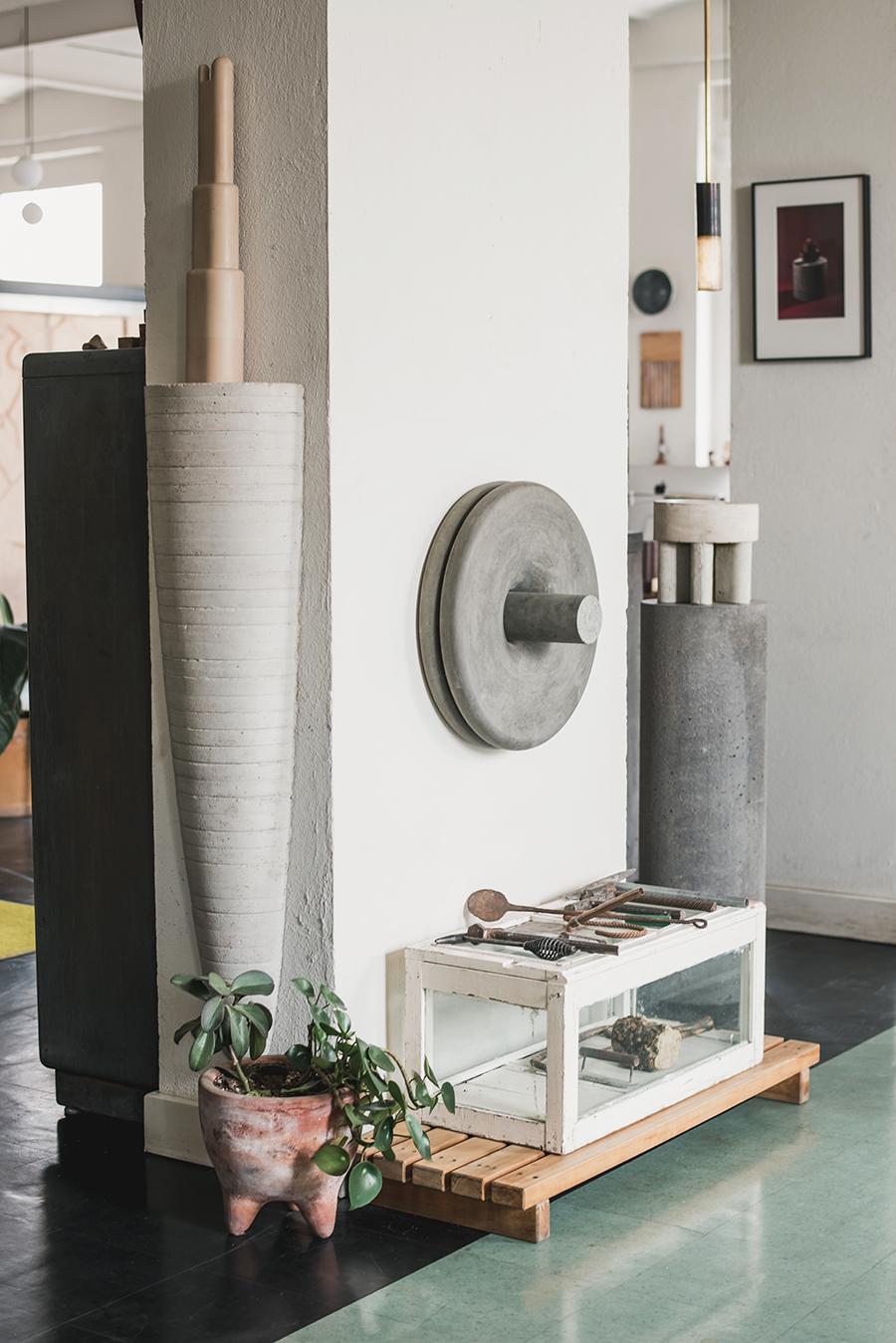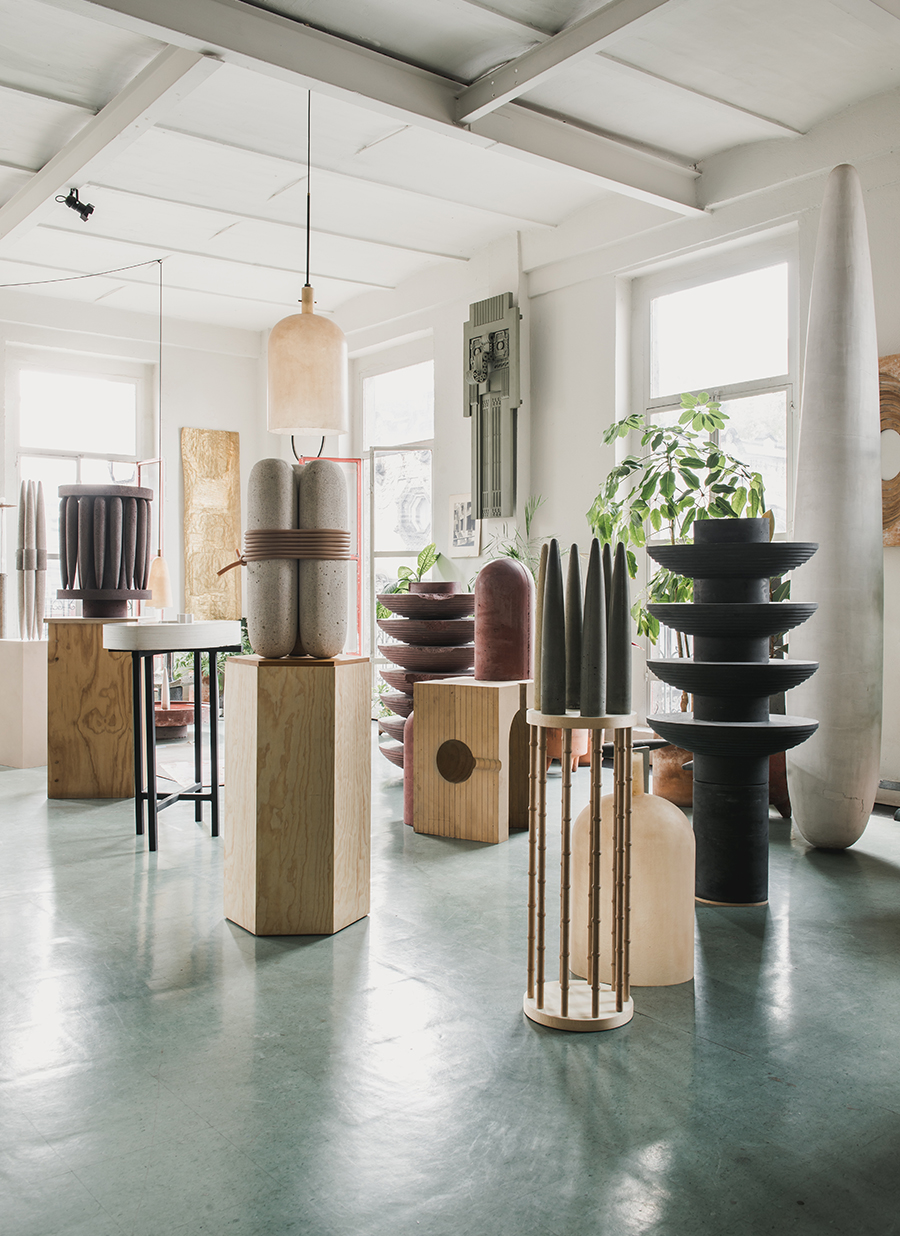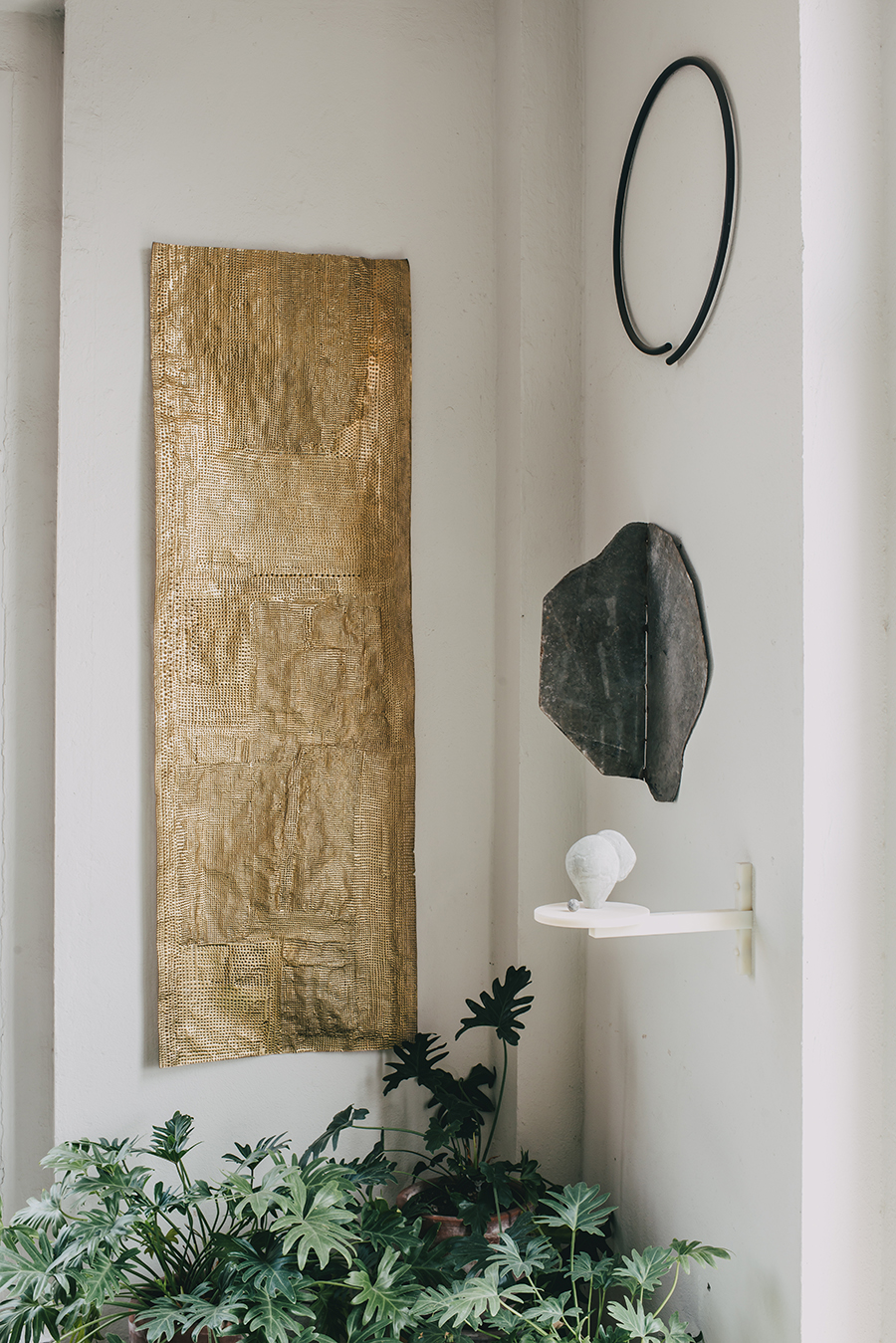 Currently, the studio is balancing multiple projects including a house in Oaxaca next to Casa Wabi, the Tadao Ando building on the Mexican coast. They're also building a "full-on case study house" for which they'll fabricate everything from the hinges to the textiles in a Mayan revival style. "It's very raw, like a ruin," notes Cantú. "For us, even our architecture works around a thesis of disconnection and going back to the analog. I think we're going to be thinking a lot about that, and writing about it — sin señalismo we call it, how architecture can prompt analog experiences."
Their current two-month-long residency with Residency Unlimited in New York will be about, similarly — if somewhat ironically — slowing down. "I really want to start visualizing, exploring drawings for new sculptures, and thinking about what we want to put our time into," says Cantu. Taking the time to reflect and discover the city will provide new context for their previous projects, and maybe help make concrete sense of our uncertain future.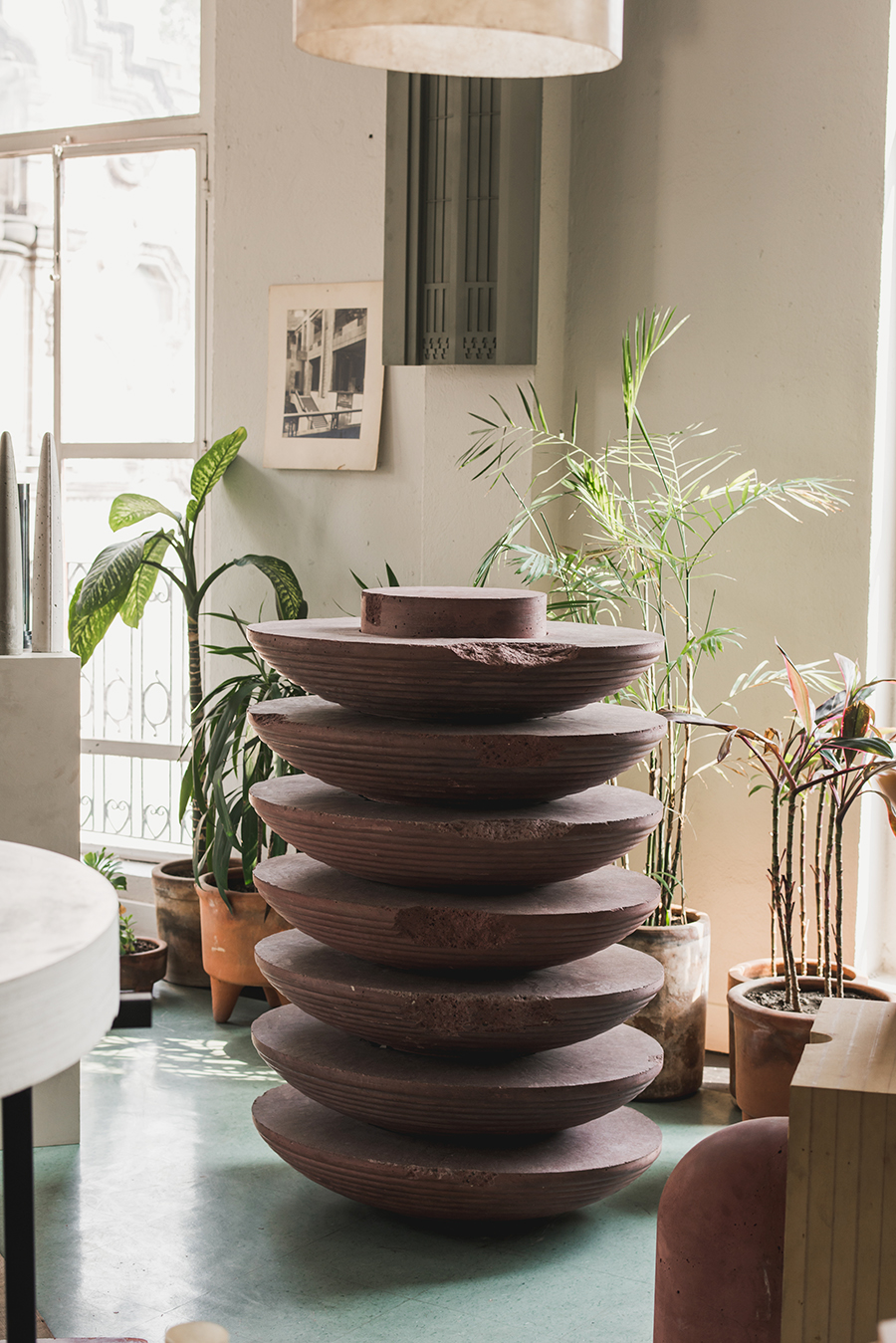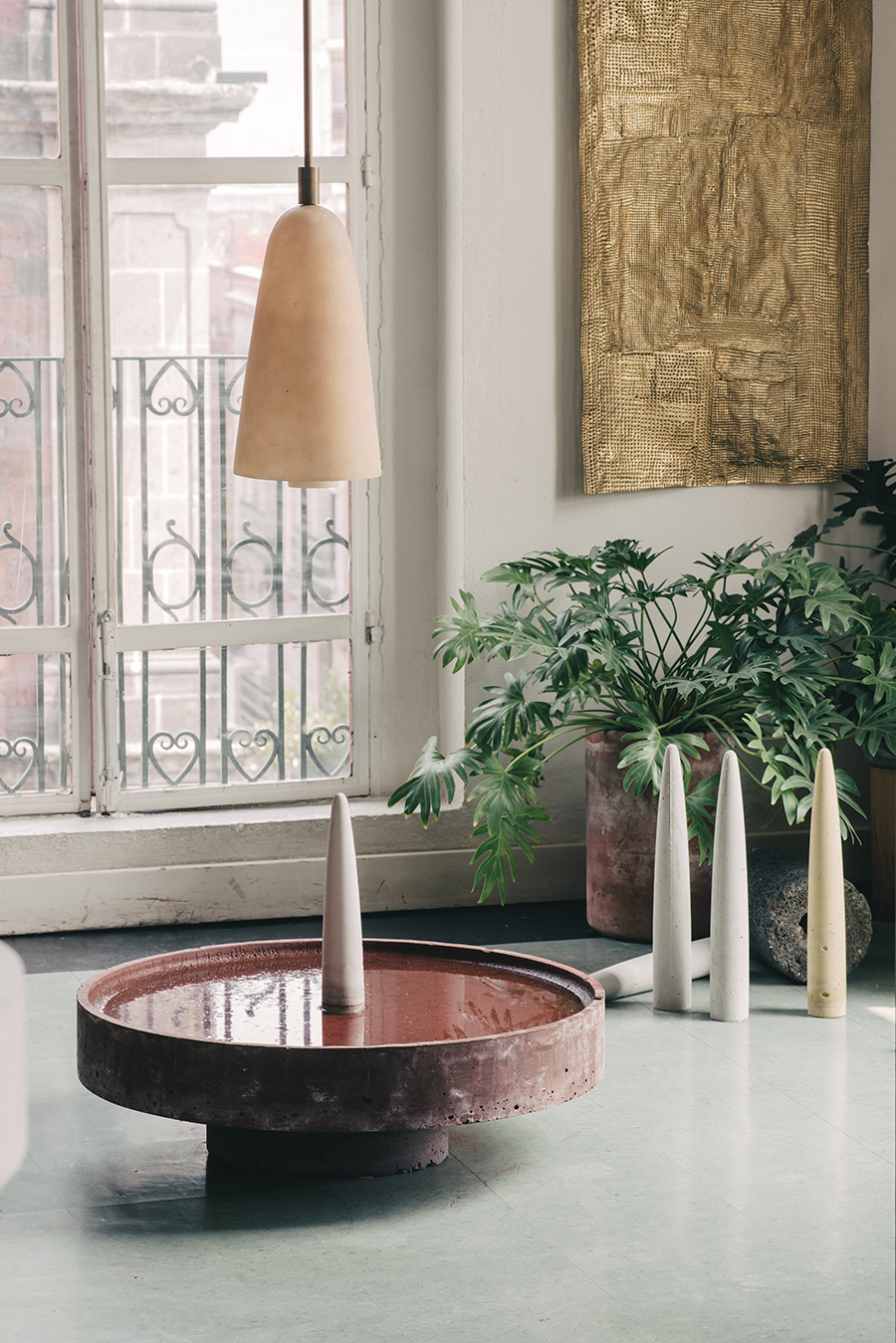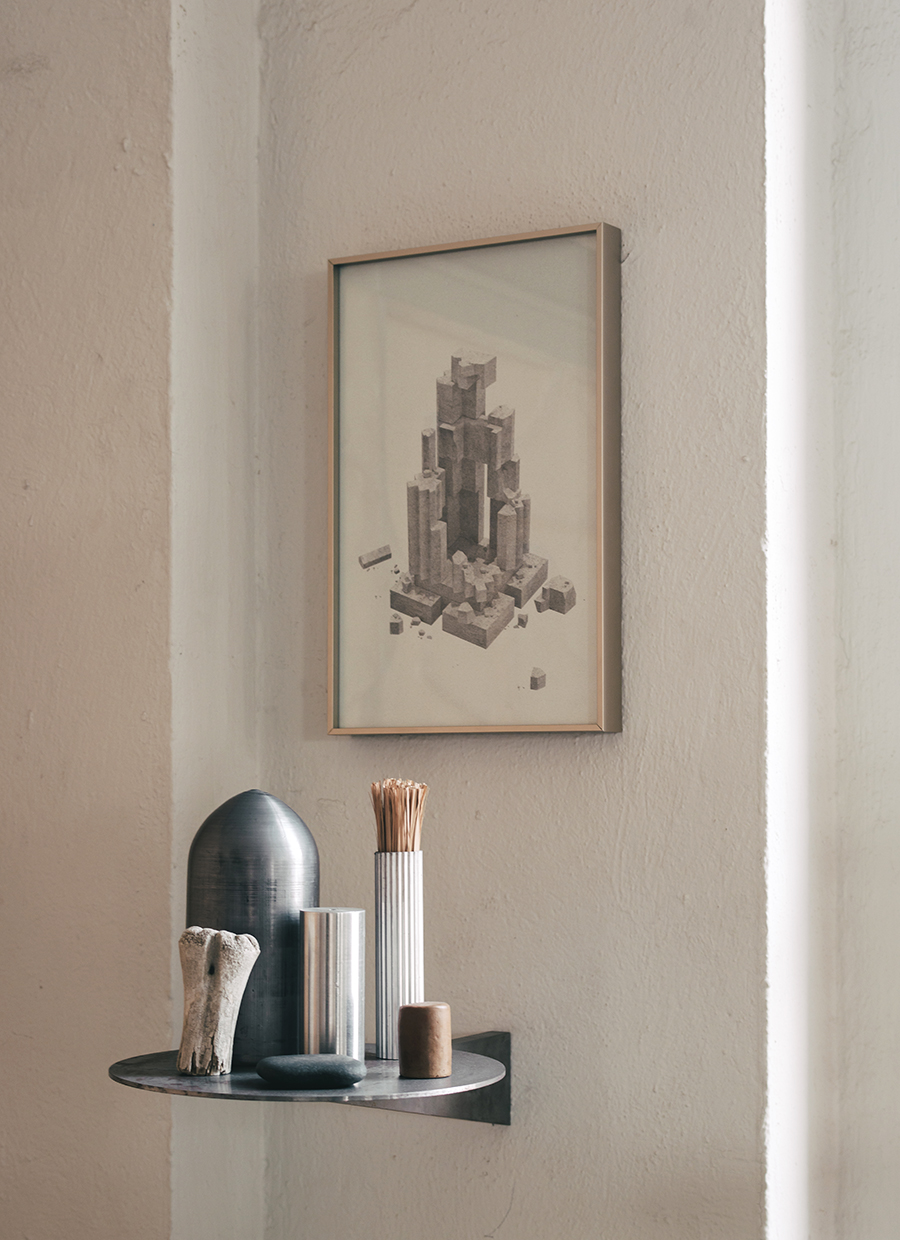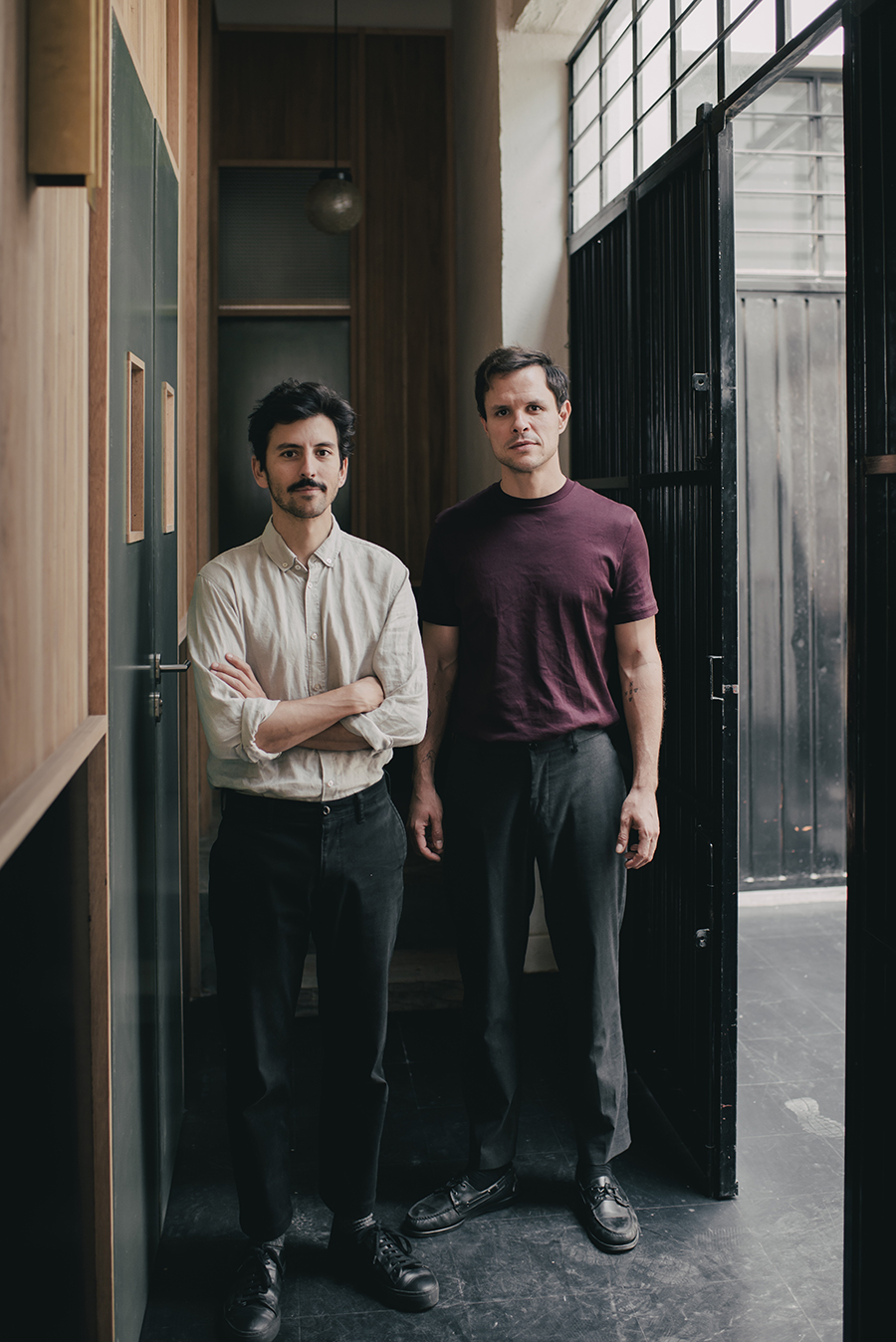 Tezontle's Top 3 Secret Spots in Mexico City
1. Mercado Lagunilla
2. Second hand bookshops on Calle Don Celes
3. Hardware stores in Centro
This post was generously sponsored by Tequila Don Julio, but all thoughts and editorial content are our own. Like everything at Sight Unseen, our partner content is carefully curated to make sure it's of the utmost relevance to our readers. Thank you for supporting the brands that support Sight Unseen.