01.06.20
This Athens Studio Is an Imaginative Oasis Full of Light
The workspace of Greek designers Eleni Petaloti and Leonidas Trampoukis — founders of the acclaimed architecture firm LOT and its smaller, experiment-driven sibling studio, Objects of Common Interest — is located in a landmark theater building in the center of Athens. As might be expected of a neoclassical space, the 1,075 square-foot studio has the elegant air of the old-fashioned. But tucked into its molded corners and fastened to its expansive white walls are small, vibrant anomalies. Tubular lights leap from surface to surface in bright, shining arcs. Colorful glass vessels, balanced atop one another in pairs, rest on a slender table. A trio of copper hand mirrors hang from the wall in a row. 
The studio seems just right for the husband-and-wife team, whose work with Objects of Common Interest is often a study in contrast: long-lasting and impermanent, studied and instinctive, familiar and unknown. "Our building is in one of the most interesting areas in the city for witnessing the blend of old and new," Petaloti says. "It's been rapidly changing. Being in a landmark building, we've found ourselves in a timeless environment, watching everything evolving around us." (The couple also have an office in Williamsburg, Brooklyn, another ever-shifting neighborhood, where they spend nearly half the year.)
Since launching, Objects of Common Interest has churned out a steady stream of projects ranging from small everyday items to larger installations and experiential environments (FORMATIONS, a series of rounded, primary blue seats installed at last year's Art Athina Fair, now lives indoors at the studio). And with more to come in 2020, including a February show at ADAM Brussels Design Museum, the duo show no signs of slowing. Here, they fill us in on the decision to start a second practice — and how the spirit of curiosity, experimentation, and reinvention fuels its continuous path forward.
PHOTOS BY MARCUS ARGUELLO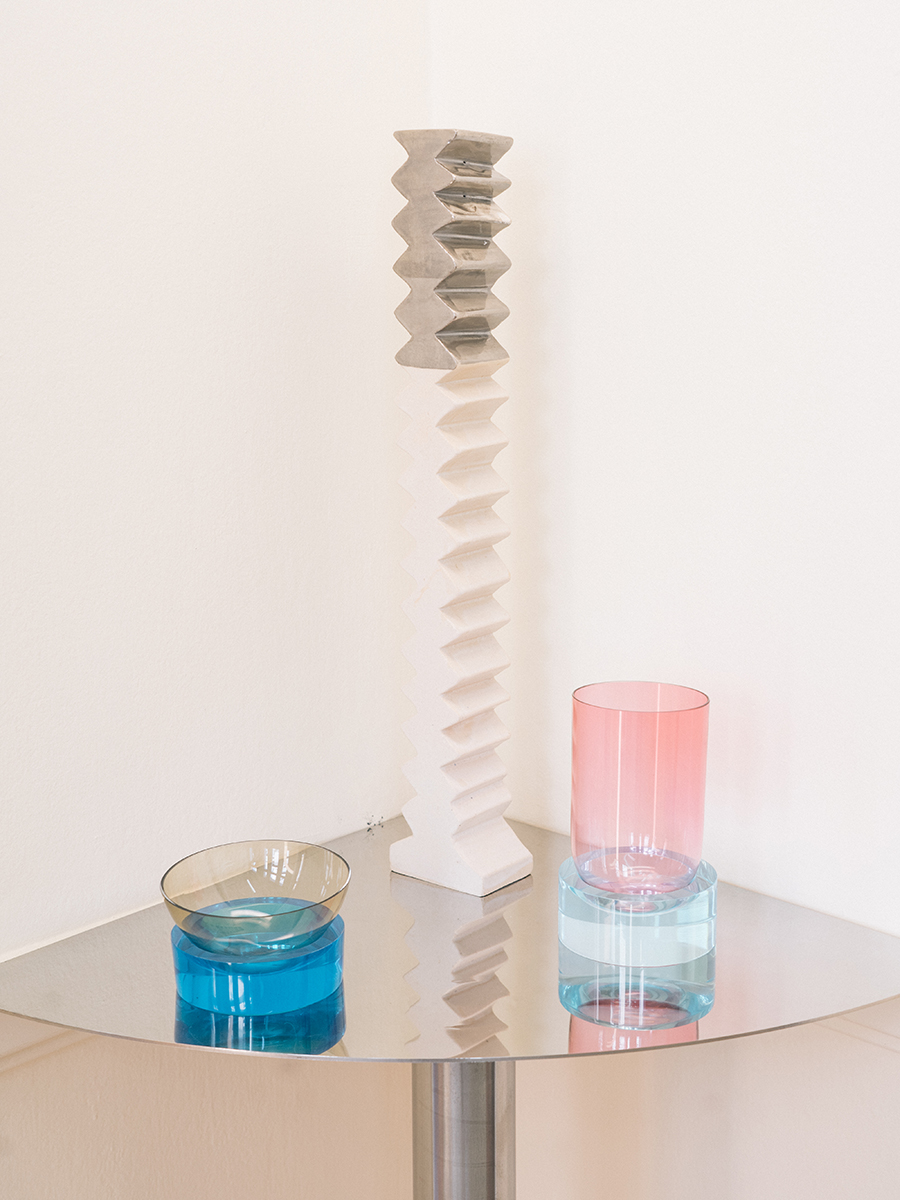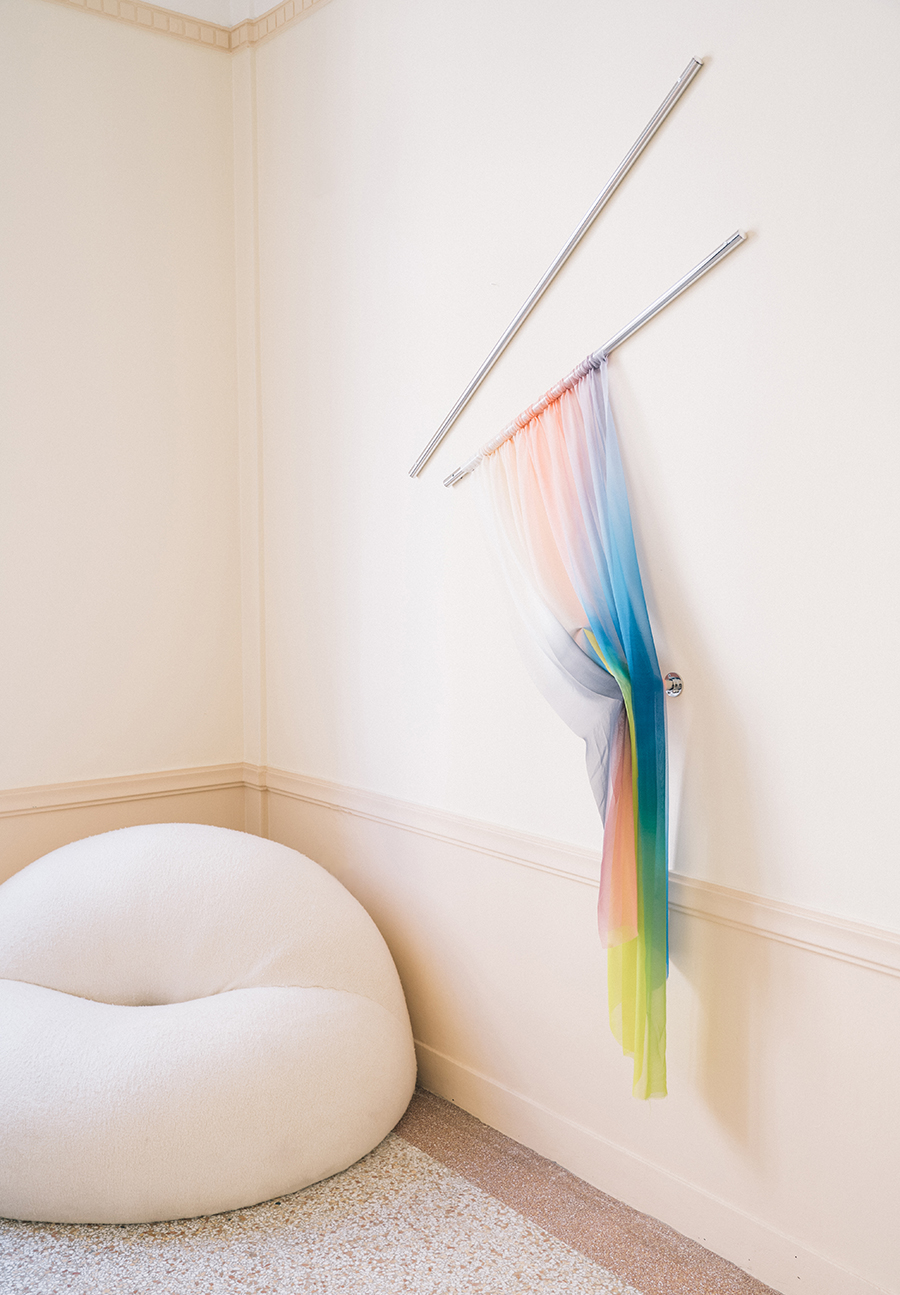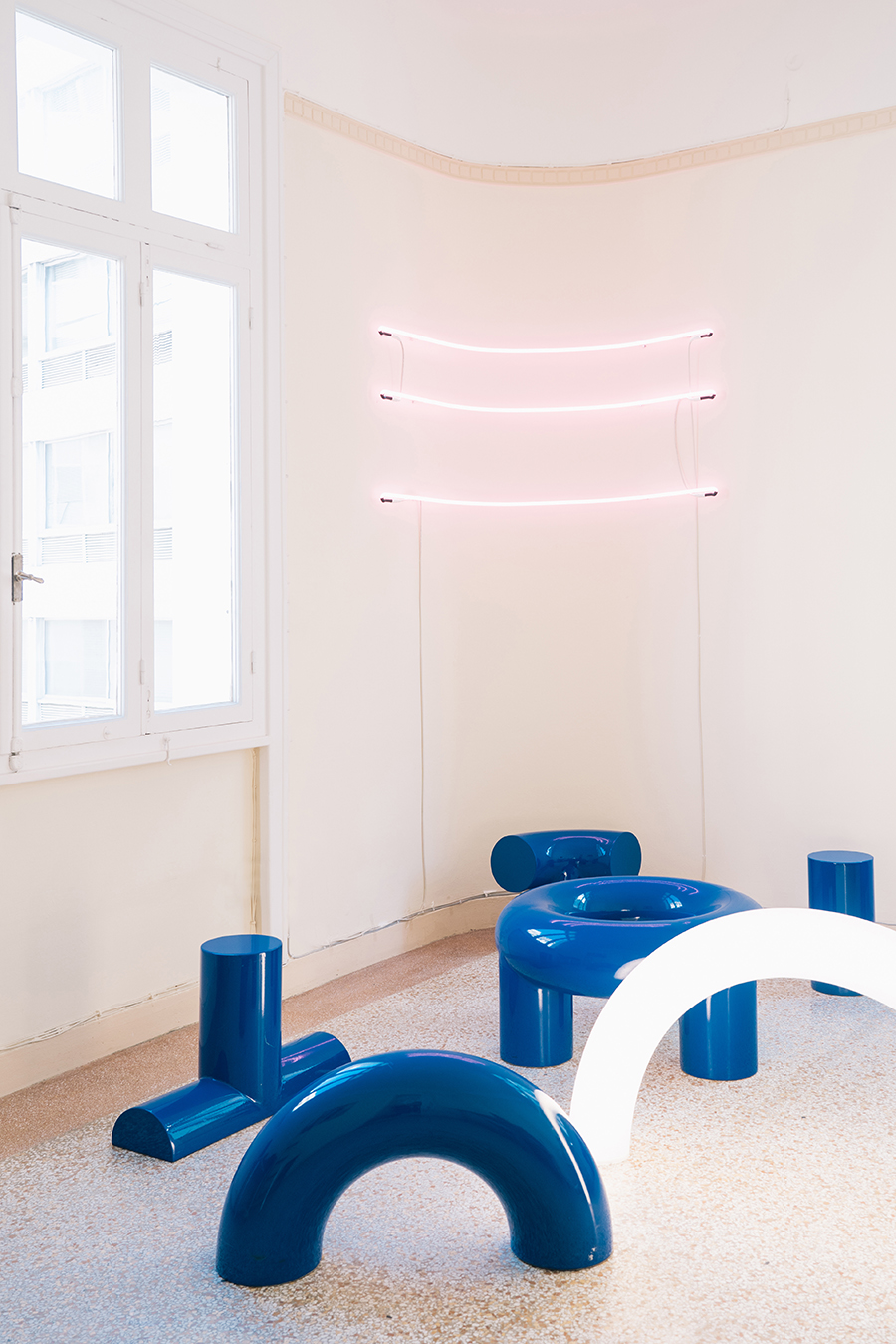 How did you two meet? 
LT: We met in our hometown of Thessaloniki through common friends, and completely randomly, we followed similar paths since then: We attended the same architecture school in Greece, both took a study-abroad year in Paris, and, when we met, we both wanted to go to New York. 
EP: We both ended up studying architecture at Columbia University, but after that, we took separate paths — Leo's toward architecture and mine toward art. But that separation didn't last very long. We founded LOT in 2012, which coincided with the completion of three kick-off projects: a beach club in Mykonos, a school building in Finland, and a large housing complex in Greece that won the Best Project of the Year that year. We did this while still working our normal day jobs. A few years later, we started Objects of Common Interest as a sibling studio.
With so much on your plate already, what inspired the decision to start a second studio?
LT: It came out of pure interest in experimenting with smaller-scale design. The two practices run at completely different speeds, so we feel the two complement each other and fulfill all our creative needs. They also each have their own separate identity, which gives us conceptual freedom to go in completely different directions design-wise, and to merge ideas whenever we feel there is a common ground. Our architectural backgrounds fuel our ideas for both studios, and we often use Objects of Common Interest as a means to experiment with concepts we might use later in larger installations or architectural designs.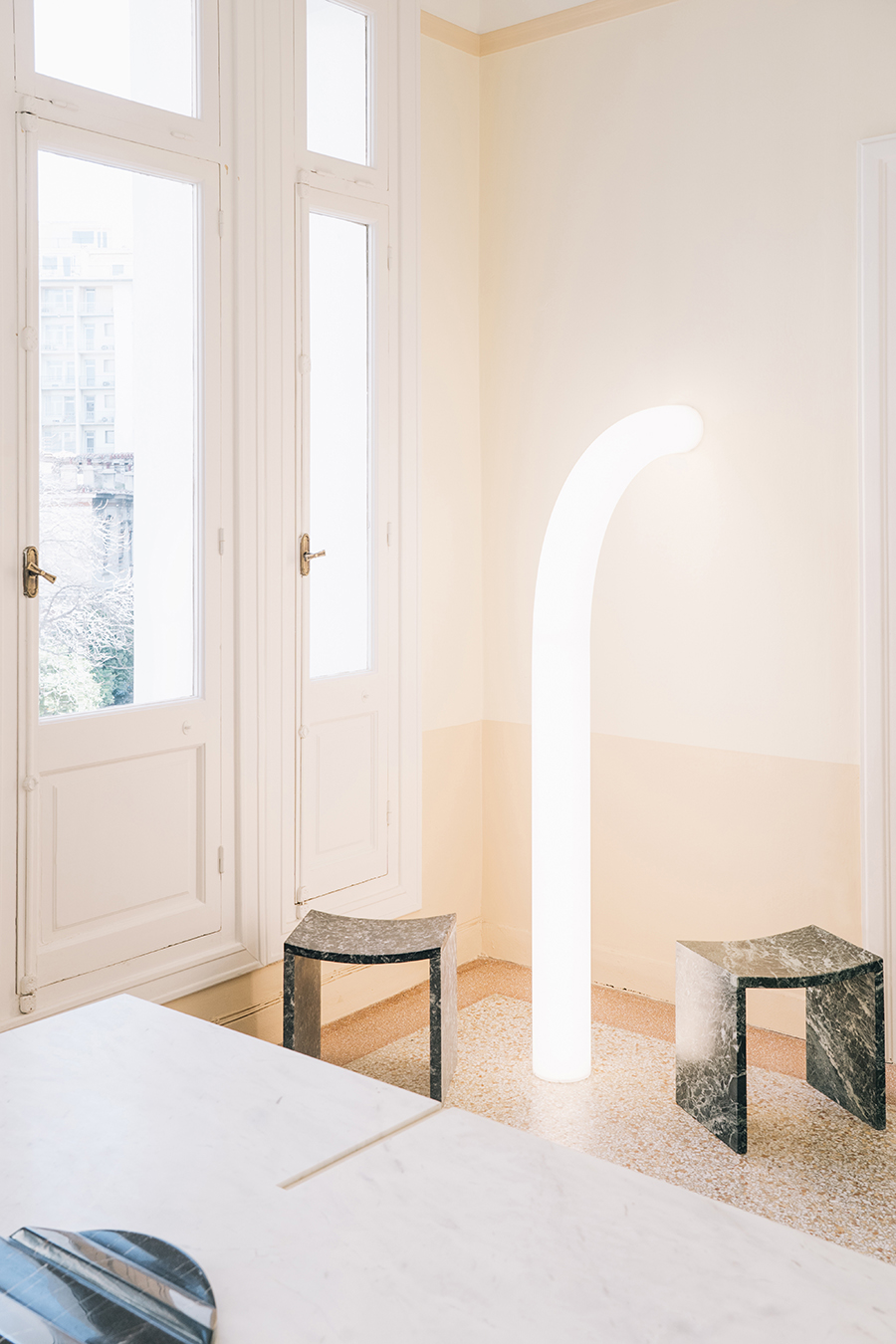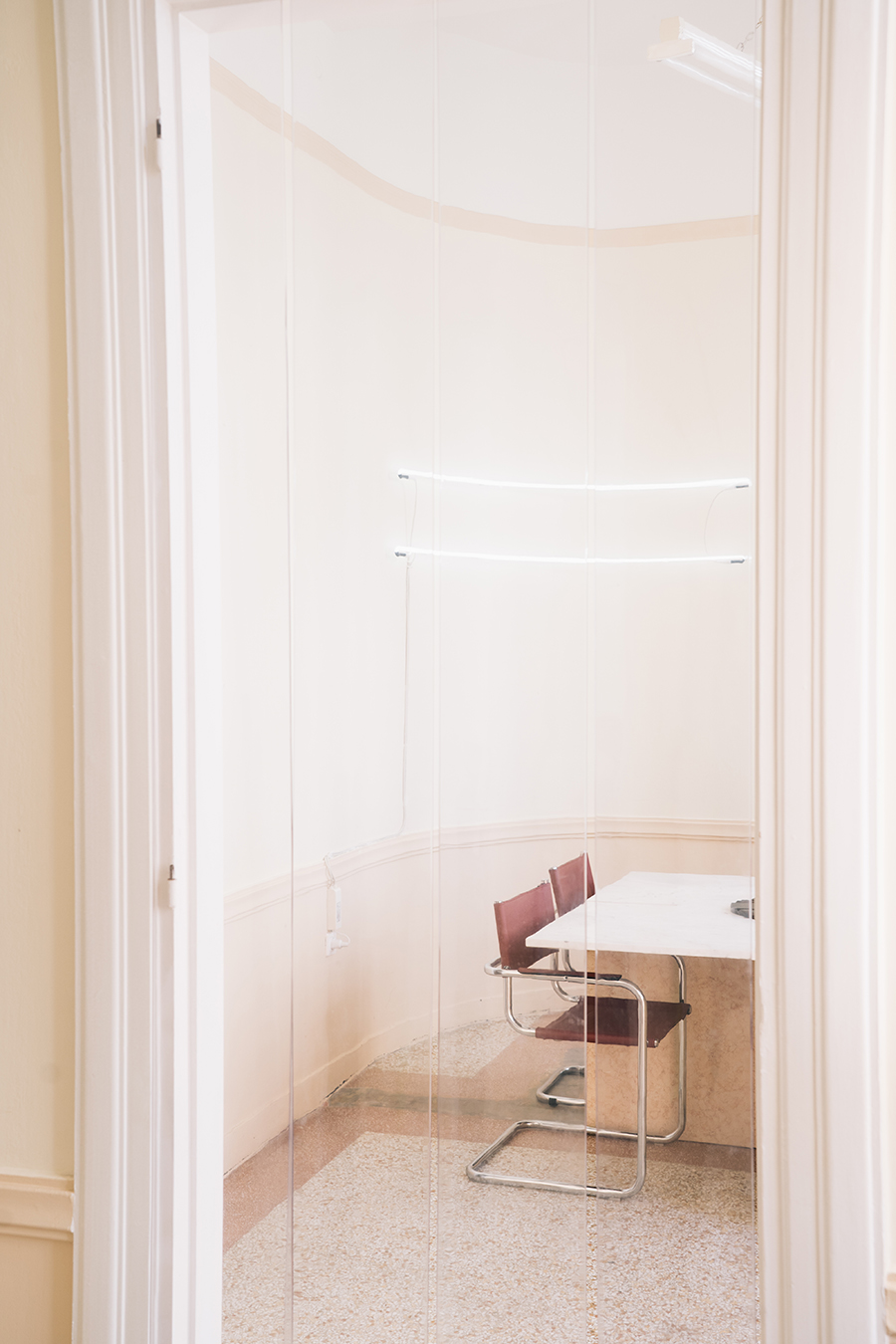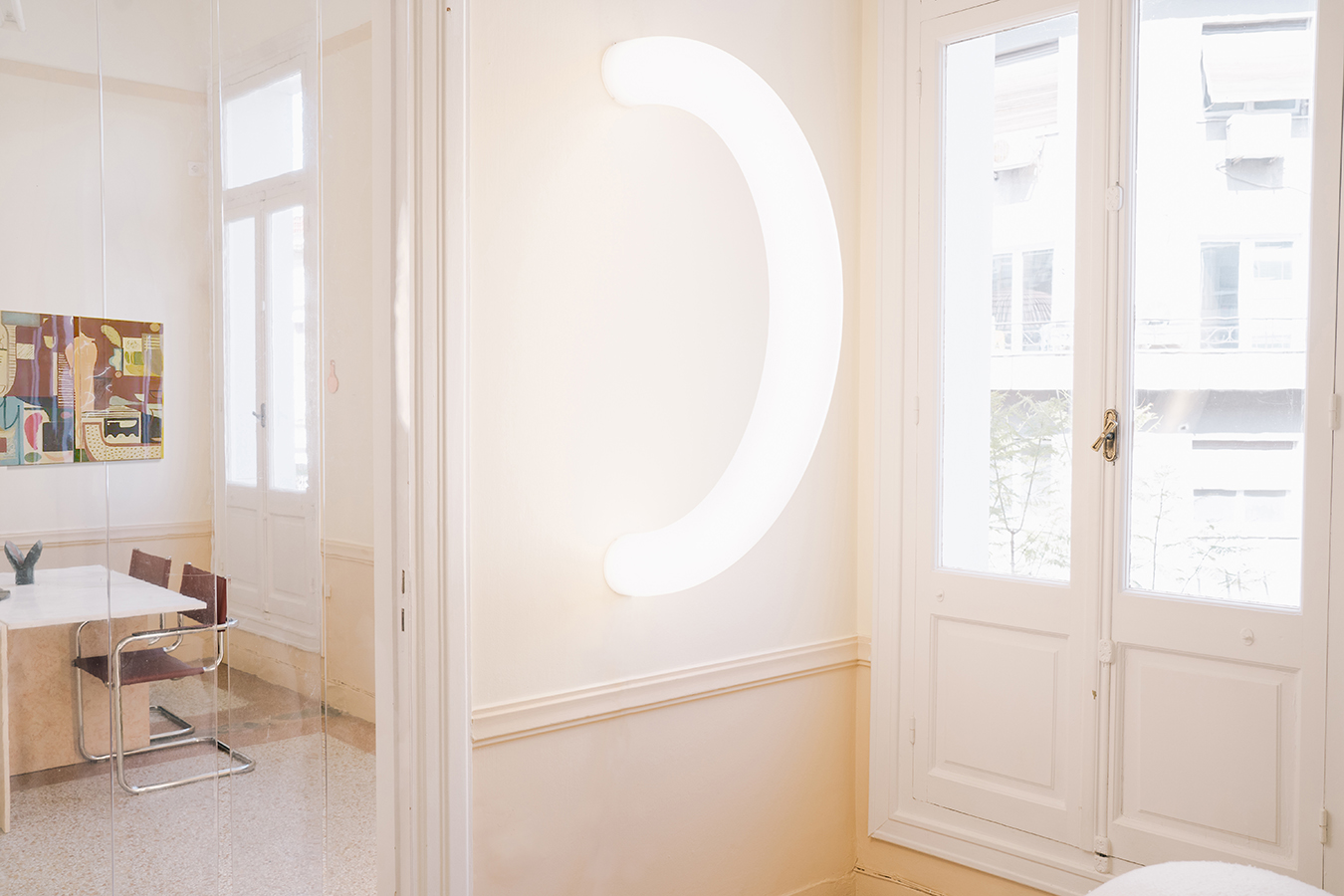 You're based in both Athens, Greece and Brooklyn, New York. How do you typically divide your time?
EP: We spend about four to five months in Europe per year, between Athens and a few other places. This is for a combination of research, work, and pleasure. Otherwise, we're in New York. Besides our offices, we spend quite a bit of time on project sites, as LOT has active building projects in both places. The two studios work together at all times and are always connected virtually so that they feel and operate as one unit, working on common projects.
You mention on your website that your work switches "between the formal and the intuitive." Is this a reflection of the two cities you live in? How does each location influence and inspire your work?
LT: There are opportunities to work formally and intuitively in both places. There are moments when we tend to think too much — analyzing, testing, and exploring before producing a work. That's what we mean by formal. Then there are other times when we instantly know what we want to do and there's no need to even make sketches. We go straight to fabrication in those cases, and that's what we mean by intuitive. Athens and New York are both intense urban environments where improvisation is key. One has to act intuitively very often, whether in relationships or work or when interacting with the city. At the same time, both places offer moments of tranquility and reflection and move at a slower pace, gathering our thoughts and energy. 
EP: We have been living and working between Greece and New York for a while now, so we've never really lost any connection with either of the two worlds.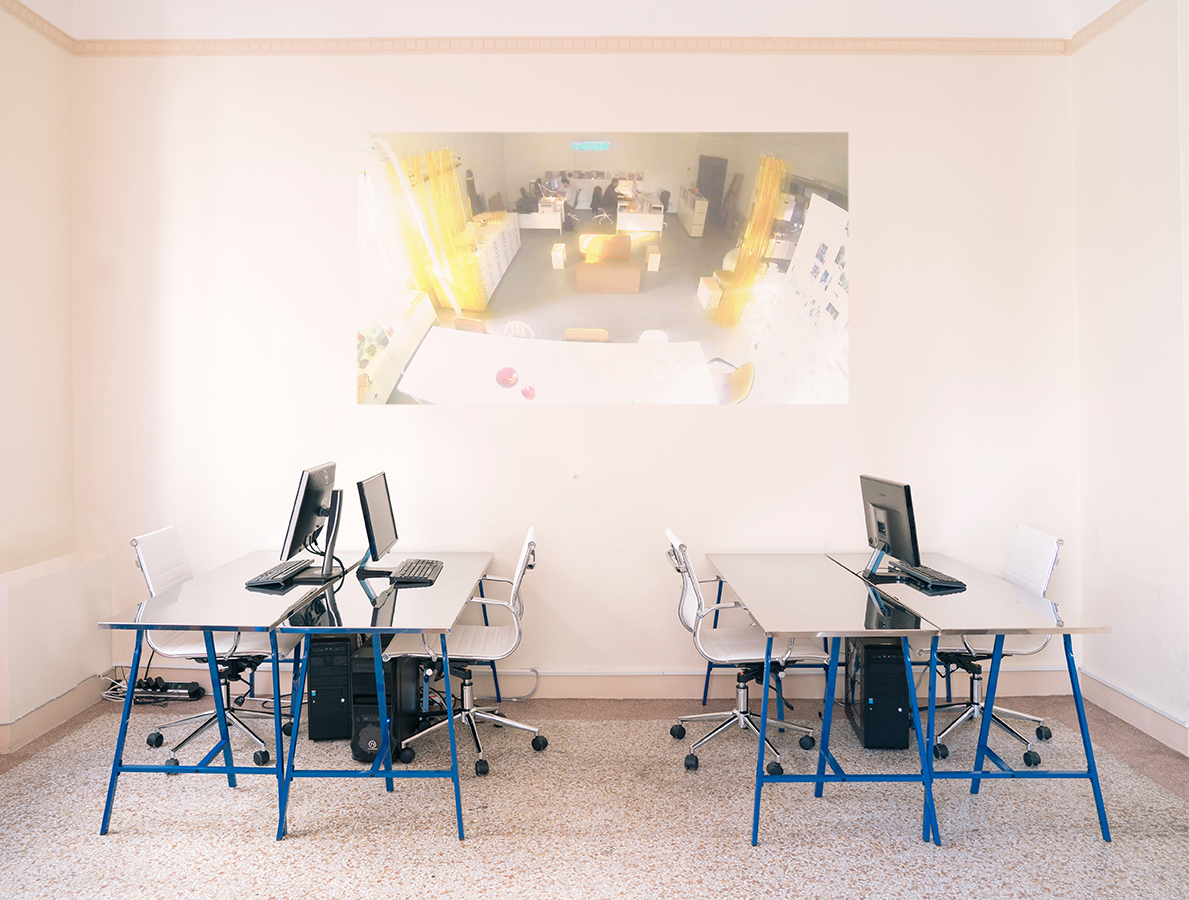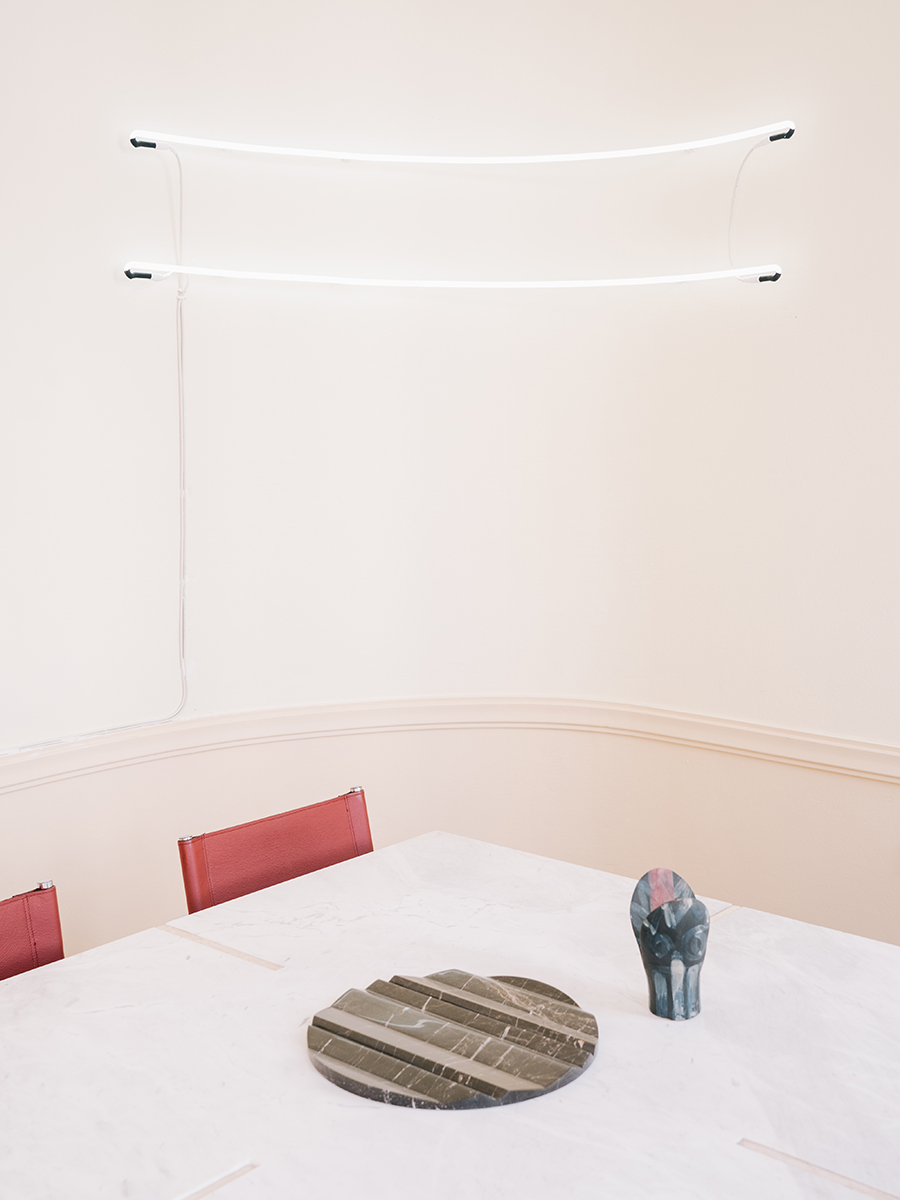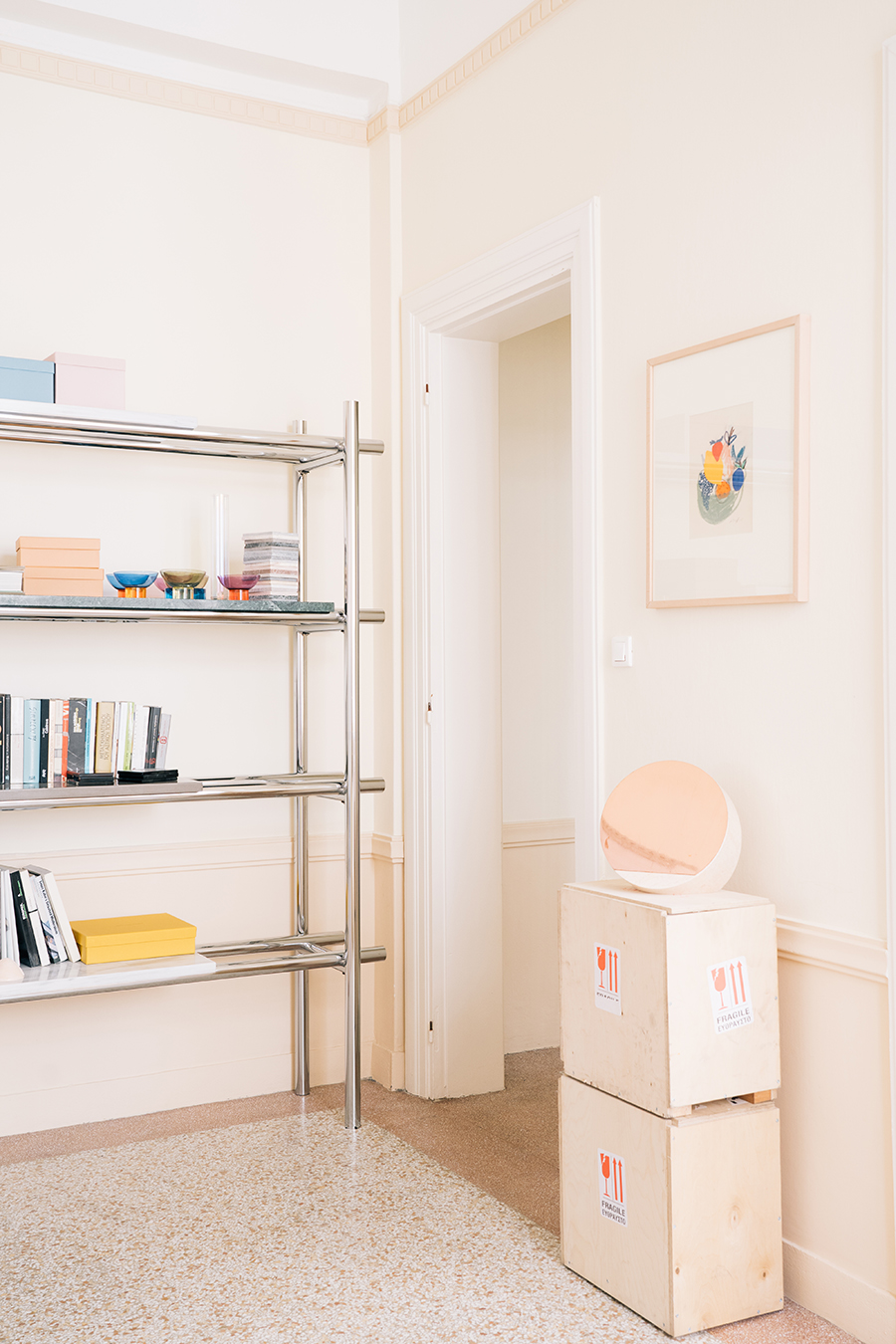 Tell us about your Athens studio. When and how did you find it—and what drew you to the space?
EP: It's important to be comfortable where you work and surrounded by nice people, and we were lucky enough to find this type of environment here. It's key for work-life balance. The Athens studio is an entire level of a building that has independent access from the street. It's located above one of the most historical theaters in Athens. It's a landmark building, and a very unique space that would be super hard to replicate. It was amazing timing when we found it — we were there at just the right moment to ask if there was anything available in a building that no one would think of asking for studio space in.
Your Tube Lights steal the show in your studio. What inspired their design? 
LT: We had been asked many times, 'Why haven't you designed lights?' We were told we would be good at it. We'd been preoccupied with so many different projects, from architecture to design, and we felt we needed clarity and time to develop them properly. Tube Lights is our first lighting project. They're glowing, curved formations — shapes that appear to be soft and pliant but are in fact made of hard acrylic. They represent many of the words and phrases in our design vocabulary: illusion, geometric clarity, simplicity. They're stand-alone structures, but they're also functional lights.
EP: We started working with such childlike forms initially with Formations, a seating installation commissioned by Art Athina for the entrance of the Athens Observatory. In the studio, we have the Formations chairs and the Tube Lights together because the scale and formal reference of the seating is interesting in conjunction with the lights. We often rearrange things in the studio as new pieces come in, or when we want to juxtapose new and old work. We like to spend time with them and see how things feel together.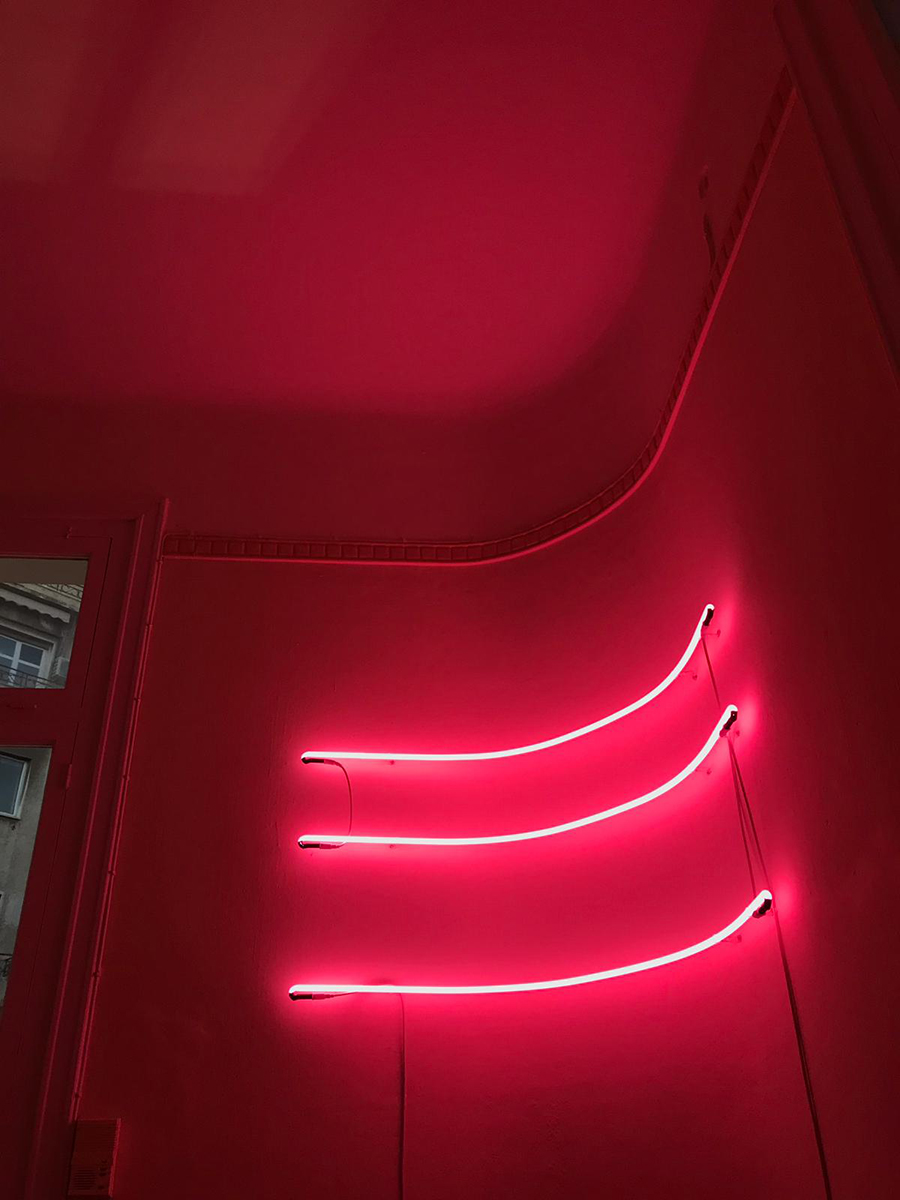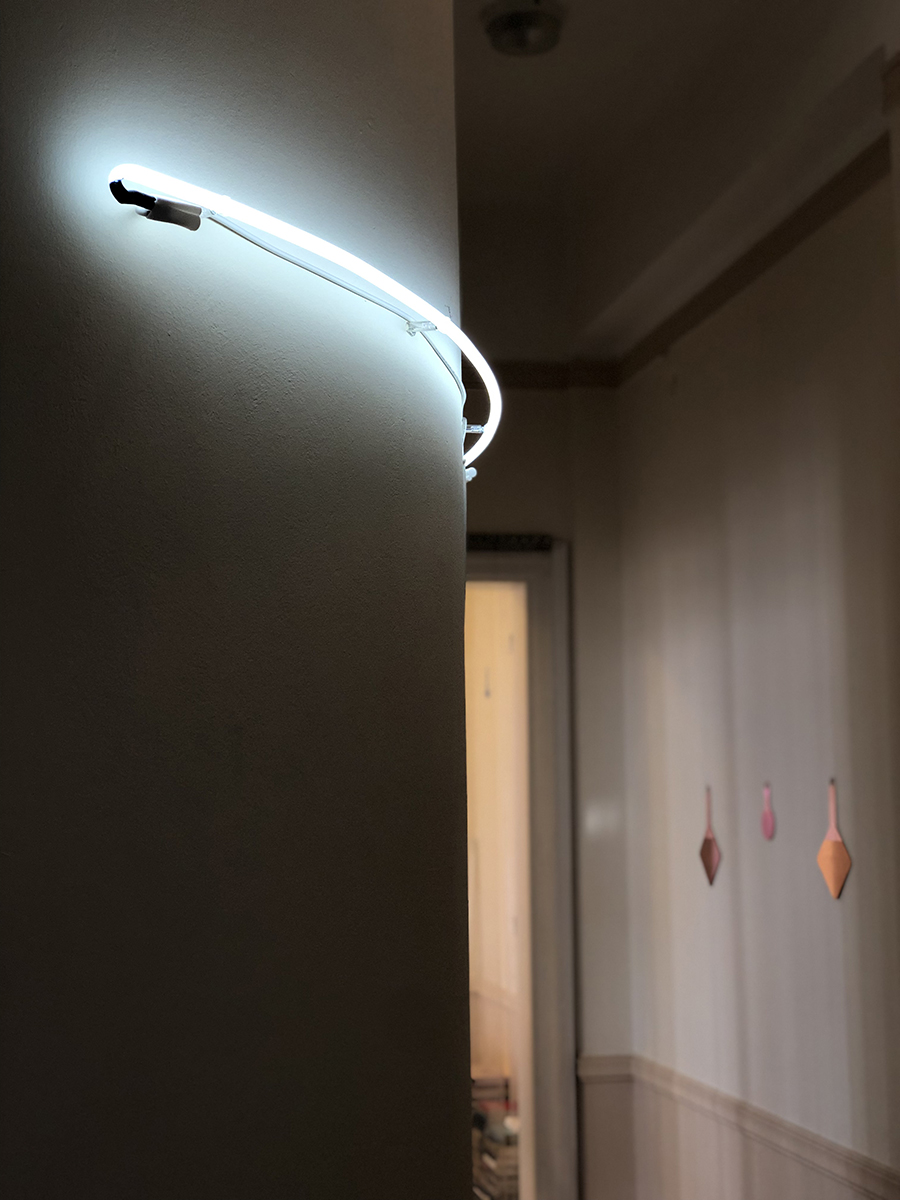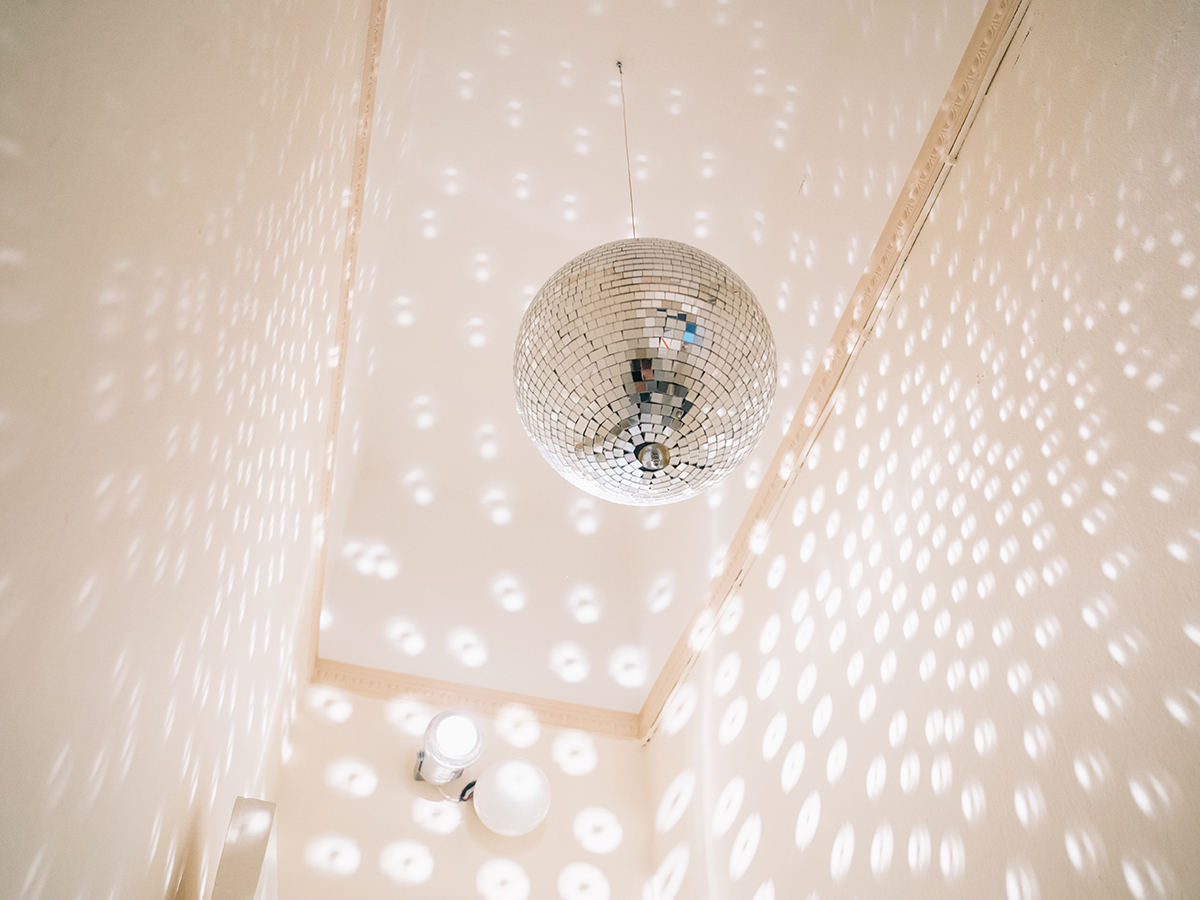 What are your favorite materials to work with?
EP: We are interested in materials, textures, and material properties such as marble, acrylic, and wood, but what really dictates the way we work with material is not the material itself so much — "ah, let's do something with marble!" Instead, it's more often the ideas that dictate our choice of what to work with. For example, illusion and simplicity are recurring ideas in projects we've done. We used seemingly bent marble to form our Bent Stool, and, as we mentioned, a hard acrylic tube that looks soft in the case of our Tube Lights. We like to be challenged, so there is an infinite palette of materials that we'd like to work with in the future. At the moment, we're experimenting with fabric, acrylic, 3D printing, and glass.
Is there something you'd like to make that you haven't had the opportunity to attempt yet?
LT: We really hadn't worked around lighting at all until this year, when we launched the Tube Light series at the Collectible Fair in Brussels. We think designing lighting in the language of our studio — constructing sculptural forms that happen to be lit, and that have multiple uses and applications — will be interesting to explore further.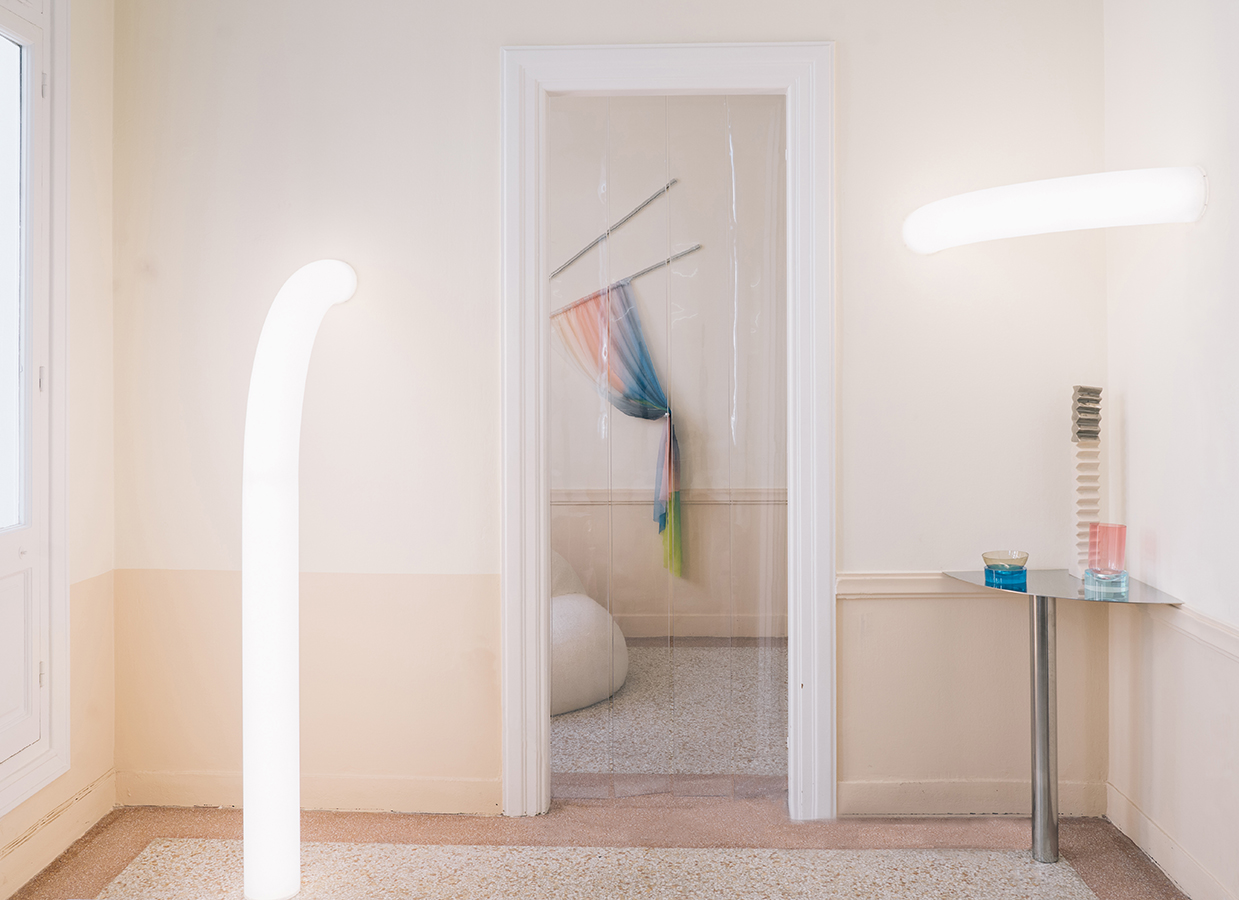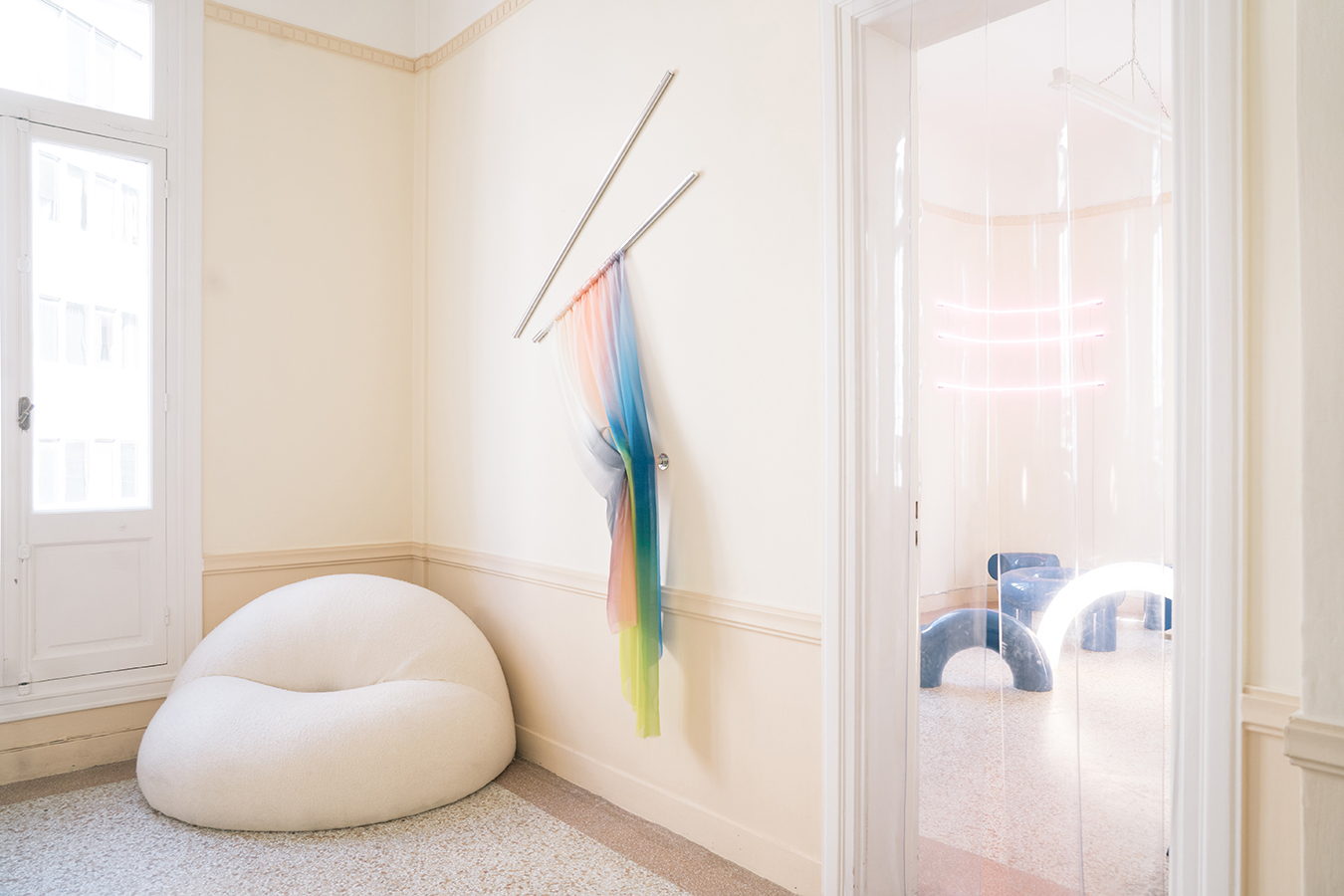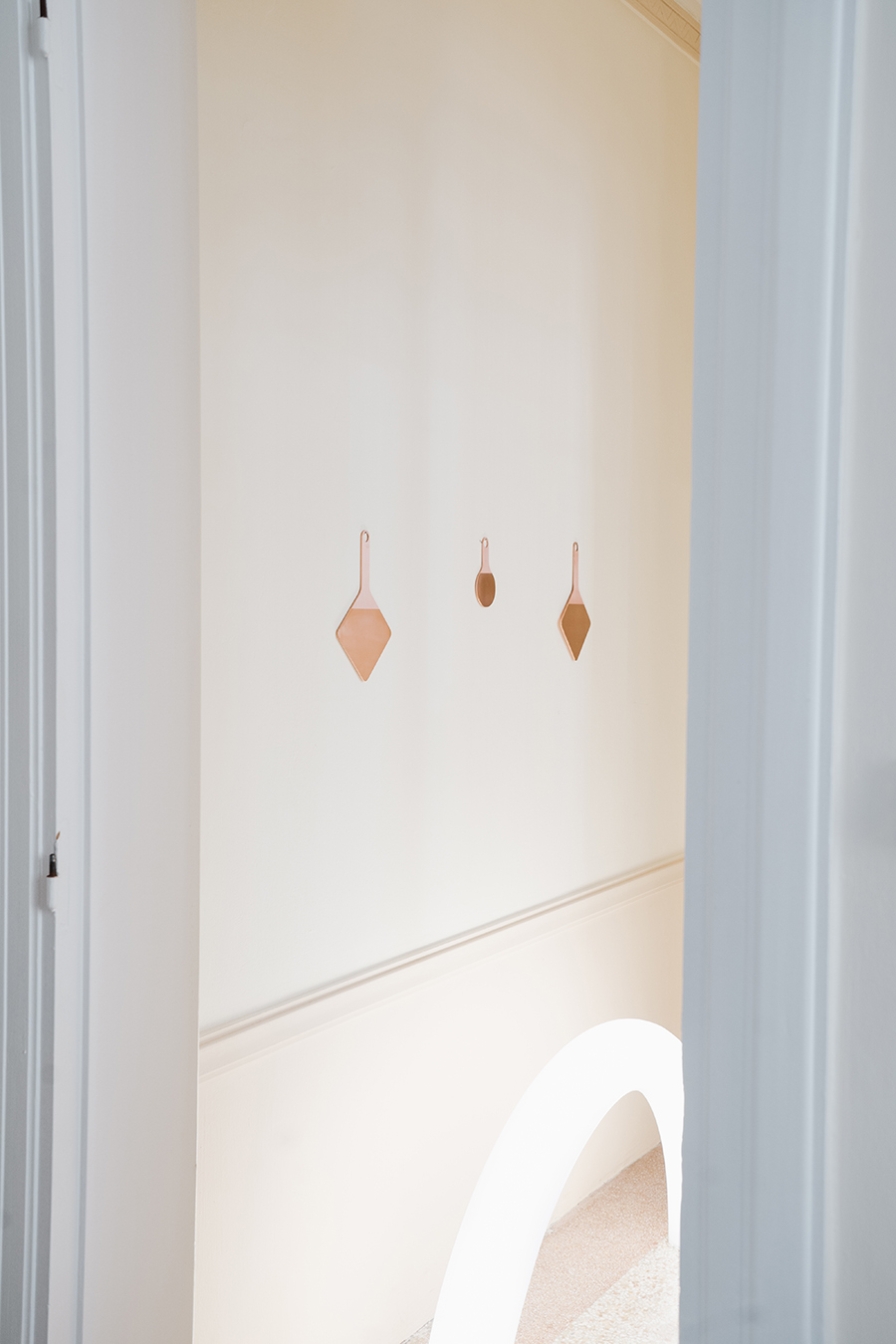 Your studio seems like a fitting space for dreaming up the types of imaginative work that Objects of Common Interest makes—everything from clothing to lighting to furniture and beyond. What would you say dictates the sort of projects you take on—and what ideas or themes connect the various designs you produce?
EP: There are projects we self initiate out of pure interest, such as many of our early projects — the Bent Stool, or the Layer Stools, for example — where we were interested in a material like marble or felt and created pieces that appealed to us while playing with concepts of illusion and form. Other projects come about through collaboration with brands, companies, or venues. In 2018, we were invited to create a temporary theater for DesignMiami. Our Landscape clothing line was a collaboration, as well, with the Greek brand Methen. And we're currently working on a collaboration with two Greek institutions on an upcoming collection of new objects, and on a custom lighting fixture commission for a co-living space that will open in Manhattan in 2021.
LT: Overall, reinvention is a theme for us. We tend not to duplicate past work in variation or editions, and prefer instead to start fresh for the purposes of each commission and project that comes our way.