05.29.20
Oyyo's New Swedish Flat-Weaves Are a Master Class on the Reuse of Leftover Yarns
This piece is part of Sight Unseen's 2020 Offsite Offline coverage. To view Oyyo's virtual booth on Offsite Online, click here.
When we first met Lina Zedig and Marcus Åhrén of the Stockholm and Tokyo–based design studio Oyyo, back in 2015, they were in India, working on the follow-up to their debut collection of statement-making dhurries: Decorated in vivid hues and abstract geometric patterns, their Collection 01 mined the tradition of Swedish flat-weaves while updating their aesthetics for the 21st century. Since then, the duo has frequently spent time on the subcontinent working closely with a community of craftspeople — first in the desert state of Rajasthan, and then in Maharashtra, where in 2016 they established a dedicated workshop where local weavers employ centuries-old techniques. There, Oyyo's organic cotton yarn is hand-dyed in small batches with pigments derived from local plants, and the leftover yarn is collected, weighed, and sorted by color.
For their new series, Landing Site Irregular — which we're featuring here today — the focus was on the reuse of those leftover dyed yarns to create experimental compositions of custom colors, such as vibrant-azure blue and light tangerine. Smaller in size than the original offerings, these rugs breathe new life into the yarn, but the geometric underpinnings remain, inspired by visionary architects and artists Shusaku Arakawa and Madeline Gins's theories on space and color.
"I came across Arakawa and Gins's work around 8 years ago and was fascinated by their view on architecture, nature and color," says Lina. "We then stayed a few weeks in an apartment at the Reversible Destiny Lofts in Mitaka, Tokyo, and visited Yoro Park in Gifu a few times. In both places, the theme of mental, physical or theoretical landing sites is very present — i.e., how to approach and interact with a space with body, spirit, and mind." With the launch of Landing Site Irregular, we spoke with Oyyo via email to find out more about their theories of color and space and how they transformed a local craft into a contemporary design brand.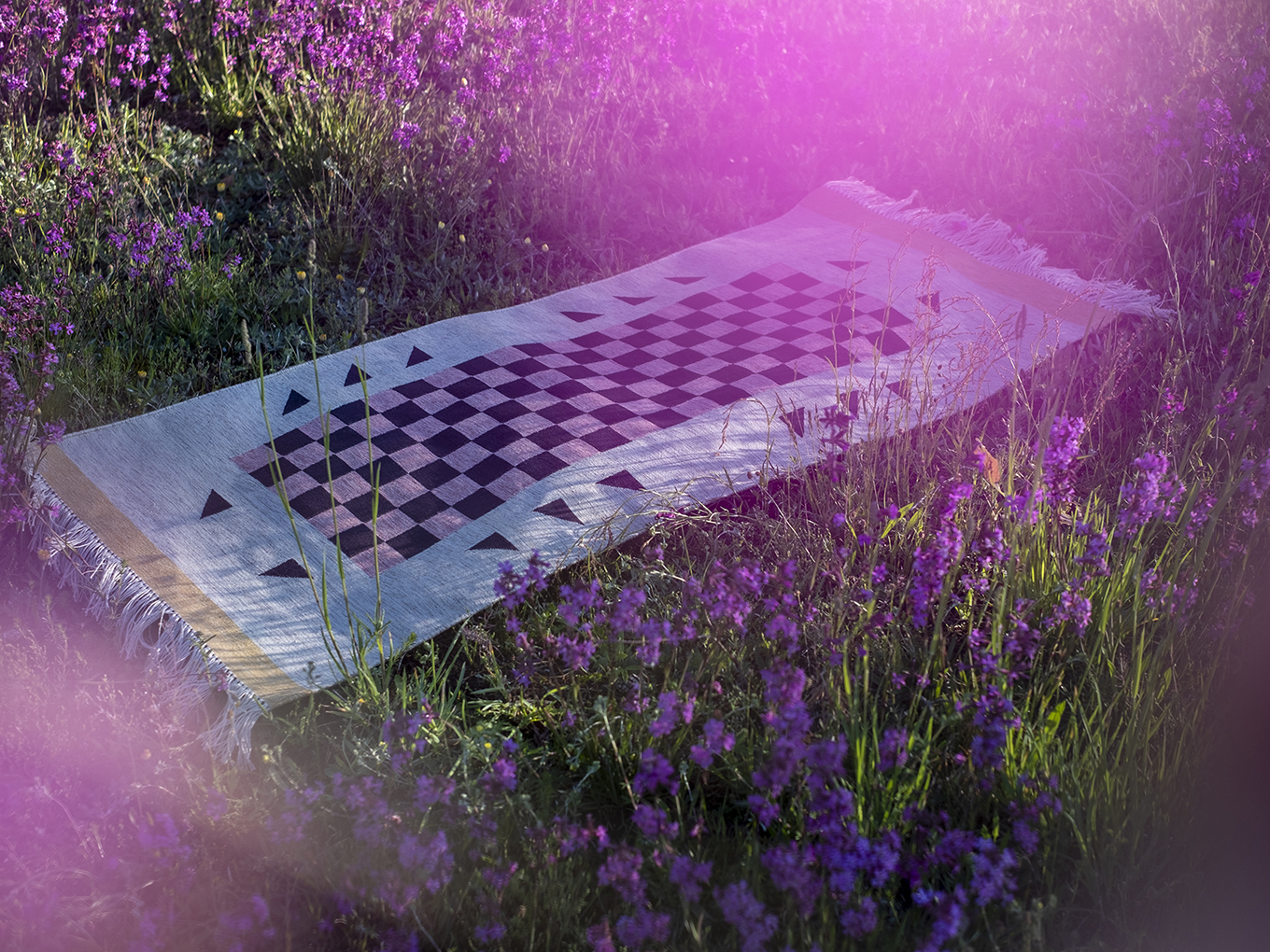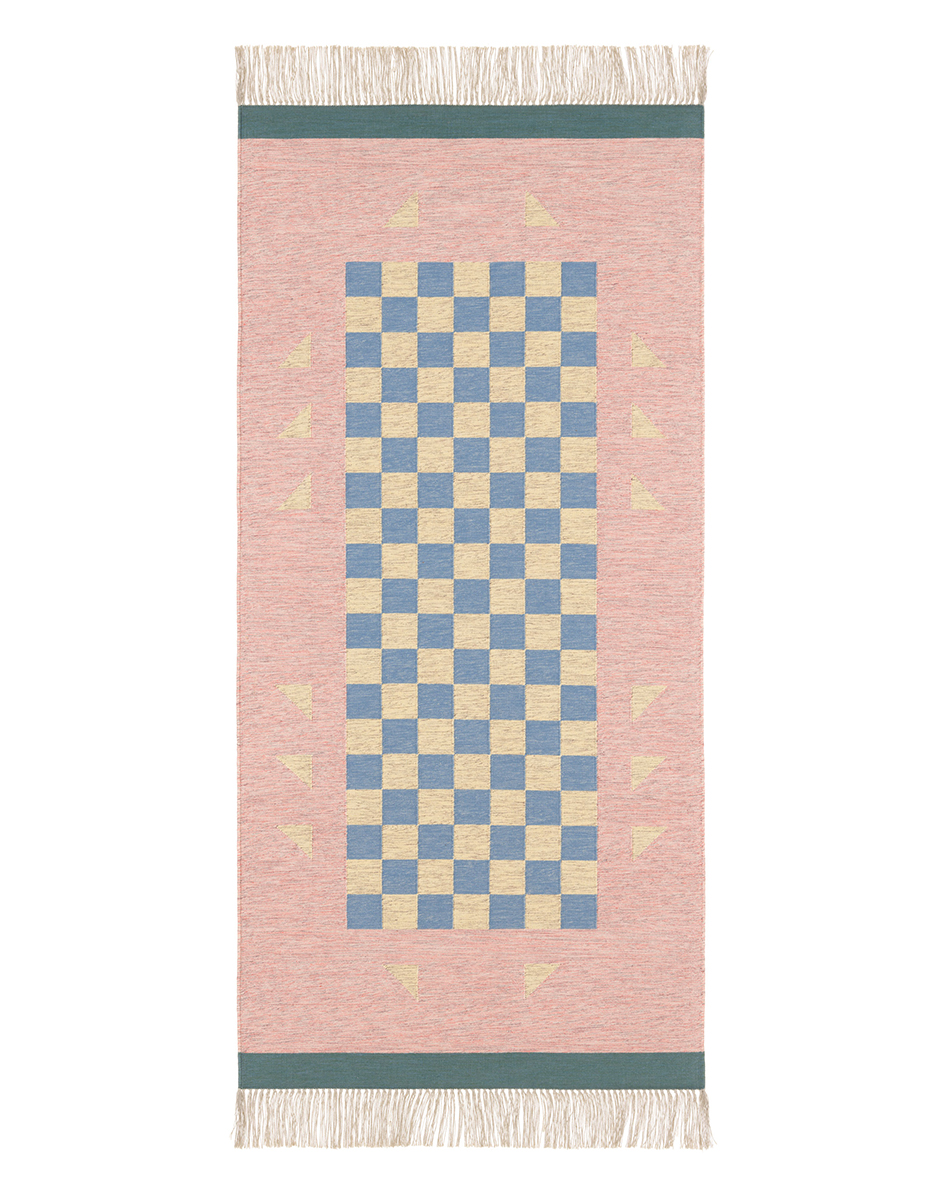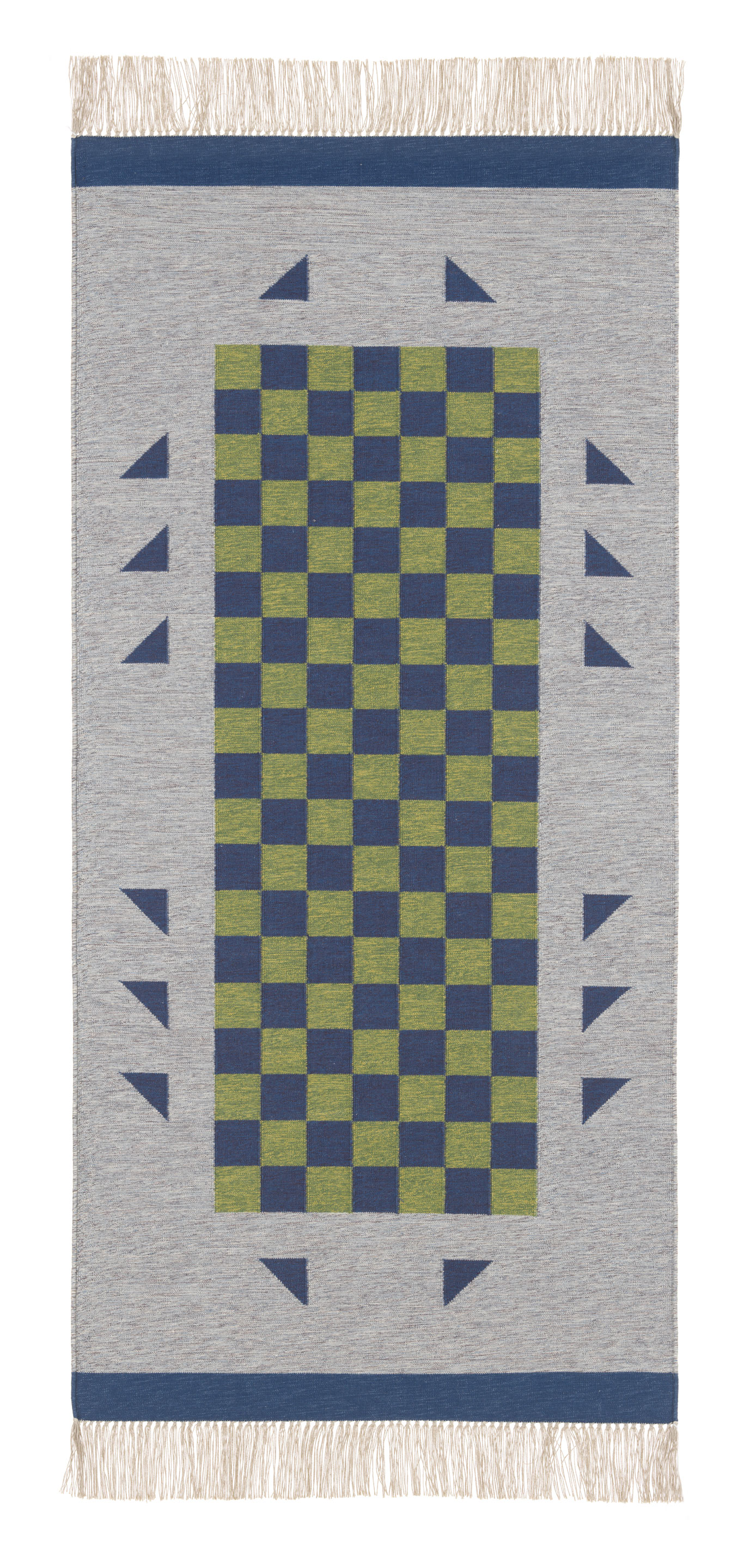 Tell me about what initially inspired your decision to start a textiles brand?
Lina: Ten years ago, we travelled to India for a friend's wedding in Ahmedabad and, as we both share a passion for textiles, we decided to go on a research trip there afterwards to explore and learn about local craftsmanship. One of our first visits was to the Calico Museum of Textiles which was a very exciting experience; the textiles are amazing. Throughout our trip we also saw a lot of antique and semi-antique textiles. Realizing India's rich heritage, we compared what has been produced in the past with what is produced in India today and it frustrated and disappointed us. The idea of all these craftsmen being pushed to weave incredibly poor quality for Western markets made us think what we could do about it. We discussed ideas during the trip for a small-scale project with the weavers and this was the starting point of what later grew into Oyyo.
How did you find your weaving workshop in Maharashtra?
Marcus: We spent a lot of time visiting the villages where we had production, trying to get to know our weavers, understanding their working conditions and the local industry. We saw that they were really squeezed in — between local contractors and international buyers looking for low-cost production. In some ways, this type of hand-loomed weaving is slowly dying. It's hard for weavers to make ends meet and no one is appreciating the craft; it's all about finding ways to cut costs and weave fast. So, to make sure that our weavers got a good salary and could focus on the craft and quality, we started our own workshop in 2016. One of the reasons we set it up in Maharashtra is to be closer to our natural-dye partner so that we can work with both dyeing and weaving in the same place.
How are the dhurries made?
Marcus: Our dhurries are woven on the most basic horizontal floor loom. The loom itself is basically the same size as the weave with pillars tightly secured in the ground. The warp is laid and then tied in one heddle. The tension of the warp thread is so tense that it's almost like a piano wire, like you can play on them. After the loom is dressed, the weft yarn is handpicked and packed with a panja (a comb like tool about 5 cm in width). It's a time-consuming process that is very similar to tapestry weaving.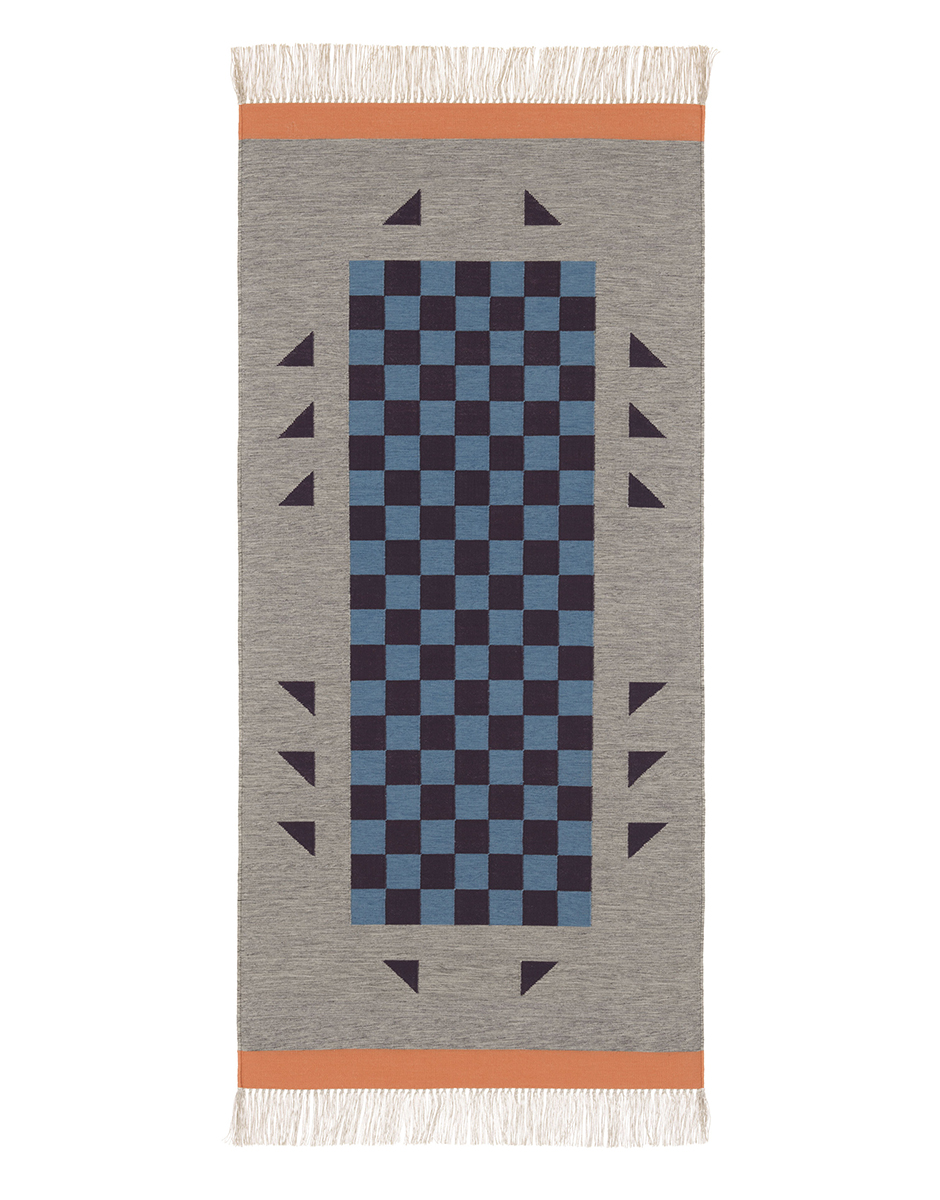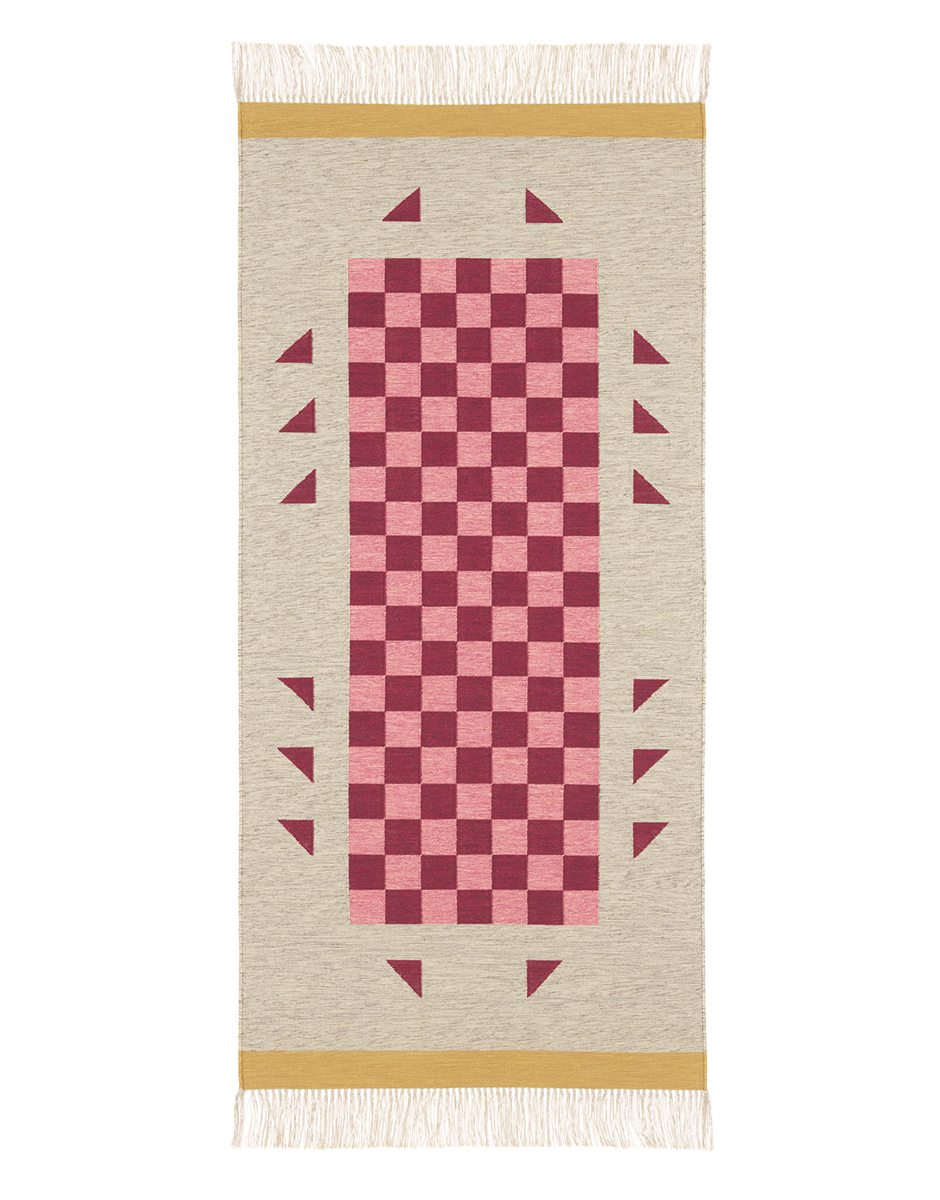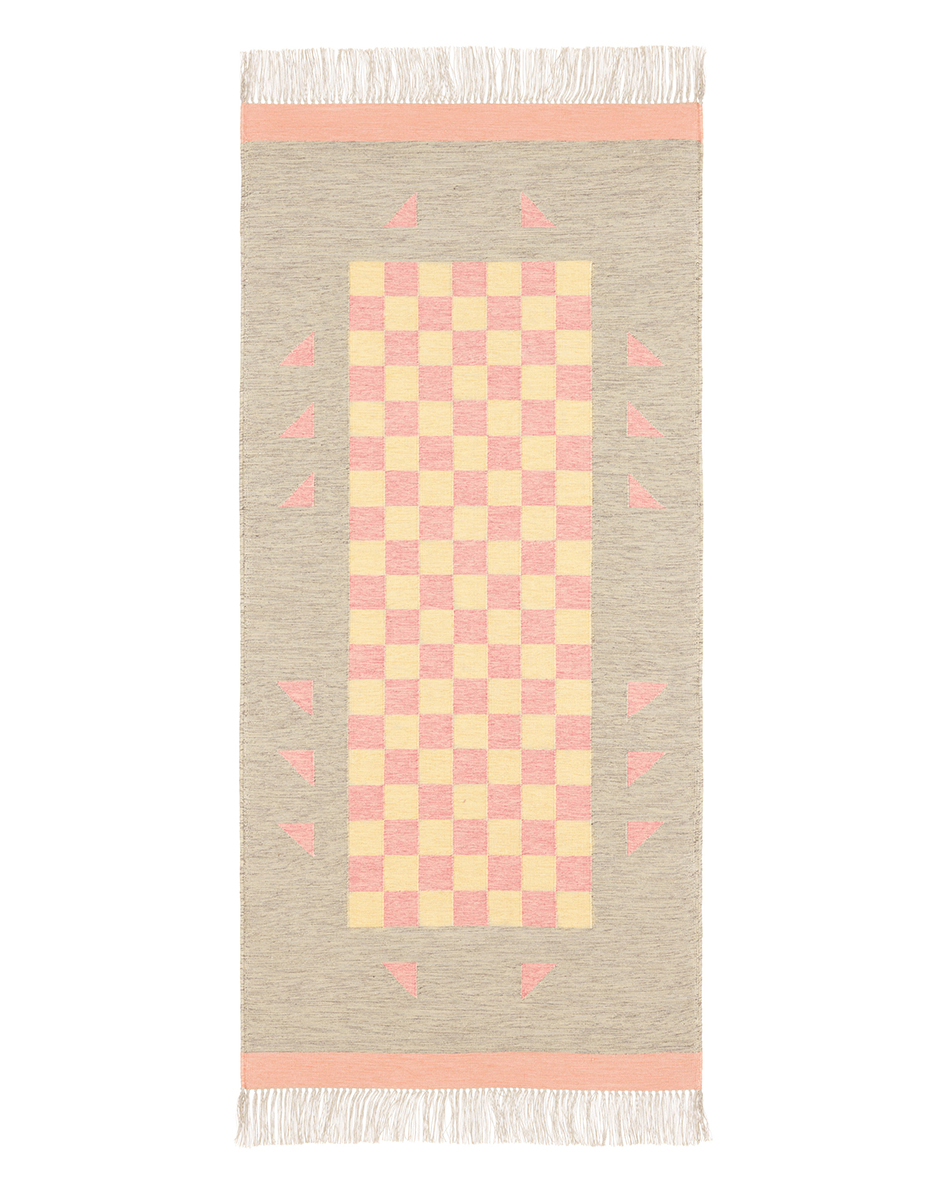 Are there certain limitations to the process that dictate your aesthetic to some degree? 
Marcus: I would say that flat weaves in general are more suitable for geometric designs and less figurative. Tufted and knotted rug techniques are more free in that sense.
What inspires the different color palettes and designs?
Lina: From early on, we realized that if we wanted to work with local weavers we would also need to dye our yarn in India. It was so crucial to find a reliable partner for natural dyes, as chemical dye production in India is incredibly unsustainable and damaging to nature. Being able to work side-by-side with our dyers, dyeing in small batches, turned out to be so limitless. It opened us up to a trial-and-error approach and allowed us to experiment and find the right colors. This has enabled us to build a rich color library.
I initially play with shapes and colors digitally and analog, making collages and also sketching. Everything I do starts with colors in a very intuitive way and also being inspired by architecture, culture, art, city walks, trips. All of these somehow are unintentionally registered into a library in my mind, and are then drawn out whenever relevant.
How does living between Stockholm, Tokyo, and India influence and inspire your work?
Lina: I think there is a kinship between Japan and Scandinavia when it comes to aesthetics. Japan has been a constant source of inspiration, especially when it comes to craftsmanship. India stands more for tradition and it's interesting to find that there is a connection to Scandinavian weaving traditions in India, especially in some of the older weaves we've come across over the years. So all places have a uniqueness but there are also elements that connect and inspire and that's what we look for.
What made you decide to use leftover yarn for this new Landing Site collection?
Marcus: When dyeing with natural dyes, we dye the yarn by hand in small lots. In between the lots you can get some smaller color variations. So, when we produce our regular collections and bespoke projects we always get some leftover yarn that we can't put into our normal production again. Each weaver weaves a bit different and the amount of yarn that goes in to a dhurrie varies from weaver to weaver. Over the last five to six years we've collected this yarn and built up a library of leftover yarn colors. About a year ago we started to develop a smaller sized dhurrie, at a slightly lower price point, for a Japanese client of ours and this was kind of the starting point for the LS Irregular project, which has been perfect for incorporating the leftover yarn. It has been an amazing project to work on, to be really free in how we work with color and to be able to be more playful.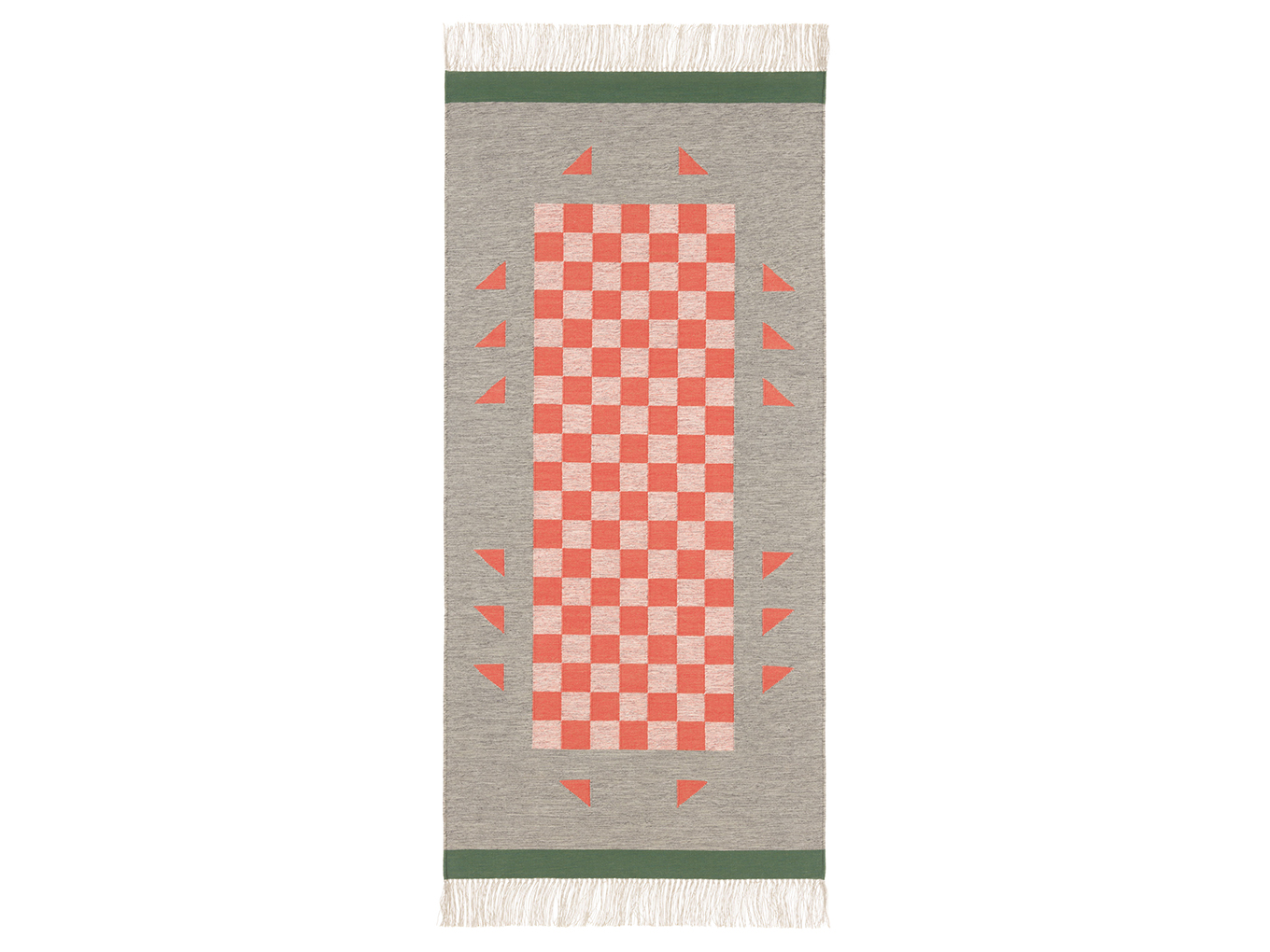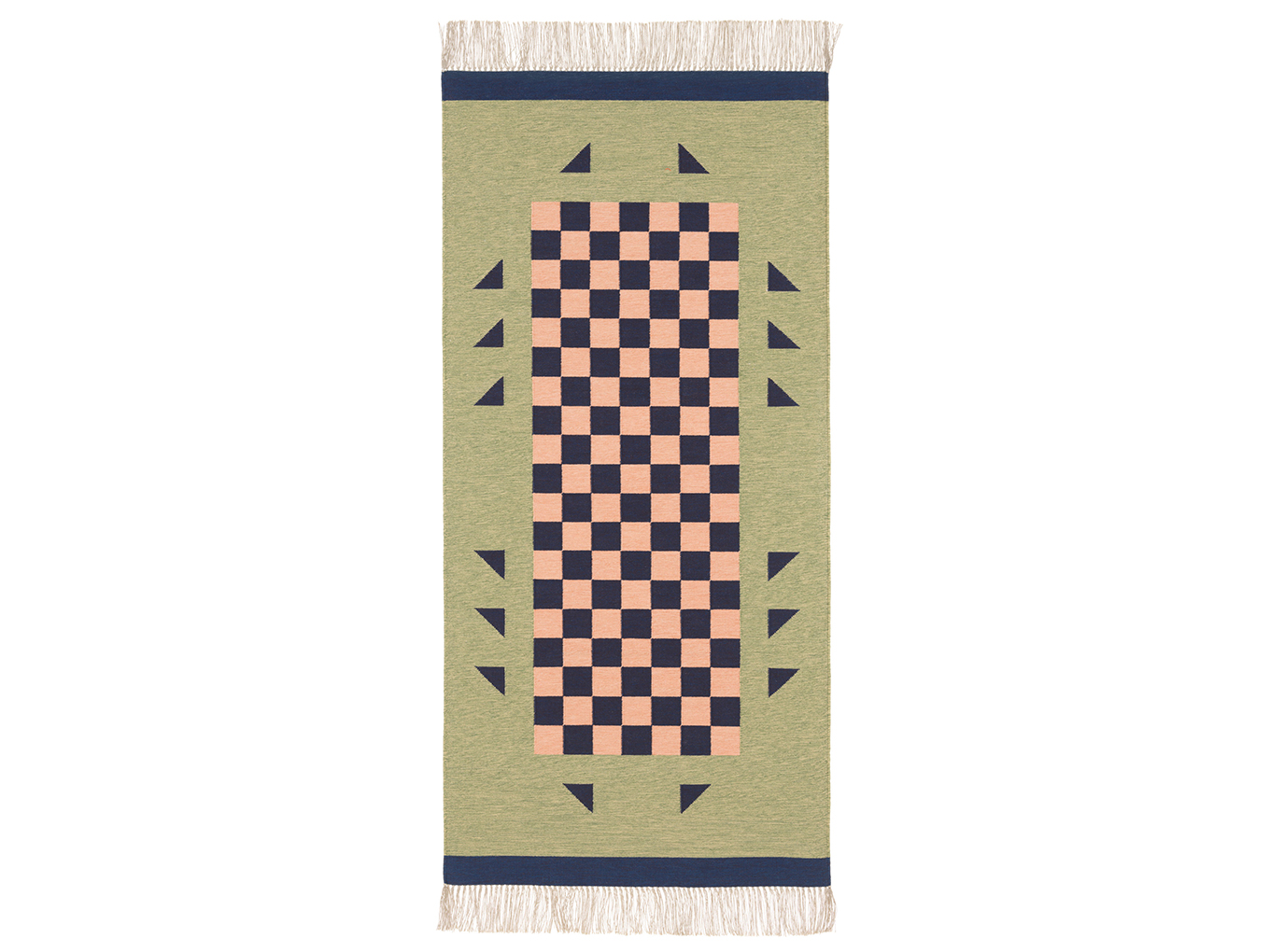 What's the best feedback you've ever received about the rugs you make?
Lina: The most meaningful pieces of feedback we get are about the appreciation of the quality of the work — about all of the details and materials. It's a recognition of hours and hours of our time and dedication following our values and beliefs, refining every part of the production process continuously over the years. This acknowledgment always makes us very proud.
Where is Oyyo headed?
Marcus: We were in the middle of launching a new wool collection but it has been delayed due to COVID-19. We are hoping to be able to present it this fall. The collection plays on the history of natural dyes, using some of the oldest dye pigments and we also use a new material for us — wool. We also have other home textile products in the works, so it feels very exciting!