05.21.20
Supaform's New Collection Goes Neutral, Removing What He Calls the "Fancy Husk" of Color
This piece is part of Sight Unseen's 2020 Offsite Offline coverage. To view Supaform's virtual booth on Offsite Online, click here.
Scrolling past a Supaform project almost always makes me pause. Among the droves of furniture and interior designers churning out detailed digital renderings and posting them on Instagram — often either as a mood board or prelude to an upcoming project — Moscow-based designer Maxim Scherbakov's seem to settle most strangely into the realm of the uncanny. Whether it's an unassuming scuff on the floor, a cleverly placed power cord, or a specific pool of light that prompts a second look, without fail, it takes me a few moments to understand whether or not the space in question actually exists (it often doesn't). This already skewed perception of reality is further muddied when considering Scherbakov's IRL projects — like the recent seating he showed at Collectible in Brussels, a wavy throne in chromed metal dubbed The Shiny Chair — which take after his digital renderings in their delusory appeal.
Supaform's latest collection — a shelf, chair, coffee table, bench, and lamp called Fancy-Routine and debuting at Offsite Online — possess similar characteristics to those in his imagined renderings: clean, curvy lines; off-kilter forms; and a resistance to revealing how exactly they come together. Composed of what he calls "rusty metal" (in reality, powder-coated metal with speckled Kvadrat upholstery), Scherbakov says his starting point for the collection was the idea of degradation — how even a shiny chrome surface can be eaten away if it's left long enough, a concept he describes as getting rid of the "fancy husk."
We caught up with Scherbakov over email to chat about the new collection, working with digital modeling, and how he's been spending his time during lockdown in Moscow.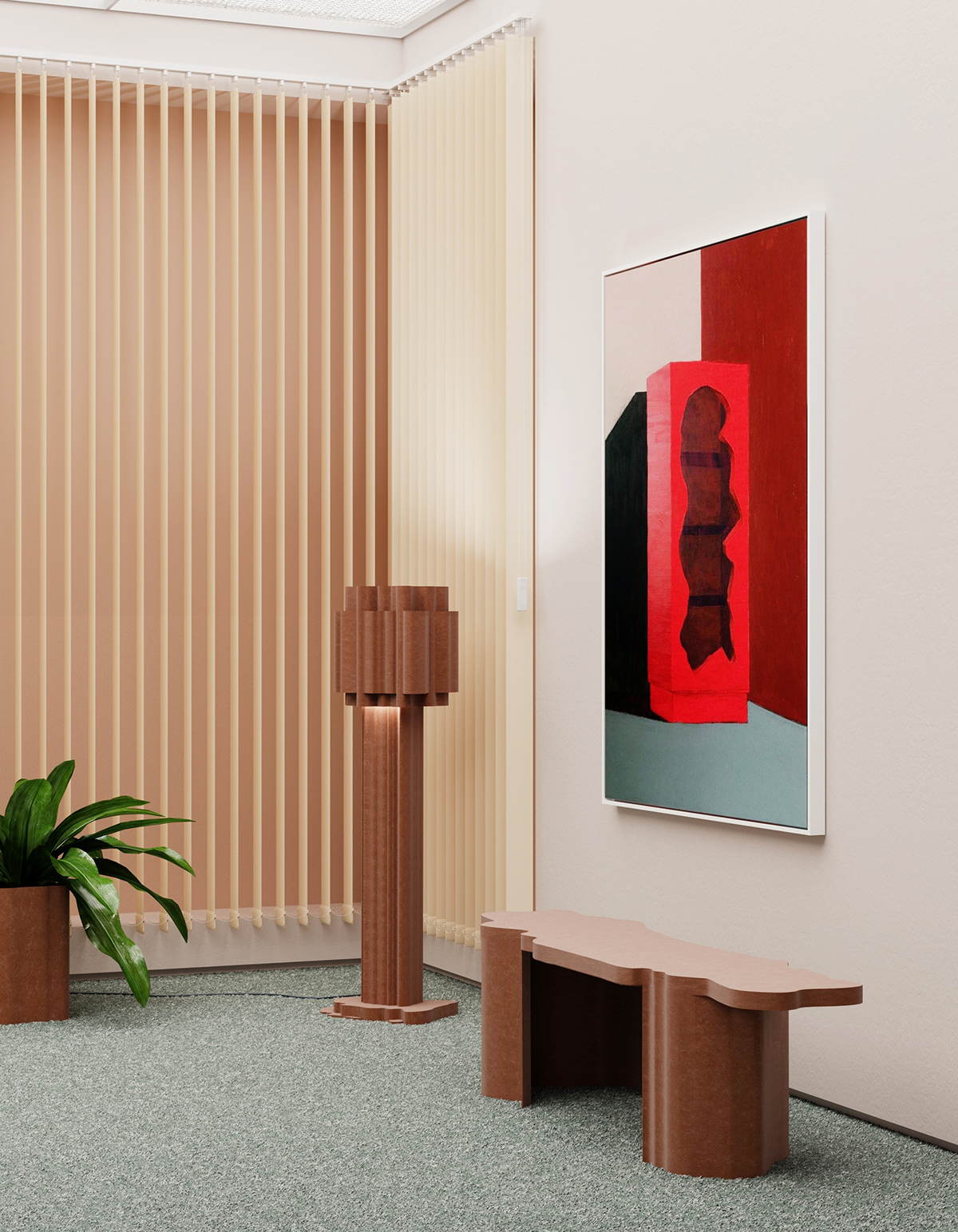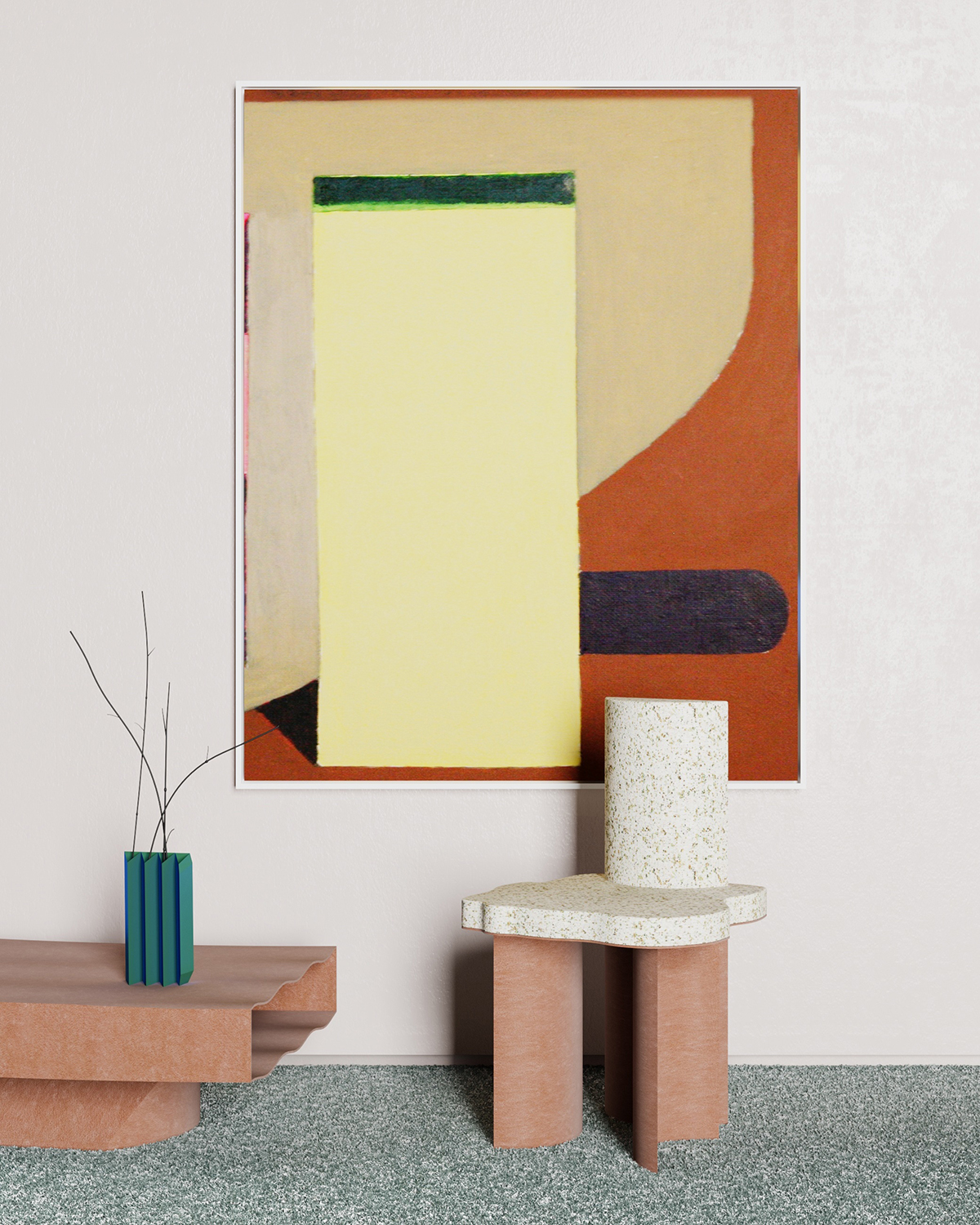 Can you explain the concept of the collection?
The new collection is my thoughts about temporary things in design. It's interesting to observe how design changes and transforms over time. What will happen to a bizarre piece that has been covered with any fancy coating, such as gold or fancy chrome, and if that husk fades over time? What core will we see? In that case, probably the original and overriding purpose of an object will come first. This aspect became the main theme of the collection.
Walk us through the materials you've used within the collection. Why did you make those choices?
Initially, according to my idea, all new pieces were blue chrome covered. Then I thought what if I wipe off the chrome and leave these pieces just in its natural metal color and, instead, the texture is rusty. The whole interior is a deliberately simple booth with a carpet and vertical jalousie. It's some kind of reference to the intentional simplicity and lack of fancy husk.
The objects and interiors you design always have a strong color scheme. How did you go about choosing the color palette, both for this collection and in general?
I just feel color and feel how it works. I love to experiment with color combinations, to use different types of contrasts and textures. Probably this is similar to the approach to painting a canvas. In my new collection, I decided not to choose colors for the pieces at all. According to my idea, these items have lost their husk. Actually, it's a metaphor, and the color palette is warm and sandy.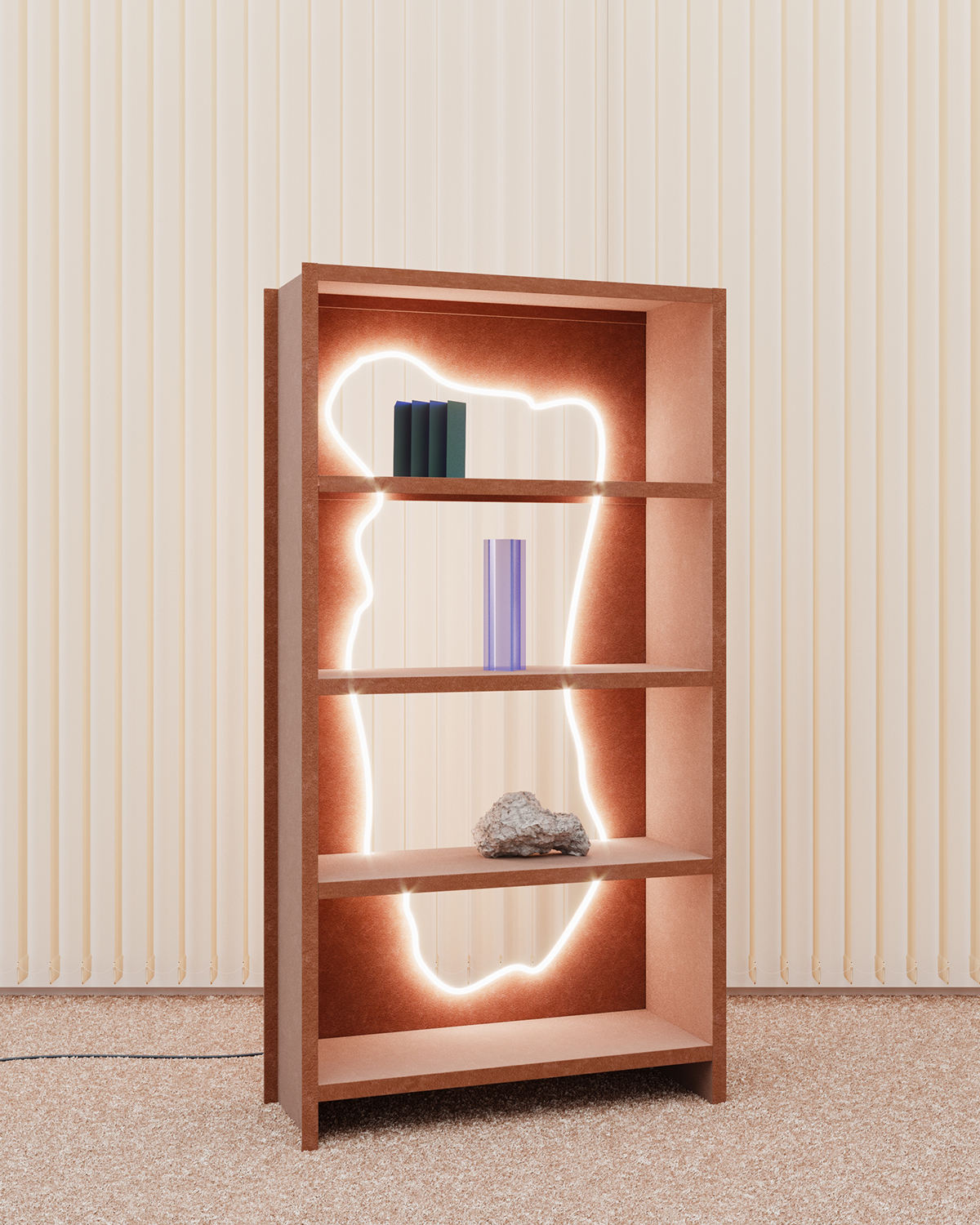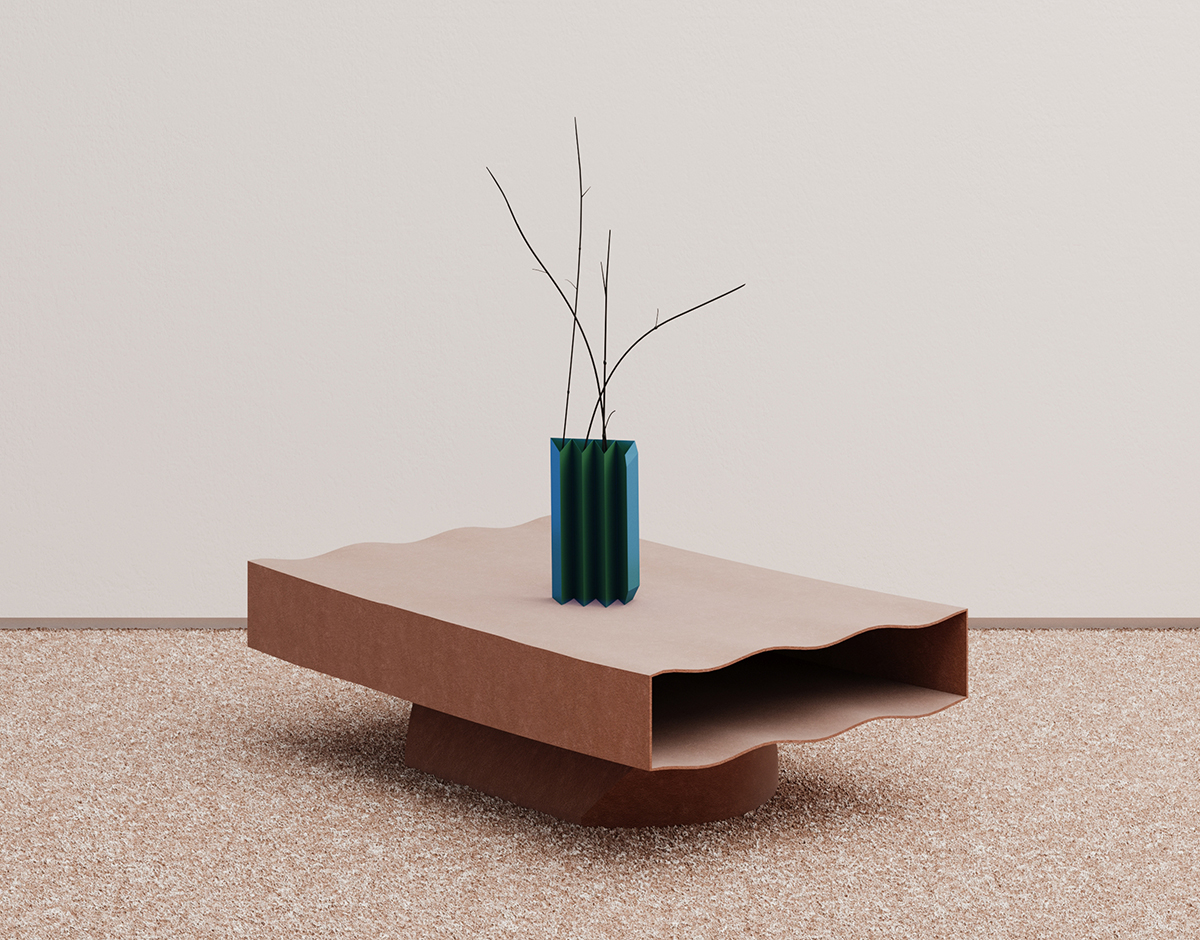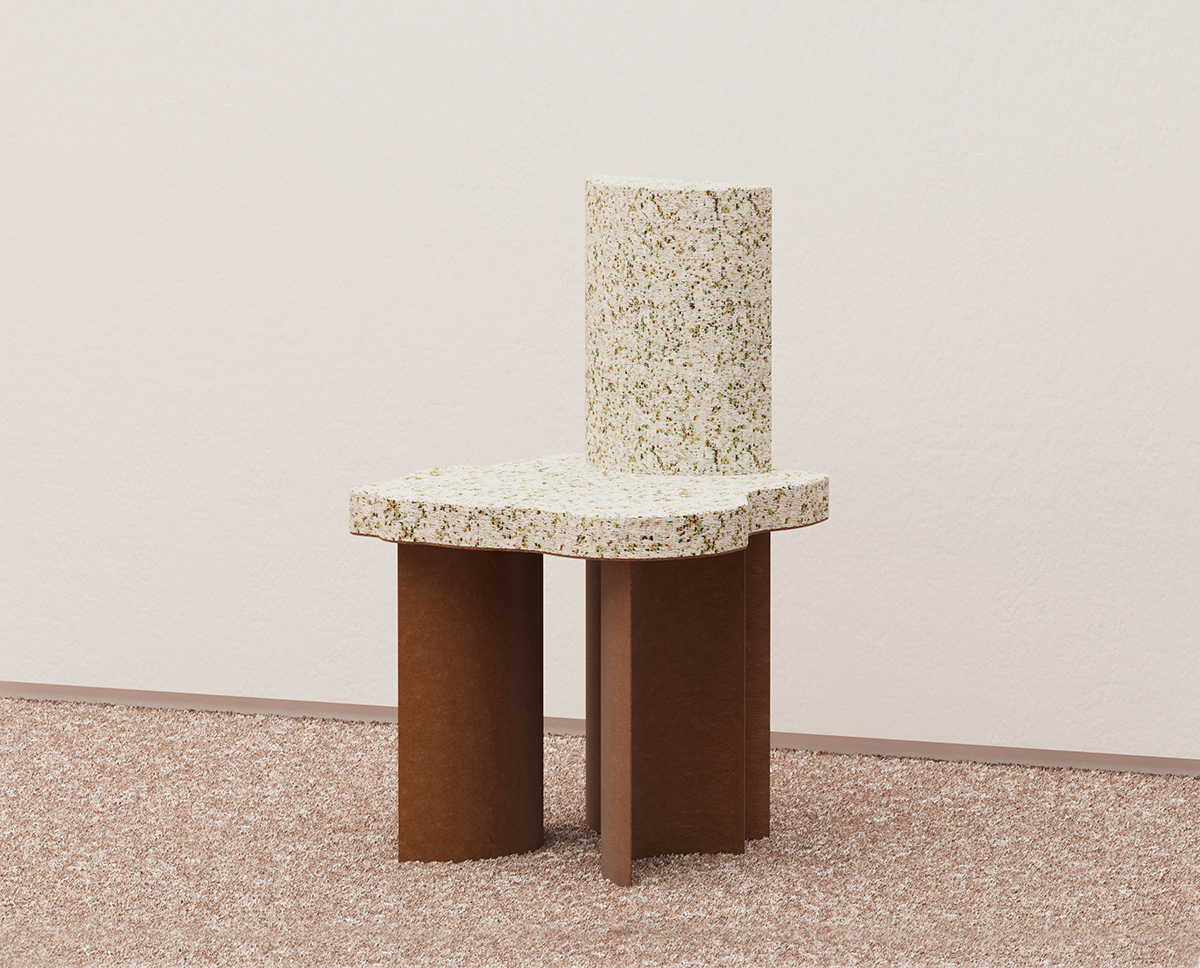 Can you describe your process when designing furniture and interiors? What's the starting point?
I work with digital modeling and renderings as well as with real-life pieces and interiors. I usually start the process with a draft sketch in my sketchbook. It can be a simple drawing but it helps me to form a core for my upcoming work. But sometimes this process becomes improvisation with some spontaneous decisions. 3D modeling helps me to feel an object within space. I use 3D or imaginary scenes as a preparatory material for subsequent collections and pieces. It's like one of my work tools.
Your renderings are often set in quite detailed, fully thought out environments. How do you envision these particular pieces within a room?
For me, it's always a challenge and some kind of improvisation. My first idea can be absolutely rethought. It's a creative process and I often don't have a final picture in my head. As to the particular pieces, sometimes these pieces often come first. Objects can be invented directly based on the particular environment.
You've mentioned painting as an inspiration for your designs, are there any artists that you feel particularly inspired by?
I'm inspired by Donald Judd, Edward Hopper, Rene Magritte, Nathalie Du Pasquier, and many others. I also love how David Lynch works with interiors and spaces.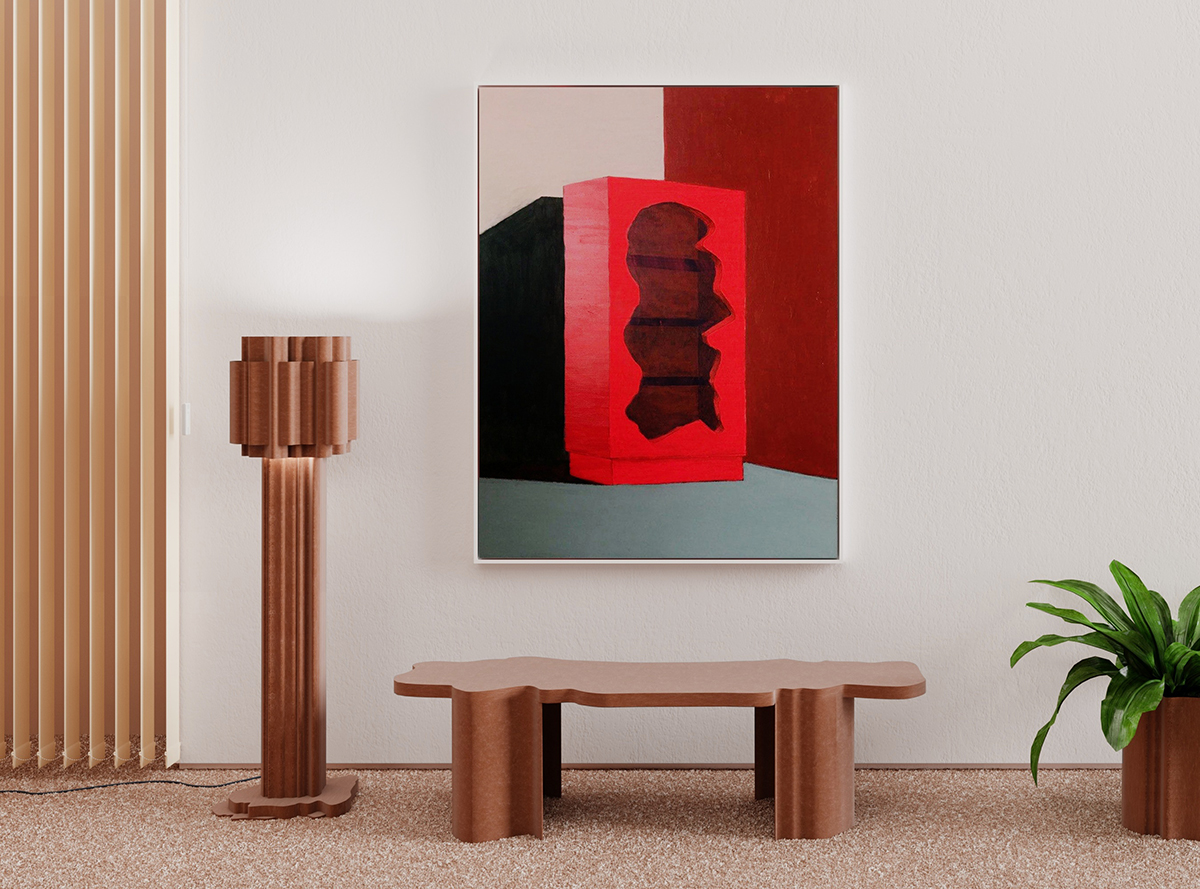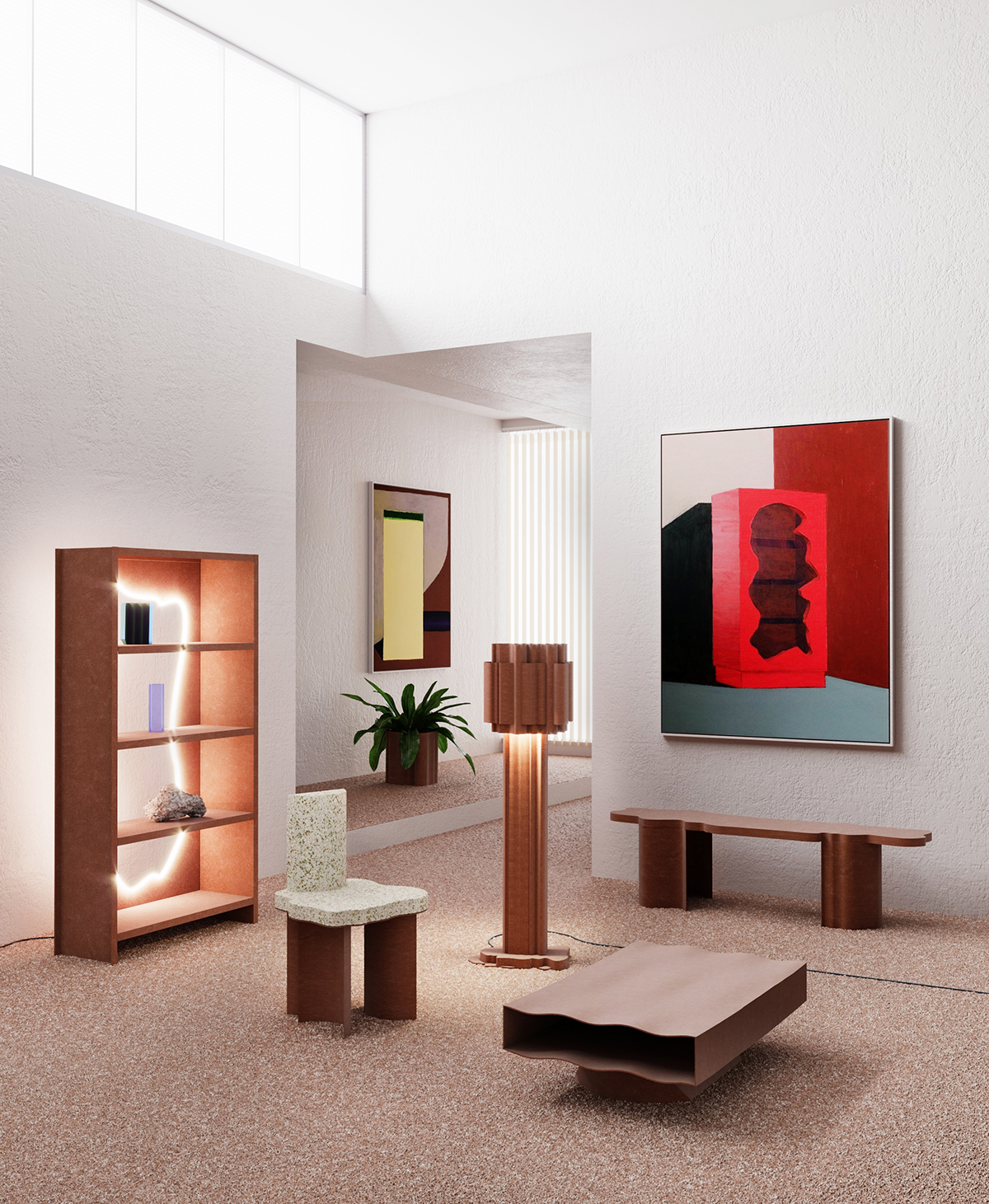 Sometimes when I scroll past one of your compositions on Instagram I'm never sure if it's real or a rendering. Do you try to create something as realistic as possible to create that feeling of ambiguity? Do you think, if we're experiencing something digitally, it matters if we know it's real or not?
It's cool to erase the boundaries between digital and reality. My recent experience with VR games was stunning. I didn't understand where is reality and what is reality at all. So, I came to the conclusion that everything is reality. For me, it doesn't matter which reality the project was made in, it depends on what the task was. As for my own experience, I love to combine all realities. I have 3D projects as well as real.
Outside of this collection, what sort of things, ideas, or concepts have you been researching lately?
My previous work was made especially for the Collectible design fair in Belgium. I designed a chair called "Shiny Chair". It's geometric, but at the same time, it has a natural and expressive character. I like the idea of how an expressive line can be linked with straight forms of the chair and how mono-material (metal) can be used in different ways. I was interested to think about the transitional condition of two origins — geometrical and natural and its relationships.
How have you been passing the time during lockdown?
Unfortunately, we are still in lockdown [in Moscow]. All in all, It's a good time to be creative. I really needed free time for drawings and making canvases and now I've got a lot of time, it remains only to find inspiration. We are doing a lot of things and always looking further and searching for something new. It's like an endless search for "the New". In this way, we don't take into account already created things. I think people need to stop for a while and look backward. Now is the right time to look backward.